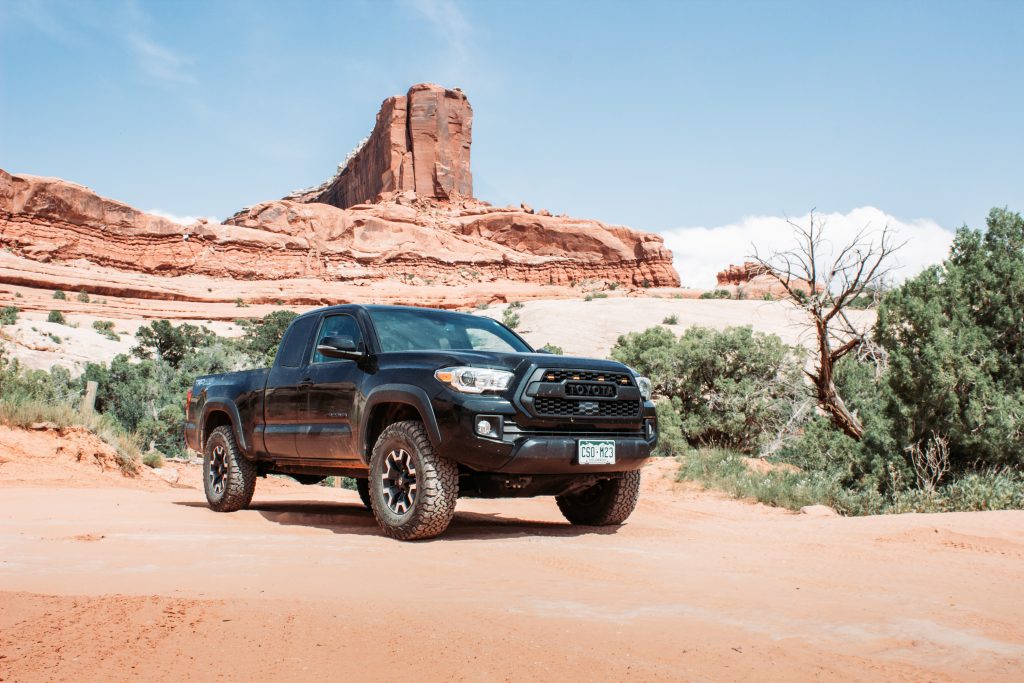 Off-Roading & Overlanding In Moab, Utah: 4X4 Trails Suitable For A Beginner In A Stock Tacoma TRD Off-Road – Detailed Guide To 3 Popular Routes
Pulling into downtown Moab in a stock 4×4 can leave you feeling underwhelming, to say the least. With massive, modded rigs everywhere you look it's easy to wonder if you'll be able to enjoy any of the classic Moab 4×4 trails that you came there to experience… Or if you'll end up making a desperate backcountry call to a recovery service.
While Moab is home to some of the country's most renowned and difficult 4×4 trails like Fins and Things, Hell's Revenge and Metal Masher, there are plenty of beginner-friendly to moderate trails to enjoy as well. But, with vastly different levels of difficulty listed for the same trails across various trail guides, determining which ones to take on in a stock 4×4 without getting in too deep feels like a perplexing equation.
That's why I did the trail scouting for you and came up with this step-by-step trail guide to 3 moderate Moab 4×4 trails you can take on in a stock Tacoma.
Moab Trails For Stock Trucks
Pre-Trip Trail Preparation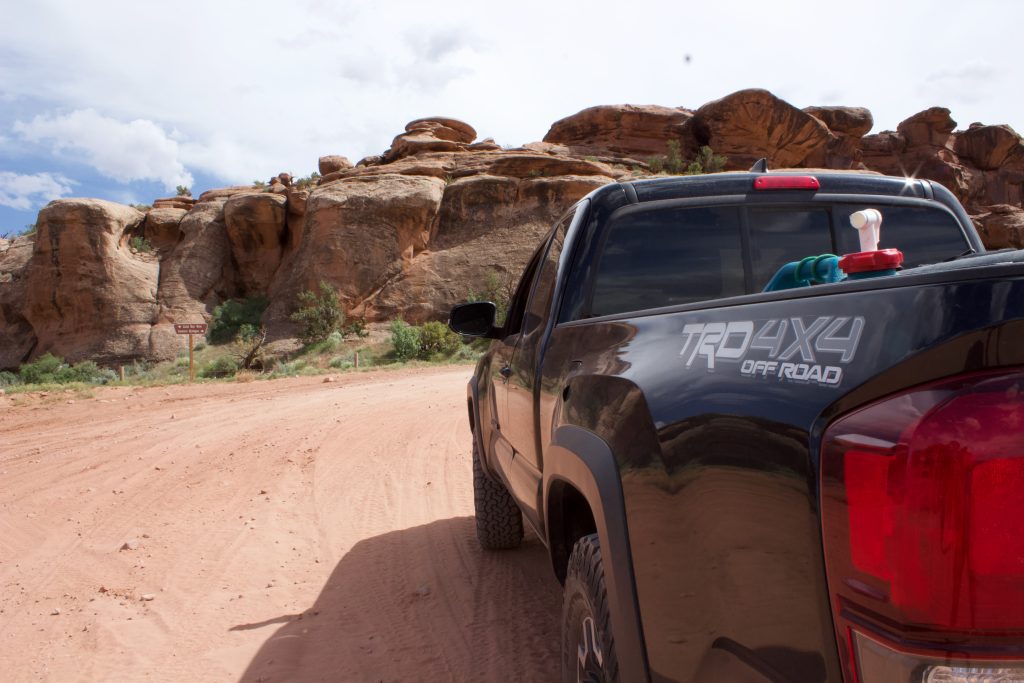 The off-road terrain isn't the only thing that can be dangerous and tough to navigate in Utah's southeastern desert landscape. The climate is harsh, water can be scarce, and cell service is sparse. While you can get by in a stock vehicle, there are a few pieces of gear I consider non-negotiable.
GMRS Radio
I use Rocky Talkie but there are plenty of options to choose from. For cell service, Verizon works best near Moab, but regardless of your carrier you quickly lose service after leaving town in most directions. If you face an emergency, you'll likely be able to flag down another backcountry user on one of the many GMRS channels.
Water Vessel
You'd think this goes without saying, but it's easy to underestimate the desert climate. I recommend carrying at least a 5+ gallon water vessel. I strap mine down using bungees and the anchor rings in the bed of my truck (minimalism at its finest). Head to GearHeads at the Radcliffe Hotel in town to fill up on unlimited free filtered water.
Sun Protection
Sunblock. An awning on your rig. A portable sun shade thrown in your truck bed. Whatever works for you. You'll be glad to have respite from the brutal desert sun in an emergency.
Trail Maps
It can be easy to lose the trail, particularly when following slick rock and sand. I recommend using a GPS trail mapping app like Gaia GPS, the Garmin Explore App, or onX Offroad (which is the app I used when running these trails).
You can download specific maps for offline navigation with the premium version of any of these apps. Be sure to download the area you'll be wheeling in before you leave service.
My Tacoma's Setup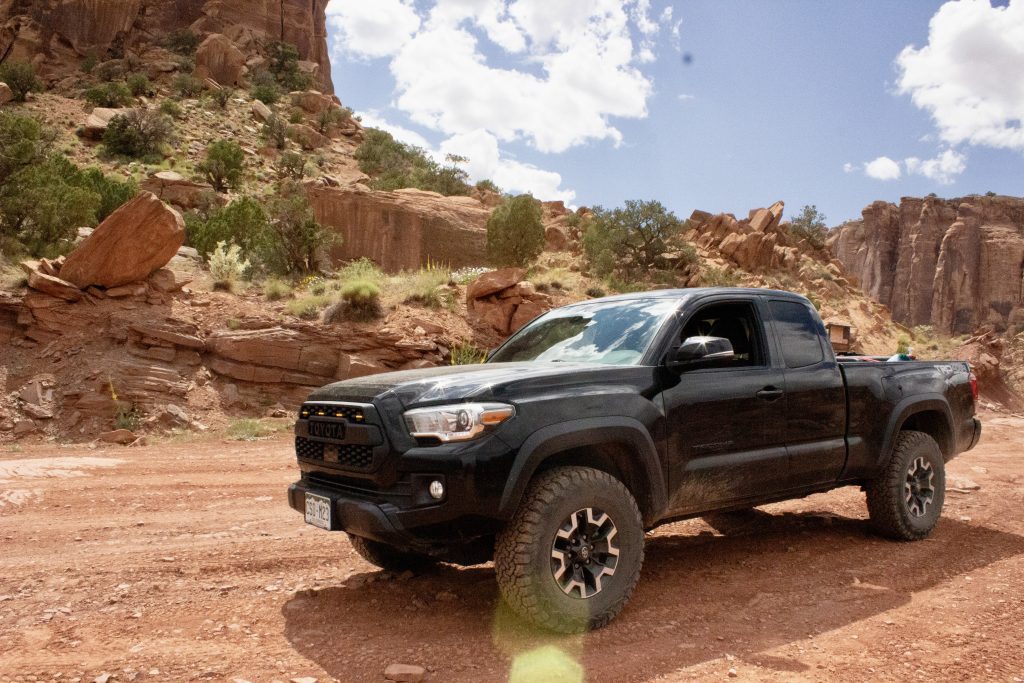 I ran the trails in this article with my 2019 Tacoma TRD Off-Road. Everything on my truck is stock except for the grille (which obviously isn't too relevant to note here) and the tires which are BFGoodrich All-Terrain T/A KO2 size 265/75/16.
I wouldn't say the tires were the make-it-or-break-it icing on the cake for any of these trails. However, the TRD-Off Road (also available with the TRD Pro trim level) CRAWL control did come in clutch.
1. Gemini Bridges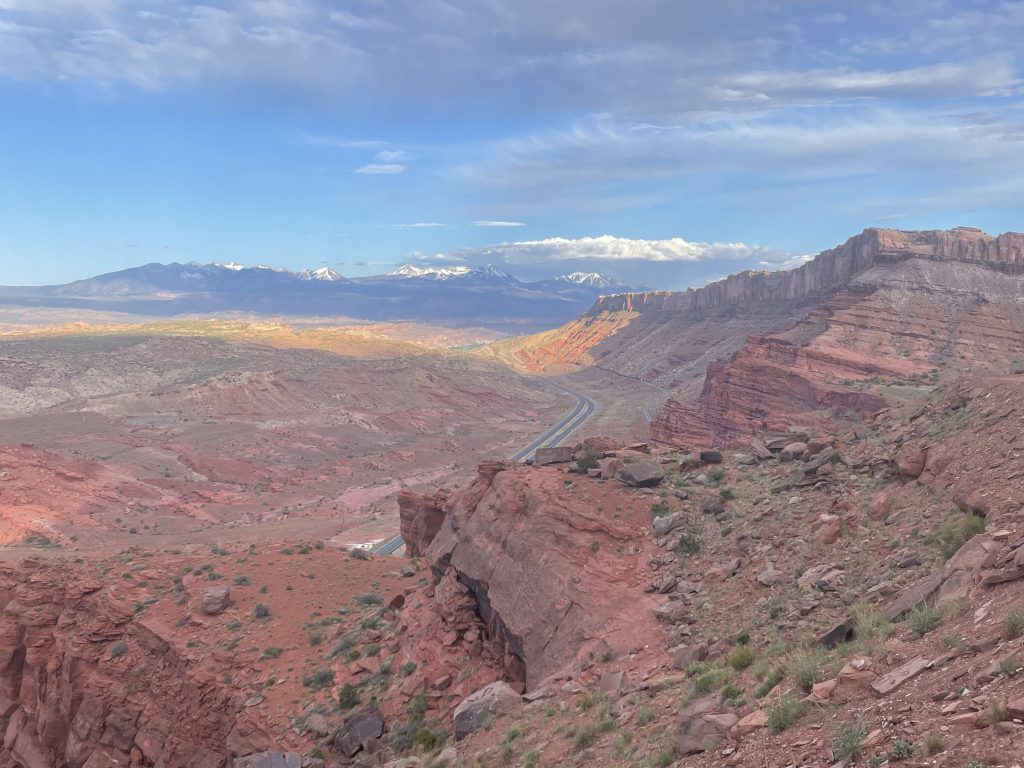 When you think of Moab, Utah a couple things probably come to mind. Big views and monumental rock arches. I chose Gemini Bridges as the first 4×4 trail to recommend wheeling in your stock Tacoma because it personifies the quintessential "Moab expectations".
The trail culminates in two 80+ foot high rock arches (aka Gemini Bridges). And the views along the way? Nothing short of extraordinary.
Gemini Bridges is also a great warm-up trail. Use it to build up your confidence before putting your rig through more strenuous challenges.
This Moab 4×4 trail can be used as a point-to-point trail, in which case you take an alternate exit from the Gemini Bridges parking area at the end of the trail. This exit leads to Highway 313. However, I took the trail out and back.
How To Get There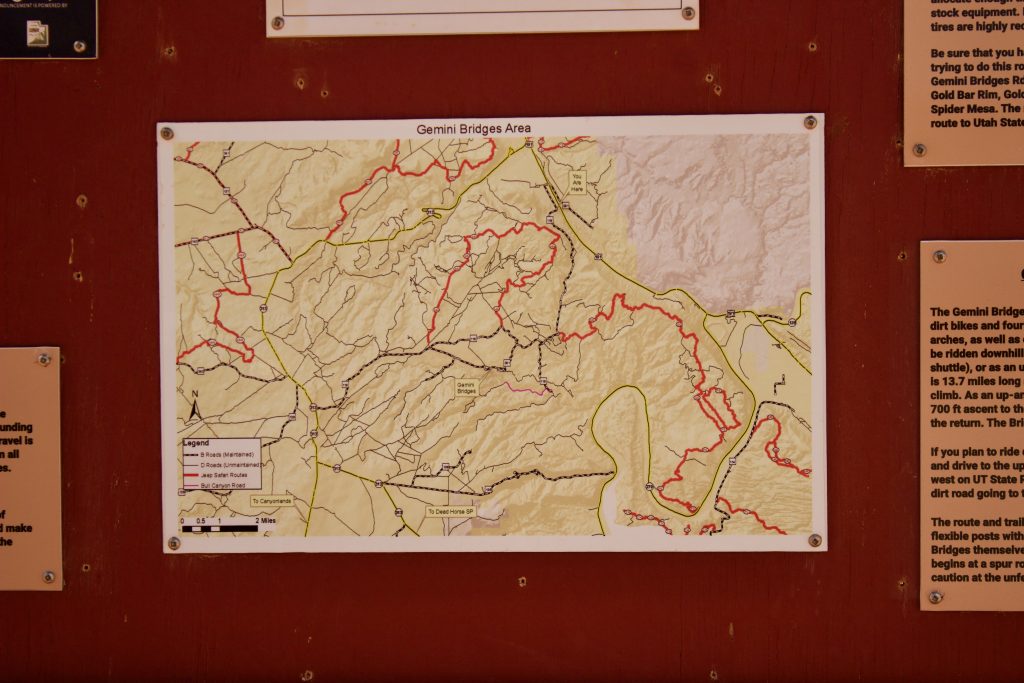 Fuel up in Moab and head north out of town on Highway 191. After about 9.5 miles, take a left onto Highway 118/Gemini Bridges Road. Drive over the railroad tracks and follow the signs for Gemini Bridges Trail.
Follow a paved road that runs south, adjacent to the highway (191). Eventually, that road turns to gravel and you'll find trailhead signs to your right for Gemini Bridges Trail.
Trail Guide – The Shelf Road
Mile 0 – 1.5
The length of the Gemini Bridges Trail varies depending on whether you use it as a point to point or out and back. If you start and end at the initial turn onto Highway 118, it's about 13 miles out and back. However, this guide is based on setting the trip meter to 0 at the Gemini Bridges trailhead signs.
Start your ride on a well-maintained dirt road that quickly begins a steep ascent to a shelf road. You'll travel over some loose rock and embedded slick rock as well, but much of the trail has been cleaned up by rock grinders.
If you're new or nervous about exposure, the cliff on the driver's side can be nerve-racking. You're hundreds of feet up with no guardrail, navigating rocky terrain prone to washouts. However, a stock Tacoma can eat this trail for breakfast (you'll often see AWD vehicles with low clearance on the first half of the Gemini Bridges trail as well).
There are plenty of pull-offs along this section of the narrow shelf road for passing. I did notice that as a short (5'2'') person, it's sometimes hard to see over the hood of my Tacoma on the steepest sections – watch out for downhill drivers who may round the curves unexpectedly as you crest over the top of the steep hills. This trail is also shared with mountain bikers (So don't hit them either. Kidding. But really…).
Between 1.2 – 1.3 miles, you'll reach the high point. This is a great place to find a pull-off and hop out to take in some of the most incredible views of the Moab Valley (in my humble opinion).
After 1.3 miles, you begin the downhill ascent of the shelf road. Loose dirt and rocks can be a bit slick, particularly after rain. Watch your traction. Otherwise, again, this early section is a pretty relaxed trail. Enjoy the ride!
Trail Guide – The Valley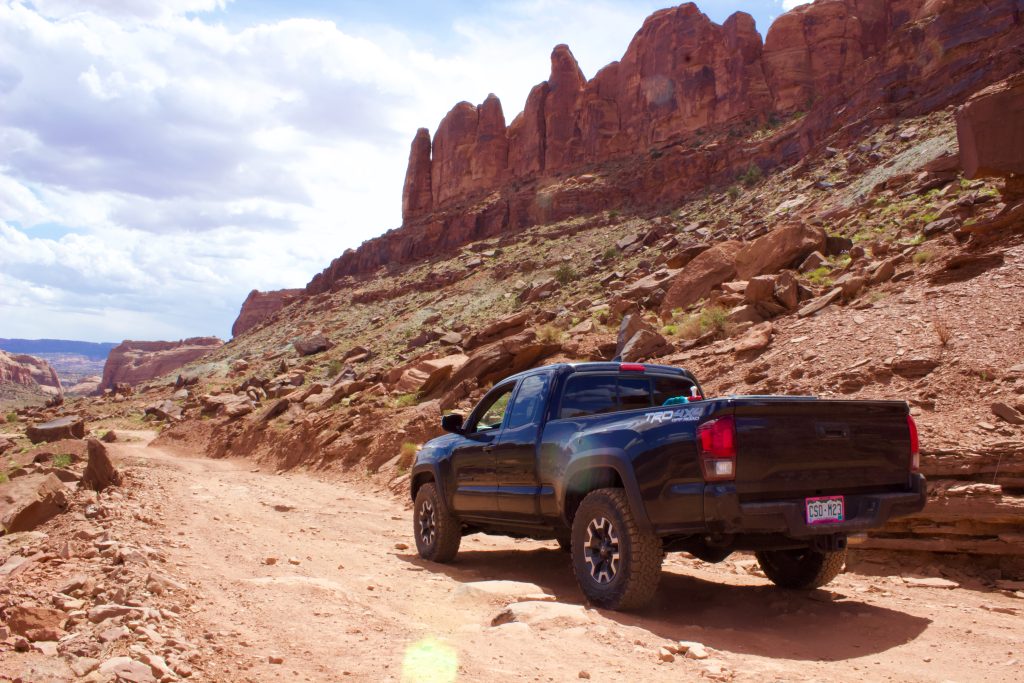 Mile 1.5 – 5
At 1.6 miles, the descent opens up into yet another stunning landscape. This time you're navigating sand and some small slick rock obstacles on the valley floor, cradled by massive canyon walls.
You'll find campgrounds in the valley around mile 3. Look to the left of the Gemini Bridges marker that's quickly followed by small slick rock steps.
The trail forks at mile 3.7. The Gold Bar Rim trail (moderate-difficult) is to the left. Stay right for Gemini Bridges and follow the slick rock and dirt trail uphill.
By this point, you likely won't be seeing any more AWD or low-clearance vehicles. Your stock Tacoma still has more than enough clearance to crush the trail ahead.
There's another trail fork at 4.2 miles. Stay right for the Gemini Bridges Trail. Left leads you to Bull Canyon Trail which takes you to the bottom of the canyon to view the Gemini Bridges from below.
Mile 5 of the Gemini Bridges trail intersects the start of the difficult 4×4 trail, Metal Masher. Stay left (unless you wanna put your stock Taco through hell).
Trail Guide – The Slick Rock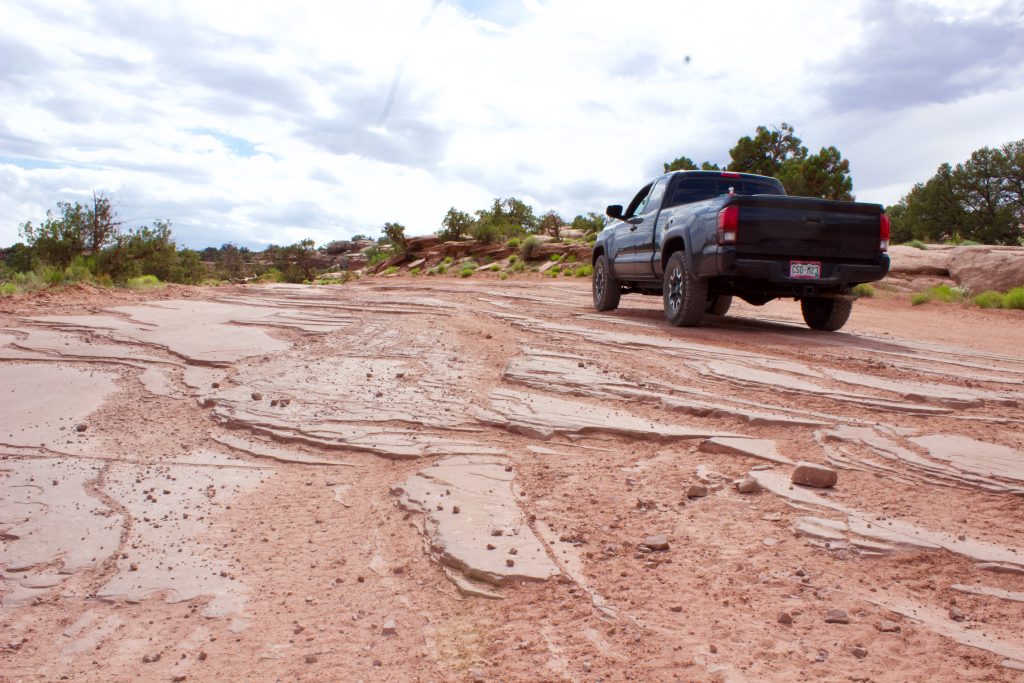 Mile 5 – 6.5 (Gemini Bridges Parking Area)
The rest of the trail to the Gemini Bridges parking area is mostly slick rock. This is where you'll encounter the most technical obstacles and potentially scrape metal on rock – which I did once, but only my hitch scraped.
Coming to the top of a slick rock incline at 5.8 miles, veer left to stay on the slick rock. Do not go right towards the "No camping" post.
The most daunting obstacle on the Gemini Bridges 4×4 Trail awaits you at mile 5.9. It's a slick rock ledge about 12" high. You can navigate it without CRAWL Control (I've done it in a stock SR5 4Runner) but I was eager to test the CRAWL. With Multi-Terrain Select set to Rock and CRAWL Control engaged my Taco pulled itself right on up and over the ledge.
If you don't want to use CRAWL Control on this part of the trail, you can also use Multi-Terrain Select (both of these are available on the TRD Off-Road and TRD Pro trim levels). Either way, you'll want to be in 4-LO gearing. These electronic assists only work in 4Lo.
After ascending the ledge, stay left on the slick rock. At mile 6.2 follow the yellow signs for Gemini Bridges parking. Once you're parked, it's a short .25-mile hike to the top of Gemini Bridges.
Exit the same way you came in. (Hint: CRAWL Control works going down the steep ledge as well as up it).
2. Wipeout Hill Alternate Route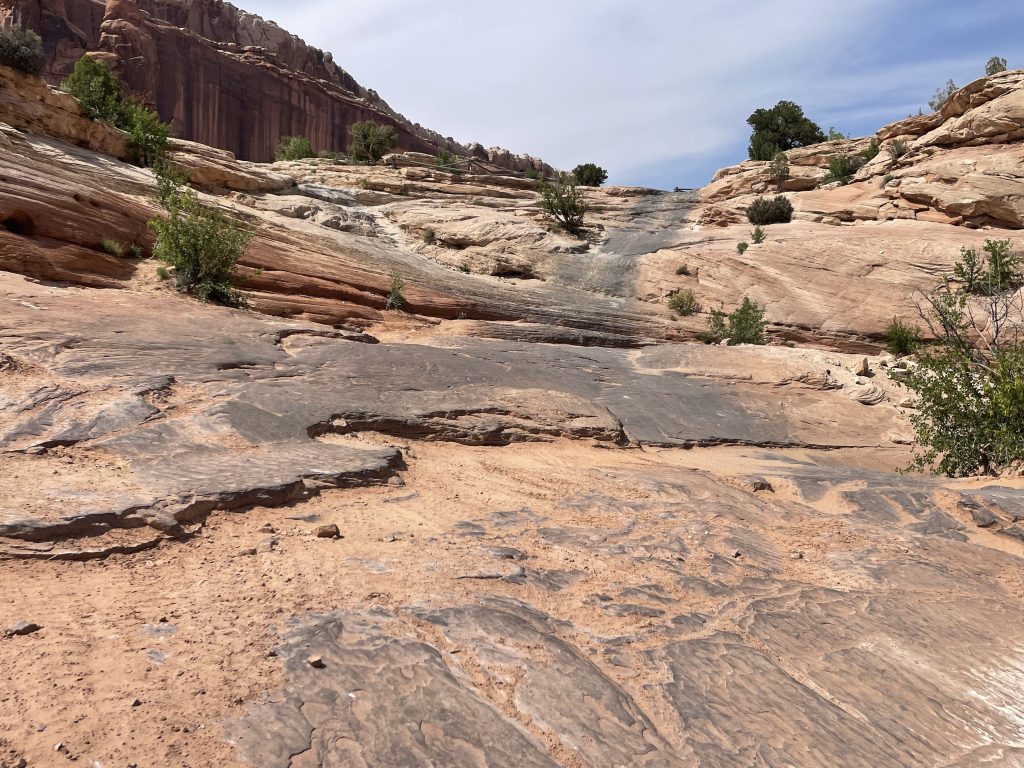 Wipeout Hill Loop is a Moab off-roading classic. This trail comes to a head at Wipeout Hill – an aptly named menacing slick rock climb notorious for causing rollovers.
While I didn't have it in me to take on Wipeout Hill in my stock Tacoma (and I probably wouldn't recommend it), the Wipeout Hill Alternate Route is a lot of fun. It's also a great option if you're in a stock 4×4 with good clearance and still want to make it to Wipeout Hill to watch all the chaos.
Wipeout Hill Loop is rated a 5-6 in most 4×4 guides. Wipeout Hill Alternate Route on the other hand is rated a 4-5 in most guides. It offers a manageable but, at times, nail-biter of a challenge for a stock Tacoma.
Wipeout Hill Alternate Route cuts straight through the middle of the Wipeout Hill Loop trail. I took it out and back and clocked 5.8 miles total. If you prefer, you can take the alt route to Wipeout Hill and meet up with the classic loop in either direction to exit.
How To Get There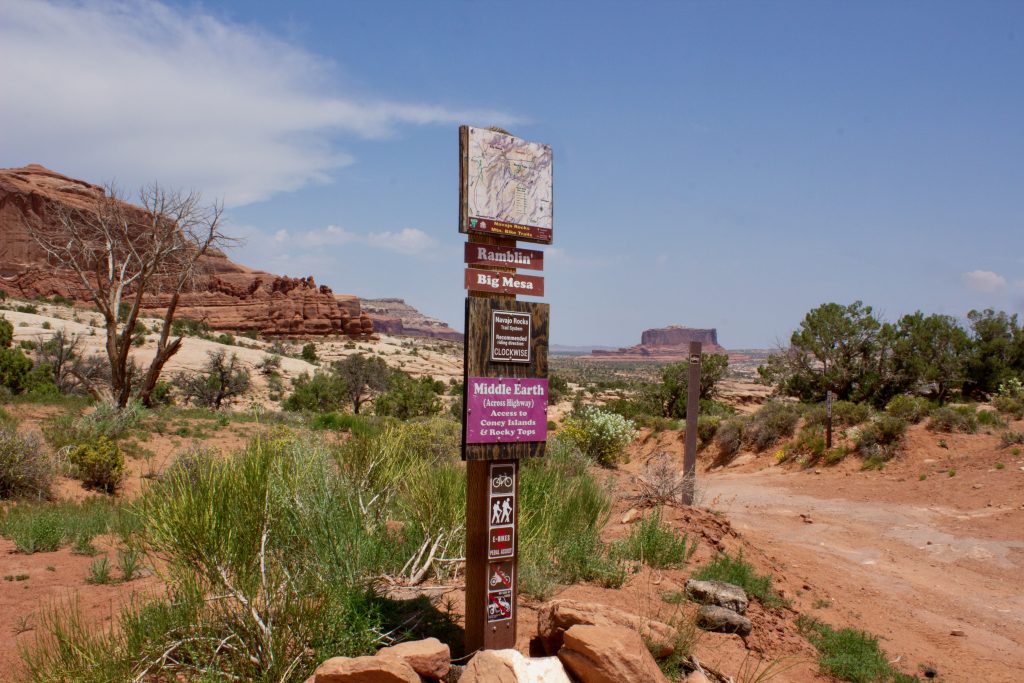 Coming from Moab, drive north on Highway 191 until you see the turn for Highway 313 (look for the Moab Giants dinosaur museum). Turn left onto Highway 313. Follow Highway 313 and signs for Canyonlands National Park for about 7.5 miles. Take the right turn into the Navajo Rocks main parking area just before mile marker 15.
Trail Guide – Moderate Challenges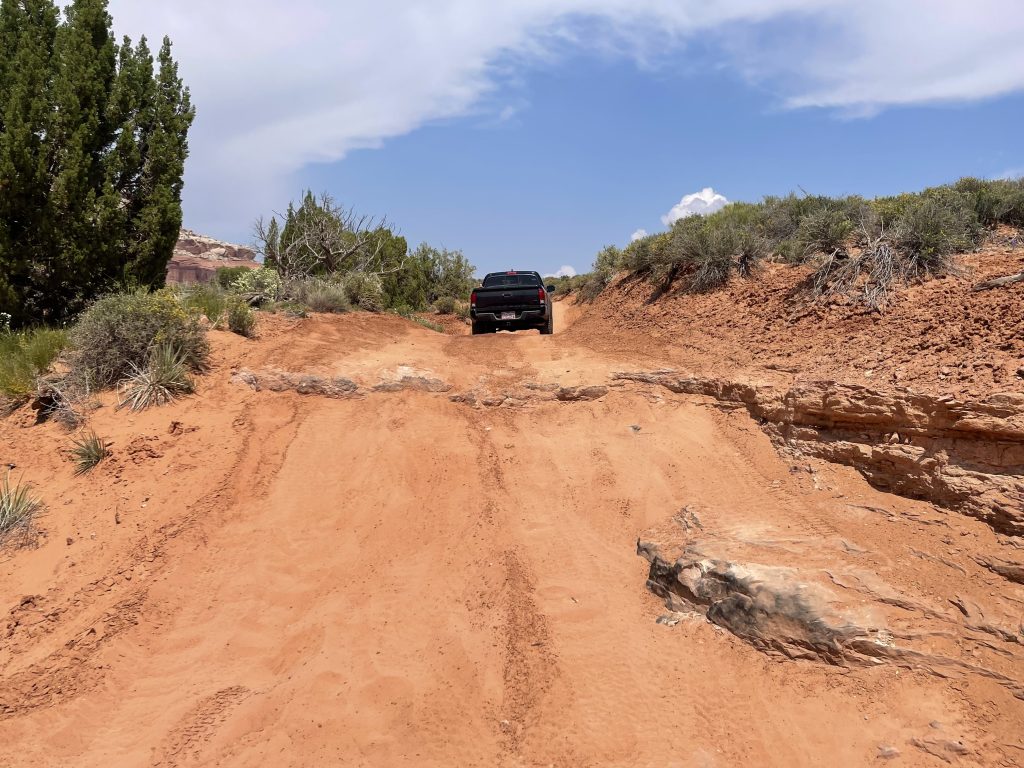 Be prepared because this trail starts out spicy from the get-go.
Expect to traverse steep, sharp embedded slick rock gardens and sand right out the gate. However, I drove this portion of the trail in 4-Hi. As long as you choose your line wisely, there's minimal risk of scraping.
Immediately fork right and head into a climb. This is all within the first .1 mile.
At mile .3, stay left as you make your way across slick rock slabs. It can be easy to lose the trail or get disoriented here. There are white lines painted on the rock face to keep you on track and rock cairns to your right that you want to stay left of.
1.3 miles in, the trail turns into an awesome cruise across soft sand! If you're worried about getting dug into the sand, you can air down before the trail. I made it across fine without airing down (however in hindsight, I probably should have aired down for this trail).
At 1.5 miles you cross more embedded rocks before coming up on the burliest obstacle on the Wipeout Hill Alternate Route.
This may be difficult to navigate for beginner drivers. There's potential to scrape or do damage to an axel or differential in a stock Tacoma — mostly due to the long wheelbase and the angle of the hill (added ground clearance wouldn't hurt but isn't necessary).
Crawl up a soft, sandy hill — about 45 degrees. The second half of the challenge consists of climbing a 10-14" slick rock lip at the top of the hill (pictured above). CRAWL Control and MTS mud/sand or even rock worked great if you're not confident in making it over the rock without getting dug into the sand.
The trail gets more demanding (and fun!) from here.
There's a fork at 2.4 miles. You end up in the same place whether you go right or left. I went right which was the more technical option. Expect to be driving off camber across uneven slick rock and dirt. I was up on 3 wheels at one point. if that doesn't appeal to you, the left fork offers an easy bypass across sand and slick rock.
Trail Guide – Merging Trails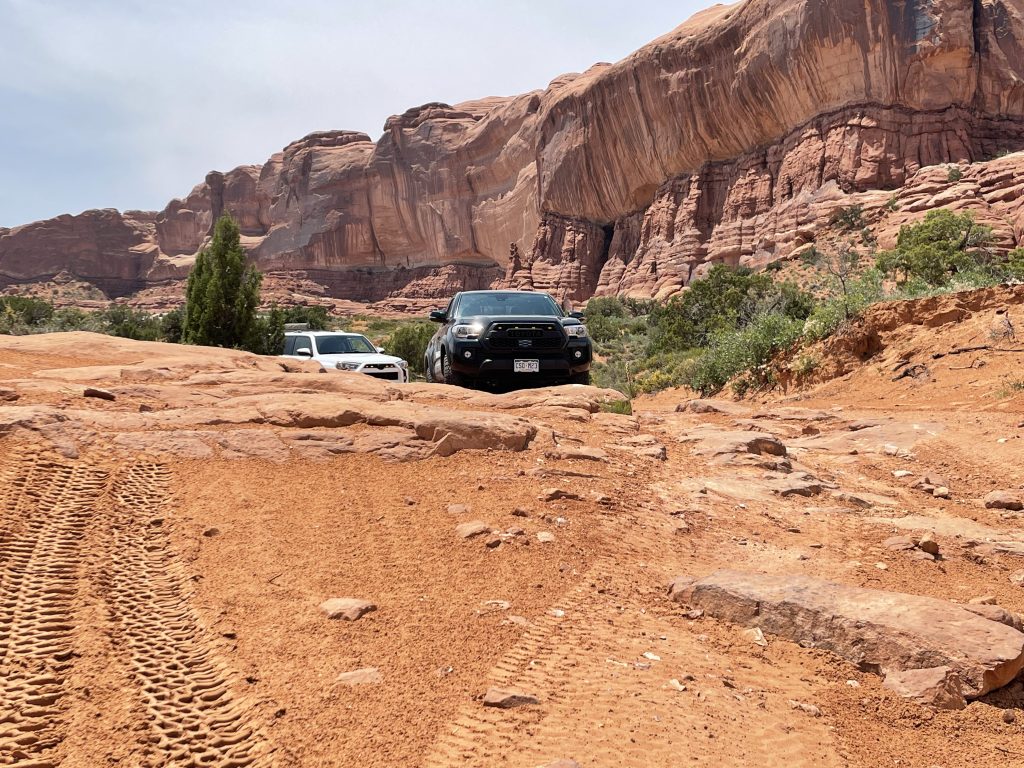 Wipeout Hill Alternate Route meets up with Wipeout Hill Loop around mile 2.4. All trails converge as you drive the final .3 of a mile to Wipeout Hill.
This final push doesn't let up! I was in 4L the whole way. It's steep drops off of slick rock ledges and managing descents most of the way until you make the final climb on sand over rock features to Wipeout Hill and an awesome view of the mesa.
Head out the way you came in. When you reach the fork where Wipeout Hill Alternate Route meets up with the Wipeout Hill Loop, veer right to stay on the alt route back to the trailhead.
3. Long Canyon Road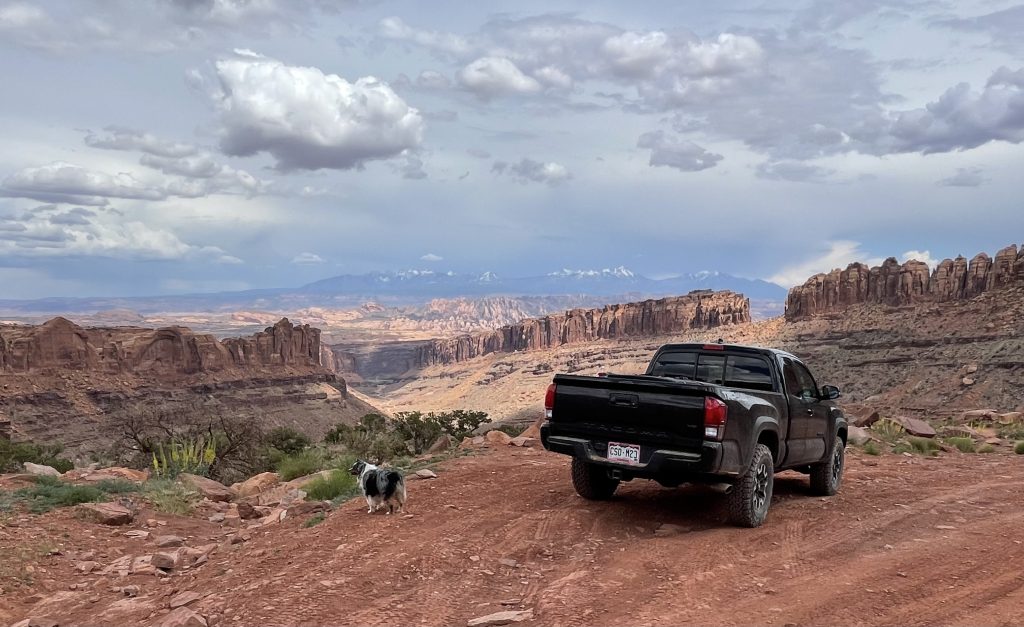 By Moab off-road standards, Long Canyon Road is no difficult 4×4 trail. Regardless, I added this trail to the list because it is, dare I say, the most scenic off-road trail I have ever been on in my life.
You can have a great time on this trail in a stock Tacoma. If you're near Moab, I highly recommend you take this point to point trail from the top to the bottom for the best views.
How To Get There
Long Canyon Trail from the top:
Coming from Moab, drive north on Highway 191 until you see the turn for Highway 313 (look for the Moab Giants dinosaur museum). Turn left onto Highway 313. Follow Highway 313 and signs for Dead Horse Point State Park. After about 14.5 miles on 313, turn left towards Dead Horse Point State Park to stay on Highway 313. If you stay straight it turns into Island In The Sky Road.
After turning left, stay on 313. You'll pass a turnoff to the left and then to the right – don't take either. Right before the 313 curves right towards Dead Horse Point, you'll see a wide dirt road that forks left. Fork left onto the dirt road (look for the dirt pullout next to some sort of oil machinery). Follow the wide dirt road (135 aka Long Canyon Road) straight ahead until you find yourself at the top of a canyon by the sign that says "4WD and High Clearance Recommended".
This is where the real Long Canyon 4×4 Trail begins.
Long Canyon from the bottom: 
Coming from Moab take Highway 191 north just over 4 miles. Turn left onto Highway 279 (aka Potash Road). Follow 279 for about 13 miles until you pass the sign for Jug Handle Arch. You'll then see the trail on your right where the canyon opens. Another sign reading "4WD and High Clearance Recommended" marks the start of the Long Canyon 4×4 trail from the bottom up.
Trail Guide – Narrow Sections, Steeper Grades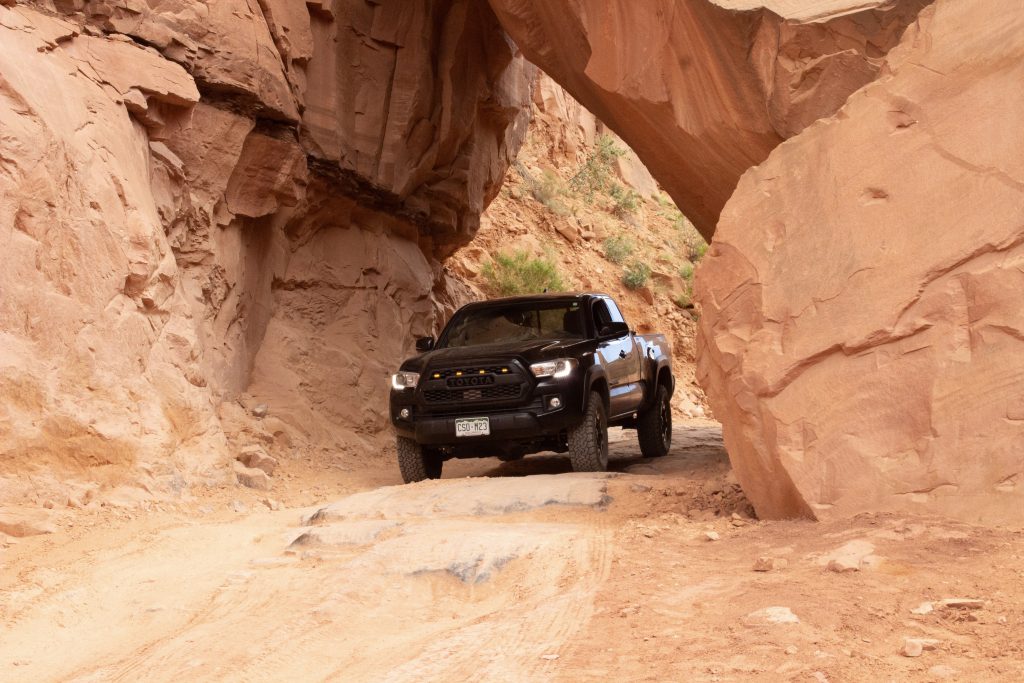 From the start of Long Canyon Road (where I reset my odometer to 0), this trail is just over 7 miles. Much of that distance is made up of the wide dirt road leading to the top of the canyon. The off-road portion of the trail begins when you drop down into the canyon at 2.8 miles.
The most challenging parts of the trail lie between mile 2.8 and mile 4. I stayed in 4L and first gear the whole way to manage speed and traction.
As you descend into the canyon it narrows substantially. I didn't have to fold my mirrors in, but in a wider truck or 4×4 or with recent rockfall, it may be necessary.
Make your way down off camber slick rock through the narrow canyon on a steep grade. Check the conditions before heading out. Long Canyon Rd. is prone to washout and rockfall. I've seen pictures of this section of the trail where it looks significantly more demanding than it was when was on it.
The most tenuous section of the trail I faced was right after exiting the narrow portion of the canyon. Crawl off camber down slippery slick rock ledges on a steep grade as the trail curves left. Managing speed and traction is key. (I stepped out to take a picture and couldn't keep my feet under me, it was so slick – that said, I don't have a picture of this obstacle.)
After managing a challenging start to the trail, you're rewarded with getting to snap pictures of your Tacoma under a massive fallen boulder that's wedged in between the canyon walls.
Long Canyon Rd. remains quite steep (I stayed in 4L first or second gear) for about another .5 miles. It then levels out a bit and the trail finishes out on a meandering rutted, rocky, dirt road. It's not a smooth ride, but it's much less technical than the beginning of the canyon from the top.
You'll wheel along cliffs and be subject to mind-blowing views of desert features and the La Sal mountains. Don't worry, there's plenty of room to pull off to let other vehicles by while you snap photos.
The point to point trail concludes as you come to the mouth of the canyon bottom and meet up with Highway 279.
Final Thoughts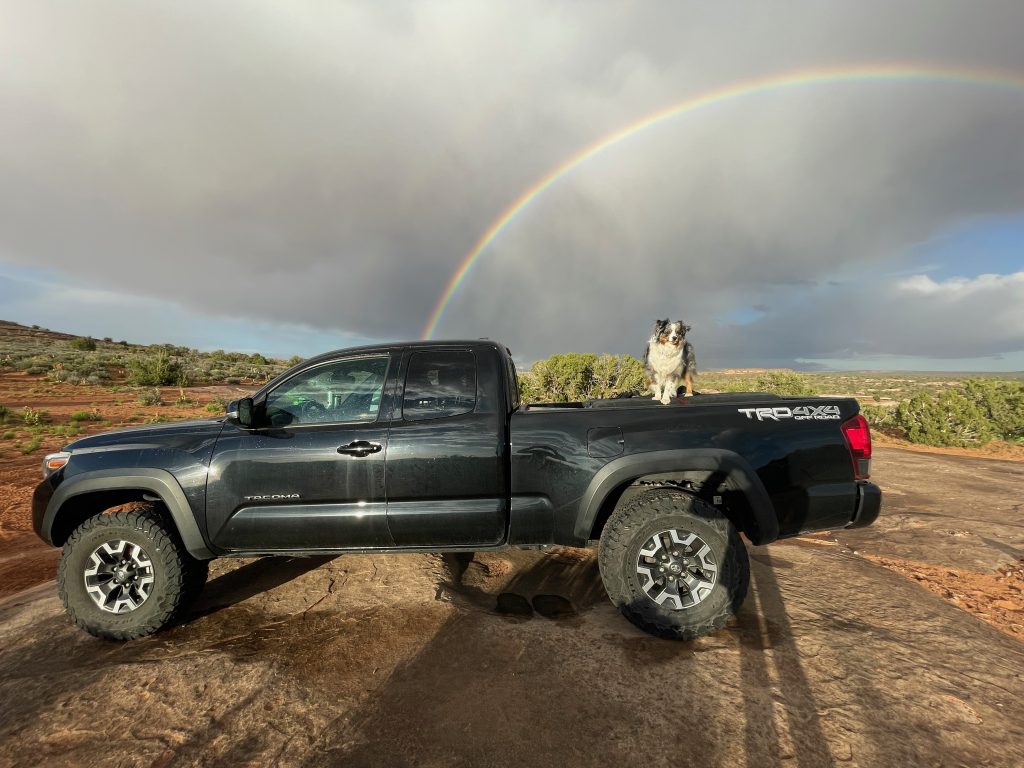 Don't let all the built-out Jeeps scare you away from the trails. Tacomas, even stock, are impressively capable and resilient trucks. If you haven't spent much time wheeling in your Tacoma, there are plenty of Moab 4×4 trails that give you the opportunity to be surprised at what your Tacoma is capable of — even before putting any mods on it!
Have you put your stock Tacoma to the test on 4×4 trails around Moab? If so, let me know which ones are your favorite in the comments below.