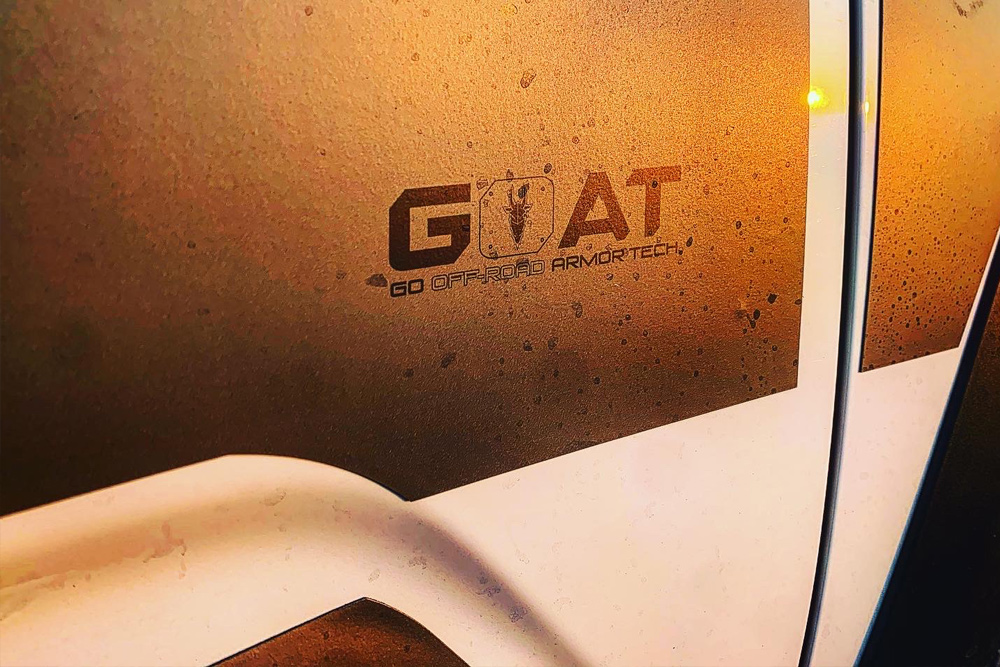 Goat Armor (Go Off-Road Armor Tech) Magnetic Armor: Review & Installation For 3rd Gen Tacoma
Is it functional? 
We have all been there… Our first time out on the trail with our rig and then you hear that noise that makes you cringe your teeth. "Screeeeeech!!!!" Suddenly, your rig will never be the same again… Damn those trail gremlins!!!
No matter how slow you go or how careful you try to be, pinstripes are inevitable. Regardless if you are on the urban trail or some back-road trail surrounded by thorny bushes, scratches are bound to happen.
How To Afford Wrapping Your Tacoma Without Having To Pawn The Kids
I have contemplated this issue (and life) for a very long time. I cannot afford those fancy wraps, even though it would be cool to add some fancy designs or even change colors. I had to find another option that would be cost-efficient, yet reliable.
Not everyone can just go out and wrap their vehicle at the drop of a dime. Furthermore, paint jobs are pricy and not the best alternative since it will inevitably get those beauty marks all over again.
Browsing the interwebs and the twittergrams, I had found the answer to all my off-road prayers. GOAT Armor, a simple, yet very effective design. Pieces of laser-cut magnetic armor panels that can add some attitude to your rig and protect the paint.
They offer a plethora of colors and patterns to tickle your fancy. They offer a variety of options such as solid colors, traditional camo and digital camo. Lots of choices that are tailored to your particular style. Reasonably priced, it beats paying for a wrap or paint job any day.
Tough and Durable Goat Panels that Look Good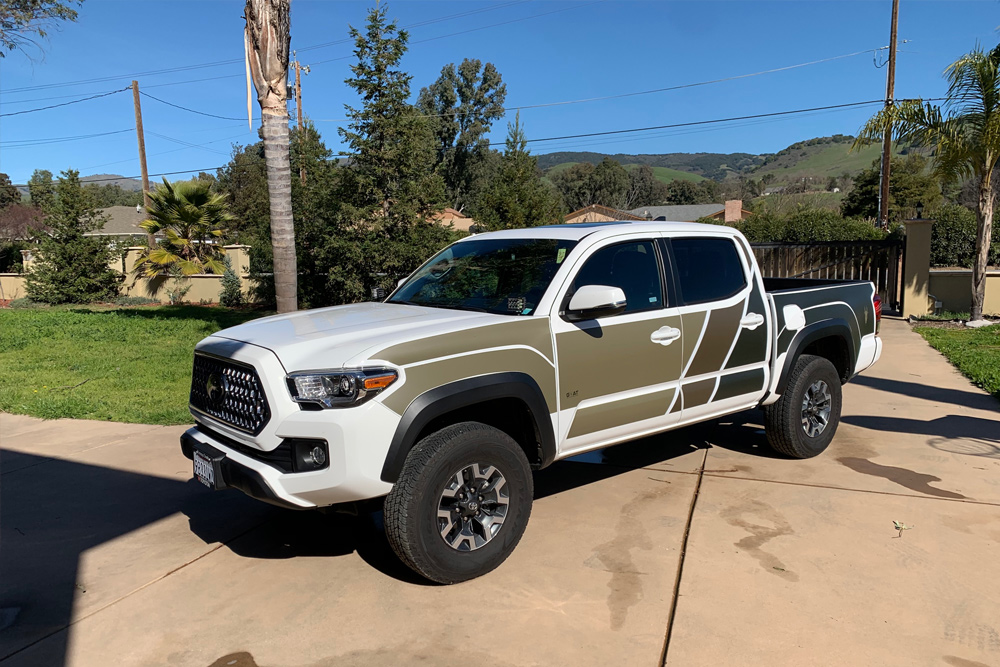 Magnetic armor has been around for a while now. I believe that Smittybilt makes armor for jeeps. Why do jeeps get all the cool stuff? Well, not anymore.
Toyotas now have their own panel armor.
GOAT started with making armor for 3rd Gen Tacomas.
With the rise in popularity, GOAT then offered armor for FJs and 4Runners. Wonderful news for us that like our paint without pinstripes.
Designed and Built for the OFF-ROAD Enthusiast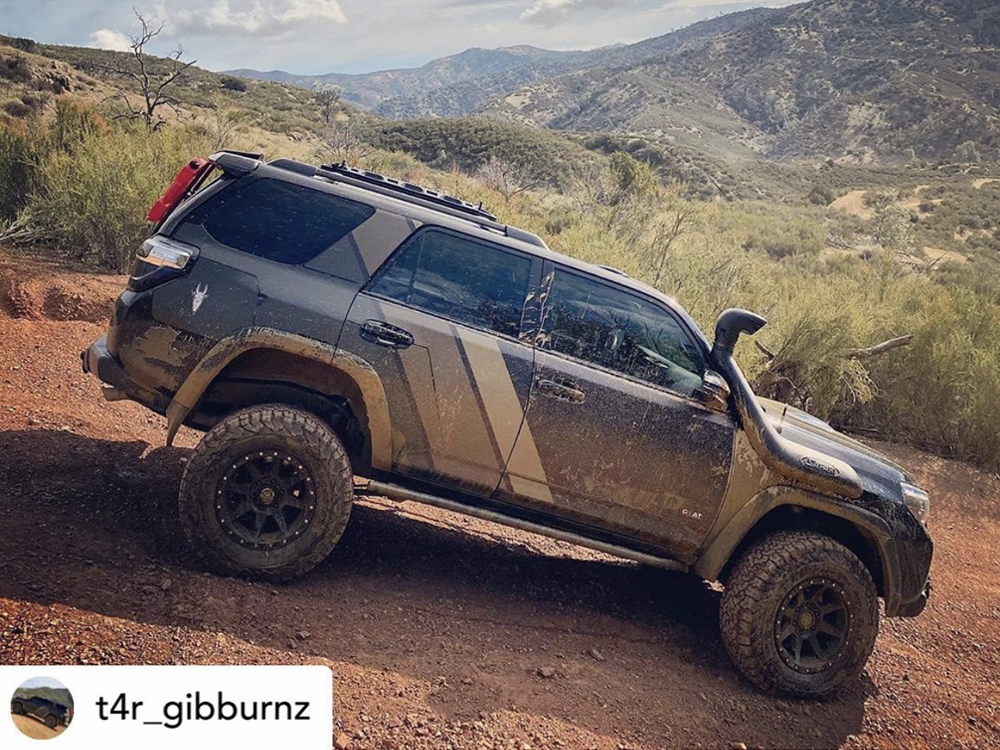 I was able to chat with Matt at GOAT Armor and ask him how and where he came up with the idea for GOAT.
Here is what he had to say:
"I have been off-roading for probably 15 years. I was a Jeep guy for most of it, with a flash in the pan with Land Rover, and now Toyota. I live this off-road life and abuse my product worse than anyone. The seeds for GOAT were planted in July of 2016 after a long week of off-roading in Utah with some of my oldest friends. As we sat in Doc Holiday's Saloon in historic Glenwood Springs, Colorado, eating and drinking; talking about our trip, the subject of trail damage came up. I had just taken a brand new, and off-road modified LR4 on this trip, and had promptly pinstriped it. A lot. After multiple paint claims over the years, with all my Jeeps, this was finally what got me moving on an idea that I had, had for years. As friends do, we talked big, laughed, and I think they thought it was just one of those passing things and was forgotten. I did not forget. Through life's tribulations, and probably the hardest next two years of my life, this little idea started to get moving. A divorce, a job loss, and it still kept creeping forward. Now it's 2020, business is steady and getting bigger. My soon to be 7-year-old son Cannon helps me do orders, slowly and methodically filling out little checklists I made for him and gleefully running to the printer to grab an order. After he goes to bed, it's long nights, but the dream is happening. GOAT is small, but with that, we care a lot that the product is good, and that people are happy.

I've developed a lot of really great friendships with folks that started out as customers.  Cannon and I still get super excited every time someone posts up one of our armor sets. We are like two 7-year-olds at that moment. It never gets old!"
My Experience With GOAT:
When I first ordered my set, I couldn't decide on what style or colors I wanted.
I messaged Matt directly and he replied right away eager to help me. I picked out the "GIBBURNZ" style with a few tweaks of my own. Which, by the way, you can pick your colors if you can't find one that you like on his page.
Pricing & Features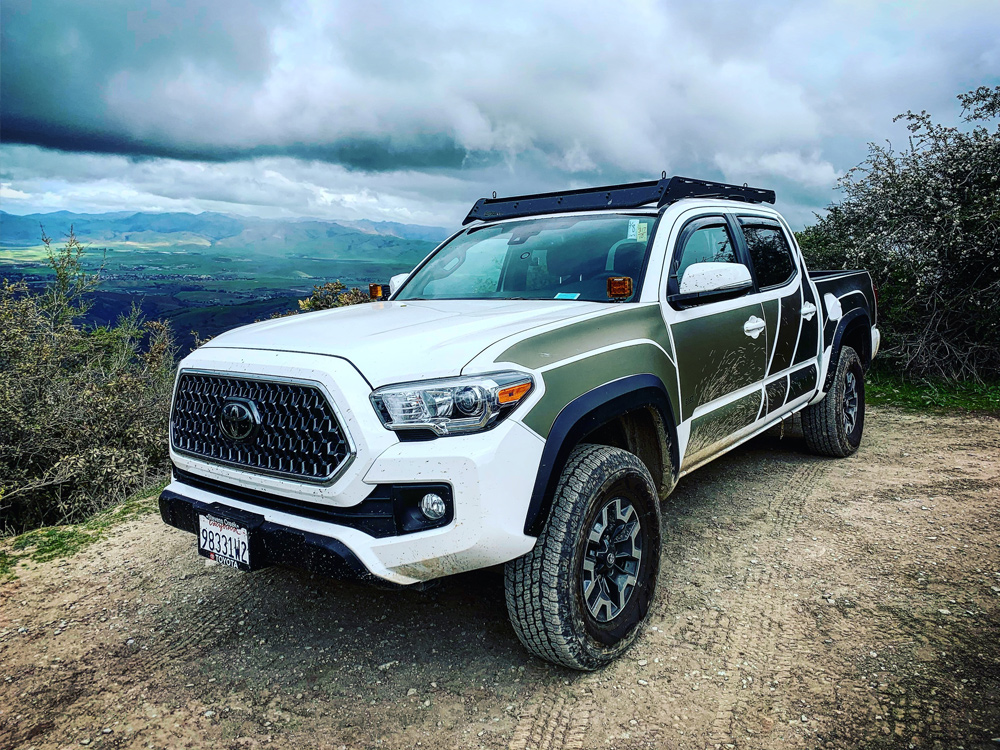 When it comes down to ordering your own set of armor, you now have the difficult job of deciding what designs and features you need and don't need.
To GOAT or Not To GOAT?
You can have the GOAT logo printed or go without, depending on what you prefer. I opted to go with the logo and I have no regrets. Regardless, it's really nice and very "customer-first" to have that option!
So Many Colors & Patterns To Choose From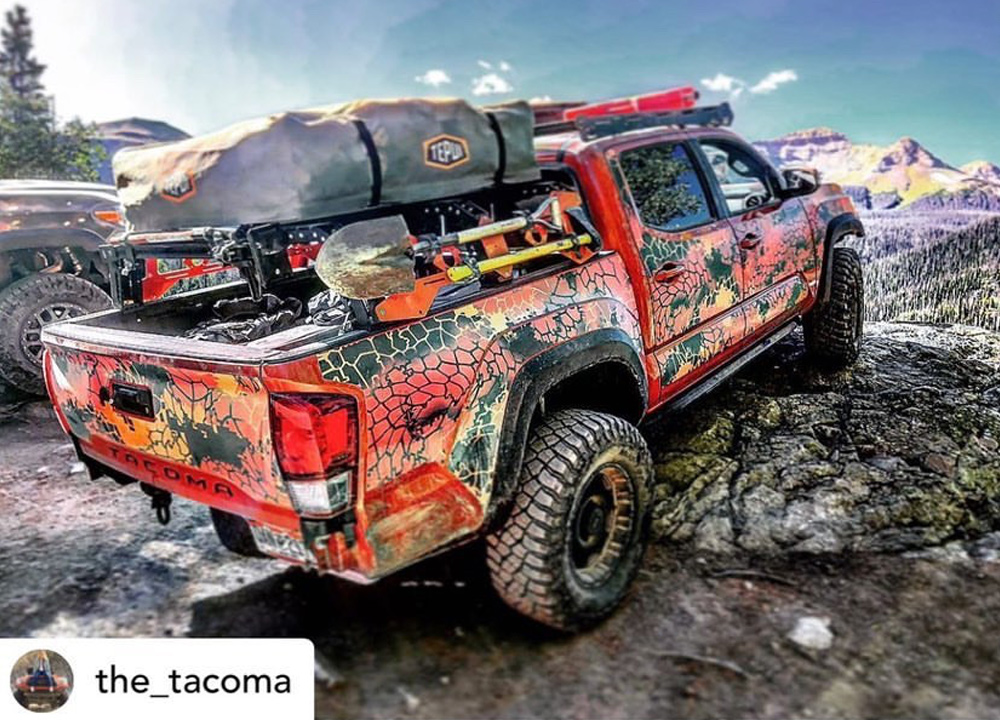 To be honest, I had a hard time picking from the selection of designs and patterns.
You can choose from solid colors to topographic designs (which are pretty cool by the way). There are some pretty flashy options as well like this one.
I went with a variation of the heritage racing stripes Toyota is known for. I opted for a more military-looking theme (OD Green, FDE, Brown, and Black).
Matt tweaked it a bit and added the white strips for better contrast next to the white paint. It did take me a while to get a feel for it. Once the compliments started to come in and I had seen her in direct sunlight, I was sold.
Check them out on their website below.
GOAT Magnetic Armor in Sinister (3rd Gen Tacoma 2016+): Check Price
GOAT Magnetic Armor Toyota Stripes White (3rd Gen Tacoma 2016+): Check Price
Leave the Logos Or Let It Go?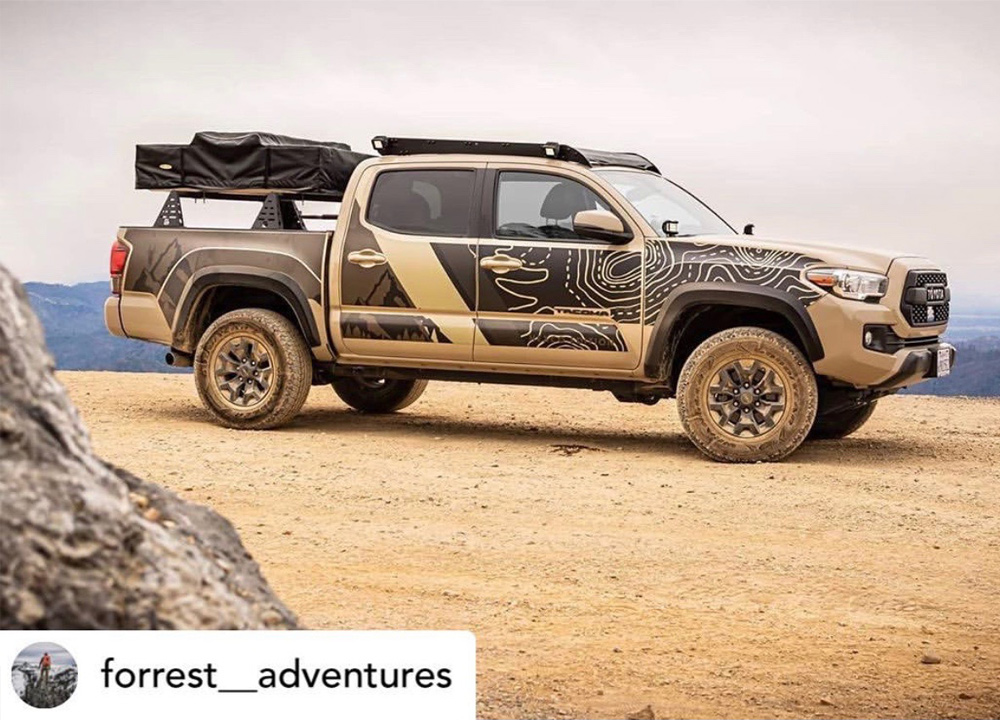 An option I decided to change at the last minute was to not have the cutouts for the badges. If you want to leave your factory badges on, then you can get a cutout for them. I took a little bit of fishing line and rubbing alcohol to remove my ugly chrome Toyota badges. I wanted the armor to flow cleanly and not have any gaps.
The Tacoma pictured above has its badges and includes the cutouts.
When your order arrives, I recommend helping out the delivery guy. The tube the armor comes in will be heavy so be careful.
When you unroll your armor, it will come in a big sheet that is labeled according to the position of each piece: Drive door, Passenger rear panel, Tailgate, etc. Once you look at it, it's pretty easy to figure out. The cuts are clean and the fit and finish are both excellent.
What Included for Tacoma?
(x1) Tailgate Piece
(x4) Fender Pieces (Two Per Side)
(x4) Front Door Pieces (Two Per Side)
(x4) Rear Door Pieces (Two Per Side)
(x4) Bedside Pieces (Two Per Side)
Application/Installation & Care
When I did my install, the tools I needed were simple.
All I needed was an old white tee and that's it!!! So here is a short and sweet tutorial on how to apply your magnets.
How To Apply GOAT's Magnetic Armor On Your Tacoma
Place your new GOAT unrolled with the decal side facing up.
Start from the front of the vehicle, top to bottom. (Or however, you think works best)
Before you apply each piece, take the old white tee and wipe down the magnet side to make sure that nothing gets in between the armor and your paint.
Once you have all of your pieces on, you can walk around and line everything up one more time.
It is as simple as that. TADAAAAA! A new truck! A fresh look!!! Protected paint!
Note: I did not remove the factory 4×4 off-road sticker. I just put the armor on over it and it prints through a little but not bad. Just some food for thought.
How To Care For GOAT Magnetic Armor
If you check out the GOAT website, you will see that there are GOAT CARE procedures. This is important if you want to get the most out of your armor and keep it looking good.
Here are a few magnet care tips:
Do not install on your truck if the body temperature exceeds 140-degrees or falls below 15-degrees
Slamming into a body of water at high speeds could shift and even remove the magnet(s) altogether, so just take it easy and remove some of the smaller panels if you plan to go full SEND
Remove the armor weekly and keep all surfaces clean
Lastly, it is a good idea to remove the armor after one of your adventures and clean it thoroughly
How To Store Your GOAT?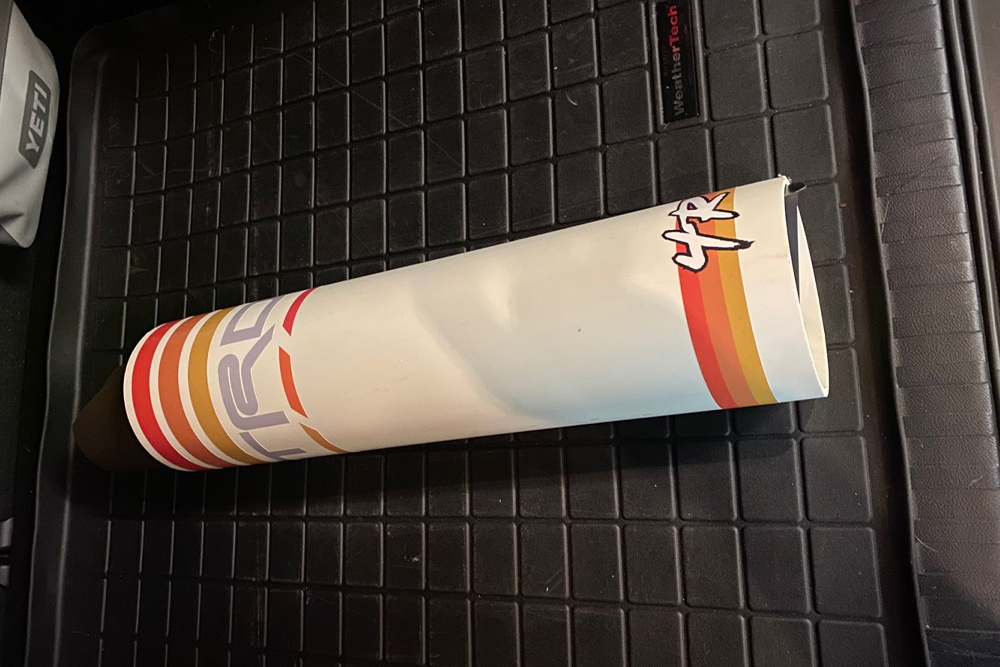 Let's talk about how to store and care for your GOAT.
I found that wiping the armor down with a wet cloth and letting it air dry works great. Once dry, I prefer to start from the front to back/top to the bottom. I then lay the pieces down on my tailgate with the magnet face up.
Note: Don't do what I did and forget the tailgate piece. Once you have everything laid out, you can lay it flat in the garage somewhere with a sheet or towel on top. Rolling it up is the method I prefer. Just make sure you roll it with the magnetic side in. A fellow writer and friend from Trail4Runner.com, Ryan – @Gibburnz, recommended storing the armor in a piece of PVC pipe from your local hardware store.
The specs he gave me are two 6" PVC tubes. This is helpful because you can label them as "Passenger" and "Driver" side to prevent confusion. I only used one tube and it all fit in the same tube. I used a piece of paper to separate the driver and passenger side.
Matt did mention that in the future they will be selling a storage tube for your GOAT.
Overall Review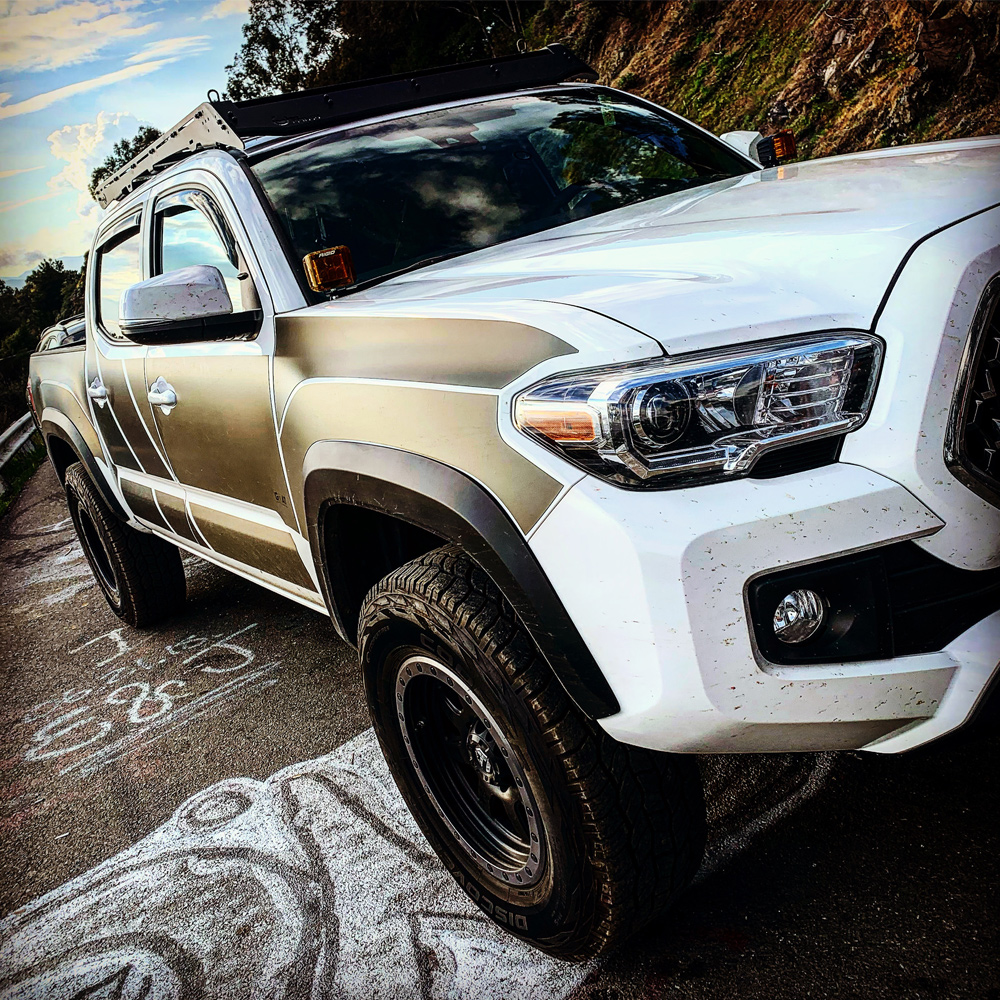 For the first time I went out onto the trail to test out the armor, I wasn't skeptical at all. I had taken a piece of the leftover magnet and tried cutting it with my knife to test its durability. I was impressed that even with a very sharp blade, I could barely see any cuts. It also took me a fair amount of force to puncture through.
There is just one nitpicky thing I'd like to point out: I wish that each piece had some sort of labeling on the back or small label blended in that told me where each piece went. I know it shouldn't be hard to figure out once I do it a few times. But, let's be real, not everyone is as sharp as we are. Am I right?!
Let's touch on customer service, FANTASTIC!
Easy as that. Do you need help with an order? On it! Do you lose a piece? On it! Do you need a group buys discount code? On it! (Keep reading to get to the discount code!)
Open to new ideas, they seem to be very receptive to what customers want. You can send them logos or photos and make your own design. From the spice girls to the power rangers, the sky is the limit.
Final Thoughts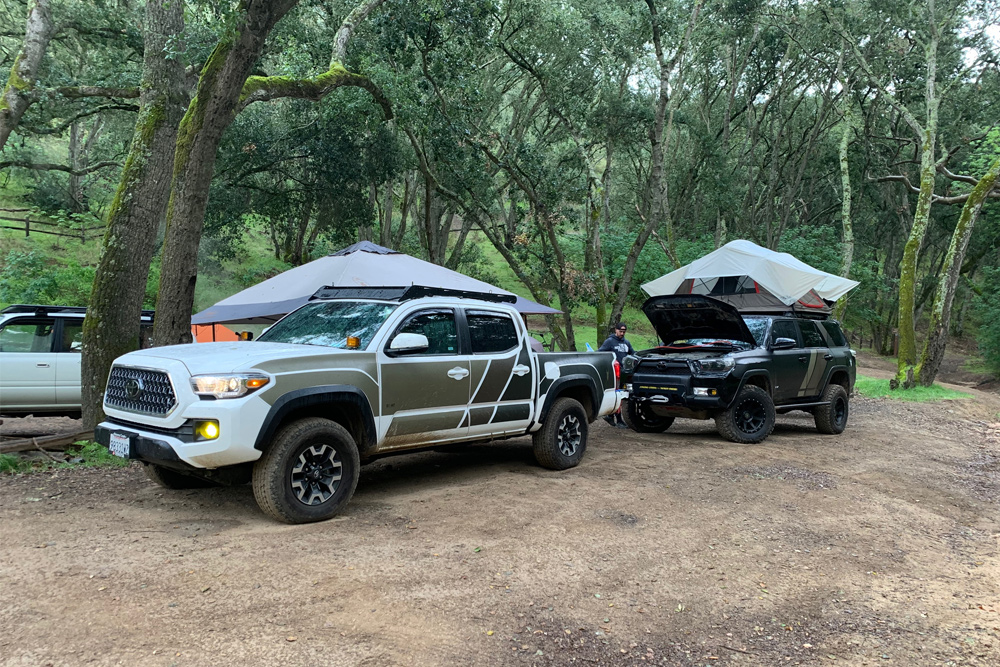 All in all, the armor holds up great to tree branches and dead bushes. I have knives and tools in my pockets that I am guilty of rubbing up against the paint. Apparently, its dummy-proof as well.
GOAT is a simple yet effective idea. It is easy to use and simple to care for. It has the looks but it is also very functional. 100% Made in the USA and their customer service is 5/5!
Matt generously provided us with a discount code that I mentioned before: DISCOUNT CODE: 10FOR10
Check them out, pick your poison and you will not regret it.