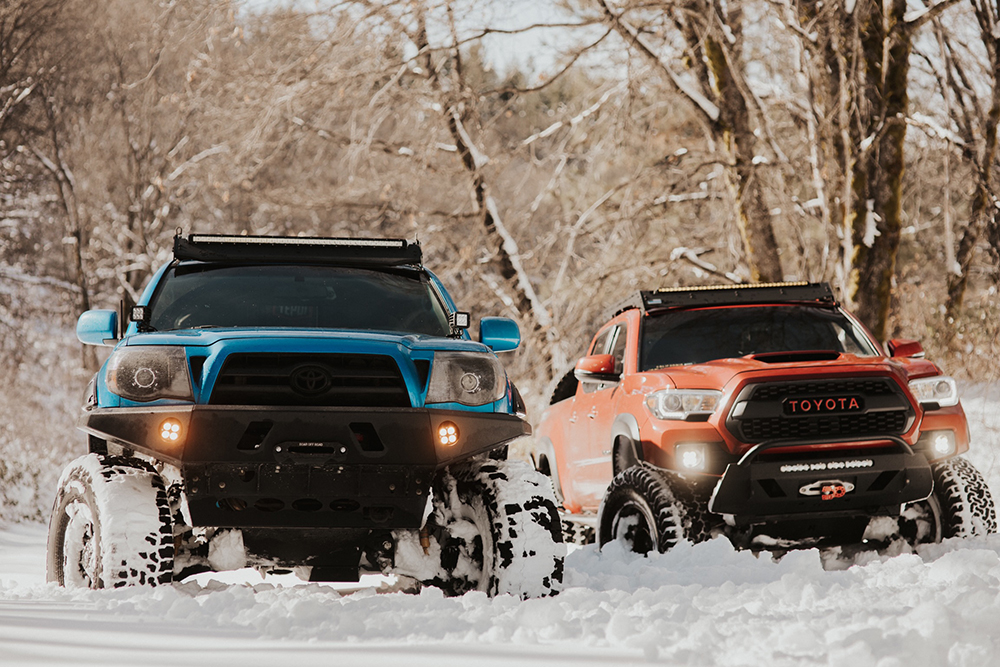 Where to Start with Modding Your Tacoma – 2nd Gen and 3rd Gen Tacoma Modifications
You finally bought yourself a Tacoma! You are probably itching to get some mods started. The question is, where do you begin?
There are enough options to make your head spin. Let us break down some of the routes you should consider before making your first purchase.
When it comes to customizing your truck, there are many different options to consider. From performance upgrades to the suspension, armor and personalization, there is a boatload of opportunity to upgrade your truck.
Areas to Consider Modding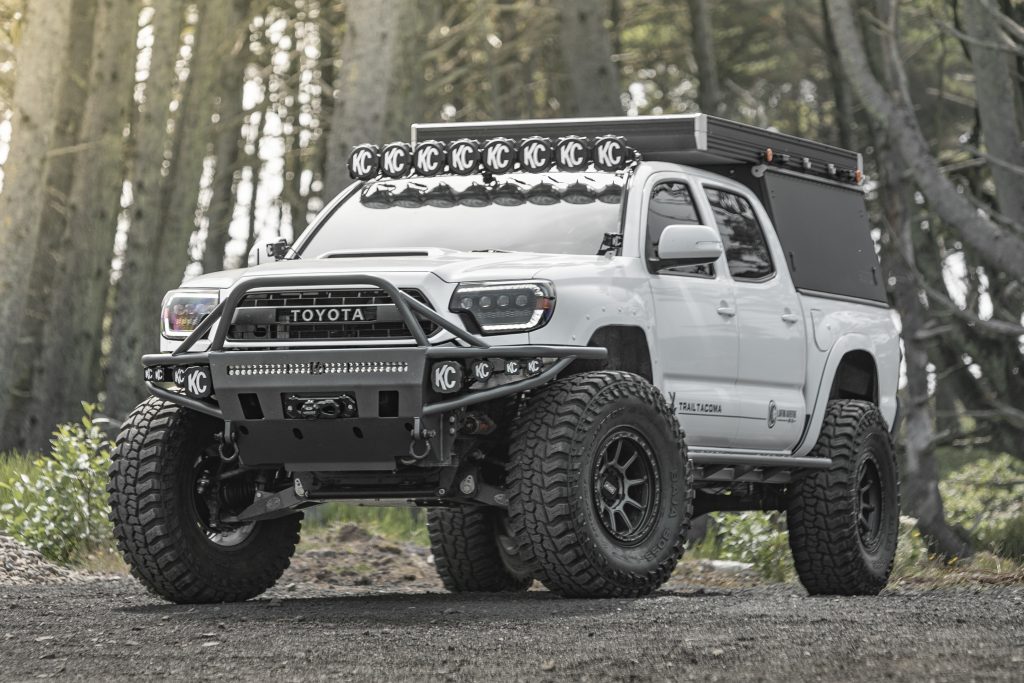 Performance: This category includes items that can improve your throttle response, increase air flow, add horsepower and improve your MPG (potentially). Simple modifications like Pedal Commander can increase the sensitivity of your drive by wire system and make your truck feel peppier. A cold air intake can improve the air flow going into your engine. It sounds great and you might be able to squeeze a few horsepower out of this modification. Some claim that they even get better MPG from this upgrade – a heavily debated claim. At the pricier end of the spectrum, you can add a supercharger. These kits are also referred to as forced air induction and require quite a lot of revamping and work to your engine. These kits can set you back thousands of dollars, not really a usual first step for very many buyers. A cat-back exhaust system is another popular option. These kits can reduce back pressure and make your Tacoma sound better.
Suspension: There are several companies to choose from. Some of the more popular companies are King Off-Road Racing Shocks, Icon Vehicle Dynamics, FOX, Bilstein and Eibach. The list goes on. All of these companies design lift kits for any and all scenarios. There is an option for everyone, no matter what your goals may be. Some companies focus on budget kits/builds while others are geared towards high-quality, beefy upgrades that can withstand serious abuse.
Interior: Another category with lots of options. You can start by upgrading your interior lights to LED. LED lights are brighter, use less power and typically last much longer than your average halogen bulbs. Several companies also offer options to change your dash bezels. This allows you to customize your interior in a way that was not available from the factory. Floor mats fall into this section. Weathertech and Husky Liners are two popular options. They provide you with more protection than your average mats and even those that come from the factory. Simple modifications to get you ready for the trails include communications. A quality CB radio, like Midland, can really go a long way to ensure that you can properly communicate while on the move.
Exterior: You also have many possibilities for simple exterior modifications. Adding decals, badges and stickers is an easy place to start. Add some cool aftermarket choices to personalize your truck. Another great option is vehicle wraps. We can now find many companies that offer precut vinyl options for your Tacoma. From simple designs to hood stamps, there is something for everyone. For a truly custom touch, there are tons of options for aftermarket grilles. If you are feeling really adventurous, you can find a DIY write-up from a trusted source. Raptor lights, that mimic those seen on the Ford Raptor, have gained in popularity as they do not break the bank and can be easily installed.
Lighting: Popular options include upgrading your headlights and foglights. You can add brighter and more powerful options for your high/low beams and even your fog lights. Ditch lights, which mount at the driver and passenger corners of the bottom of your windshields, are simple additions to your truck that do not take too much time to improve. Many companies offer lighting solutions and mounting kits to add lights behind your grille as well.
So where do you start?
Pictured: James – @panahrama
The truth is, we could spend thousands of dollars upgrading and customizing our Tacomas. However, since most of us do not have unlimited budgets and time, it is easiest to get started with the basics. These are the mods that just about every owner is going to want to add. They include floor liners, center console organizers, LED bulbs, tints and a few others.
Keep in mind that these are not all of the basic mods you can add to your Tacoma, however, they are some that can get you started. The most important thing to understand is that this is your truck and you should build it in a way that suits your needs best. Always do your research before jumping on any one product. There are many social media platforms out there, which make it very easy to spend your hard-earned cash. Facebook and Instagram can be a good place to find inspiration and where you can connect with others who are running products that you may be interested in.
10 Starter Modifications for your Tacoma
Tint: Call a shop and get a quote (usually $150-$300 depending on the film)
AJT Design Key Fobs: Check Price
Blackout Emblem Kit: Check Price
Bed Stiffeners:

2nd Gen: Check Price
3rd Gen: Check Price

2nd Gen Headlights

High/Low (H4): Check Price
Fog Lights: Check Price

3rd Gen Headlights

Low Beam (H11): Check Price
High Beam (H9): Check Price
Fog Lights: Check Price

Interior Led Light Conversion: Check Price
Pedal Commander: Check Price
Floor Mats: Check Price
Center Console Organizer: Check Price
Although these mods are fairly simple, they can give you a kick start into learning how to build your Tacoma before working your make your way up to more expensive mods.
Once you get a feel for the basic mods, you can move towards the bigger and more involved ones. These may include lift kits, tires, wheels, roof racks, light bars, ditch lights, armor, and others that will prepare your truck for it's intended goal.
What are your goals?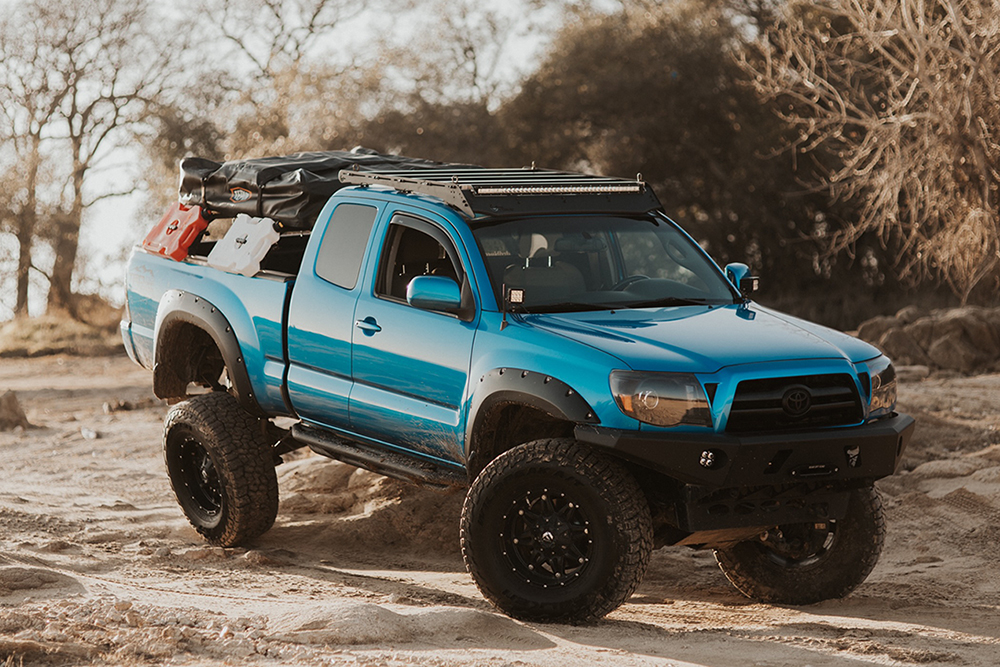 What are you looking to accomplish with your Tacoma? Planning and establishing the purpose of your build will help you to stay focused in and on track to build a Tacoma that works for you.
When looking at the endless options you have to customize your Tacoma, it can be hard to pick and choose the right mods for your rig but with a little direction, you will easily able to narrow down some choices.
Take a second and look into the future of your Tacoma.
Where do you plan on driving – hard-core rock crawling or overlanding?
How do you camp – rooftop tent or ground tent?
Daily driver or adventure rig or both?
Are you spending more time on-road or off-road?
Where will you be using your truck, what type of tires should you purchase?
Will you be traveling alone or with others?
While most mods can be bought over time, keep in mind that you should start with mods that have your end goal in mind. You do not need to add them all at once. Take your time and take into consideration exactly what you want for your Tacoma.
Different Types of Builds
You typically have a few types of builds when it comes to the Tacoma.
Daily driver
Weekend warrior camper
Overland truck
Rock-crawler
Long Travel
Trophy truck
Hawaii 5-0
Straight Axle Swap (SAS)
SEMA Show Truck
There is going to be a lot of crossover when it comes to different builds. There are many different types of builds out there and depending on what you are looking to accomplish will determine what parts and products will help you get there. If you are unsure about each of those items, just Google the term and then "Tacoma" for example; "Tacoma Trophy Truck" or Tacoma Overland Truck". Browsing Google images and connecting with guys on Instagram is a great way to start researching your build goals.
Getting Started with Bigger Mods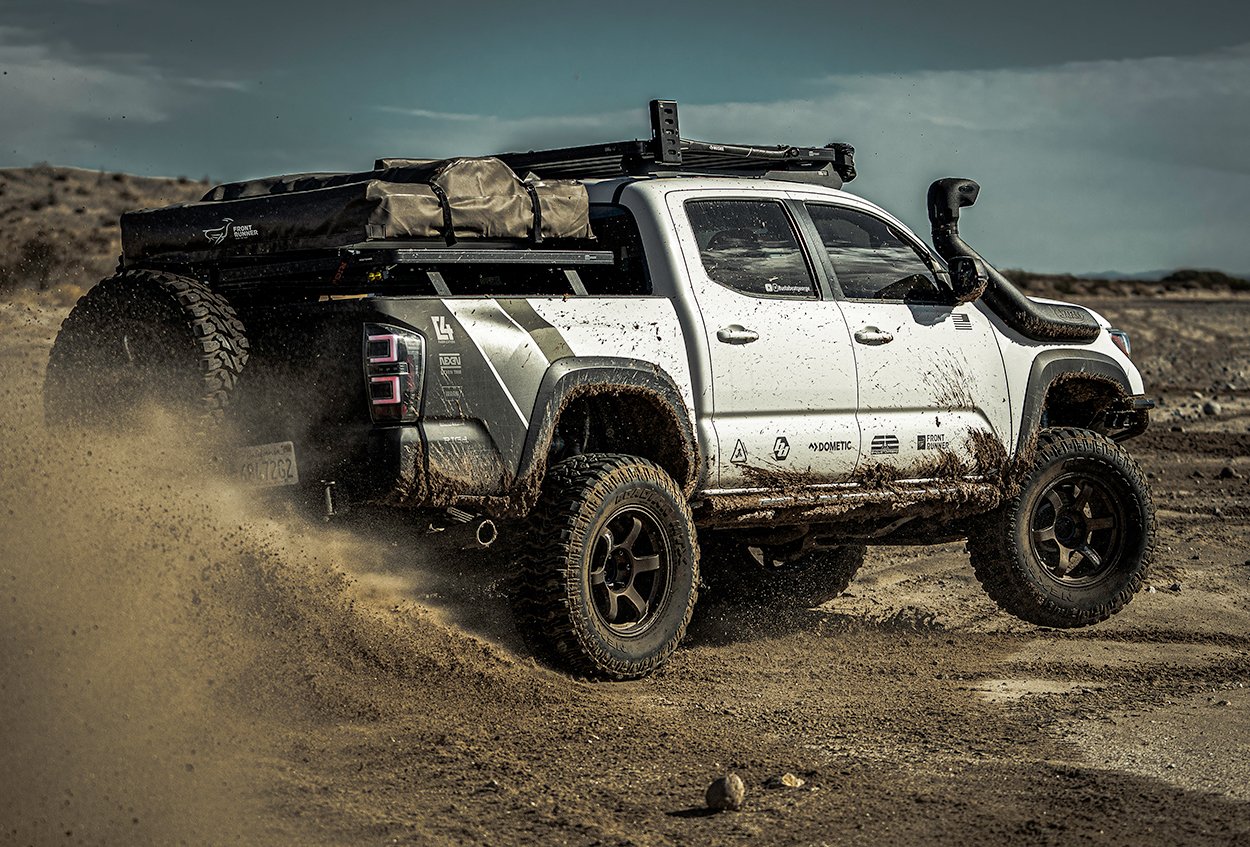 After some thoughtful consideration, you finally know what kind of a truck you want to build. On a side note, you will probably never be completely finished with your build. Most projects can turn into somewhat of an addiction that will continue to be a work in progress as long as you own the truck.
Ok, I am finally done… said no one ever. 
Upgrade Stock Suspension
All Terrains or Mud Terrain Tires
Upgrade Wheels
Roof Rack, Bed Rack, Camper Shell, or Rooftop Tent
Now let's get started!
Mod #1 – Suspension & Lift Kits
Pictured: JD Fabrication 2.25″ Long Travel
Upgrading your suspension can range from a few hundred dollars to a few thousand dollars and even more depending on what your needs and end goals are. Whether you're looking for a simple easy kit you can install yourself watching some youtube videos (spacer kit, coilovers, and long travel) or a more advanced kit such as a suspension relocation kit for a desert racing trophy truck or SAS build.
If you're working on a budget, you may want to consider a simple leveling kit or lift kit.
Leveling Kit Vs. Lift Kit?
Leveling kits are just that – they "level" your truck. This is typically done with a spacer in the front only. A leveling lift kit will level your truck while lifting it at the same time. This is typically done with a spacer in the front and rear of your truck. A lift kit is typically done with upgraded coilovers and leaf springs. A true "lift kit" is usually the best route for on-road performance. Leveling kits and leveling-lift kits can usually downgrade on-road performance, but not always.
How much lift do you need?
2″ = 2″ of lift to level out the front only
2/1.5 = 2″ of lift in the front and 1.5″ of lift in the rear
3/2 = 3″ of lift in the front and 2″ of lift in the rear
2″ in the front will level out the Tacoma. WIth 2″ of lift in the front and 1.5″ of lift in the rear, this will lift your Tacoma, however, you will have a slight rake (Truck leans forward). With 3″ of lift in the front and 2″ of lift in the rear, this will give you the most ground clearance, and allow for larger tires – if that is your goal.
Entry & Mid-Level Suspension Systems
Spacer Leveling Kit (spacer – 2″):

Check Price

Spacer Leveling Lift Kit (spacer – 3/2):

Check Price

Entry Suspension Lift (Eibach)

Entry Suspension Lift (Bilstein):
While there are many different ways to lift your Tacoma, these options are a great affordable way to get you started on your journey. Make sure you choose the right kit for your needs based on your daily driving habits or weekend warrior goals.
If budget is not an issue or you want a very high-quality suspension system, you have an endless amount of kits you can go with. There are a couple of things to think about, though. Although KING and ICON are among the most popular options, it doesn't mean they are the "best". Best is incredibly relative to your needs in this world. If you are considering a higher-end lift kit consider some other companies such as OME (BP-51), FOX, Elka, ADS and others.
Advanced Suspension Systems
Of course, there are countless other options for suspension systems and lift kits you can put on your Tacoma, however, finding the right kit for your needs is crucial in your overall end goal. These options above are considered some of the top "best" options in the industry, however, going Long Travel is an option as well. If you are considering a long-travel suspension system, look at Total Chaos and/or Dirt King Fabrication. Both of those companies make great long travel kits with Total Chaos referred to as the higher quality of the two.
MOD #2 – Tires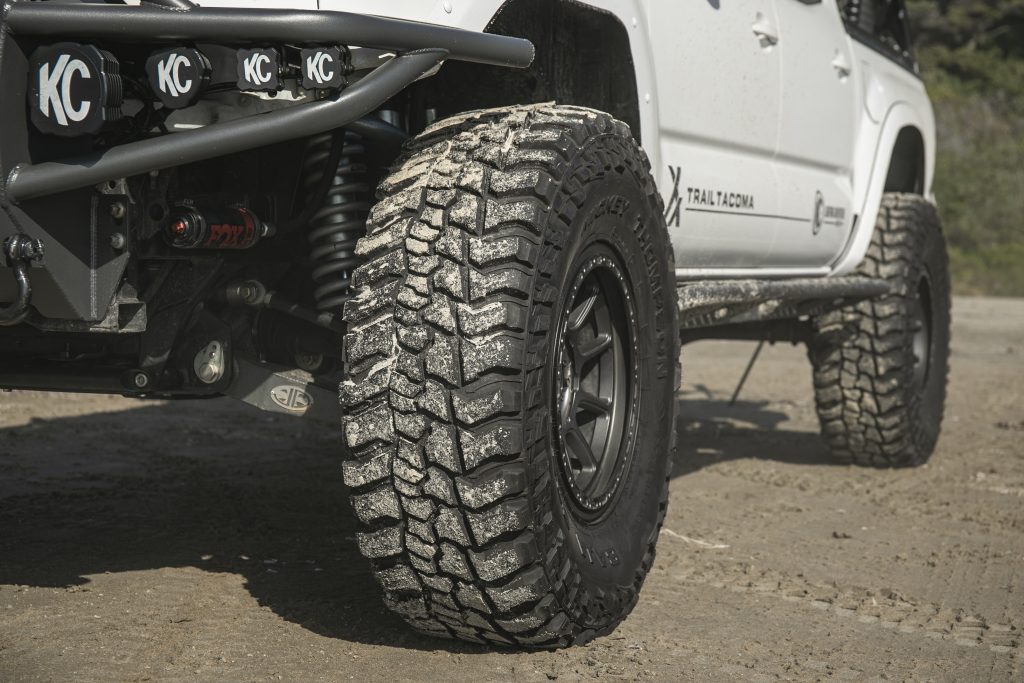 I would say one of the most important mods when getting started is your tires. The general rule of thumb is not to go cheap on tires. If you are on a budget but want to upgrade your tires and wheels – but leaning on the budget side of tires to afford wheels – just stay with your factory wheels and buy great tires. I think most experienced guys will agree with us on this one.
After you've lifted your Tacoma, you will be in the market for some bigger tires (You don't need a lift to upgrade tires either).
Largest Size tire on Tacoma with lift?
Some of the most commonly upgraded tire sizes are going to be 32", 33", or 34″ tires. Most Tacomas come stock with 265/65R17 (31.61″) size tires which you'll want to upgrade but once you upgrade, your tires might cause rubbing.
There are many factors that come into play when going with bigger tires. A few additional factors to consider -offset on wheels, wheel spacers, and tread pattern – specifically large mud-terrain lugs. Depending on these factors you may be more at risk of rubbing. There are hundreds of options for wheels and tires so think about how far you are willing to go with trimming your wheel well and chopping your body mounts.
32″ Tires:
Jumping to 275/70R17 (32.16″) will usually require some type of leveling lift kit to a mid-level lift kit if you don't want to trim at all. At 275/70R17 tires, you will likely have no rubbing which results in little to no cutting, trimming or modifying your factory wheel well. This is a great option for daily drivers and weekend warriors who camp a few times per year and want a little extra ground clearance plus traction.
33″ Tires:
Going with 285/70R17 (32.71″) tires are the most common upgraded "largest tire size". This is typically the largest tire size you can run on the Tacoma without having to make serious modifications to the factory parts; the fender liners, body, and fender well plastics. With 285/70R17 tires, you may need to slightly trim your plastic fender liner and do a body mount chop (BMC) for the tires to fully clear at full steering wheel lock in reverse and forward.
34″ Tires: 
Going with 285/75R17 (33.83″) for example is going to cause much more rubbing and will likely cause you to cut into the body of your front bumper. With 34″ tires, you are going to need to chop your cab mount or body mount in order for those tires to fully clear. You may also rub on your fenders if your tire is stuffed in the wheel well and then turned. This will cause more trimming on your body. Adjusting your caster may help push your tires forward (away from the firewall) which may solve some rubbing as well.
35″ Tires:
If you are going with 35X12.5R17 (35.03″) tires or higher depending on your clearance and lift kit – you will make more than just fender liner trimming and small body cuts. You will likely want to run fiberglass fenders and a full front bumper in order to fully clear those 35″ tires. You also might end up relocating your fender mounting points, folding over pinch weld seems, relocating your firewall with a firewall tub, and more. Going with a long-travel suspension is usually the goal here but not always.
Highway Terrain Vs. All-Terrains Vs. Mud-Terrains?
Question is, do you want to go with Highway Terrain, All-Terrain or the Mud-Terrain tires. All of the bullet points really depend on the brand of tire you buy. Typically, the higher the quality tire you buy, the better their metrics and stats are going to be.
Highway

MPG: High
Noise: Quiet
Off-Road Performance: Low Traction

All-Terrain

MPG: High-Medium
Noise: Quiet-Mild
Off-Road Performance: Mild-Advanced Traction

Mud-Terrain

MPG: Medium-Low
Noise: Mild-Loud
Off-Road Performance: Advanced Traction
Personally, I run an All-Terrain on my Tacoma simply because I do more on-road driving than offroad driving. However, when I am Off-road, my AT tires perform far beyond what a typical highway terrain can. If you're planning on frequent off-road driving but still daily drive your Tacoma you may want to look at All-Terrains (depending on your commute). If you commute 50 miles per day in your Tacoma you may want to consider an all-terrain/highway style tire. If you commute 1-2 miles per day and plan on frequent off-road driving, you may want to consider running a mud terrain.
While All-Terrain tires have a mix of on and off-road capabilities, their performance all season and through all weather types is quite amazing. Most owners typically go with a well-rounded all-terrain tire like the Cooper Discoverer AT3, BFG KO2 TA or the Toyo Xtreme AT2s.
Mud terrain tires like the Cooper Evolution MT, BFG KM3, or Toyo Xtreme MTs serve a much different purpose. While running these you'd expect excellent performance in mud, rock, soil, sand, etc. Something to keep in mind is the level of road noise you will see out of MT tires. MT tires have a reputation of being a very loud tire (referred to as "tire hum" or "tire whine").
With that being said, one of the most well mannered MT tires we have seen on-road are the Cooper Evolution MTs. For an aggressive MT tire tread pattern, this tire is almost whisper-quiet on-road.
Overall, both All-Terrain tires or the Mud-Terrain tires are well-rounded tires, it just comes down to your overall needs and/or wants for your rig and end goal.
MOD #3 – Wheels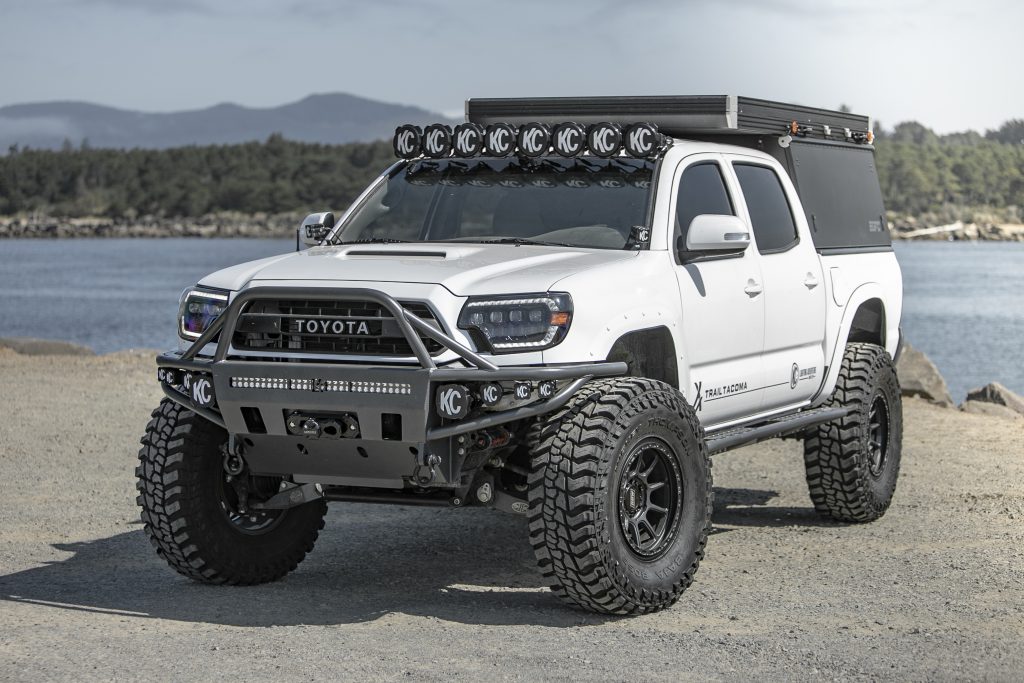 When it's time to upgrade your wheels, there are countless options and varieties depending on what you need or want for your build.
Whether you have the base model SR5, Off-Road or TRD Pro, no one wants to stick with stock wheels. Aftermarket wheels give someone like you the chance to customize your vehicle any way you choose, although sticking with stock or factory wheels is never a bad option wither. By sticking with your factory wheels, you free up the budget for something else, like more money for your suspension system, tires, or something else.
Now let's talk about wheel size! Personally I run a 17×9 inch wheel on my Tacoma which looks perfect (In my opinion). Most crawler builds stick to a smaller size wheel such as a 15" or 16" wheel to give them more tire sidewall and/or allow them to have a more aggressive look. Running a 16″ or 17″ wheel is very common on the Tacoma and there are plenty of brands out there that accommodate this size for our bolt pattern (6×139.7mm or also referred to as 6×5.5″).
10 Popular Off-Road Wheel Companies:
Method Race Wheels
SCS – Stealth Custom Series
Relations Race Wheels
Black Rhino
Fuel Offroad
Ultra Wheels
VTX Wheels
Konig Wheels
ICON Alloys
Fifteen52
Something your factory wheels can't offer is offset. Depending on how much you want your wheels to stick out, some guys may lean towards more offset and others may stick to more of a stock offset. It all depends on the look you want.
Although it may seem counter-intuitive, more offset if explained with a (-) like negative. So -30 offset is more than -5 offset. Most wheels come in a 0 offset or -6 offset, while you can find some companies that make very large offsets like -15 or even -38 offset. If you run with -38 offset, you almost instantly remove the need for running aftermarket spacers for your wheels (if the wide look is what you are going for).
All in all, when it comes down to your wheel selection, base your decision off of a wheel that tends to your needs, not what you and/or your buddies want you to have! In the end, wheels are expensive and you'll most likely only want to buy them once.
MOD #4 – Bed System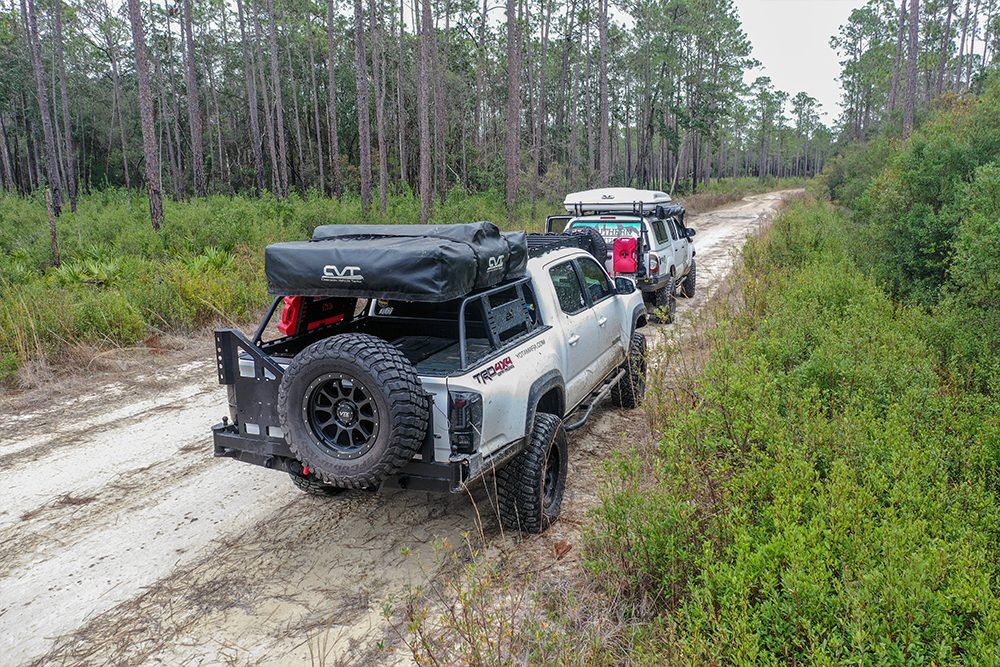 When it comes to upgrading your bed system, there are many different options out there for you.
From tonneau covers, to overland bed racks and camper shells to full campers with built-in rooftop tents (RTT) like the Go Fast Camper – you have so many options.
You have a couple of different options for the mobile truck camping platform; a bed rack with a rooftop tent (traditional overland look) or full camper which has somewhat replaced both the camper shell and the bed rack + RTT functionality. Go Fast Campers were pretty much the pioneers of greatness in this section so if you a camper if the direction you want to go, start with Go Fast although there are others out there
Tonneau covers
Tonneau covers are great for allowing you to lock up your belongings and give that sleek look that your Tacoma may have been missing! Check out these tonneau covers!
Overland Bed Racks
Then there comes the Overland bed rack systems. If you're looking for something to store your Roof Top Tent on or even to attach any sort of gear or recovery you may have, depending on your end goal for your Tacoma. Here are some options for you.
Camper Shells
If either of those bed rack systems isn't your style, you could always go with a camper shell that matches the rest of your Tacoma and gives it that sleek finished look! Here are some options to choose from! With a camper shell – keep in mind that you will need roof rack crossbars or a roof rack.
Campers:
Since campers have stepped into the scene, they have somewhat replaced many aspects of camper shells and traditional overland bed racks. With campers, you have the best of many worlds. You essentially have a camper shell and with no real need for a bed rack system any longer because a camper can mount side accessories and has a rooftop tent built into it, like the GFC camper or Vagabond camper. Check out the GFC landing page for campers to see what running a camper system is all about. It may change your mind about what you think about running for your bed system.
Final Thoughts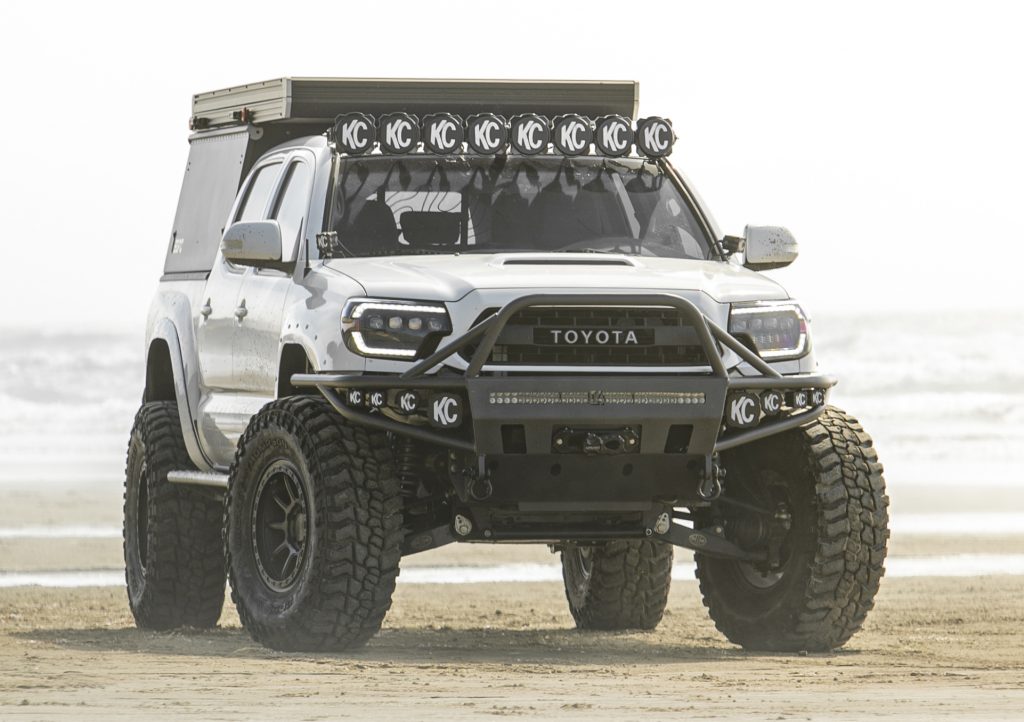 Now that you have educated yourself on the options, it is time to plan out your build.
Do not worry, this process will take some time and you will most likely change your mind many times as you go down the road, however, remember that your Tacoma is your build! Build it the way you want.
Hopefully, this overview gives you some initial insight into the direction you can take your Tacoma. If you have any questions please leave them in the comments section below.