Go Fast and Go Anywhere with the Go Fast Campers (GFC) Truck Camper: One-Half Camper, One-Half Rooftop Tent, Done.
Now, many of us might have never considered purchasing a camper. That was until a new company came on the scene.
Go Fast Campers (also known as "GFC" or even "Go Fast") has only been around for about 3 years now, but man, have they come a long way. With tons of orders and quite the waiting list, it's time to see what all the fuss is about.
GFC is from Bozeman, MT and most of its parts and products are either built or sourced from the United States. They have an incredible, hard-working team. They pride themselves on a smart design that allows them to price competitively and maintain top-notch quality. To sum it up, they design and build high-quality truck campers and rooftop tents.
Truck Campers Vs. Rooftop Tents?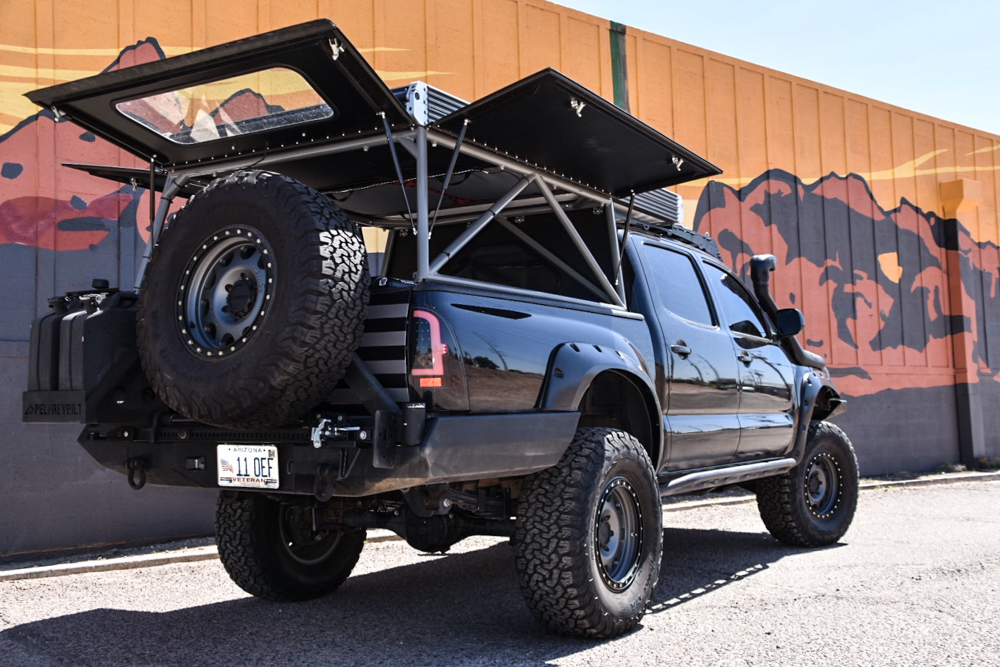 Traditional Truck Camper
The full-size campers are essential and an RV that is mounted or carried in the bed of a pickup. These are demountable units that feature a sleeping space, kitchenette, shower, cabinets, multiple storage spaces and many other elaborate features (depending on the shape and size). You will find these on full-size or mid-size pickup trucks. Check out this pretty rad camper and motorhome sitting on a 3rd Gen Tacoma.
Rooftop Tents
Just as they sound, it's a tent that is mounted on your roof. Rooftop tents are commonly mounted on factory crossbars and roof racks. In the 5th Gen 4Runner case, GFC supplies a specific mounting bracket. You can see that rooftop tent here.
GFC Camper
They look like a camper shell with a rooftop tent on top, only cooler. You can open the sides and rear of the camper doors (also known as panels) and then climb up through the rooftop tent from inside the camper. In the space where you climb up into the rooftop tent, that can then be closed off with a modular piece eventually creating your resting place.
Traditional Camper Vs. Go Fast Campers?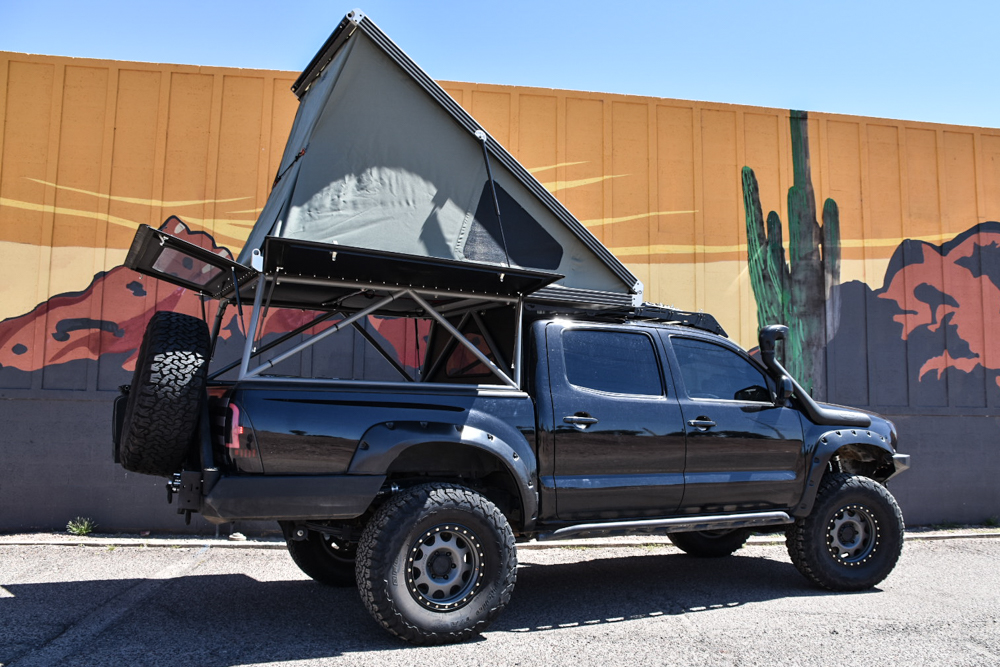 Let's be honest. The traditional campers are often, not the most visually appealing mod. Many of them are bulky and, although some might think they are more form than function, they are great units. However, it always felt like something was missing with a camper sitting on a Tacoma or any mid-size truck for that matter.
Enter Go Fast Campers. This GFC camper is strong, sleek and does not compromise function. It looks great and I knew I wanted one as soon as they came out.
The GFC is not some big, bulky truck camper like most are. At the end of the day, they are geared to go fast (moving from one spot to another quickly) and go off-road (not too top-heavy).
Unlike some of these other campers, it is not only extremely functional and convenient boasting showers and the whole-nine, but it can also withstand extreme off-roading applications and can also store everything you need for a weekend or week-long adventures.
So, let's get into this camper a little deeper.
GFC Specs, Options & Details
So you're getting ready to purchase a GFC. Here is what you might want to know.
What's included?
Pop Top Camper Assembly (sleeping area)
Operable Hard Side Panels
Choice of base colors
Mattress
Installation kit
The basic camper design comes equipped with panels (both left and right sides as well as the back) that open with gas-powered shocks. This gives you easy access to the bed of your truck from many angles. The panels come with push locks that are flush with the panels and a lock and key system for securing your GFC.
Additional Options
Front and/or Rear Windows ($200/window)
Tent Side Door ($350)
Custom Colors ($500/part group, such as frame or panels)
I chose to add both the rear window and tent side door options to my camper, and I am very happy with my decision to do so. I can access the tent from the side as well as from the back using GFC's ladder accessory.
With the rear window addition, I have some peace of mind that I can see out of my rearview mirror. As far as color, I chose not to go custom and went with a black camper and a gray frame.
Panel color choices include: black, white and gray. The tube frame color options are either charcoal, grey or orange.
What type of materials are used?
The bed frame is constructed from .65″ 1.5 DOM steel. It's ultra light-weight and holds up well to excessive stress.
The panels are made from 5000 series aluminum, a great balance of weight and strength.
All components have a powder-coated protective finish to keep it looking like new.
How much does it weigh?
The base camper is around 275 lbs, the XL weighs about 300 lbs.
How tall is it?
GFC is the sleekest option on the market at 6″ thick.
It has about 3 inches of clearance above most truck cabs.
Approximately 7.5″ higher than the highest point on the cab.
The following are dimensions more specific to the Tacoma model.
From the bottom (where it meets the bed) to the top (its tallest point) is about 28.5 inches.
From front to back (at its longest), it's just over 96 inches and overlaps the cab by ~ 34 inches.
Width-wise, the camper is about 61 inches.
Side note: If you have a roof rack installed, there is a good chance that you will have to cut or trim it to make it work with the camper. I had to trim mine to ensure that the roof rack would not hit the camper when moving around and flexing out on the road or trail. Originally, I didn't cut off enough and my roof rack rubbed on the camper.
How easy is removal?
It's not too difficult to remove. The camper is attached to the truck bed by 6-8 strong-holding fasteners. Keep in mind that the camper is built to be left on your truck full time.
What about accessories?
Fitted Bed Sheets
Awning Brackets
Crossbar Rack Mounts
Camper Wind Skid
Light Mounts
Antenna Delete
And more!
GFC Pros
I would say the positives far outweigh the negatives when it comes to this camper.
First, among the other options, the GFC is much lighter than its competitors. It also offers a much more stealthy and appealing design.
It is extremely comfortable and its strength and attention to detail deserve a round of applause. The tent material is likely one of the most high-quality materials in a tent I've seen to date.
All the essential components are high-quality machined aluminum and steel, so you can bet it's going to be durable and will last for a long time.
The convenience factor is huge. Having an easy setup, especially when camping with children, can't be beaten. Not to mention, a great night's rest while camping.
Note: I would recommend having your suspension dialed to handle the extra weight and increased center of gravity.
My Truck
Icon Vehicle Dynamics Suspension with 2.5 CDC Valved Shocks
Dakar Heavy Leaf Packs with One Added Leaf
This setup works extremely well with the added weight and with no compromise in vehicle ride. Although a bit on the pricier side, all my years of experience have taught me that you get what you pay for with this expensive, addictive hobby.
As expected, GFC backs its products with a warranty, plus no-cost repairs for any rooftop tent, camper or accessory.
Warranty
All components come with a 2-year manufacturer's warranty.
Repairs performed at no cost, but the customer is responsible for delivering products to the facility.
GFC Cons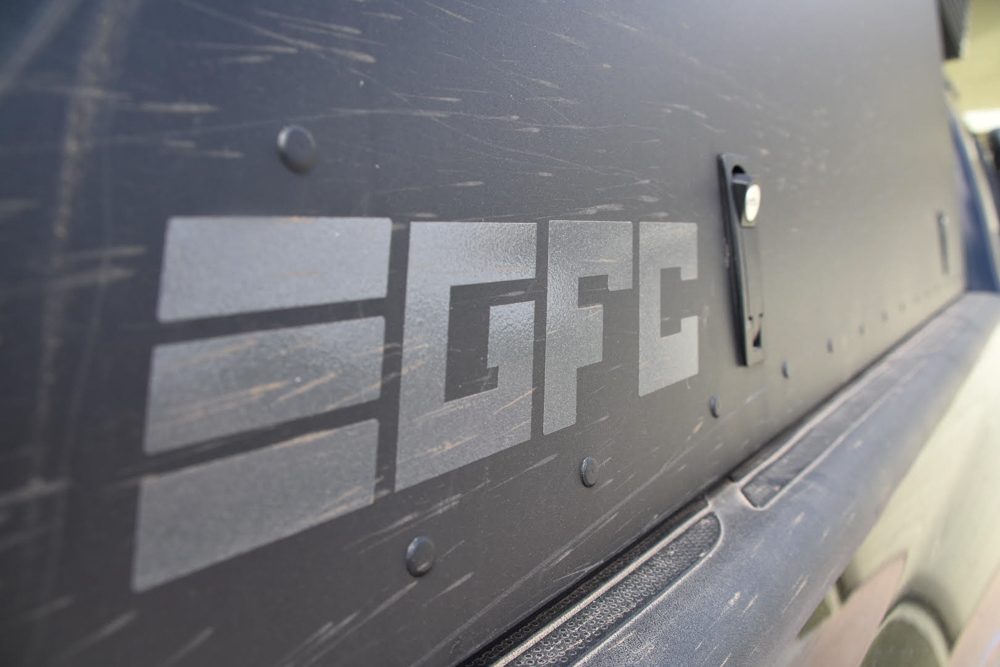 Let's jump into some of the minor negatives to this camper.
My first and only frustration that I found so far is that you will have to weatherproof around the seal where the camper meets the bed of the truck. Without doing so, water can leak into the bed. Eventually, we will have an overview guide on the site here to show you exactly how to weatherproof your GFC camper.
Shipping and Install
Another potential negative of this camper is the shipping. You can have it delivered by GFC's "white glove delivery," where they drive it to you and install it. This is pretty pricey and it varies depending on where you live:
West Coast Rates: $750–1200
East Coast Rates: $850–1500
Prices are subject to change until the camper is loaded up and ready for delivery.
The delivery dates, once the camper is completed, are based on when they are coming to your area next. These dates are based on when they have enough campers to deliver to a given area to make it cost-efficient. So the date you will receive your camper could fluctuate anywhere from 6-12 weeks.
You can choose to pick it up in person, but you would have to plan a trip to Montana to do so. Depending on your location, and ability to take a road trip, this may or may not be an option for you. They do charge you an installation fee at the shop for this option. Those are your only two options at this time.
Turnaround Time
The final negative I have is the turnaround time. When I placed my order, my estimated wait time to receive my GFC was 10 months. It ended up being closer to a year before I got my camper.
According to their website, the current wait time to even begin production on your new GFC is 11 months due to its popularity. So that, plus actual time in production, means you're not getting it anytime soon.
Ultimately, good things come to those who wait, and in my opinion, this was worth the wait. This camper is everything the company and its community say it is… incredibly high-quality and even more functional.
Reserving Your Spot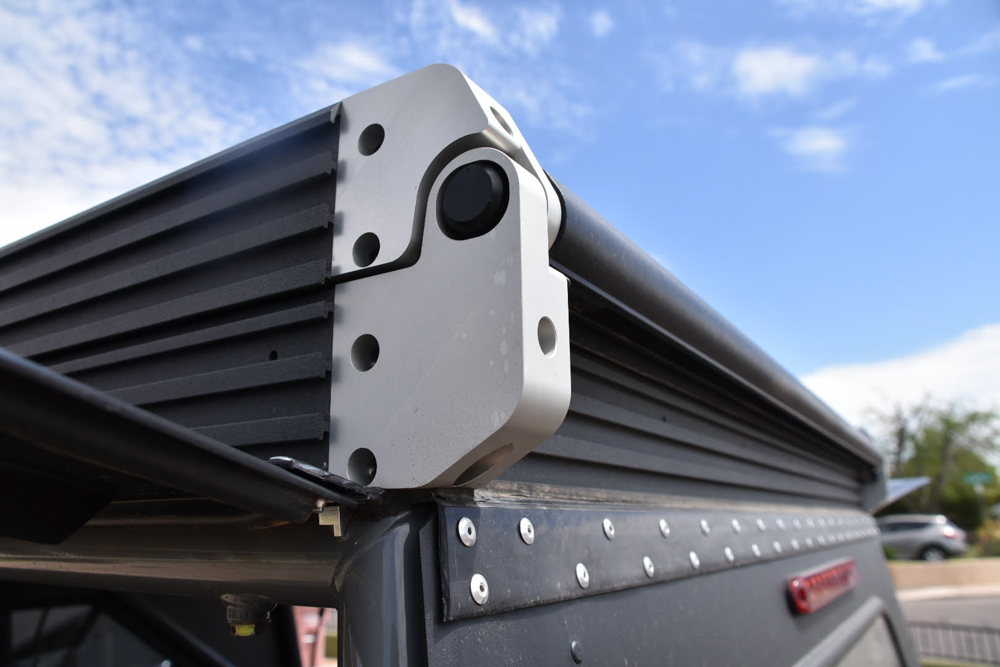 After reserving your spot in line, your wait begins. You will need to put down a deposit for GFC to hold your place to start your build.
GFC also offers several other accessories so you can truly make it your own, so get ready to customize it.
Once your GFC is getting close to production, they'll send you a welcome kit with color samples and walk you through your add-ons options.
Pricing
The base of $6450, additional add-ons available
$500, nonrefundable deposit due upon initial reservation
If you are working on a budget build, this is probably not the way you want to go unless you prioritize your camper and storage above all else. Not to mention that this camper is about $1000-3000 cheaper than its competitors.
Find It Online
Final Thoughts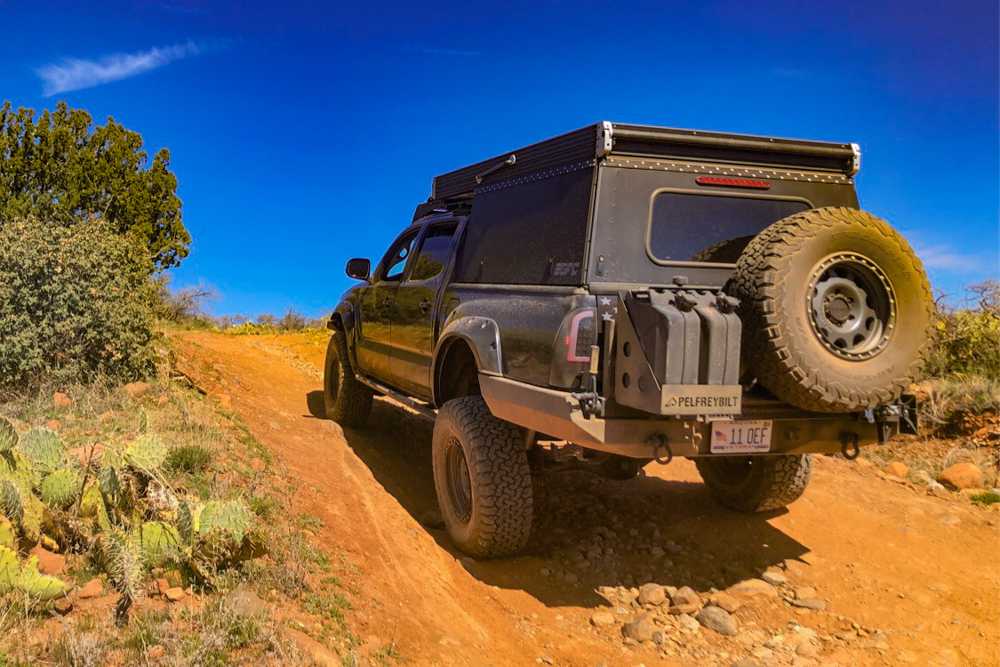 Overall I would recommend this camper to anyone who is looking to build a premium set up. If you're looking for a camper with comfort, style and an all-around great design, then GFC is the way to go.
The GFC camper is for the weekend explorer or week-long explorer who likes to set up camp efficiently. Setting up the tent is effortless and fast. Once you get to camp, just open up your camper, pop the tent and you're done. There is no setting up tent poles or messing around with air mattresses.
The GFC is ready to go, literally. If you want to break down camp, just fold it all in and drive off. It's an amazing platform, backed by smart designers and engineers.
This camper is great for small families and especially anyone who enjoys a quick getaway. Also, this is perfect for the weekend photographer who wants to go on an adventure for a couple of nights solo.