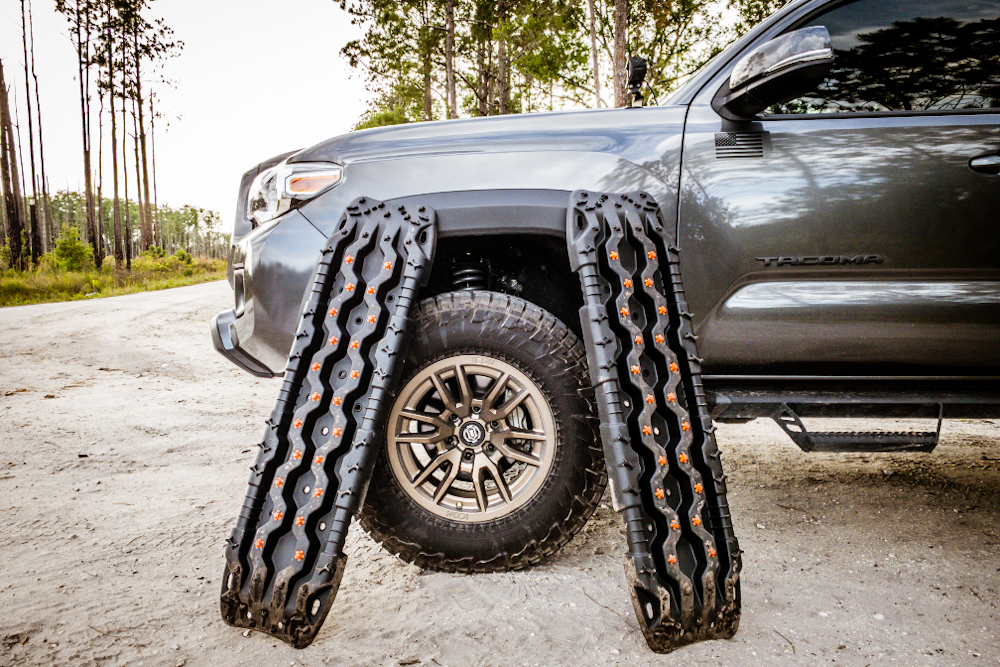 FieryRed's Premium Traction Off-Road Recovery Boards: Trail-Tested (& Approved!) Review For the 3rd Gen Tacoma
Recovery gear is arguably one of the most important aspects of any trip off-road. One of the quickest and easiest ways to get yourself out of potential trouble is to use traction boards, also referred to as recovery boards.
Traction boards are knobby planks that are typically made out of some type of plastic or composite material. They allow you to gain traction when stuck by wedging them under the tires to provide a hard, rough surface for the tires to gain some additional grip. Most traction boards on the market also double as a type of shovel that allows you to dig out some sand or mud from in front of your tires so you can wedge the board under the tires.
Some may consider a set of recovery boards essential, especially if you're going out solo or don't have, or cannot access your winch. Combined with a compact to mid-size off-road shovel, traction boards can get you through or out of a wide variety of situations.
Comparing Recovery Board Options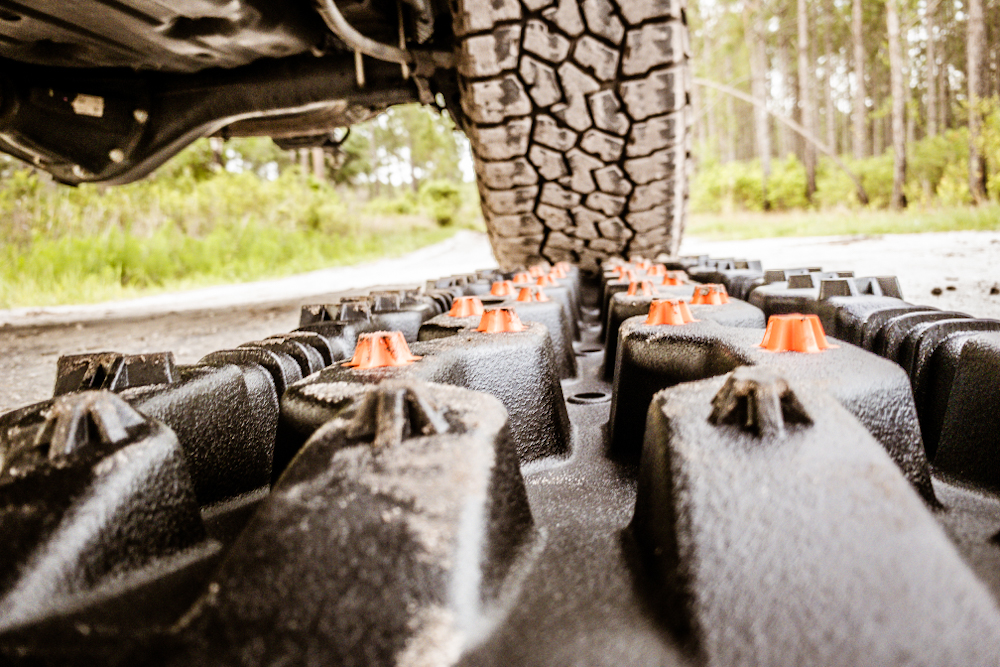 There is quite a wide range of traction boards available on the market today.
Many people would automatically think to call all traction boards 'Maxtrax' or 'TREDs' due to their brand recognition and popularity.
However, with popularity comes a price and a hefty one at that. A set of Maxtrax or ARB TREDs will set you back anywhere from $200-300 for a pair. This is a steep price to pay for some plastic planks.
Compare Prices
A quick search on Amazon will find you hundreds of different traction boards ranging anywhere from $50-$300 or more. Many of the cheaper traction boards are made out of hard plastic that wears down easily and can even crack under pressure. For some, however, these boards may just be enough.
Video Overview & Review
Recovery Board Features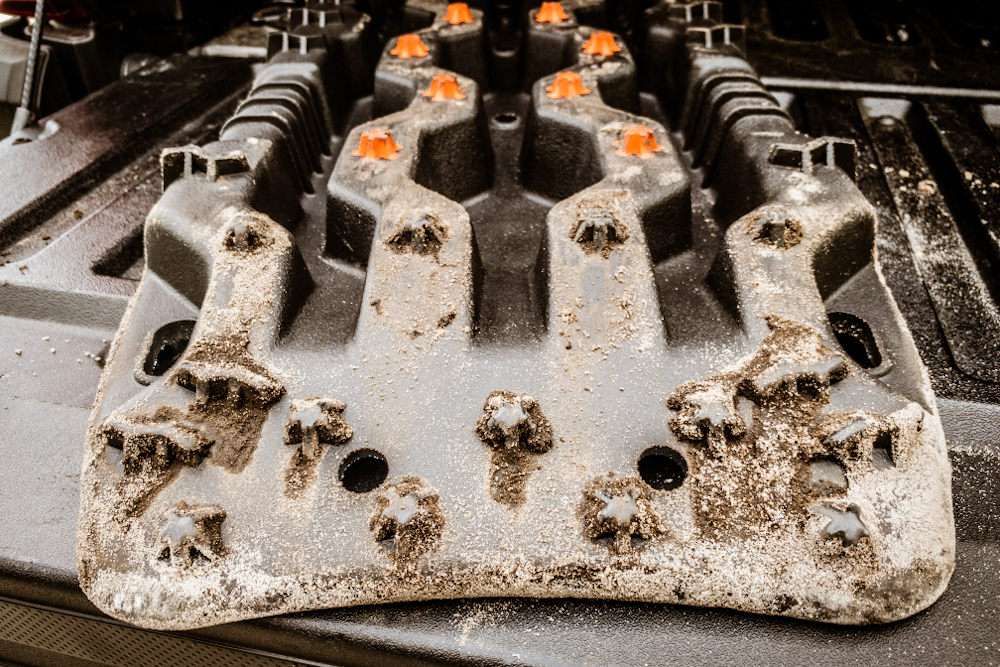 The FieryRed Traction Boards are advertised as being strong and durable. They are equipped with super-tough teeth/knobs and have a new and improved channel design.
The bottom of the boards is designed to offer maximum traction in all terrains and in the worst conditions. The design is user friendly and seems well thought out.
Packaging & Unboxing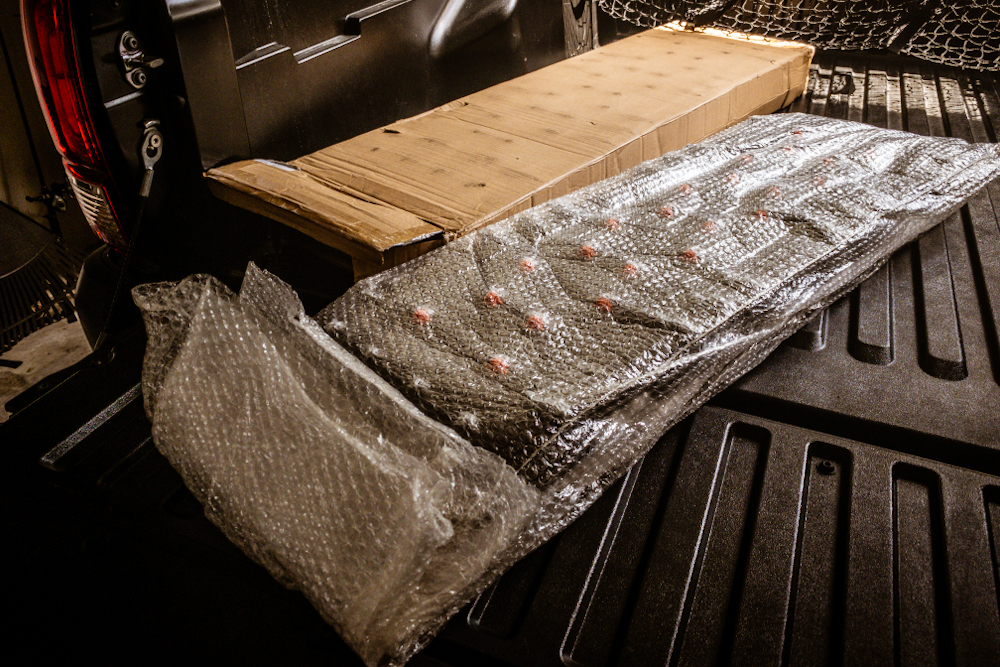 FieryRed 4×4 is a company many of us have not heard of before. I came across them on Instagram while browsing for new ideas. FieryRed is breaking into, and working to gain, a slice of the off-road parts and accessories market.
At the time I was writing this article, they had a small page on Instagram. Their response time was a bit slow so I thought that perhaps they were based overseas, but my package was shipped from Indiana.
The boards took about a week to arrive. The packaging was not the worst but some of the teeth had poked through the box. The boards themselves were wrapped in bubble wrap. Even though the package was a bit beat up, it arrived on time and the boards were in great condition.
Budget Recovery Boards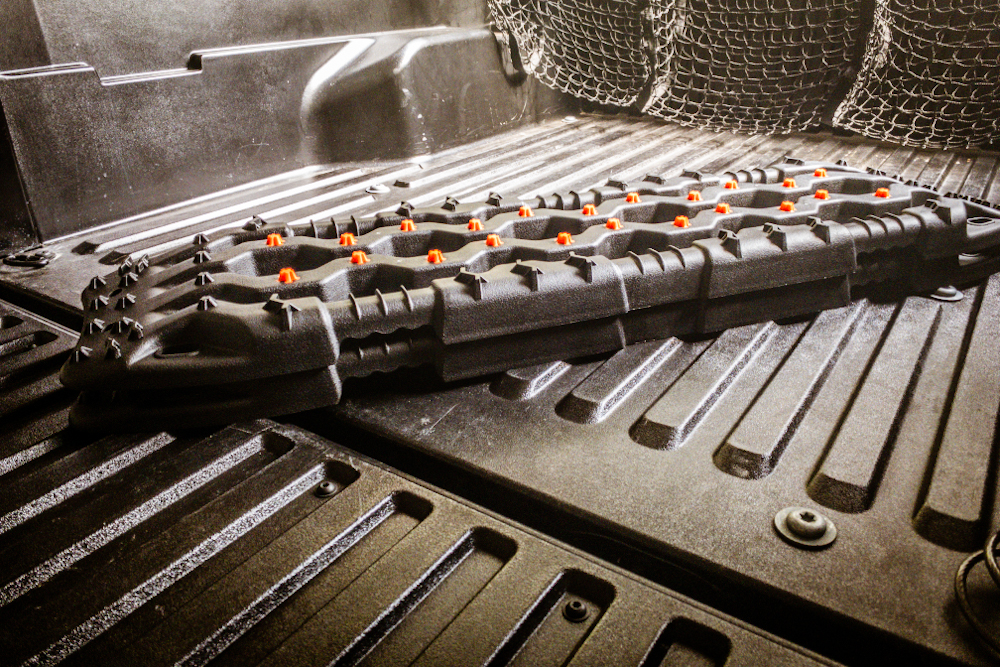 The boards I went with are the most expensive option on their site. Depending on where you look, this particular model averages around $100 (see link at the beginning of the article).
They do have a couple of cheaper options for around $70, but I wanted to test their "premium" option that looked similar to the ARB TRED PROs. For an additional $30 more, I decided it was worth it, considering the apparently better design and reasonable change in price.
My initial impression was that the boards felt very rigid but looked great. FieryRed lists the material as a "high-quality UV-stabilized, flexible polypropylene." I found that the handles on the boards were very ergonomic and the boards felt really solid in hand. They also stacked really well with a height of about 4 inches total for the pair, which was consistent with what was listed on the website.
Testing The Recovery Boards On the Trails
#1. Sand Test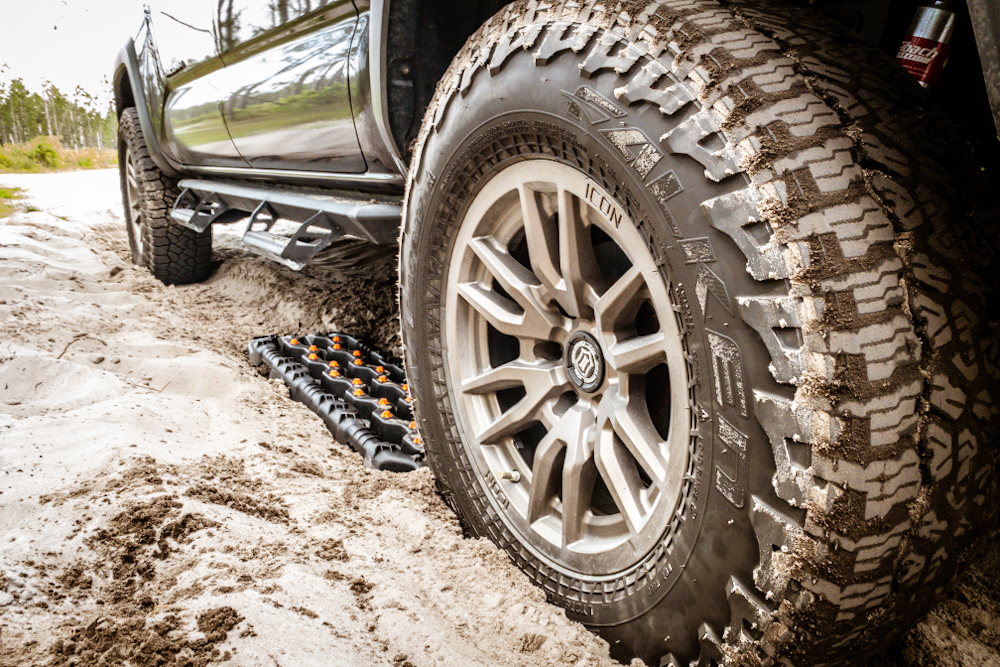 My goal to test these boards was simple – take my truck out to the closest Wildlife Management Area (WMA) and try to get my Tacoma's rear wheels sunk in 2WD, then use the boards to get out. I was hoping to find some mud for this test but despite one day of heavy rain, the trails were still bone dry. The next best option was to get the truck sunk in the Florida sugar sand. This proved to be an easier task than expected.
I backed my truck up to a soft stretch of sugar sand and did a burnout until my rear tires were buried. I then released the brake and gave some gas to make sure I was properly stuck.
Disclaimer: I likely could have gotten myself out by backing out but that didn't really matter for the test.
#2. Usefulness As A Shovel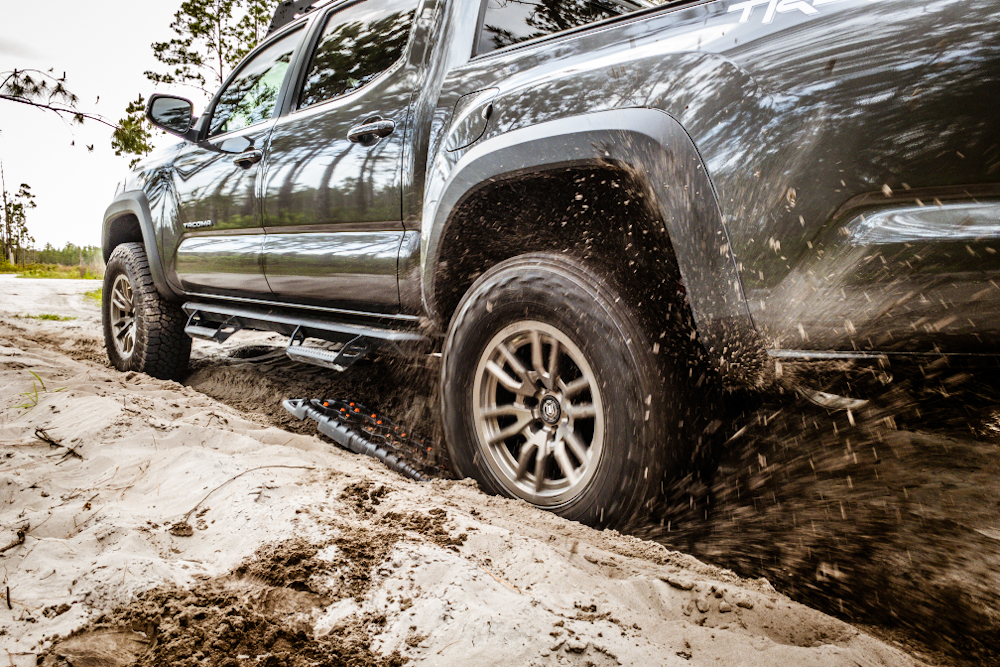 The next step was to use the shoveling functionality of the boards to get the sand out from in front of the tires. This worked pretty well despite the limited room I had to work with. Once the sand was dug out well enough, I wedged the boards under each wheel as best I could and got back in the truck to give it some gas.
The tires spun on the boards for a few seconds before gaining traction and lifting me out of the ruts. I kept on the gas until I was clear of the sugar sand and went back to retrieve the boards. They held up really well with no real noticeable wear to the knobs on the board.
So, for getting out of sand similar to what one would find on a beach, the traction boards worked flawlessly.
#3. 'Bridge' Test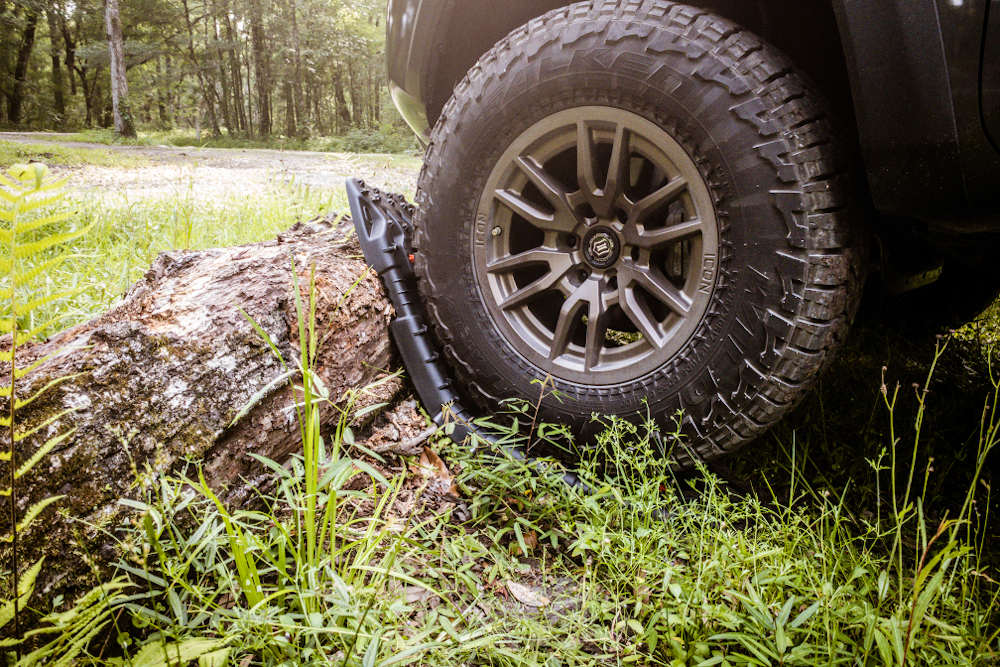 Traction boards can also be used as a "bridge" to help the vehicle get over steep objects or ruts.
I don't see myself needing to use them as a bridge, but I decided to do this test to see how resistant they were to bending. I angled the board on a log and put my wheel right on it.
In 2WD I wasn't able to get up the board because my rear wheels were spinning, but the test served its purpose. The traction board folded like a taco (ha, pun) and bounced back pretty well.
The Aftermath
I did hear a bit of crunching when I walked up to the board, there were stress marks evident on the sides and the underside of the boards. However, there didn't appear to be any breaks in the material at all.
The board was bent a bit so I tried laying it on the log upside down and standing on it, but that didn't help much. The boards don't stack as nicely anymore, but it's not a big issue and I could probably bend it back using the truck if I really wanted to.
The Final Verdict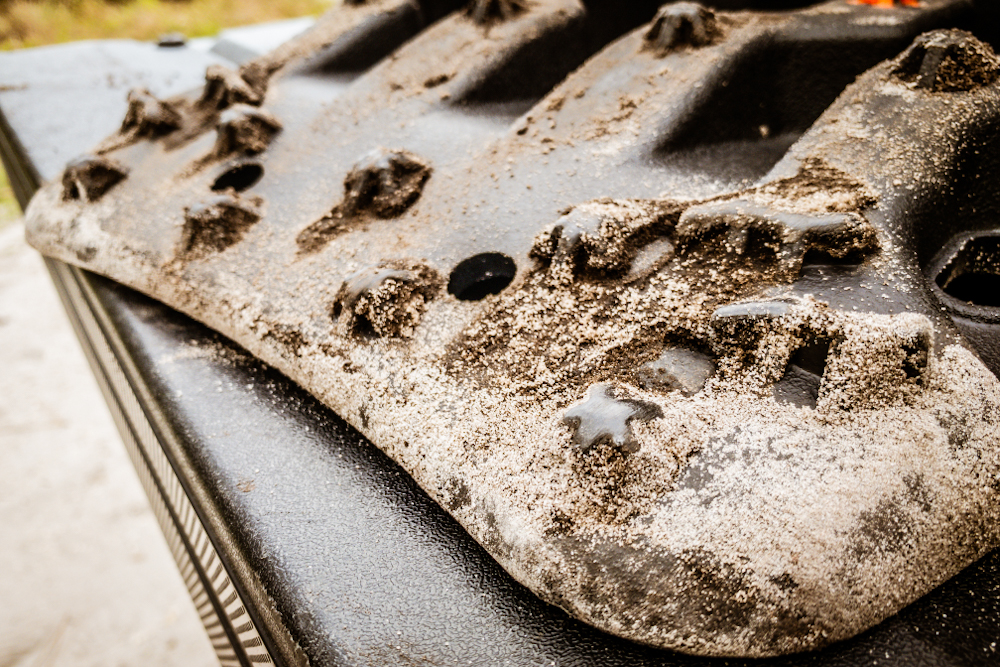 Overall, I'm impressed! These budget traction boards from FieryRed should be just fine for what I am going to use them for.
For around $100 a pair, I would say they're a great set for the price. They look, and feel, like a solid product.
When it comes to comparing them to Maxtrax or TREDs, it's simple: you get what you pay for. Would these stand use to the same amount of abuse? Probably not. Will they be sufficient for 90% of us? Definitely!
I'm not sure how they compare to other budget brands, like XBULL, but the FieryRed boards seem like they're meant to be a "premium" option in the budget board category. The design closely resembles the more expensive boards on the market, while the XBULLs are designed like the cheaper options.
My recommendation? If you go with a budget traction board, regardless of the brand, I would recommend NOT using them as a bridge. You could probably get away with it a few times, but this is where most of the cheaper boards will fail. Using them as a traction board under your buried wheels is where these will shine.
I don't think you can go wrong with these boards for the price. Traction boards are a dime a dozen these days. I would absolutely recommend a budget board unless you do extreme off-roading, where having a board break on you could be critical. If you like the FieryRed boards and you're looking for a deal, I'd suggest reaching out to FieryRed to see if they have any promo codes before you buy.