Maps, Apps & More Ways To Find The Best Overlanding Routes & Off-Road Trails
This is something every Tacoma owner looking to explore the great outdoors can refer to. Bookmark this one and come back to get inspired.
When I was first introduced to the growing Overlanding scene, I was blown away by the high-quality Instagram pictures of snow-topped mountain ranges, dense forest overlooks and narrow, rocky trails.
Armed with my new rig, a 2019 Toyota Tacoma TRD Off-Road, I was looking to find these amazing nature getaways and spend a night under the stars. A few failed attempts at adventuring and a lot of wasted gas took the wind out of my sails and made me realize just how much planning and researching is involved in hitting trails.
Simply put, I was vastly underprepared. For either the beginner outdoorsman or the veteran overlander, here are some of the best ways to get out and find some of the coolest trails in your area.
#1 – Google
Google searching "off-road trails near me" is probably how most of us have started and there is no shame in that.
Google most often links to forest service or national park websites, which can offer some information about the area you're looking to travel in. However, there are much better resources that offer in-depth information about trail length and difficulty ratings, plus photos and even downloadable maps for offline use.
If you insist on using Google or any search engine, the images section can yield pretty inspiring results. Often times, individual bloggers and bloggers will have trail write-ups on smaller sites. In order to find these boutique write-ups, you can use Google images.
For example, if you are looking for trails along Highway 395, you can search Google images for terms like "4×4 trails highway 395" or "4wd roads off Highway 395". From here, you can scroll through images until you find something you like. You will be blown away at the number of individual sites out there that offer really cool boutique information on random roads and trails.
#2 – Websites
There are quite a few websites out there that are off-road and overland-focused but not all of them are created equal.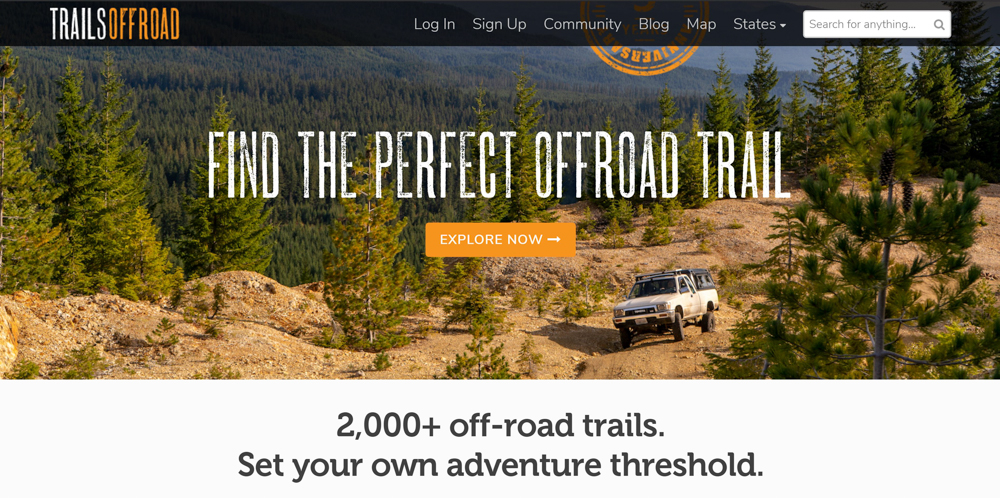 TrailsOffroad.com is one of the best online resources for finding off-road driving trails.
The site features trails listed by state and includes difficulty ratings, reviews and pictures of the trails. They also have detailed maps with GPS coordinates, weather forecasts, waypoints along the trails and it even lists designated camping areas!
This information comes from other members who have traveled the trails, so the details provided are first-hand accounts.
While most trails listed on the site are free to access, some trails are listed as premium and all the information about them can be seen by paying the $25 yearly fee to gain full access to the site.
Free Features
Directions to trailheads
Camping regulations
Download trail .gpx track
Highlight description and photo
Community reviews
All-Access Features
All the above, plus…
Detailed route description
Detailed technical rating
Robust maps showing all tracks
Trail details with waypoints
Detailed .gpx track with waypoints
Printable trail guides
Suitable camping information
Ask questions to the guide author
All-Access members only trails
No ads
FunTreks.com – Take Off-Roading to the Next Level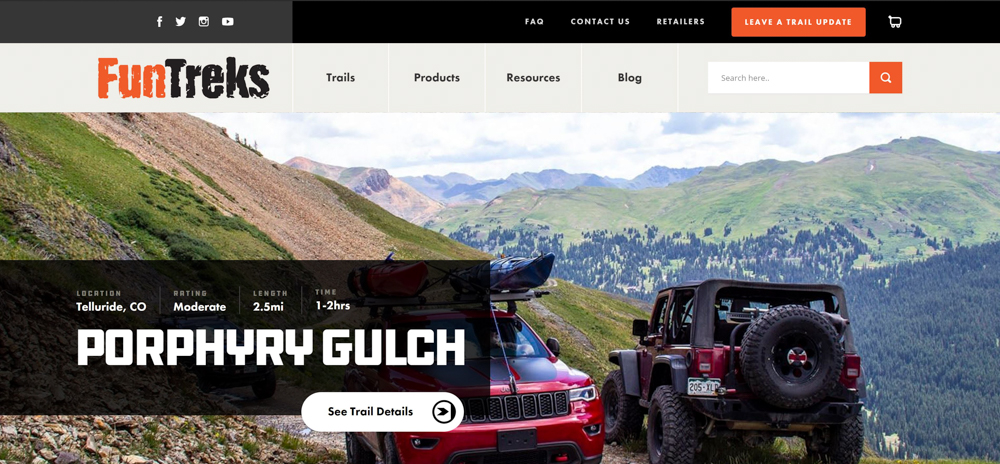 FunTreks got their start several years ago with a series of well-known guide books for many areas in the Southwest United States. Since then, they've branched out into new terrains and released several other trail guides. These books are great to have on hand for inspiration.
FunTreks Books
Depending on when you got into the offroad/overland scene, you may be very familiar with these guys.
Before all the apps and websites came along, there were the FunTrek books. Some of our writers have had several safe, successful trips planned and navigated thanks to their great directions. If you want a deeper look, check out this overview and review of the California book.
In addition to quite a few books, FunTreks sells GPS data cards.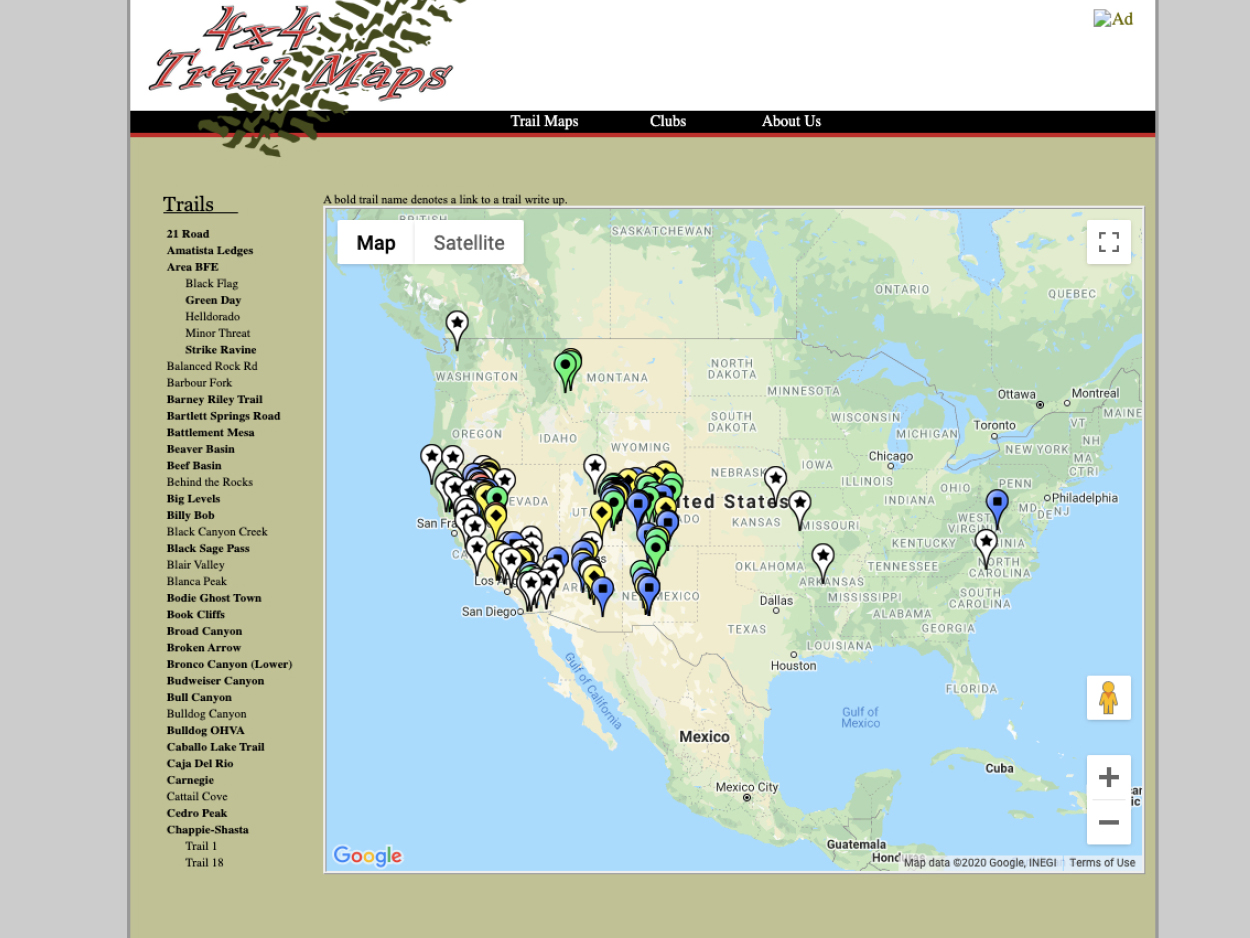 This is a great resource if you are located on the West Coast. There are tons of really good trails here. The photos can be hit or miss but the information is fairly accurate in terms of difficulty.
They break everything down by focal points on the trail. At each waypoint, there is usually an image showing you what that section looks like. Although the images may not be 100% accurate of what's actually at that spot, some trail write-ups are old; and since then, sections have been washed out and have become more difficult so results may vary.
Most of these are actual 4×4 trails, not just forest service roads or something basic. This is a great resource if you are looking for options to actually wheel and push your truck.
This site is free. There are no paid memberships. It's great.
#3 – Forums
Forums are another great place to find trails, and often contain better information than you can find on a map.
A well-managed off-road forum will have some valuable information about the best routes to take to camping and hunting sites. It will also have details about the best time to drive these trails or when to avoid them. Forums also have the unique advantage of being able to directly talk with people who are experienced and know the terrain, giving you some insider knowledge about your destination.
Most forums are vehicle-specific, but don't be afraid to read or even join/comment on a Jeep forum if you drive a Toyota or vice versa!
#4 – Social Media
Some of the best information is likely on a site you visit multiple times a day!
I have found countless trails and camping spots by making connections with other enthusiasts on Instagram. Most people are happy to tell you where they took that picture or video, and some even offer to take you along on their next trip.
Having conversations with the content creators in the community is a great way to get started, and most have valuable tips about planning trips, scenic routes, and trail availability.
Finding a group on Facebook located in your area is another great resource. Many members of the group travel together on trips, and your odds of being invited are high. Exploring trails in your area with other seasoned travelers is a great confidence booster, and their collective first-hand knowledge is invaluable.
#5 – Apps
Having a dedicated app to use for Overlanding is ideal for several reasons.
All pertinent information can be found in one single place and is easy to access at any time. Most offline resources can also be saved directly to your phone as well, meaning you won't have to haul around any additional material.
Here are a few great apps to use off-road.
OnX Offroad – Explore Over 350K Miles of Open Road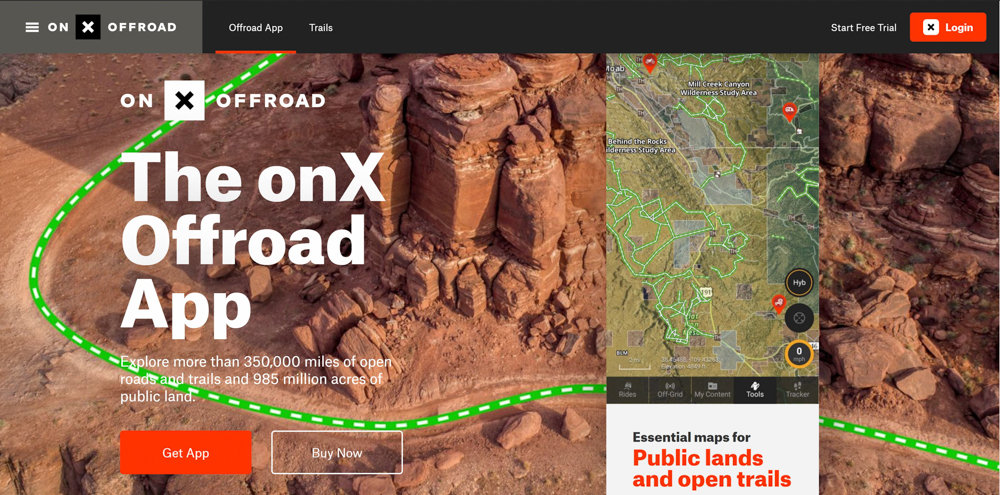 This is an app I am surprised I haven't heard more about. It is the perfect off-roaders app.
OnXOffroad offers detailed maps of hiking, biking, ATV and overland trails all across the United States. The sheer amount of trails can be overwhelming at first, but filters and map layers allow you to customize what you're searching for and find the right trails in your area.
It also lists trail names and lengths, altitude changes, difficulty ratings and first-hand accounts of others who have traveled the trail. Most reviews include detailed information about the trail terrain and multiple pictures of the terrain and surrounding nature.
This app does a great job of showing you other helpful information, such as campsites, gas stations, fishing access and hunting locations, private and public land, cabins for rent, trailheads, skiing and fire lookout locations.
This app works great for free, but with the ability to save and create routes offline, set unlimited waypoints, and download map information on the go, the $30 per year subscription is well worth it for the serious backwoods traveler.
If hunting is your game, OnX has a hunting app called OnXHunt too.
For more information, check out the video below.
Gaia GPS – Trail Maps for Every Adventure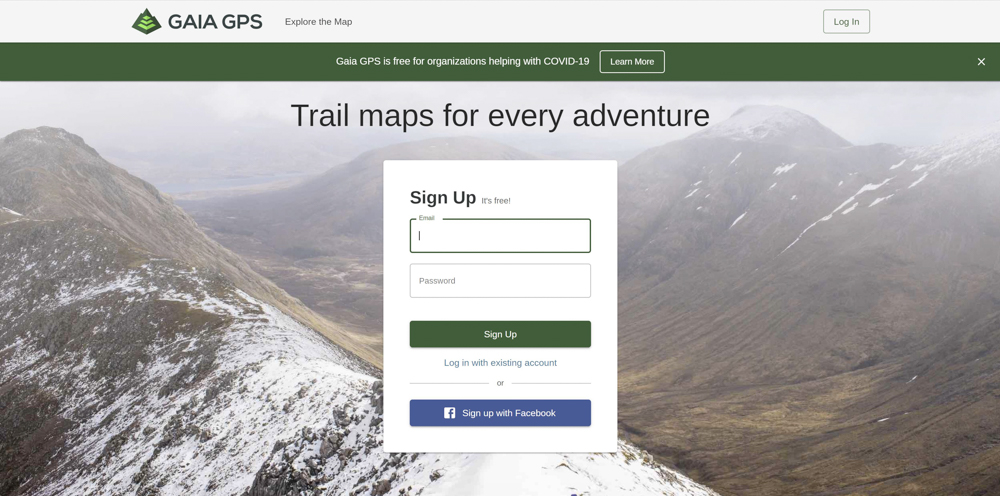 This app is the go-to for most off-road enthusiasts.
It allows you to search for off-road trails in your area, set waypoints, design routes and save routes to use offline. It includes a compass at the top, your elevation, rate of travel and can track the distance you have traveled.
It comes with a ton of useful map layers ranging from weather reports to hunting restrictions and can be used online or offline. You can also import data to your computer or tablet to make accessing your information while traveling convenient. It takes some practice to figure out the best way to use this app, so it is encouraged to spend some time with it before going out on the trails.
The premium version of this app is $40 a year, which is money well spent for an app this inclusive.
Lifestyle Overland does a great introduction to this app, which you can find above.
#6 – Other Resources
If you are still new to off-road driving and camping, you may be hesitant to spend too much money on resources or subscriptions.
While most of these sites and apps can be used for free, you may want to look at some cheaper options that offer plenty of information for the lax traveler.
Trail guide books and paper maps often cost much less than yearly subscriptions and contain valuable information about the area you'll be traveling through. They can be on hand at all times, and don't require you to keep any batteries charged to guide you through the wilderness. These are VERY SMART to have on you or in your glove box as extra peace of mind.
In most cases, they will also be more specific about the plants and animals in your area, the type of terrain you'll be traveling through and even offer historical information. The best paper resources are reputable, like National Geographic or the U.S. Forest Service.
This is your safe haven. Just in case you drop your phone in the water, your truck dies, you run out of batteries, or even if you forget to download your map to your device before heading out, you want a paper map. Paper maps are cheap, and easy to store in your glove box, and to me is just responsible off-roading.
You can search all Nat Geo National Forest Maps here.
Popular Nat Geo Forest Maps
You may also want to try visiting a ranger station or visitors center.
The knowledge you would get directly from a ranger who travels forest access roads frequently is some of the best you can get. They may know of routes not listed on a map or heavily traveled, and can point you in the right direction if you wish to sightsee. They also can inform you of the correct regulations, trail availability throughout the year and any other little known knowledge that gives you the edge.
Final Thoughts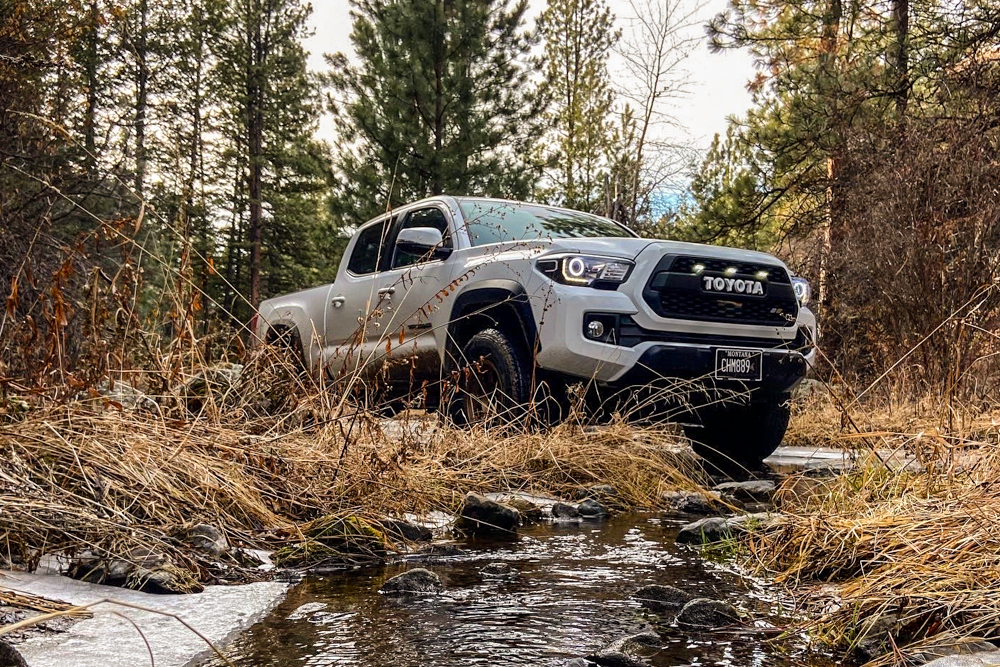 While all these resources help get you out on the trails you want to be on, sometimes just getting in your rig and going is the best way to find new places and have the most fun.
Trekking through the forest or taking dirt roads in your area might lead to something exciting and challenging, and often gives the biggest sense of accomplishment. Just be sure someone knows where you're going or travel with a group to avoid getting lost.
Hopefully, these recommendations make the task of finding a great trail in your area a little less daunting or provide a new method for pros to streamline their Overlanding trips even further.