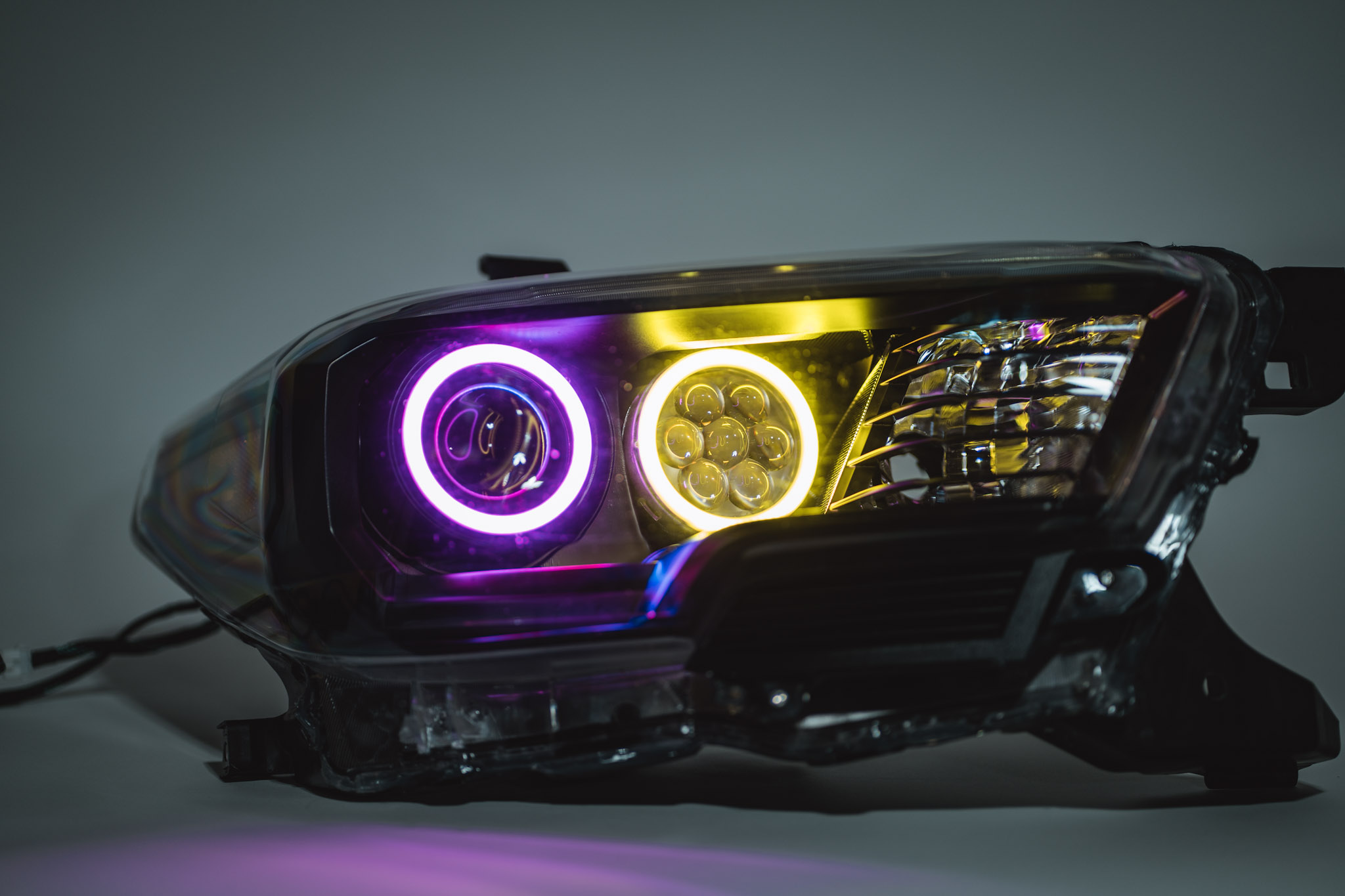 Photo cred: @branchan_yota
Looking To Upgrade the OEM Headlights On Your Tacoma? Check out these Custom Retrofits & Aftermarket Options
Let's talk about lighting. Specifically, headlights.
Headlights are not only essential for navigating once the sun goes down but they can add some serious style to the front of your ride.
Headlights are an extremely important part of your truck. After countless hours searching the internet, we have compiled a list of the most popular headlight housing upgrades for the 3rd Tacoma, so you can make your buying decision with confidence.
Today, we will be looking at a few of the top headlight choices for your 3rd Gen Tacoma. Your headlights are the eyes to your ride, so you're going to want to make sure you're equipped with the best.
Headlights are not a modification that you should be trying to save money on. Quality products cost money and lights are no exception. This list may be a bit on the pricey side for some budgets, but they are well worth it in the long run.
The following will be a list of what's commonly run on Tacoma builds, the pros and cons and where you can find each headlight option. There is no particular order, just a solid overview of the various choices.
Headlight Housing Vs. LED Bulbs Vs. HID Upgrade
You have a few options here. You can upgrade the entire housing or upgrade your individual bulbs.
For replacing only your bulbs, you have LED or HID, and the options here are endless in terms of brands and budget.
LED bulbs have a diode that replicates or mimics a traditional filament on a halogen bulb. One example here is the Xenon Depot H11 Extreme LED Pros and then the Xenon Depot high beam option as well. These options are a straight swap replacement for your factory halogen bulbs. A few other brands in the LED department would be Headlight Revolution, Morimoto, The Retrofit Source, and many others.
HID bulbs (High-intensity discharge) lamps are a type of electrical gas-discharge lamp which produces light by means of an electric arc between tungsten electrodes housed inside a translucent or transparent fused quartz or fused alumina arc tube. – Wiki
This electric arc, much like the diode on an LED light is designed to mimic our halogen filament to produce a beam pattern consistent with what you would expect from the factory.  
Headlight housings are your entire housing. You take off your housing and swap in an upgraded option. The new housing can have LEDs, HIDs, and or retrofits. Retrofits can come with either LED or HID lights. You can buy headlight housings pre-assembled with a set of LEDs or HIDs ready to go or retrofit your own. If you retrofit your own lights, that means you would buy an OE replacement housing or another brand, like TYC and then customize/retrofit whatever lights you want inside that housing.
The TYC headlight housings have been known to be a little easier to open when you throw them in the oven. Yes, you literally bake your headlights to break the seal, and that's how they open. Also, if you screw something up, it's nice to have a set of headlights you can use if your Tacoma is your daily driver, for example. Once you are finished installing your new lights into the housing, seal the housing back up and reinstall the housings.
Why Upgrade Headlight Housings?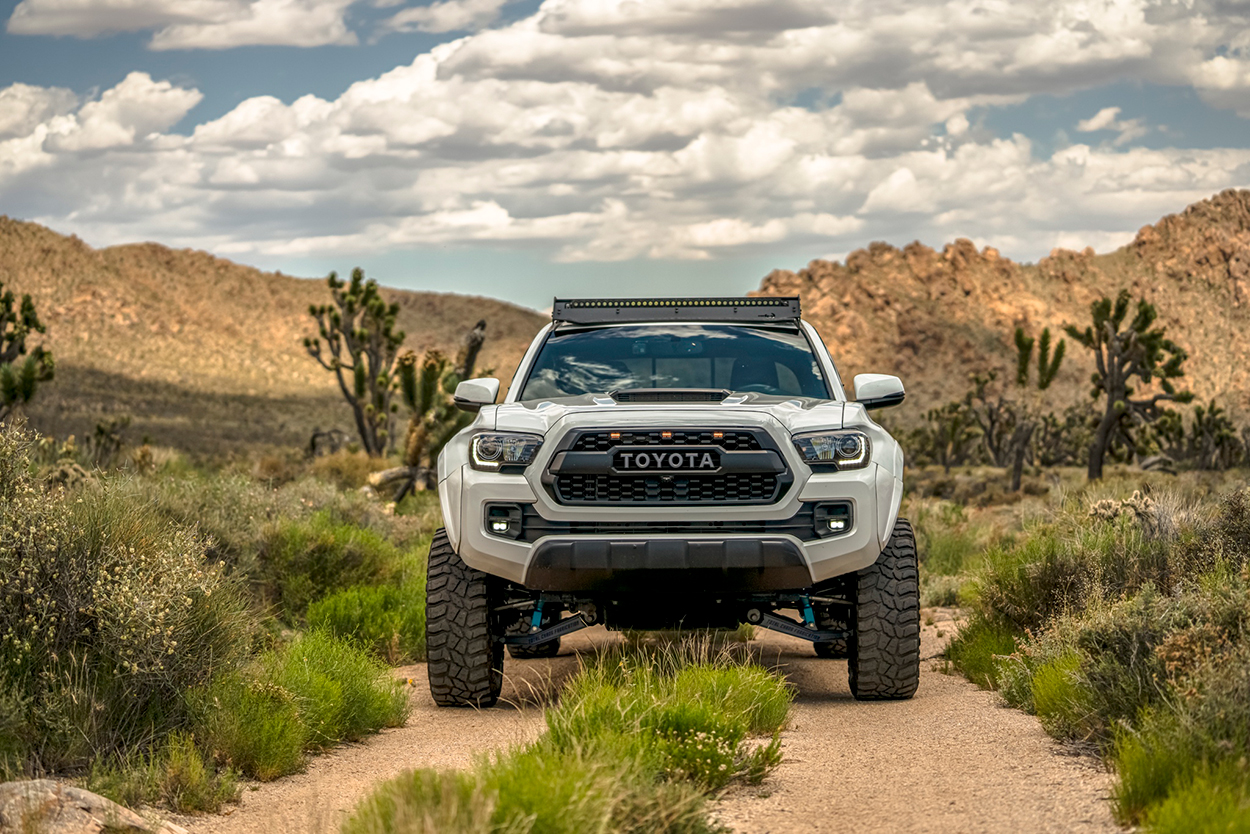 Photo Cred: @seekoutbeauty 
The stock headlights on the Tacoma can leave a bit to be desired, we all know that.
Although their performance is not necessarily bad, relatively speaking, things could be a lot better.
Whether you spend a lot of time in your truck or off the beaten path, you need good quality lights. If you can't see where you're going or what's in front of you, you can hurt someone or even yourself and possibly damage your truck. This may sound extreme but is very possible.
Upgrading your lights gives you a better beam pattern, better visibility (for you and others) and farther-reaching light to give you the confidence you need to see the road and avoid potential obstacles.
So why Housings over LED Bulbs or HID Bulbs? 
In most cases, they are better. Not always but in most cases you have more customization for light output, design, color, looks, and functionality. With options like custom projectors, Bi-xenon projectors, sequential turn signals, custom shrouds, RGB color changing halos, demon eyes, and so much more.
Not only are most options more functional, but they can dramatically improve the look of your Tacoma. What more could you ask for?
Let's dive into the top headlight options for your 3rd Gen Tacoma.
The Retrofit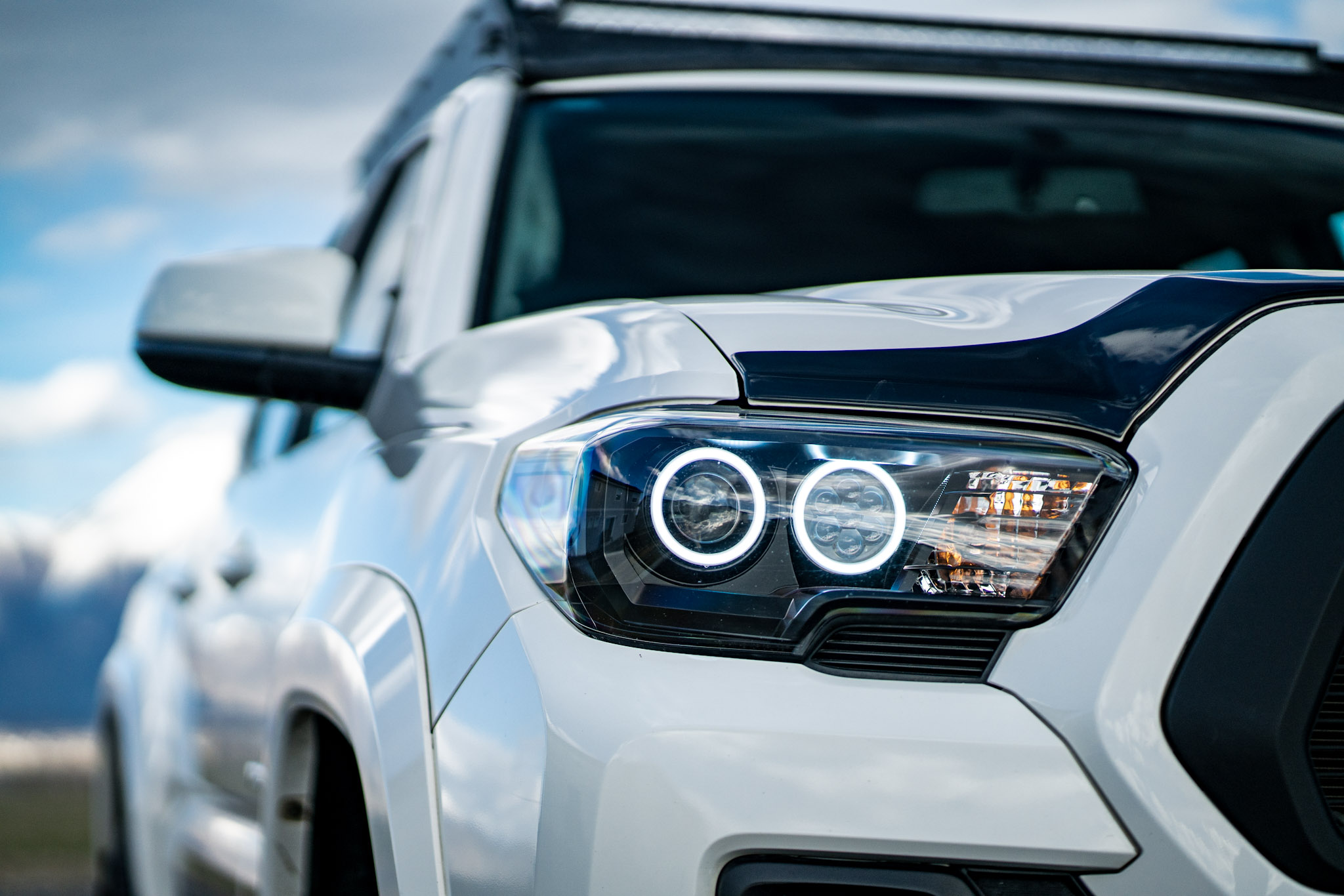 Photo Cred: @branchan_yota
I know I said this article would be in no particular order, but I made sure to put this one first for a reason.
Retrofitting has gotten more and more popular in recent years. There are a ton of retrofitting companies and if you're feeling up for it, you can buy the components and tackle it yourself. With the increase in popularity, several online companies provide quality materials for your DIY project.
If you want a completely custom setup, a retrofit is THE way to go. You can add multicolor halos and daytime running lights (DRL), better quality lenses and even upgraded high beams. Dual halos? No problem. Custom-etched lenses? No problem. Custom colored shrouds? You guessed it, no problem!
The possibilities are only as limited as your imagination.
Below is a sample video from fellow Tacoma owner, Maxx Powell
There are many other how-to style videos on YouTube if you browse around. If you're committed the process can be done in 2-3 days. In the end, you learn a new skill, save some money and you can feel good about tackling and conquering a new challenge.
This is a DIY project which is more technical than most. If you're not feeling up to it – there's another option.
There are several companies and individuals throughout social media which specialize in custom-built headlights.
If you want a professional to handle the project, you'll be in good hands. We listed one of our favorites below.
BX Built (Out of Business)
Custom retrofits can run from $300/400 (for a simple parts upgrade) up to $2000 if you want all the bells and whistles. Warranties vary from builder to builder, and if you choose to build your own, the warranty is provided, of course, by the manufacturer for only the individual components.
PROS
Fully Customizable
Potentially Cost-Efficient (if you do the labor)
You Control the Whole Process
CONS
Long Lead Times
Potentially Pricey (if you pay for a service)
Technically Difficult (room for error)
Must know Basic Wiring (but, you get to learn something new!)
Morimoto XB LED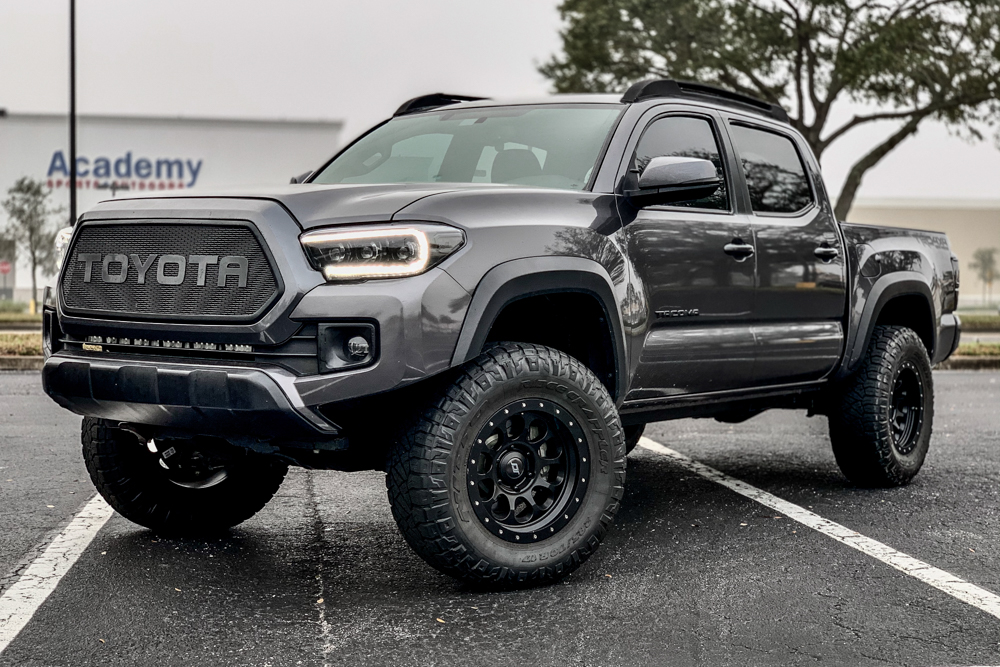 Photo Cred: @mgm.yota
Morimoto was established back in 2008 with the goal in mind of bridging the gap between aftermarket options and quality products. They are globally recognized as the company to beat. Morimoto is known for its build quality and these headlights are no exception.
Find It Online:
Morimoto XB LED Headlights For 3rd Gen Tacoma
This is an LED-style headlight that is sure to turn some heads as you drive by.
Another feature is the blacked-out housing and smoked grey reflectors. Their quad Kuria-optic projector technology is one of the most advanced on the market today and they are SAE/DOT approved as well.
While these headlights do have a sequential style turn signal, you can opt for a more traditional solid flasher style.
These headlights have an MSRP of $1500 but can be found for around $1150. They come with a 5-year warranty.
PROS
Solid Warranty
Very Well Built
Plug-N-Play
Advanced Projector Technology
Extremely Bright
Stylish
Turn Signal Flasher Options
SAE/DOT-Approved
CONS
Alpha Rex USA NOVA-Series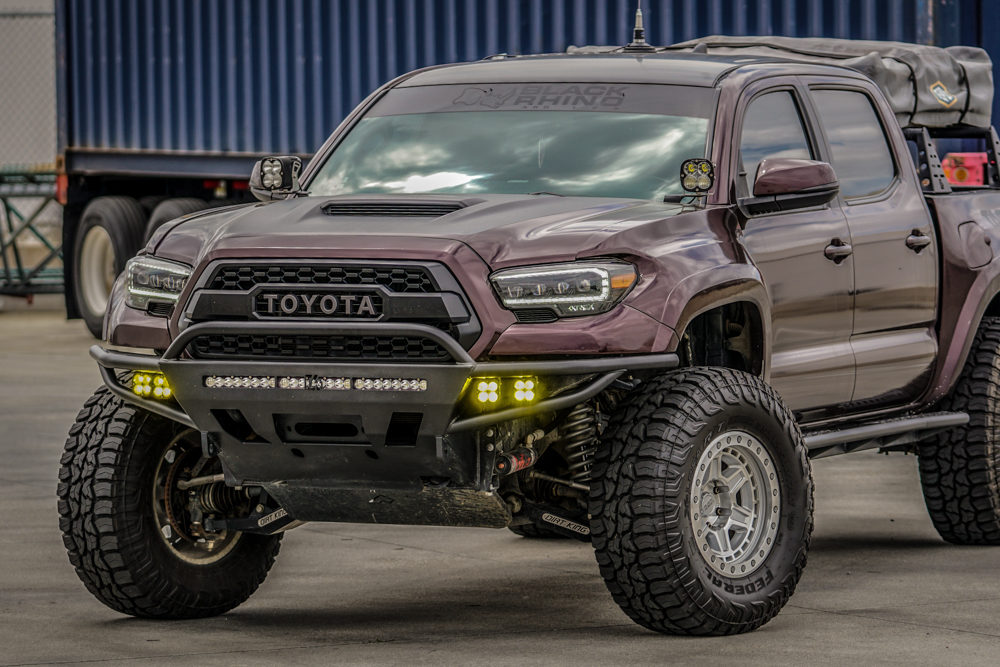 Photo Cred: @54syota
The Alpha Rex lights are one of the newest and possibly sleekest headlight options to come to the market.
Find It Online:
Alpha Rex Performance Headlights For 3rd Gen Tacoma: Check Price
The NOVA-Series is a full LED headlight, which includes the projectors and DRL tube that runs the length of the headlight. The LED tube is used as a switchback DRL and turn signal. It also has the signature activation light feature. This means that the lights flash in a particular sequence when you lock and unlock your Tacoma.
There are 4 projectors total in the housing. The 3 outer projectors are used as low beams, and the innermost 4th projector is used as your high beam. These NOVA-Series headlights are made with their patented Ice Cube 3D LED projector, which means the technology is only limited to Alpha Rex products.
Alpha Rex Lights Have 3 Housing/Color Options:
Chrome (similar to OEM headlights)
Black
Midnight Black
The lens is a polycarbonate plastic and it comes coated with an anti-fog treatment that gives you better light output in extreme conditions. They are also coated to protect against oxidation or discoloration and are SAE/DOT compliant.
The lights are essentially plug-and-play for those who have SR and SR5 model trucks. For those of you who have the TRD model, you will be required to purchase a converter.
These headlights will set you back between $1135-1250 and come with a 2-year manufacturer's warranty.
Pros
Advanced LED Technology
Plug-N-Play
Very Well Built
3 Color/Finish Options
Extremely Bright
Stylish
SAE/DOT Compliant
Cons
Pricey
Converter Required For TRD Models
Spyder Auto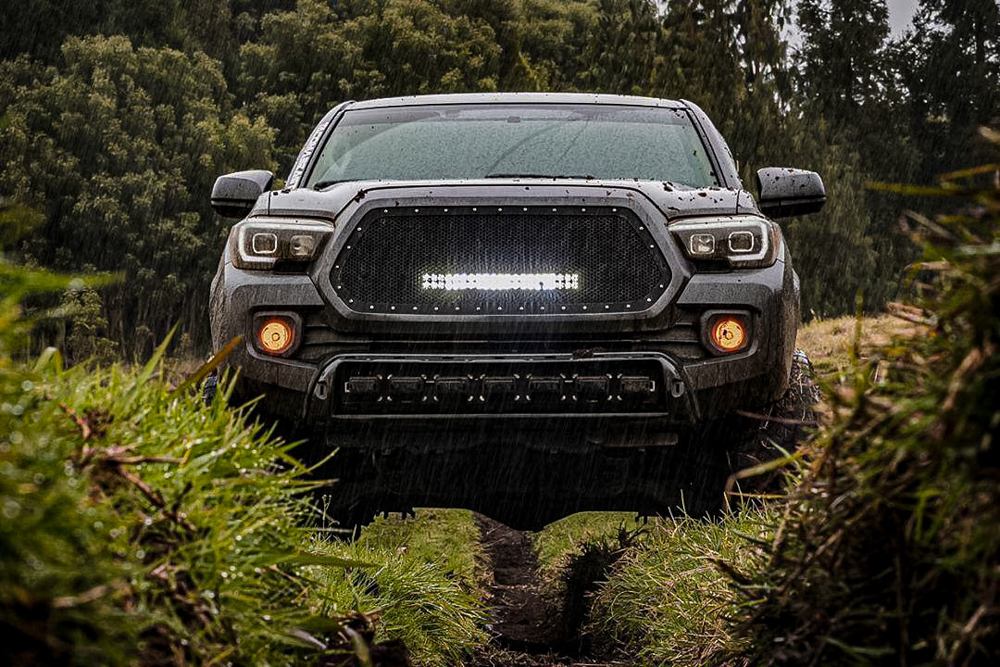 Photo cred: @vtiphotography
Spyder Auto has been around for quite some time, but they mainly sell their headlights on 3rd party websites.
Spyder Auto offers 3 different options for the 3rd Gen Tacoma.
Find It Online:
Note: As noted on their website, you must pay attention to the specific model you own because there are differences between the lights that fit the SR/SR5 models and the TRD Pro. Some of the models offer DRL options and sequential turn signals.
Not only do all of these look great, but they are more budget-friendly for the everyday enthusiast.
These lights run around $400-$600 and at that price point, they are some of the most cost-effective options on the market today. Spyder Auto offers a 1-year warranty on all their headlight options.
As far as we were able to find, the budget-friendly options at TacomaBeast are Spyder brand lights.
PROS
Plug-N-Play
Direct Replacement
High Impact Resistance
100% DOT/SAE-Approved
Stylish
CONS
Users Claim Lights Output is Lower Than OEM lights
Installing HIDs/LEDs Void Warranty
Short Warranty
Kustom 54 "AB6" Retrofits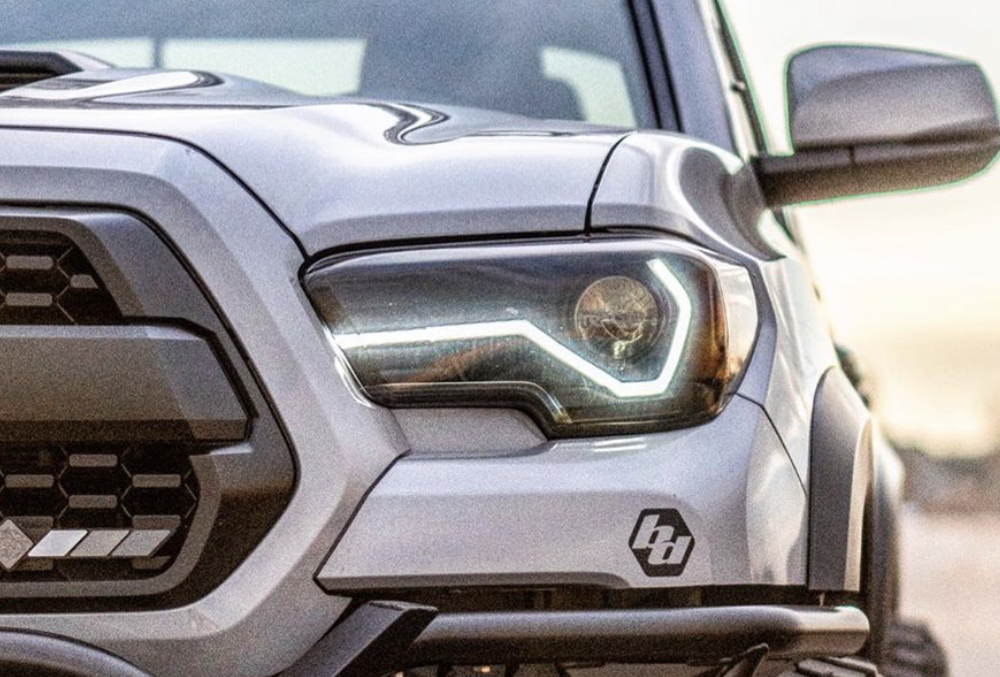 Photo cred: @runnin4tacos
** As of 12/1/22 – this business is not operational **
Next up, we have the AB6 from Kustom 54. These headlights are all built to order. Similar to a custom retrofit, but these are a definitive product line on the company website. They've steadily gained in popularity over the last few months.
These lights are equipped with a one of a kind LED DRL that is only available from Kustom 54 lighting. The company allows for quite of bit of customer input when building the lights.
The following are options that you can customize: 
Projector
Blinker Style
Paint
Reflector
Demon Eyes
Lens Etching
HID Kit
These headlights will work with any style Tacoma and only require minimal wiring. The typical wait time is around 4-6 weeks. The base price is around $995 but with all the upgraded options, it can run over $1800. The lights come with lifetime tech support and a 12-month warranty on parts and labor.
Pros
Customizable
Very Well Built
Stylish
Extremely Bright
Cons
Added Options Can Get Pricey
Long Lead Time
Shorter Warranty
Final Thoughts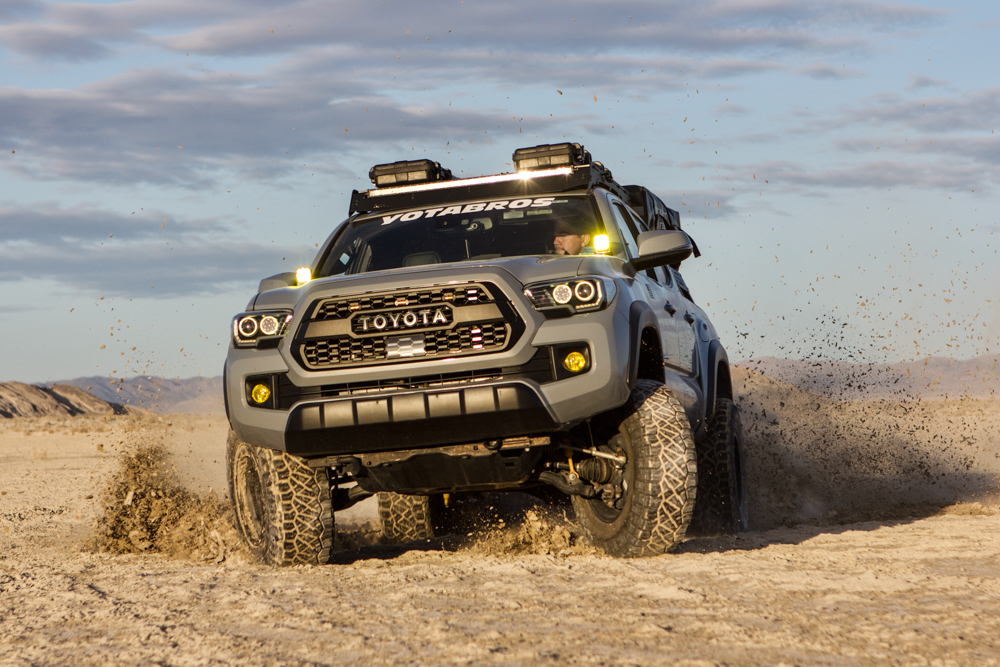 Photo Cred: @the.shark.taco
There are a lot of excellent options to choose from. Make sure you understand your lighting needs and your budget. Many would point out that if you're spending a decent chunk of change on lighting, you should prioritize your purchases by making a choice that will be mo
What would I choose?
Well, if I was presented with an option, I would choose the Kustom 54 Lighting option, the AB6, or attempt to retrofit my headlights myself. I love the look of the Kustom 54 setup and they would look sweet on my Tacoma. However, I can't help to think about the wide variety of custom options with the retrofit route. Decisions, decisions!
We hope this list was able to help give you valuable insight and the ability to purchase with confidence when upgrading the headlights on your Tacoma.