1-Year Review Of BAK Industries BAKflip MX4 Tonneau Bed Cover For 3rd Gen: Is It Worth It?
So you bought a truck and now you have all that awesome bed space, but there's one problem. You can't protect the valuables you're hauling around.
It looks like it's time to start looking for some solutions. The main one that comes to mind is a tonneau cover. So you dive into the hundreds of options and you've been asking around for recommendations.
It's highly likely that one of the products you consistently stumbled upon is the BAKFlip MX4. Bakflip Industries solely focuses on the production of tonneau covers and accessories. They offer three kinds of bed cover options: hard folding, rolling and retractable. The MX4 is one of their premium hard folding covers that balances quality with a reasonable price tag.
There are many other models of bed covers out there but I went with the MX4 and I will go over a few pros and cons with this cover.
The MX4 was the first purchase/modification I ever did to my truck. I have practically had it on since I bought my truck. I bought the first generation MX4 but BAKFlip now offers a new version for Tacoma owners that they claim is even better.
Find It Online
MX4 BAKFlip Pros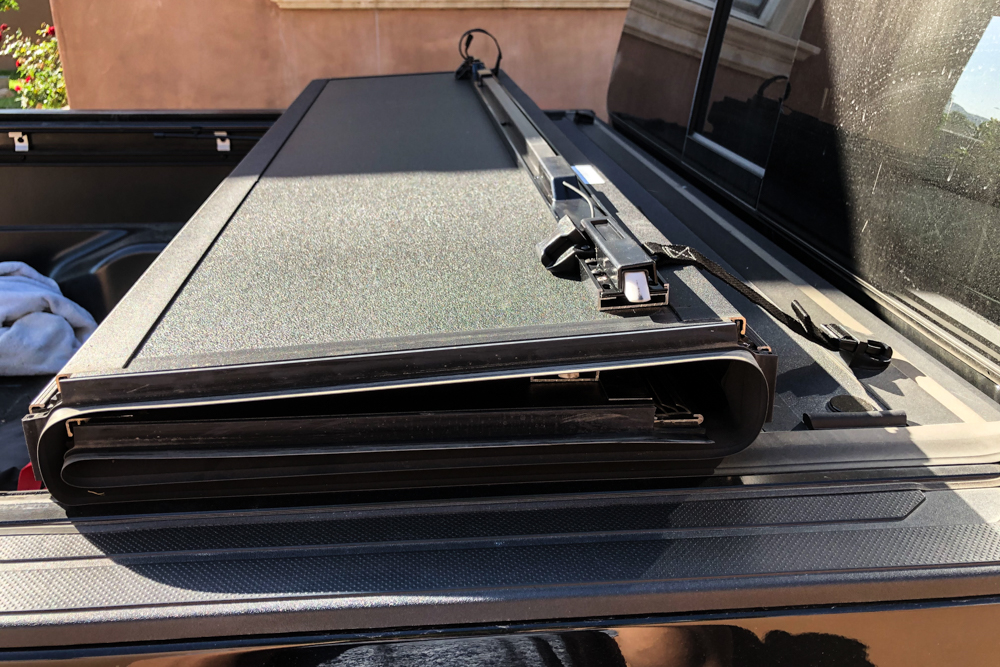 I went with the MX4 cover because I love the fact that it fits flush with bed and doesn't stick out like many of the competitors.
You're able to fold up the cover and get access to your entire bed without taking it off or you can simply remove the cover by simply undoing two hand screws. You can open and close your tailgate with having to move the cover.
The panels are made of aluminum and are painted matte black. The aluminum construction keeps the cover durable and lightweight and the matte black surface looks great. I'm able to keep my items safe in my bed, which essentially functions as a giant trunk now.
Finally, like most cover solutions, this kit does not require any drilling.
MX4 BAKFlip Cons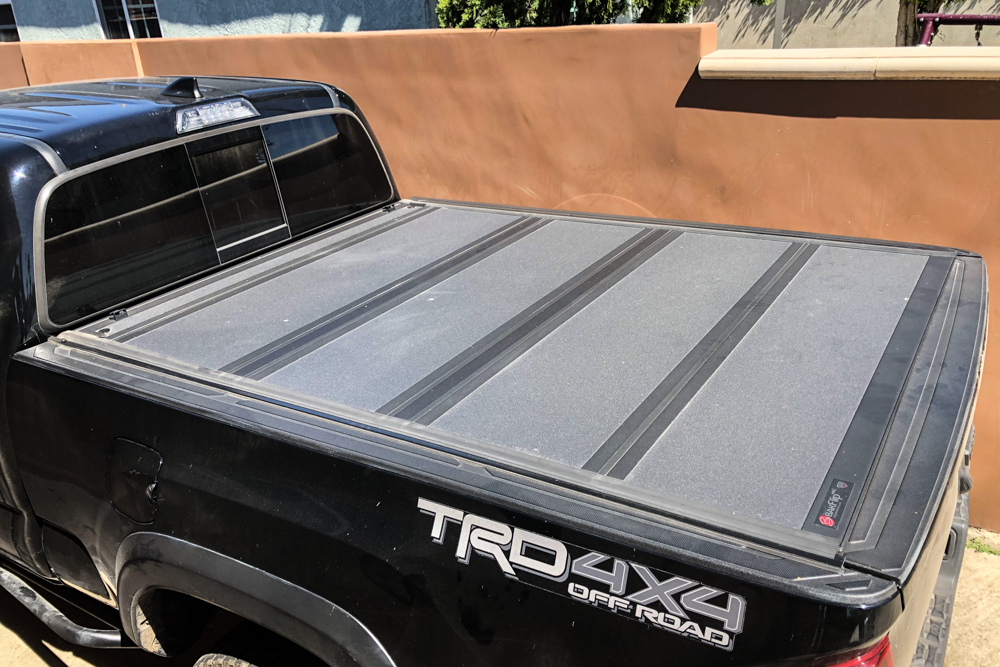 So far, for the most part, I am pretty happy with the performance and looks of the MX4, but it does have some downfalls.
Unfortunately, there isn't much aftermarket support for the cover. This is mainly since the rails are relocated.
If you want to add a bed rack or over the bed rails, your options are very limited. KB Voodoo is the only company that makes racks and rack accessories compatible with Bakflip products.
I'm currently contemplating between the KB Voodoo or Max Modular bed rack.
The only other company that I know of that offers a BAKFlip compatible product is Cali Raised. They sell these Tacoma Molle Panels that fit a bed with relocated rails.
My final complaint is that cover is not completely watertight. The cover allows some water and dust into the bed. Other owners have also complained about water seeping through sides along the bed rails.
From what I understand, BAKFlip has addressed this issue with the 2nd, and the newest version of the MX4 by covering the rails completely. But this, unfortunately, means that you lose access to your bed rails.
Cost & Installation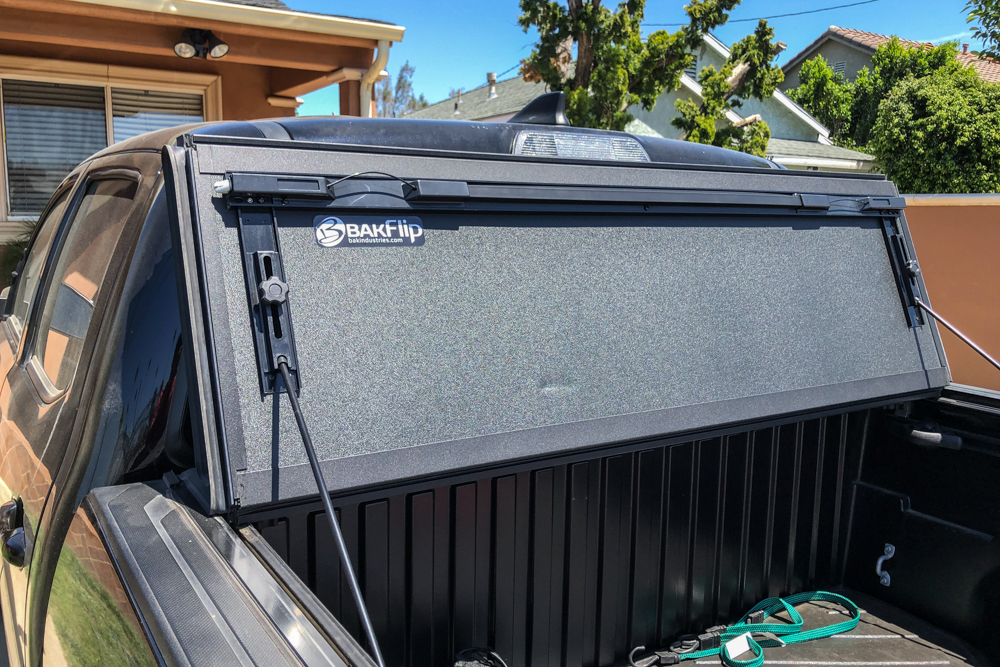 The MX4 for the Tacoma retails for almost $1000, but you can find them for around $850.
I bought mine for around $900 with tax from a local shop, these covers are rarely heavily discounted. BAKFlip also offers a similar cover, the G2, for about $80 less. For $80 more, I would still go with the higher quality MX4.
The shop I bought it from offered to install it for $100. Before purchasing I researched the installation process and decided it was easy enough that I could do it myself.
The installation process went pretty smoothly, but it took a bit longer than expected (as everything usually does). The most tedious part was relocating the bed rails but BAKFlip has eliminated that step for the 2nd generation of the MX4.
If you have basic tool knowledge, I would recommend that you save the money and install it yourself.
See below for an install video from BAK Industries (+ written instructions) for the MX4:
Final Thoughts
After taking everything into account, I'm happy with my purchase but, as my needs have changed and have started to build an overland truck, I wish I went a different direction. If I could do it again, I would have chosen the roll cover option so that the bed stayed more functional.
However, thanks to the few companies I mentioned designing their products around the cover, I've decided to hold on to it for the foreseeable future.
All in all, the BAKFlip MX4 is a quality product. If your truck is your daily driver or you use it for light-duty work then I would highly recommend it.
There's a reason this cover is popular and is frequently recommended amongst Tacoma owners.