Wilco Offroad Bed Rail Tire Carrier Full Review & Step-By-Step Install For 2nd & 3rd Gen Tacoma
Any off-road or overland enthusiast knows that carrying a spare tire is paramount on every adventure. Some would even venture to say it's just as important as having gas in your tank to drive! Murphy's Law states that if something can go wrong, it will; and you never want to be stuck out on a trail with a flat tire and no spare. That could potentially spell disaster.
Most off-road and overland rigs are utilizing larger than factory aftermarket tires that don't fit in the undercarriage spare tire mount. The only other solution is finding the right spare tire carrier for you.
When it comes to spare tire carriers there is no shortage of design or brands. You can find full tailgate swing arm carriers to bed rack carriers, and the above mentioned Wilco Offroad Bed Rail Tire Carrier.
For the minimalists out there, like me, the Wilco Offroad Bed Rail Tire Carrier caught my eye. There are no extra modifications, cutting, or welding that need to be done to your Tacoma just to carry your spare tire. It utilizes a simple bolt-on mechanism using the already pre-existing bed rails in every 2nd and 3rd Gen Tacomas.
I especially liked this design, because I wanted to keep my Tacoma as close to factory as possible. Also, the ease of use of the Wilco Offroad Bed Rail Tire Carrier was a bonus.
This carrier fits all 2005–Current (2nd and 3rd Gen) Tacomas.
Find It Online:
Wilco Offroad Bed Rail Tire Carrier | 2nd + 3rd Gen Tacoma: Check Price
Installation
The installation is simple and fast and takes very little effort. The only tool you need is a socket wrench with a 16mm socket or 16mm ratchet wrench.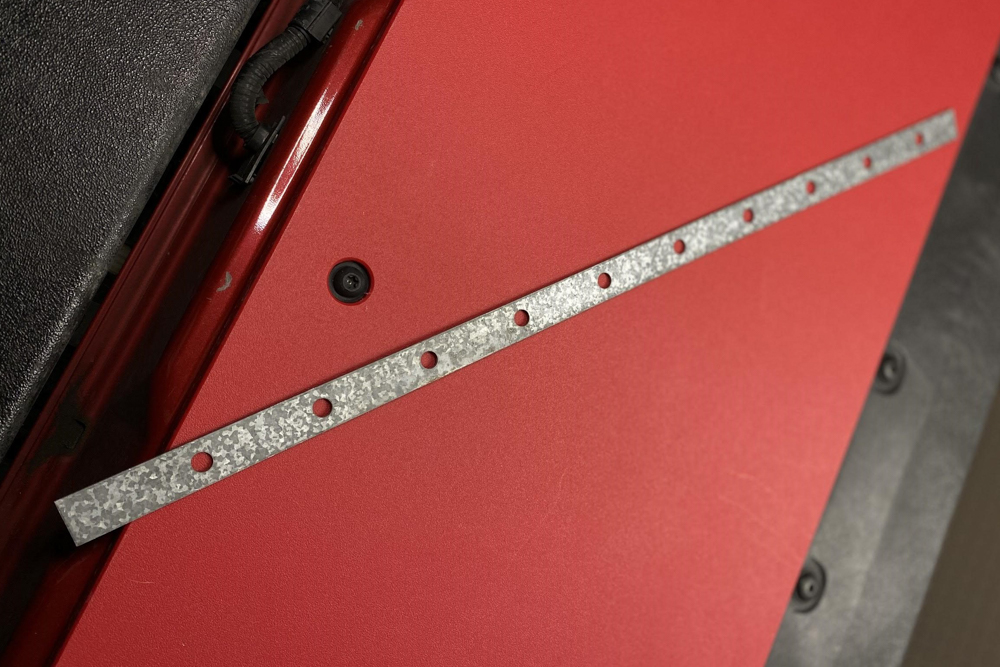 As seen above, if you want a faster, easier installation, you can utilize a zinc steel punched flat bar if you have one laying around. I will show you how you will be using it a little further ahead.
Step 1. Lower Tailgate & Assemble Wilco Offroad Parts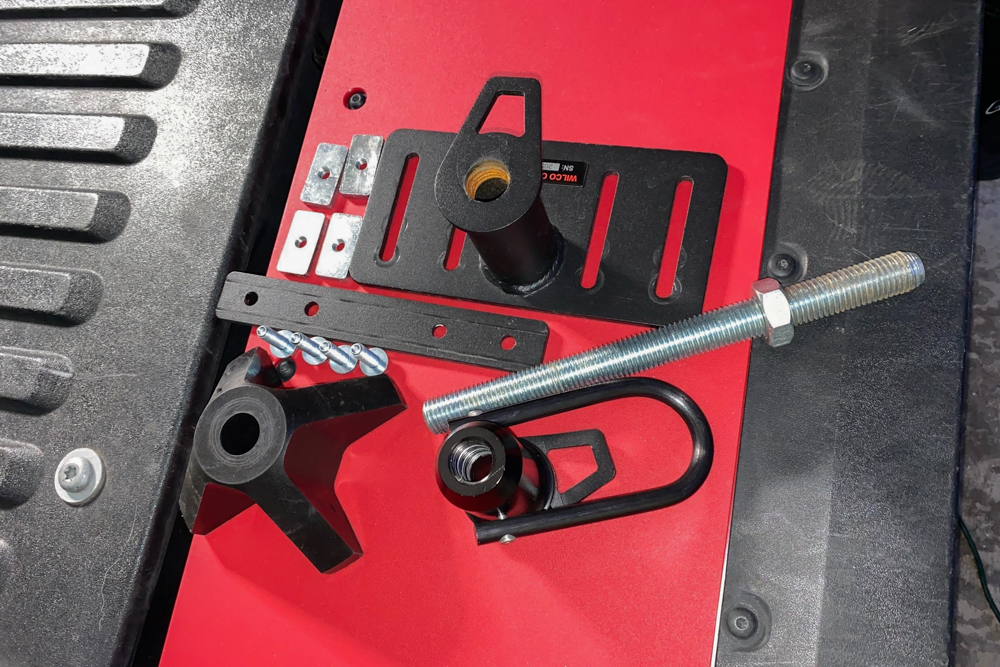 Lower your tailgate and assemble all of the Wilco Offroad Bed Rail Tire Carrier parts. All the parts included are shown in the image above.
Step 2. Locate & Remove Bed Rail End Cap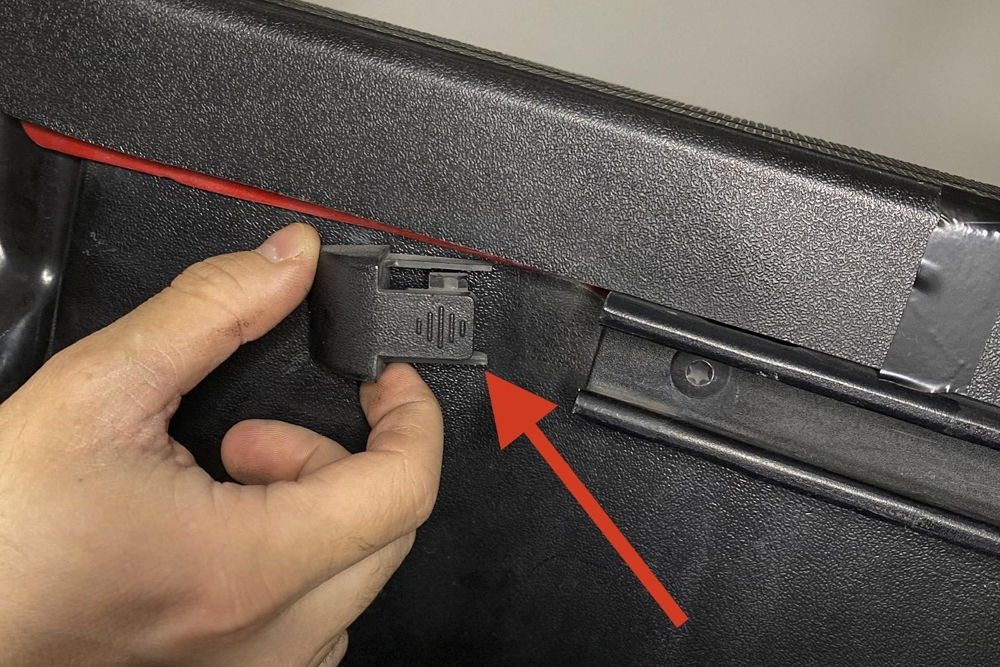 Locate the bed rail end cap, and remove it from the bed rail. It snaps on and off, it can be removed by applying slight pressure to the top portion that is indicated with raised ridges.
Step 3. Slide Zinc Steel Punched Flat Bar Into Bed Rail (Optional)
This step is optional if you have a zinc steel punched flat bar, or choose to get one. It is not necessary but does make the installation process slightly easier.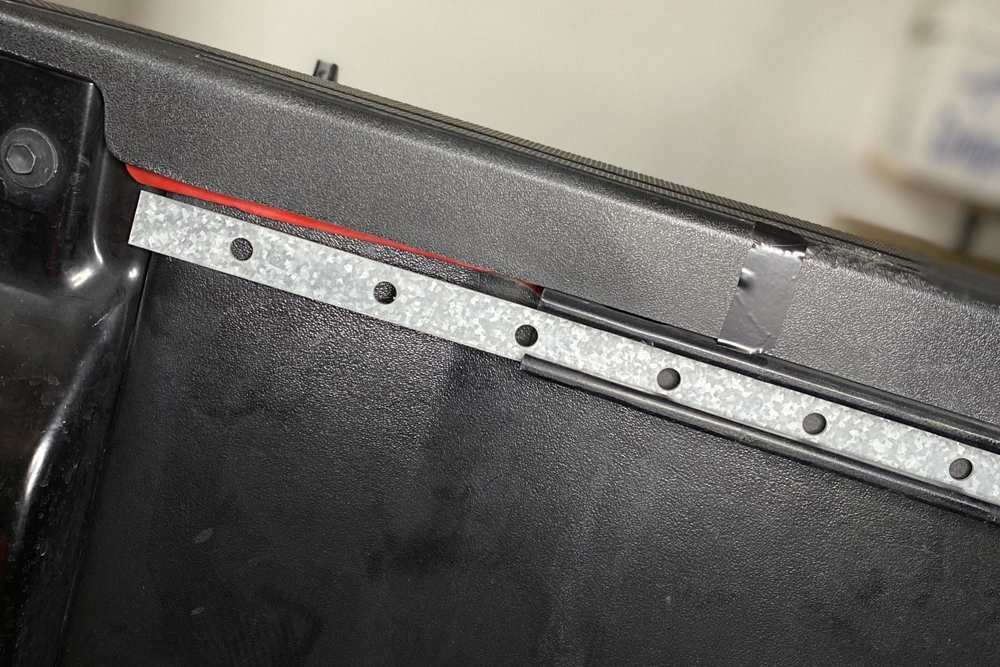 Simply slide the zinc steel flat bar into the bed rail, as depicted above, with a few inches protruding out. This is to help keep the rectangular nuts pushed forward to allow for an easier install.
Step 4. Slide Rectangular Nuts Into Bed Rail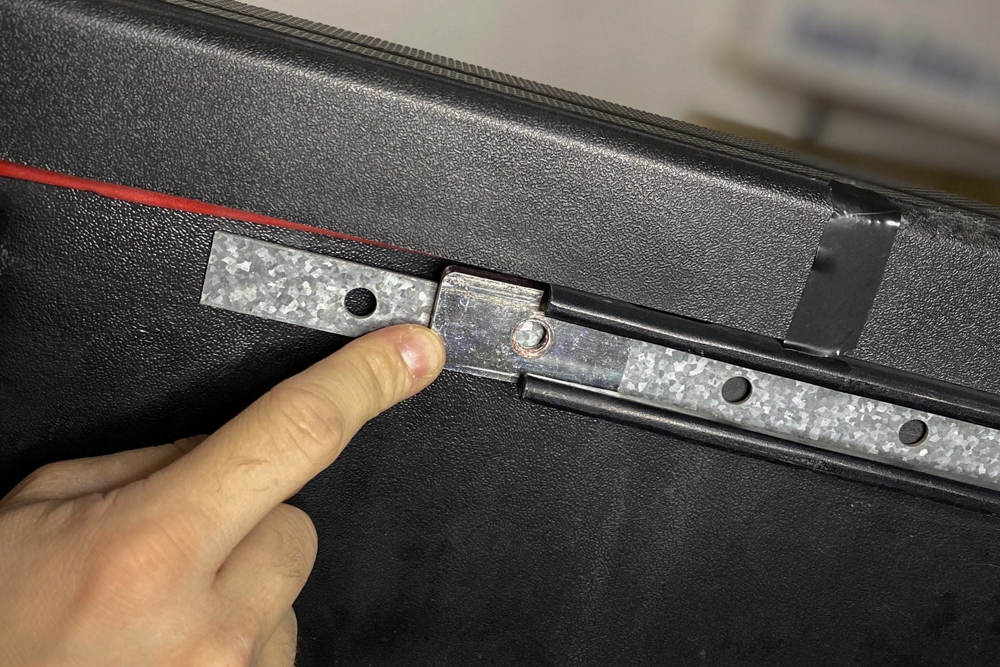 Slide the rectangular nuts into the bed rail.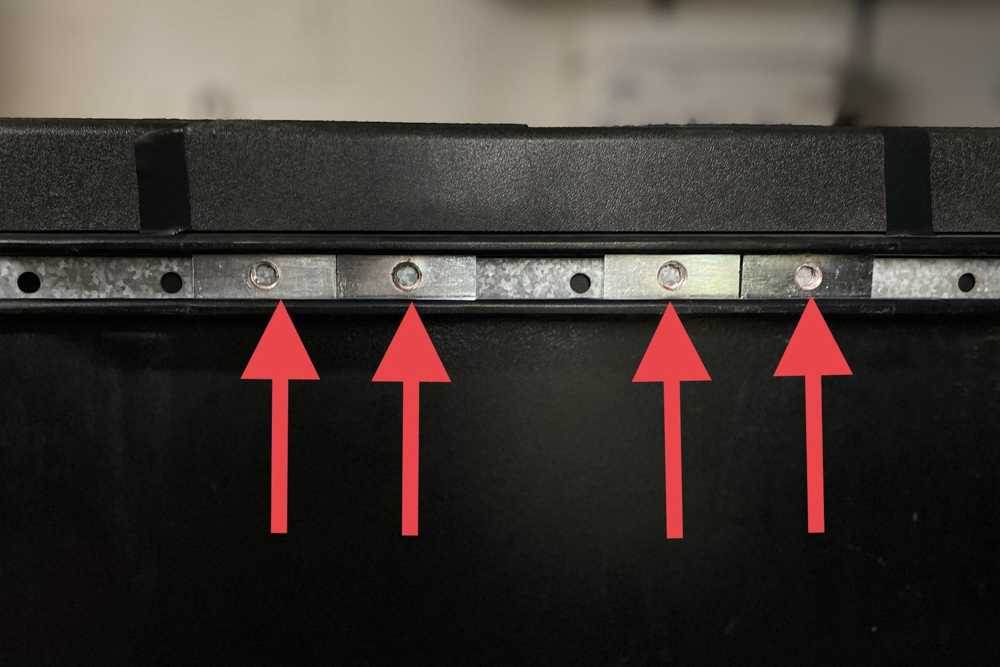 Align the nuts as shown above, in the desired mounting location. This will allow the mount, spacer and nuts to line up perfectly for when you install the tire.
Step 5. Align Spacer & Mount + Nuts & Bolt Down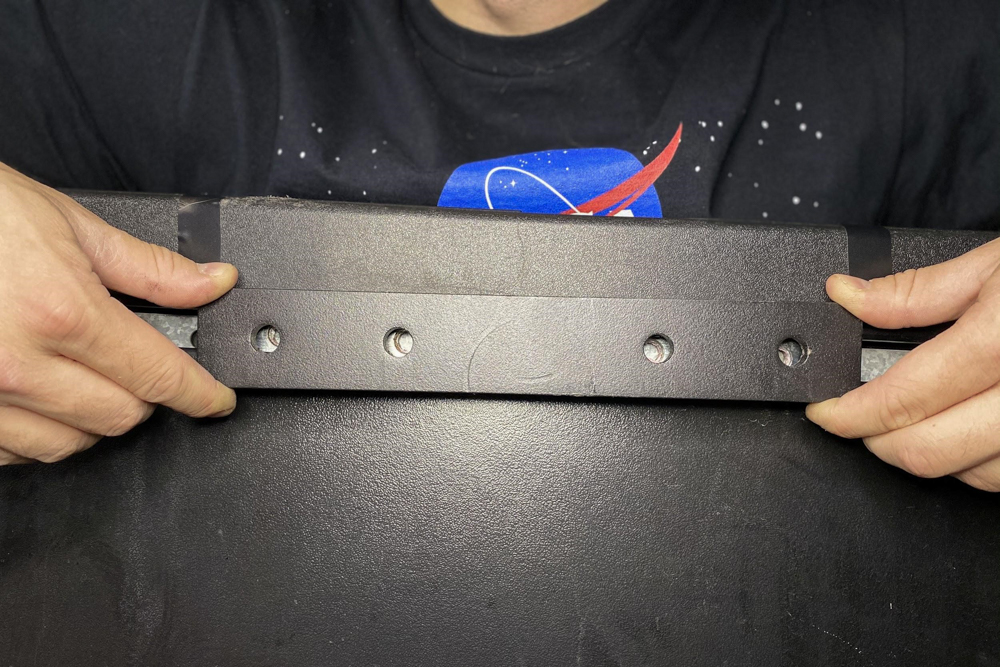 Align the spacer to the outside of the bed rail, and ensure the nuts and holes for the spacer match up.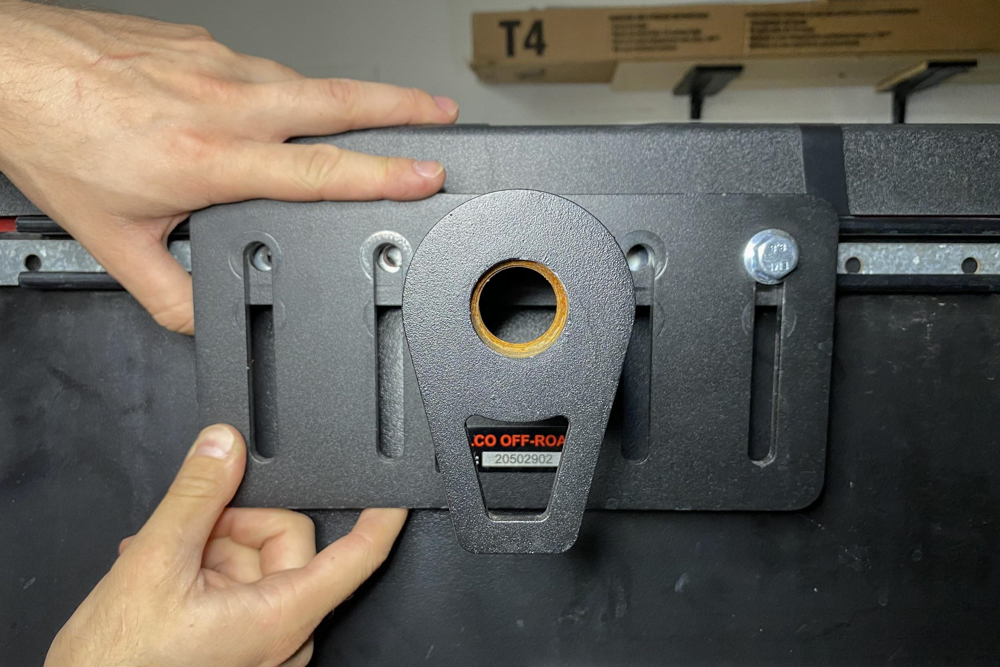 Next, place the mount on top of the spacer, and begin to bolt down.
Step 6. Bolt Down Tire Carrier Mount & Remove Zinc Steel Punched Flat Bar
Bolt down and tighten all bolts until the Wilco Tire Carrier Mount is firmly mounted to the bed rail.
Next, remove the zinc steel punched flat bar from the bed rail (if you used one).
Step 7. Insert Steel Rod & Tighten Down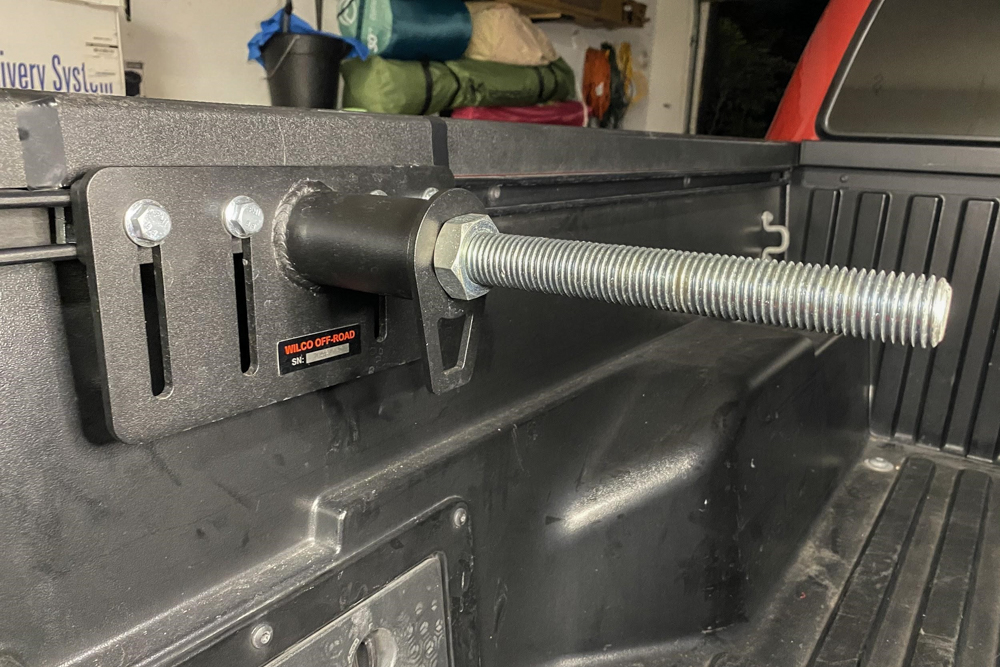 Insert the steel rod into the tire carrier mount, and tighten fully.
Step 8. Place Tire On Mount Followed By Rubber Stopper & U-Bar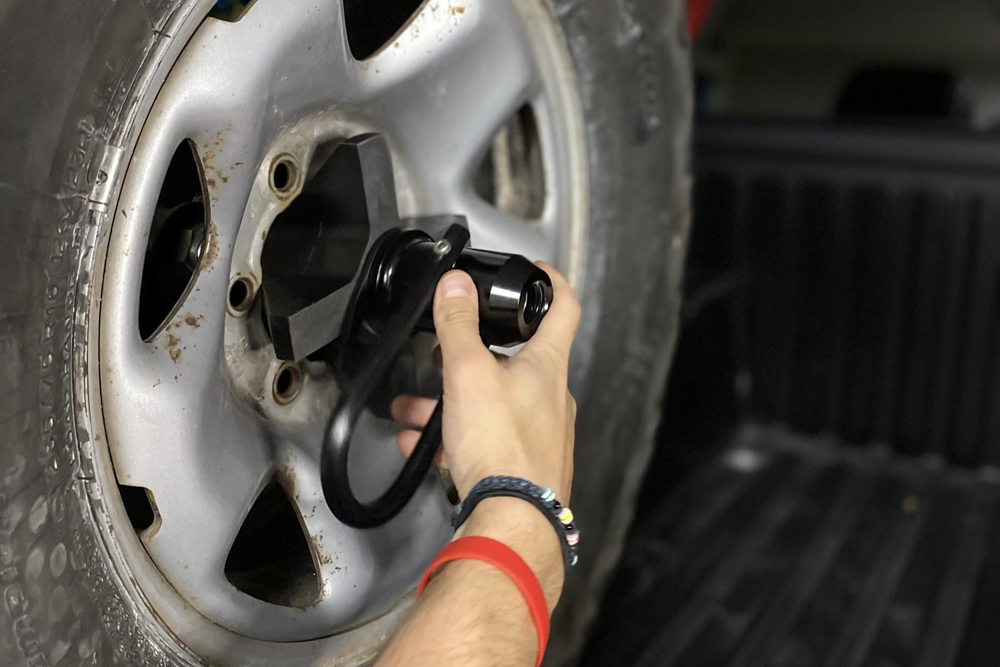 Place your spare tire on the mount and up against the side of the bed, then place the rubber stopper against the rim. Finally, apply the U-Bar onto the steel rod, and fully tighten.
Final Thoughts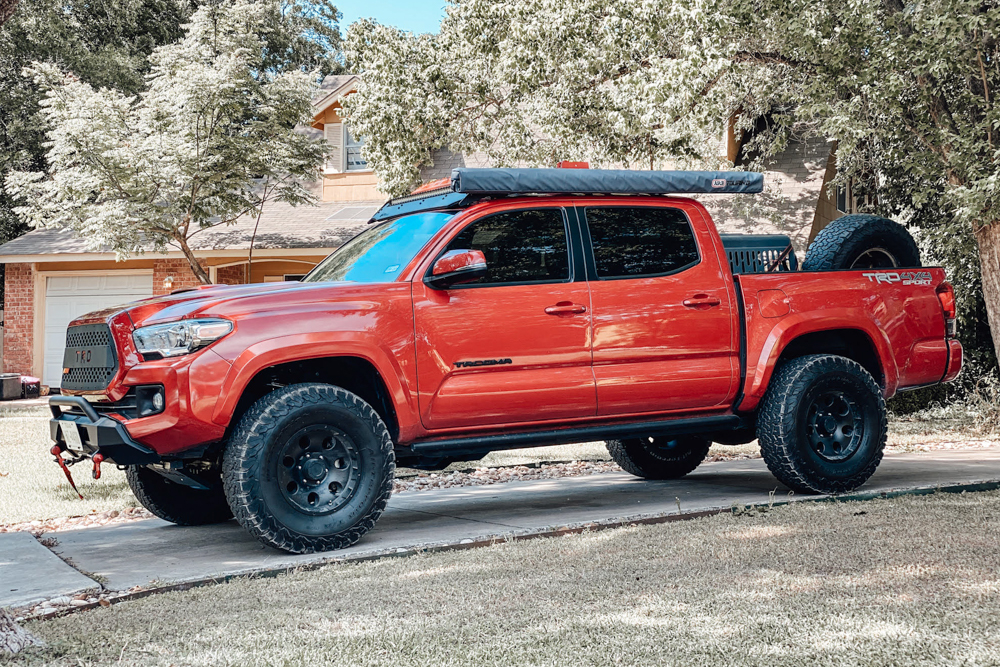 I have used and tested the Wilco Offroad Bed Rail Tire Carrier for on and off-road purposes. The ease of use, access to the spare tire and simplicity of mounting truly delivers the all-around package. No more crawling underneath my truck just to grab my spare tire.
Another great feature of the mount is its capability for anti-theft. For extra security, a flush-mounted D-ring was employed on the tire carriers base, as well as the lockable U-bar. This allows the user to thread a cable lock through for added protection.
The mount takes up very little space, and with the spare tire fully mounted you still have access to more than 80% of your bed for storage.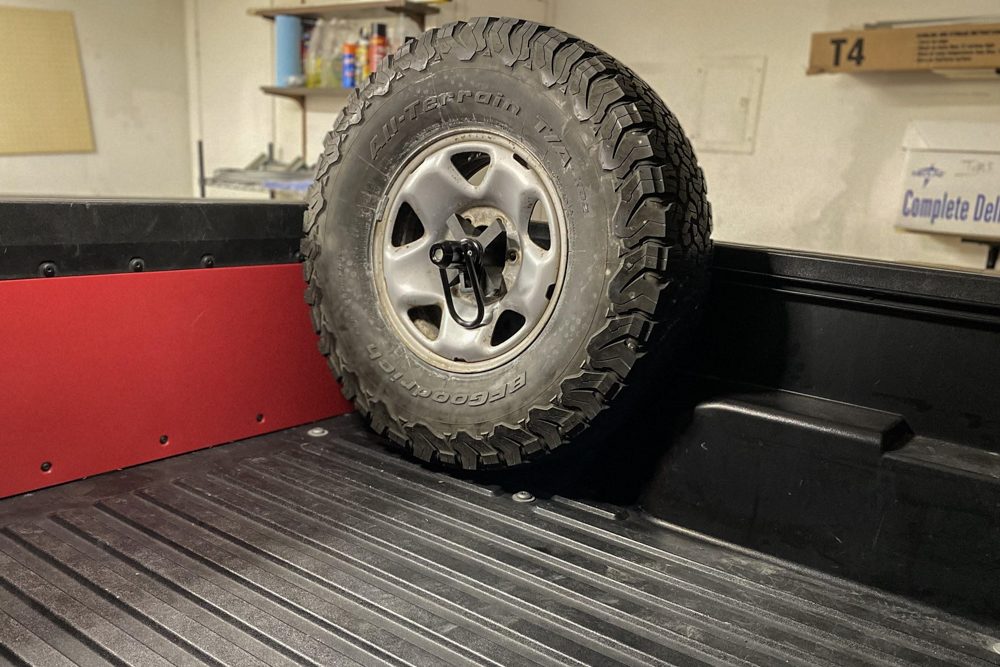 I was keen on keeping my Tacoma as close to factory as possible, which meant straying from cutting into my front and rear bumpers. The swing arms and steel bumpers can add unwanted weight to your vehicle, as well as irreversible modifications. Not to mention, the impact on your miles per gallon for the everyday drivers out there.
With all the options that are provided for the off-road and overland enthusiast, the Wilco Offroad Bed Rail Tire Carrier ranks in my top five for aftermarket modifications! I was truly impressed with the company's response and professionalism when ordering this product. They kept me up to date on the order details, shipping/delivery, and follow up.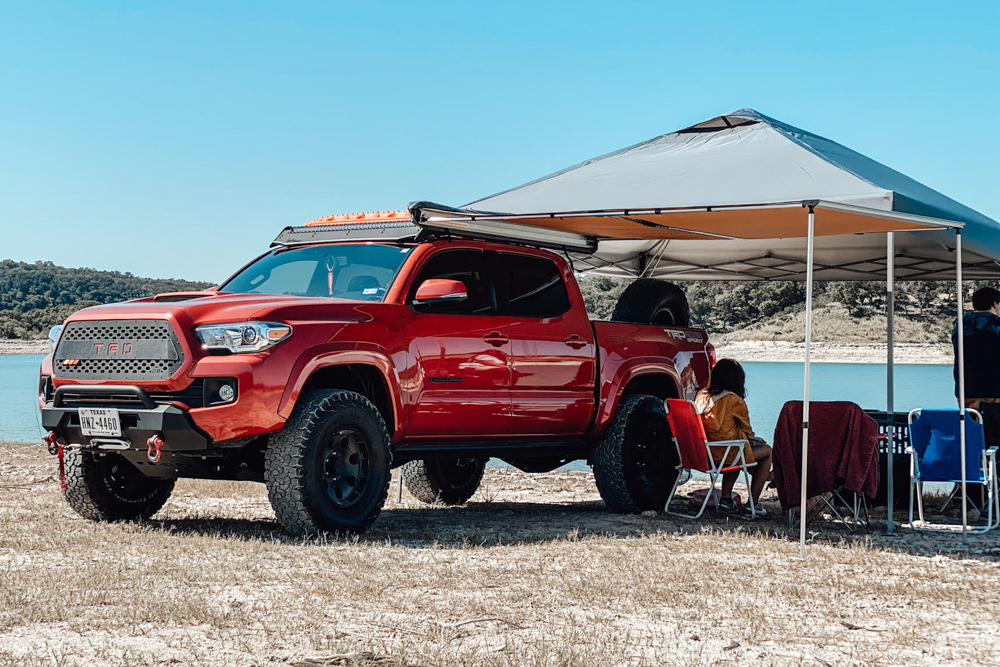 The mount itself was so simple, yet so effective. It made changing a flat tire much faster and allowed me to get back on the road/trail with little delay.
All in all, I would give this product a 12 out of 10! I can't remember what life was like before the Wilco Offroad Bed Rail Tire Carrier, nor do I want to!