MobileStrong Drawers Review: Customizable Storage For Your 3rd Gen Tacoma
I have gone through several different storage setups. From storage bins to plastic containers and beyond. None of these solutions ever felt quite right and I knew that I could be more organized and spend less time fumbling around looking for gear.
I wanted to focus on making the best use of my time out in the wild, and stay a little more organized. That was when I started doing some research and realized MobileStrong was the product I needed.
The worst thing about going out on a trip is packing and unpacking. The more I went out, the faster I realized what I did and didn't need on trips. One of the most frustrating experiences was forgetting something because of the constant packing and unpacking I was doing.
I realized that less is more and I didn't always have to overpack. I just wanted to bring along what I needed (supplies/food/gear) and not have to worry about if I packed a tote correctly or if I was missing anything.
At this point, I knew that a custom storage setup would serve me well. MobileStrong has so much to offer that I decided to get something built specifically for my own needs.
The following is an overview of my customized MobileStrong storage/drawer system and why it was a good fit for me.
Find It Online
Specifications
1,000 LB Payload Capacity
250 LB per Drawer Capacity
Medium Duty Drawers
Secure Drawers with key locks
Weather Resistant
D-Ring Tie Downs
Constructed from 100% Recyclable HDPE (High-Density Polyethelene)
Made in the USA
MobileStrong offers numerous amounts of storage configurations for Trucks and SUVs.
They have their regular HDP versions and "waterfowl" versions. The waterfowl options are meant to be even more weatherproof because they are designed for more abuse in applications like hunting or those without a bedcover/camper. They are meant to withstand whatever you or nature can throw at them.
MobileStrong will construct drawers to your specific dimensions. So if you want more or less storage space or deeper drawers they can do it. It all depends on what your needs are.
Benefits of Mobile Strong
This system is totally customizable and can fit pretty much any truck and SUV application. The company even offers wheel well solutions that are completely modular. I would suggest to carefully think out your storage needs before consulting with them.
You may be fine with their default sizing or you can customize one as I did. The HDPE (High-Density Polyethelene) is lightweight so it beats many of the competitors on total weight. The HDPE is also much more durable and longer-lasting than it's wooden counterparts.
The aluminum skeleton also ensures the drawers are built to last and will not fail unless pushed passed its weight capacity, which I do not think I have even come close to reaching. They use heavy-duty channels and bearings to keep your drawers sliding out smoothly time and time again.
Possible Shortcomings
The only issue I found was that since the drawers do not have a designated bolt down point is that the user has to figure out a way to secure it to the bed or trunk of the vehicle.
The tie-downs work great, but if you want something much more permanent and rigid, you may have to look into "L" brackets or mounts to make sure the drawer does not slide around or move.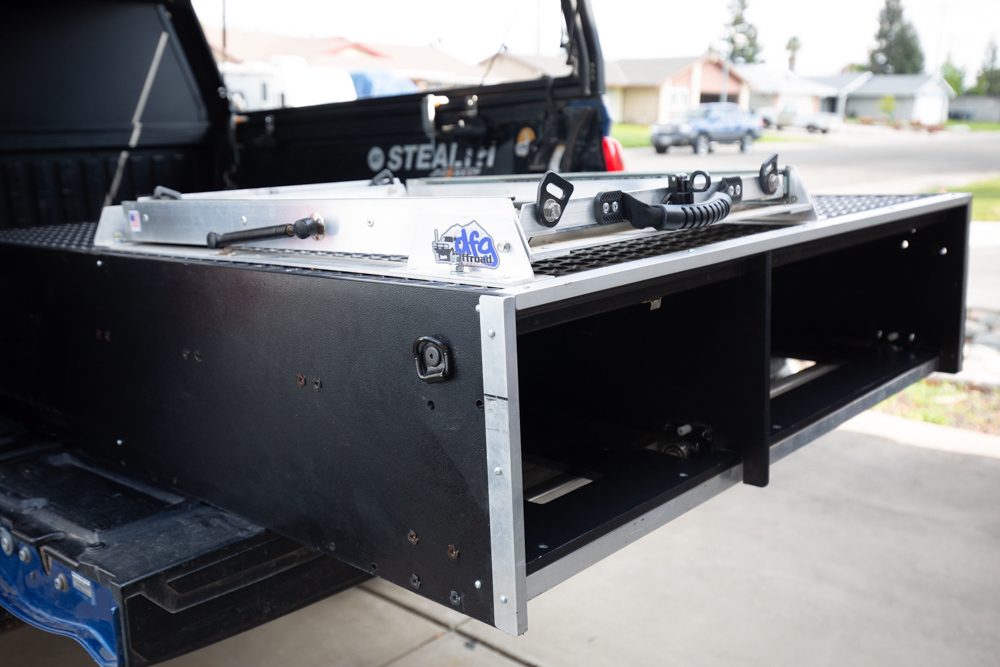 The drawers I ordered were customized to fit the whole bed on my Tacoma. Pictured above is my DFG Fridge Slide. The skeleton of the drawers is made of aluminum reinforcement mounted to the HDPE boards.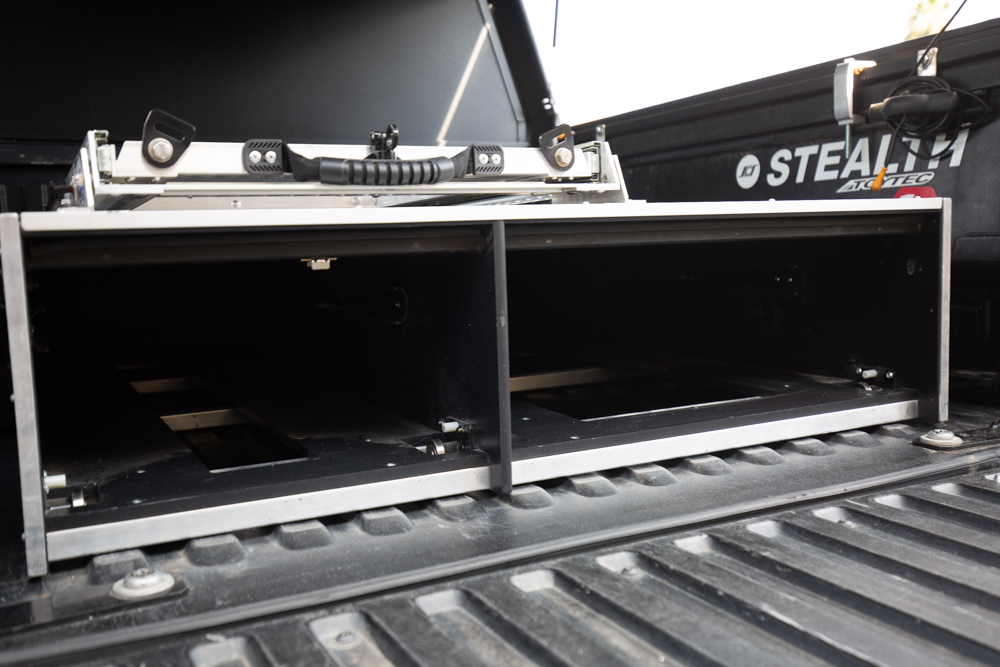 Once the drawers are in place, you can see that they take up the full length of my Tacoma's short bed. The drawers are also elevated from the bottom to ensure they clear the tailgate and/or bolts for bed frame reinforcements if you have those.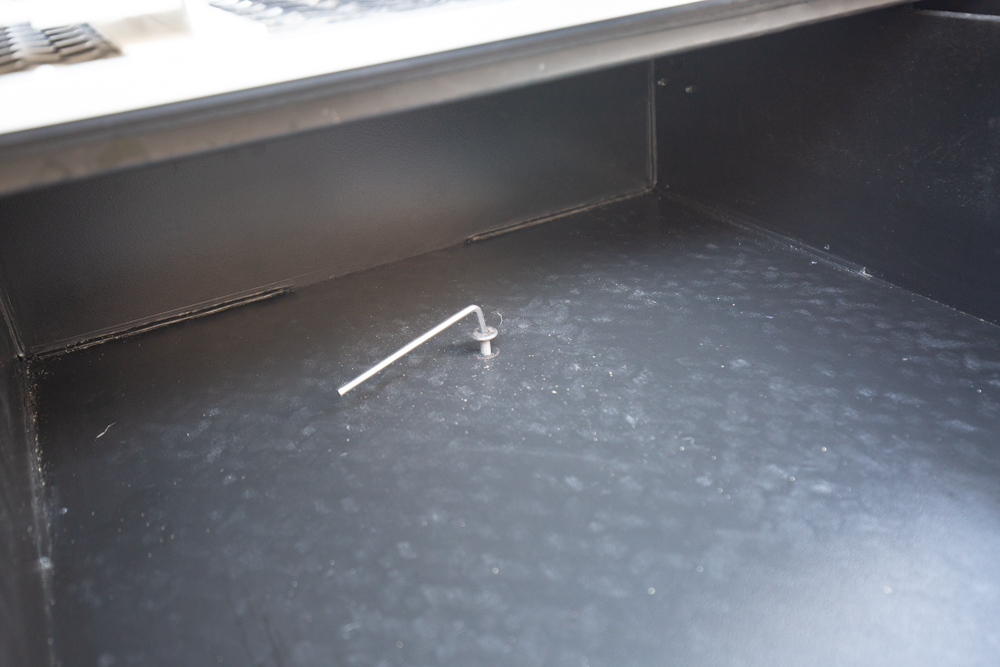 Each drawer comes with a locking screw/pin at the very back of the drawers. This prevents the drawers from coming all the way out during use. You can customize how far you want your drawers to slide out.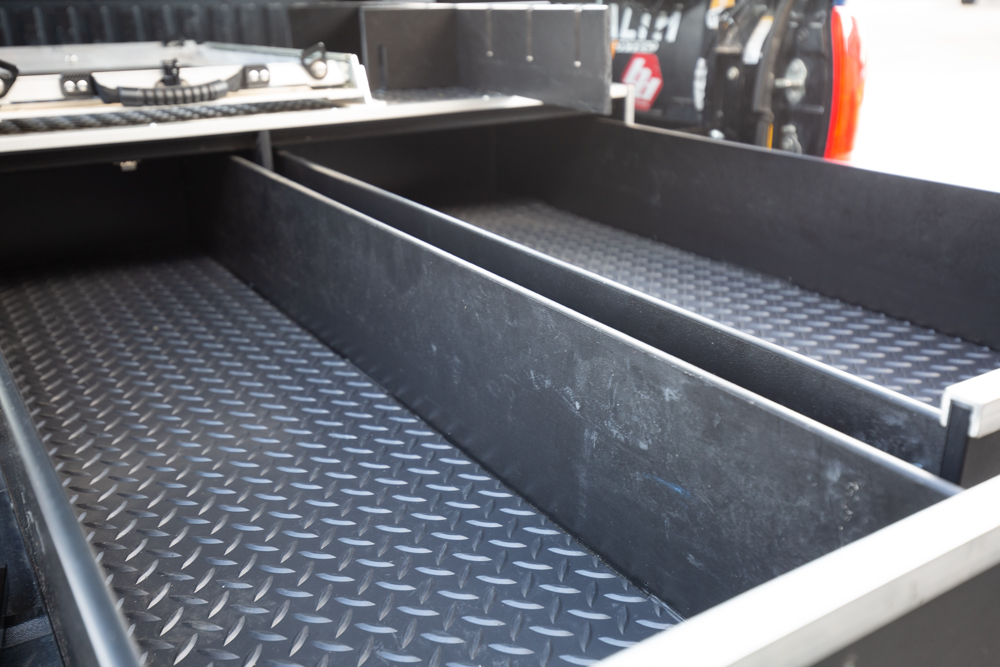 MobileStrong also included rubber liners for the inside of each drawer (optional). These are a great addition because the liners are very thick and durable, this will help your items from bouncing around and making noise in the bed during your drive on-road or off-road.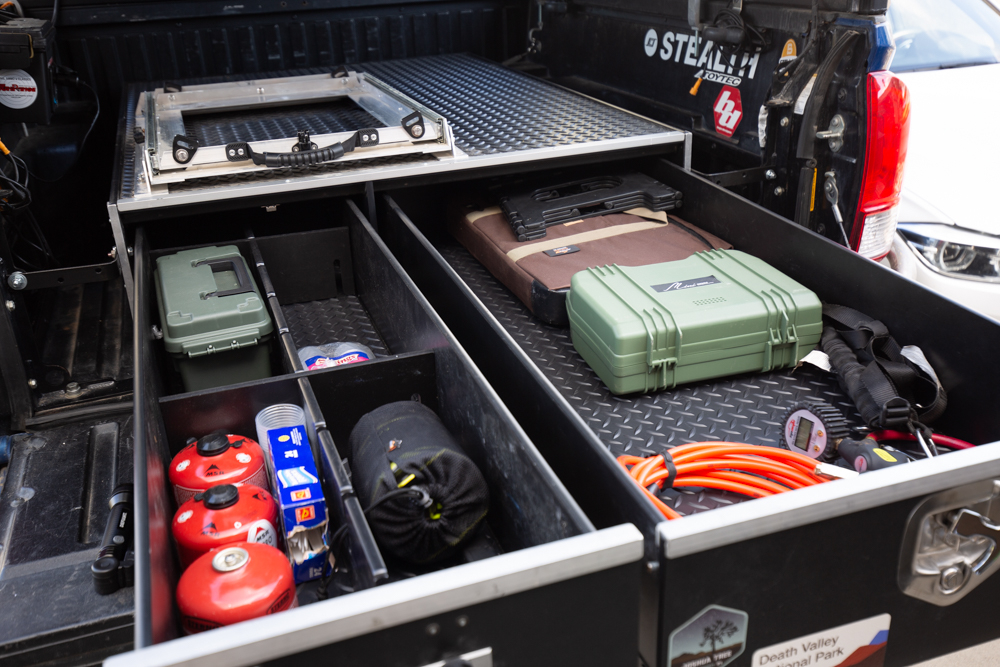 Here is my usual, simple loadout. I customized my drawers and got a 60-40 offset build.
The drawer on the right is larger than the left and my drawers are a full 10 inches tall inside. I did not match the height of the drawers with my wheel wells because I did not need a flush surface on the top. This is totally up to the buyer. It all depends on how high you want your drawers to be. I got this particular height so that with my fridge installed, it would all be able to slide in and out without hitting my camper.
Drawer Dividers From MobileStrong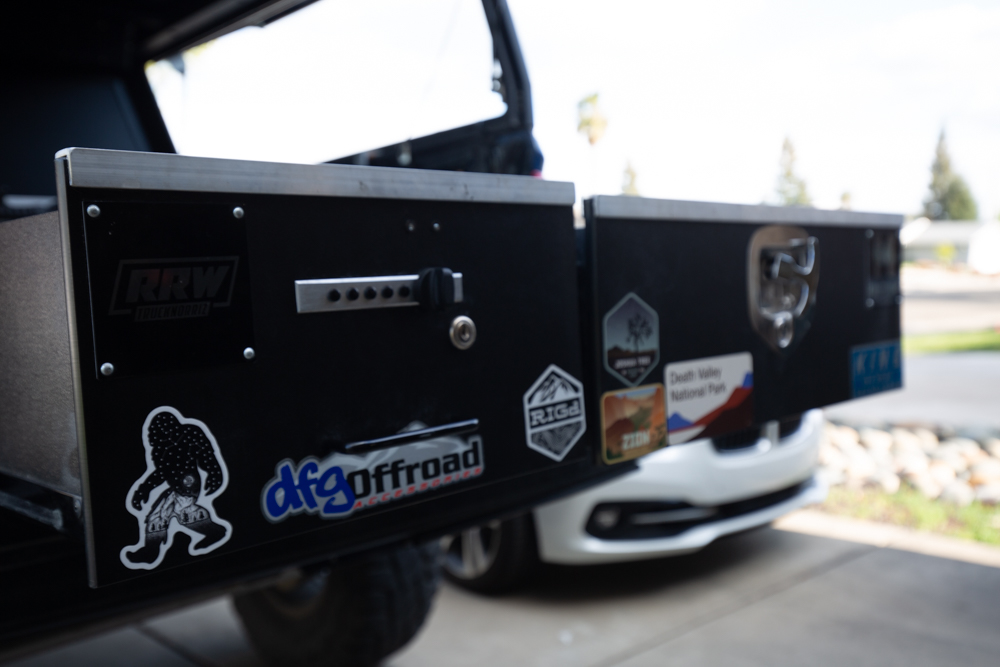 MobileStrong provides drawer dividers too. These are also customizable depending on the items you decide to store. I thought this was great because of the organization it provided me. I always know where specific items are going to be. This is extremely beneficial because I can't even count how many times I would dig through storage totes looking for camp gear or kitchen supplies.
Plus, You Get Lock Options (Like the Twist Lock)
I also opted for two different types of locking mechanisms on the drawers. Pictured above is the Twist lock option that I went with.
On the larger 60 percent side, there is a twist and lock mechanism. On the smaller 40 percent side, MobileStrong is using a "Kaba" style lock. These locks are combination based and have been used for security doors and safes for a very long time.
The benefit to this is if you are in a state that has specific "firearm" laws on how to transport your guns, this makes it lockable storage that allows you to carry your firearms in compliance. MobileStrong even offers gun storage for users that only need gun specific storage solutions.
Kaba Combination Lock Mechanism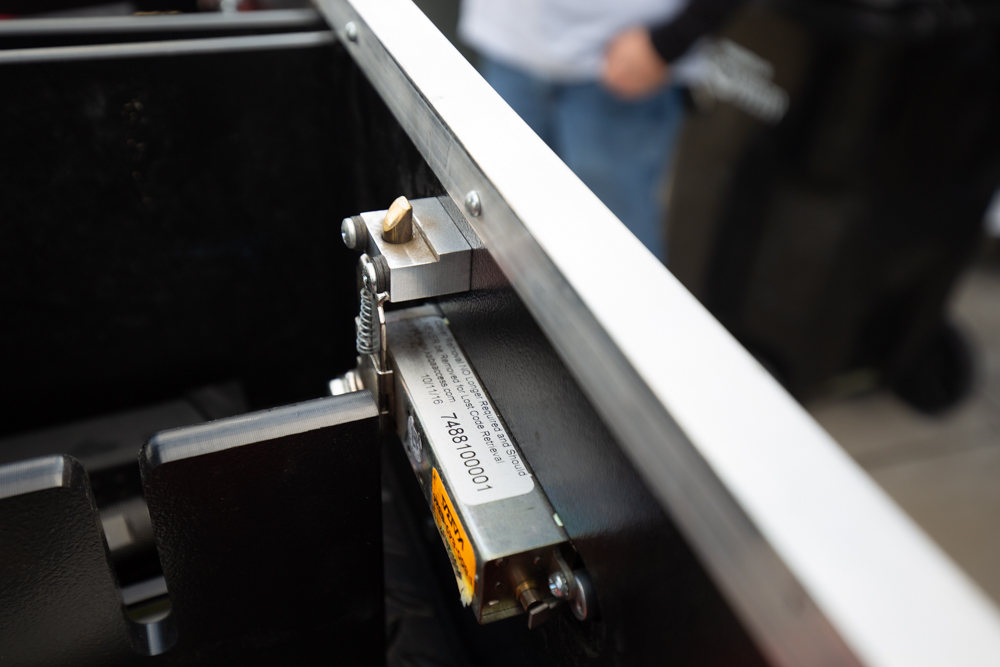 Pictured above is the interior of the Kaba Combination lock system from MobileStrong.
MobileStrong provides heavy-duty D-rings to tie your drawers down to the bed, but I used L-brackets from home depot to secure it to my Total Chaos Bed Stiffeners.
This keeps the drawers from moving around when the truck is off-camber or if I decide to go bomb a fire road at 70 mph.
Final Thoughts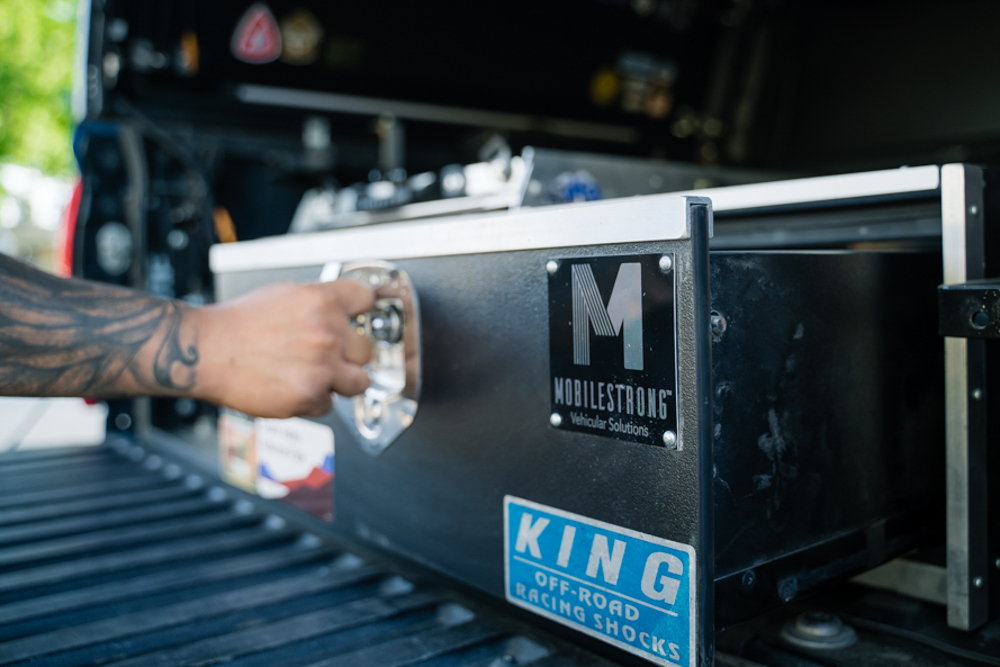 In my opinion, a solid storage system is a must for the avid explorer.
There are so many different things we bring in and out of the truck that a good storage solution saves you a lot of time. You can be better prepared for trips, have your recovery gear ready, your camp necessities handy and feel like you're much more organized.
The folks at MobileStrong are extremely helpful and will help you size your system and give you advice on the benefits of their various offerings.
There are plenty of storage solutions out there but MobileStrong's entry-level storage systems are much more affordable than the competition. This system works perfectly for me and my needs.
Stay safe out there!