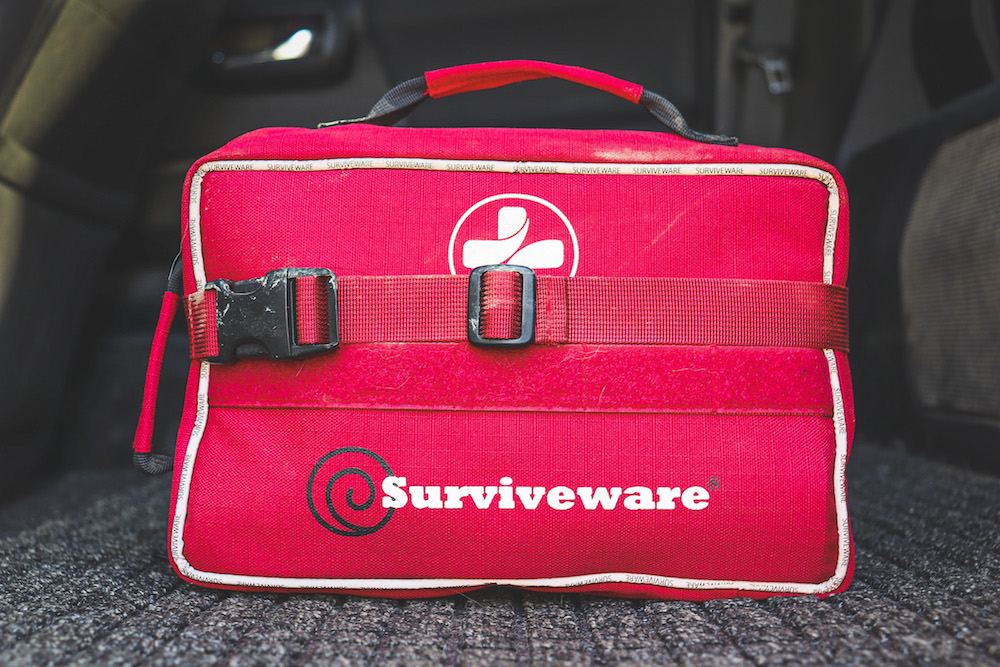 Full Review of the Large Surviveware First Aid Kit – Great First Aid Kit to Carry in your Toyota Tacoma
In the outdoor and off-roading community, one of the most essential items to be equipped with is a first aid kit.
More often than not, people are prepared for a quick trail repair on their vehicle but what about an emergency involving yourself or your passengers? Having a first aid kit handy is something that is needed for anyone planning to go outdoors, whether it's on the local trails or a cross country overland trip. In this article, I will be giving you an in-depth review of the large Surviveware First Aid Kit.
The kit is priced fairly around $100, which may sound high, but after reading this review you will see why it's a great value. You can't put a price on personal safety and quality items.
WHERE TO BUY?
You might be thinking, what makes me qualified to give you advice on your first aid kit requirements? I'd be happy to share it with everyone.
I'm an active-duty Army Nurse and I have been for over 6 years. In addition to my training, I have taken the following supplementary courses: Tactical Combat Casualty Care (TCCC), Basic Life Support (BLS), Advanced Cardiac Life Support (ACLS) and the Neonatal Resuscitation Program (NRP). Both the BLS and ACS were provided for via the Red Cross, the NRP was taught by a NICU nurse with 13 years experience and the TCCC was taught by a Green Beret with 10 years of experience and multiple combat deployments.
I consider myself very well rounded in many aspects of medical care, ranging from trauma and operations to childbirth.
Disclaimer
Before we get started, I would like to remind everyone to never perform any form of medical care they are unfamiliar with performing or are uncomfortable doing. You risk doing more damage than has already been done.
It would be wise for everyone to take a basic ambulatory/emergency medicine course so you are prepared to deal with a variety of potential scenarios.
Your first aid kit is worthless if you're not properly trained. Make sure you do your due diligence.
Case Overview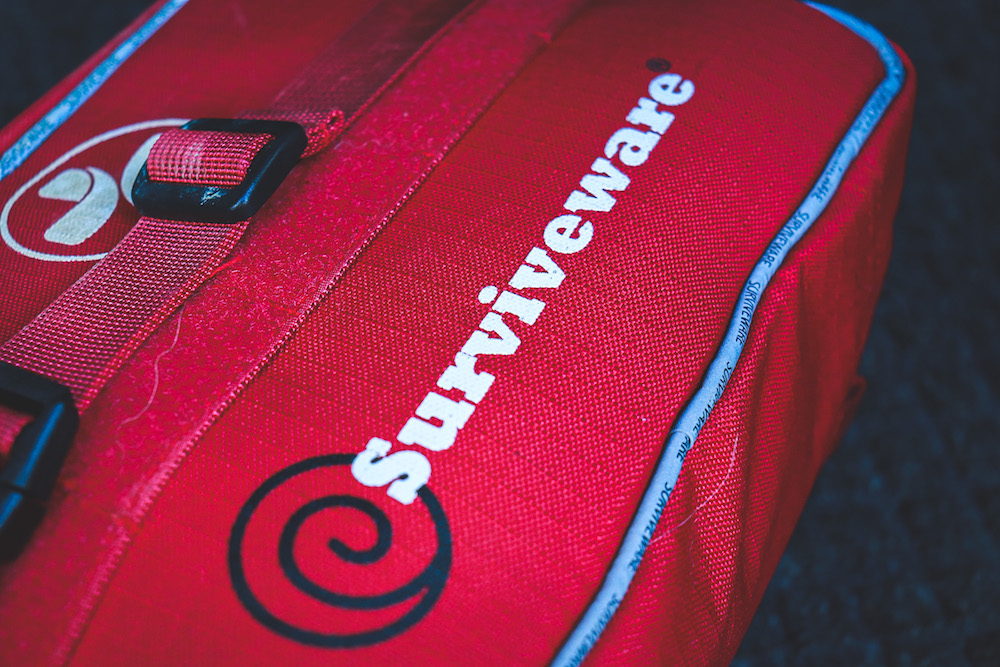 Overall, the actual polyester bag that houses all of the contents of the first aid kit is very sturdy and high quality.
It is made from 600D Polyester, making it one of the most durable bags on the market. You can tell how stout it is as soon as you pick it up. Everything from the zippers, down to the stitching, feels really solid.
The bag measures 12x8x6 inches and weighs just over 3 pounds. It has plenty of room inside to add any additional items you may want to add or store in the kit. 
The polyester bag is water-resistant and all of its inner contents are protected with laminate casings (heavy-duty plastic). Since everything is bagged up individually, it further increases the weather resistance of the items.
I can attest to it being water-resistant because my wet, muddy dogs laid against it while it was in the rear seat storage, and everything in there was still clean, dry, and ready to go.
Storing the Kit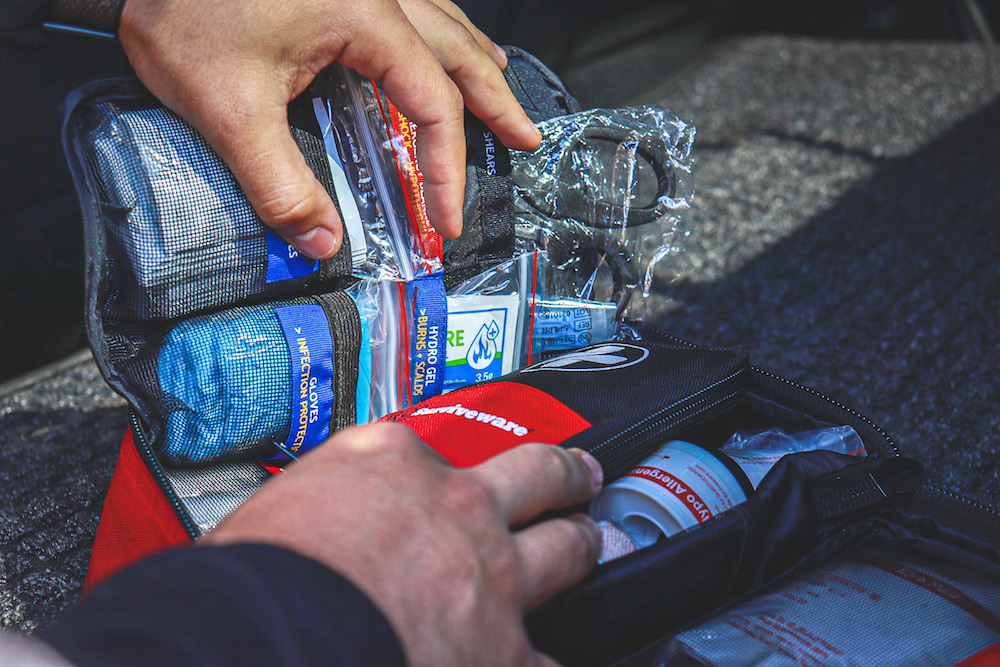 The case is also equipped with a MOLLE system, along with a buckle strap that wraps the entire length of the case. You can buckle the kit up to your headrest, or even stow it behind the seat. I tested the fit, and it sits perfectly behind the backseat on the driver's side.
Another very impressive thing about the kit was the velcro it came with on the backside of the case. When I went to separate the cover to it, I was surprised how strong it was. You can rest assured the kit will not going to go flying when you're bouncing around on your favorite trail.
You can use this velcro to attach the kit to the bottom of the front seats or hold it securely to the bottom of your backseats. I would be extremely confident in leaving it there, even with the truck being tossed around.
Compartments & Storage Capabilities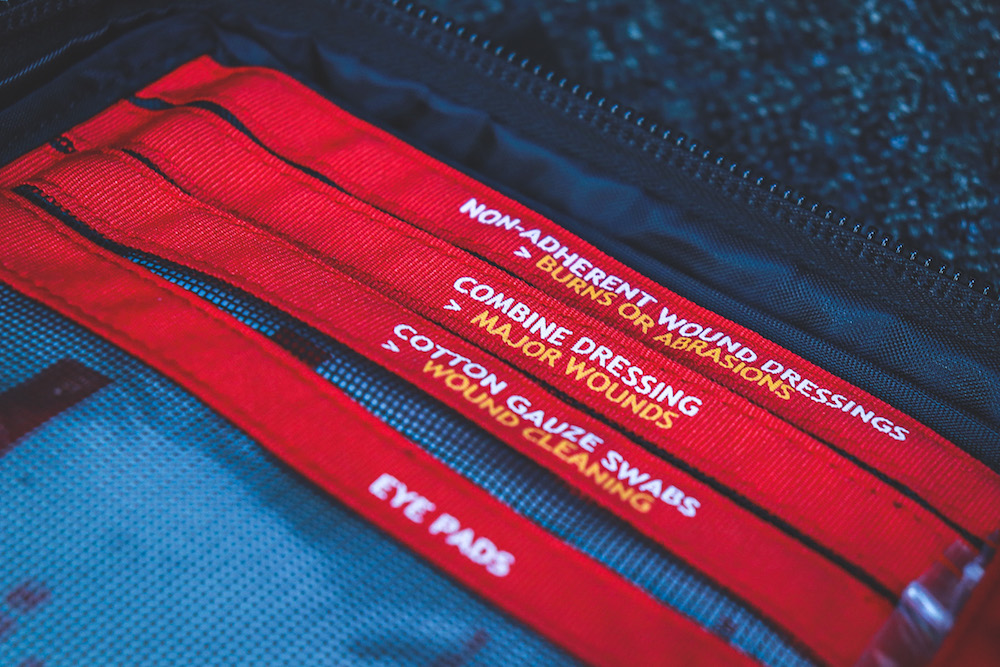 One of the last things you want to be doing in a time of emergency is fumbling around with your first aid kit trying to find the items you need.
Surviveware is well aware of that so they went as far as labeling every pouch and pocket inside their kit so you know exactly where everything is when you need it. The various items are labeled according to their function. Since they are all labeled, it also makes restocking your kit even easier.
Currently, Surviveware is working on restocking supplies to refill your kit. What that means for you is that, for the time being, you may have to outsource your replacement items. Lots of high-quality products can be found on the internet by a simple web search or via amazon.
If you do choose to go the route of outfitting and restocking your equipment, be sure to use latex-free items, and make sure to double-check that all items are 100% made in the USA.
Companies I Would Recommend For Restocking
First Aid Kit Contents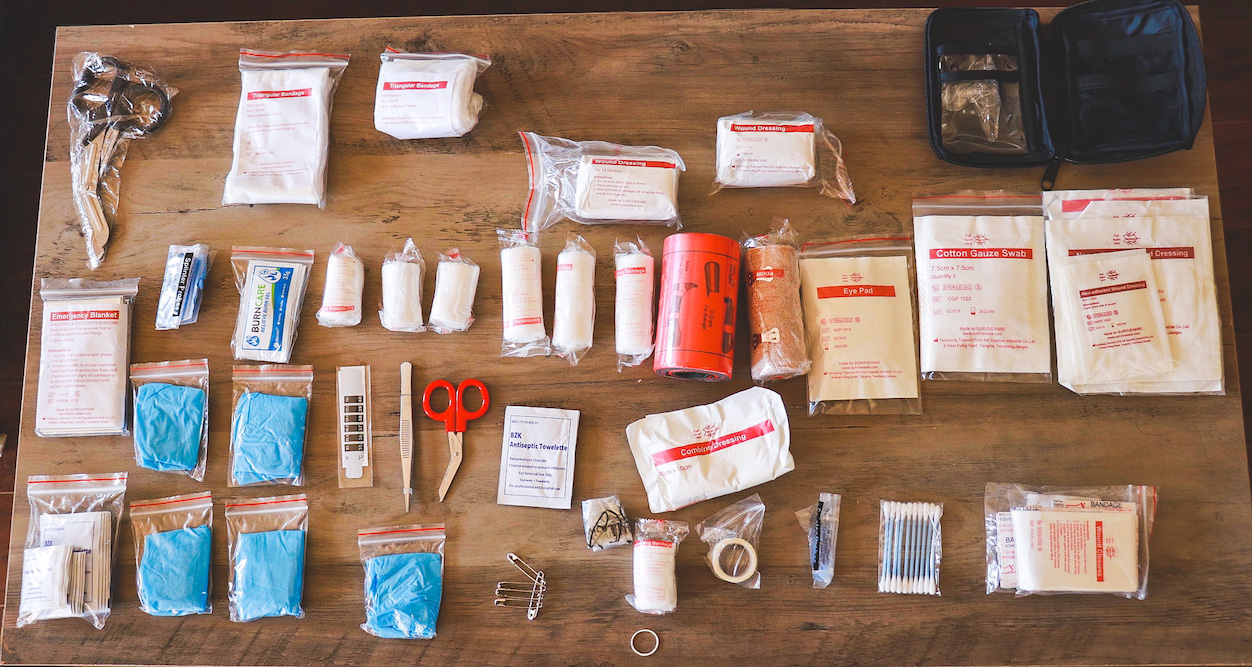 Now we get to the meat and potatoes of the kit itself. The kit is very thoroughly equipped for the everyday user.
The kit includes the following:
600 D Polyester Bag (1)

7.5″ Shears (1)

18″ Splint (1)

Alcohol Wipes (10)

Adhesive Bandages: Butterfly – Large (5)

Butterfly – Medium (5), Large (5), Standard (30), Square (5), Mini (5) & H-shape (5)

Cold Pack (1)

Combine Dressing (1)

Conforming Bandages (6)

Gauze Swabs (5)

CPR Bag with Instructions (1)

CPR Mask (1)

Ear Buds (20)

Emergency Blanket (1)

Eye Pads (4)

Fever Strips (3)

First Aid Handbook (1)

Nitrile Gloves (4)

HydroGel (5)

Hypo-Allergenic Tape

Non-Adhesive Dressings (10)

Pencil (1)

Laminate Baggies (6)

Refuge Bag (1)

Pressure Bandage (1)

Safety Pins (10)

Skin Cleaning Wipes (10)

Splinter Probes (10)

Sting Relief Wipes (10)

Strip Closures (9)

Triangular Bandage (2)

Tweezers (1)

Whistle (1)

Wound Dressings (2)
The kit also comes with a smaller 50-piece bonus bag which includes:
600 D Polyester Bag (1)

Small Shears (1)

Nitrile Gloves (1 Pair)

Conforming Bandage (1)

Hypo-Allergenic Tape (1)

CPR Mask(1)

Cotton Gauze Swabs (1)

Combine Dressing(1)

Splinter Probes (2)

Skin Cleaning Wipes (3)

Safety Pins (5)

Q-Tips (10)

Standard Adhesive Bandages (22)
What Can I Do With All These Items?
Most of these items can be used for very basic cuts and scratches someone may get while out on the trail or camping.
There are a few more advanced things that come in the kit, but it is very user friendly for those with no type of medical experience. The kit comes with a link for a free e-book to practice your skills.
Remember, practice and repetition are key when doing anything you are unfamiliar with. Their e-book is full of useful information to help you familiarize yourself with the kit.
Lastly, and maybe most importantly, you can use these items to help out your four-legged friends in case they get into trouble. Which is, obviously, what matters right? Insert comment about how much I love my dogs (haha).
What is it Missing?
There are a few major things that I think every first aid bag should be equipped with, or you should at least have in arms reach in your vehicle, or at camp. 
The first item would be a tourniquet. It is used to control bleeding from a gunshot wound, or trauma that causes major bleeding from a limb. This may sound extreme but it can prevent the loss of life.
You may never have to use it, but if you do, you will be glad that you had one on hand.
Tourniquet PROS
Very easy to use – children can be taught to use them if need be
You can apply it one-handed on yourself
Can save you from bleeding out
Lightweight & easily stored
There are no cons to having one in your first aid bag so I won't even waste your time on why you shouldn't have one.
I would recommend the Rescue Essentials Combat Application Tourniquet (CAT) GEN 7. If you are unfamiliar with how to use one, I linked a great video to check out. It is full of good information on how to properly apply one on yourself.
The second item would be an Israeli Bandage, it is also known as an Emergency Bandage. This is another useful item to have in your aid bag. It is used to stop and control bleeding. You can use it on almost every part of the body, from your head to your toes.
Israeli Bandage PROS
Control bleeding
Can be used on multiple parts of the body
Lightweight
Able to self apply
Israeli Bandage CONS
One time use (who wants to use dirty equipment anyways?)
Hemostatic gauze is preferred for the best results
Other than those two small downsides, this is something that needs to be in your first aid arsenal. If you have any other questions about this bandage, here is a good page full of information.
If you are interested in purchasing one, I would recommend checking out Rescue Essentials.
Finally, the kit does not include any medications of any kind. These would include (but are not limited to) aloe vera gel, calamine lotion, an anti-diarrheal, laxative, antacid, antihistamine, hydrocortisone, cough/cold medication and pain-relieving drugs. If you wanted to add these you would need to source them yourself.
Closing Thoughts
All in all, this is a great kit.
I would, without hesitation, say a first aid kit is essential. If you are in the market then this should be your go-to. I haven't seen very many kits as thoroughly thought out as this. It is missing a few items, but once you add the few missing components to it, it's more than most of us will ever need.
Don't be caught at camp with an injury wishing you had some form of gear. At that point, it's too late!
Remember, medical gear is not something you should cheap out on. It can mean the difference between life and death. Even if you feel you don't need it, someone else might. And again, stay safe out there on the trails!
For additional information, check out The Outdoor Gear Review video.