A Review On The Pedal Commander. A Throttle Response Controller For The 3rd Gen Tacoma
Before I get into the install details and review, let me explain exactly what the Pedal Commander is.
This is a throttle response control module that allows you to adjust the sensitivity of the gas pedal. From the factory, 3rd Gen Tacomas have a "mushy" or "dead" throttle response. When you add a lift, larger tires and heavy accessories, the lag only becomes worse.
Modern cars and trucks use a gas pedal that sends an electrical signal to the engine and fuel management systems. This sensitivity is pre-set from the factory and is usually not very responsive. This is where the Pedal Commander comes in.
The module plugs in between the gas pedal assembly and the factory wiring harness. When it's plugged in, it modulates the input to the computer to vary your pedal sensitivity.
I'll admit, I was skeptical about this product before I had it installed.
You're telling me all I do is plug it into my gas pedal and that's it? No wait time or tuning required? Pedal Commander makes some bold claims for this product. Once you see and feel it for yourself, you'll believe it too, its pretty impressive which is why most Tacoma and 4Runner owners are running one.
Find It Online (2005+ Toyota Tacoma // 2nd and 3rd Gen)
Pedal Commander (Throttle Response Controller): Check Price
Pedal Commander Modes
ECO Mode
Reduces throttle response by 50% versus stock.
This mode can help to save up to 20% fuel.
I like to view this setting as a valet mode. This kills the throttle response making it safer to drive minimizing any unnecessary throttle jolting.
I don't trust many people with my truck. I've had it valet parked only a handful of times. I set it in ECO mode before handing the keys off to give myself a little peace of mind.
I personally never drive with this setting on. It's pretty boring! I can't attest to the 20% increase in MPGs that Pedal Commander claims because I haven't tested it myself. But let's be honest, most of us didn't buy this product to save fuel, we got it to go fast!
CITY Mode
Increased response for active traffic. Suggested for daily driving.
This setting provides a nice and subtle upgrade from the stock pedal response that you're used to.
This is the mode I use for daily driving. It eliminates the early pedal lag without kicking you back in the seat every time. Don't let the CITY mode name fool you though, it's still pretty strong.
SPORT Mode
High-performance response for spirited driving.
Now we are getting into the jumpy, jittery, and peppy response we are looking for.
This feels like a 4X increase in response/sensitivity from stock. You might think this was the highest and strongest it could be but you'd be wrong. We've got one more setting to go!
SPORT+ Mode: 
Extreme response.
Strongly suggested for track and race use.
I use this mode when doing donuts in the dirt or fooling around off-road when I want the tires to get loose and spinning. This is a fun mode and will give you a major advantage off of the line.
This is as extreme as Pedal Commander claims. It knocks your head back in the seat. Be ready for it! Your tires will slip sometimes even on dry pavement.
Side Note
The +1 through +4 and -1 through -4 are sensitivity settings that can be applied to each of the modes listed above to increase or decrease the sensitivity of the mode you have selected.
For example, if SPORT+ is too much but SPORT isn't enough, Try SPORT+ and dial it back a few times.
When you select the mode, the change in throttle response becomes instant! You don't need to have the truck off or in park to change the mode. It can be done at any time.
When you turn off the truck, it saves the Pedal Commander in the last mode it was in so you don't have to mess with the settings each time you drive. Once you find a setting you like, it stays at all times unless you change it.
Easy Plug and Play Installation
The installation is the definition of plug and play. It's simple, quick, and easy.
The module comes with a Y-style connector that intercepts the truck's throttle plug and pedal. This allows the pedal to communicate with the device before getting to the truck's computer. Again, a simple concept which is pictured in this article.
Of course, you want your truck completely off when you're installing this. There are two small aluminum pipes that run above the plug for the pedal. These get hot when the truck is driven. Play it on the safe side and let the truck cool off before you go unplugging the module.
The clip has a single mechanism that needs to be depressed for the plug to be removed. Be patient because it might take some wiggling around to free it up. Once you have it unplugged, connect the male and female connectors that come with the module. To secure it, I fed the control module up under the steering wheel and zip tied the extra wire together up and out of the way.
There is a nice little spot between the steering wheel and push to start button that fits the module nicely. The Bluetooth version comes with a free app to install on your phone that allows you to control the PC without pressing the buttons directly on the module. I personally found this unnecessary. There's really no advantage to having your phone out while driving to change your PC settings.
Final Thoughts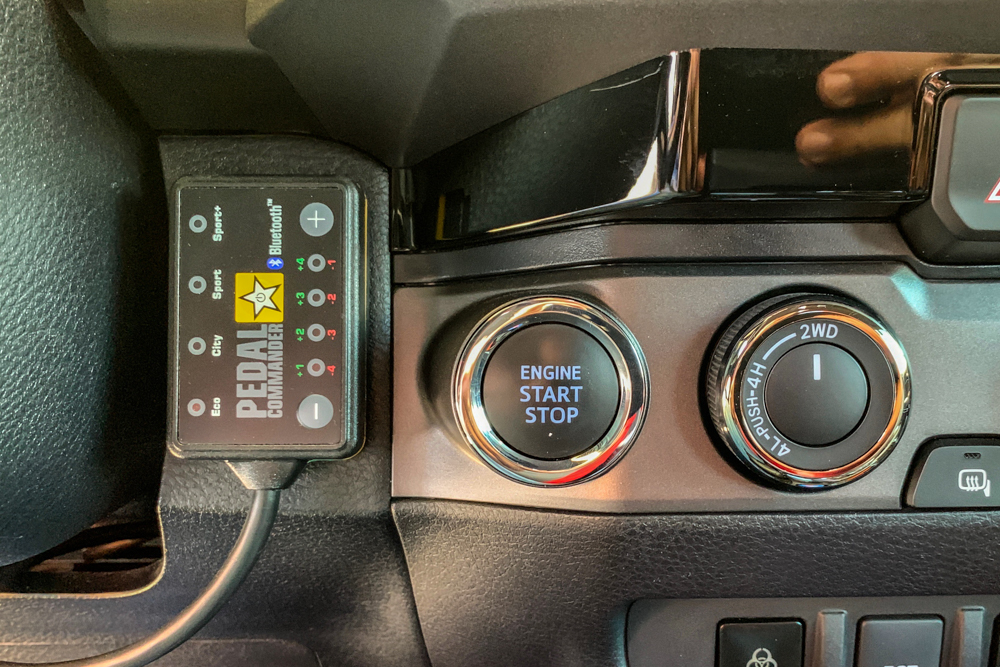 I recently installed the 91 octane performance tune from OVTuned. My Pedal Commander feels nearly the same as a $700+ tune that took months to get.
The Pedal Commander will run you around $299. There are a few places that sell them a bit cheaper but that's the most common price you'll find them at.
This is also an item that wouldn't be bad to buy used either as the used Pedal Commander hardly undergoes any wear and tear. I recommend this simple modification if you're looking to add some pep in your step!
You can never go wrong with an easy install, solid performance and a reasonably priced mod that will completely change your driving experience.