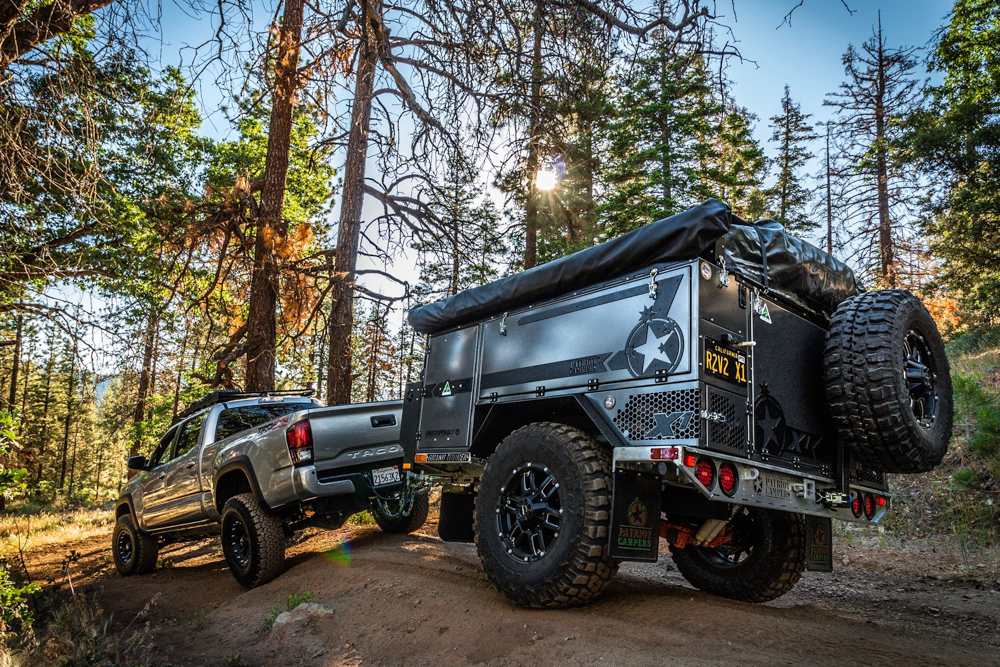 A Detailed Look At The 2017 Patriot X1 GT Camper: Australia's Camper Of The Year Winner, 5 Years In A Row.
Camping setups have come a long way over the years and we know this because we have been around for most of them.
Just like many of you, we started with a ground tent. Guiding poles through loops. Sleeping on the hard ground. Loading the truck with all the gear and hoping you didn't forget something. It was a lot of work, but we loved every minute of it.
As we got older and started a family, we decided to venture into the world of trailers. Having two little ones come along on camping trips has its challenges and having a trailer made things much easier. Not being the big box type we opted for a pop-up camper. They were lightweight and affordable. We loved it and have many fond memories with family and friends.
As the years went by, our camping trips got more and more adventurous. Since our kids were now older we decided we wanted to do some real exploring. The type that probably wouldn't be suitable with a pop-up in tow. After 2 years of searching and saving, we came across our dream trailer. However, there was a small problem. It was only available in Australia! After several emails and a whole lot of persistence, our dream finally became a reality!
We give you our 2017 Patriot Campers X1 GT that we have affectionately named R2V2. The following will be an overview and review of our experiences with this particular setup.
Find It Online
With no further delay, let's get started!
Towing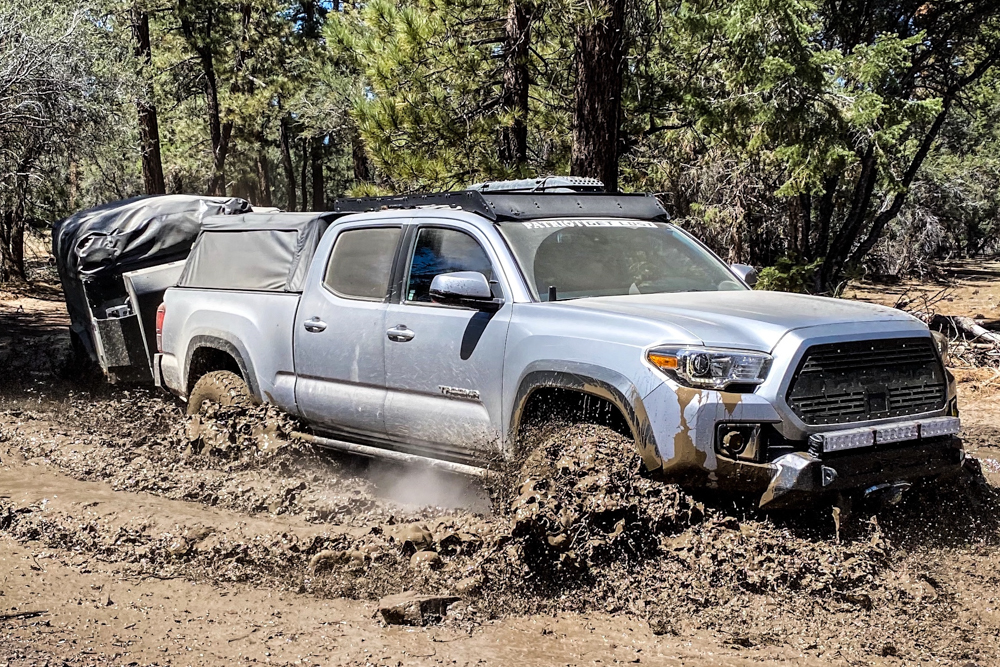 At 2100 lbs dry and 3500 lbs fully loaded, the Tacoma pulls it with ease.
The body is aluminum and it is married to a hot-dipped galvanized chassis. We have driven every type of terrain imaginable and there have been many times I have forgotten that I have the camper in tow. The X1 GT comes equipped with a DO35 hitch from Cruisemaster. It is fully articulating and very easy to use.
Independent dual shock suspension paired with airbags allows you to set the ride height of the trailer and tackle any obstacle your tow rig can handle. Where the trailer shines, is its balance. The batteries and water tanks are perfectly positioned over the pivot points of the suspension. This allows for a low center of gravity and the trailer to articulate up and down at the suspension and not the front of the trailer.
This type of engineering goes unnoticed until you pull a trailer and witness it for yourself.
The Kitchen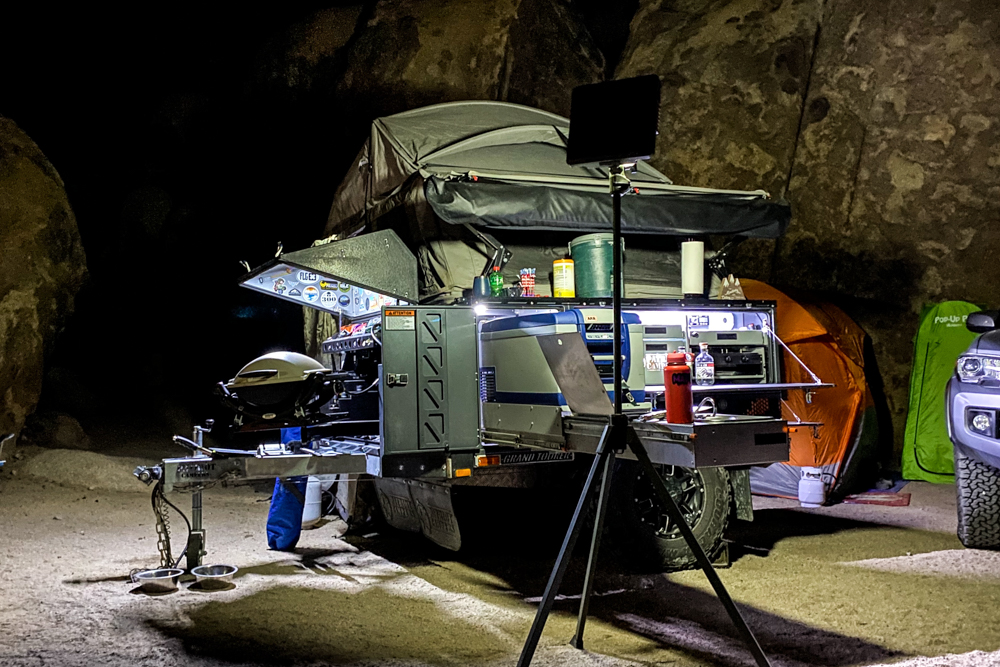 We like to think of this camper as the hub of our camp set up.
As someone who travels with his family, having a proper kitchen was vital. Not to mention I'm the type of person that loves to be on the move. Having the ability to set up camp and hit the trail is extremely convenient, not to mention the weight savings. We researched every possible trailer out there before deciding on the one for us and none offered the quality and functionality of the X1.
The camper stores 36 gallons of hot and cold water (the newest model now comes with 40). It comes equipped with stainless steel countertops, a bartop for clearing counter space and a 63 qt ARB refrigerator/freezer. It also includes a BBQ swing away, a marine-grade Bluetooth stereo, a two-burner stove and a table in the back for dining. The design of the layout is what sets it apart from the other trailers to us.
As you can see in the picture above you'll notice the BBQ, refrigerator, sink and stove are all in separate locations. This means we are never in each other's way. This is most noticeable when all your buddies come hang out in the camp kitchen.
The Awning
Next up, the wrap-around awning.
The main portion of the awning has 270 degrees of coverage. This will give you shelter for your kitchen and rear storage. Two key features that I like – it is lightweight and the poles are adjustable. We take many day trips to the beach during the summer and the adjustable poles allow us to lower the shade with the setting of the sun.
An added feature is the two attachable porches seen in the picture above. The main tent has doors on opposite sides. This gives you complete coverage from the elements when coming out of your tent. Not to mention coverage over the BBQ area. A very handy feature.
PCOR (Patriot Campers Off-Road) has developed a new awning which I hope they will make available for our trailer. The design seems to be much improved. I look forward to the day we can try and get this new version on the camper.
The Living Space
The CS3 tent is one of the biggest if not the biggest tent I have seen on the market for a compact trailer.
It houses a king-size bed with an inner sprung mattress. Staircase instead of a ladder. Changing space and a removable kids' room. The kids' room can be left on and packed away with your tent along with all of your bedding. This saves you a lot of space in your trailer or your tow vehicle for extra gear. The tropical rain fly keeps you cool in the summer and dry in the winter.
The floor of the tent is made of heavy-duty PVC. You can unzip the floor in the main tent as well as the kids' room for easy cleaning. There is a dim-able  LED light that can be switched between white or amber. Storage pockets throughout as well as access to your passenger side compartments. We use them to house our clothes and porta potty.
We have managed to get our set up and pack up time down to between 5-10 minutes depending on how much of a hurry we are in. If you've ever traveled off the beaten path, you know how much time can be lost to setting up and breaking down camp.
Storage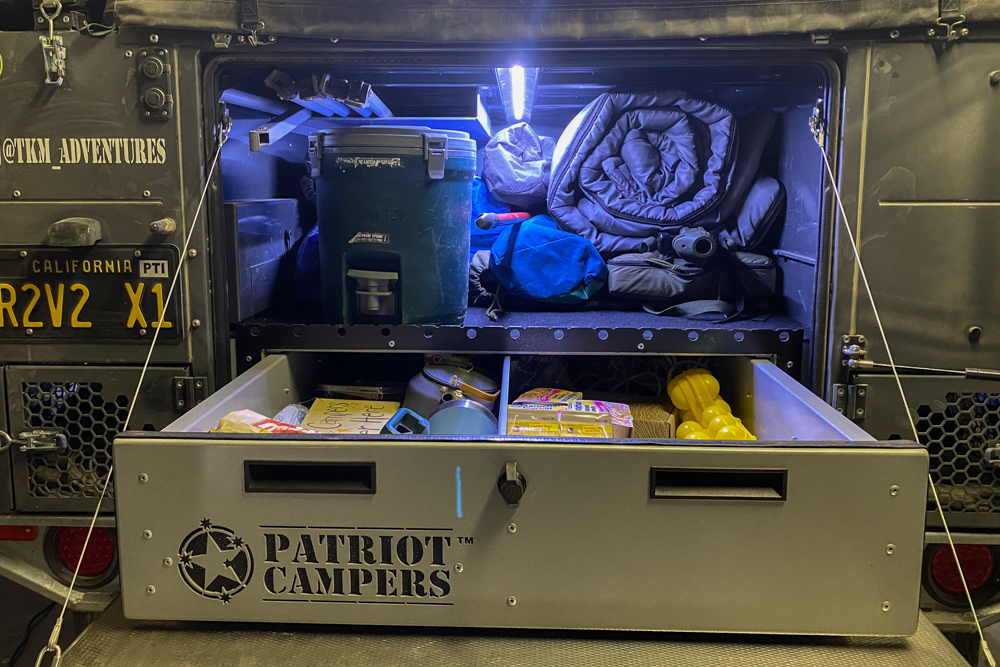 2000L of storage means you have plenty of space for all of your gear, and then some.
We carry everything we need for our trip in the X1. This allows for plenty of space in the Tacoma for toys and our two pups. Being that my tow vehicle is my daily driver, I did not want to have my truck loaded with gear and having to load and unload for every trip.
We keep our packing pretty light. Our goals for trips are geared more towards activity than camping. The more we bring the less time we have to go out and explore. We try to use the trailer as it was intended. In the storage space, the only things we bring are two cots and two sleeping bags for the kids. 4 camp chairs, along with the Joolca shower (It's actually a real, hot shower – with over 15h run time on a single gas tank.) and my CVT tripod light which is the only light I bring now. The camp toilet goes on a slide tray in the side compartment. We have 4 plates, 4 sporks and 4 large yeti cups that also double as bowls so we don't bring bowls. All recovery gear and tools stay in the truck in case we base camp. I don't want to forget something while out on the trail.
With all of this, we really don't use all of the available space in the trailer. We usually have room to spare.
When we get home from a long trip we simply back the trailer into the garage and walk away. We don't even need to empty the fridge as it will run for several weeks on full batteries or we just plug the trailer into the wall outlet. All storage areas are lockable which comes in handy if you plan on setting up a base camp.
The Webasto Diesel Heating System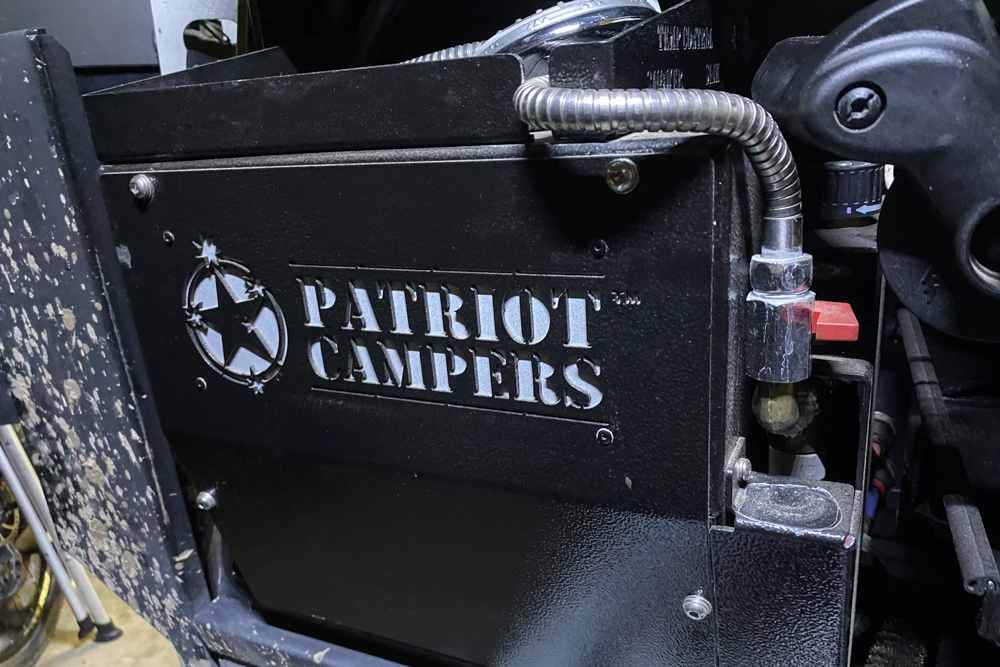 The Webasto Diesel Heating System was something my wife had to have.
There was no room for negotiations on this one. It is a pricey add on but one that I came to find out was worth it. It provides plumbed hot water for your sink and shower at the push of a button. It gives you the option to set multiple timers for it to kick on when you desire.
Here's the kicker. It also provides heat into your tent! To my wife, this was pure gold! Now to be completely honest, the heat will not be enough in freezing temps. You will still need to bring another heat source such as a Buddy heater. But in cool temps, it will make the space comfortable.
Another great aspect of it is you can set the temperature of the water to your desired levels. This means no fumbling around with hot and cold mixtures to set your perfect temps. We set ours years ago when we first bought our trailer and have not touched it since. This also benefits in water consumption as you can just turn on the water and get to washing.
Control Center & Power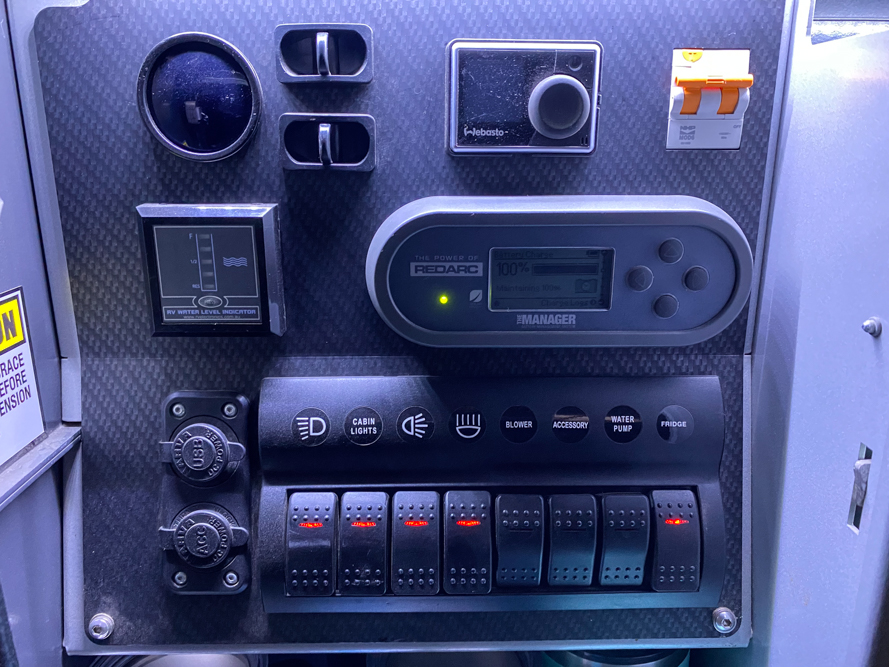 The control center. Where all of the magic happens.
Top row from left to right you have your airbag controls with digital gauge. Next up is the Webasto Diesel Heater control and the orange lever is your main breaker. The middle row is your water tank level gauge and the Redarc BMS (Battery Management System).
In the bottom row, you have your power ports for charging devices and your rocker switches for all of your lights and accessories. There are also extra charging ports in the back of the trailer as well as in the sleeping area. You can also option in a power inverter but we have not needed it since the Tacoma has one in the bed.
The Redarc BMS is an impressive piece of equipment. It regulates all of your power consumption and charges. It will tell you where all of your power draws are coming from as well as how much battery life you have left in that current consumption. As you start to turn off accessories you will see your battery life go up. The system comes solar-ready. The BMS will pick up any solar charge coming into the trailer and regulate it to ensure the maximum life of your batteries.
Speaking of batteries, our trailer came with two 120 AH AGM batteries. You have an option for Lithium as well. We rarely stay in one spot for more than 1-2 days so we are never worried about power. There was one time however where we camped in one spot for 6 days and we didn't have to worry about power until day 5 and that was with kids and friends constantly turning on lights and opening the fridge.
Plenty of power means I don't need an extra battery in the Tacoma.
Final Thoughts
The Patriot Camper X1 GT has been one of the best investments my wife and I have made for our family.
I tell everyone who comes up to us to ask about the trailer. This was a want and not a need for camping. However, when I see it in the garage I NEED to go camping!
If you have more interests regarding our trailer please see the YouTube video we did below. Safe travels!