Complete Review of the 3rd Gen Tacoma Pocalypse Mid-Height Bed Rack and Limited Cargo Rack
Are you in the market for a new bed back? Something with both form and function? Well, look no further, I have found the perfect crossover between the two.
The Tacoma Pocalypse mid-height bed rack and optional cargo rack.
In this article, I will give you all of the information you need if you are on the fence about purchasing. I was in the same boat as most of you were, searching all over social media for the best deal, looking at all kinds of reviews, trying to find a style I liked. Within a week or so I finally came across the Tacoma Pocalypse Instagram page.
They offer a variety of Tacoma products from bed racks to seat-mounted MOLLE storage. I couldn't find any reviews, only pictures on Instagram. Although I was a bit weary, I decided to take a chance on it. And, I gotta tell you, I was pleasantly surprised!
So here it is, the Tacoma Pocalypse mid-height bed rack & limited cargo rack review.
Bed Rack Specifications
Before I get into the review of the rack itself, I'll give you some quick info on it.
This bed rack sits 11 inches above the bedside of the truck. This leaves you with 28 inches of clearance below. The rack is mounted directly to the factory bedrails using the supplied Grade 8 hardware. There is no drilling required.
Find It Online
Tacoma Pocalypse 2005+ Tacoma Mid-Height Bed Rack: Check Price
Options
2 or 3 Bars
Bare Steel or Textured Black Powder Coat
Ax and Hi-Lift Mounting Tabs
LED Light Mounting Tabs
Accessories (Various Size Gear Panels, Security Bolts)
The bed rack setup only weighs around 50 lbs and ultimately depends on the options you select. It has a max weight-bearing capacity of 1500 pounds, which is more than enough for all of your gear, accessories, and your tent. In my case, plenty of room for all my stuff, myself, and my dogs. If you know anything about me, you already knew I had to mention them haha.
The rack is a perfect height for anyone who wants to run an RTT. A mounted tent will sit just about completely flush with the top of the cab. That means you have a lower center of gravity, decreased drag, less wind noise and better gas mileage.
Pros
Let's run through some PROs.
I spoke with the person running the Tacoma Pocalypse IG page and was told the company is currently a one-man show. All I have to say is, wow! For one person, the quality and timely delivery of the products is stellar.
The bed rack was shipped within 2-3 weeks of ordering. It showed up with all of the parts I ordered and no cosmetic damage. It was packaged very thoroughly and was well protected.
Overall, the rack feels very sturdy. I had no hesitation throwing it on the bed and standing on top of it. The gear panel mounts bolt up directly to the tabs on the rack. It is extremely stylish and offers the option for more storage as well.
My setup is priced fairly at around $550 for bare steel and $825 if you would like it to come powder coated. I opted for the rack to come bare steel, I'd rather just rattle can it and repair as needed. That is a lot less than many of the competitors on the market. I found that as a huge plus.
Cons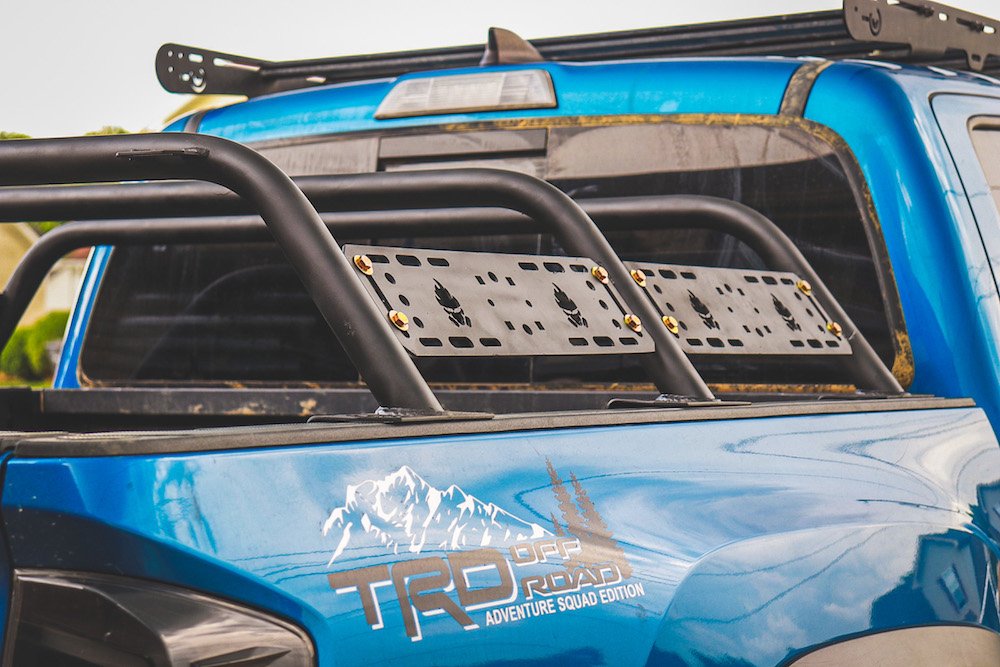 For the most part, there is nothing negative that stands out about this item. However, one of the best leaders I've had in my career once told me, "You always want to go over what can be improved on first so that you can always end on a high note." I'm not sure why, but that has always stuck with me.
Anyway, back to the rack. There are only two minor complaints I have with the rack, and to me, they aren't deal-breakers. Just small inconveniences.
The first issue is that the bed rack did not come with any kind of directions for assembly. But if you are even a little handy, you'll still be able to figure it out. But it would still be nice to see some basic instructions. I just zoomed in on a bunch of different Instagram posts to figure it out. If you're having difficulty figuring out the bolts, there are two different size bolts for each piece of the rack. The smaller bolts mount the gear panels to the rack. The large bolts are for mounting the rack to the bed.
Second, there is no option for aluminum if you are trying to save weight. It only comes in steel. I did not have a problem with that, but I know some people may. When loading up your truck with gear, the weight adds up quickly.
Limited Cargo Rack
I saved this part for last because it is essentially an add on. It was fairly new to the market when I purchased, so I figured it can't hurt to try it out.
The cargo rack uses bars that are similar to Prinsu bars and they mount to a MOLLE style side panel. They are all fully adjustable to the length of the panels. The cargo rack is 48 inches wide by 57 inches long and is extremely lightweight.

Depending on where you choose to mount the crossbars on the rack is the deciding factor on how much weight the cargo rack can withstand. So that number can go up or down with the location of the bars. It's all about finding what works for you.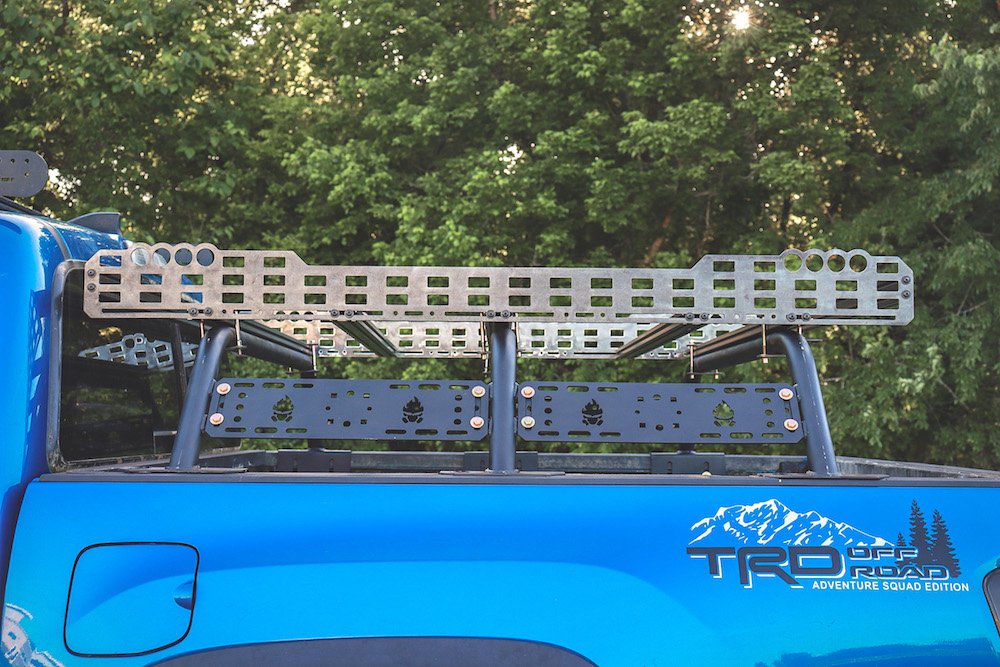 While putting it together I learned that when you mount the cargo rack onto the bed rack, the cargo bars on the floor of the rack must be directly over the bed rack bars to be securely tightened down with the hardware provided. It comes with 6 mounting clamps and bolts to keep it all together.
The biggest issue I have with the cargo rack is that you can not have it mounted to your bed rack at the same time as your RTT because of the tall side panels. The second thing that was bothersome to me, which was pretty minor, is that the attachment clamps will scratch your paint. Again, not a huge deal, it's a minor inconvenience and easily fixable. You can easily add some rubber spacers to avoid metal on metal contact or simply touch it up once in a while.
That being said, the cargo rack feels sturdy and extremely well made. It would be greatly beneficial for those day trips on the trail or to the lake because it offers the option to store more gear.
Find It Online
Final Thoughts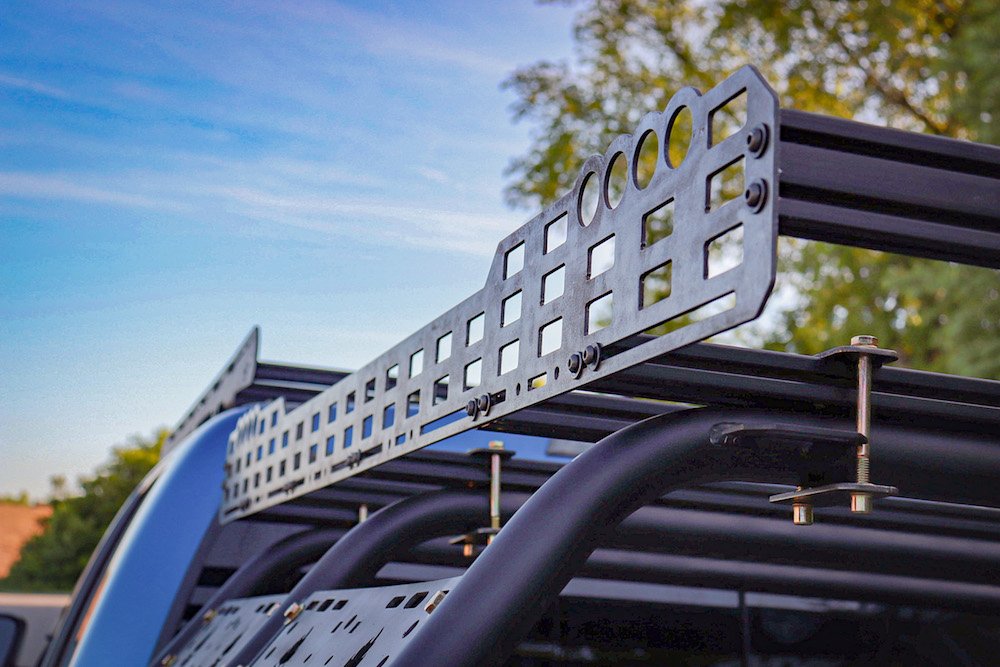 To close, both products are extremely well made.
I haven't found anything yet that would make regret my purchase, or discourage me from recommending this system to fellow outdoor enthusiasts. Tacoma Pacolyse was more than helpful when I had any questions, and updated me through the entire process, from ordering to delivery.
A quick aside, this setup looks good with my Prinsu roof rack. The design is very similar and the two products complement each other well. The rack really changed and completes the look I was going for.
If you're in the market for a bed rack, I would absolutely say this should be a top contender. If I have missed anything or you have any other questions, please feel free to reach out!