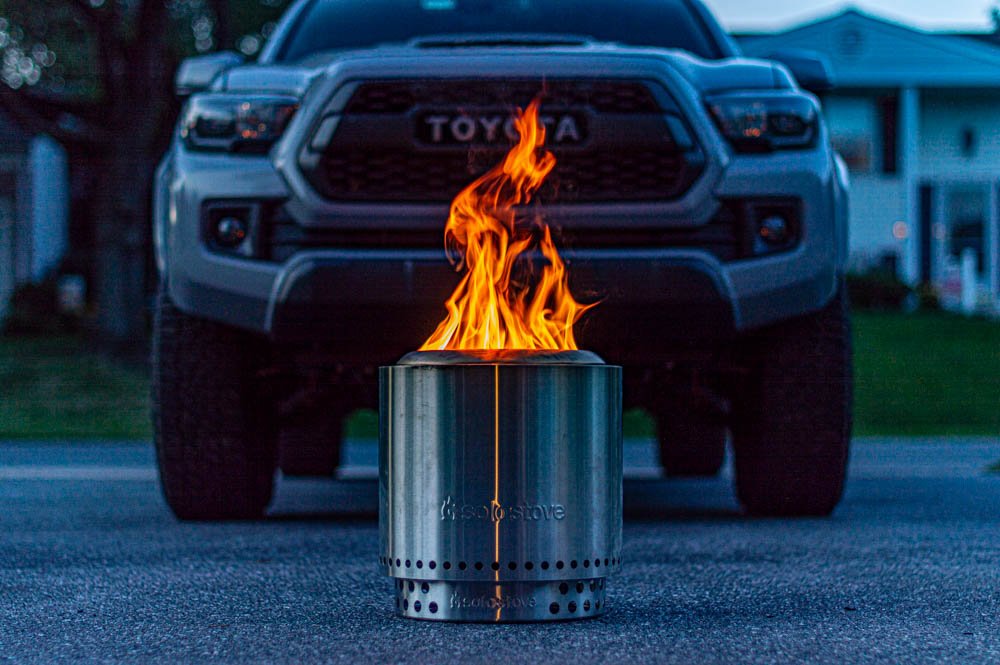 Solo Stove Ranger Review – The Ultimate Adventurer's Portable Fire Pit To Upgrade Your Camping Experience This Summer
I want you to picture your ultimate weekend adventure.
Maybe it's a full day of off-roading with your crew, heading out to the beach and surf fishing for the day or getting away with your family and friends to a cabin in the woods. At the end of the day, you just want to relax, have a drink, and eat some food around a super nice campfire.
The last thing you feel like doing is all the work to get a fire started. That's where the Solo Stove Ranger comes in!
The Solo Stove Ranger is the perfect portable, no-mess fire pit that you can take anywhere; making it an ideal set up for the beach, out on the trails, or even in your own backyard!
Let's jump right into it.
What is a Solo Stove?
The Solo Stove company started out creating portable, wood-burning camp stoves.
They have since ventured into portable fire pits of varying sizes. Their claim to fame is creating fire pits that put out less smoke than traditional fire pits by funneling hot air into the fire and up through the double-walled design to create a more efficient burn.
 Solo Stove fire pits come in three different sizes:
Ranger – 15" wide
Bonfire – 19.5" wide
Yukon – 27" wide
Find It Online
All Solo Stove fire pits are made of 304 Stainless Steel and come with a nylon travel bag. They also offer a variety of accessories, including wire mesh shields, stands, and all-weather covers.
Cost
The Ranger comes in at $269.99. If you're lucky you can find them on sale for just above $200. I'd highly recommend buying the stand at $49.99, as this will allow you to use it on any surface.
This may seem a little pricey compared to a basic steel fire pit, but you can't take those on the road with you. The price of the Ranger is comparable to other portable fire pits of similar size. Solo Stove regularly offers sale pricing, so there's a good chance you can purchase one of these beauties at an even better price! Sign up for their newsletter if you are looking for a deal and just wait for a holiday sale.
First Impression + Test Runs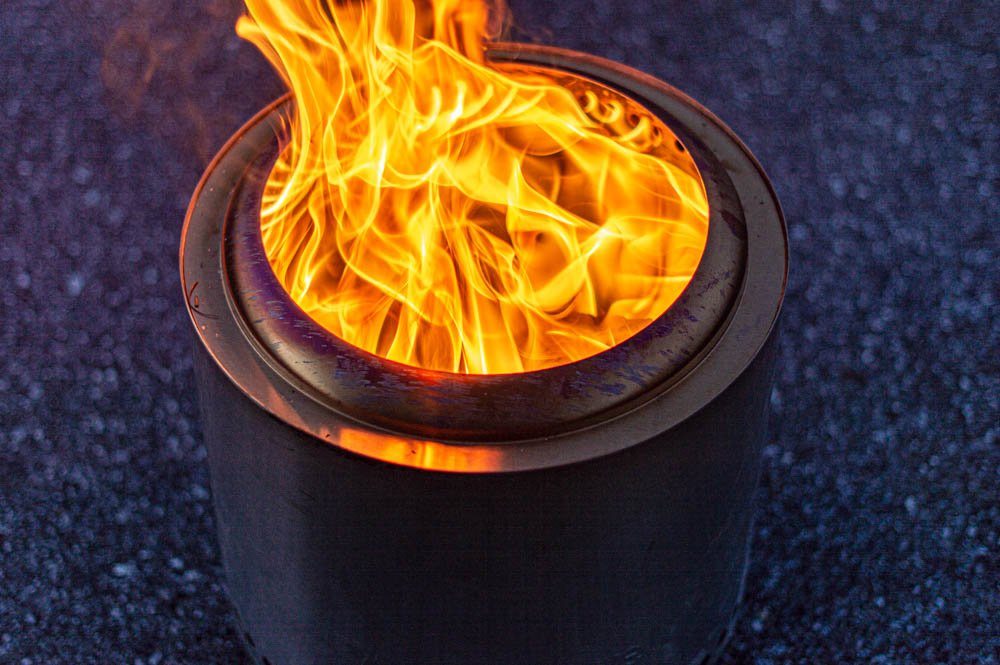 The Solo Stove Ranger has a very sleek and simple design. Assembly is a breeze seeing as it's only two pieces; the pit and the top ring. I also purchased the Ranger stand, which keeps the intense heat away from the ground or any surface you choose to put the fire pit on. I thought it was nice and compact, lightweight, easy to carry and fit neatly in the bed of the truck with plenty of other gear.
Starting the fire was very simple due to the walled-in design. All I needed was a little bit of a newspaper and a lighter. This deep design blocks any breeze from your flame and ensures your kindling and firewood catch very quickly. Once the flame was started, I put the top ring back on, sat back and watched the fire roar to life.
As I mentioned before, Solo Stove claims to have "smokeless" fires, which I would say is nearly impossible with a wood-burning fire. The fires I had did create some smoke, but much less than a traditional fire pit. One windy night, in particular, we still had to play musical chairs to keep away from the smoke. Once the fire burned all the way down and cooled off, cleanup was a breeze!  Just tip over the Solo Stove into a trash bag and you're good to go!
Pros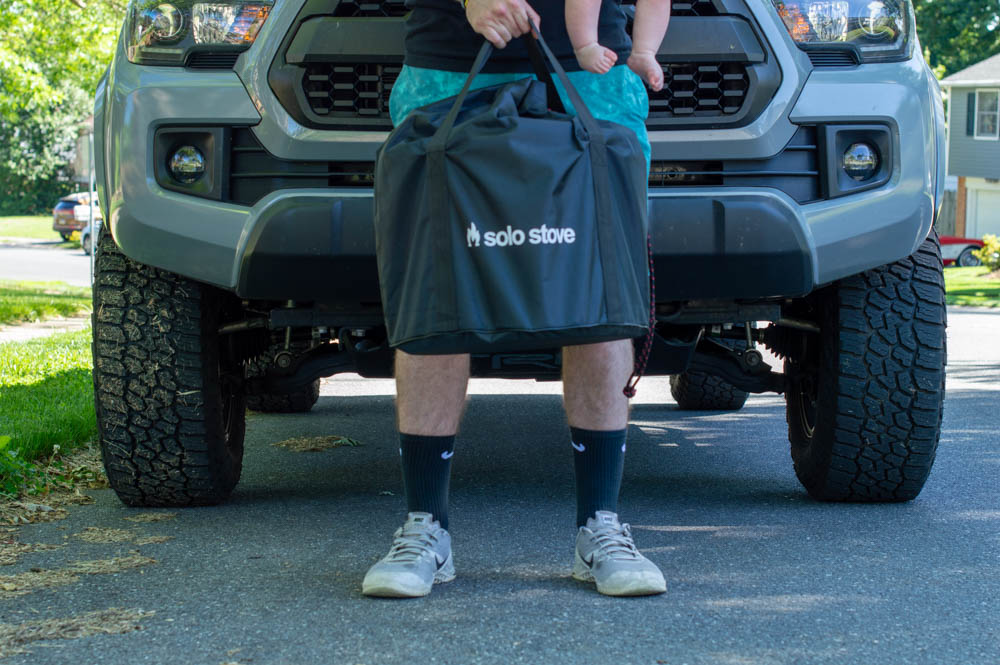 Convenience
At roughly 15lbs and 15 inches wide, the Solo Stove Ranger is compact, lightweight, and can easily fit in your truck bed, cargo area, or even a back seat if needed. Pro Tip: if you're really tight on space you can store your firewood inside the pit while traveling.
Versatility
The Solo Stove Ranger can be used almost anywhere: on your wood deck, in the backyard, on the beach, your campsite for the night, parking lot, the list goes on and on. Just make sure you have the stand to put it on. I was lucky to get it as a free gift with my Ranger purchase. That stand keeps the area beneath your Solo Stove cool as a cucumber, so no dead grass or burn marks on your deck.
Heat
The efficient design produces intense flames that rise up out of the fire pit. When you're down to the embers, the heat is contained and funneled straight up so you can still roast a few marshmallows even when the flames are gone.
Clean Up/Leave No Trace
If you're in the camping/overlanding community you've probably heard the phrase Leave No Trace.  It's the idea that we should leave the land exactly as we found it, to preserve its beauty for generations to come. The Solo Stove is perfect for this purpose because all you have to do is dispose of the ashes once it's cooled off. It's as simple as that!
Cons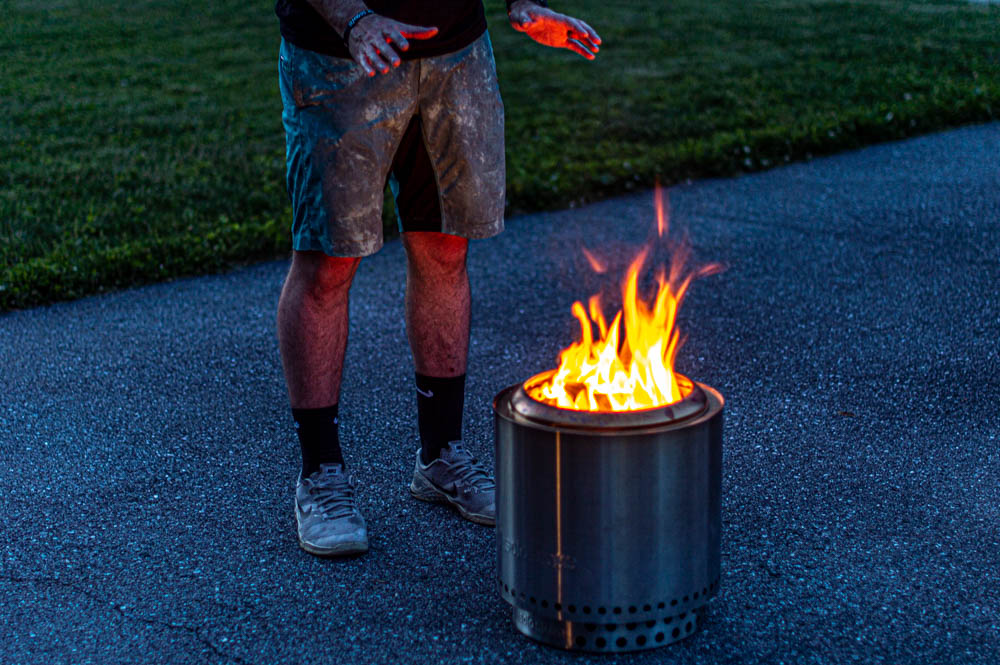 Size
I went with the smallest option because it was only going to be used by me, my wife and daughter and I wanted to be able to travel with it. If you plan to use this with a larger family or group, you may want to consider a bigger size so that everyone can sit around the fire comfortably.
Heat Dispersion
The biggest draw to having a fire is the warmth. Whether it's your main heat source for a fall camping trip, or you're just sitting in the backyard on a cool summer night, you want to feel that heat.
The Solo Stove gives intense heat up and out from the opening, but the double-walled design does not allow heat to come directly out to the side. You can hold your hand within an inch of the side of the pit and not feel the heat.
If you are standing around the fire or sitting close, you can enjoy the heat on your hands and face, but you will not feel the heat on your toes. This was a major drawback for my wife.
Final Thoughts
Overall, the Solo Stove Ranger is a great fire pit that can be packed along for a number of trips thanks to its size, while still providing the benefits of an open fire.
If you plan to use it in multiple locations such as the beach, a campsite, or your backyard, it's definitely worth the investment. If your primary use will be at home, then a more traditional fire pit might be a better option since you won't need to worry about the portability and clean-up.
All in all, the Solo Stove is sleek and simple and puts out an incredible flame!