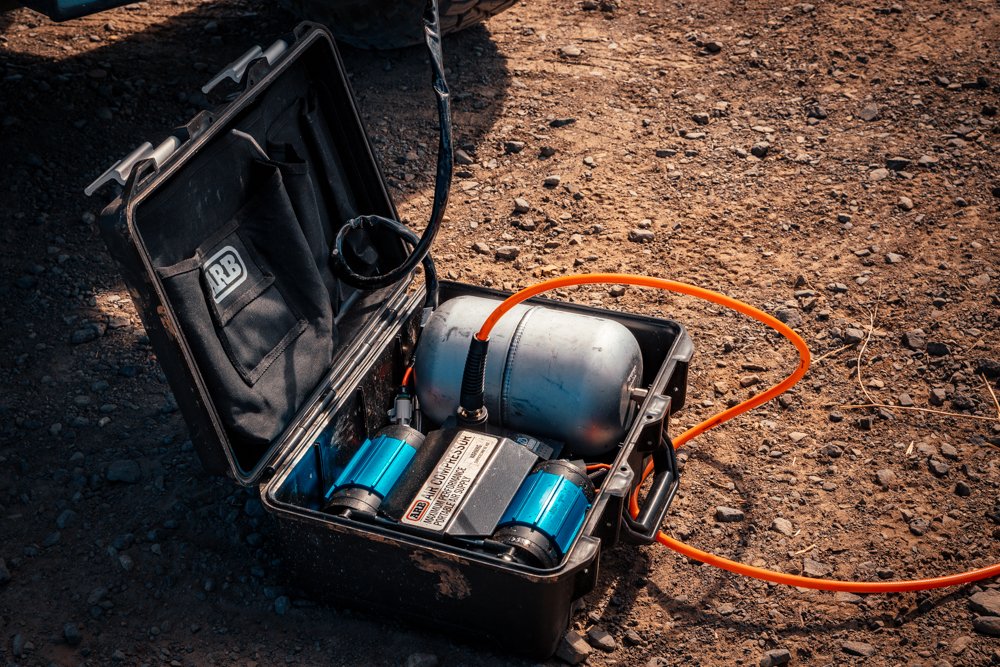 For Portable Air On-The-Go, Check Out This In-Depth Overview Of This Mobile ARB Air Compressor For the 3rd Gen Tacoma
So, we've already covered tire pressure basics when offroad which is important to understand before you start shopping for gear. Because depending on how often and how fast you want to air up, depends on what gear you should look for.
Now, let's dive into the most important tool anyone serious about offroading needs; an air compressor.
Being able to air up your tires when you find pavement again is paramount. I explain why in my last article on tire pressure we linked above. I'd say the most sought-after system for airing back up is the ARB Twin Motor Onboard Air Compressor. But I didn't feel like onboard air was the best option for my personal needs. So, I went about deciding what was best.
Different Types of Compressors
There are a lot of options when it comes to air compressors. Depending on your budget and style of travel will depend on which one is best for your needs.
12V Cigarette Lighter Socket Power
There are small 12V units you can plug into your cigarette lighter. You can find these on Amazon or Harbor Freight for cheap. We are talking $20-$50, and you really get what you pay for; a slow compressor that is really best suited for a bike tire, not a full-size truck tire. Again, these are cheap (usually under $100) and they don't feature very impressive psi ratings or strong duty cycles.
Portable
Then you have portable air compressors that come in all shapes and sizes. Common options here are the Viair 90C, Smittybilt 2780 2.54 CFM, Smittybilt 2781 5.65 CFM, Viair 300p, Viair 400p, and the ARB compact air compressor. There is some crossover here from the small 12v units as the term "portable" can be used interchangeably between the two. You can get a portable compressor such as the Viair 90C mentioned above for around $60 or a high-end portable compressor like the ARB twin, which comes in a portable case for around $800. The difference between most of these compressors if going to be psi ratings, duty cycle or run time, and recommended usage.
Vehicle-mounted
Finally, you have vehicle-mounted compressors like the ARB Twin or even the Smittybilt 2781 5.65 CFM Universal Air Compressor. Both of these units feature large psi ratings and can withstand a much higher demand when it comes to their duty cycles.
Power Tank or DIY CO2 Tank
If you really want to step up your game you have CO2 tanks. With a nice 10lb CO2 tank, you can air up four 35-inch tires in around 40 seconds. The most popular brand is Power Tank. Power Tank makes 5lb, 10lb, and even 20lb CO2 tanks that are fully loaded with custom-built regulators where you can air up your tires, run air tools, and they offer many other uses. Power tanks can get pretty pricey, they start at about $500 and can go up from there. If you want to build your own power tank you can, we have seen one example tank around $150 to $200.
All these options have their own unique features and benefits.
What Compressor is Best for You?
Forget about the small ones that draw their power from your cigarette lighter. They will only inflate your tires and take forever to do so. Again, these are better paired with a bike tire, not a full-size truck tire. A vehicle-mounted unit has more versatility than just airing up your tires. You can also use them to run air-lockers, and if you have one that's powerful enough, you could also run air tools. But if air tools are a primary focus, you should really consider a Power Tank or a DIY Power Tank.
Finally, you have the portable models which is what you see here today. In the end, I decided to go with the Portable ARB Twin High-Performance Portable Air Compressor Kit or CKMTP12 if you're a fan of model numbers.
Find It Online:
ARB Twin Portable Air Compressor (CKMTP12): Check Price
Other products mentioned: 
Why ARB?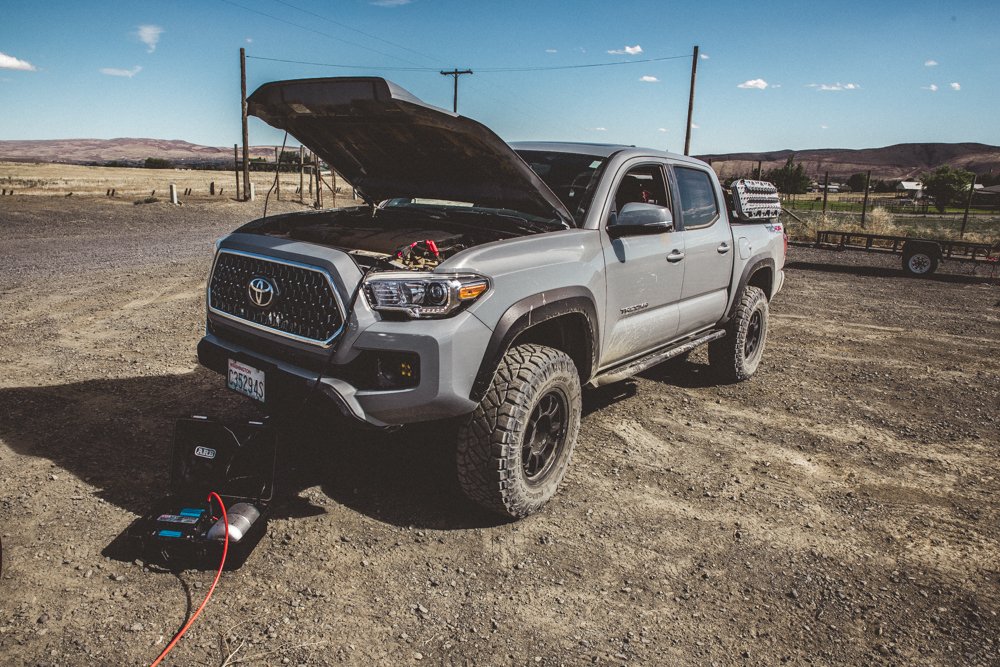 I'd say the biggest factor in this decision was speed. I wanted to spend as little time as possible airing back up.
Next was convenience, I liked that it comes completely self-contained and ready to use. No need to install an onboard system. Besides, I currently don't have any plans to install a front air-locker, which is usually the most common reason to have an onboard system. My OEM rear e-locker gets me out of almost everything I've encountered on the trail.
Because it's portable, it's not glued to my truck. I can take it anywhere air is needed and even pass it off to a friend for them to air up if need be.
And as a bonus, this thing comes with a one-gallon air tank that maintains pressure between 135-150 PSI. If you don't know, that's enough to run air tools, another feature that makes this version even more versatile!
Features
Dual-Motor Compressor
First off, it's a dual-motor compressor that can pump out 6.16CFM (Cubic Feet/Minute), so it's fast. It'll air up my 285/70R17 tires in about 90 seconds per tire. I'm always the first to finish airing up.
Long-Term Continuous Usage
Thanks to its integrated fan-powered cooling system, it has a 100% duty cycle. The ARB does not require any breaks from long-term continuous usage. The duty cycle is a term used to describe how much you can use your compressor before you need to turn it off to cool.
For example, if a compressor has a 50% duty cycle, and you run it for 5 minutes before it shuts off, it'll need an additional 5 minutes to cool down before its ready to start back up. Because of its 100% duty cycle, I can help air up other rigs when I'm done with mine. I've aired up 5 trucks in a row with no problems.
Waterproof Case
The case is waterproof, and I've had no leaks when I toss it in the back of my truck, even after driving through a monsoon. And it keeps everything you need to use it nicely organized in pockets inside the lid.
Built-In 1-Gallon Air Tank
Now, let's move on to the air tank. It's one gallon and built right into the case. The compressor has an automatic shut off sensor that kills the motor once the tank is full at 150 PSI, and starts it back up when it drops below 135 PSI. This means you always have enough air for what you need.
Included Blowgun
The portable air compressor also comes with a blowgun to blast dirt or water off of whatever you're working on, and adapters if you wanted to use it to inflate some water toys. Just don't overfill them, unless you want to watch your inflatable raft explode.
Setup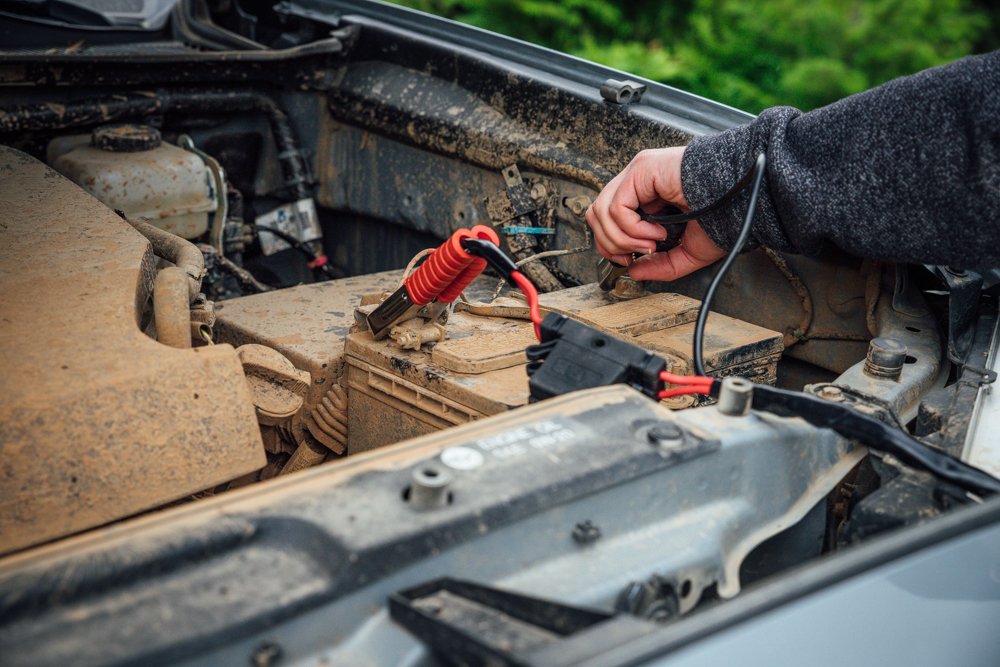 This thing is so easy to use, just pop the hood and connect the positive connector to your battery, then the negative.
Plug in your hose, your preferred tire inflator, (it comes with one – but I use the ARB digital inflator), air tool, or air blaster. Then hit the power switch. That it. You can use it for whatever you can think of!
Pros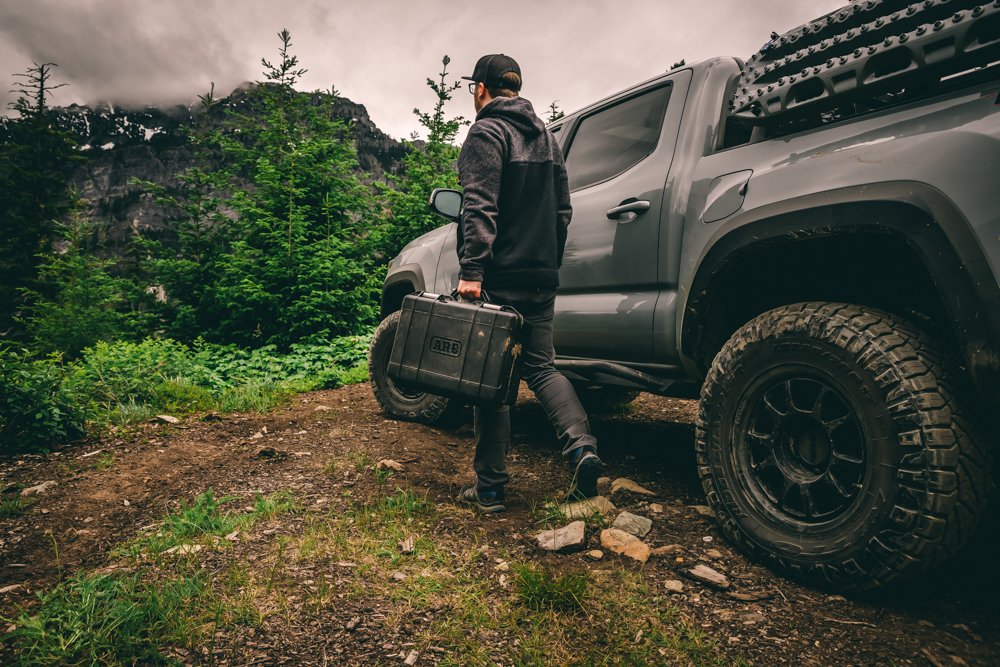 There are a lot of pros with the Portable ARB twin Air Compressor.
First and foremost being that it's portable, you can easily take it to any truck in need of air. Then there's the speed aspect, nobody wants to spend 20 minutes pumping air into their tires.
Thanks to the cooling system and it's 100% duty cycle, you can use it continuously for as long as you need. There is nothing worse than having to give the compressor a break in the middle of using it.
The build quality is fantastic. Everything on the ARB compressor is put together very well. It has heavy-duty alligator clips to hook up to your battery, and the wiring is beefy and includes built-in fuses.
The rest of the unit is very sturdy. And it's all well secured in the waterproof case.
The unit itself is also water-resistant. You could take it out of the case and install it on your truck if you wanted to. However, it doesn't have an air locker solenoid manifold. So, you won't be able to run air lockers with it.
Cons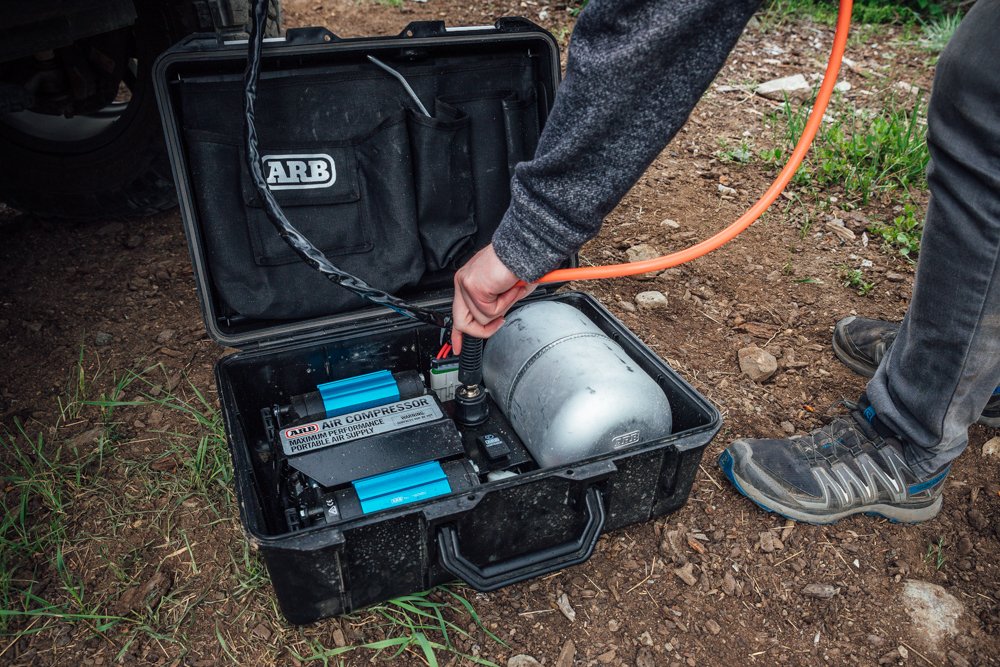 The biggest con to the portable ARB twin compressor is the price. It's expensive.
Even more expensive than the onboard twin model. However, you do get the one-gallon air tank, battery cables and a case. So that explains where some of the money is going. But you don't have to install anything, so it saves you time, or money if you're not the DIY type.
It's not an onboard system. But that's why I went with the portable one. Is that really a negative? Not for me, but it may be for you. Lastly, while you can install it into your truck, as I mentioned before, you won't be able to use it for air lockers.
Final Thoughts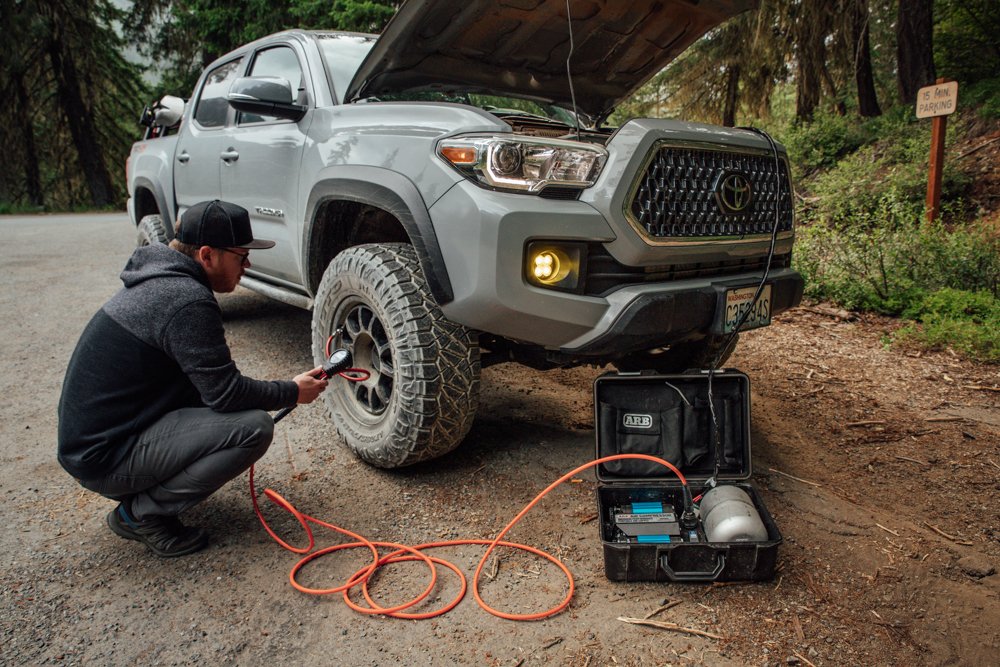 I love this thing so much it never leaves my truck. It basically lives on the floor behind my passenger seat. It fits there perfectly.
It's been able to handle heavy use with no problems, that 100% duty cycle is probably the best thing about it. I air down every time I hit the dirt, and I hit the dirt quite often. So for me, having the ARB is a must.
I hope that helps!