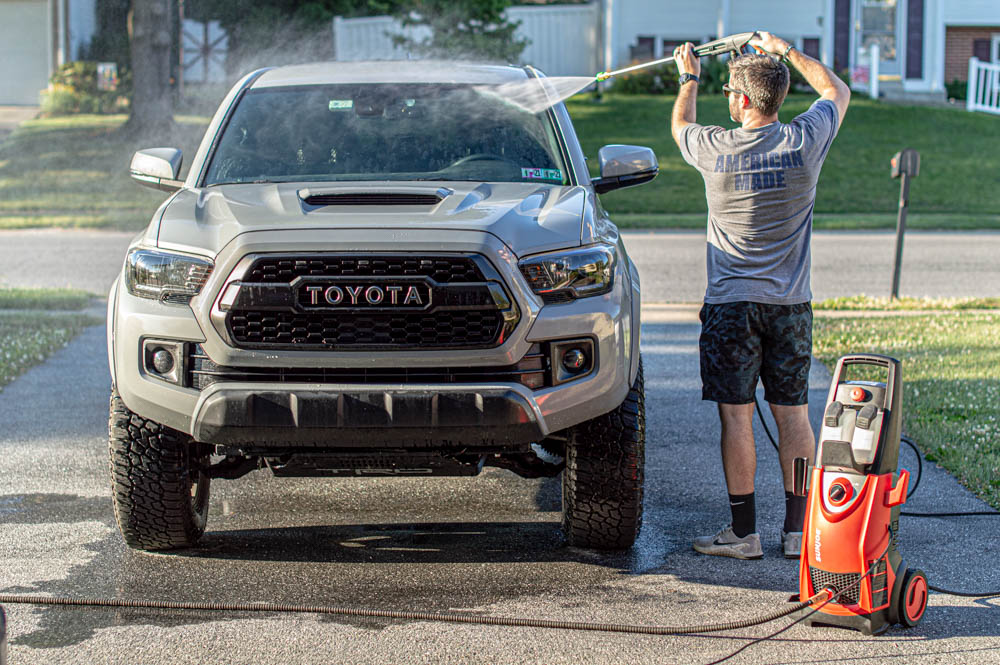 Can a Budget SunJoe Pressure Washer & MATCC Foam Cannon Get The Job Done For Your 3rd Gen Tacoma? Find Out Below!
Doesn't it seem like every time you wash your truck it's dirty again the next day? No matter how hard you try to keep it clean, it seems like mud, dust, salt, or splatter from a pesky bird finds a home on your truck.
Could a hose and bucket get the job done? Sure, but that's time-consuming and difficult to get that stuck-on dirt. So why not go to the car wash? It's quick, convenient, has all the tools you need, but going several times a month can add up.
That's why it's time to get yourself a pressure washer and foam cannon so you can get that pristine clean truck in the comfort of your driveway. Plus you can get that Instagram-worthy, foam-dripping picture any day you want!
First Impression – SunJoe SPX3000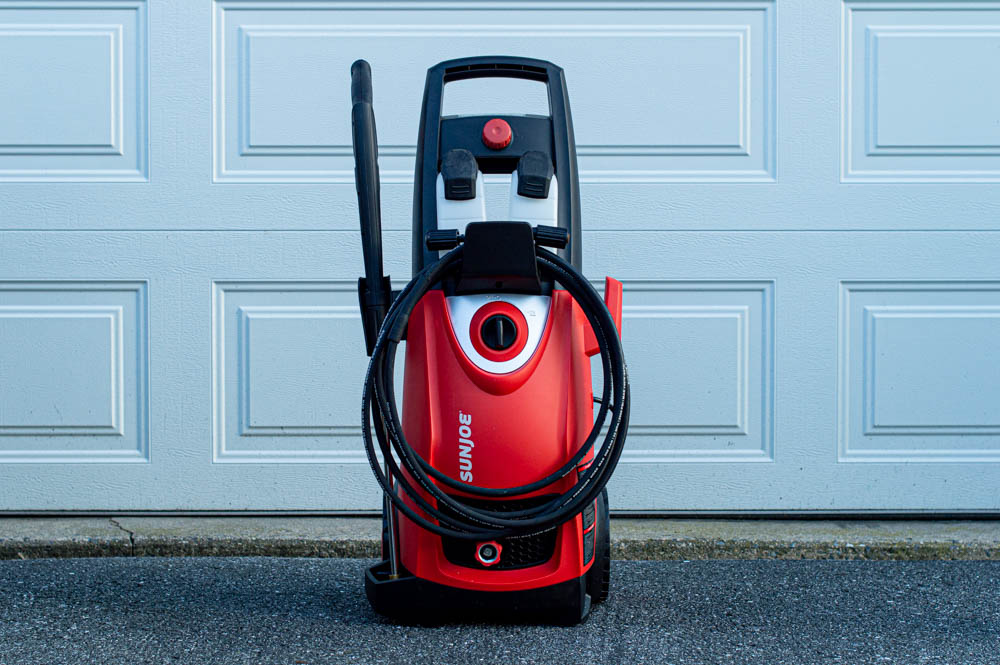 The SunJoe SPX3000 is the perfect budget pressure washer to tackle all the dirt and grime your truck may throw your way. It has a simple design, quiet electric motor, is easy to store, and has all the features you need to clean just about anything.
I've been able to put mine to the test with frequent car washes, cleaning sidewalks and patios and I'm very impressed with its performance and ease of use. The high-pressure spray did a great job removing built-up dirt, saving me time and energy during hand-washing.
I also found the extension wand helpful when spraying the undercarriage and roof of my truck. Whether your vehicle is always coated with mud from riding the trails or you get lots of snow and salt residue, this pressure washer will help keep your vehicle clean while saving you time and money.
SunJoe Specs + Features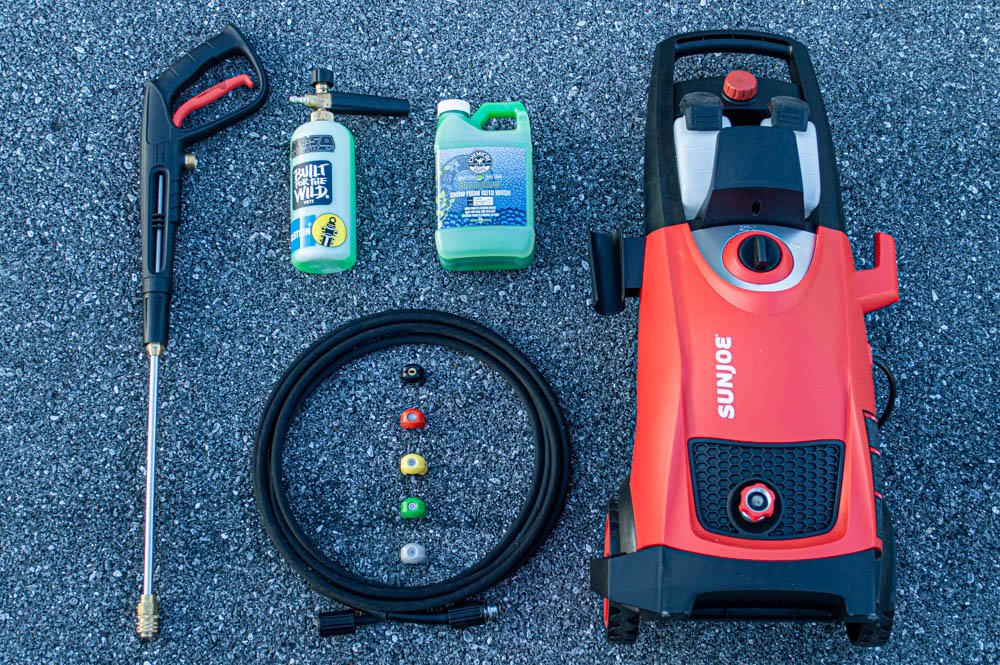 Let's start with the technical stuff for all the data people out there.
5-Amp/1800-watt motor generates up to 2030 PSI/1.76 GPM
Max internal pressure is 2030 PSI. Under typical load, working pressure is 1450 PSI
Two 0.9 L onboard detergent tanks
20 ft high-pressure hose
35 ft GFCI protected power cord
Listed below are some additional benefits the SunJoe has to offer:
Ample power cord to keep you going without an extension   cord
Built-in detergent containers to rinse and clean all with one machine
Multiple nozzles to adjust spray width (0°, 15°, 25°, 40°) plus a soap nozzle
Total Stop System (TSS) which means the pump only runs when the trigger is engaged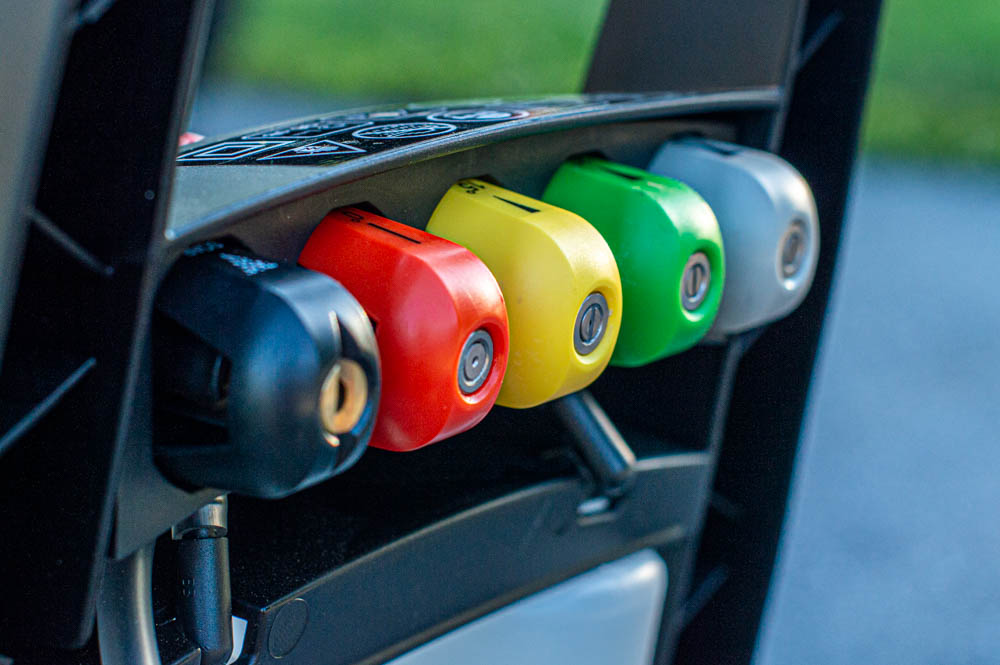 This little pressure washer was designed with convenience in mind.
I appreciate that it features a spot for all of its parts to be stored on the machine. There is a home for the different spray nozzles, hooks to hang the power cord and hose, and a rack to store the wand. This allows for quick, simple adjustments for any job.
As you can see in the stats above, there are 55 ft of combined cord/hose length allowing you to easily reach all the way around your vehicle. Although the SunJoe may not be as powerful as other gas-powered competitors, it can still hold its own at half the price!
Find It Online
MATCC Foam Cannon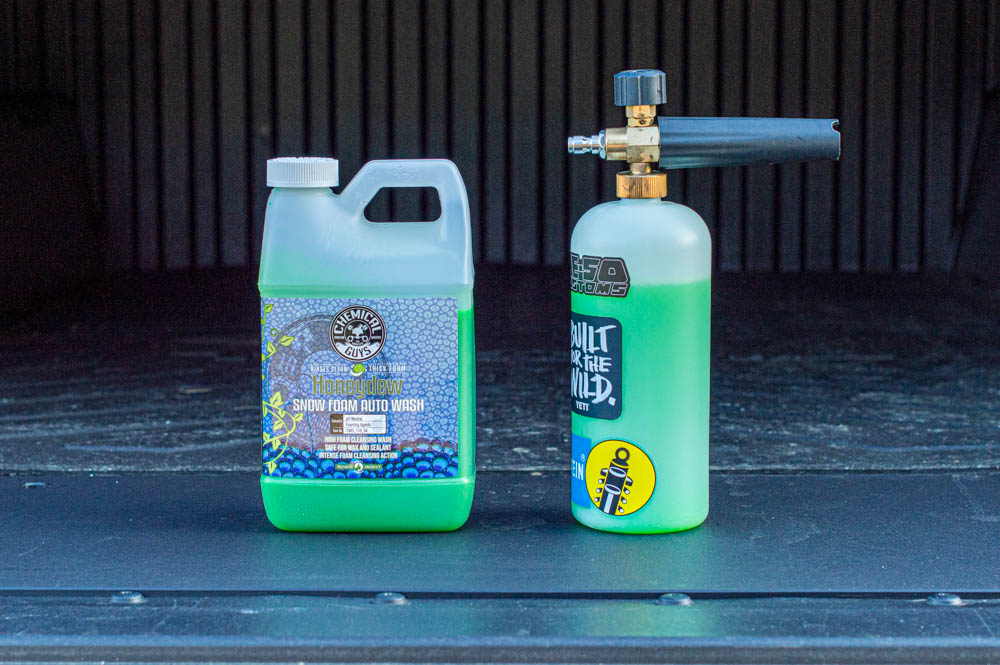 Side note. I didn't buy one with a fancy logo but it still has plenty of cool stickers because this is the only spot my wife lets me put them!
About a year ago my wife surprised me with a foam cannon for my birthday. She spent hours researching and found several detailing companies selling their own foam cannons, but they all came with a hefty price tag. She wasn't convinced that a name brand foam cannon was worth the hype, and this review pretty much proves it. I mean how much better could they be? So, of course, she turned to Amazon where she found the MATCC Foam Cannon.
At almost a third of the price of the big guys, it provided the same features with an almost identical look. When comparing them, she found they had the same design, a stainless steel connector, brass housing, adjustable nozzle, and a 1-liter bottle. In my opinion, this is a time where it's worth going for the cheaper option.
First Impression – MATCC Foam Cannon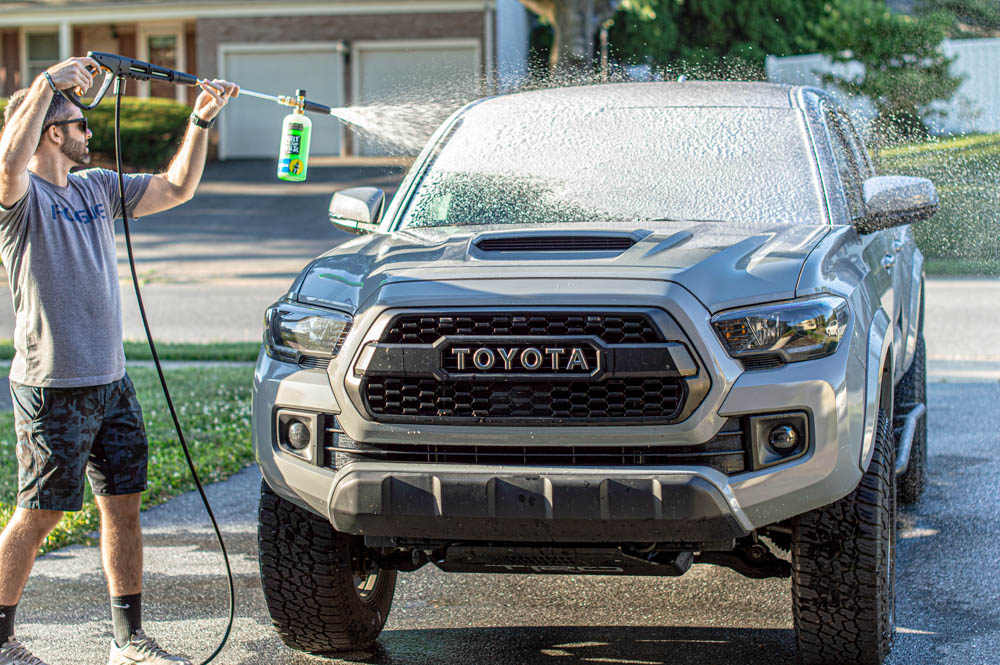 One of the biggest advantages of a foam cannon is time.
A foam cannon can coat your whole truck with suds in just a couple of minutes! Most detailing companies recommend letting that foam soak in for a couple of minutes to grab all of the dirt before starting to hand wash or rinse. Now to properly wash your car you'll still need to scrub and rinse and dry, but that could be another article.
Another advantage is the ability to spray the foam into hard to reach spaces like your wheel wells, onto suspension parts, and all the nooks and crannies of those aftermarket rims. One thing to keep in mind when using your foam cannon for the first time is to play around with the settings on the nozzle until you get the right consistency. Once you've got it right, get ready to snap some pics for the 'gram!
Final Thoughts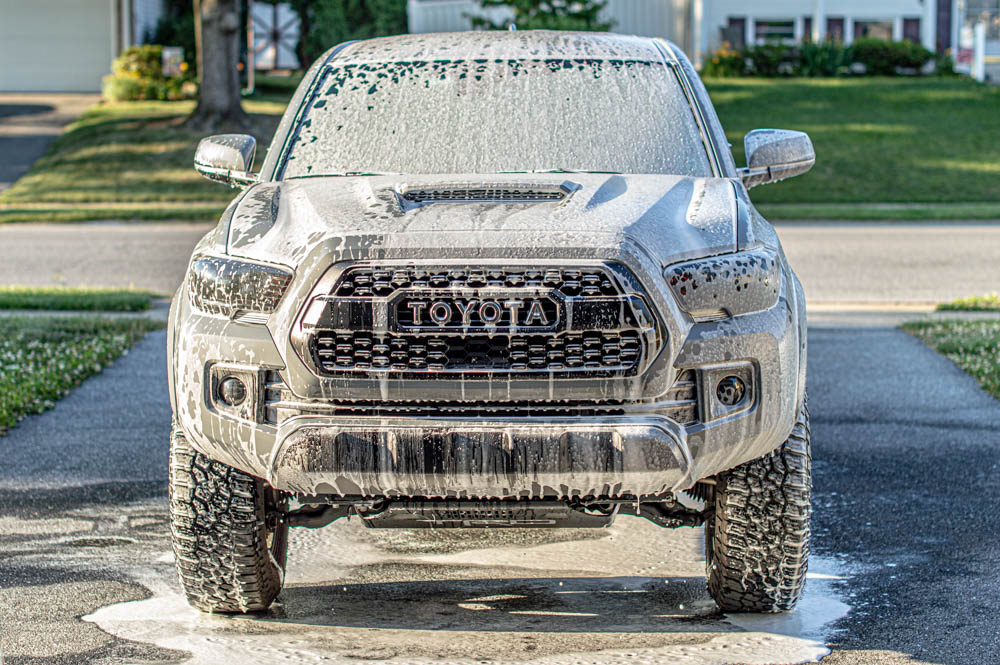 As I mentioned before, the SunJoe SPX3000 is a well-designed machine.
I'm a very particular person, so I like that it keeps everything neat and tidy. The fact that I can store the SunJoe easily without taking a lot of time to break it down is a big plus in my book. Although my main purpose for this purchase was to wash my truck, it's been great to be able to use it around the house as well. Another big plus is how quiet it is when it's running and that the pump is completely off when not in use. I've used plenty of gas pressure washers and air compressors and the drone of them running can drive the whole neighborhood crazy.
The foam cannon is a great addition to any arsenal of car detailing products. Not only does it make me look a lot cooler washing my truck, but it makes the whole process easier and more efficient. I would also recommend splurging on a name brand soap to get the most out of your foam cannon. I went with Chemical Guys linked above but there are others like Adam's Polishes, Meguiars, and more.
I know that a lot of us take pride in our vehicles and prefer to keep as much maintenance in-house as possible. So instead of paying for the car wash, invest in your own equipment to keep your vehicle shining all year long.