Building An Overland Truck Doesn't Need To Hurt Your Wallet! Micah From @overlandunderbudget Shows Us How It's Done
Overlanding and offroading are all the rage these days and with good reason. There is nothing quite as inspiring as exploring the great outdoors and it's a great way to spend some quality time with friends and family.
However, one quick look at some of the popular builds and products on the market can have you running away clutching your wallet or considering cashing out your kid's college fund for something a little less pompous then higher education. Obviously, joking (lol).
But don't let this discourage you, there is another option that will have you hitting the trails and exploring the backcountry without breaking the bank or having to sleep on the couch.
The reality is that you really don't need much to get out and explore and some of the best vehicle choices for doing this are the tried and true and in many cases, the well used.
How It All Started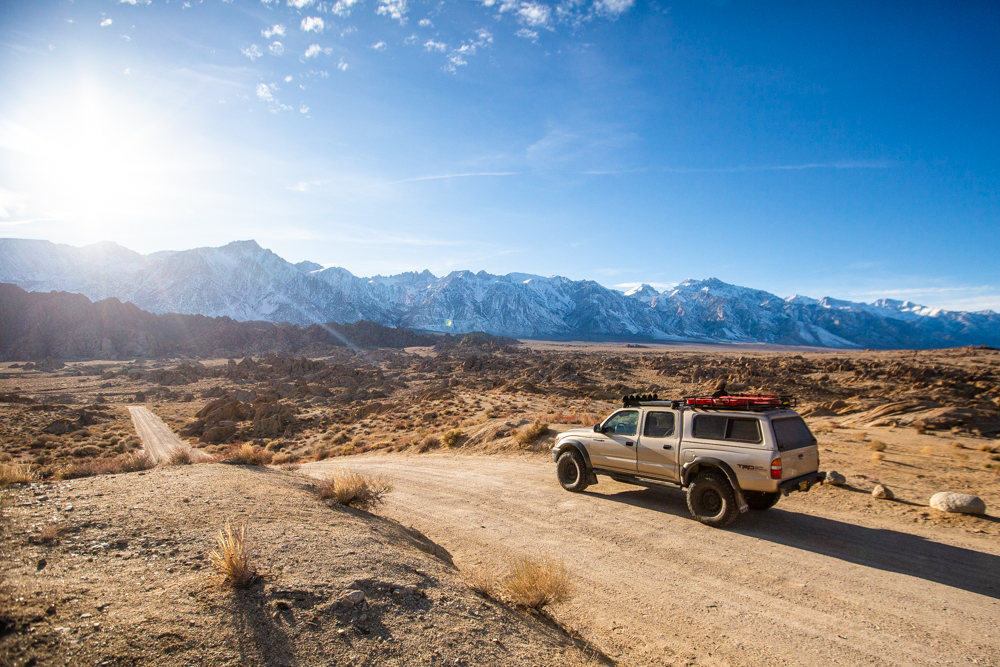 I had just sold my daily driver and was looking to pick up my first truck. I started searching my local craigslist for a truck with 4 seats and 4WD. Lo and behold, a clean 1st Gen Tacoma popped up just two streets from my house and was only posted a couple of hours before I saw it. After a quick skateboard ride over to chat with the original owner, I knew it was going to be the start of something really fun.
I handed over the cash and signed the title to a 2001 Mystic Gold Metallic Toyota Tacoma Double Cab with the optional SR5 and TRD off-road packages, a tan cloth interior, ARE paint matched camper shell with roof rails and a rusty rear bumper.
I paid $7500 cash, and at the time I purchased the truck, it had just rolled past 208k miles on the clock. The Tacoma had a stack of maintenance records and the reassurance of buying from the family that had driven all 208k miles on it.
Tips For Buying A Used Truck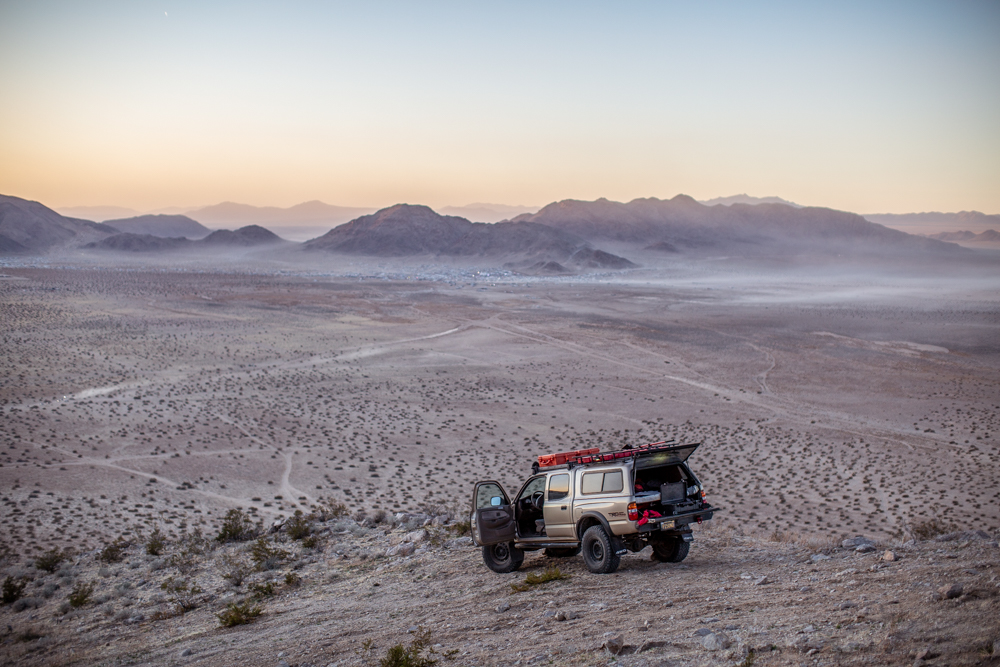 Things To Look For
A detailed maintenance record, recent service, clean title, and an owner who cared for the vehicle well. Of course, you want it to be priced below the average going rate. The last 2 are usually the most important.
Things To Avoid
Rust, poorly done repairs, no signs of maintenance, salvaged titles without damage photos, and sellers who are less than savory. The last one being one of the biggest indicators of a bad deal. Steer clear!
Getting Started – My First Upgrades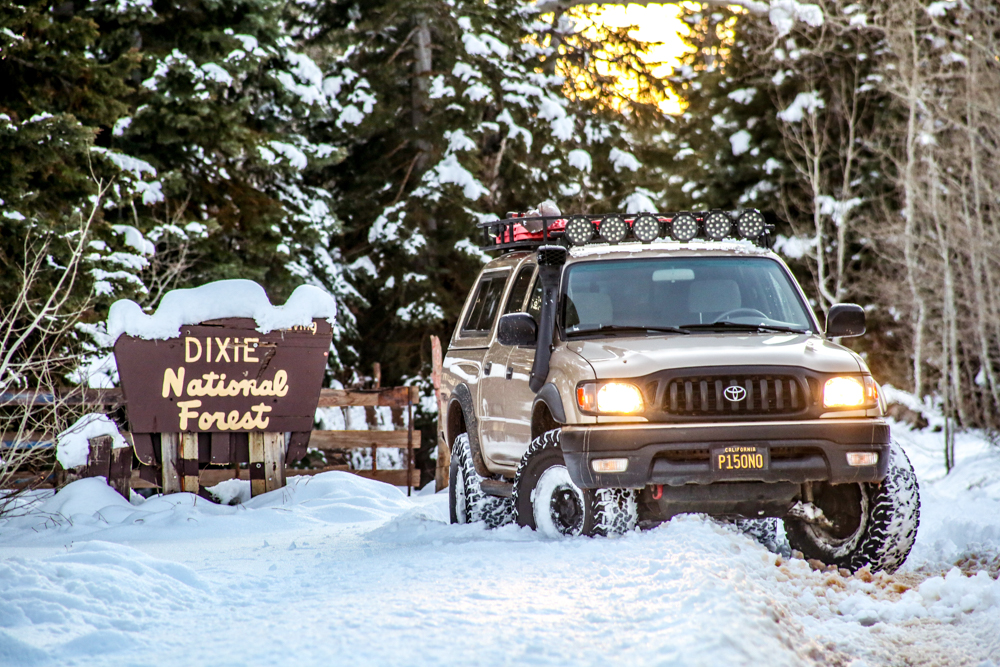 Since I had just sold my last vehicle I had cash set aside for the purchase of the truck and some basic upgrades I knew I wanted to do right away.
It wasn't more than 2 hours of ownership before the changes started to happen. I kicked off the mods with one heck of a craigslist find. Someone had just listed a rear bumper that looked about as beefy as could be and was only asking $350. I thought to myself, perfect!
I drove 30 minutes and moments after, I had my first upgrade. When buying used and building on a budget it pays to know what you are looking for and to act quickly, great deals typically won't last long. My next upgrades were a mild lift and more aggressive tires, new wheels, and a lot of cleaning.
My Lift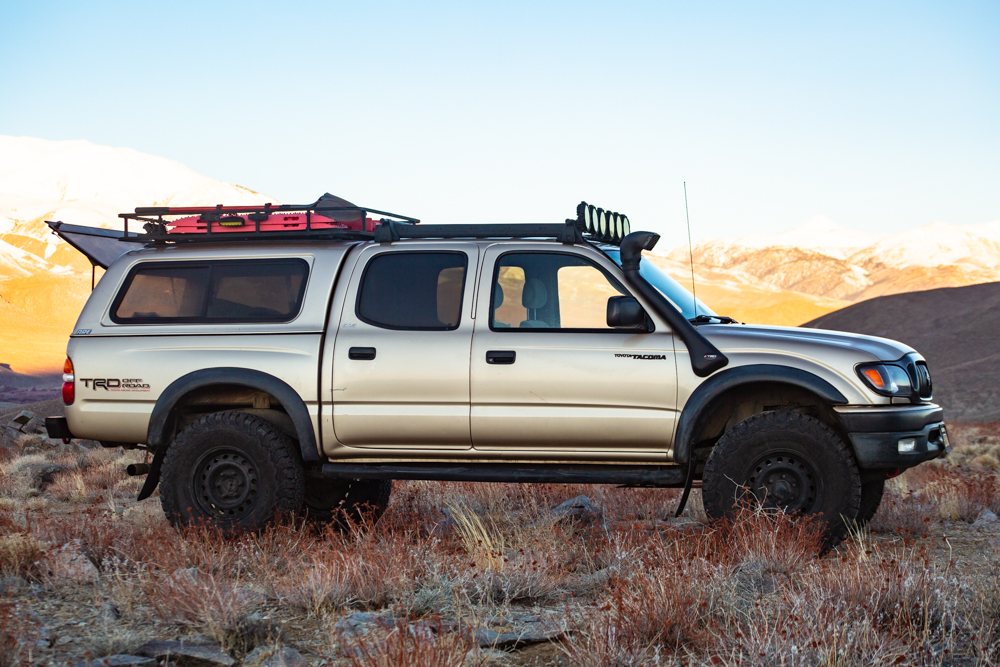 I started with Bilstein 5100 shocks for both the front and rear and a homemade heavy duty leaf pack.
The leaf pack consisted of two extra leaf springs, one cut from another used leaf pack and the other was a Pro Comp add a leaf.
Doing all of the work at home saved me a lot of money, and the total cost for the lift I pieced together was $600.
My Tires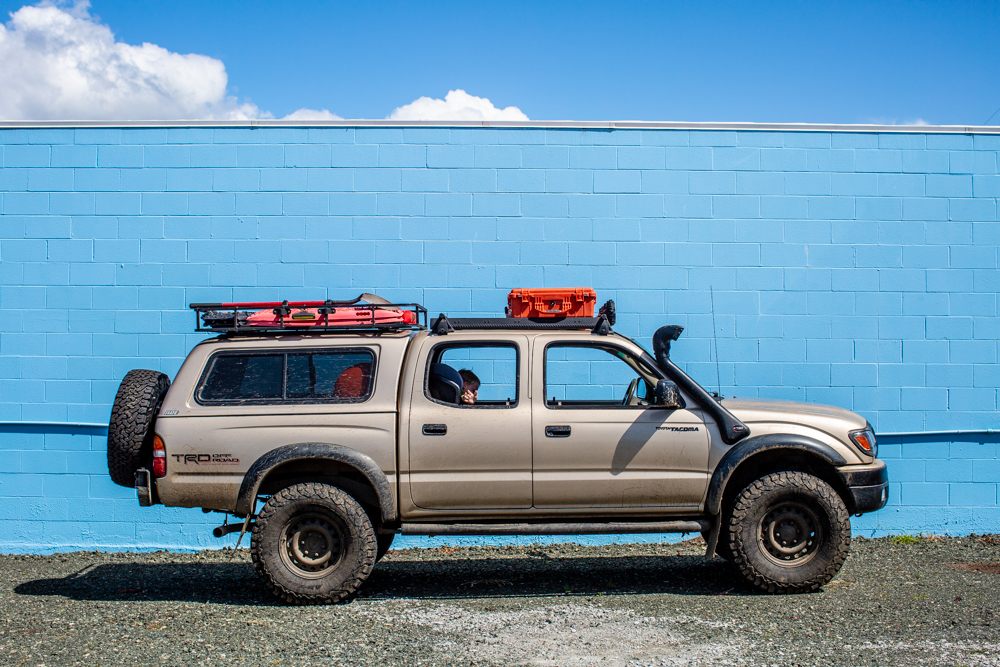 For tires, I went with the ever-popular BFG KO2s in 285/75r16 (33″).
For the wheels, I used stock Toyota Tacoma spare steel wheels. I love the look of these steelies and got all four for just $200, on you guessed it… Craigslist!
My Advice For First Modifications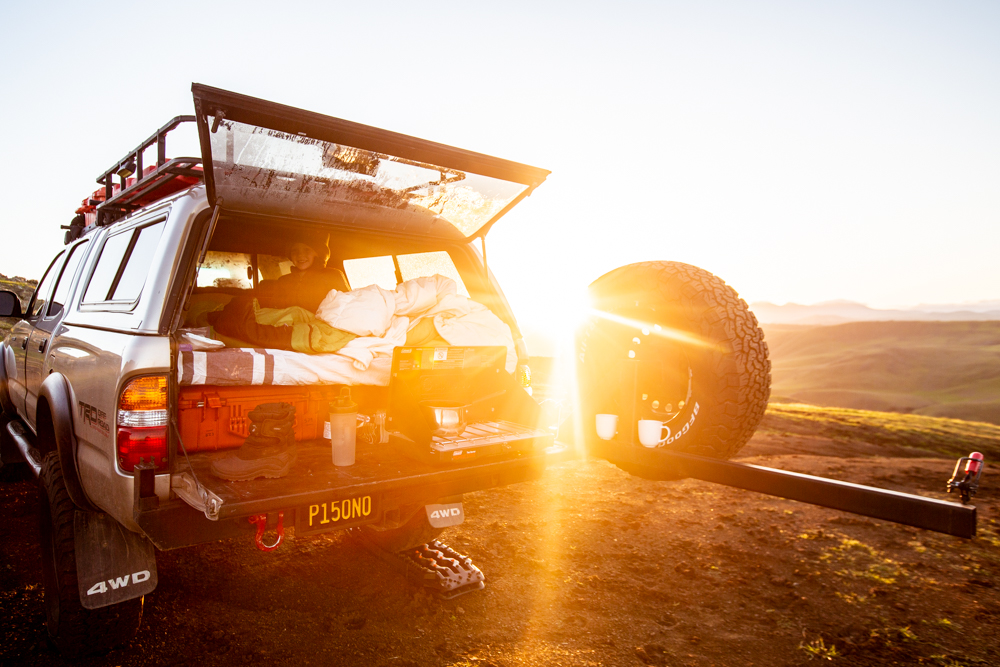 Focus on improvements that make the biggest difference.
With an old truck, new shocks breathe fresh air back into your ride, and a mild 2-inch lift keeps you within the factory limits of the suspension geometry and doesn't require extra supporting mods. It also keeps your center of gravity lower and does not overly stress the CVs.
As for tires, go just one or two sizes up but don't go crazy. Running huge tires is all the rage these days but it's not necessarily the best choice for everyone and adds a huge cost to your build. Staying just 1 to 2 sizes larger then your stock tires won't overly stress the factory steering rack, ball joints and control arms, and in most cases, does not require regearing your differentials just to get back to a factory feel when driving.
Finding the sweet spot for how far you can push the lift and tires on your truck is key for keeping cost down and reliability intact.
Hitting The Trails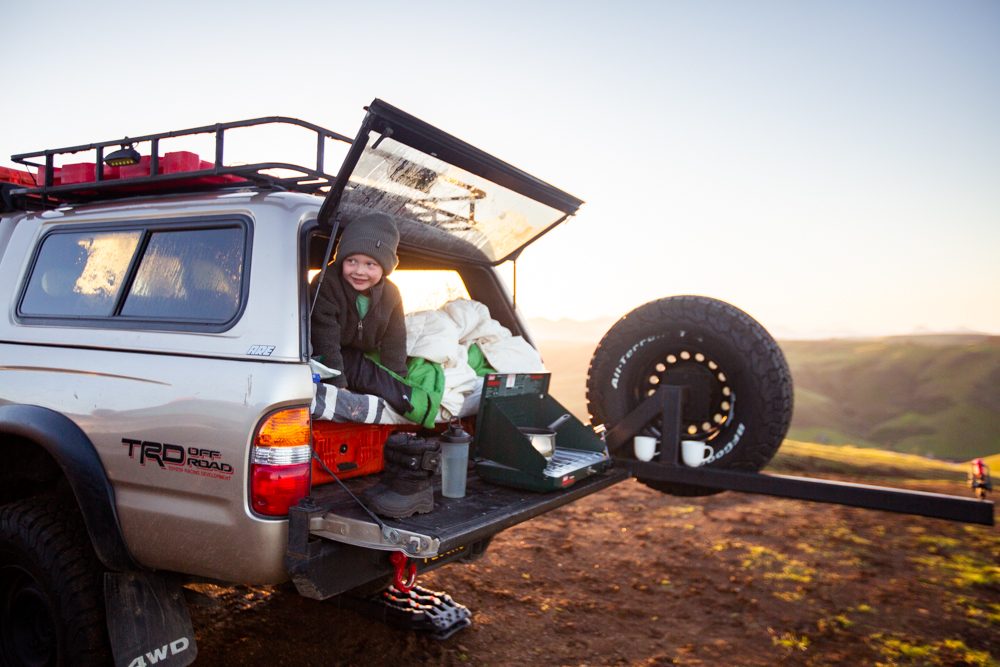 Now that I had some larger grippy tires and just enough added clearance to cruise over rocks, I started to explore my local trails.
I really encourage new truck owners to keep your mods to minimal at first and let your personal adventure advise you on which upgrades you need next.
For me, these needs are daily driving, spontaneous weekend trips, as well as multi-state adventures and occasional difficult trails. Nearly all of these adventures are with my 4-year-old son Christian, so the things I focused on next were built around making it safer and simpler to get out together and create some incredible memories.
Pretty much everything I've done to the truck after larger tires and a small lift has only made it more convenient and safe to explore, not more capable on the trails.
DIY Projects – Building It Your Own Way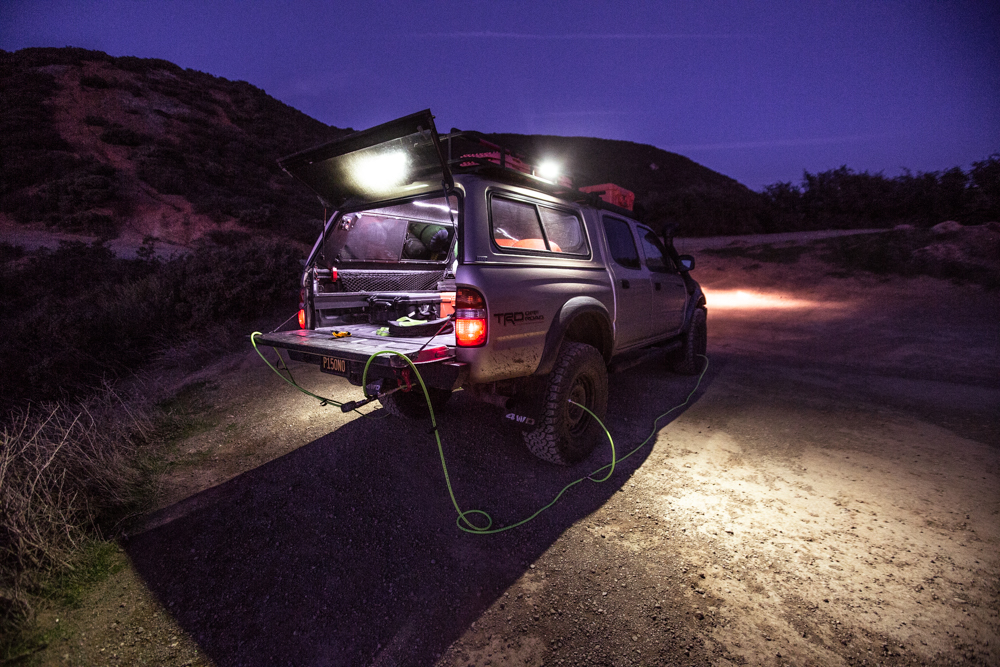 Of course, everyone loves to add more gear and get some cool accessories and I'm no different!
Keep in mind there are some smart ways you can go about this and you don't always need to shell out top dollar for the latest and best item. Searching sites like Craigslist or Facebook market place are a great start, but if you can't find what you are looking for, I highly recommend taking on a project and making what you want on your own!
When you make something yourself, you get to be the designer and engineer and for better or worse, the quality control. You also get to tailor the product to exactly your needs. This often means your end result is even better than what you can buy since you didn't have to think about mass production and water down the design to work on multiple vehicles.
All of my favorite changes to the truck are the projects I've done, and not always because they look great, but because of the experience I have under my belt and using my DIY products makes the truck that much more enjoyable.
DIY Tips & Tricks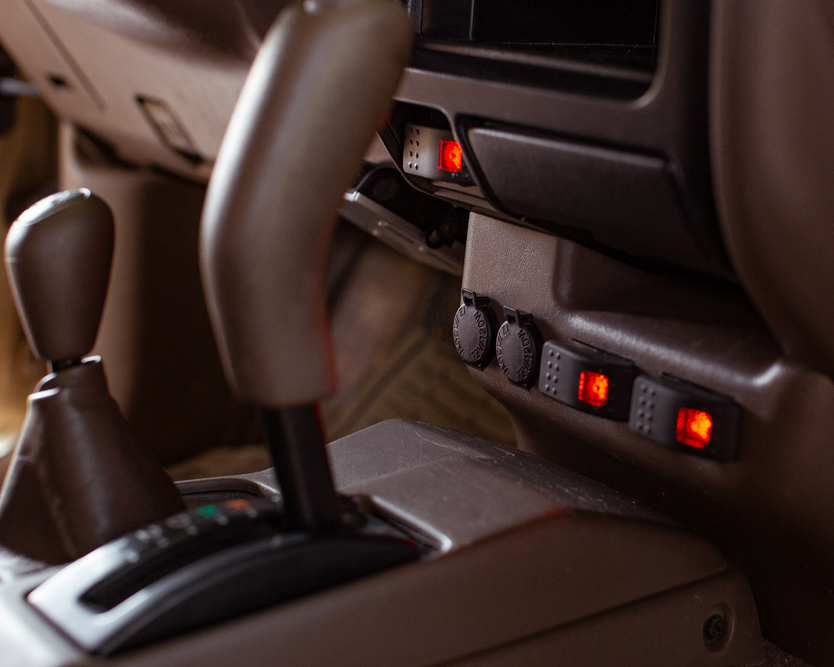 Starting your first DIY project can be intimidating and if you're new to the game.
Buying tools to complete your project sometimes equals the cost of the store-bought version. However, rest assured the money spent "tooling up" is more than worth it in the long run and the skills you gain will last a lifetime. If you're hesitant about with tools to buy, one of the best ways to learn is by visiting a friend's garage outfitted with the items you're considering purchasing. Chances are if they have the tool you need, they also know how to use it and can pass on their knowledge.
Just like car parts and upgrades, tools can be found used and still offer a long lifetime of service. Check garage sales and craigslist and you can build your collection very quickly while on a budget.
My Modification List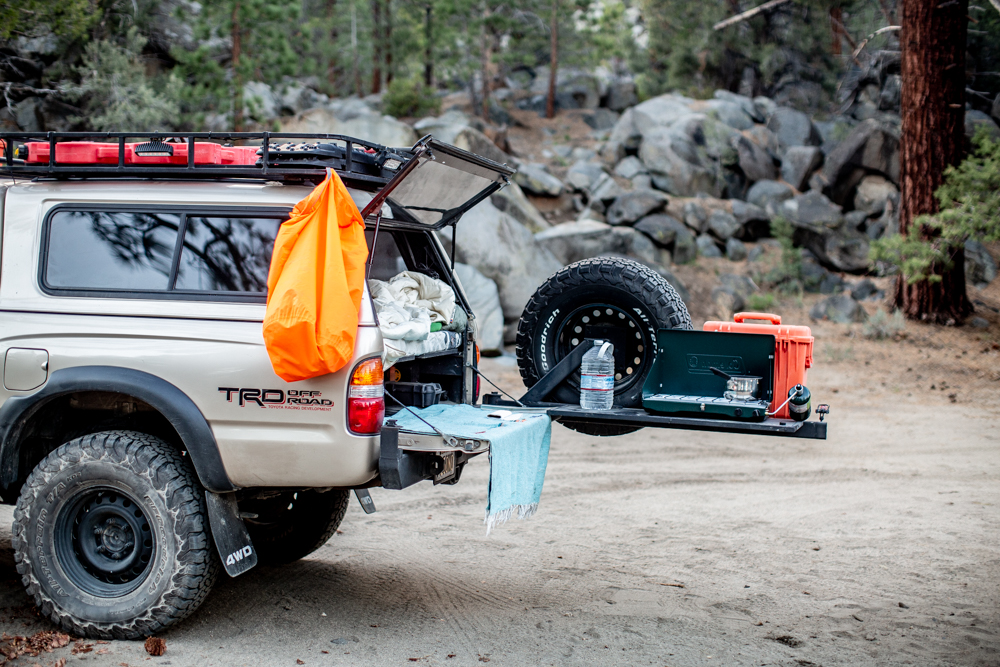 Here's a quick list of some of my favorite things I've added to the truck using the methods I mentioned as well as DIY projects and how much they cost.
Build List
2001 Toyota Tacoma SR5 TRD Off-Road
Factory E-Locker
eBay Snorkel
Coastal Offroad Winch Bumper
Stout Equipment Rear Bumper
Nomad Headlight Retrofits
Bilstein 5100 Shocks
Toyota Steelies
285/75/15 BFG KO2s
Smittybilt Air Compressor
Ultra Guage
Amazon Amber LED Pods
Oedro LED Lights
Pelican Cases
Morrflate
Warn VR EVO 10S Winch
Factory 55 Fair Lead, Hitch Link, Flat Link, Soft Shackle
Smittbilt Snatch Strap
Fiery Red Traction Boards
XBull Traction Boards
4 Gallon Rotopax
DIY Projects
HD Leaf Pack
Swing-Out Tire Carrier with Camp Table
Storage Case Mount
Camper Shell Rack
270 Degree Awning
Transmission Skid
Rock Sliders
Sleeping Platform
12V Bed Power Panel
Air Compressor Engine Bay Mount
Magnetic Phone Mount
Rear Seat Delete
The list goes on and on, I'm sure I missed a few things. While I like the way the truck is currently set up, I've come to love creating things for it so much, I doubt it will ever stop.
Final Thoughts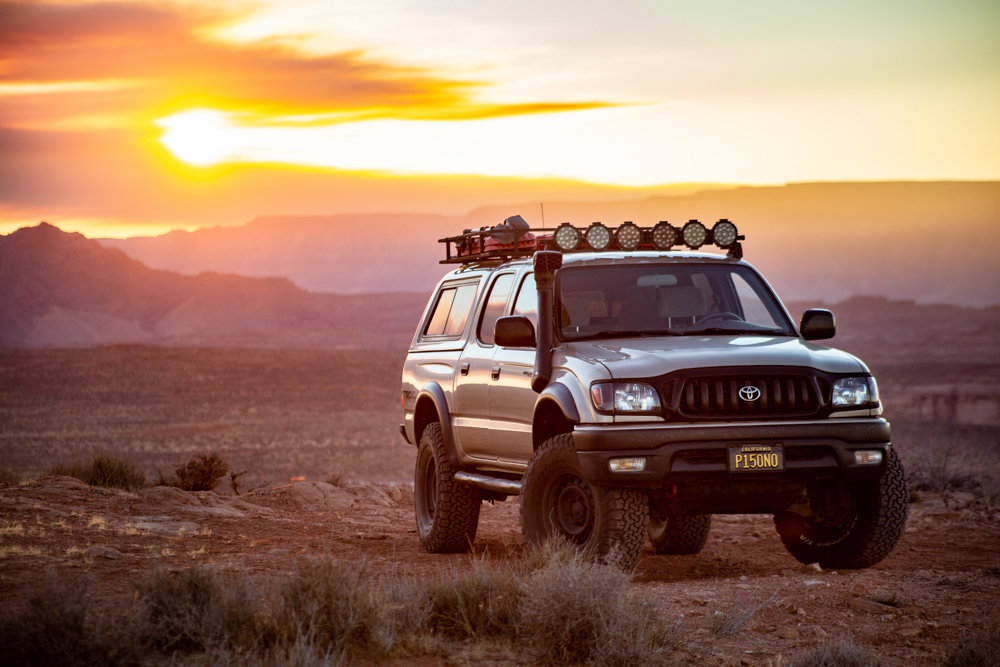 So if you're hoping to get out exploring and have fun building up an adventure capable rig, don't let the price tags scare you away.
Try using some of these tips, buying used and adding some new skills to your personal toolbox and enjoy the great outdoors without getting kicked out of the house for spending your life savings in the process.
If you liked what you saw, check out my latest rig walkaround on YouTube!