Morimoto XB LED Fog Light Install & Review on 2nd Gen Tacoma + Other Fog Light Options
When it comes to fog lights for the 2nd gen Tacoma, you have plenty of options.
You can go with anything from some basic Lamin-x film or a fog light bulb to something like an entire housing. Each of these fog light options has its own pros and cons. Although Lamin-x is great for many applications and super affordable it's not always going to yield the highest quality light output.
With something like a bulb (Xenon Depot Xtreme LED Pro for example), you may get the best of both worlds as you can upgrade your entire fog light output at an affordable price.
Finally going a step further is upgrading your entire fog light housing with something like the Morimoto XB LED fog lights seen here. This takes upgrading only your bulb to the next level by adding entirely new aftermarket housing. With a new aftermarket housing, you will oftentimes get a better look all the way around. Aftermarket fog light housings also feature better optics compared to the OEM fog light housings that typically provide more accurate beam patterns, increased lumens along with very impressive candela and general lux readings.
Upgrading your fog light housing is usually going to offer the highest quality results, but not always. Sometimes you can get the same output and diode quality in a really high-quality fog light bulb like the Xenon Depot series mentioned above for example.
If you want to look at the "brightest" output option on the market for your fogs, you may want to look at what's considered Offroad lighting; KC Gravity Fog Lights, Baja Squadrons, or the Diode Dynamics SS3 lights. All of those are pushing some serious lumens however, the old Baja Squadrons are not SAE compatible. When you buy to make sure you buy the correct lights for your application.
Today we're going to look at the Morimoto XB LED projector fog lights; a very powerful, bright, plug and plug, OE looking fog light upgrade.
Stock Fog Lights Suck
We all know the stock fog lights on the Tacoma suck. There's no doubt about it, Toyota definitely didn't do much for the forward-facing lighting from the factory. Upgrading the factory fog lights on the Tacoma is not only a good idea, it's a safe idea. Increasing your light output will literally help you see farther, faster and wider. With brighter more accurate light from your fog light housing, you will literally be driving safer.
Fog Light Options: 
Morimoto XB LED projector fog lights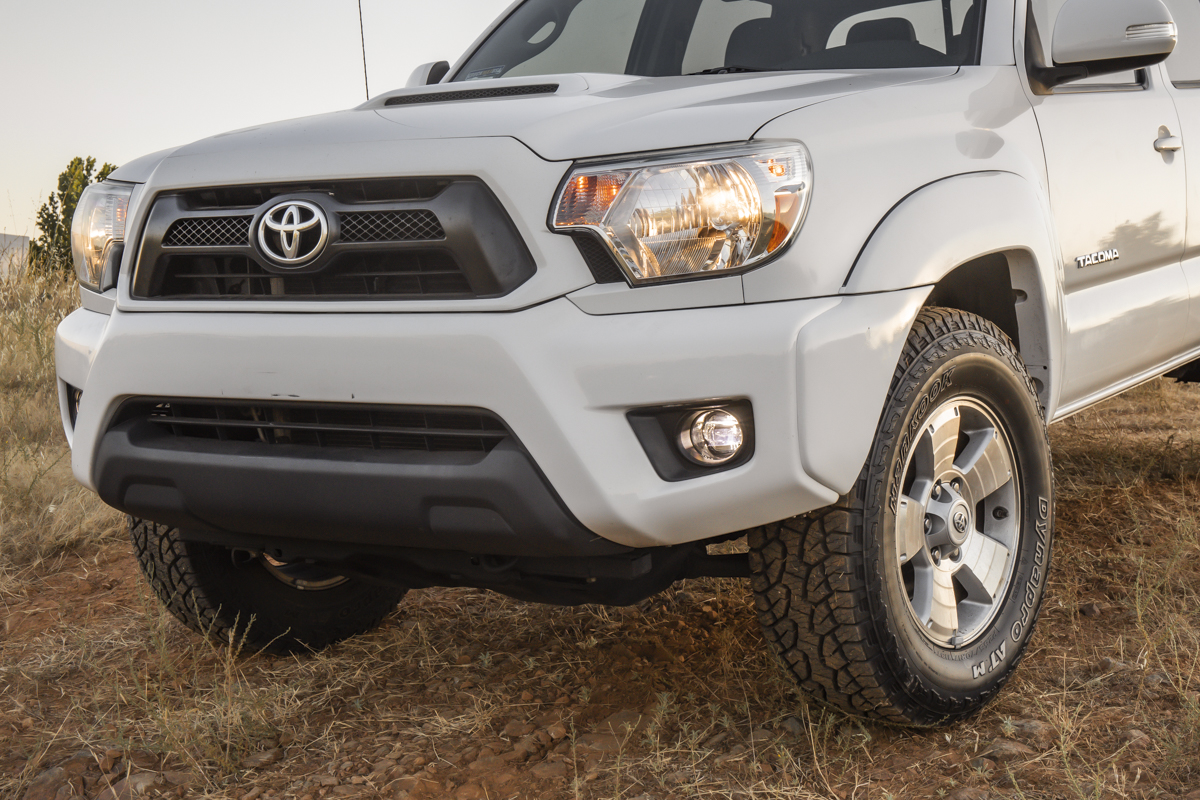 The Morimoto XB LED projector base fog lights look great, are incredibly well-built and are a true forward-facing projector-based fog light with incredibly well-thought-out optics for precise beam patterns and robust light output. They boast some very impressive lifespan specs along with an unbeatable warranty and in the grand scheme of projector-based fog lights they're somewhat affordable.
They are a plug-and-play design for the 2nd gen Tacoma. They mount directly to your factory bumper in all of the factory locations. The fog lights come with two wiring harnesses that plug directly into the factory H11 outlets for the stock fog lights. Each fog light kit contains all the necessary hardware, connectors, seals, and pigtails you need to make the install incredibly painless.
Technical specs
Input Socket: Sealed H11 Male
Weather Rating: Ip67 Waterproof
Lens Material: High Impact Polycarb (Uv-resistant)
Shell / Heat Sink: Powder Coated Cast Aluminum
Light Source: 3x Philips Luxeon-t (White) / Osram (Amber)
Led Optics: Kuria Fog-projection Lens
Intensity: 1,200lm (Raw; Each)
Color: 5500k (Pure White) Or 2800k (Amber)
Fog lights: 2x type t Morimoto XB led
Wiring: plug-n-play connection kit
Warranty: 18 months
Morimoto Design
If you are familiar with lighting then you have likely heard the name Morimoto. Morimoto is nothing shy or short of one of the top lighting manufacturers in the industry. These XB LED projectors are designed with a durable polycarbonate lens that has been proven to stand the test of time in hundreds of makes and models throughout the automotive industry.
They are made in a powder-coated cast aluminum housing which is incredibly lightweight and much stronger than many plastic alternatives that you might find on Amazon or eBay. This entire aluminum housing also acts as a heat sink for the LEDs located inside the housing. The housing has been designed to prevent and protect the LEDs for moisture in general road debris.
The XB LED projector can also be adjusted with an adjustment screw that is built into the actual fog light housing. You can fully adjust the beam pattern up and down until you have reached your desired cut-off line. Even if you are running aftermarket bumpers you can readjust the fog lights to match the factory cut off line found in the OEM fog light housing.
What's interesting about the Morimoto XB LEDs is that the new factory LED fog lights from Toyota mimic a very similar design. You will now find fog lights in late Model Toyota 4Runners and Tacomas that looks very similar to the Morimoto fog lights. All that said, it's just an incredibly impressive design.
Impressive light output
The Morimoto XB LED projector base fog lights put out some impressive specs. They feature three Philips luxeon-T 5500k LEDs (diodes) that push out 1200 law raw lumens per side. That's a combined lumen output 2400.
The well-designed projector-based optics inside produce an incredibly impressive pure white (5500k) color into a beam pattern that's incredibly focused with a very well-defined cutoff line. These fog lights are fully SAE, DOT, and ECE approved.
Easy Installation
The installation is incredibly straightforward. You start by removing the factory bolts that hold your fender liner in place and access your fog light housing.
There are two Phillips head screws and 10mm bolts that hold the fog light in place. You can remove those bolts and swap in the new fog light housing. The install is really that easy.
The second portion of the install is assembling the pigtail wiring harness to the actual fog light housing. As long as you insert the positive and negative leads into the correct position, you will be good to go That's incredibly simple as well.
If you fail to insert the positive and negative leads into the correct position on the pigtail clip then you may need to reverse your polarity and swap the wires. You can see all of that in our installation video here.
Remove fender liner bolts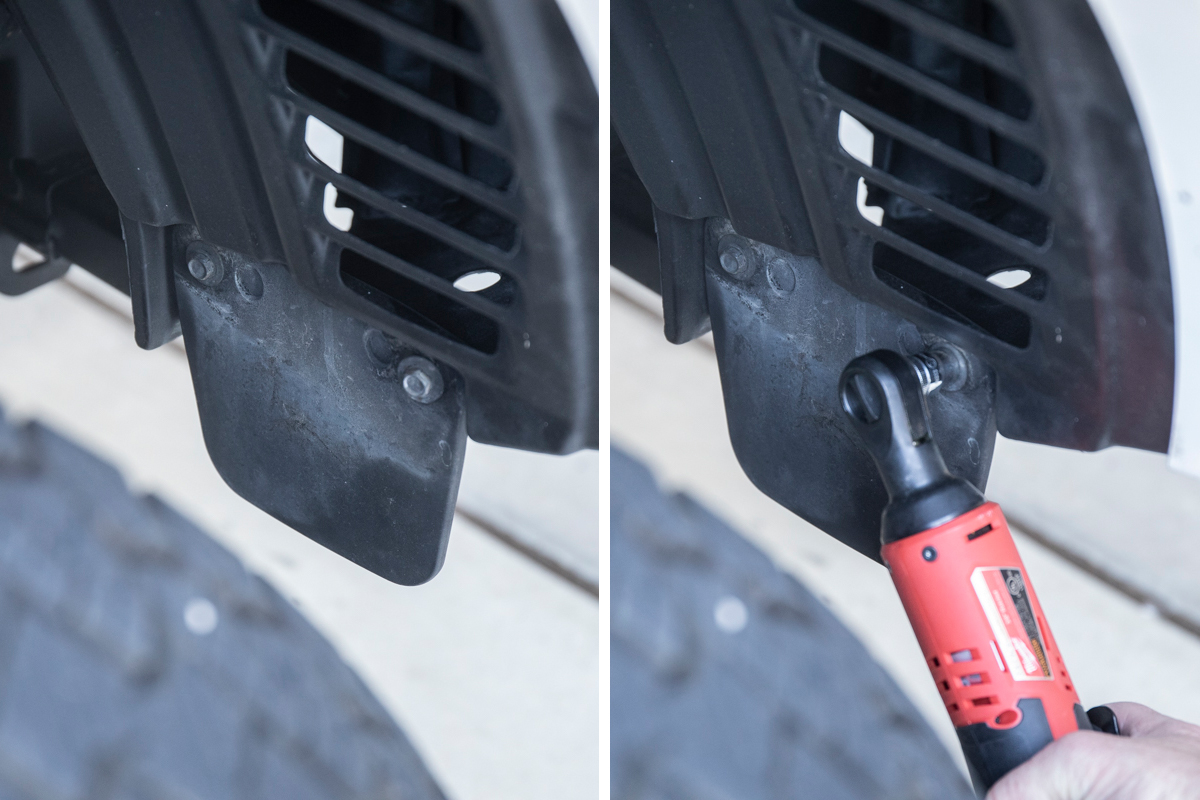 Remove bottom fender liner bolts
Peel back fender liner and remove fog light bolts
Unconnect wiring harness and pull out fog light
Morimoto XB LED vs. Factory fog lights
Install Morimoto XB LED fog light housing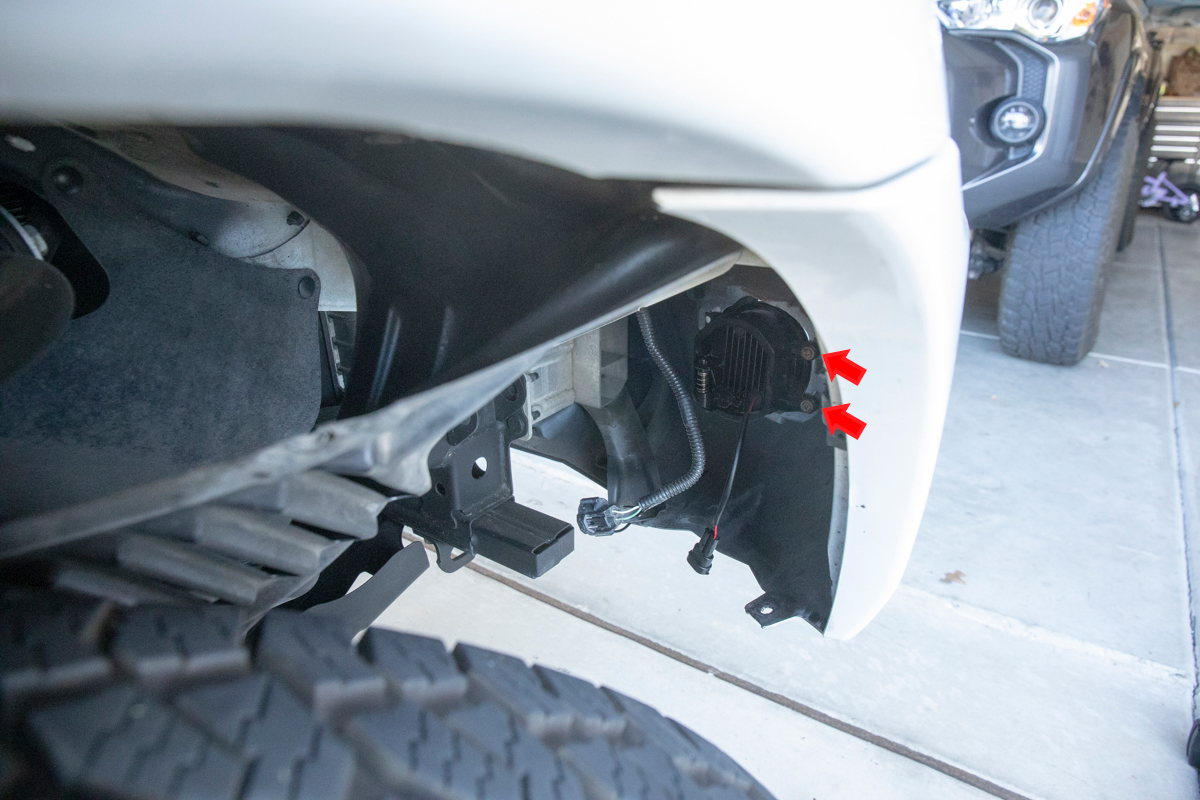 Connect wiring harness and zip tie wires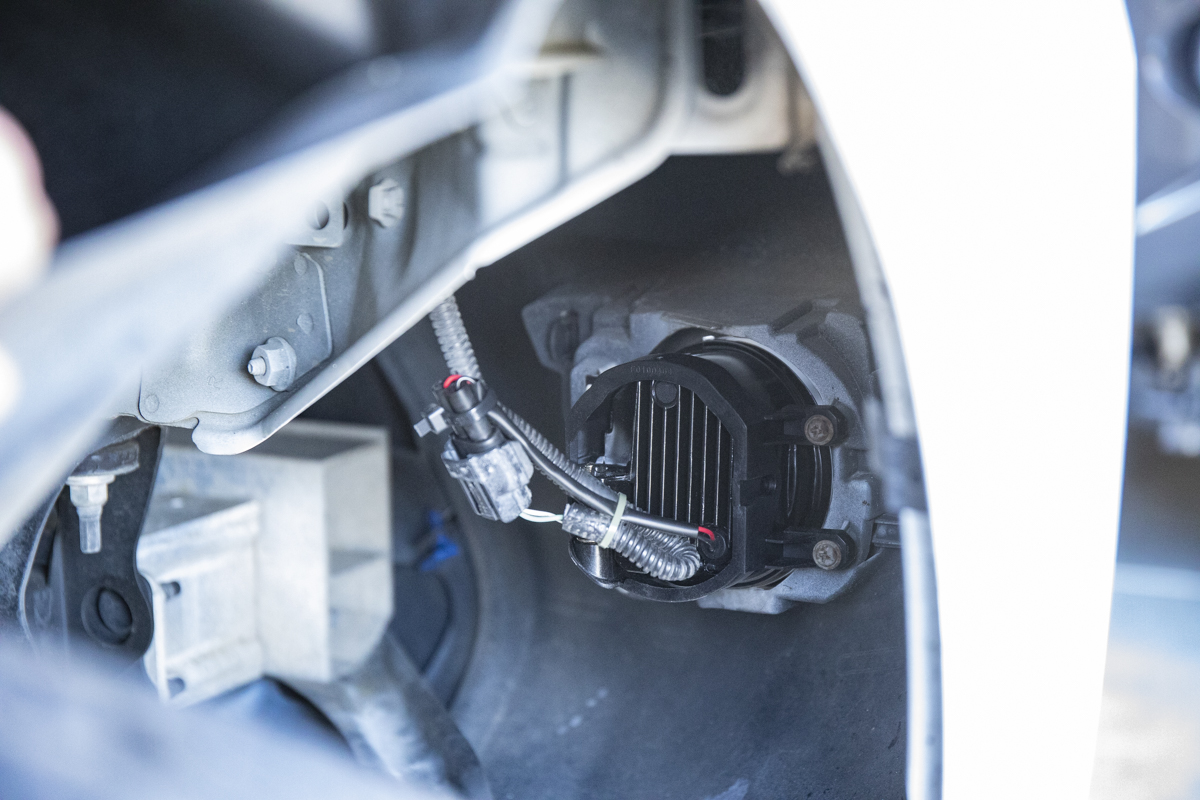 Morimoto XB LED fog light beam pattern
Final Thoughts
If you are looking to upgrade the entire fog light housing on your 2nd Gen Tacoma, the Morimoto XB LED fog lights are a great option. These lights are super easy to install and pack 2400 impressive lumens in pure 5500 K color. For an everyday driver, these are a really solid fog light housing to consider.
The only thing that I would recommend on top of what is seen here is adding a layer of yellow or amber Lamin-x to increase your visibility on and off-road.
As I mentioned previously, you can't go wrong with anything Morimoto. They are a solid brand name in the market and have been trusted by hundreds of makes and models for well over two decades now.