3rd Gen (2020-2023) Tacoma TRD PRO FOX Lift Kits – Finally Lifted: How to Lift A TRD Pro Tacoma With Factory Fox Suspension?
Check out the Wescott Designs Lift Kit
Westcott Designs has a solution for adding extra lift to your TRD Pro Tacoma 3rd Gen. Whether you want more lift or you'd like to fit 33s on your TRD Pro Tacoma, the Westcott Designs Fox Lift Kit is worth considering.
Westcott Designs is a newer aftermarket company based in Phoenix, Arizona. They've designed and produced a lift kit for the factory Fox suspension that does not alter the geometry of the stock suspension nor does it limit or overextend the travel. Westcott Designs was the first aftermarket company to create a lift kit product for the TRD Pros that looks completely OEM.
With all their products made in the USA, Westcott Designs proudly stands confident that their lift kit, unlike a spacer, will not negatively affect the ride of the upgraded TRD Pro suspension. Their Fox Lift Kit allows TRD Pro owners to run up to a 33" size tire without the need for too many supportive modifications.
As a 2017 Tacoma TRD Pro owner, I noticed that my suspension had settled in and lost some of its height through normal use and wear. I also recently bought a new set of Stealth Custom Series wheels with a -38 offset that I would wrap with 285/70r17 BFGoodrich KO2 tires. This new set up would not fit my stock suspension, so I needed a cost-effective solution.
Find It Online
Wescott Designs Company Highlight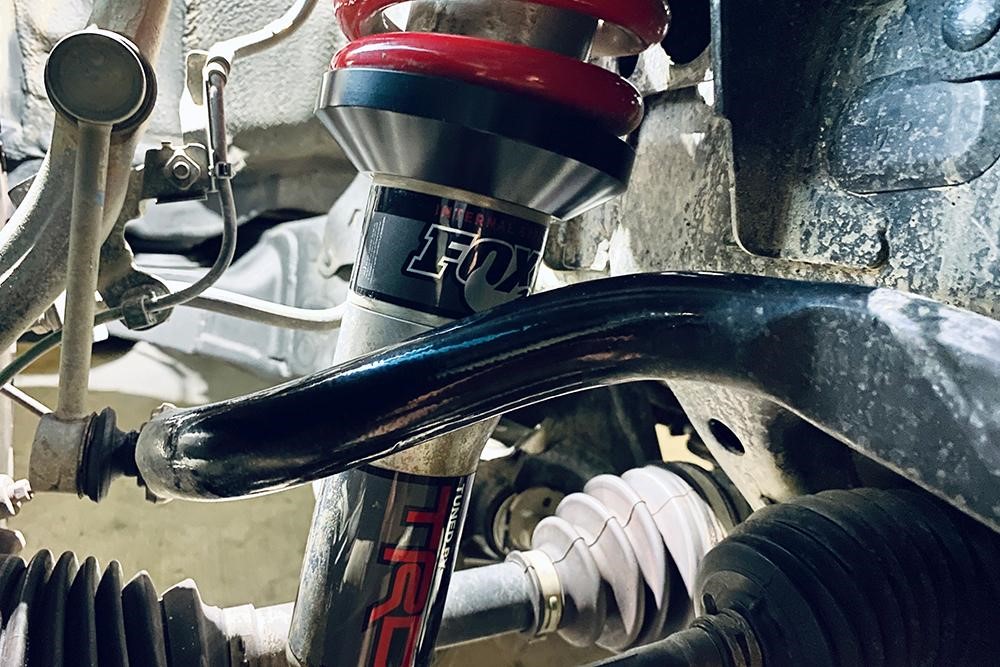 You might have not heard about Westcott Designs yet. Jeff Westcott worked at Toyota for over 20 years and his dad worked for GM designing motors. Needless to say, Jeff has spent his entire life working in the automotive industry and he's quite knowledgeable.  
The company was founded with many years of experience and a ton of knowledge surrounding aftermarket products. The goal was to overcome the shortcomings of other brands in the industry.
In fact, Jeff originally designed this lift kit for the 2015-2016 Bilstein suspension found on 2nd Gen TRD Pro Tacomas. So if you're looking to lift that year Tacoma, Westcott Designs has an option for you. Westcott Designs also offers other products like hitch mounted dual tire carrier, rock sliders, and other quality off-road/overland products made in the USA.   
FOX Lift Kit Overview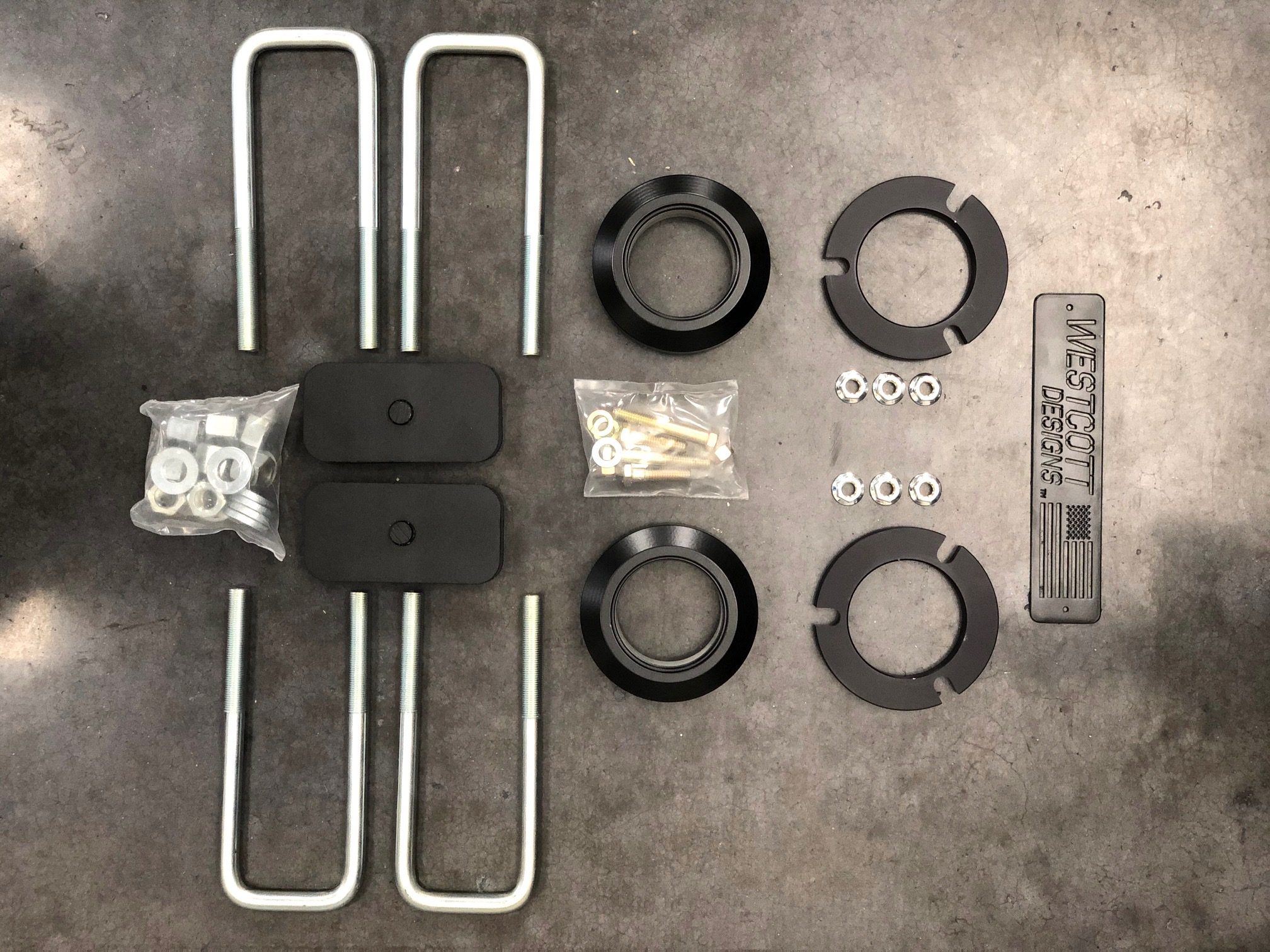 So what exactly does this kit include? Before diving further into my own experience with the lift kit, let's take a look at the specs of the product itself. For $350 (or $380 for 2020 Tacomas) Westcott Designs will equip you with the following.
Anodized aluminum 1.5" lower preload collars 

Anodized aluminum 0.5" shims for the top of the struts 

Spacers for front bump stops 

Rear 1" lift U-block 

Hardware and thread lock 
In my opinion, the only thing missing from the kit is step-by-step instructions for installation and a fully detailed outline of what is included in the kit. However, Westcott has videos on its website and YouTube to fully describe the product, including installation.
All the items that come in the kit feel heavy duty and are well-designed. The preload collar at the bottom of the spring acts like a coil-over without the ability to adjust the height. In my discussions with Jeff Westcott, the owner, he shared the details about why this is not your typical spacer lift.
A spacer sits on top of the strut, putting all the added stress at the top of the assembly. According to many forums and several conversations I've had, a spacer lift could lead to future damage to your Tacoma. The Wescott Designs kit incorporates an aluminum collar that seats perfectly on your strut assembly, giving your front suspension a boost. For the rear, there's a simple lift block for the leaf springs.
As stated on their website, this Tacoma Fox TRD PRO Lift Kit should produce an additional 1.5" lift in the front and a 1" lift in the rear. This is enough clearance to fit a 33" tire with the stock wheels with very little rubbing. Westcott has footage of this clearance on their YouTube channel, which was encouraging, but I was worried that I would not be able to fit my setup with the -38 offset.
First Impressions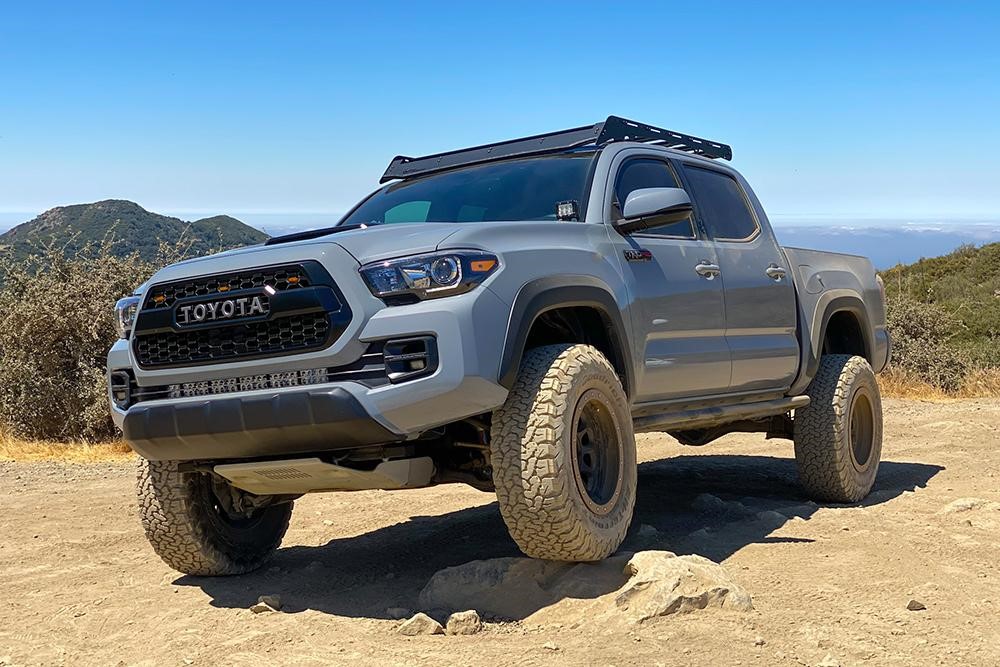 After the install, I drove on my stock wheels and 265/75R16 E load tires. Tires in an E load range are known to be much stiffer due to increased sidewall thickness and reinforcement. While that was my experience when I first upgraded my tires, I can tell you that the lift kit itself did not alter the ride. More on this load range aspect shortly. 
Immediately, I could tell my rig was sitting higher with more clearance. The stance looked aggressive, and there was a ton of room in the wheel wells for beefier tires. The modifications look OEM. In fact, if you don't know what to look for, the truck looks stock. As I drove around I noticed less body roll on turns. The truck gripped the road well and did not lunge forward as much when braking. Other TRD Pro owners who have used this kit have not expressed any changes in the truck's ride nor have they mentioned any damages. 
After measuring the new height, the truck gained a 2" lift up front and 1" lift in the rear. If you go this route, make sure to measure your before and after height as every truck varies. 
The welder and I were surprised to see that the -38 offset cleared just fine after the CMC; there was plenty of space behind the tire. Though the front tires touched when fully turned in both directions, trimming the plastic took care of that minimal rubbing. After a couple of test runs and an alignment, I have found there to be no additional rubbing. Maybe at full compression, there is still some rub, but that's almost unavoidable. 
Back to the tire load range. My new tires are C load and the ride feels much softer than the E load tires. This ultimately tells me that this lift kit does not impact our Tacoma's rideability. 
Four Key Takeaways
Ride quality does not change 

Stance will appear more level to the eye 

The lift helps you to clear 33s, possibly without CMC and trimming on stock wheels

The kit will clear up to a -38 with most 33″ tires with CMC and trimming 
Final Thoughts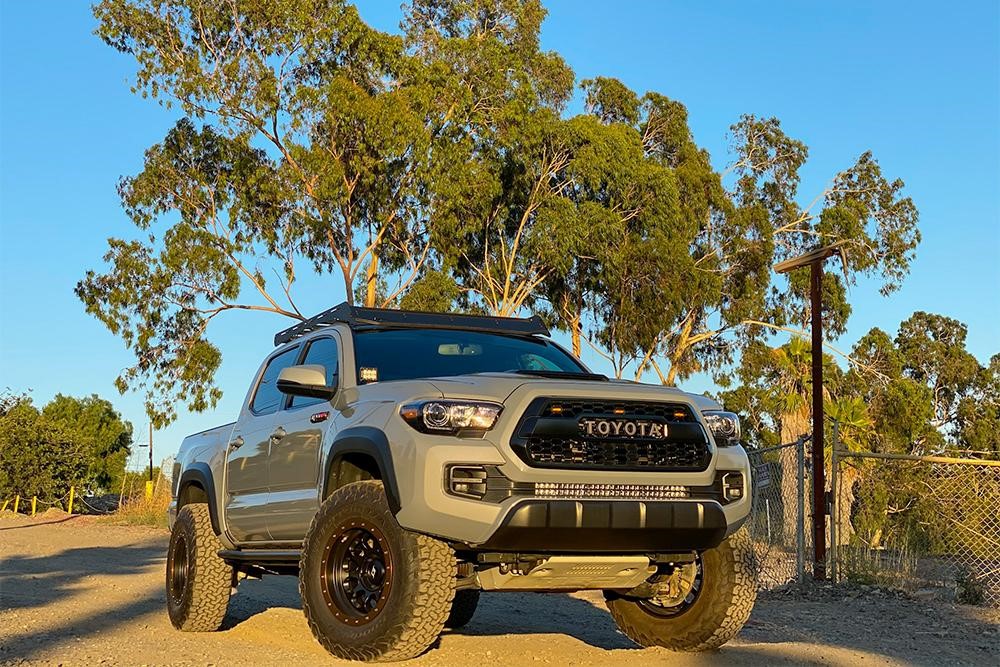 Lastly, as with any business, customer service is very important when considering the quality and the ability to attain answers to any questions. Jeff Westcott and his team answered my questions over the phone, Instagram, and email fairly quickly. They are also more than happy to help your local dealer with any installation questions.
The Westcott Design Fox Lift Kit is definitely a game-changer for those looking to find a cost-effective way of lifting their Toyota Tacoma TRD Pro. As I've hit the trails and gone exploring, I have felt my Tacoma to be much more capable than when it came out of the dealer.
Swapping the PRO suspension with Kings, Icon, or a better Fox suspension would be a superior method of lifting a Tacoma, but for those who have been searching for a viable, more cost-efficient way to lift their TRD Pro, Westcott Designs is an excellent option.