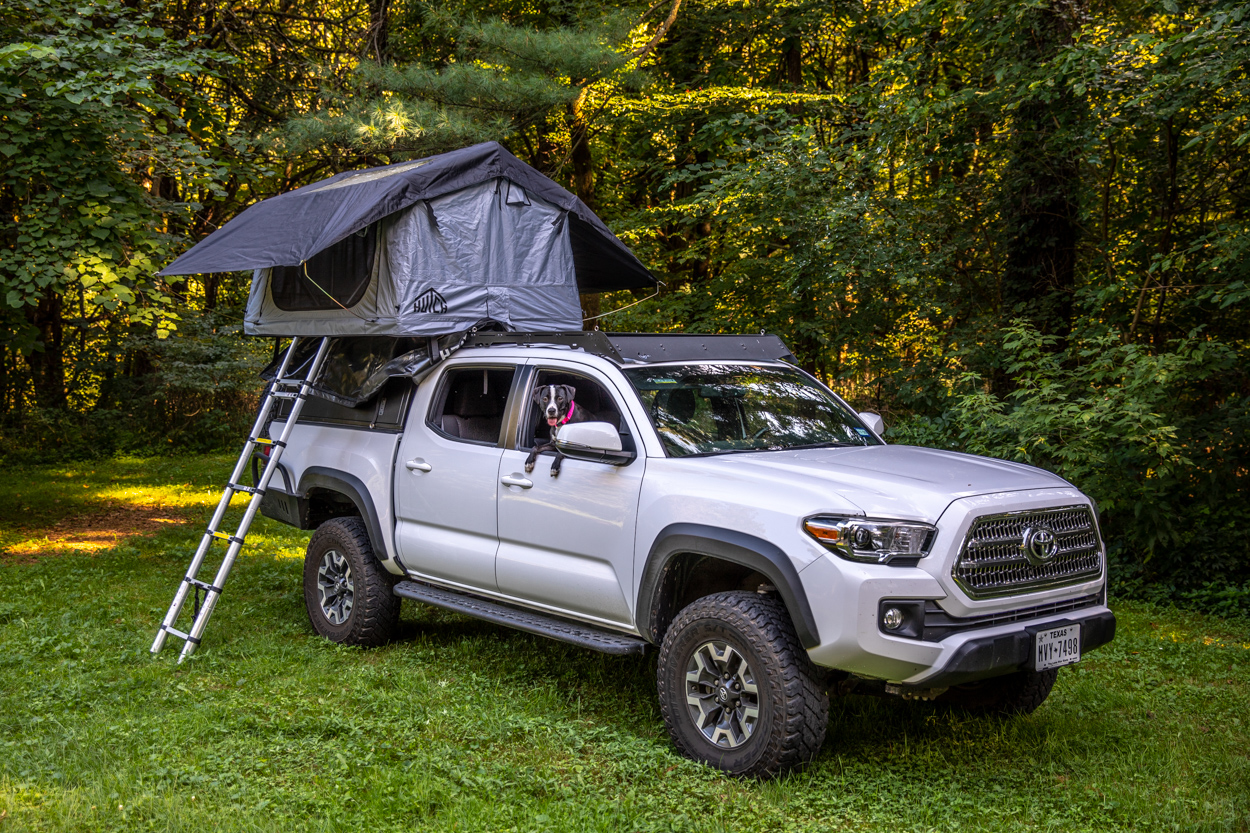 The Hutch Tents Daly 2 – A Slim, Unique Roof Top Tent Option for Vehicle-Based Camping
Let's face it. There are way too many rooftop tent companies to choose from. On the surface, many of them seem to sell the same product. One company, Hutch Tents, has a distinctive approach to tents.
This company started with a common problem. The owner, Josh Hutchinson ("Hutch"), wanted to go camping. But convincing his wife to brave the great outdoors was a whole other challenge. A quality rooftop tent was the obvious solution. Unsatisfied with the options on the internet, Hutch Tents was born out of a desire to bring a quality, affordable rooftop tent solution to market without the middlemen or the unnecessary drama.
In this article, we'll be going in-depth on one of the most interesting tents on the market, the Daly 2.
I recently picked up the 2017 Super White Off-Road Tacoma seen throughout this article. I flew out to Salt Lake City to make the deal happen and wheeled it all the way home. But before we even finished the paperwork, we stopped by Josh's warehouse and installed this awesome little tent.
We spent the next 4 days testing it in all sorts of terrains and climates, from the deserts of Moab to the high alpine mountains of Telluride and then some. The following will be a detailed review and overview.
Find It Online
Let's get started!
Specifications – Compact Light-weight Rooftop Tent
The Daly 2 is a 2 person, 3 season tent and weighs 95 lbs, much less than your average rooftop tent. The majority of the structure of the tent is made from aluminum to save as much weight as possible.
The canopy fabric is 420D rip-stop polyester, which is UV protected, mold-resistant, and waterproof. The rain fly is similarly 420D polyurethane-coated polyester. Finally, the travel cover is an ultra heavy-duty 12000D PVC material that can take a bunch of abuse.
The closed exterior dimensions are 84″ (L) x 24″ (W) x 12″ (H). The open size is 84″ (L) x 48″ (W) x 50″ (H). Keep in mind, both of those are exterior dimensions. The mattress itself is a bit smaller.
Foam Pad & Anti-Condensation Mat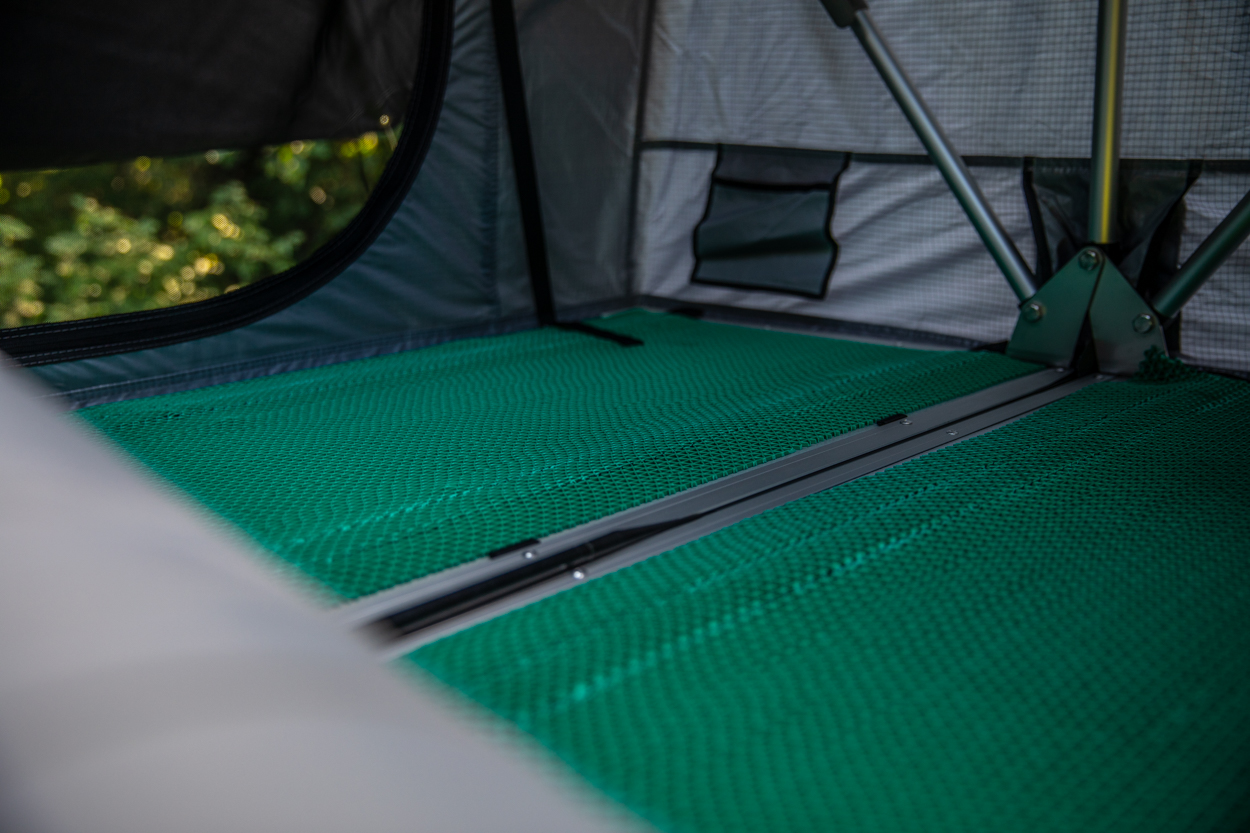 The Daly 2  comes with a 2.5-inch thick high-density foam pad that has a removable and washable fabric cover.
Most rooftop tents do not come with an anti-condensation mat, especially at a lower price point. The good news? The Daly 2 does! You don't have to shell out any extra money to ensure your mattress stays nice and dry.
Always good to know you won't get hit with another $100+ expense right out of the gate.
Skylight & Rain Canopy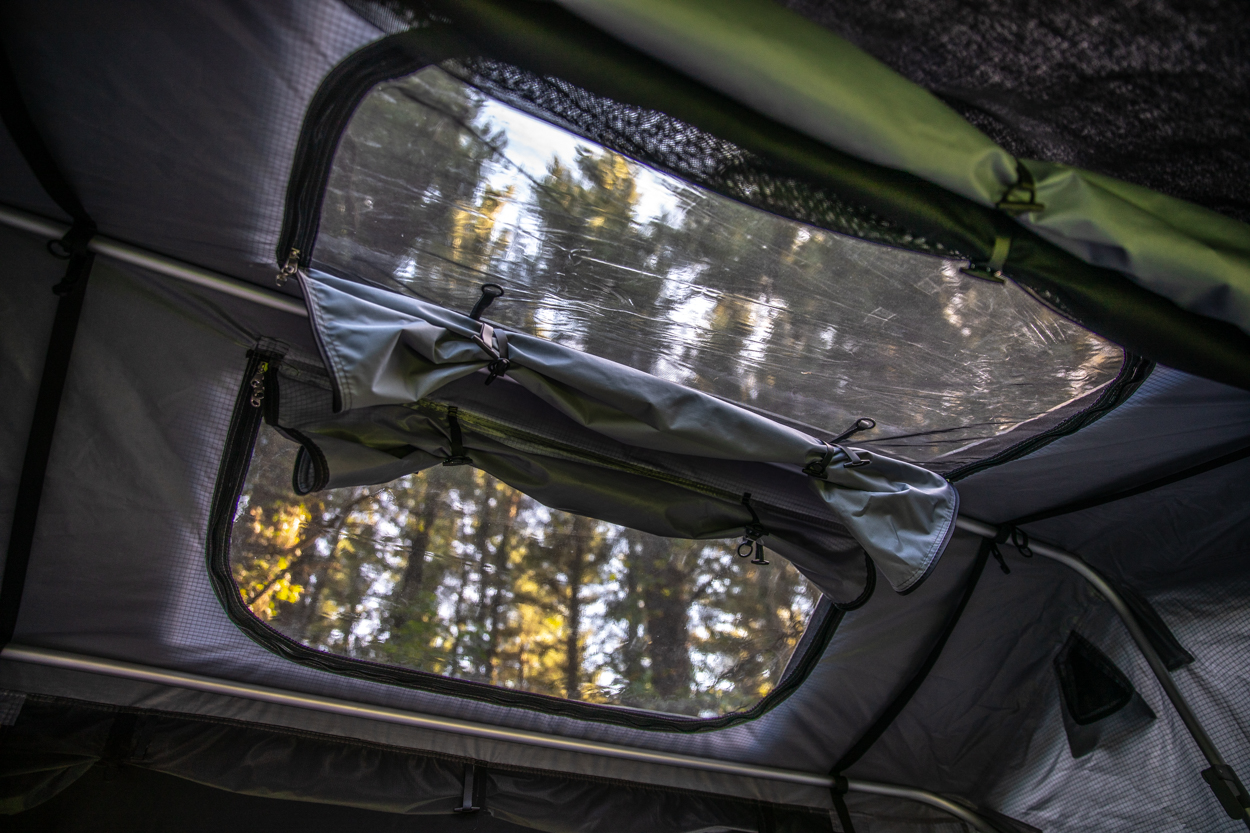 The rain canopy is also waterproof rip-stop polyester, UV protected and mold/mildew proof. The rain canopy extends far over the doors and windows of the tent, ensuring that you stay dry during any storms you might encounter.
Another added feature, the Daly 2 comes standard with skylights. Perfect for sleeping under the stars and taking in the landscapes.
Telescopic Ladder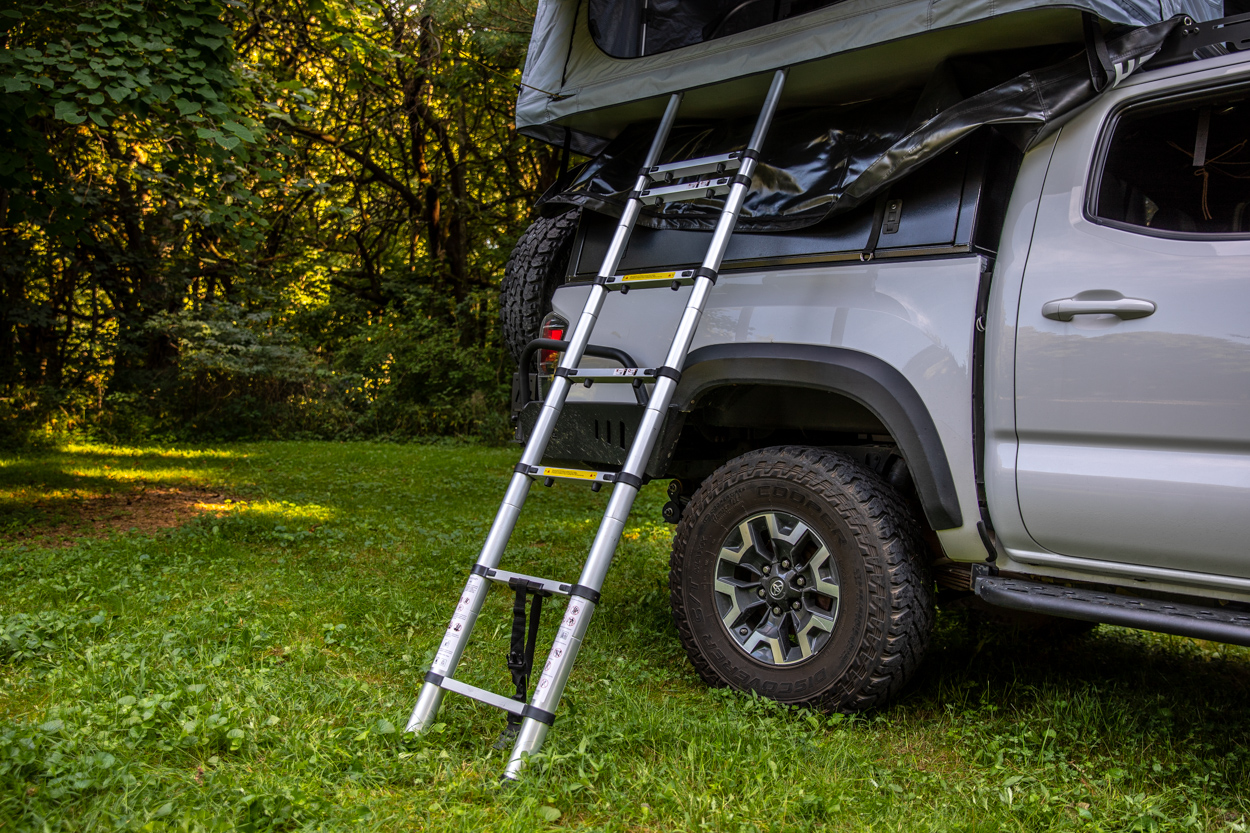 The tent is also equipped with a telescopic ladder that extends up to 7'6″ tall, more than enough to easily get into the tent.
This ladder is super beefy and can handle just about anything you throw at it. The full adjustability is great for ever-changing terrains.
General Impressions

The Daly 2 is a pretty solid tent. The build quality is what you would expect with the previously mentioned specifications.
Let's address a few of the top factors to consider when buying this rooftop tent.
Aerodynamics, Wind Noise & Gas Mileage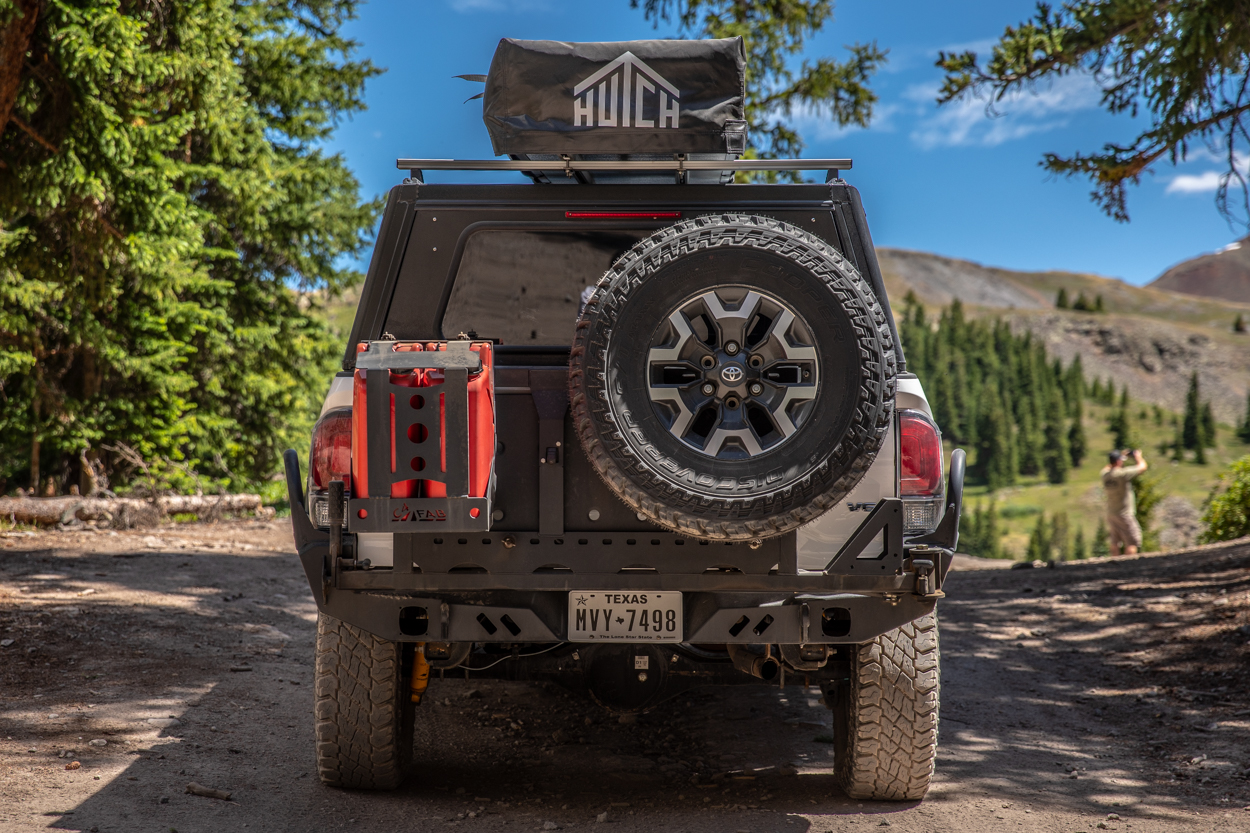 As you probably already noticed, the Daly 2 is a very narrow tent, width wise. Most soft shell rooftop tents are typically square in shape and open up lengthwise to create a rectangular sleeping area. The Daly 2 is a rectangle which opens to a larger rectangle.
So why is this important? Well, first of all, the tent is way more aerodynamic because it's much more narrow. The math is simple, a narrower tent equals less drag and wind resistance. Ultimately, this means less wind noise and better gas mileage.
I didn't notice a huge change in gas mileage after installing the tent. In fact, I barely noticed any. In the past, I had other soft shell tents, and believe me, there was a difference. We easily saw a decrease of 2 miles per gallon. Nothing like that to worry about here.
Without going on a huge rant, this tent essentially makes little to no noise, especially if you have an aftermarket roof rack. For comparison, my Prinsu flat rack makes much more noise than the Hutch tent.
Comfort & Interior Space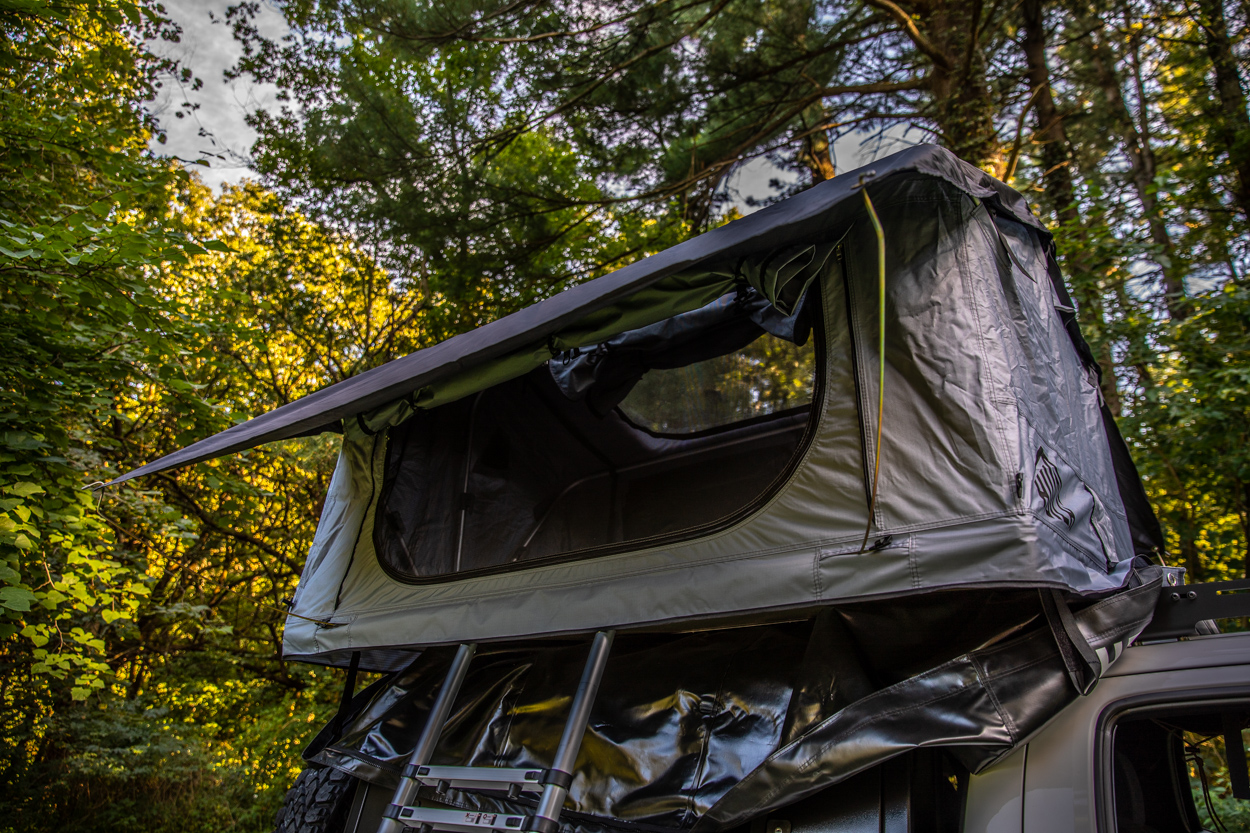 The Daly 2, like many rooftop tents, is much more comfortable than your standard ground tent paired with an air mattress.
The foam pad provides just the right amount of support, and paired with some sleeping bags and light bedding, is more than enough for most everyone's needs.
The actual sleeping area of the tent, as mentioned before, is obviously smaller than the exterior footprint. I'm a little taller than most at 6'1″ and if I lay flat on my back, my feet and head touch the ends of the tent. This wasn't a huge deal because I typically sleep on my side, not completely sprawled out. But with my wife, and our dog Emerald (seen hanging out in the window in the first image), it can get a little tight.
If you travel solo, or you're less than 6 feet tall and you don't have a dog, this is the ideal tent for you. To reiterate, the tent, as far as 2-person rooftop tents go, is pretty average-sized. Feeling a bit cramped is due to me trying to squeeze every bit of room out of the tent.
Build Quality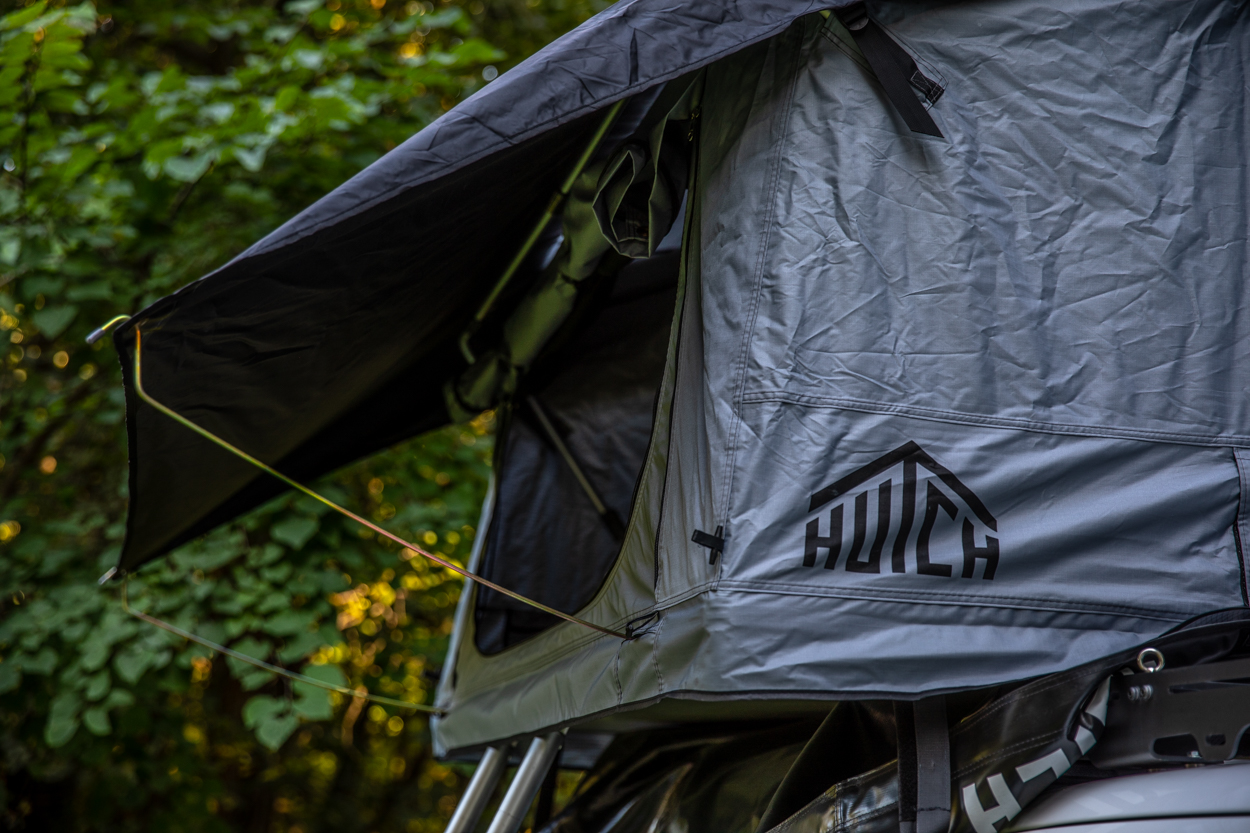 I've been in the off-road, overland and camping scene for several years now. So I've seen my fair share of tents.
The Daly 2 is constructed well and I haven't had any issues with it whatsoever. The stitching is solid, the tent keeps you dry and dust-free and the build materials are exactly what you would expect for a tent in this price range.
Nothing seems to be cheaply made and Hutch Tents has made sure that the quality of their tents is consistent across the board.
Pros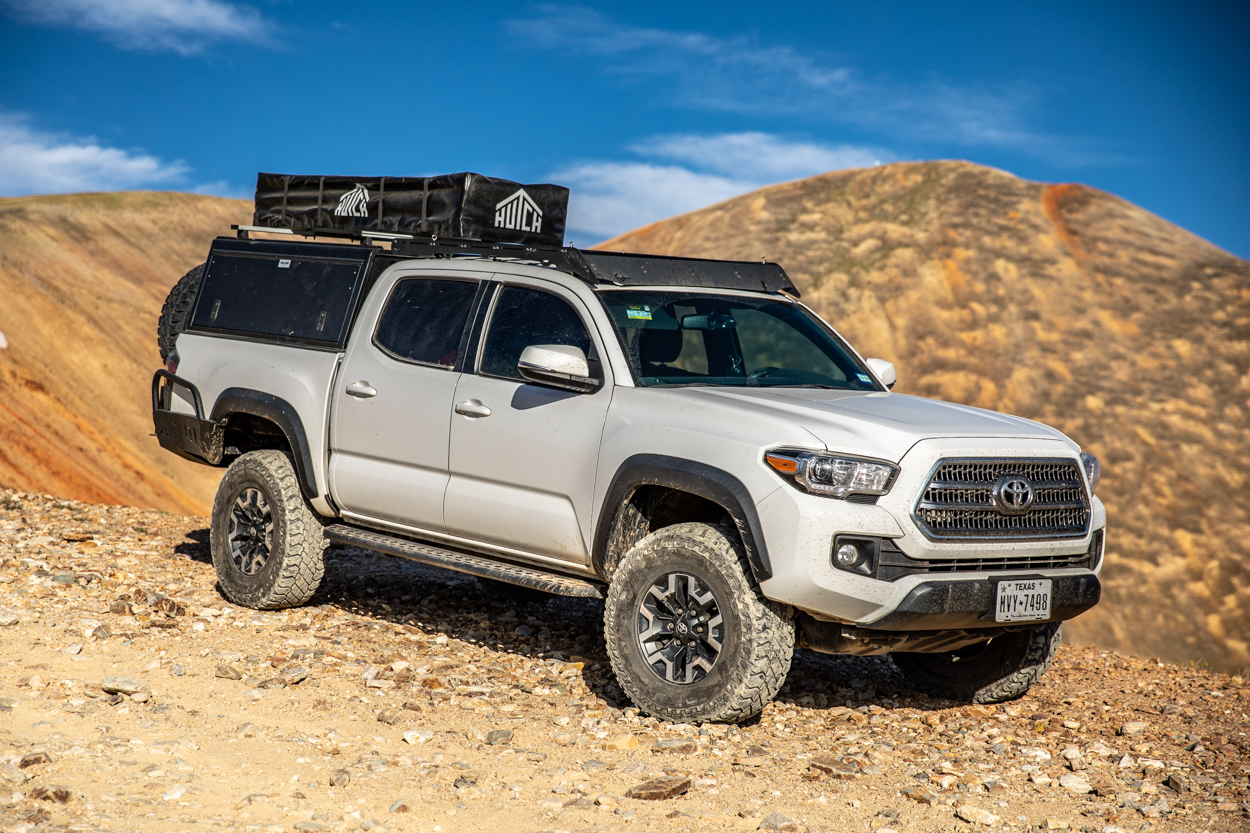 To start, the tent is lightweight. At 95 lbs, it's one of the lightest 2 person tents on the market. This also makes it incredibly easy to install. It took 2 of us to throw the tent on the roof and only about 15-20 minutes to get it securely mounted to the roof bars on my Alucab.
Obviously, the tent has a small footprint. This is not only good for gas mileage etc., but it's perfect for anyone who has roof top storage or hauls other toys like tents and kayaks. If you need to maximize your roof mounting potential, this tent is absolutely for you.
In general, I like all rooftop tents due to the fact they get you off the ground and away from potential hazards. Best believe my wife is also more onboard for camping trips when we get to sleep high above the dirt and bugs.
The rest of the pros are pretty much mentioned in the previous sections. Little to no effect on gas mileage, great standard features and a quality build all help to bring this tent to the next level. Did I mention there's nothing else like it? As far as I know, this is the only tent for sale in this kind of configuration.
Finally, albeit less importantly, I really dig the logo. I usually don't like big branding on any products that I run, but the Hutch Tents logo is cool and aesthetically pleasing.
Cons
Overall, this tent is solid. I don't have any major complaints.
My main issue with this tent is that the ladder does not fit inside the cover and needs to be taken on and off. This isn't the worst thing in the world but definitely adds some time to setup.
The ladder mounts to the body of the tent in two spots with a couple of nuts/bolts and simple brackets. It would go a long way to create some sort of simple quick-release mechanism to make taking the ladder on an off a bit less time-consuming.
Outside of that, I really can't say anything considerably negative about this setup.
Final Thoughts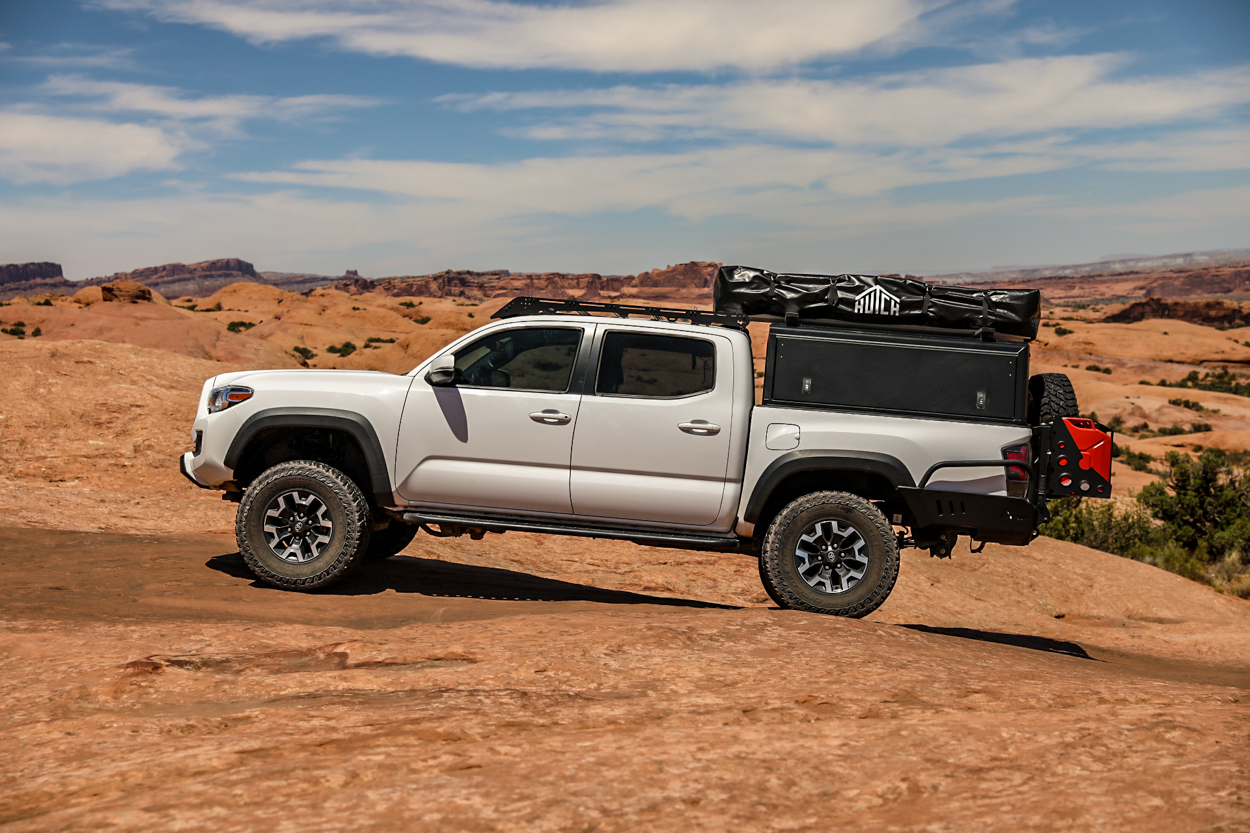 So what's the bottom line?
If you're looking for a rooftop tent that works well with a full complement of gear, is well-priced and is unique compared to all other options, the Hutch Tents Daly 2 is perfect for you. The team at Hutch is incredible, replies fast and makes sure that their customers are completely happy with their purchases.
I was stoked to run this tent and I know Hutch Tents has several more exciting options to choose from for all wants and needs. If you're in the market for a tent, check them out!