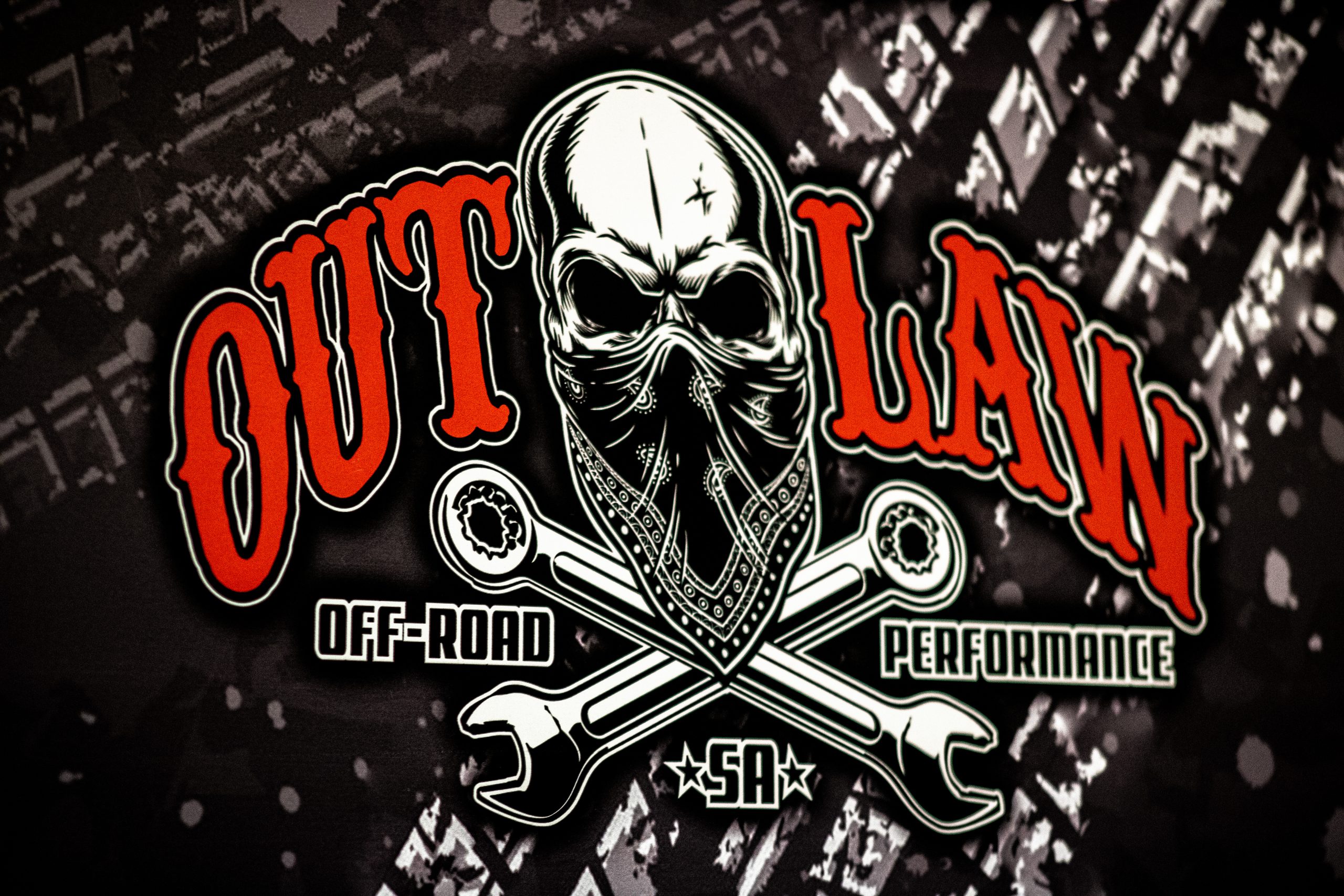 Company Feature: Outlaw Off-Road & Performance Shop Based in San Antonio, Texas
It's pretty much universal to hunt for an automotive shop that you trust with your vehicle when it comes to getting repairs or customizing your rig. It's all about getting a fair price in exchange for quality work.
For most of the mods that I have installed on my 3rd Gen Tacoma TRD Sport, I did the labor and install myself. I've always been a do-it-yourself type of person, but there's nothing wrong with finding a company you trust to do the work for you.
Trusted San Antonio Shop
When it came to some of the major mods that I had less experience with, I sought help. I can't speak for other states, but here in San Antonio, Texas, there is a mom-and-pop mechanic shop on almost every corner. Most of these shops are hardworking people, who will do a decent job for basic automotive work that needs to be done.
Where do you go if you want to customize your rig or you're looking for someone who specializes in suspension and off-road mechanics? This is a question I asked myself when I first started my build for my 3rd Gen Tacoma.
Customize Your Ride
I had heard of Outlaw Off-Road + Performance from numerous people and was told that they are the best at what they do. I was intrigued, so I stopped by the shop when I began the journey for my overland build. As soon as I pulled into the parking lot, I saw nothing but custom-built trucks.
I knew right then that I came to the right place. Needless to say, I was not disappointed! These guys are the real deal and their work speaks for itself.
Find Them Online
C4 Fabrication Front Bumper Install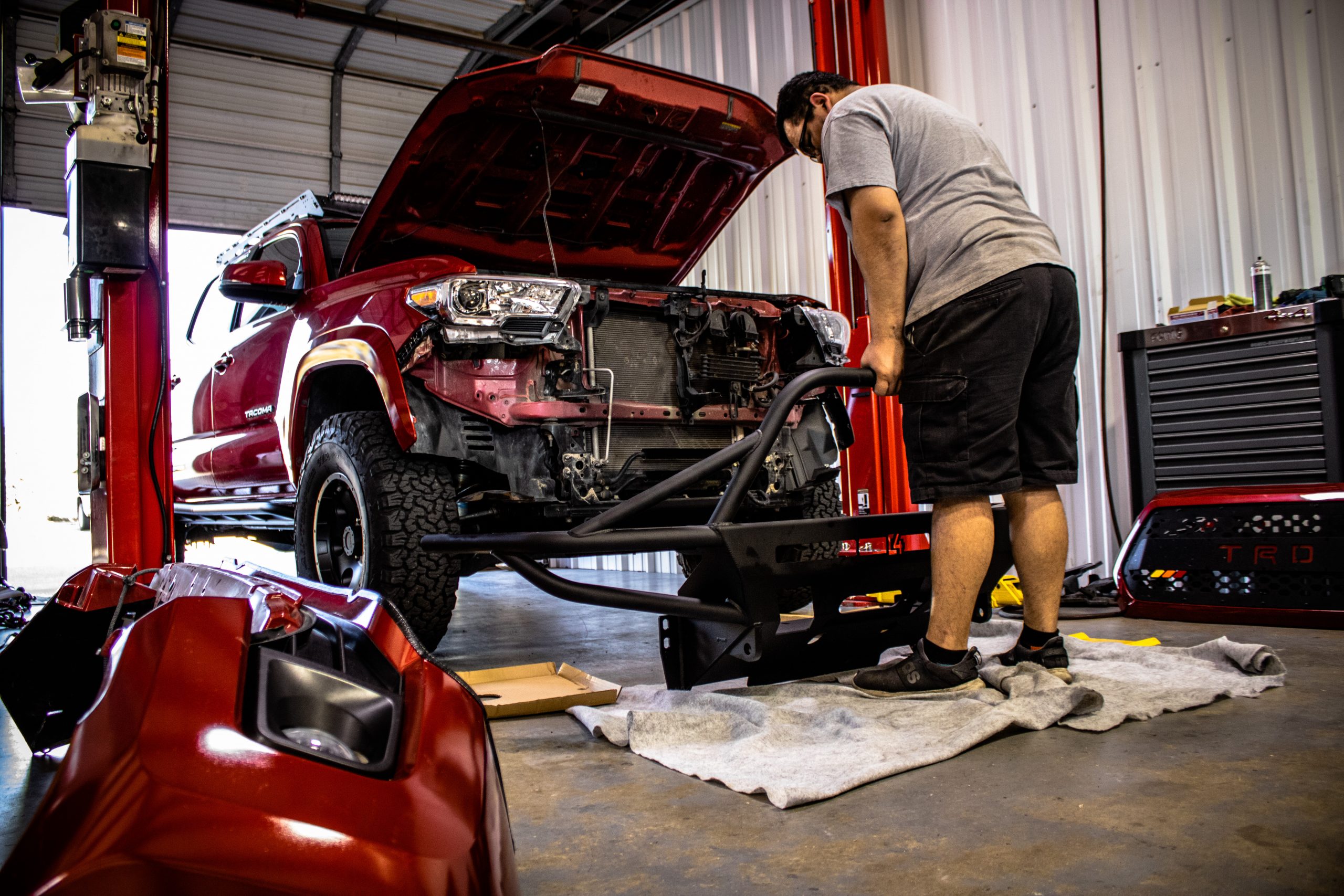 Leaving it to the Professionals
I knew beforehand the extent of the install process for the C4 Fabrications hybrid front bumper. It's a major mod that involves cutting the OEM front bumper and removing and relocating some factory parts in the front.
I chose to go to the professionals as opposed to botching it up myself. I felt comfortable and confident in their capabilities to take care of this task for me. As soon as I dropped off my truck, the bumper, and lights, they got to work. You would have thought they wrote the install instructions themselves because they wasted no time tearing apart my truck.
They started removing the Body Armor 4×4 Bumper I had previously mounted on my truck, the OEM bumper and the grille. Once it was all off, they started unspooling the winch rope so they could remount it onto the C4 bumper. Once the winch was moved, they moved to cutting and trimming.
Making it Look Easy
They took their measurements and marked their lines with tape so they could begin cutting. I was surprised at how quickly and effortlessly they moved while cutting the bumper.
I know if I did it myself it would have taken me a while because I would have been petrified of cutting off too much. Their cut was clean and precise and looked factory. They then took some black weather stripping and lined the cut portion of the bumper to give it a more professional look.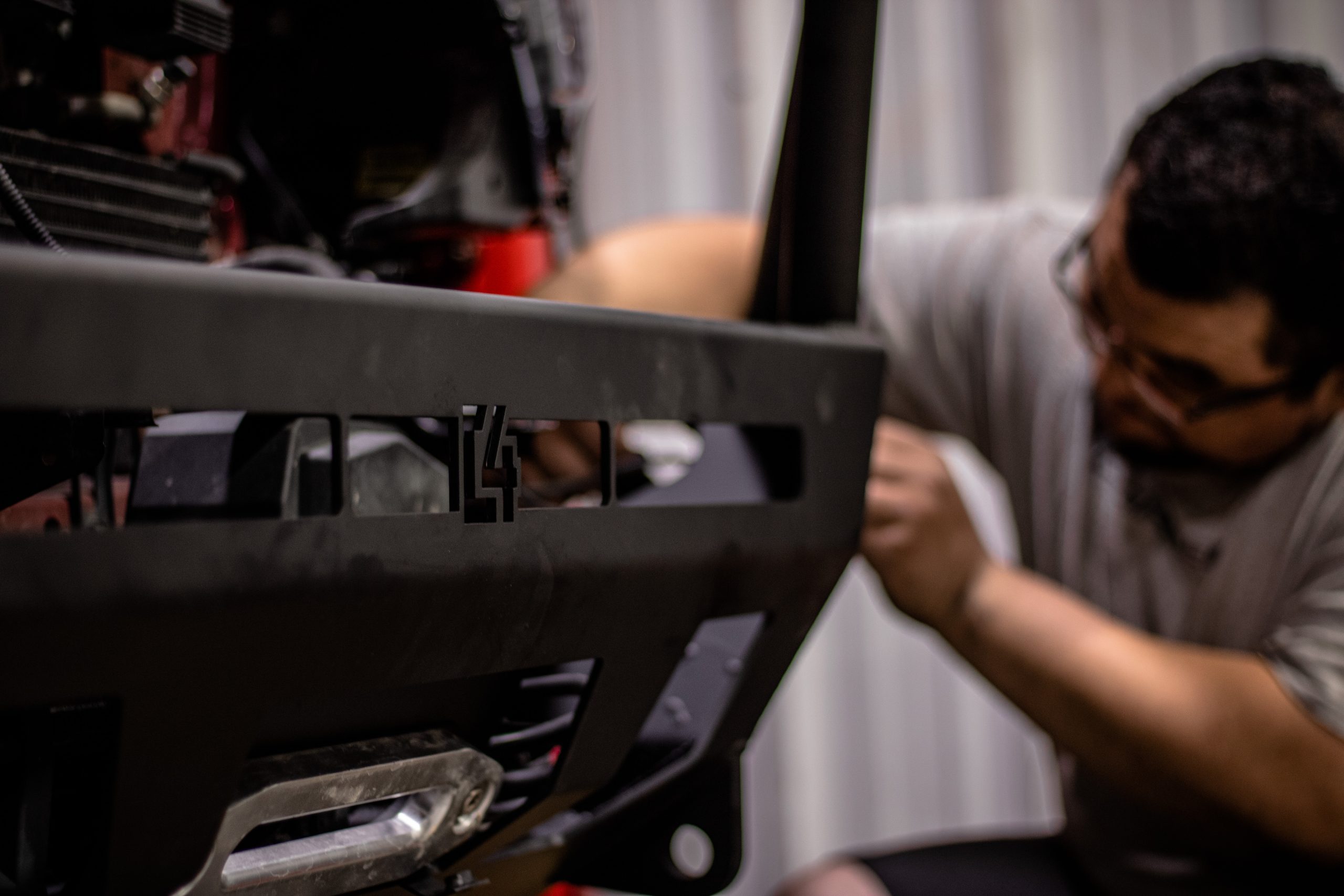 With the bumper precisely cut, they then moved to trim the fender and wheel well. After all, it is a high clearance front bumper, and all the suspension is going to be exposed. No need to keep the excess plastic hanging down.
Baja Designs Squadron LED Lights Install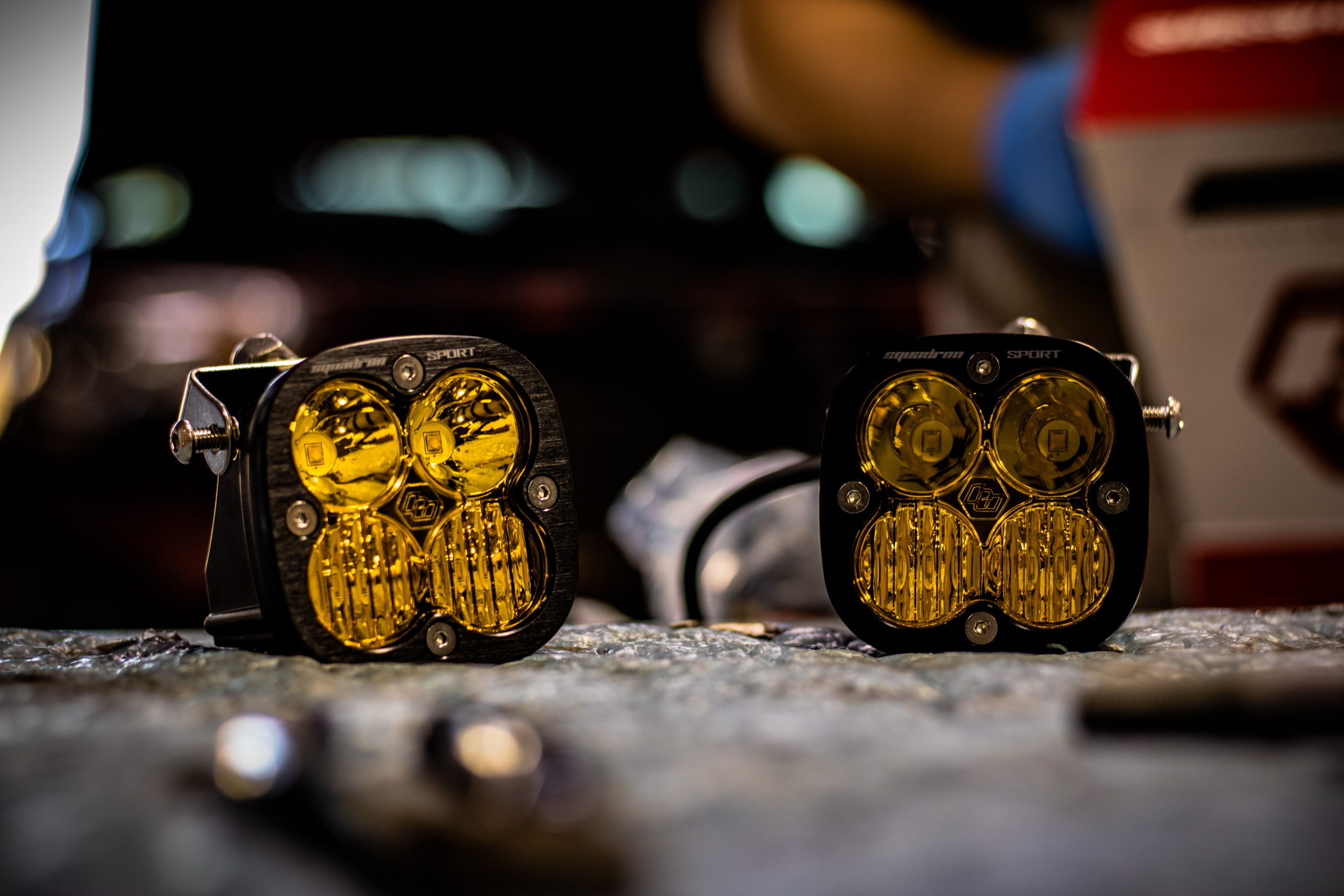 Auxilary LED Lighting
With the bumper in place, they quickly got to work on the Baja Designs lights.
They adjusted them, mounted them on the bumper, and began to wire them. I had a total of four Baja Designs Squadron LED lights being mounted. I requested that two be angled straight ahead, and the outside two be angled slightly outward.
I wanted all the light I could get upfront! The task seemed routine to them, and they got it all positioned exactly how I wanted.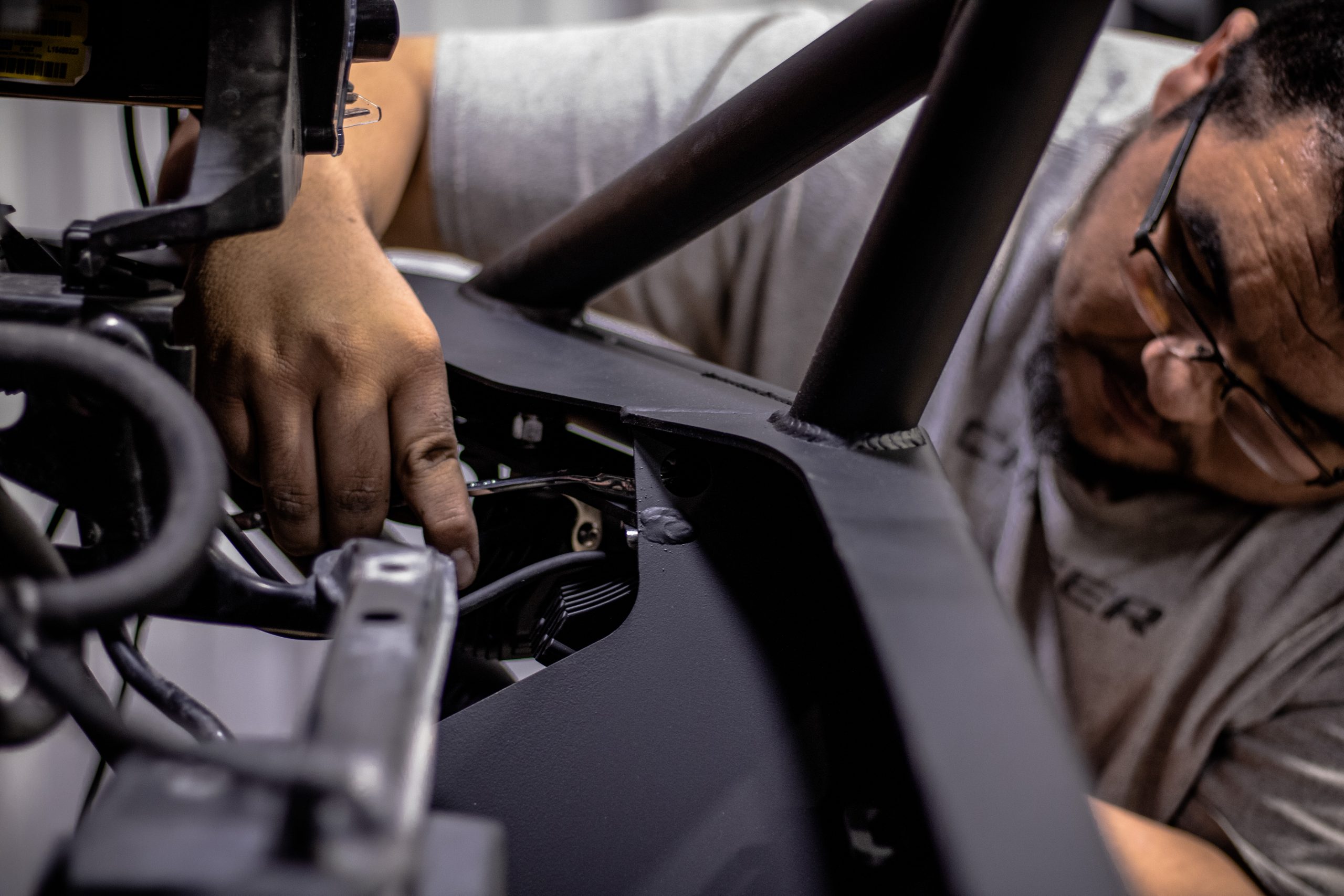 Quick & Clean Install
Next was to run the wires through the engine bay, and into the cabin of the vehicle to connect the switches. I asked them to place the Cali Raised LED switches in a specific order, and they did just that.
They even moved my ARB rocker switch from its original location (wedged in between the dash and the steering wheel), and into the dashboard for a cleaner, more professional look.
With the final cuts done, everything mounted in place, and all the bolts fully tightened, they handed me back my keys. To say I was astonished at their work is an understatement. This team really knows their stuff when it comes to building trucks! If you're looking to purchase any of these products, I included the links below.
Find It Online
C4 Fabrication Hybrid Front Bumper for Toyota Tacoma (2016+): Check Price
Baja Designs Squadron Sport Amber LED Lights: Check Price
Cali Raised Toyota OEM Style Switches: Check Price
My Past Experience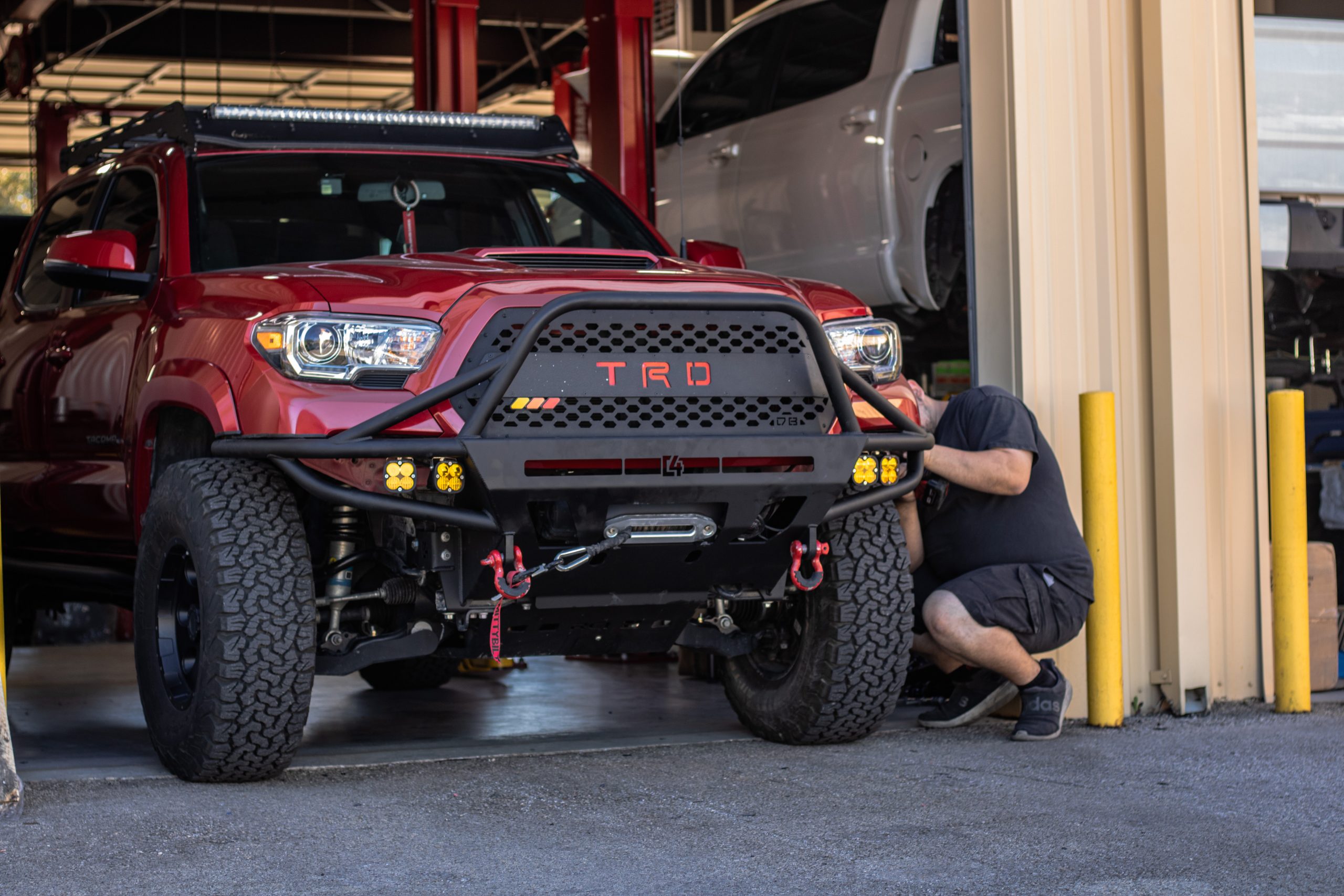 Upgrading My Suspension
The first time I stopped at Outlaw Off-Road + Performance was for my suspension build. They helped me get exactly what I was looking for, and I was able to order everything right there at the shop.
I am currently running Bilstein 6112/5160 shocks and coilovers, with Icon Delta Joint UCA's, and Old Man Emu Heavy Load Dakar Leaf Springs. I knew I was going to be adding weight to my vehicle, so I wanted a beefy suspension that would be able to handle the extra weight, as well as take a beating off-road.
When the suspension arrived, they installed it all in a single day. I was truly impressed with the work they did.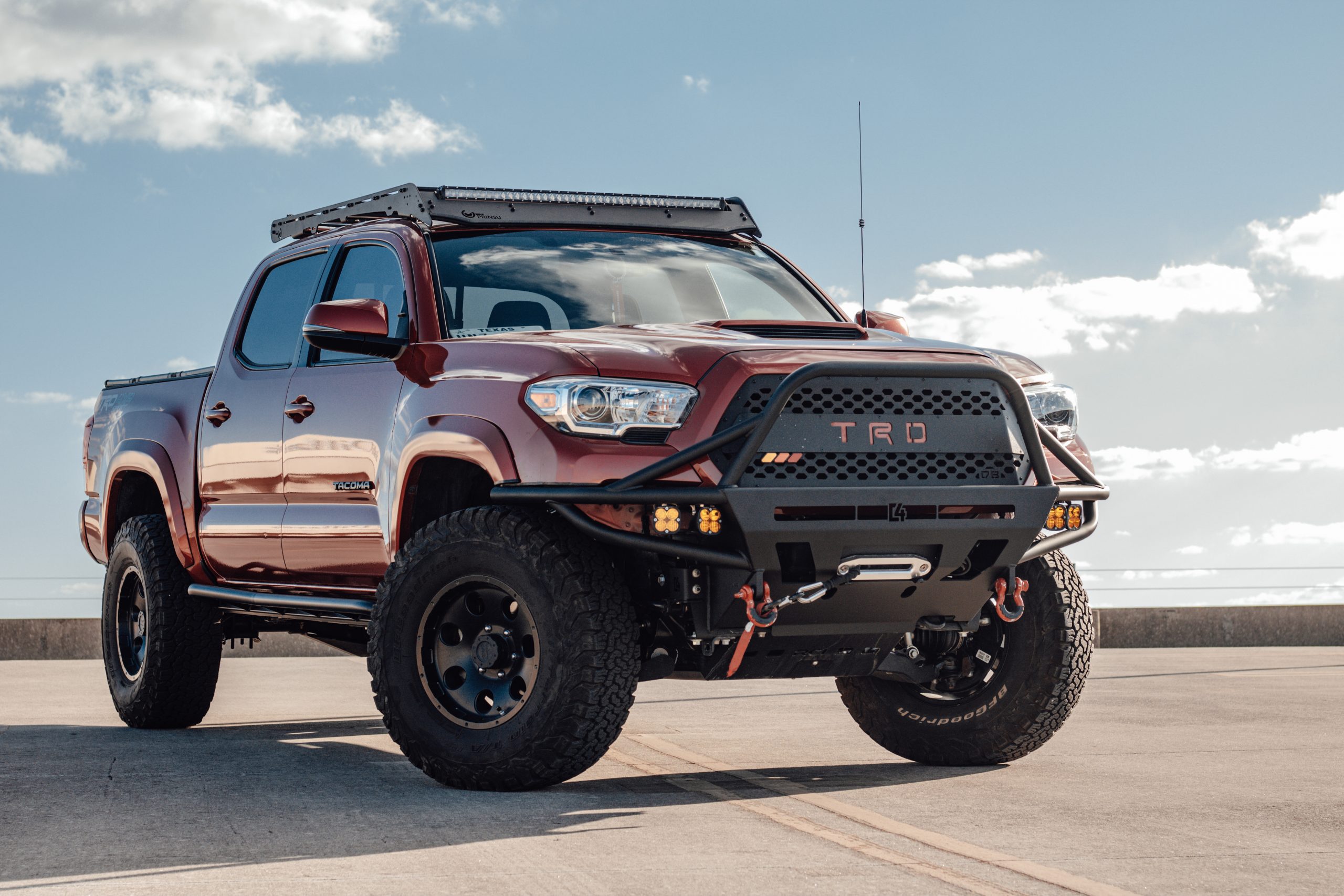 Unexpected Mishaps
I was recently heading up to Colorado for an overlanding trip, and was planning on spending an entire week wheeling and camping up in the mountains around the Telluride and Ouray area. Well, sadly, I never made it to Colorado, because while traveling out of Texas overnight I struck a deer.
That deer stopped me dead in my tracks on the highway at 6 AM. I was stranded and had to tow my truck back home. Luckily the damage was mainly cosmetic, and the engine and suspension remained intact, so I started the long process of rebuilding it.
The next time I stopped by the shop was to get a body mount chop to help solve the dreaded tire rubbing issue that every off-road enthusiast experiences. Everyone knows the age-old question… What's the biggest tire I can fit on my stock Tacoma?
Tire Rubbing Issues? They Got You!
After that deer wrecked my truck, I had the hardest time getting the alignment just right. I never really had tire rubbing issues before the wreck, but after I couldn't seem to get rid of the rub. I stopped by Outlaw, and they did phenomenal work on the body mount chop.
I mean, the work they did looks like my Tacoma came like that straight from the factory. They shaved off an entire inch, hammered the lip, and painted it black to match. It was so precise and clean that you wouldn't be able to tell it had been altered at all.
Overall & Final Thoughts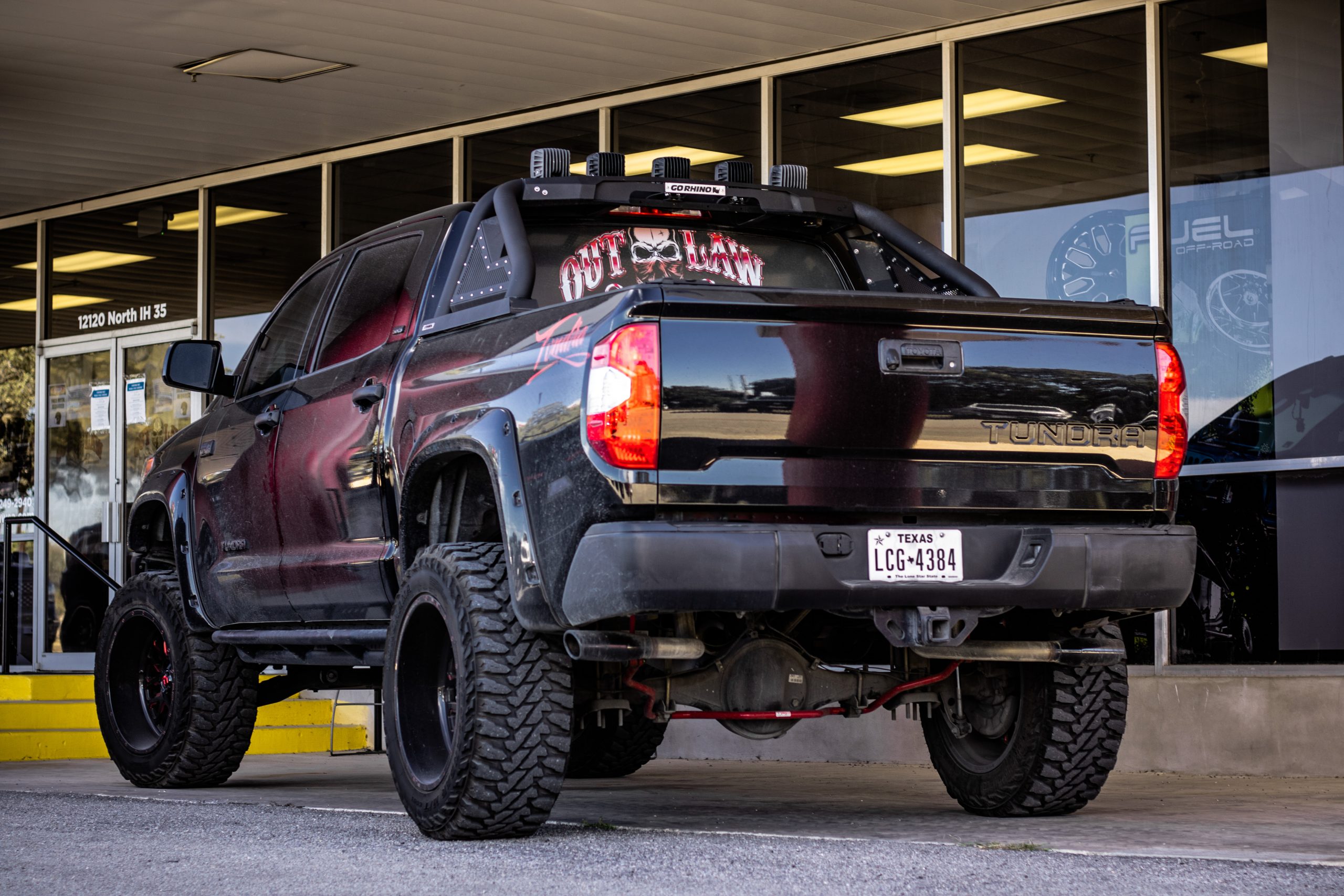 Nothing but Good Experiences
I have gone to these guys in the past on more than one occasion and they never disappoint. They are knowledgeable as well as gifted when it comes to all things off-road.
The shop has been up and running since 2018, and is located on 12120 I-35 N San Antonio, Texas. They're located in the same lot as a major Toyota dealership, and work hand in hand with Tundras and Tacomas on a regular basis, so they know very familiar with the Toyota platform. The team at Outlaw has more than 35 years combined of automotive experience and working on customizing rigs. There isn't a job they can't handle.
Their customer service is unparalleled, and I am always greeted as soon as I walk in the door. From the managers down to the mechanics, they are all more than willing to help answer any question you have. They do just about everything you can think of.
Services Offered
Wheels and Tires
Suspension Upgrades (Lifting, Lowering or Leveling)
Upholstery
Sound Systems
Wiring
Grilles
Bumpers
Vinyl Wraps
Led Lights
Body Mount Chops
Add to that list just about any other accessory or modification, you would want to add to your vehicle.
These are the guys that the experts go to when the experts need help. Since I started my overland build for my Tacoma, I won't let anyone else lay hands on my truck beside them. I trust their work, I know their work, and I know that no one else can do it better.
If you are in the great state of Texas, and you aren't making the trip to Outlaw Off-Road + Performance then you are truly doing a disservice to yourself. These guys provide exceptional work that is fairly priced. Do yourself the favor, and customize your ride with Outlaw.