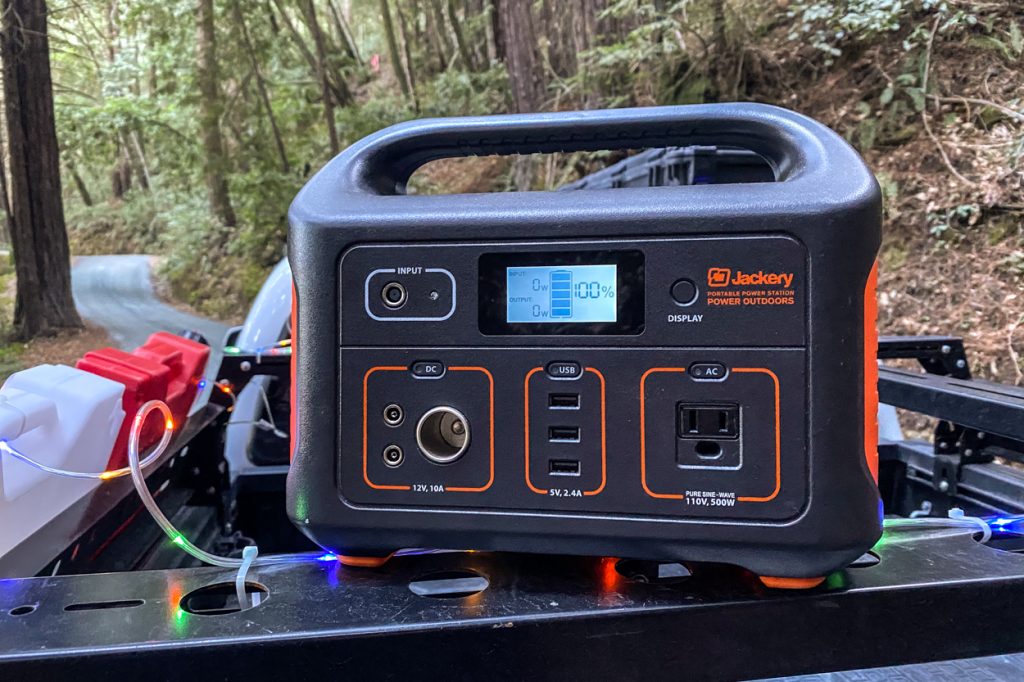 The Jackery Explorer 500: An Outdoor Essential Portable Power Station on Demand for Working at Home or Exploring
How many times has a power outage completely disrupted your life? Over the past few months, this has been a recurring issue for us California residents and rolling blackouts can really be a pain in the butt.
What about having a lack of power while out on the trails? How do you power essentials such as fridges or auxiliary lighting? This is where the Jackery truly shines. I know; when you're exploring the great outdoors, you shouldn't need all those creature comforts. But hey, glamping is a thing. And the more convenience you have, the more time you can spend doing what you love.
Find It Online
Jackery Explorer 500 Portable Power Station: Check Price
Emergency Power & Peace of Mind
I keep the Jackery around as an emergency power source.
Pictured above, I have it charging my handheld radio. This is great for long periods of time camping or on the trails. And while you can charge most of your equipment from your vehicle, this could drain your battery and also use up precious fuel.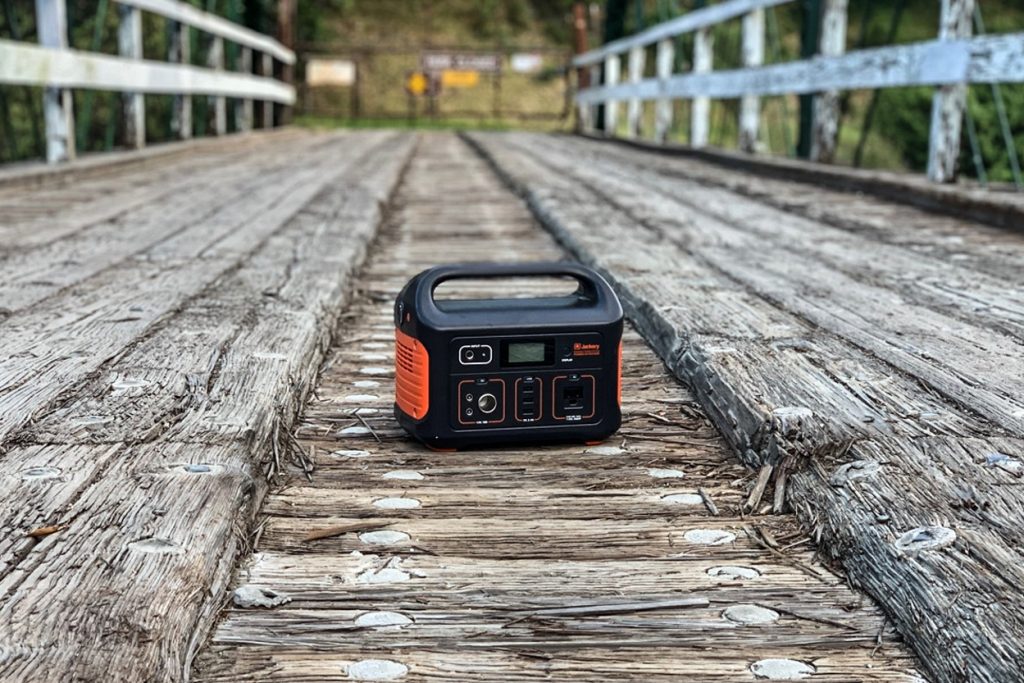 I also keep the Jackery around for when the power goes out. It can charge flashlights, lanterns and cellphones.
It can also power portable fridges and emergency radios. The Jackery can give families at home peace of mind—not just on the trail.
Kit Contents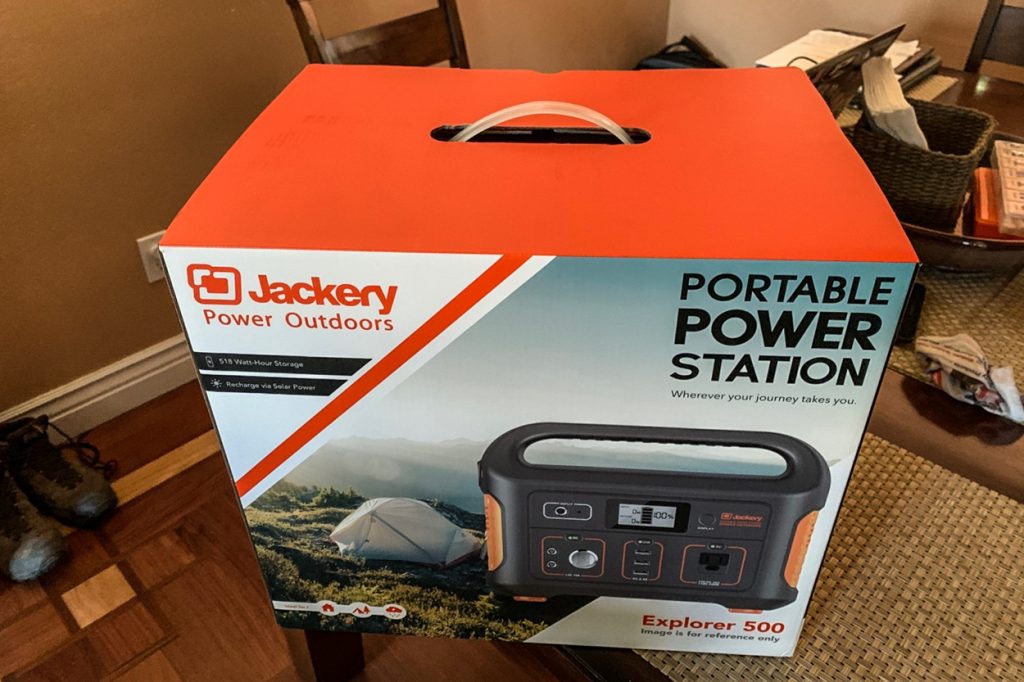 Jackery ships every power station with detailed usage and maintenance instructions.
Also included is the:
Car Charging Cable
AC & AC cable (two parts)
Portable Power Station
Specifications & Features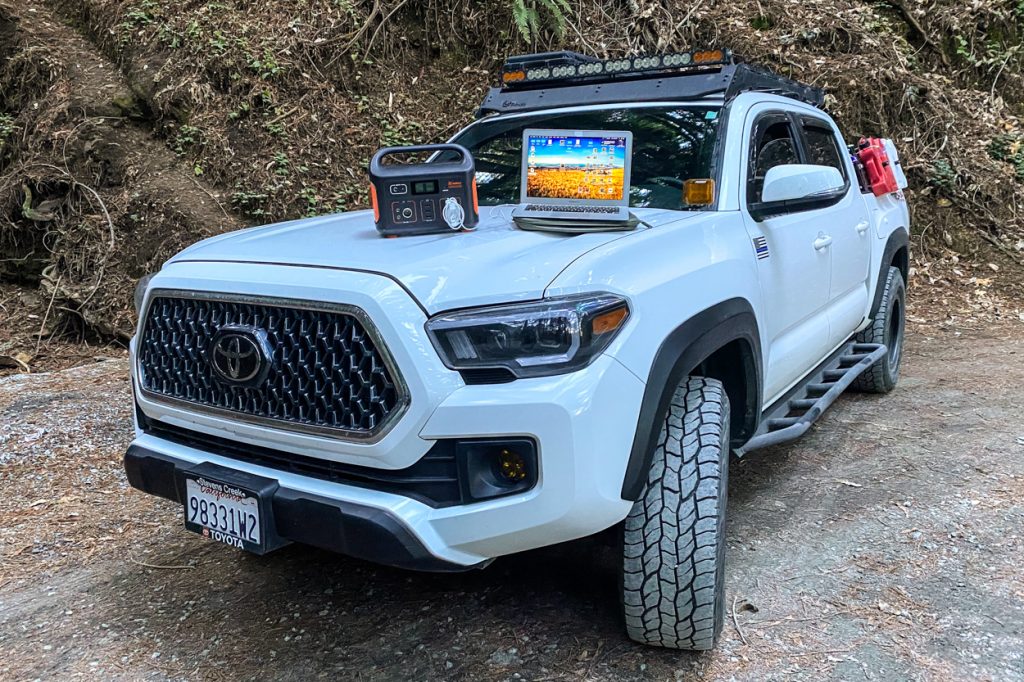 Specs and features include:
Lithium battery powered
518Wh/144,400mAh battery capacity
500W Rated Power
1000W Surge Power from the pure-sine wave AC port
Portable and lightweight – Only 13.32 lbs with an easy-carry handle
All-in-one portable power station: includes three USB ports, AC outlet, and 12V car output
12vdc Regulated Power
Jackery Explorer 500 portable power station provides stable power to mainstream electronics and small appliances, from TVs, projectors to small blenders, a pellet smoker, etc
Recharge the power station in three ways – AC outlet, DC carport or via optional solar panels
Unlimited green power solution – Efficient solar charging with MPPT built-in makes it a solar generator for outdoor recreations
The LCD screen with charge/discharge data and battery life status
Size
To give you a sense of how big the Jackery 500 is, below is a picture of it next to some common items.
Jackery VS Bluetooth Speaker SIze
Jackery VS MacBook Air Size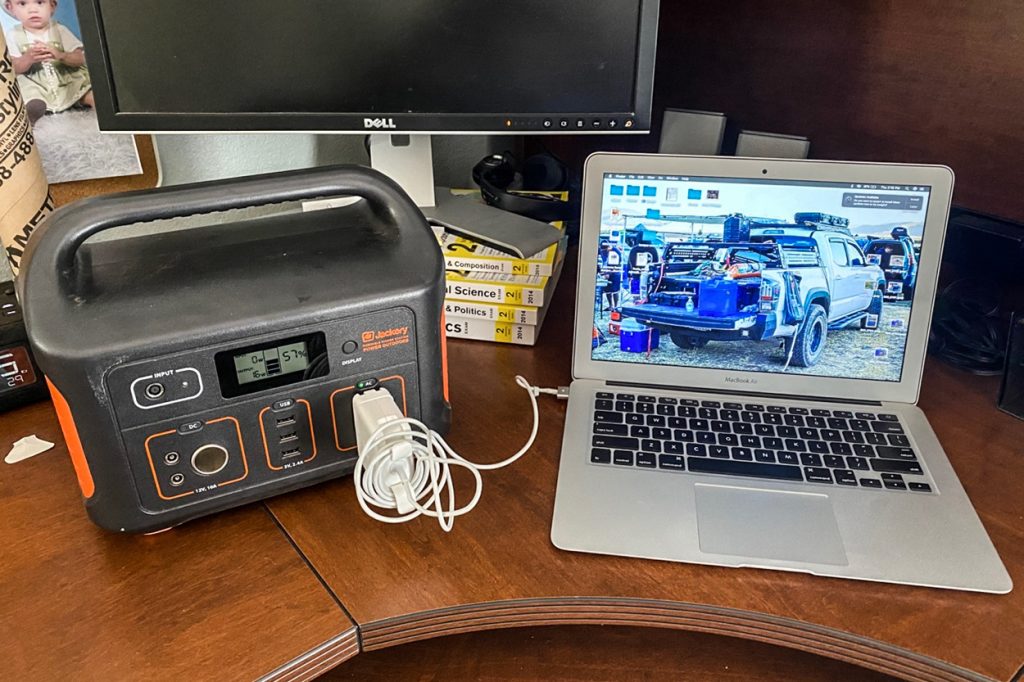 Pros
Pros For the Jackery 500 Portable Power Station:
Portable and easy to use
Multiple charging options

I've used the wall and car chargers
Unfortunately, I don't have the solar charger to test out. I did do some research and from what I have seen it is just as reliable

The LCD screen is easy to read, and it has a backlight when you want to view it in low light or no light situations
Multiple devices can be charged at the same time
Easy to keep clean
Cons
The only cons I really have are subjective:
I wish it had a second AC port so I could charge my laptop and run a lamp
The housing is made of a hard plastic with rubberized feet which is durable but not drop safe. I've thrown the Jackery into the bed of my truck and it has held up. But if you were to drop it, I don't think it would hold up very well
Models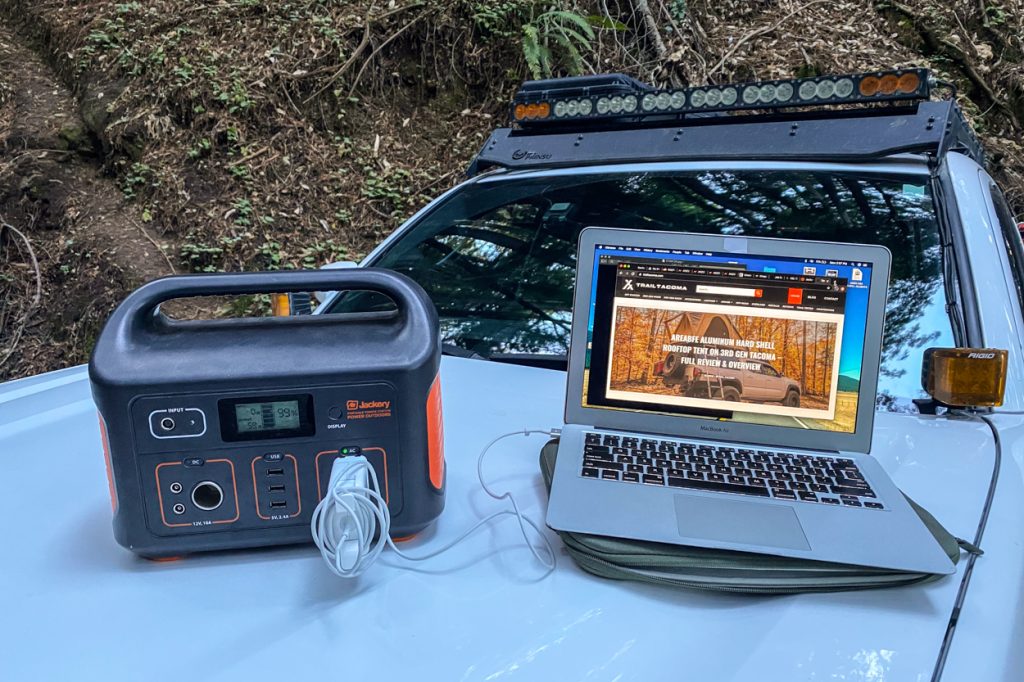 Maybe you need something bigger or something smaller. Jackery has different models to fit your needs. they range from around $140 to $1000. Check them out and see their other options on their website Jackery.
The 500 is just right for what I need it for. Maybe you want 1000 for off-grid living or longer stints on the trail. You could also choose the 160 just to have it in your car at all times for emergency cell phone charging.
Can't hurt to invest in one of these power stations. They also offer bundles that include the solar charger and the power station. You should be able to save some money by buying everything at once, or you can purchase items one by one according to your needs and budget.
What Can It Power?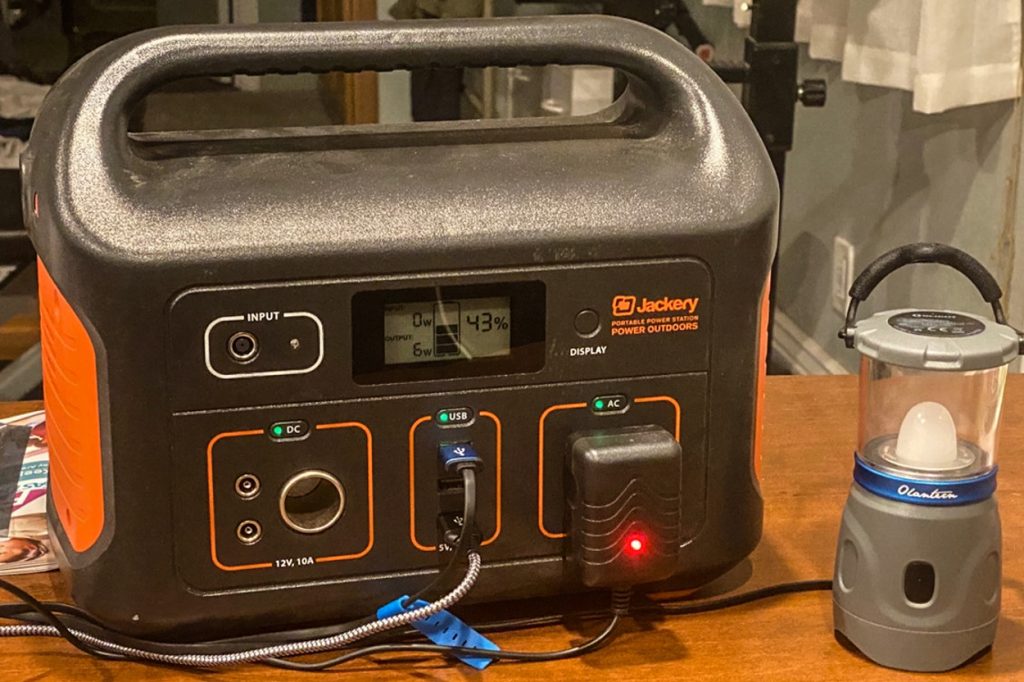 Everything has its limits, even the Jackery. I have charged phones and laptops, a portable fridge, lights and an electric fan.
Others have used it for coffee makers and blenders. Here are the specs for each plug to give you an idea if it will work for you!
Port/Plus Specifications
AC Output: 110VAC, 60Hz, 500W (1000W Surge)
USB-A Output: 5V, 2.4A
Car Output: 12V, 10A
DC Output: 12V, 7A
DC Input: 12V-30V (100W Max)
Final Thoughts
Jackery makes a solid product that lives up to my expectations and others that have tested it out.
My expectations and requirements are simple: it does what it's supposed to when I need it to… and generally, in times of duress. It has saved me a few times when on the trails and when the power has gone down.
It is worth every penny and I intend on adding the solar panel next just to have that extra charging capability. I haven't had any issues with it not charging and the overall fit and finish are excellent. I would highly recommend getting one regardless of the model.