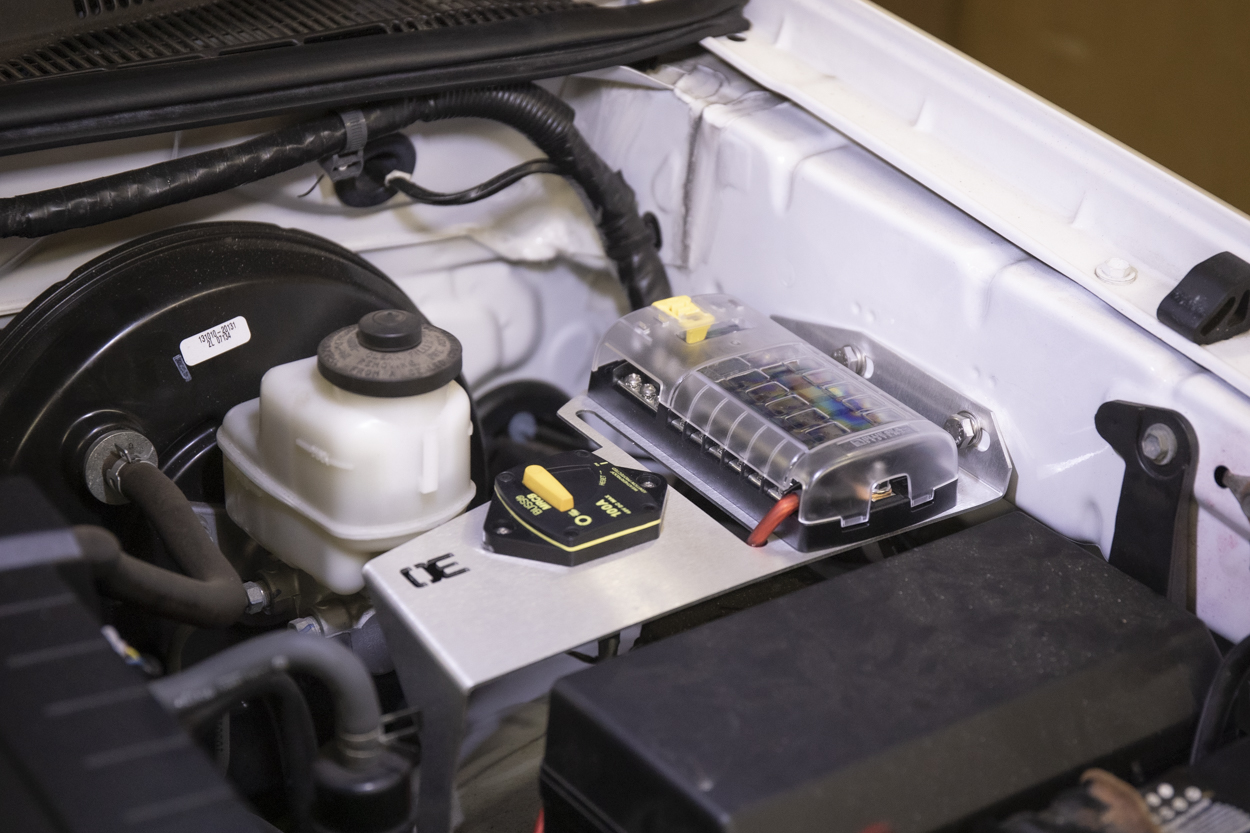 Pre-Built Fuse Block Tray with Blue Sea Fuse Block & 100amp Breaker – For 2nd Gen Tacoma (2005-2015) – Wire Management System for the Tacoma
If you are looking for the perfect plug and play fuse block tray for your Toyota Tacoma, Overland Equipped has it.
The Overland Equipped auxiliary power tray comes with everything you need to run a simple power solution in the engine bay of your Tacoma. The kit seen here comes with the mounting bracket, fuse block, breaker, power and ground cables, and mounting hardware. If you are looking to have an organized set up for running electrical cables throughout your engine bay, consider the Overland equipped pre-built tray.
Overland Equipped includes their 2nd Gen Tacoma specific mounting tray, a Blue Sea Systems 12 circuit fuse block, a 100 amp 187 Series Thermal Circuit Breaker from Blue Sea Systems, and they even pre-run the positive and negative leads that you need to power the entire circuit. This is the ultimate plug-and-play solution for having a centralized location to run all of your electrical accessories.
The only thing that the system is lacking is a switch panel, however, most of the accessories provided on the off-road market today provide you with a switch. The beauty of this pre-built tray with a fuse block is that you can use it as a central hub to wire your accessories that come with a relay and switch. Or, you might want a setup like this if you don't want a switch panel, and you would rather run a few factory-style switches like the well-known options provided by AIR On Board.
If however, you are looking to run a switch panel circuit box on this tray, you can more than likely shift the components around to better suit your needs or you can also buy a blank tray (no accessories mounted) from Overland Equipped as well.
When it comes to running clean wires for electrical accessories, look at Overland Equipped for vehicle-specific trays and pre-built power kits.
Find it online: 
Overland Equipped Power Kit Tray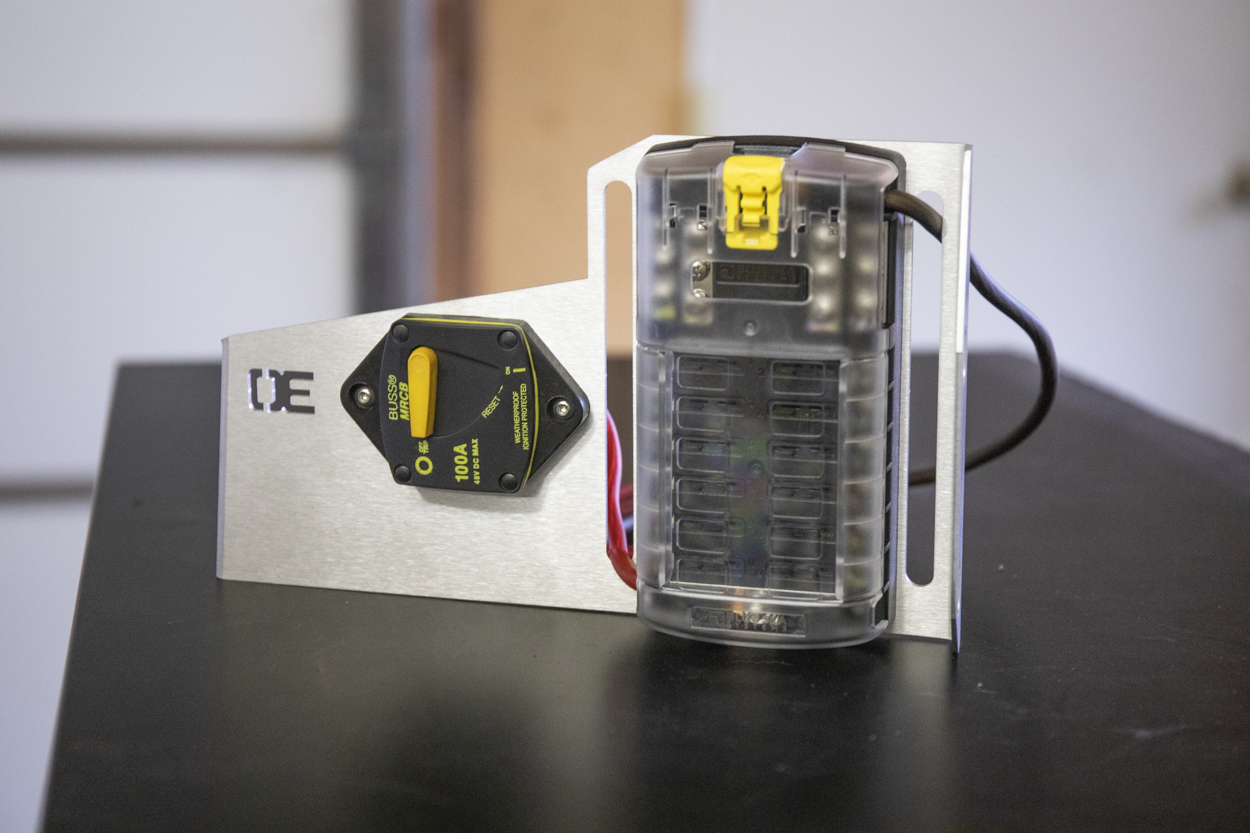 Overland Equipped makes a handful of overland-specific products, but they are most notably known for their switch panel trays, and pre-built auxiliary trays (seen here). They offer a wide variety of products for the Toyota Tacoma, FJ Cruiser, and 4Runner.
Their trays are all made of brushed aluminum which provides a clean custom finish. The trays are incredibly lightweight and durable. All of their products are completely plug-and-play, utilizing all of the factory bolt locations on the Tacoma, and all of the hardware needed for the install is provided. Overland Equipped offers a limited lifetime guarantee on all their products and they proudly manufacture their products in Portland Oregon.
Features and Benefits
Brushed aluminum
Lightweight
Mounts to factory OEM positions
Blue Sea Systems Products
Pre-terminated cables
Stainless steel mounting hardware included
Limited Lifetime Guarantee
Made in the USA
What's included
1 X Brushed aluminum custom bracket
All stainless steel mounting hardware to mount bracket to factory tapped positions and mount components to the bracket
3 X 8-gauge power and ground cables
1 X 12 Circuit ST Blade Fuse Block by Blue Sea Systems
1 X 100 amp 187 Series Panel Mount Circuit Breaker by Blue Sea Systems
Installation Overview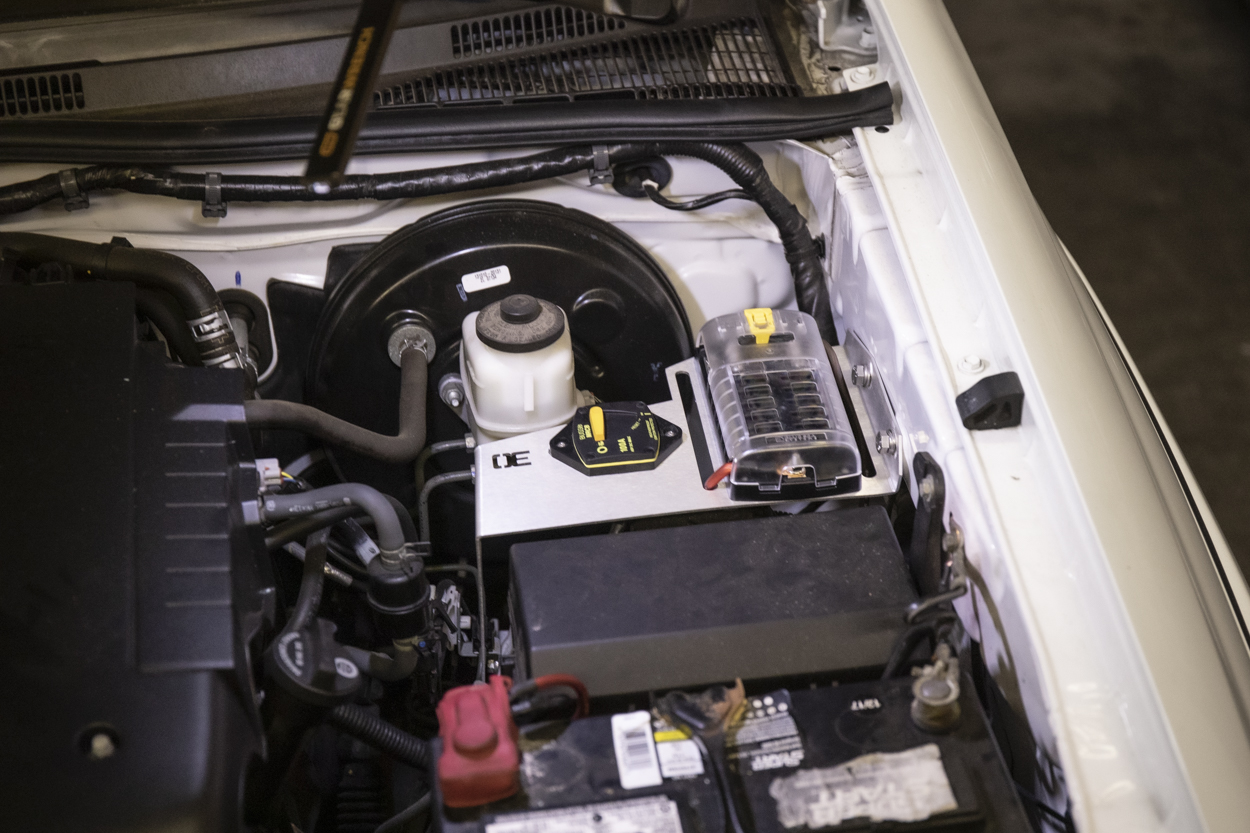 The installation for the Overland Equipped tray is very simple. Minimal shop tools will do. You won't need more than a socket set to get the job done.
The cool part about having this tray pre-assembled is that the whole thing ships with all the parts and components already on it. The whole unit ships with the Blue Sea Fuse components pre-assembled and the cables connected plus cut to the exact length you need to connect to your battery terminals.
Step 1. Disconnect the negative battery terminal
Before beginning the install, it's always a good idea to disconnect the negative battery terminal.
Step 2. Locate Lower Fender Bolt
Start by locating the lower fender bolt.
Step 3. Remove Fender Bolt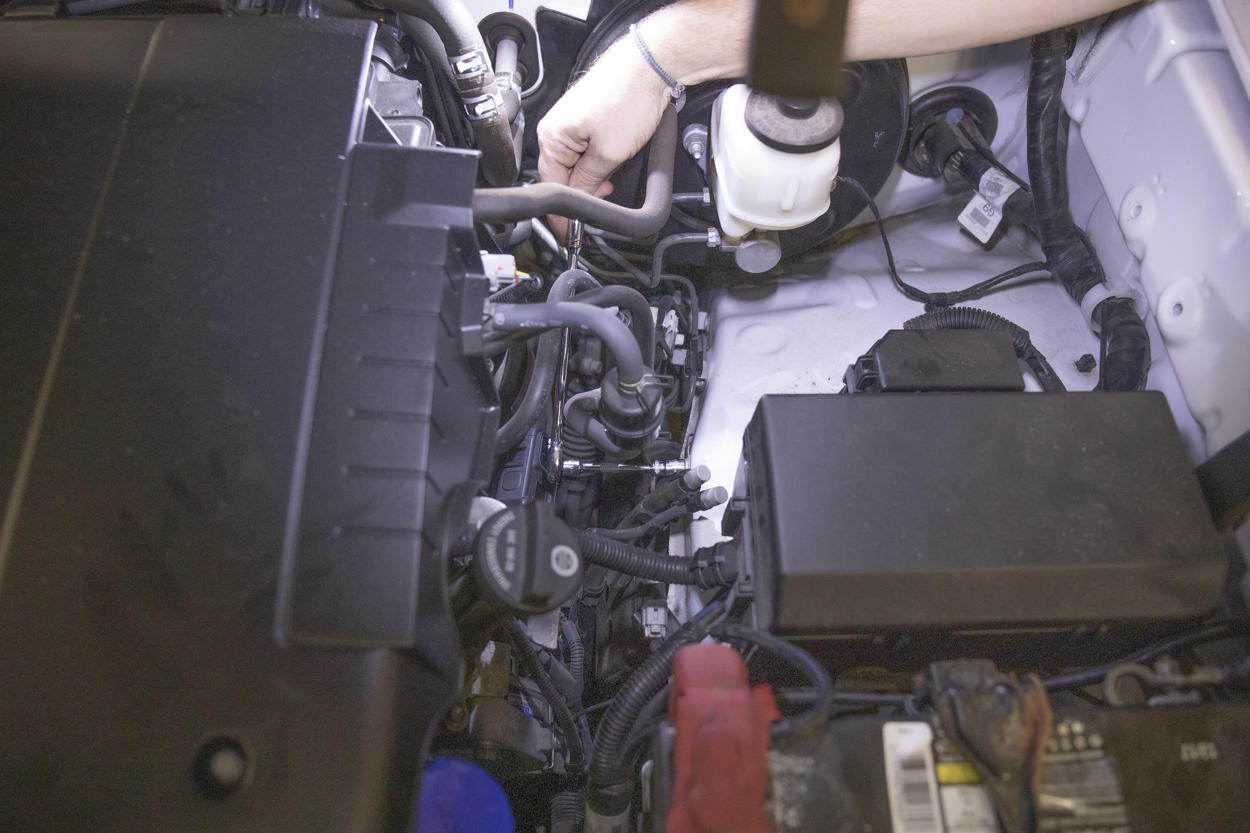 Using a 6″ extension, proceed to unbolt the lower fender bolt.
Step 4. Place Auxiliary Tray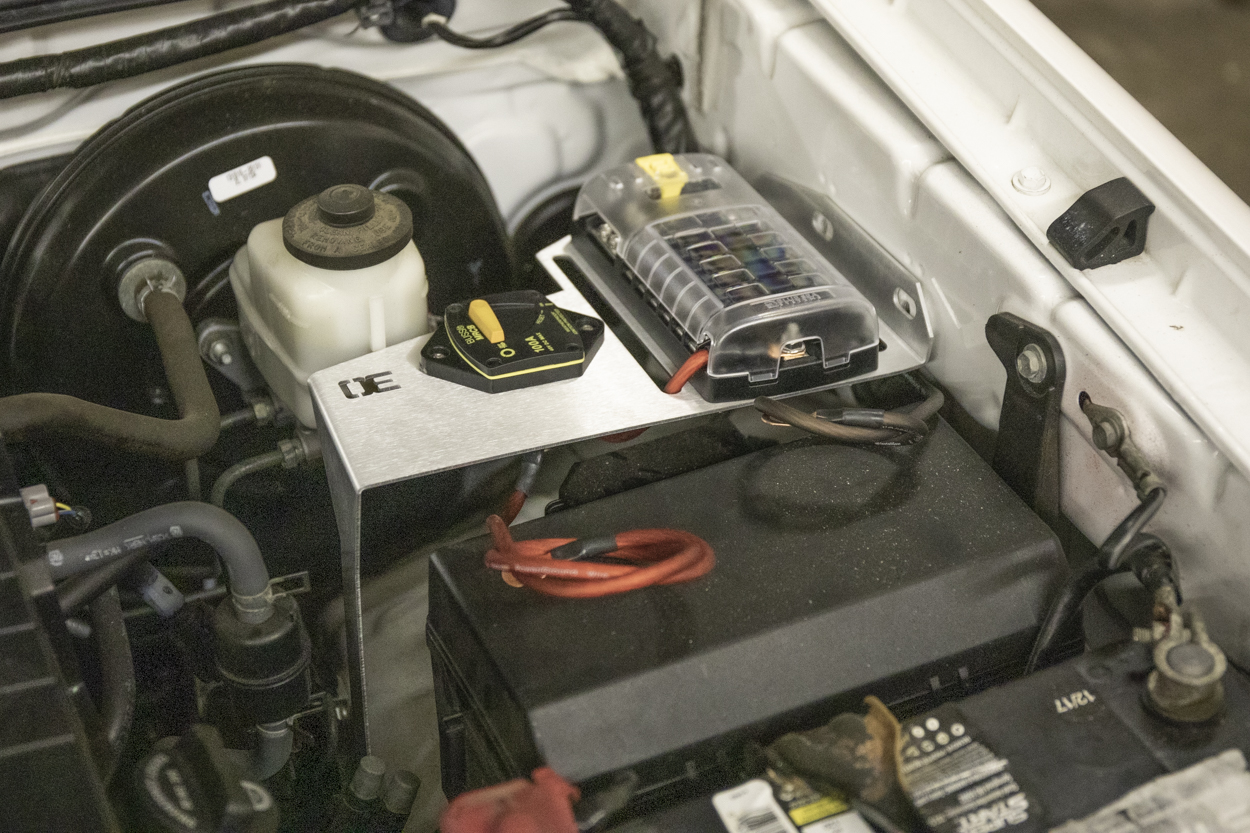 Loosely set the tray into place.
Step 5. Ground Cable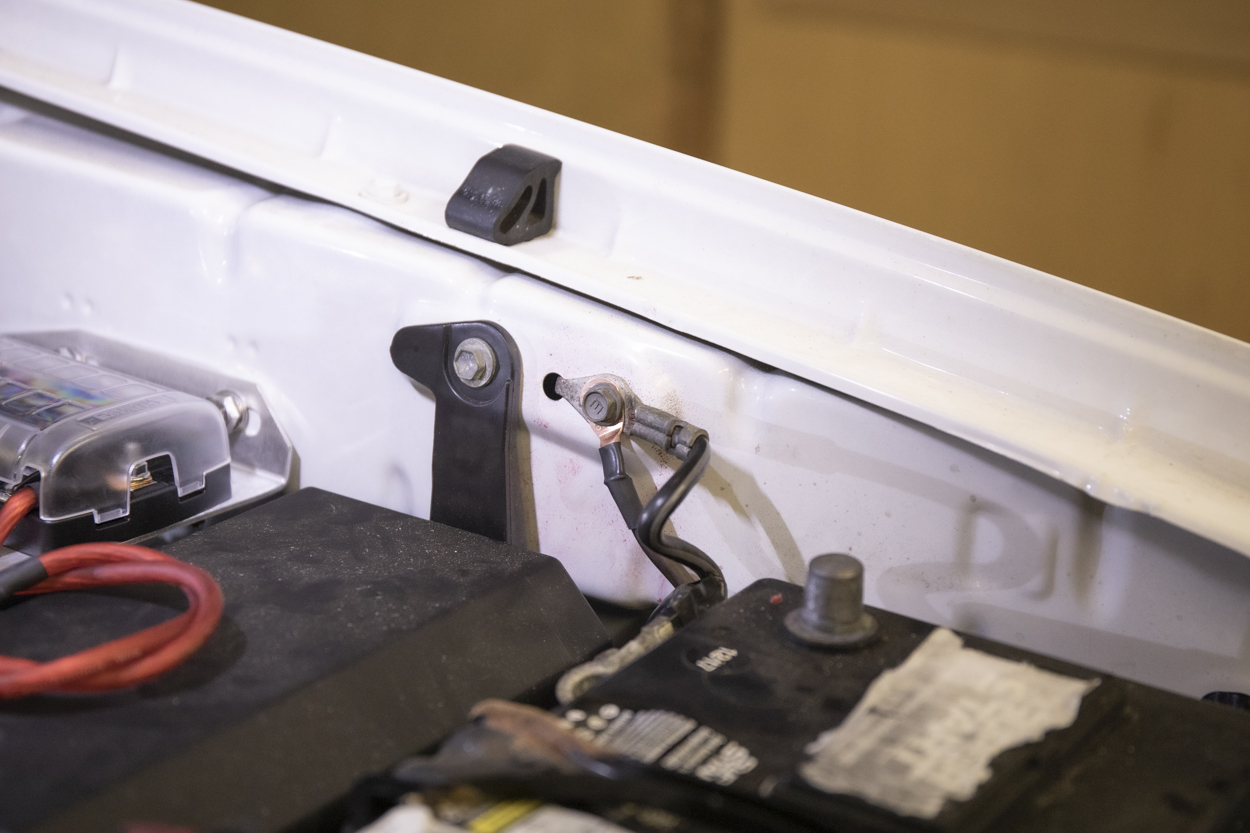 Run the negative ground cable to a firewall ground point or to the negative terminal on your battery. If you plan on mounting multiple relays on the firewall, it may be a good idea to run the negative cable directly to the battery terminal.
Step 6. Secure Fender Bolt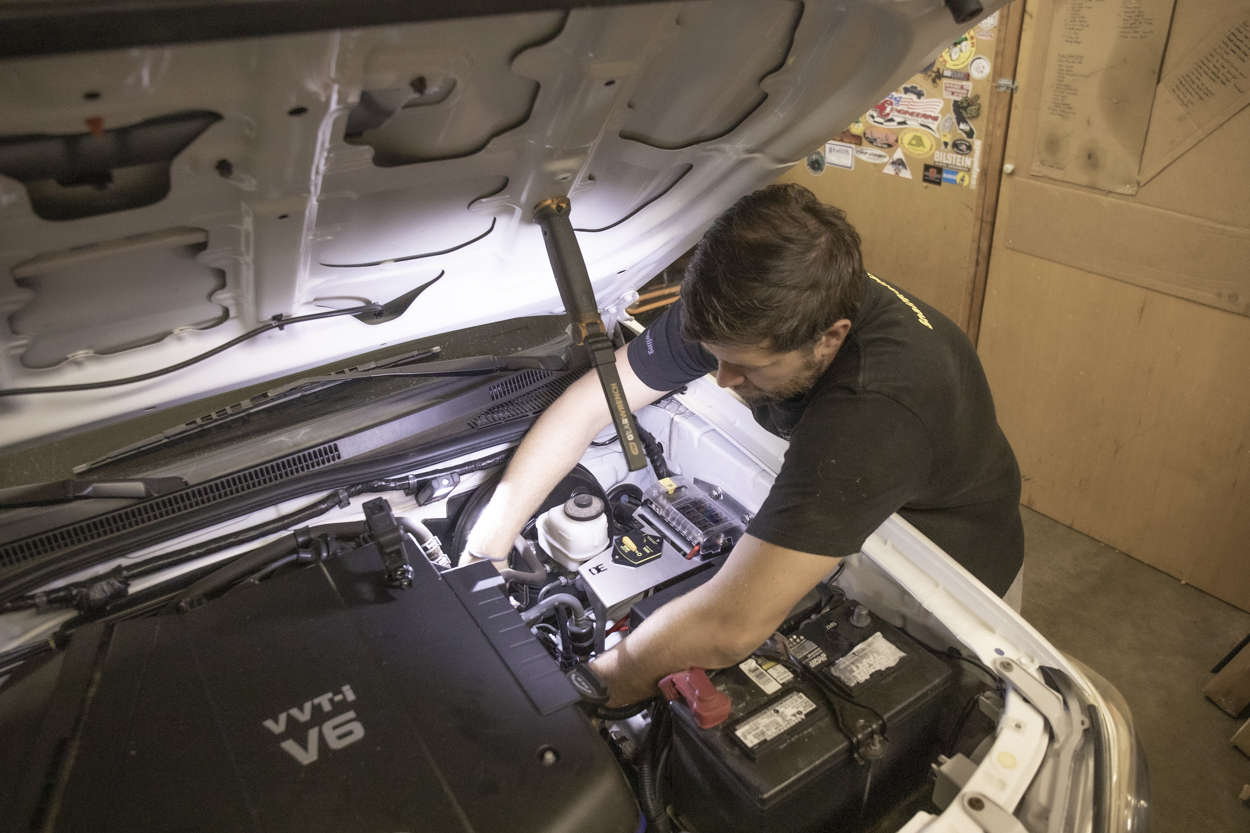 Secure the lower fender bolt loosely in place.
Step 7. Positive terminal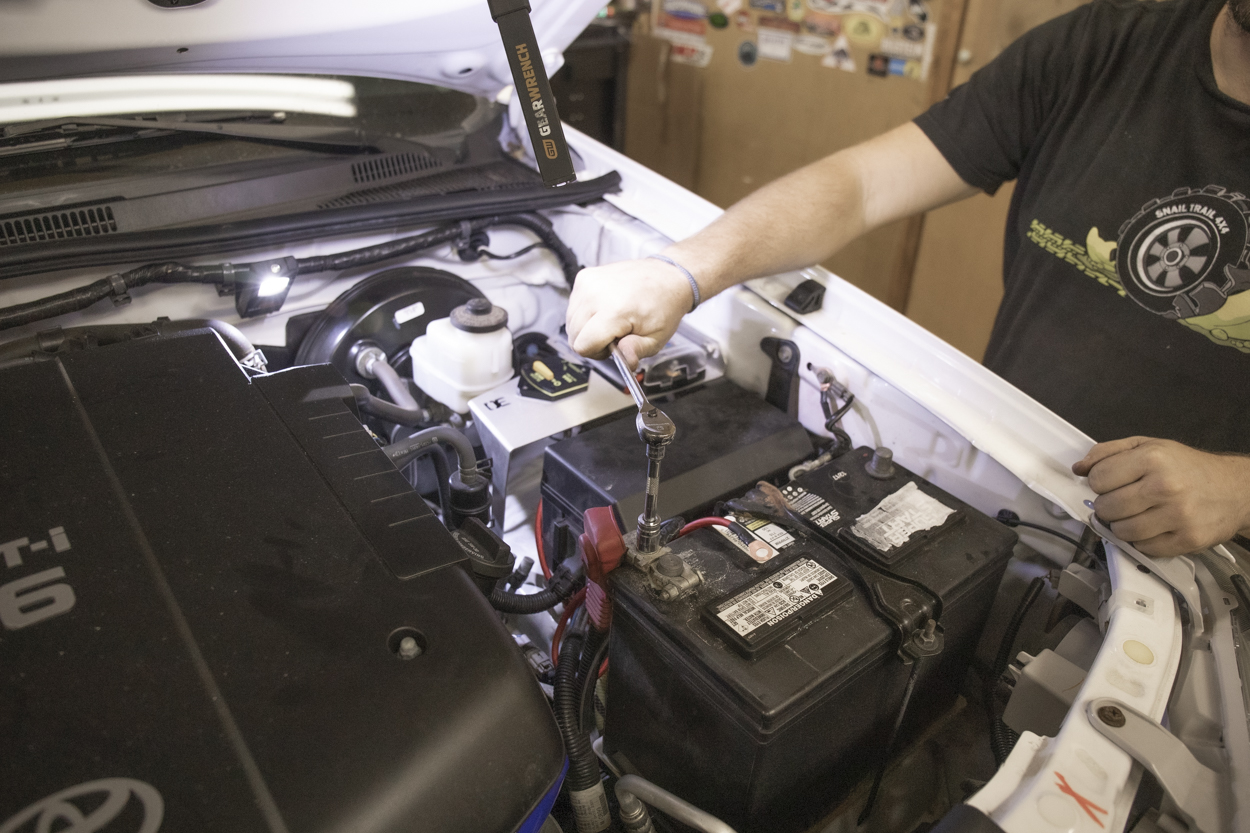 Connect the positive lead from the Overland Equipped tray directly to the positive terminal on your battery.
Step 8. Locate bolt holes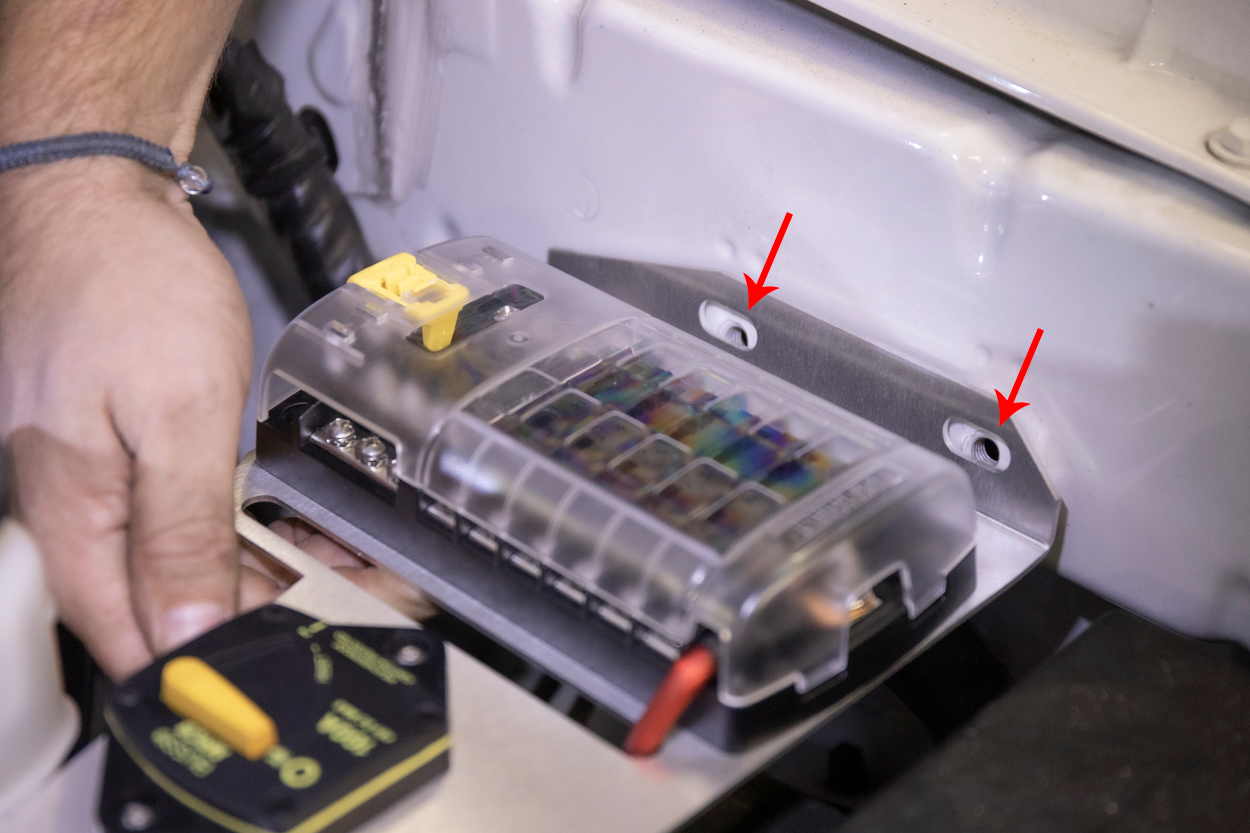 Once you have finalized your wiring route for your positive and negative leads, proceed to bolt the tray into place against the firewall.
Final Thoughts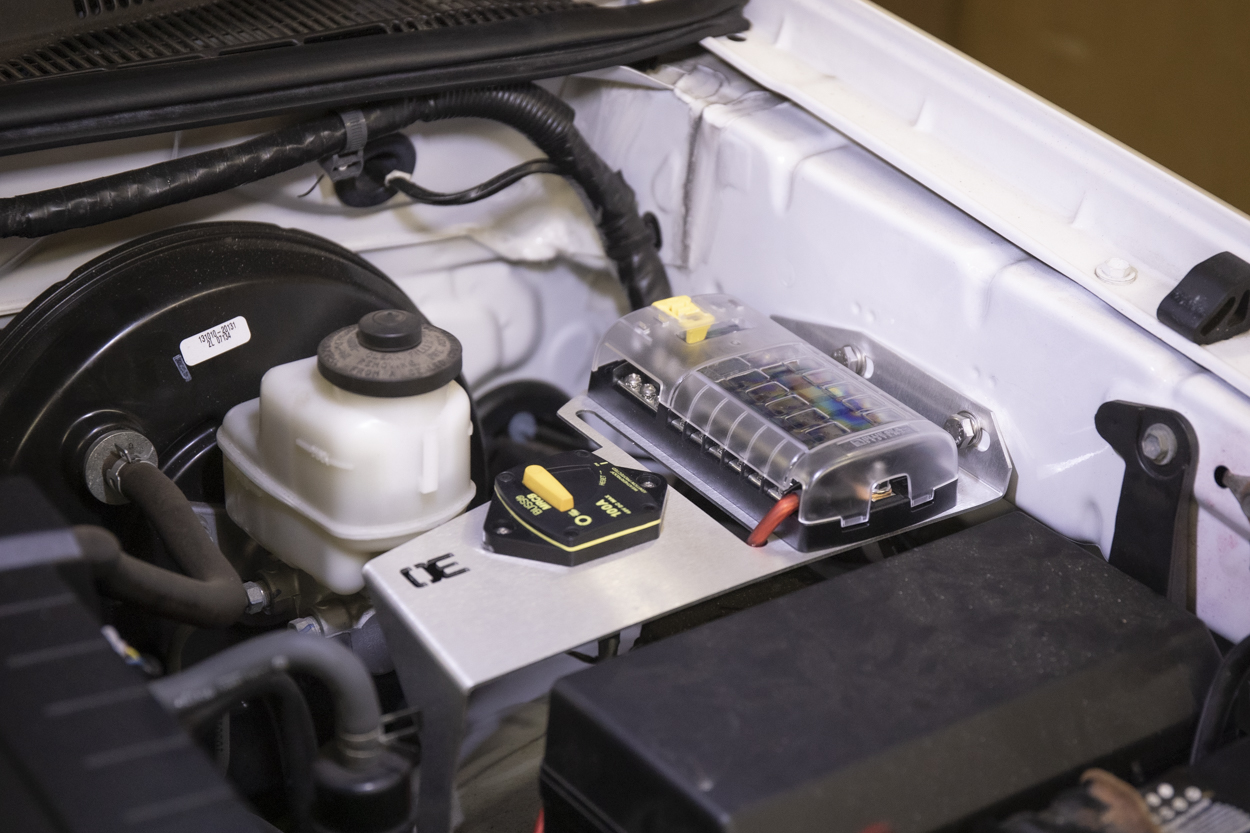 This is a good solution if you are looking to keep your accessory wires clean and organized in the engine bay.
Because I plan on running a switch panel in the Tacoma, I will eventually add a switch circuit box to the tray. For now, this is a great start for some of the initial accessories I have planned for the truck.
I have run the Overland Equipped tray on my 4Runner with a DIY switch panel and it's been great so I expect the same outcome on the Tacoma.