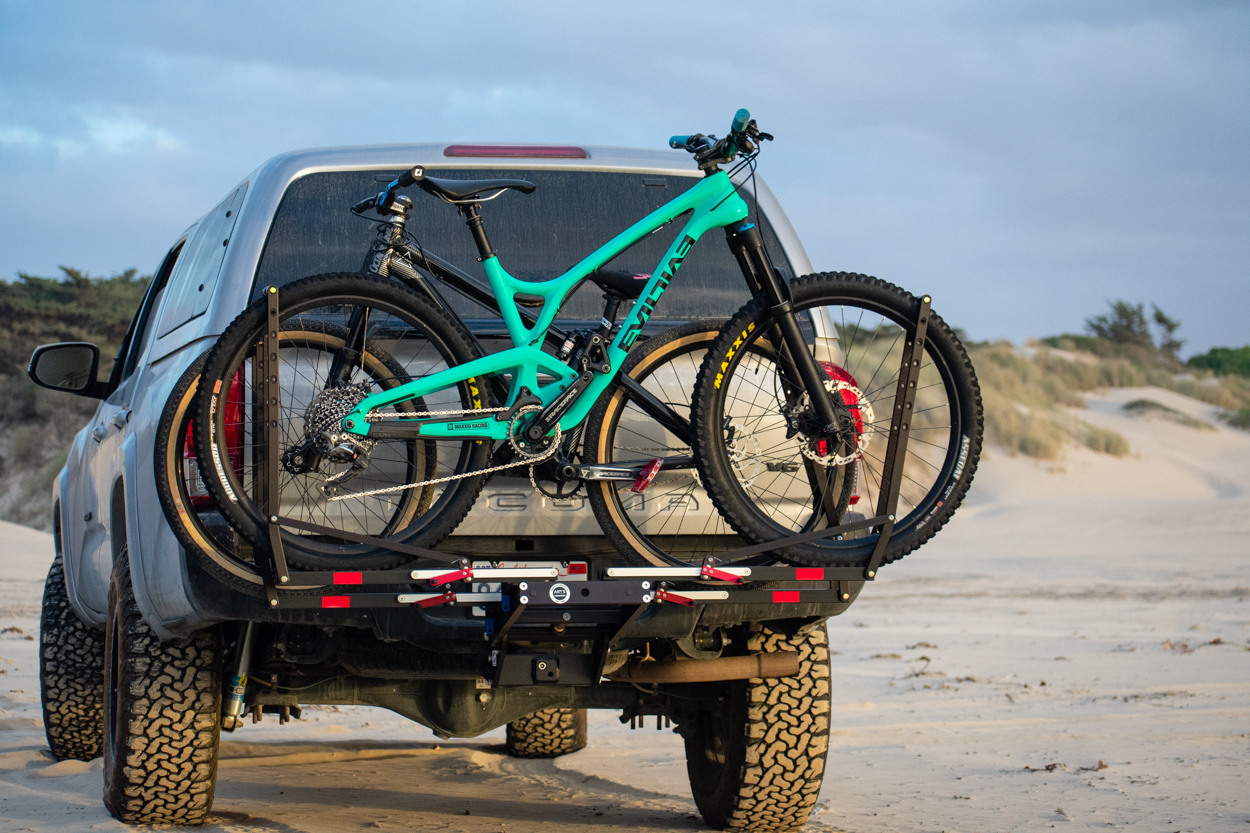 1UP USA 2" Heavy Duty Double Bike Rack – Full Review & Overview For the 3rd Gen Tacoma
In the mountain bike community, Tacomas seem to be the go-to option for many of us because of their size, reliability and off-road capabilities that allow us to explore remote locations with our bikes and trucks alike. Among the hundreds of various reasons to own a Tacoma, being able to transport bikes easily in several different ways is a huge advantage for road bikers, mountain bikers and everyone else in between.
Recently, I had a SnugTop Super Sport Topper installed on my 3rd Gen TRD Sport for storage and camping purposes. Although I absolutely love having the shell over the bed of my truck, the biggest drawback has been that I can no longer use my tailgate pad to transport my bikes.
So, I began my search for an alternative method of transporting my bikes and decided on the Heavy Duty Double made by 1UP USA.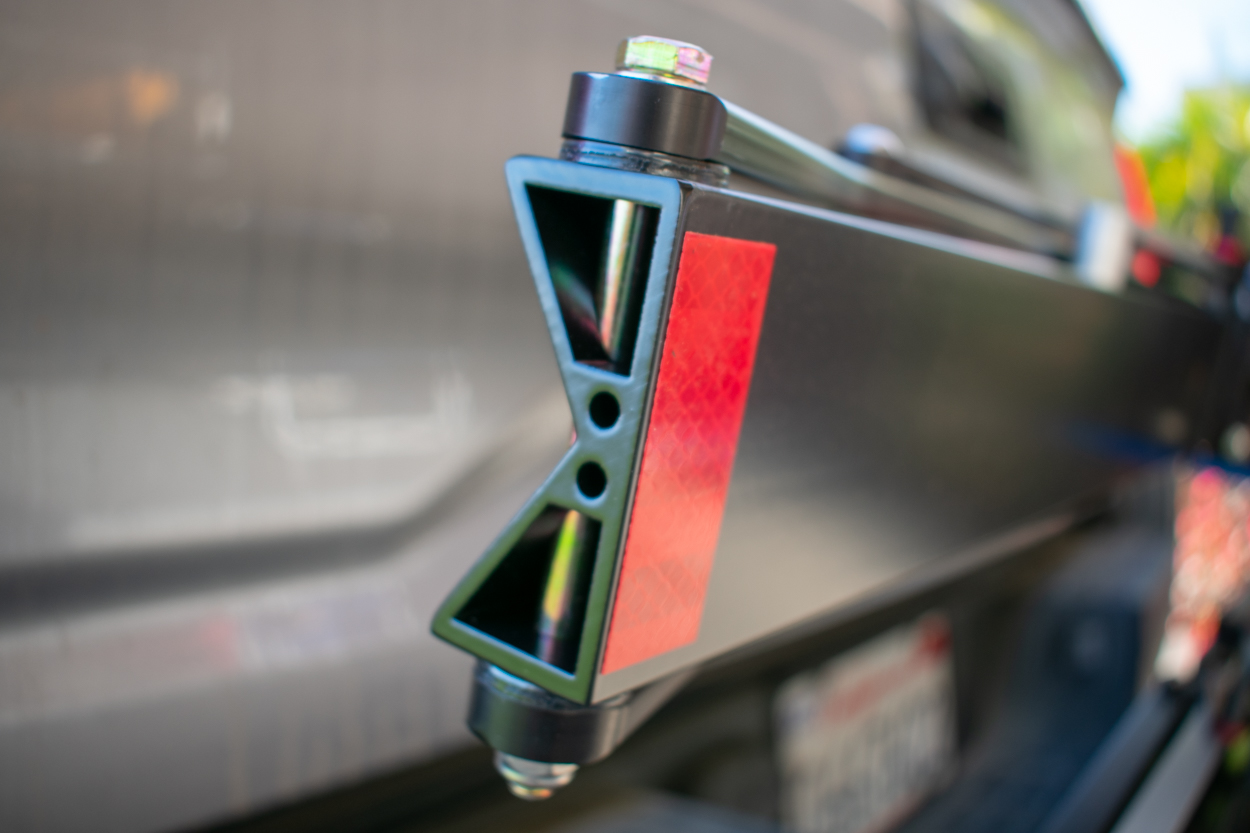 1UP has been making products for the cycling community since 2001 with the sole focus of making it easier to get out on an adventure, hassle-free. I've had their bike rack on my truck for enough time now to experience the pros and cons of this product. So with that said, let's get into the details and my personal opinions of the 1UP rack.
Find It Online
2" Hitch Mounted Heavy Duty Double Bike Rack: Check Price
Build & Features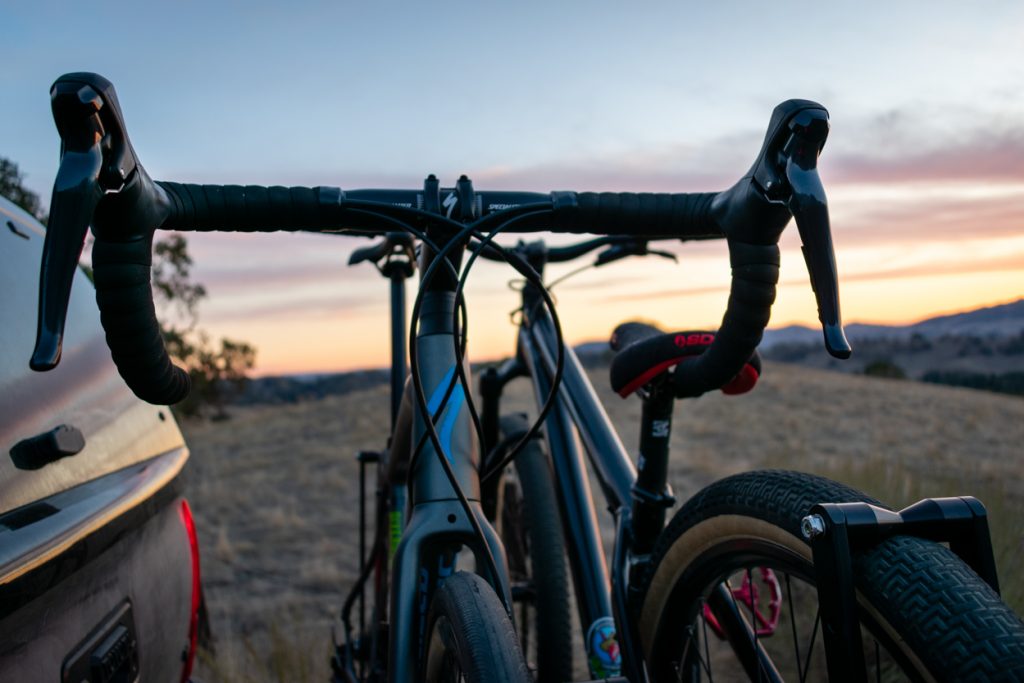 The hitch for this particular rack is meant for a 2-inch receiver, which is what comes on Tacomas with the towing package. Most bike racks on the market tend to have a wobbling issue, meaning that they have stability issues, but 1UP has remedied this common problem by using what they call a corner expander ball. This is essentially a ball in the corner of the hitch that, when tightened, will expand into the receiver of your truck and secure the rack snugly.
This rack is compatible with any bike that has a wheel size between 16"-29" and it can fit any tire width up to 3.1".
For plus bikes or fat bikes with tires thicker than that, they offer a spacer kit for $35 that expands the tire width compatibility range up to 4.9". The largest wheelbase that the carrier can accommodate is 54″. The heavy-duty double can carry any bike, up to 50 lbs per tray.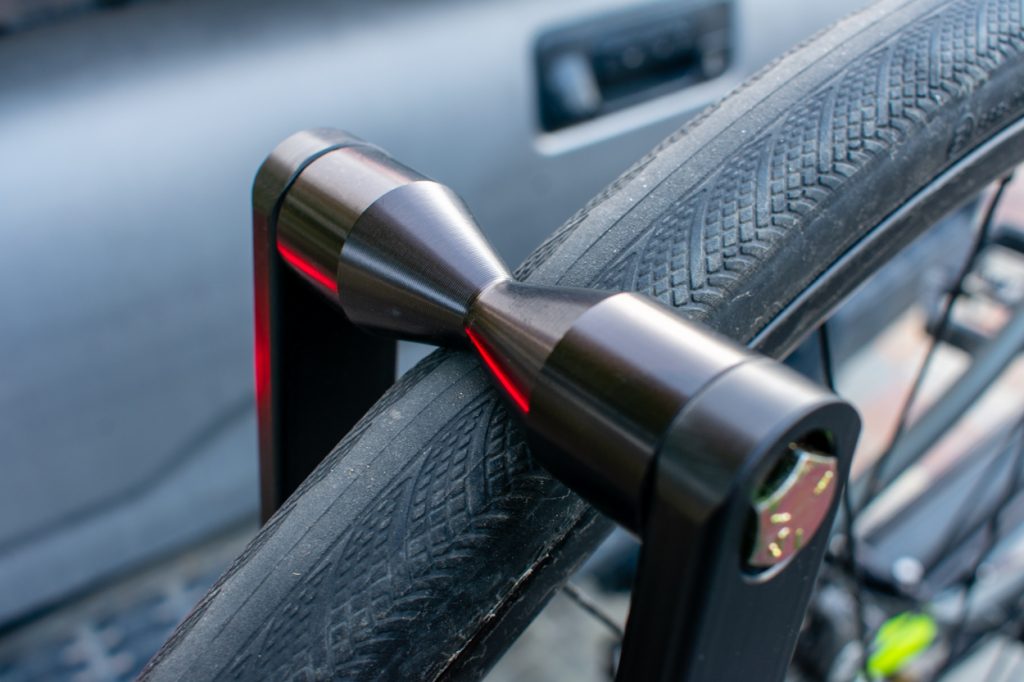 This particular rack comes with two bike trays, meaning it can transport up to 2 bikes, and 1UP sells add-on trays that allow you to carry up to 4 bikes in total. One major factor that attracted me to the 1UP is that the rack holds the bikes in place by ratcheting them down against the tires rather than the frame. This means that your frame is much less likely to be damaged during transportation.
The Heavy Duty Double weighs in at 46 lbs, which is not light, but it's also not the heaviest hitch rack on the market. It ships fully assembled in a folded storage position, making the rack easy to install and store in your garage.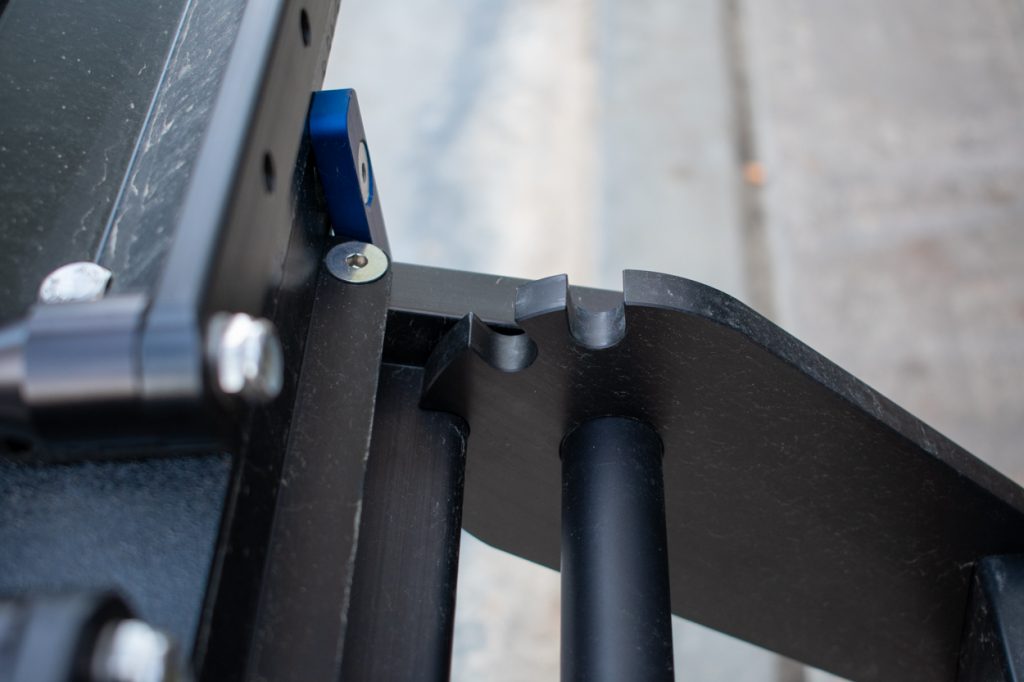 Finally, the rack has three tilted positions once installed on your truck: upright, angled, and flat.
This means when there are no bikes on it, you can have it vertically parallel to the tailgate so that it doesn't get in the way. The angled position is at about a 45-degree angle meant for cars that have an unusually bulky bumper, though this does not apply to Tacomas. The level position is meant for when you are transporting your bikes.
Notable Features:
Fits 2″ Reciever
Slot for Standard Hitch Pin Holes
Fixed 2-Bike System
Weight: 46 lbs
Can Carry 4 Bikes with Add-Ons
Carrying Capacity: Up to 200 lbs
Fits 16″-29″ Wheels (up to 3.1″ wide, unless you buy spacer kit)
Holds up to 54″ Wheelbase
Built-In Anti-Wobble Mechanism
Rapid Tilt & Folding Mechanism (space-saving)
Secure Bike with Touching Frame (avoids unnecessary damage)
Shipped in Reusable Box, Easy to Store
Compatible with Standard & Super Duty Add-Ons
Anodized Rack Parts (except for powder-coated trays)
100% Made in America
Lifetime Warranty
Install & Initial Impressions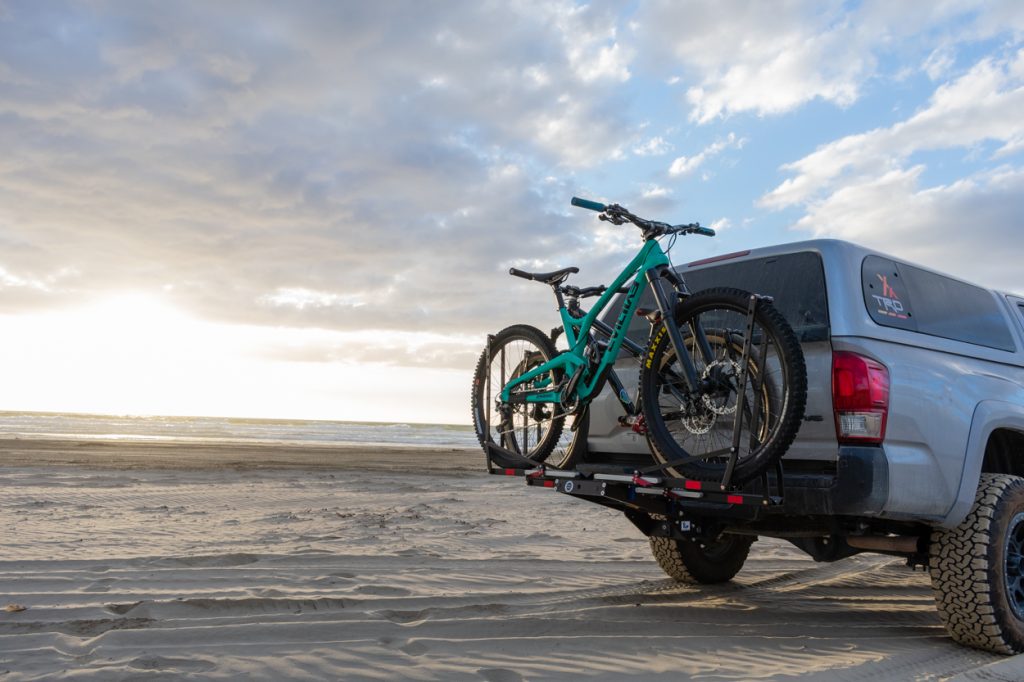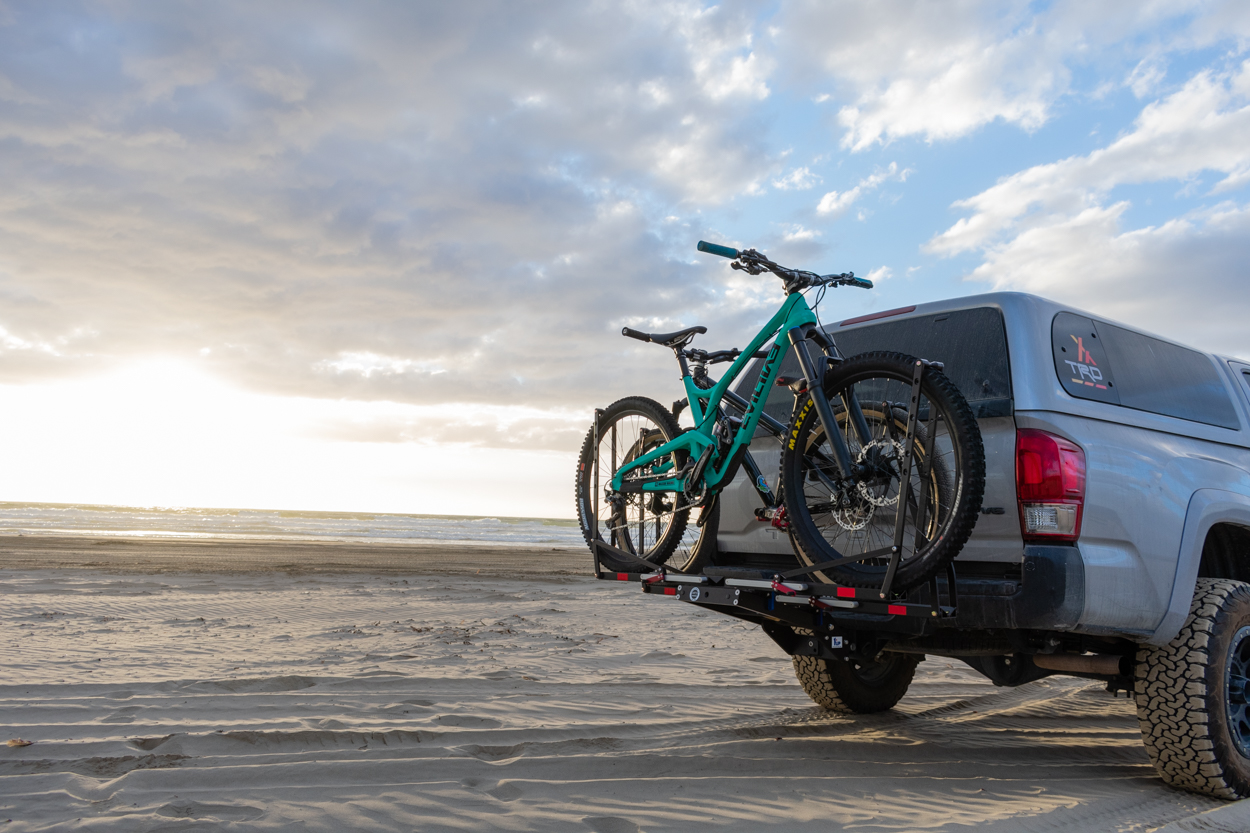 The Heavy Duty Double requires no assembly and, overall, is simple to install.
All you need to do is remove it from the box it ships in, fold the arms out to the sides, and then install it into your hitch receiver. To secure it to your truck, you tighten the bolt located behind the trays with 1UP's proprietary wrench until it is snug.
After completing the ten-minute install, I was remarkably surprised at the wobble-free construction of the 1UP. I pushed and pulled in every which way and it did not budge. Having experienced severe wobble when using various other hitch racks, I was stoked to see that this rack was particularly sturdy.
Loading Bikes
The process of loading bikes onto the rack is fairly simple.
Rather than using straps or finicky wheel holders, 1UP made their two-sided ratchet arms with ease and functionality in mind. The loading process can be completed rather quickly by making your rack level, opening the tire-holding arms, placing your bike in the tray, and cinching the outer arms down.
Step 1. Open Bike Rack to Flat Position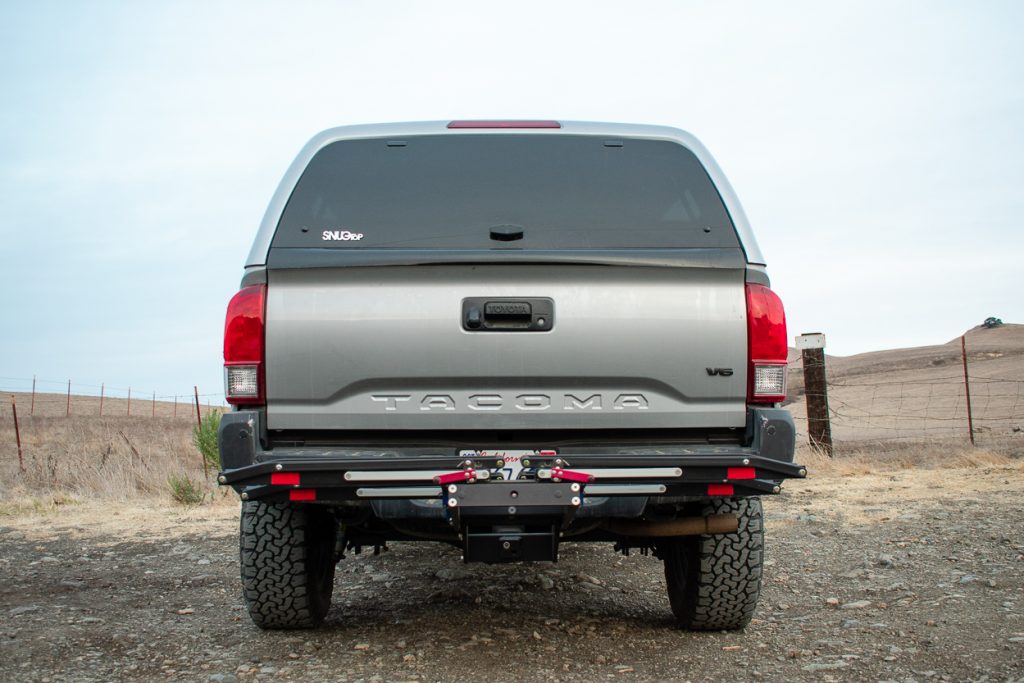 Step 2. Pull Red Levers & Open Securing Arms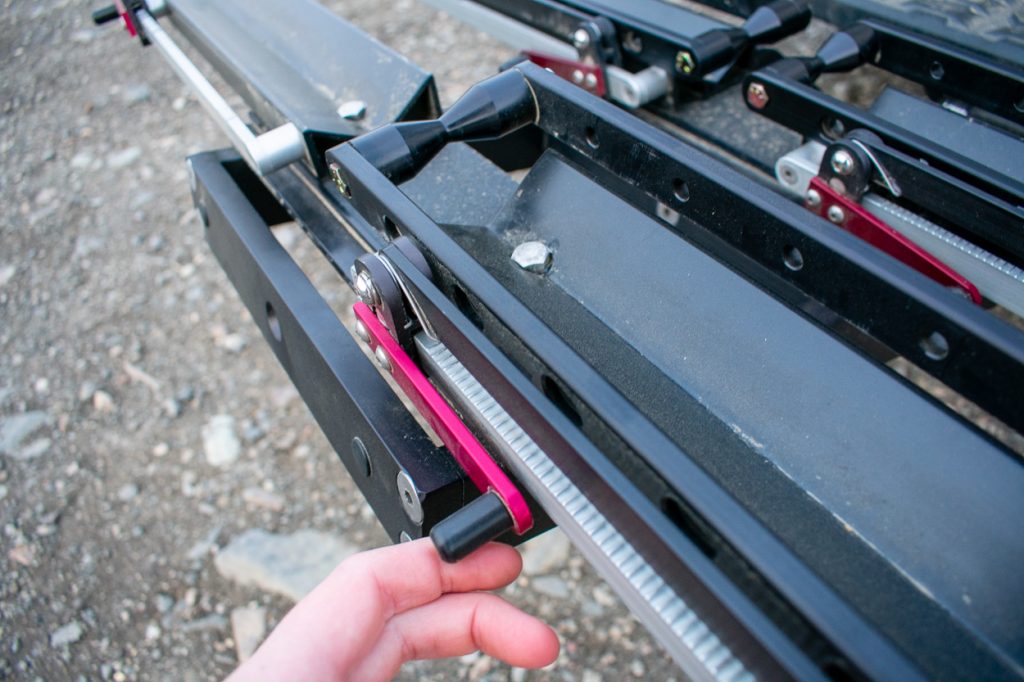 Step 2 (Continued)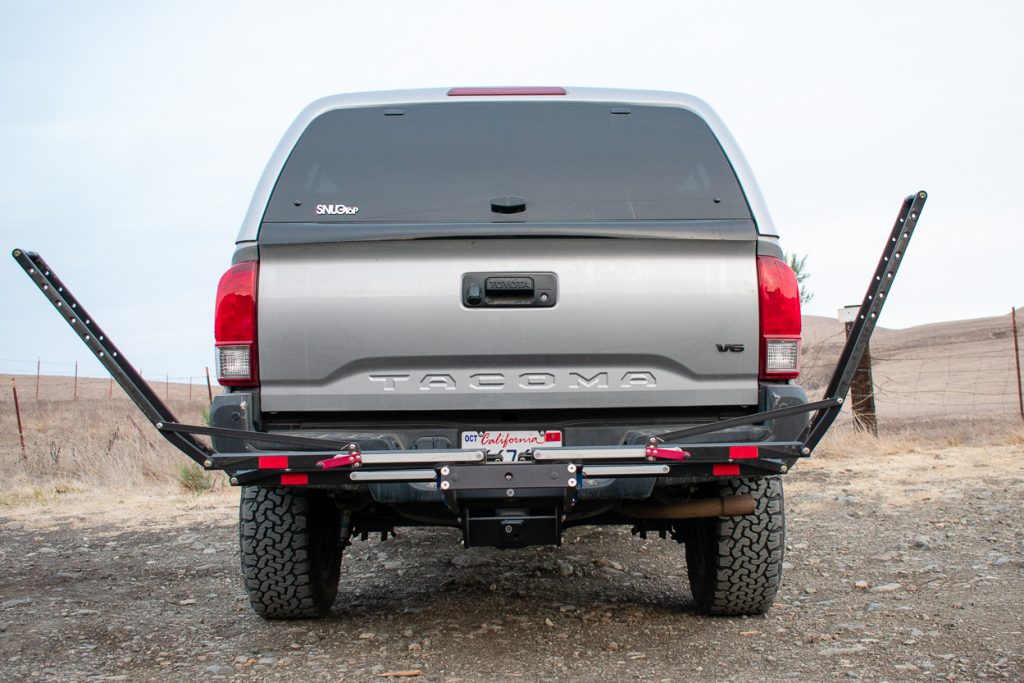 Step 3. Place Bike Wheels in Tray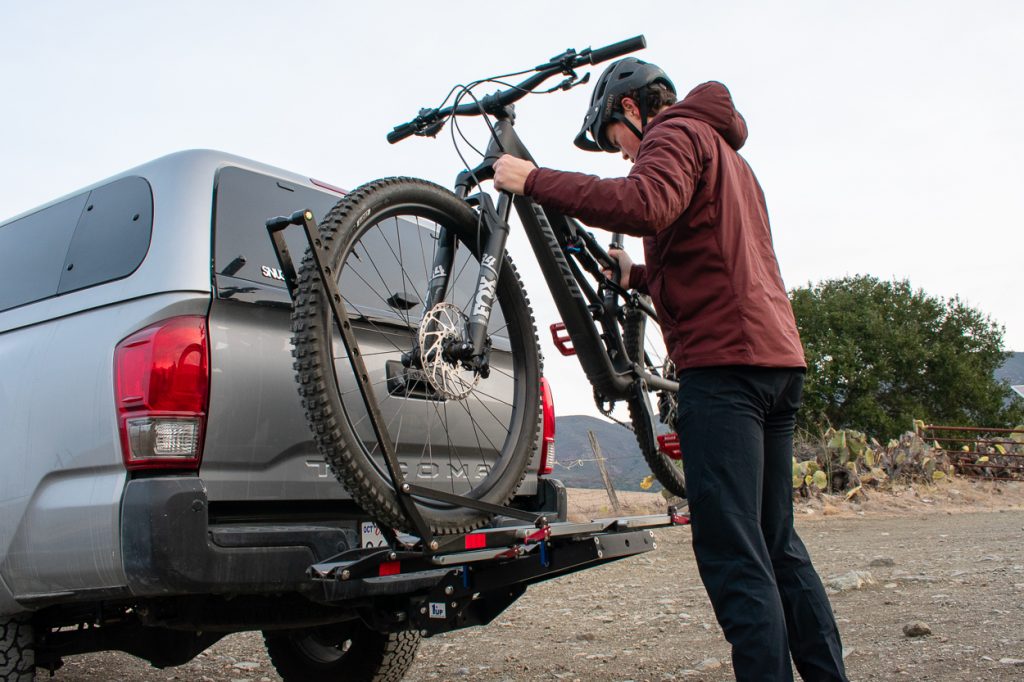 Step 4. Cinch Down Mounting Arms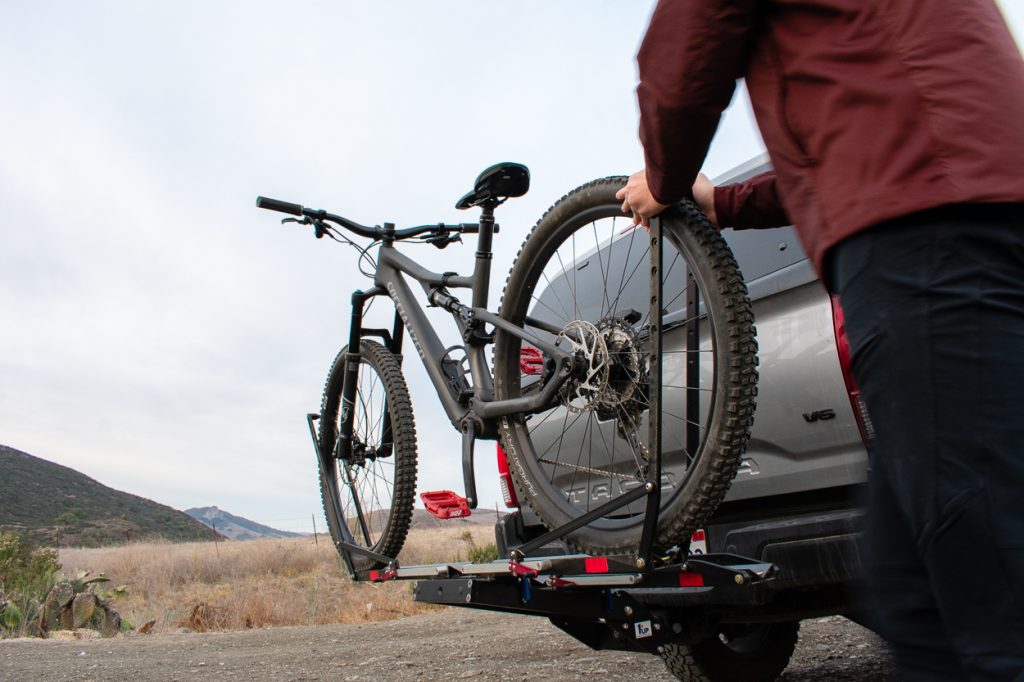 Step 5. Off to The Trails!
Pros
One of the biggest features of this rack that gives it an edge over other similar racks is the tire-only contact loading system. Other companies such as Thule, Yakima and Kuat make racks that have an arm that presses down onto the fork of your bike or a clamp that grabs onto the frame.
The issue with the frame clamping racks is that they damage your bike over time, especially when you clamp the same spot on your frame every time.
Also, the issue I've found with the racks that have the arm is that the rear wheel is usually strapped in place, making these systems very finicky and annoying to use. The ease of loading any bike into the 1UP is a major plus.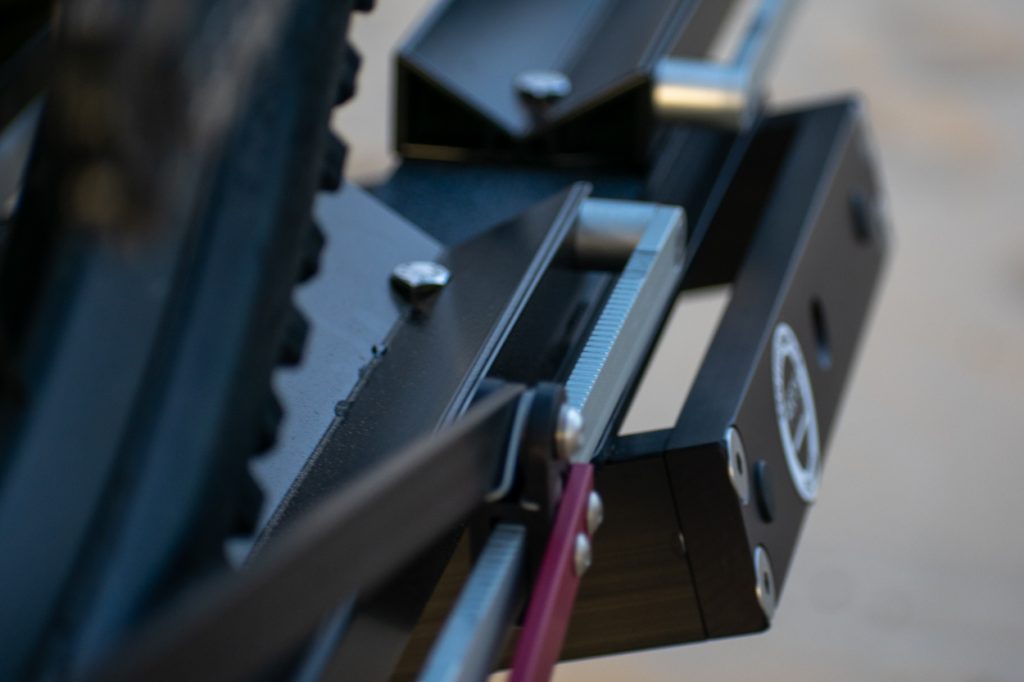 Another huge positive is the zero-wobble factor of the Heavy Duty Double. With every single bike rack that I've used in the past, they have all wobbled back and forth. With very little effort, you can get the 1UP to be free of wobbling. Why does this matter? I'm not worried about my bikes swinging, shifting, or leaning every time I look in my mirrors. It is especially important to have this peace of mind while off-roading.
A minor yet potentially important benefit is the fact that in the level position, this rack does not contact the tailgate on my 3rd Gen Tacoma. This is the case with almost every other rack on the market and it definitely makes me happy to know that if I drop my tailgate thoughtlessly, I won't damage or dent it on the 1UP. This feature is also nice when camping as you can continue to use your tailgate as a cutting board or kitchen area.
The last pro that I'll bring to light is the compatibility with several types of bike, wheel and tire combinations.
Even if your bike is one of those that fall outside of the parameters for the Heavy Duty Double, 1UP offers several upgrade kits for different issues that customers have come across.
Cons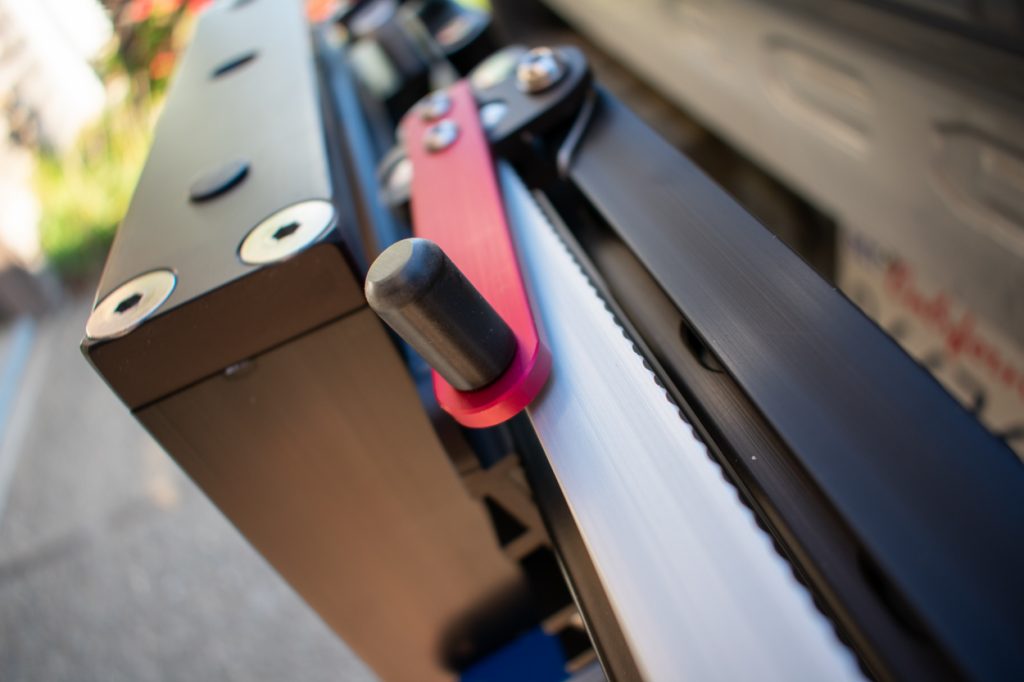 Now, for the downfalls. The price, while not too much higher than other racks in the category, is still rather high. I bought the rack and a lock for it for about $680 after taxes and shipping. This is definitely expensive but I was confident in spending the extra money based on what I have heard from many 1UP owners who praise its reliability and durability.
The biggest issue I have with this rack is the location of the handle that you pull when you want to hinge the rack into a different position. The handle is right above the actual hinge point which means to adjust the angle of the rack, you need to reach under the wheel trays to tilt it. This is really inconvenient, especially when most other racks have the handle well placed around the outside edge.
Another downside to this rack is the fact that it does not come with a bike lock or a rack lock.  You can buy a lock through the 1UP USA website to lock the rack to the hitch receiver for $20, but just about every other rack on the market comes with a lock built into the system. Many other racks also come with an integrated bike lock which this one is missing, but I already had a separate lock so I am not too upset about this personally.
The final issue that I have come across is the fact that the bike is slightly less secure in the tray than with other racks that I have experience with. Although it has not made me second guess the bike-securing abilities of the 1UP, the bikes have a little more wiggle room than when they are loaded on other options on the market. However, in my opinion, the benefits of the tire-only contact system outweigh this minor detail.
Final Thoughts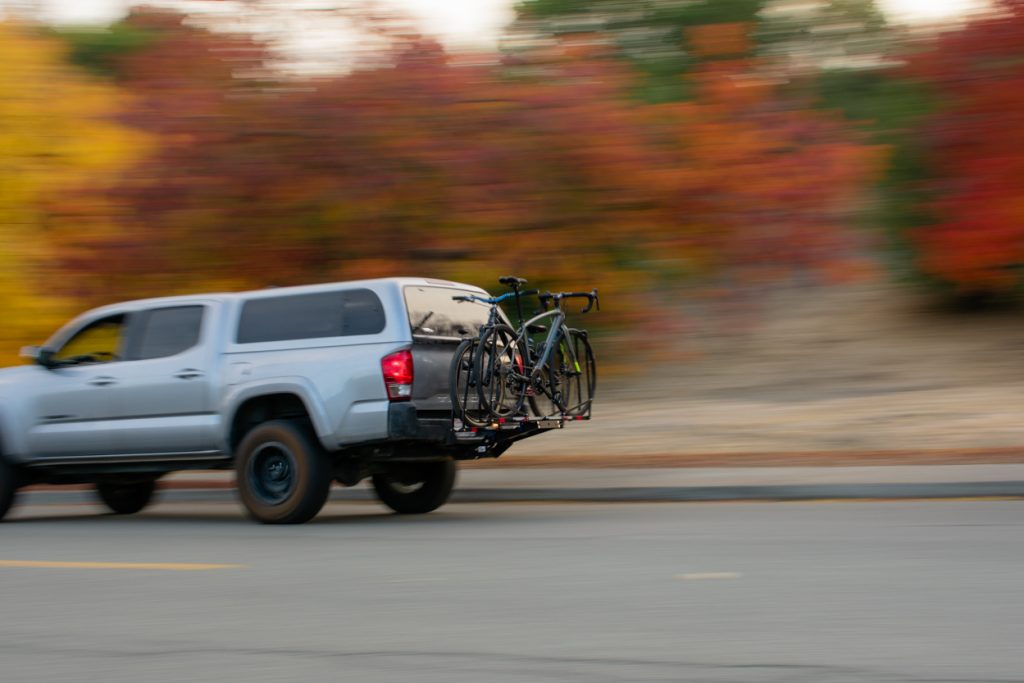 Overall, I am really stoked about this rack. The 1UP has allowed me to quickly transport my bikes with peace of mind, knowing that they will be secure.
I am most impressed by the wobble-less aspect of this rack, as well as the ability to transport many styles of bikes. As I mentioned above, it is not without its problems and if these issues are damning for your priorities in a bike rack then I would suggest going for another option. That being said, the build quality is sturdy enough for me to not feel bad about spending a little extra money on this over the much more common Yakima or Thule models.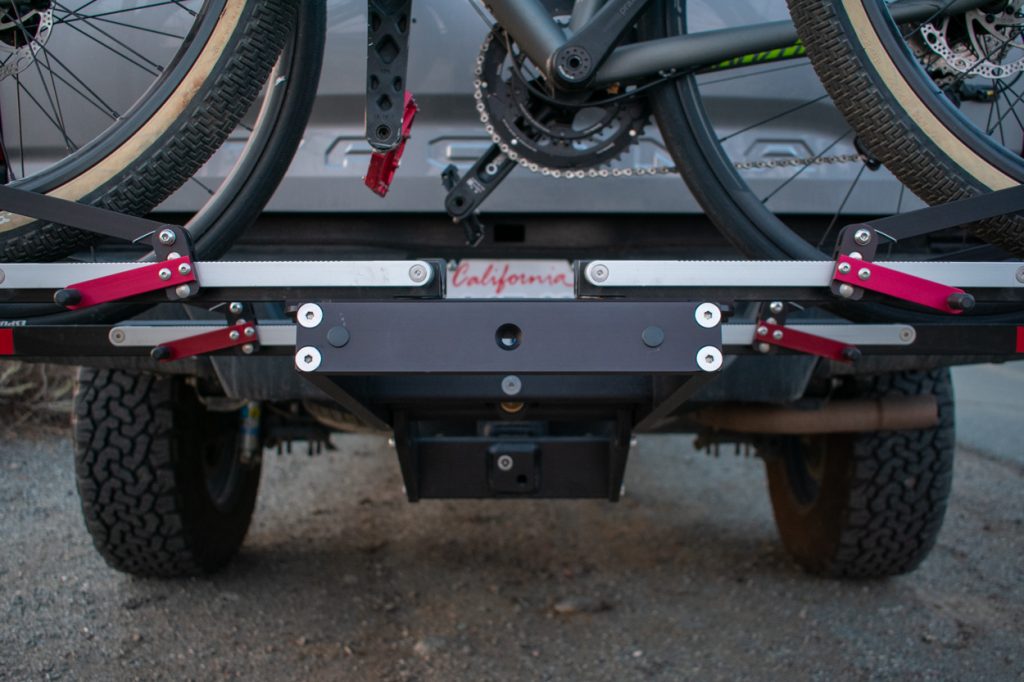 I've tested this rack in a variety of situations ranging from tight city streets to long open highways and even some messing around in the dirt. Though I have not taken it on a proper off-road trail, I feel pretty confident that it will hold its own. So far, I have yet to find a moment where I did not trust the security of my bikes with this rack.