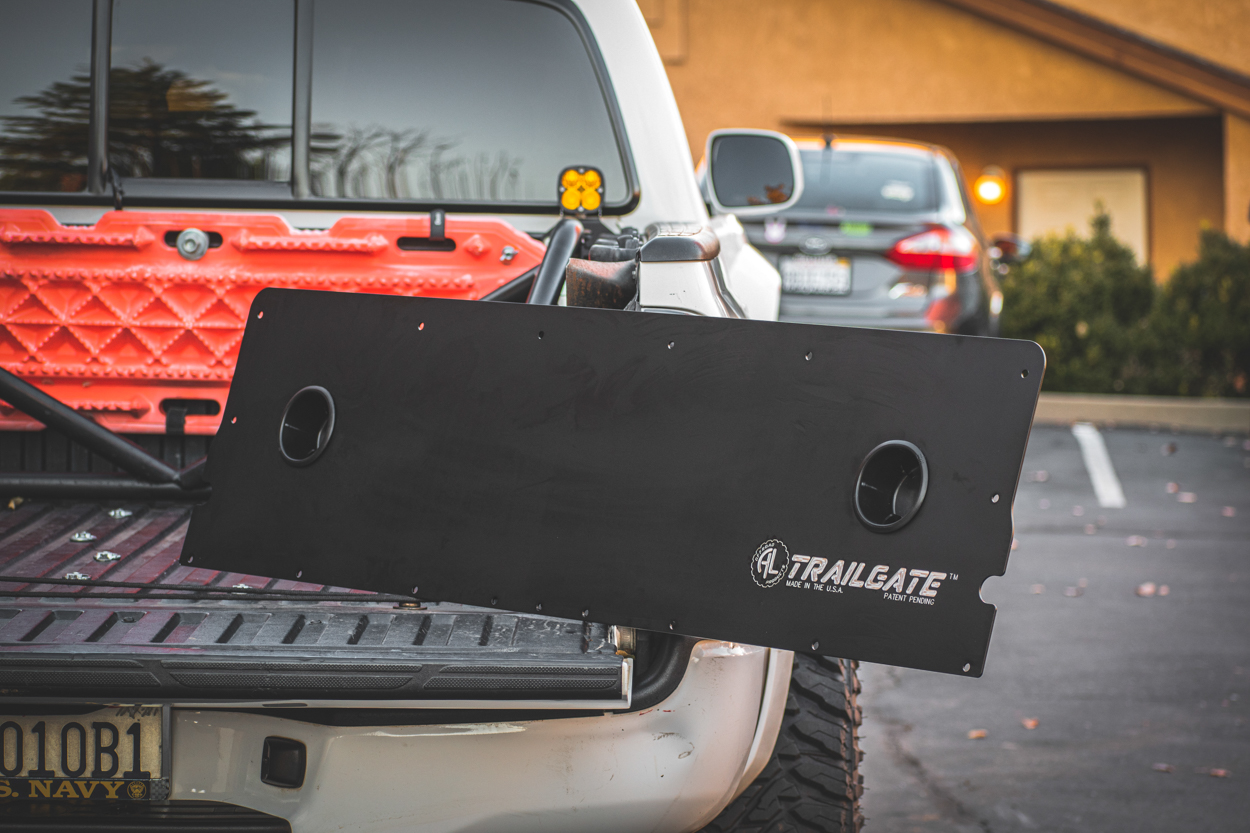 Ditch Your Useless Plastic Tailgate Insert for this "Trailgate" Aluminum Tail Gate with Plastic Cupholders from AL Offroad for 2nd Gen Tacoma
This panel is meant to replace the existing tailgate panel that comes stock with your 2nd/3rd Gen Tacoma.
As we all know, the Tacoma bed isn't necessarily made of the most comfortable material to sit on or even walk on. This may be one of the best and most simple mods you do to your truck.
Before we begin, we've also covered this same panel for the 3rd Gen Tacoma. It's essentially identical, but if you want to see it on a 3rd Gen, check out our install and review here.
Find It Online
Discount Code
The team at AL has extended a discount code good for 12% off any order on their site.
Use code – trailtacoma – at checkout.
Trailgate Features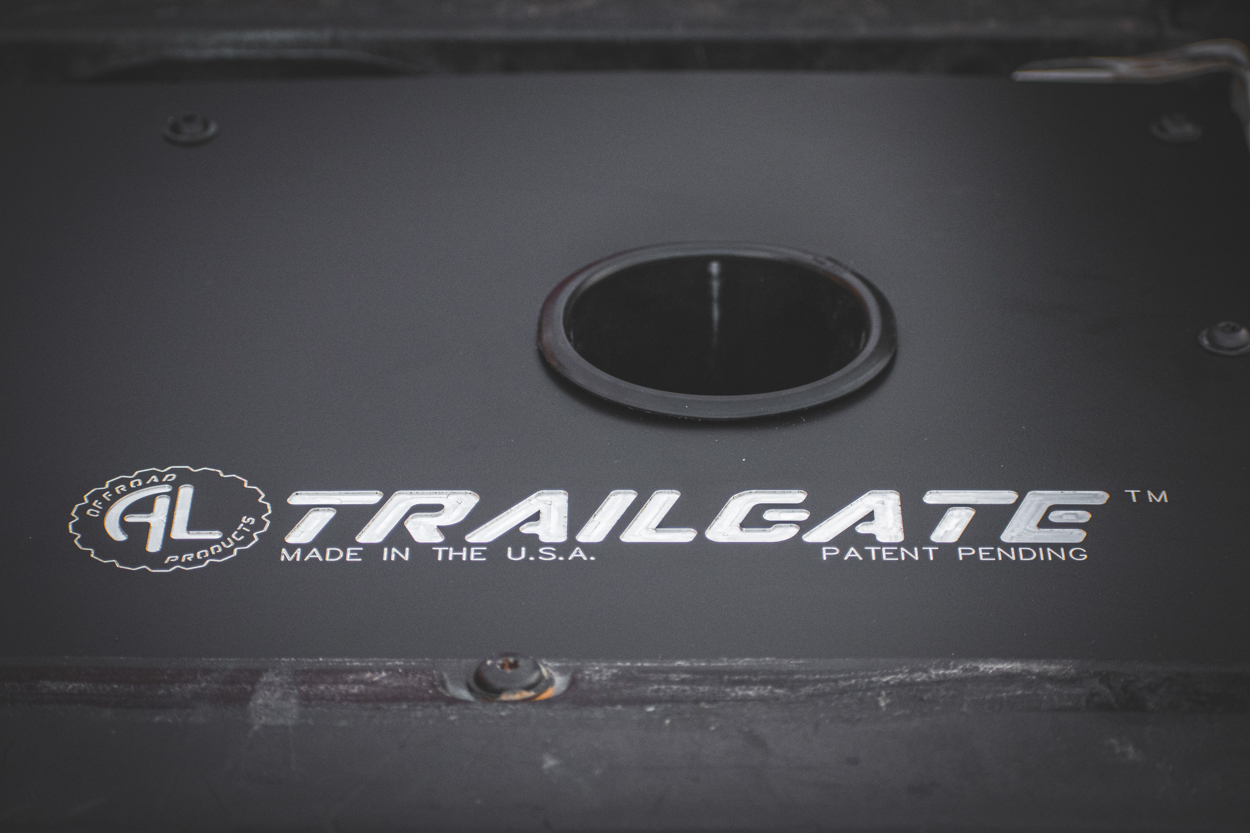 1/8″ Aluminum
Powdercoat Finish
Two Deep Cupholders (optional)
Uses Original OEM Hardware
CNC Trailgate Logo
First Impressions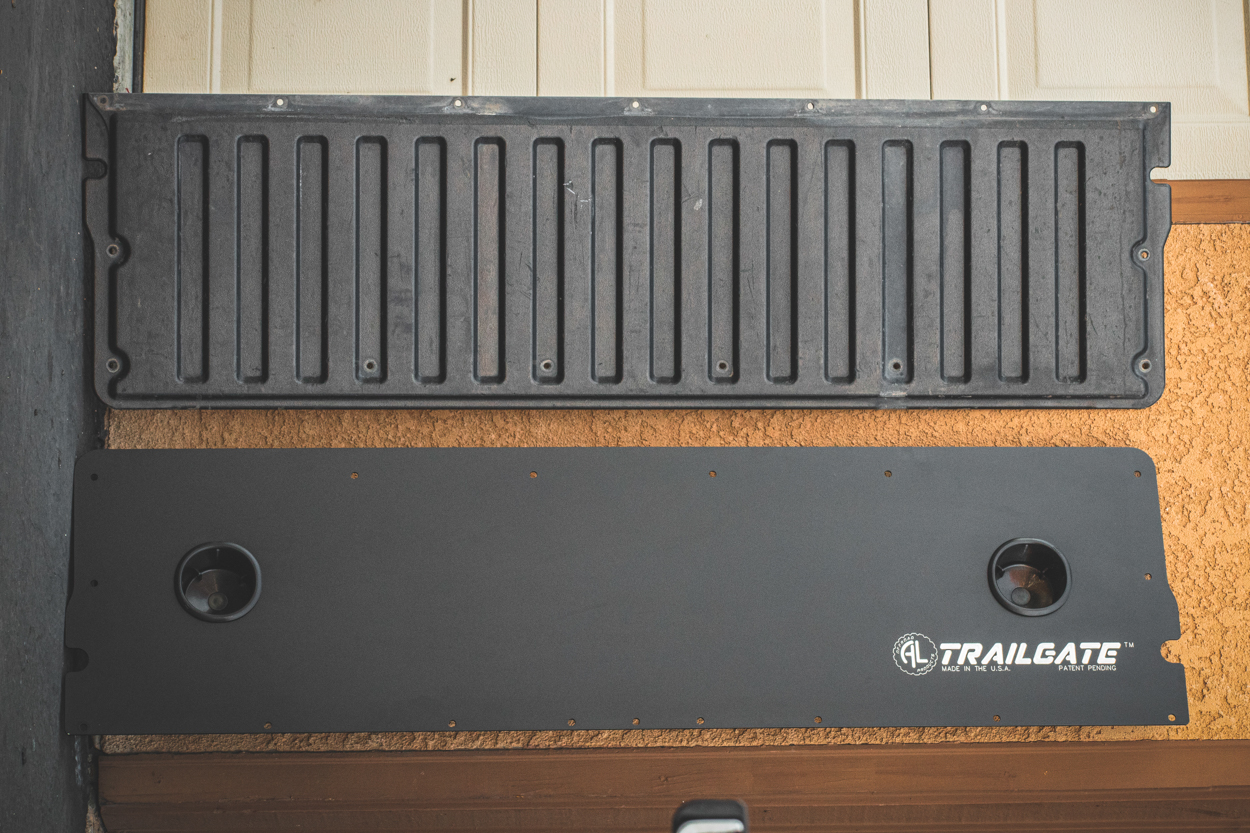 After pulling it out of the box there were three things I noticed immediately.
First was the quality and craftsmanship of the panel, second was how light it was, and third, was the cup holders – we will get to that later. I was very impressed with this panel having not even seen it on the truck yet.  I have seen a few other options out there for a product like this, but this one by far exceeded my expectations.
Tools & Materials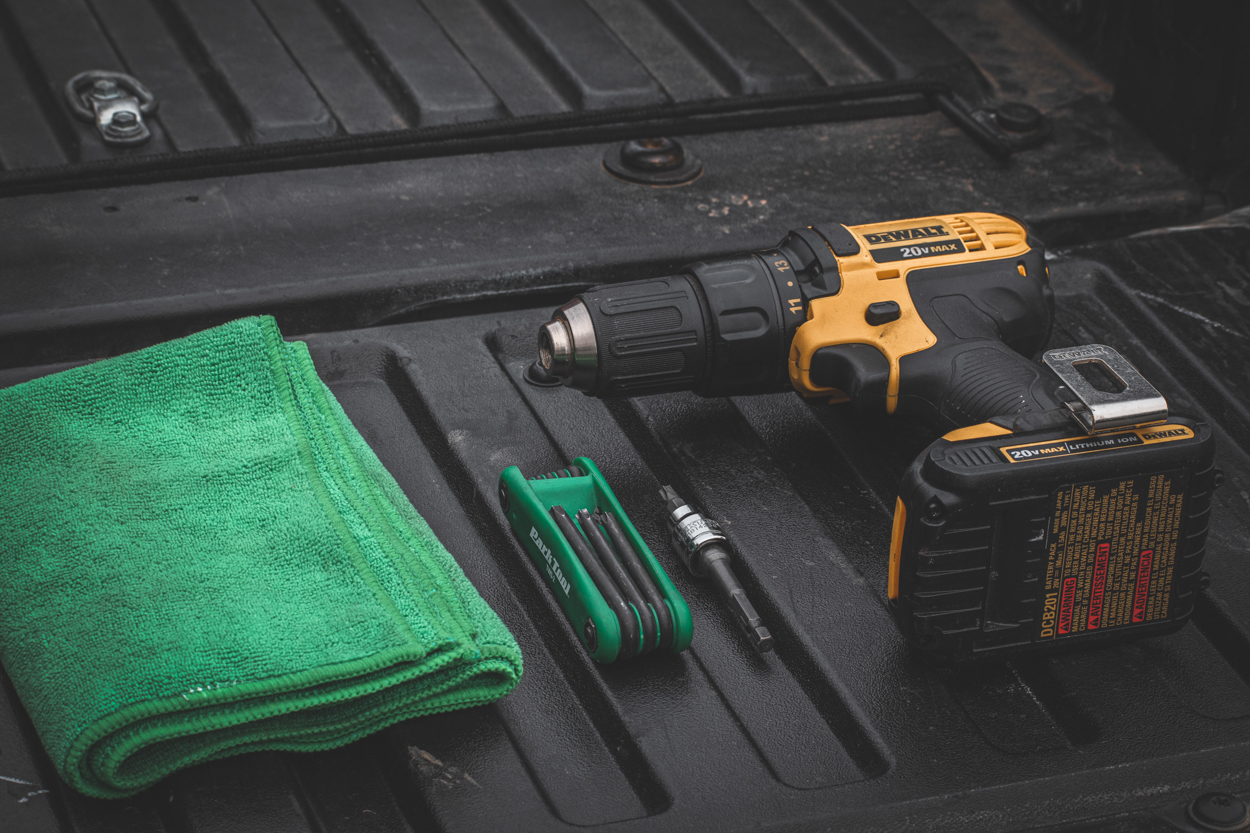 Trailgate Panel
Shop Towel or Microfiber Towel (optional)
Socket Wrench
T-30 Torx Bit (use with socket wrench or drill)
Original OEM hardware (15 bolts *2nd Gen*)
Free set of hands
Step 1. Remove OEM Hardware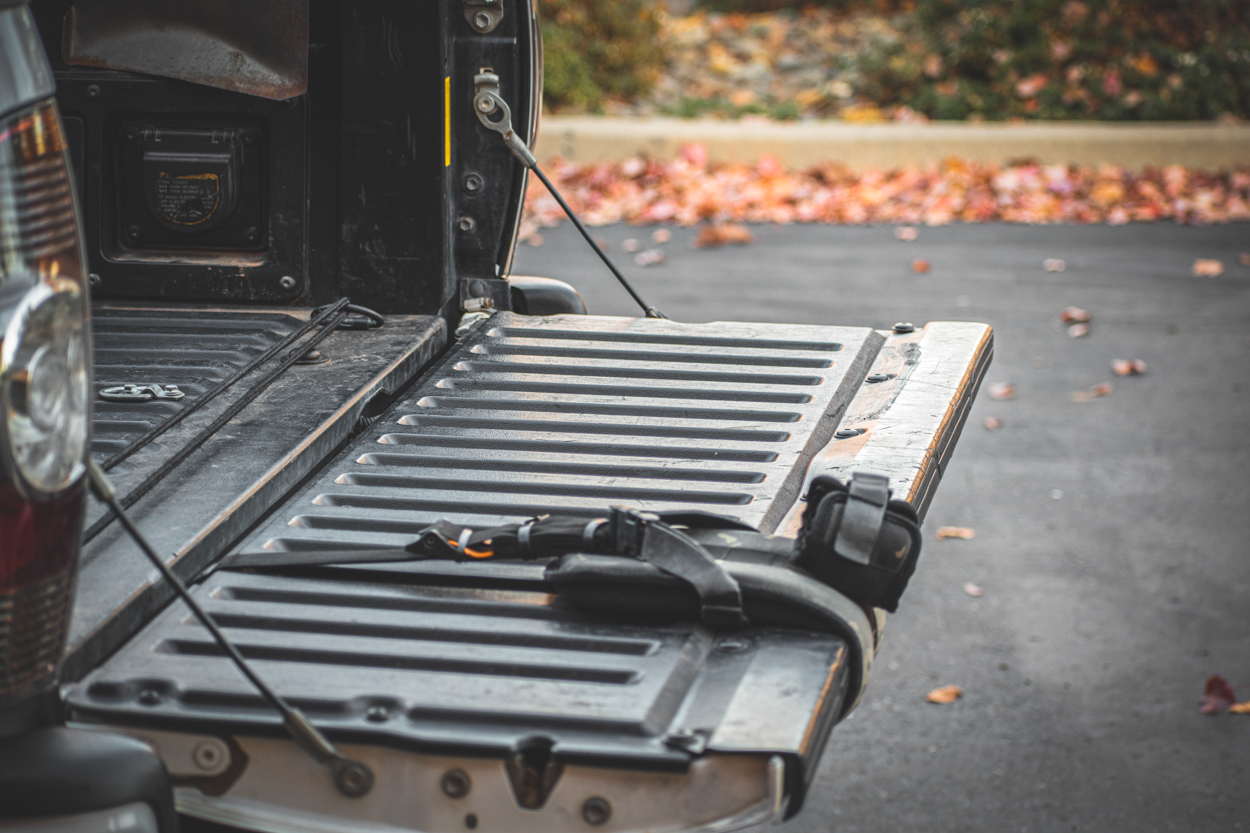 Remove all OEM hardware using T-30 Torx bit (15 Torx bolts) from your existing stock tailgate panel.
Make sure to put all the hardware in a safe place during removal as not to lose anything. I personally had a T-30 Torx for my drill, so I didn't have to resort to going to a handtool. Using a drill will make the process twice as fast and much easier.
Step 2. Remove Stock Plastic Panel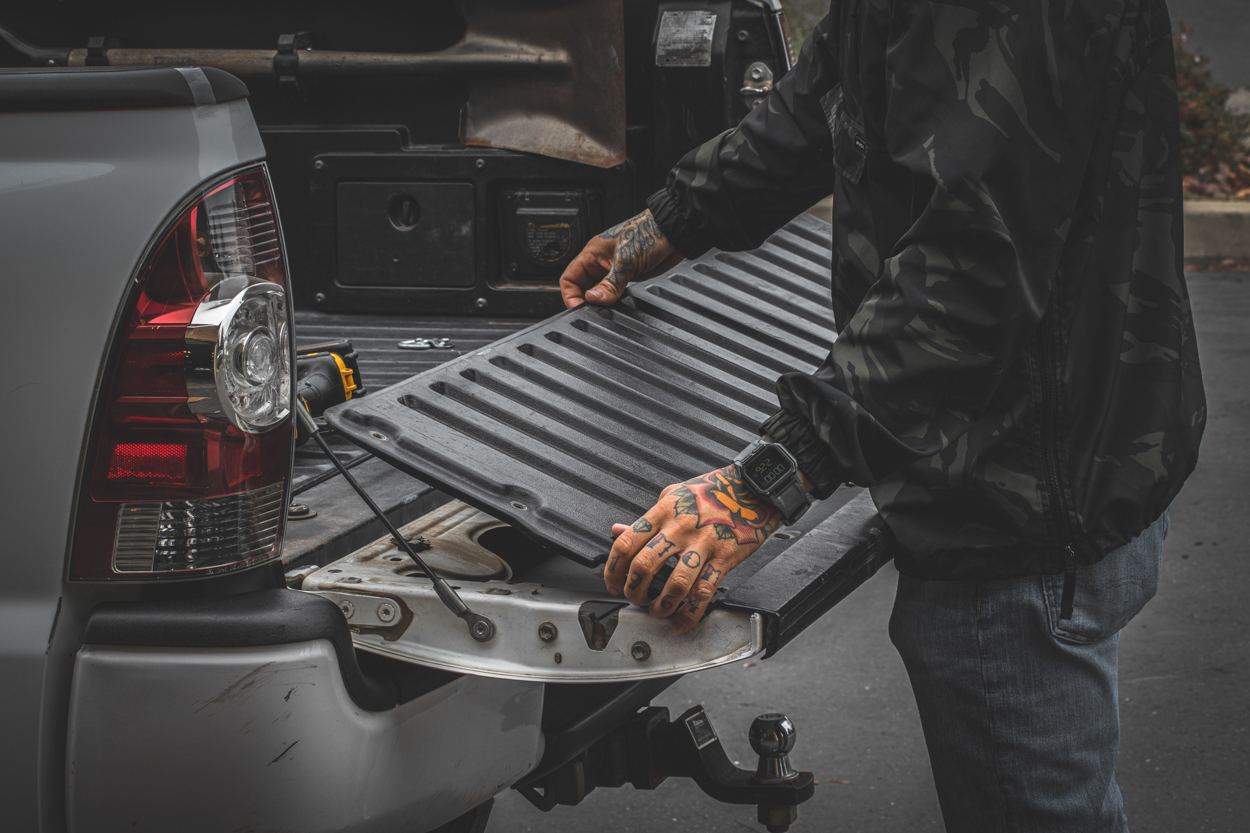 Remove the stock panel by pulling up and sliding it out of the top overlaying plastic bed piece.
Mine slipped out no problem, but if you have any issues with sticking just move it around a bit and it should slide right out.
Step 3. Clean Area (optional)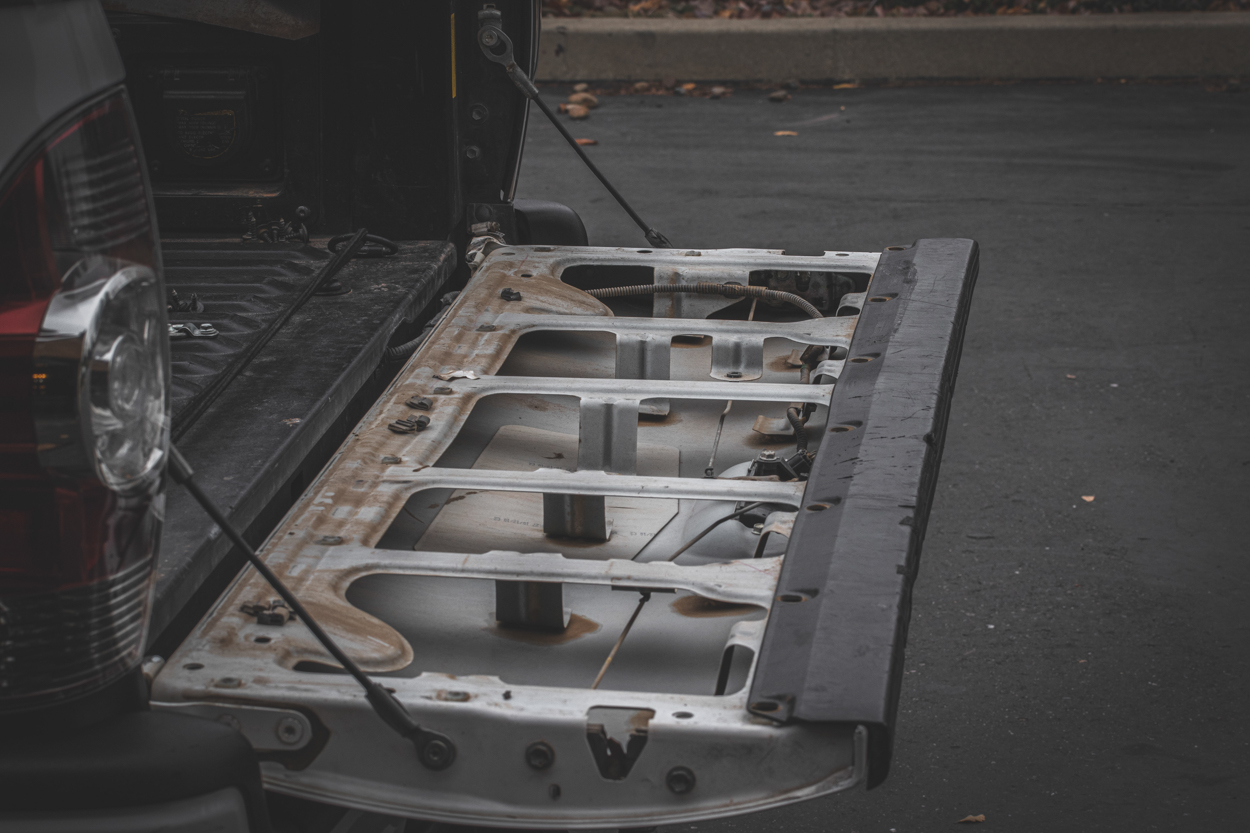 Clean out any dirt, mud, or debris that had been collected from road or trail use and wipe off the area where the OEM bolts were fastened down.
You might want to blow out the inside of the tailgate with some air or wipe down everything as best you can. Be aware of any wires, if you have a backup camera, and make sure those are not damaged while cleaning.
Step 4. Install Trailgate Panel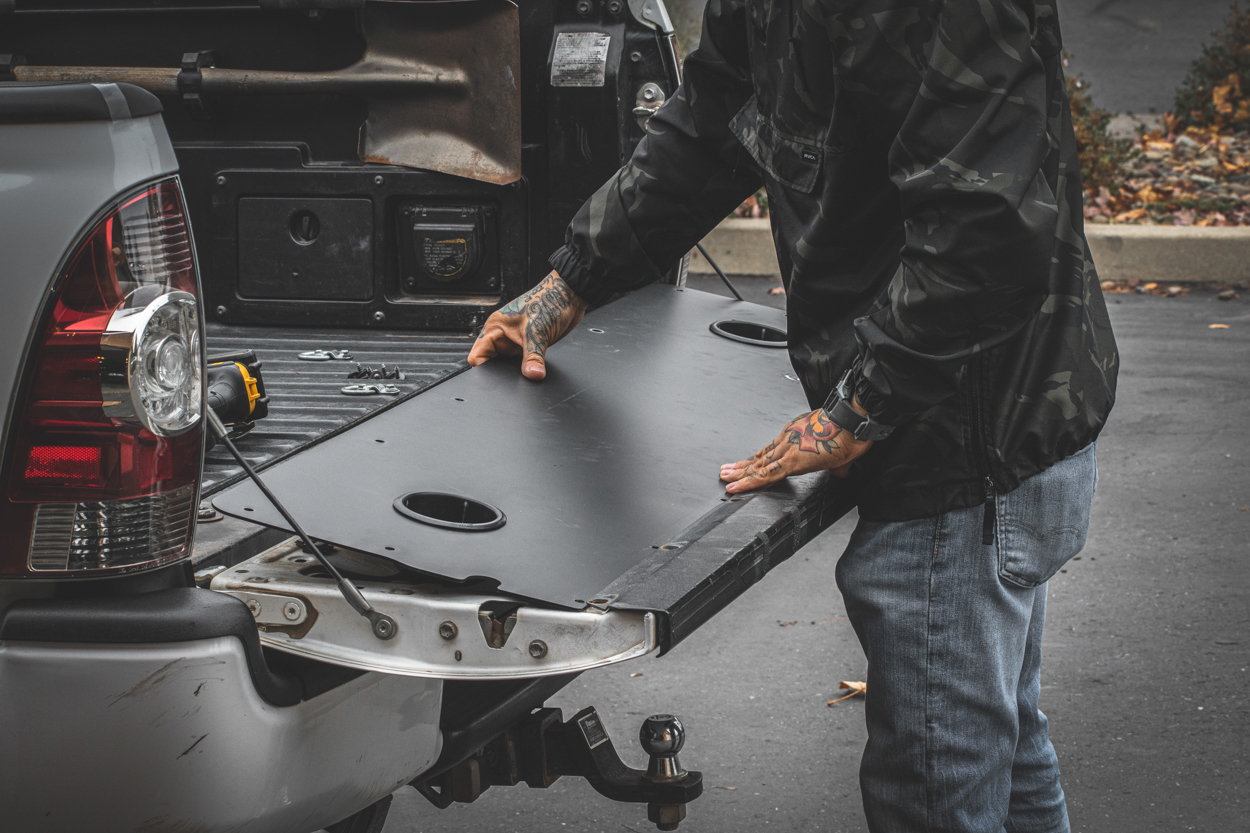 Grab your new Trailgate panel, making sure that both cup holders are knocked into place and secure. Now install the new panel in place of the old stock panel.
Make sure to line up all the holes as close as possible so that installing the OEM bolts will be as easy as removing them. Screw each one of them in just a little as to make sure that every bolt will go into place.
Step 5. Tighten Down Bolts
Finish reinstalling and tightening down all 15 Torx bolts hand tight to where the panel doesn't move.
Be sure not to over tighten the bolts and strip out the plastic threading that they screw into.
You now have your new Trailgate installed and ready for action. From beginning to finish it took me about 10 minutes to remove and install both the old and new panel. This is by far one of the most simple and easy mods you will ever have the opportunity to do to your Tacoma.
Post-Install Impressions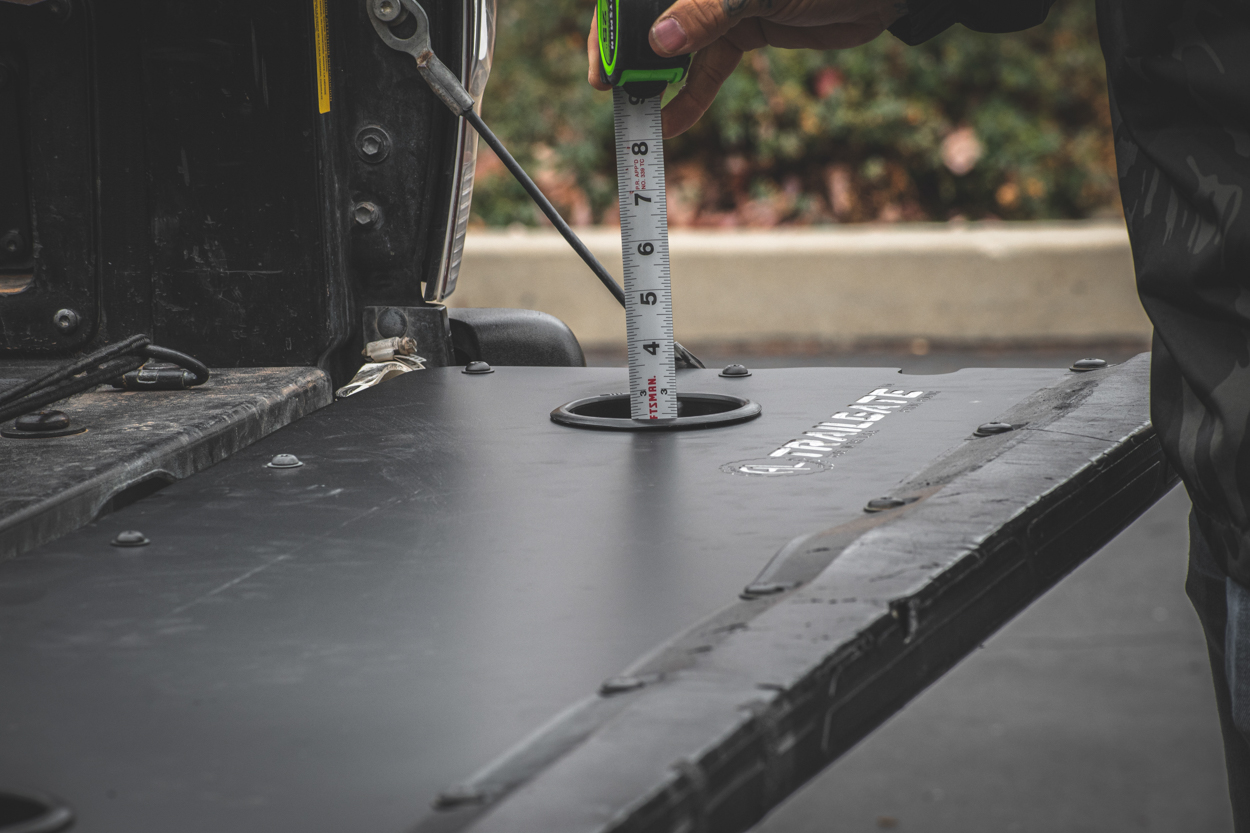 As I mentioned above, the cup holders on this panel are actually capable of holding beverages. They are 2.5 inches deep, and as you can see, my drink fits in the cupholder with room to spare and isn't going to tip over and spill.
This is such an upgrade to the stock panel where when you sat down for a drink you were rolling the dice. To top it off, the clean CNC logo gave it that finishing touch and a very professional look.
Pros & Cons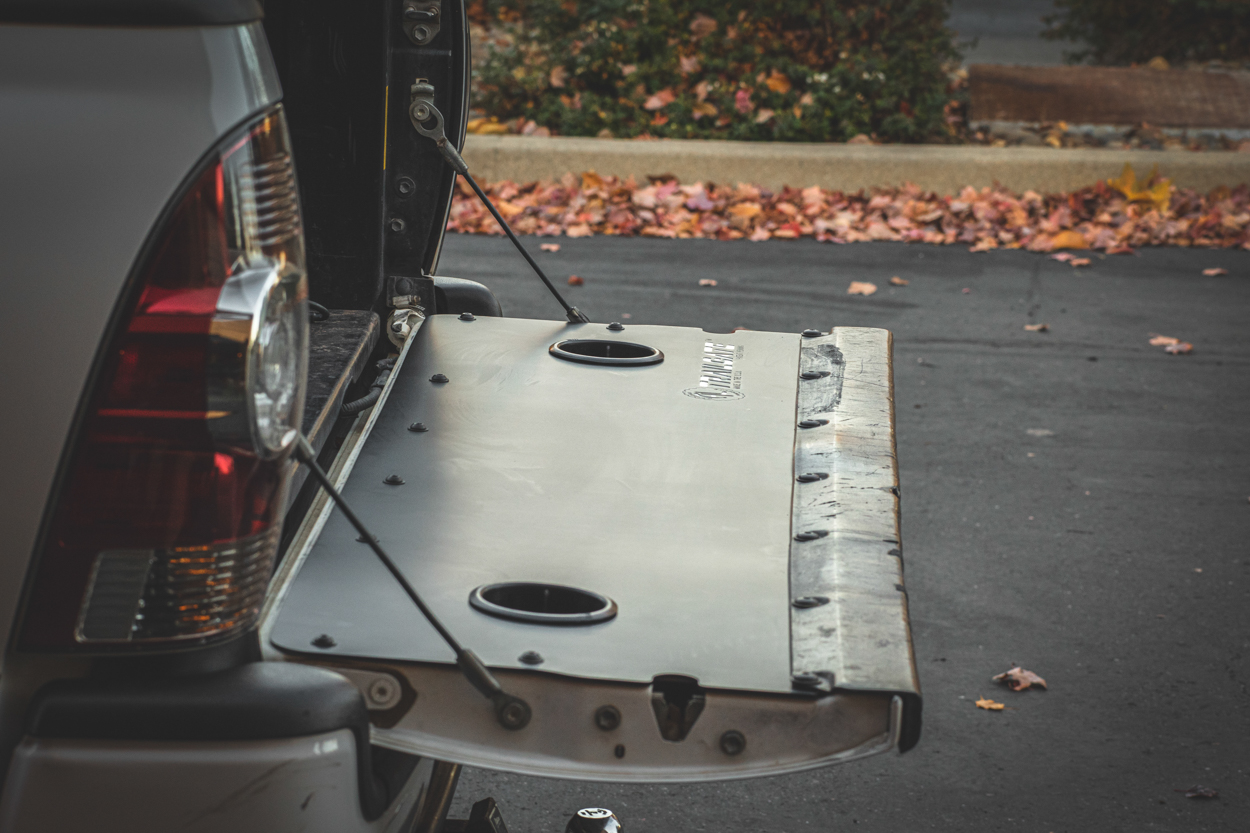 I found that they were very few cons when it came to this panel, so let's start with the pros.
It makes kneeling on your tailgate much more comfortable without killing your knees, unlike the stock panel. The cup holders, as mentioned above, are actually functional and made of a durable marine grade plastic that will take plenty of abuse.
It also gives a clean and sleek look to your truck bed while also providing you with the ability to set things down without having them fall over or slide around.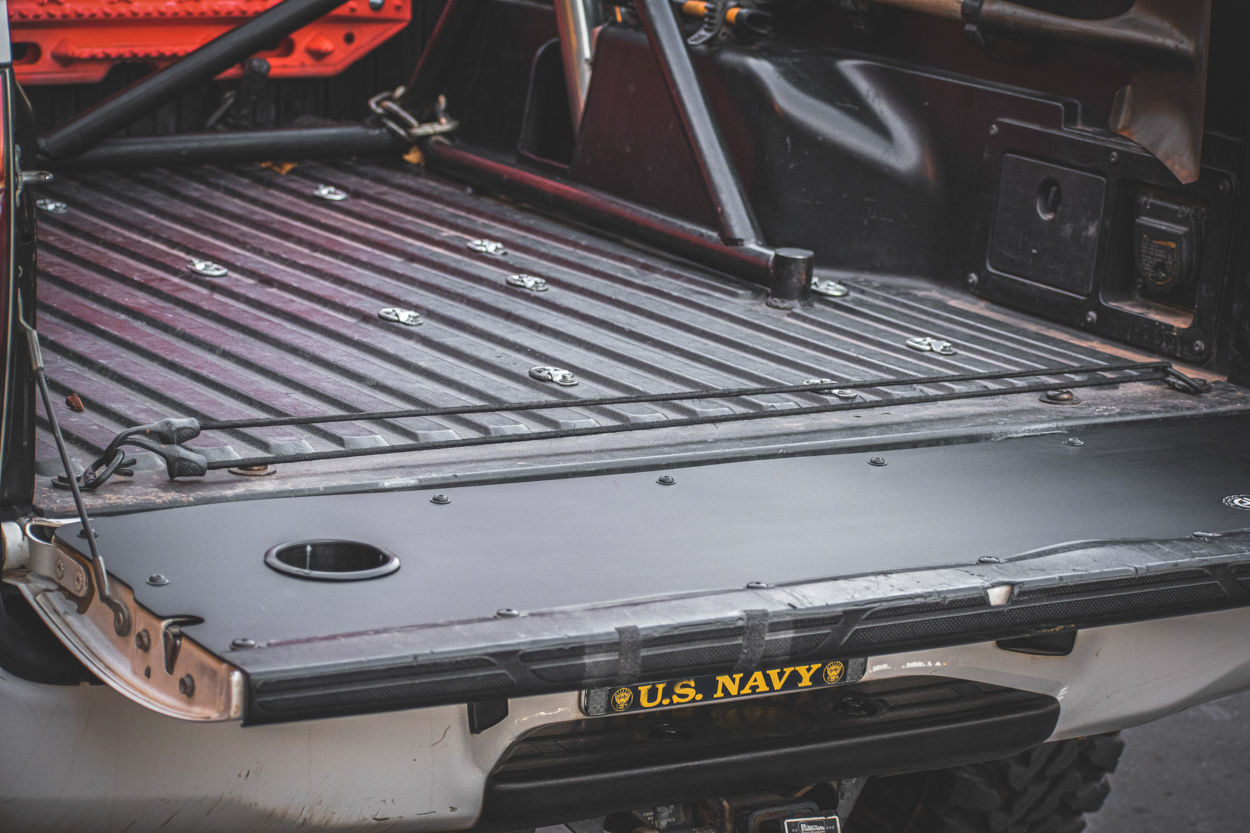 The only cons I could think of for this panel, and this is being very nit-picky, is that the surface can be slippery when wet, so be careful when standing up or moving around while in wet conditions. I should note, the same thing can be said for the factory panel.
The second con would be that scratching or chipping the powder coating might expose the aluminum, but aluminum is not a metal that rusts so that shouldn't be too much of a concern. If that happens just give it a few coats of matching satin black paint and you'll be just fine.
When it comes to truck beds, most of us know that they are made to be used, but that's where the powder coating comes in to make this product the real MVP.
Final Thoughts
Overall, I couldn't be happier with the design, quality, and look of the panel.
I've gotten several comments on where I got it and how great it looks. If you are in the market for a tailgate panel replacement, I highly recommend this product. It was built to last, the best looking one on the market, in my opinion. Most importantly, it's made in America!
At under $200, this is an upgrade that will add some serious functionality, without breaking the bank. I highly recommend it.