Portable Coolers are Expensive! Check out This Affordable Option from SetPower USA
When I started building my Toyota Tacoma, I had a vision and a goal in mind. I was building my rig to be fully self-sufficient when I'm off the grid. That means everything I need to survive is either, mounted on, or stored in my truck. I wanted to have the ability to take extended trips to remote areas, and not have to restock on supplies. One of those essentials, of course, is food.
I knew right out of the gate that I would need to invest in some sort of portable fridge and/or freezer. There are some high-quality coolers on the market that work phenomenally. One of those being the Yeti, which in the beginning, was my main way of storing food for trips. It definitely did the job and would keep ice in the chest for days.. and I mean days!
But the grass isn't completely green. For one, the Yeti was heavy, not to mention bulky. It took up a ton of room. The other downfall to having a traditional ice chest is having to deal with the ice melting, which in turn, means sifting through the water just to grab what you needed. Or, in the worst-case scenario, water gets inside your stuff, making a huge mess. It's not all bad but after a while, you start to look into alternatives, especially for long-distance trips.
Find It Online
SetPower USA Portable Fridge & Freezer 47QT RV45S:

 

Check Price
Economy, value, and quality.
If a product can fit all of those shoes, you know you have a winning formula. After doing some reading, it seemed like this was a great product. Let's dive into this cooler and see if it lives up to the hype.
SetPower 12V 47-Quart Fridge Review
Choosing the Right Fridge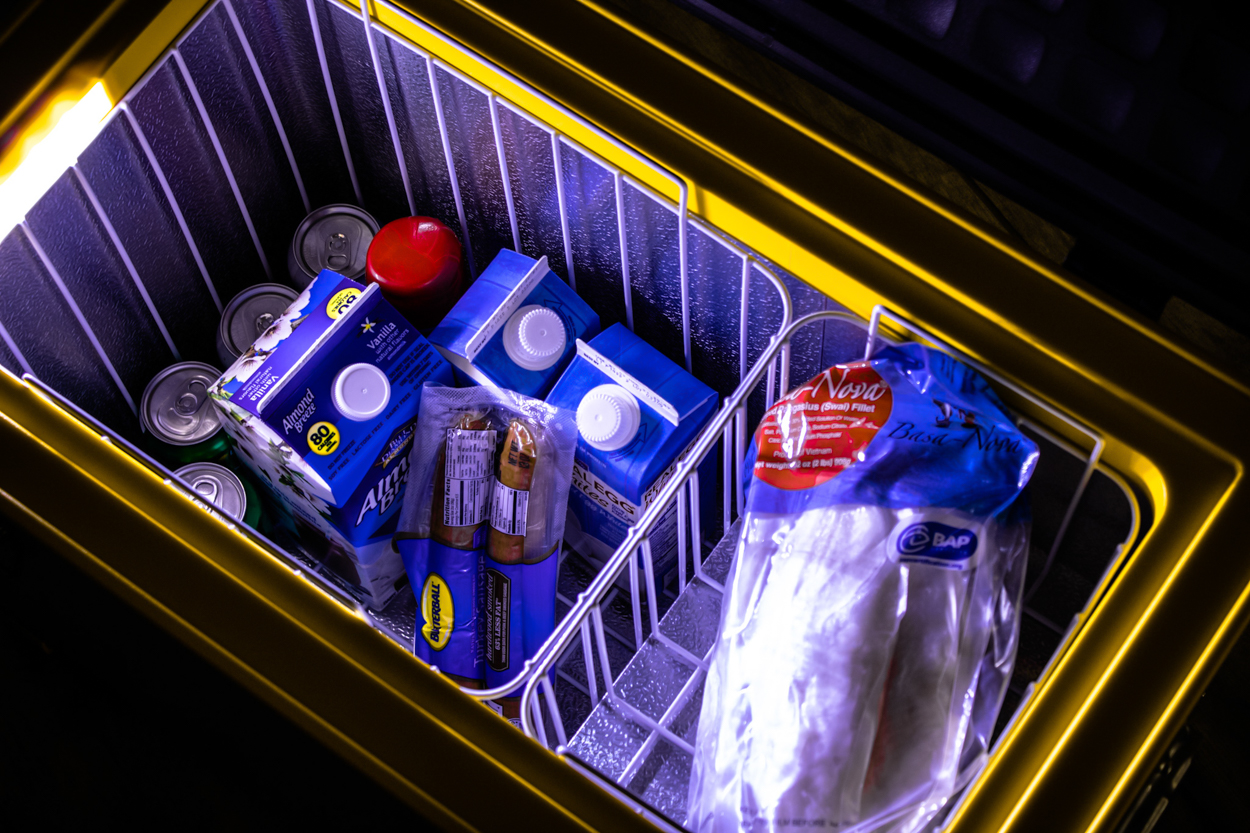 I enjoyed my Yeti and it did its job valiantly, but it was time for me to upgrade. I needed a more long-term solution. When I started my search for portable fridges/freezers, I was uneducated. Naturally, I turned to Google.
I quickly learned that if you want a portable fridge, then your pockets better run deep. The high-end versions cost well upwards of $1000! Not saying that those options are not worth it, but man, that's a big price tag. As a newer consumer, I didn't feel the need to make the jump so quickly.
So we all know there are cheaper products out there for those being more mindful. The question is, can you trust these other companies? At under $400, this is definitely a question, and a product, that is worth exploring.
SetPower RV45 47 Quart Portable Freezer/Fridge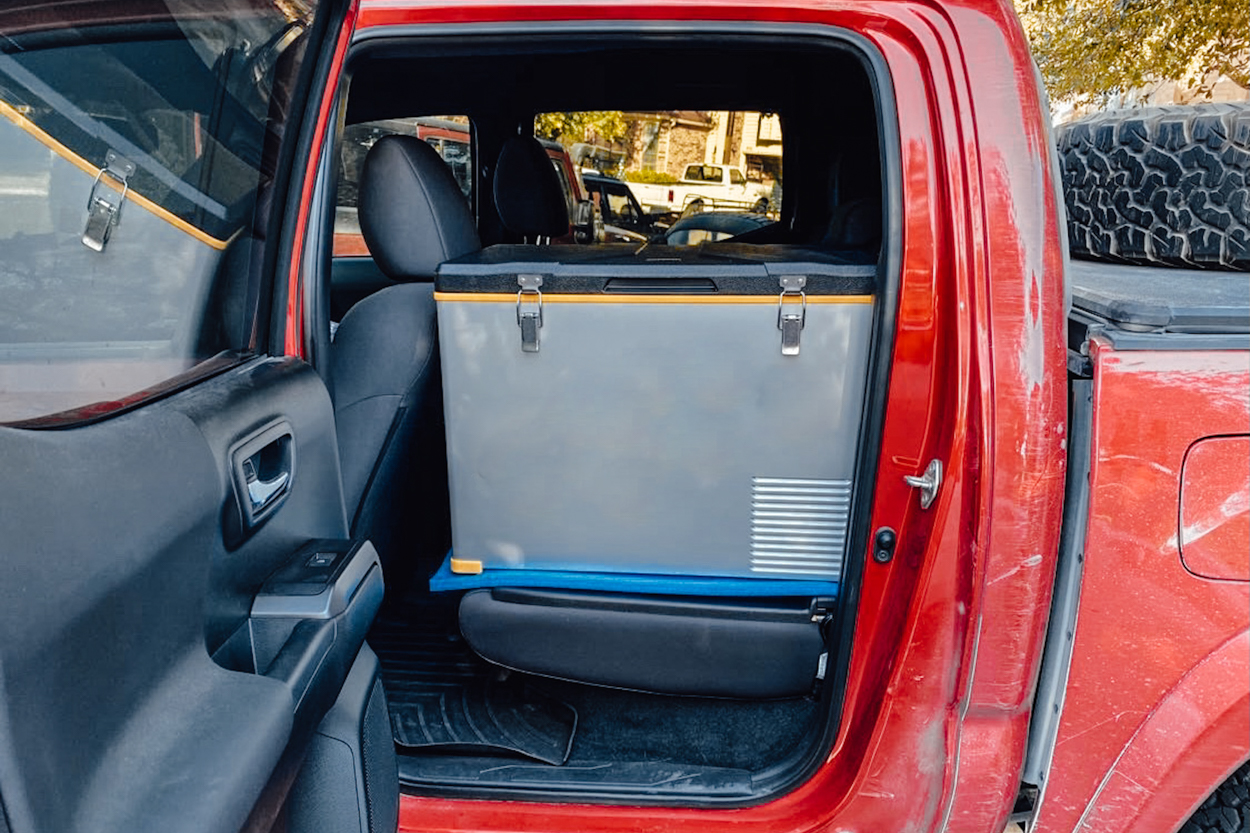 Quick Look:
Non-Dual Zone
Freezer/Fridge: 0℉-50℉
Power: DC Cable (12/24V) and AC Adapter (110-240V)
Dual Mode: MAX Mode for Fast Cooling. ECO Mode for Energy Saving
Warranty: 2 years on compressor and 1 year for other parts.
Storage: 47 quarts or 72 Cans
Wattage: 55 Watts
Amp Draw: 12Vdc / 7.5A
Dimensions: (L*W*H) – 27.3" x 16" x 18.8"
Item Weight: 46.7 lbs
The top brands charge top prices for their portable fridges. I realized that the size of the portable fridge didn't play as big of a role as what features the fridge provided. For instance, ARB and Dometic both have Bluetooth capabilities to monitor and control the fridge from your phone.
It's a neat feature, but might not be completely necessary. I just wanted the basic functions of keeping my food cold. If you're like me, you might want to start with something a bit more affordable, just to get your feet wet and see what you do and don't need.
SetPower USA hit us up and wanted us to cover one of their budget fridge options. The model we'll be covering is one of their neatest models and seemed to be the most rugged, and the best choice for me, not only due to the large size but the function. At first glance, it seemed to be the most durable and appropriate way to go.
Finding SetPower brought hope back into my life, and the price tag really caught my attention. If you're conscious of spending your hard-earned dollars, you want to know that while you're saving money, that you're still getting a reliable product. These guys are selling portable fridges for a fraction of the price compared to these other top brands. The SetPower 47QT RV45S 12V Portable Fridge and Freezer was exactly what I was looking for, at an attractive price point.
This fridge freezer also has great reviews on Amazon, which is often not the case for many products. That helps to build the case for a reliable platform.
Find It Online
SetPower USA Portable Fridge & Freezer 47QT RV45S: Check Price
Key Features
Before I get into all the detail, let's summarize what this fridge is all about.
First off, install. The unit is made to operate in a dry place, away from big heat sources. The fridge/freezer needs to have plenty of space around it to ensure proper heat exchange and betting. It can operate effectively with up to a 30-degree angle. The team at SetPower recommends that any operation period over 30-degrees be limited to a maximum of 4 hours, during continuous operation. Basically, the fridge is built to handle being tossed around with the truck, for extended periods of time. Obviously a benefit for off-road travel.
Like most portable electric coolers, this one had built-in battery protection. You can run it in your vehicle, or a wall outlet. It's important to note that it may not work in all car plugs. This can be due to a variety of reasons, such as wiring size or inadequate power. Hardwiring is definitely recommended, especially as a primary cooler for traveling with. When the cooler is running, it's actually pretty quiet. You can barely hear it working. As for weight, this unit comes in right around 46lbs.
This fridge freezer is the largest offering from SetPower. It holds 72 cans inside, so you've got plenty of room to store enough food for a few days. It also comes with a pretty good warranty. 2 years on the compressor and 1 year for other parts. That definitely helps to build confidence in the potential longevity. Let's break down some of these features and elaborate on a few others.
Construction & Build Quality
There are certain features about the SetPower USA portable fridge/freezer that sets it up there with the better brands. It may not have Bluetooth capabilities, but that really isn't a necessity.
The first feature worth mentioning is its hard metal shell, making it more durable than other plastic outer shell portable fridges on the market. That coupled with its metal latches, ensures it can handle rugged conditions without worrying about minor exposure to the elements. Of course, you still need to stay on top of cleaning and maintenance.
If you've ever seen one of these from the competitors, you know that they are pretty large. A comparable option from the big guys is typically slightly larger than this one. The main reason for this is that the insulation is super thick. This cooler saves a bit of room because the outer layer is thinner. Does this compromise cooling capacity? Perhaps. But I don't believe it does in any substantial manner.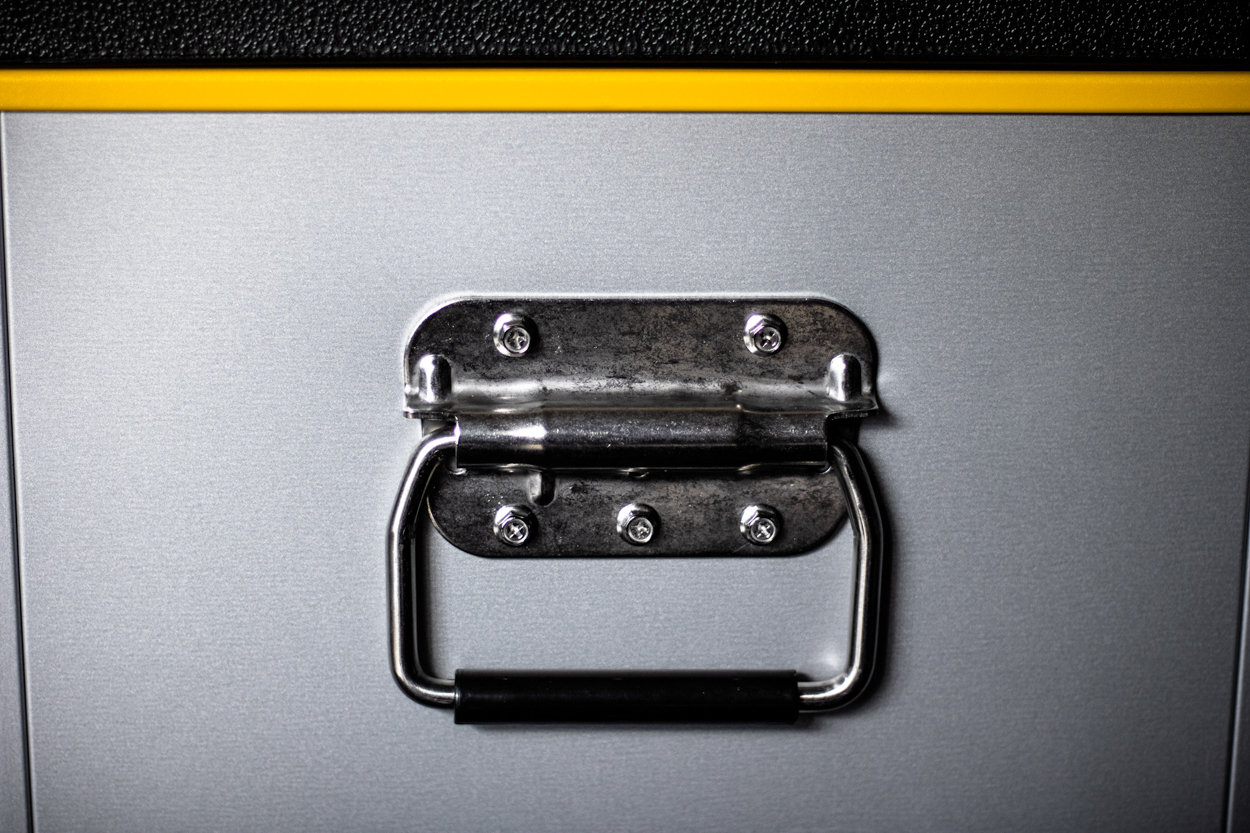 The SetPower fridge/freezer also has large metal handles on both sides of the fridge. This is a 47QT fridge, so it's not much larger than an average-sized ice cooler. The handles allow you to freely move the fridge too and from your vehicle, camper, or RV if need be. They also give you the option to strap it down if you are going down a rough dirt road.
I place mine in the backseat of my Tacoma and strapped it down using both handles so it doesn't bounce around while I'm on a trail. This also allows me to gain access to the fridge without having to undo the straps.
Battery Protection, Temperature & Compressor Speed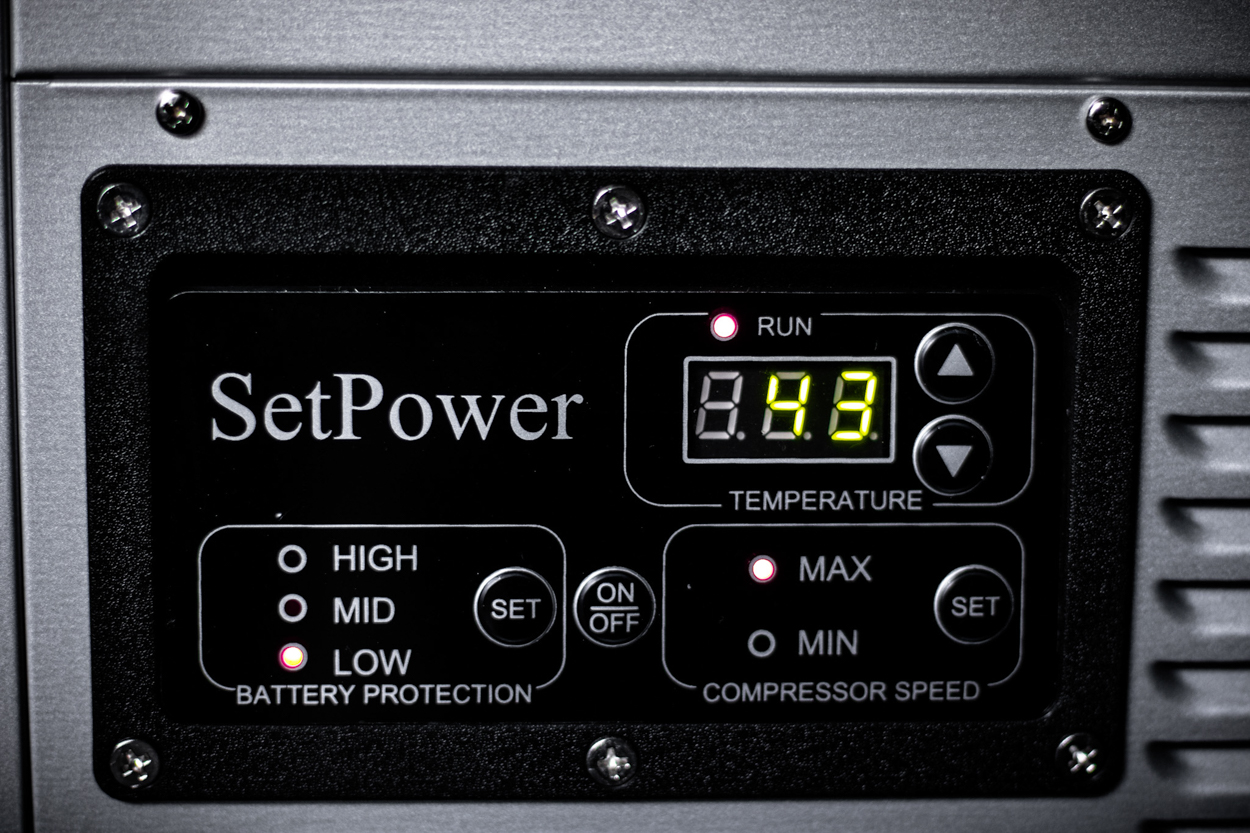 The display screen is like most portable fridges on the market. Each button has a light to allow you to see it in the dark. All of the fridge settings can be controlled through this panel.
You can choose to set the compressor speed to either maximum or minimum. The maximum setting would be good to use while plugging into a wall outlet or another larger, constant power source. This helps to cool the unit, and its contents, more quickly. For extended trips, or running directly off of the battery, the minimum (ECO) setting is recommended to save precious battery power.
This fridge also has a built-in voltage reader which, depending on the setting, shuts the fridge off when the battery voltage reaches a certain threshold. This is a normal feature on coolers like this one and helps to ensure that you don't drain your battery if your vehicle sits for a while without being started. There are three settings for battery protection – high, medium and low. The temperature range of 0 to 50 degrees covers you from vegetables to ice cream.
After doing some research, I found that once the unit was cold, and when it's running in ECO (minimum mode), it sits at about 34 watts. For reference, a standard car charger pulls 5W. So relatively, this is super low power consumption. This fridge seems to be very efficient in this sense.
Powering Your Fridge/Freezer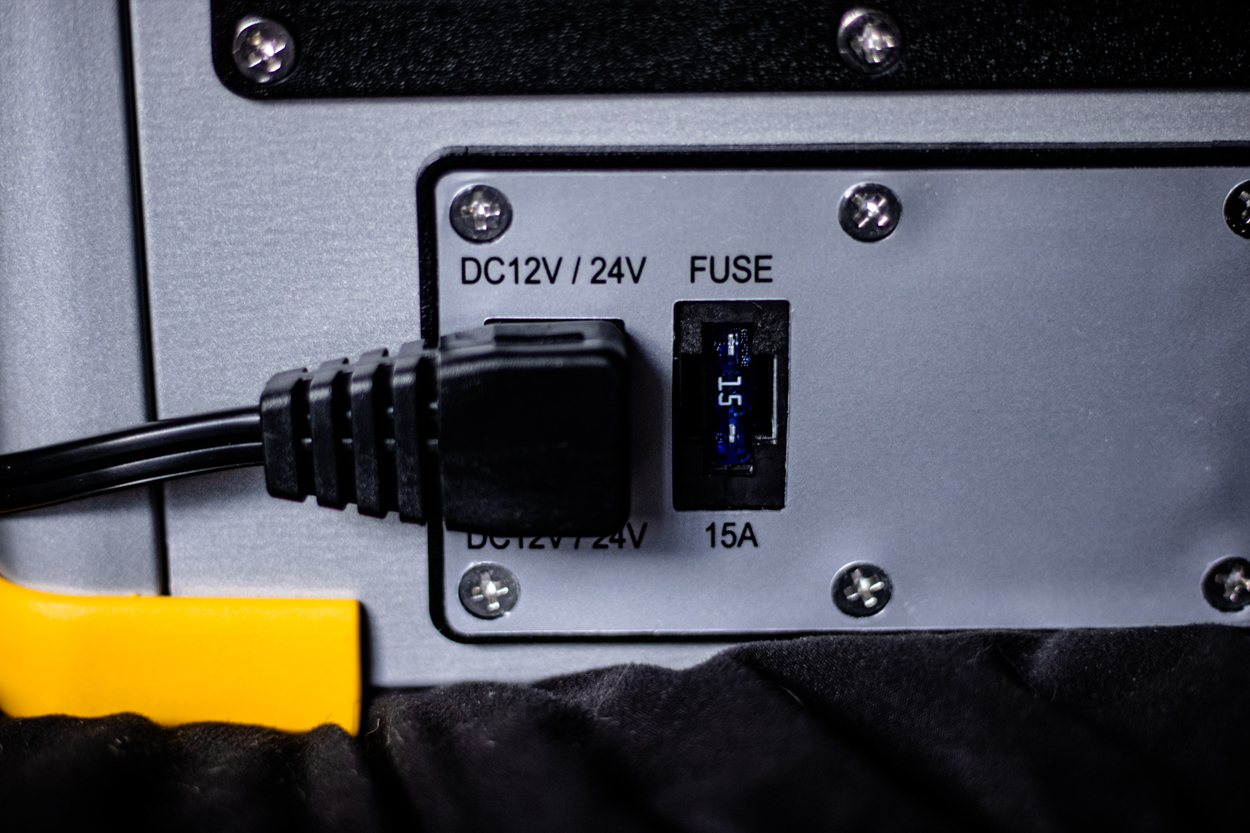 Just below the display screen is the outlet for your power plug, as well as the fuse right next to the outlet. The outlet is powered by either DC 12V or 24V power source, but SetPower provides you with a power cord for indoor application as well. You can transition the fridge from DC to an AC adapter home socket at 110-120V.
These features add to the versatility of the fridge. If you're like most of us, you're not always on the road. This fridge is perfect for storing cool drinks for a get-together or otherwise. The easy access to the fuse is a cool feature that makes maintenance that much easier if you ever needed to check the fuse or change it.
LED Light & Metal Baskets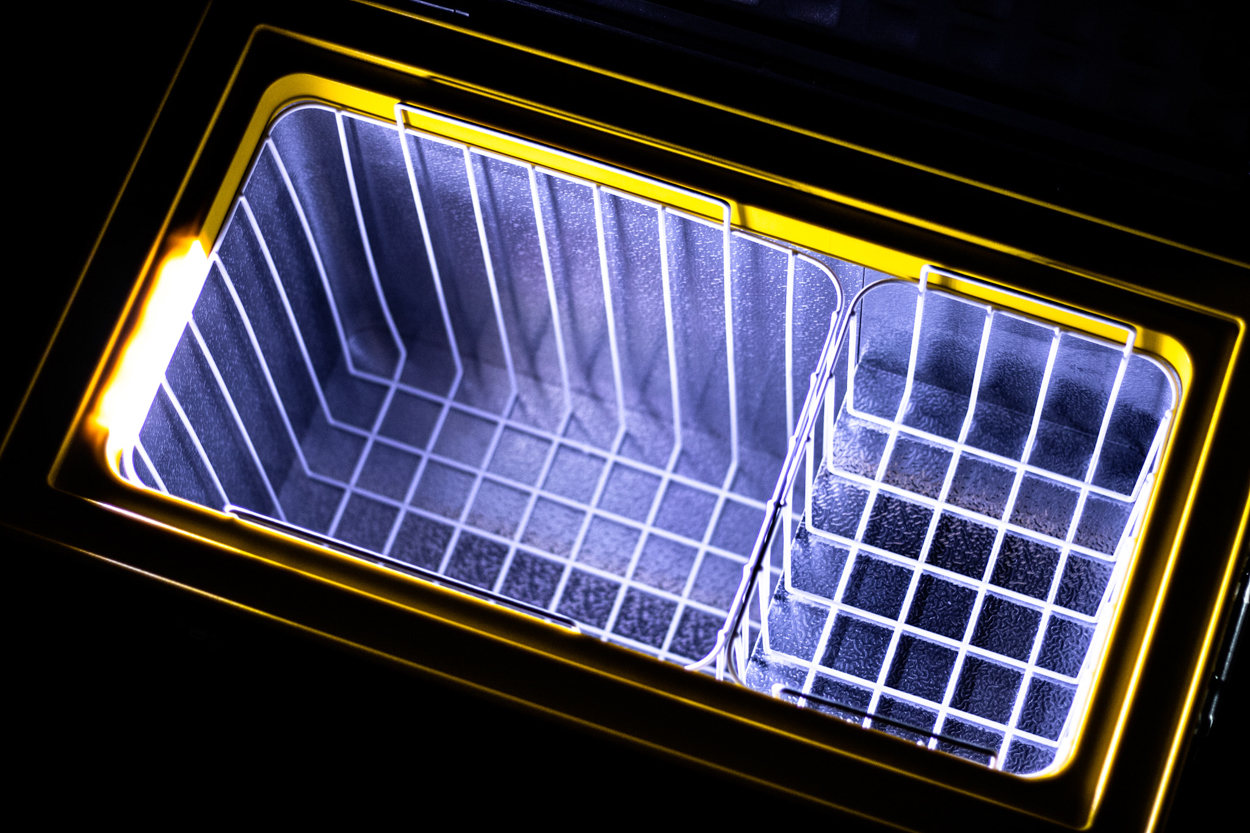 The fridge also comes with an LED light on the inside, so once you open the lid the light illuminates the entire cooler. This is great for low light settings and eliminates the need for a flashlight. You can now use both hands without fumbling around.
The fridge also has an upper and lower shelf for separating your groceries. For added organization and stability, SetPower provided two metal baskets inside for storage. This makes it super easy to pack your fridge without lugging it around the house before you leave. Simply remove the baskets, and fill them up and place them back in the fridge.
Food Temperature Guide
The last feature that I thought was really unique and worth a mention was the mini chart SetPower added as a guideline. They placed a guide on the outside of the fridge to use as a reference for setting the proper temperate, depending on what food or beverage you are trying to cool.
This takes out the guesswork and ensures you have it set to the right temperature so your food will last. It ranges from water to red wine, and even fruit and vegetables to seafood and meat.
Final Thoughts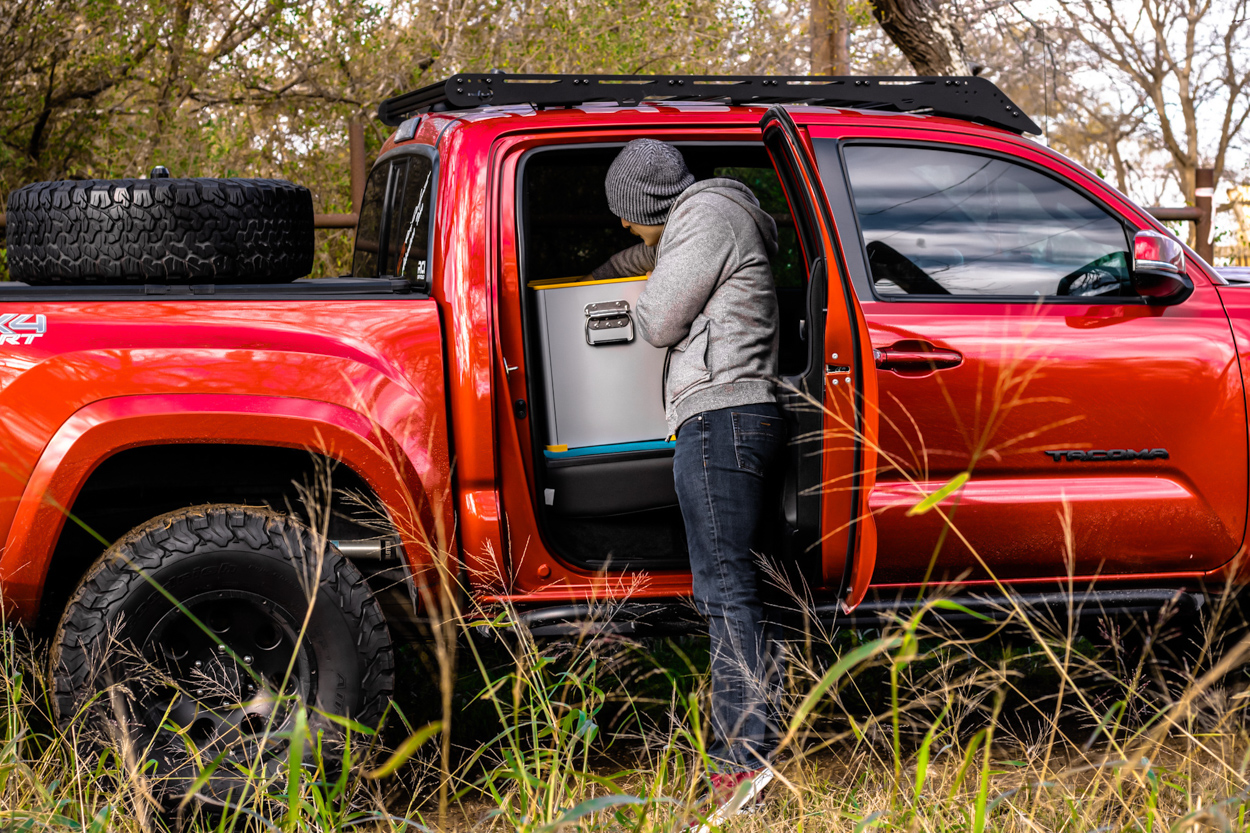 For those out there like me that are building their rigs on a budget, this is definitely a must-have. At almost a quarter of the cost of the more expensive options on the market, this fridge/freezer seems to be a no brainer!
Also, I wanted to mention two other things. With an electric fridge/freezer you obviously don't need ice. A typical 7lb bag of ice takes up a lot of room, so just by having an option like this, you can carry that much more food. As for cooling the fridge before you hit the road, it's best to put colder items inside and pre-cool the unit before you toss it in your car. This will ultimately save power and help with efficiency. We'll see how it does in the long run, but I have my hopes up. And with the warranty, I'm feeling confident this product will last.
This fridge/freezer can hang with the best of them, and it seems to be built to last. SetPower had the rugged adventurer in mind when designing this portable fridge, and it is worth the investment. The price tag is a huge motivator, and it offers all the same features. All the features I listed above, truly make it a great mobile option. Now you don't have to break the bank to make your experience a bit easier. Let SetPower USA take your fancy car camping and overlanding trips to the next level.