New for the 3rd Gen Tacoma: The Overland Series Steel Front Bumper from C4 Fabrication – Pictured with Full Height Bull Bar and Headlight Hoops
When it comes to aftermarket armor for the Toyota Tacoma, 4Runner, and even Tundra, there's one name that remains at the top; C4 Fabrication. They specialize in Toyota armor and have for quite some time.
C4 fabrication just released their highly anticipated, brand new Overland series front bumper for the 3rd Gen Tacoma with full hoops, and it couldn't look more impressive. If you are familiar with the 4Runner Overland series bumper, it looks very similar. It's essentially the same steel plate design however with a few tweaks to the front end to fit the 3rd Gen Tacoma.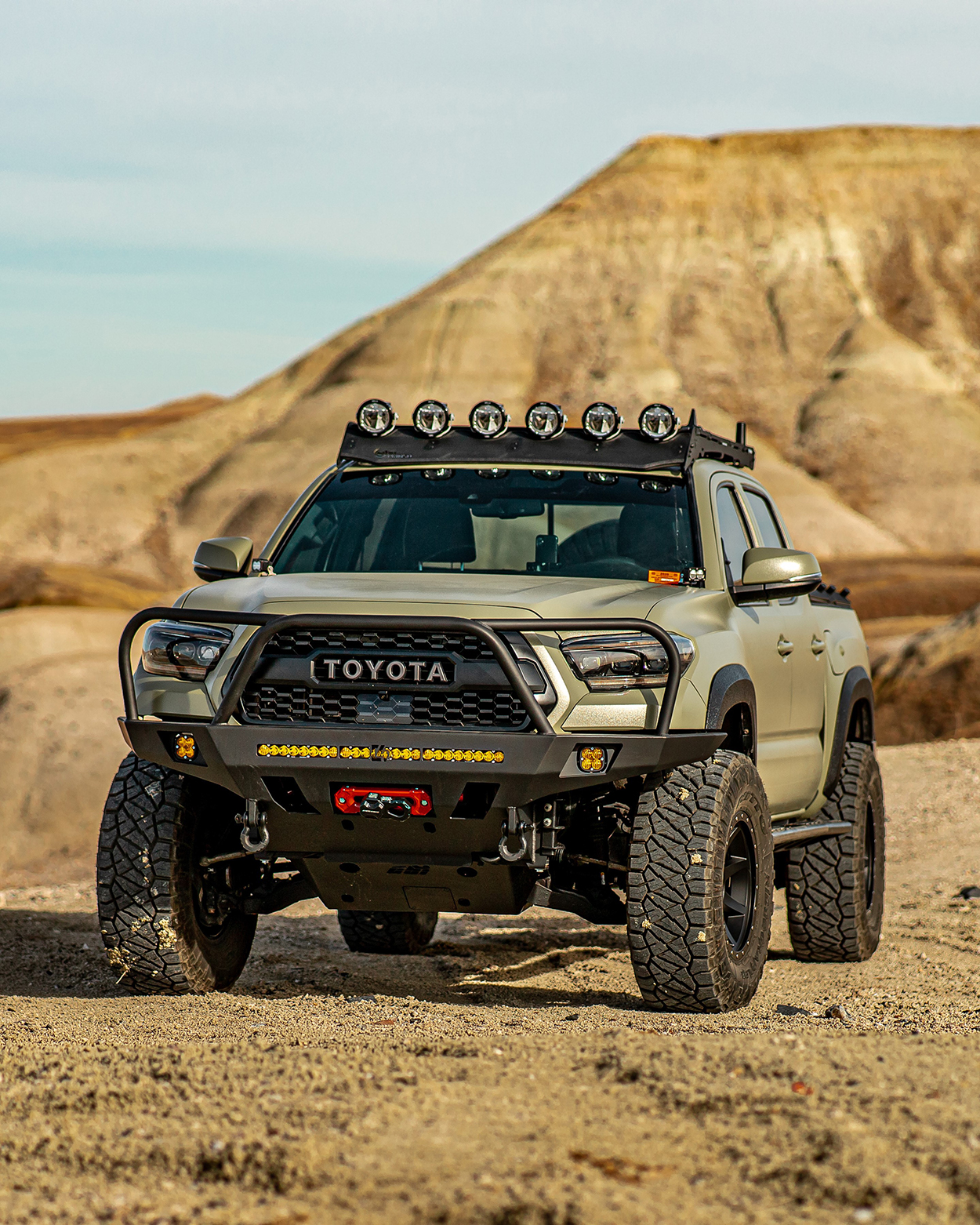 Material
Fabrication of the front bumper is only offered in steel as that's going to offer the most protection and the strongest addition to the front end of your Tacoma. Let's be honest, anyone who wants aluminum isn't wheeling hard enough anyway. If you're going to wheel – go with steel. Finally, the bumper does require cutting your factory bumper plastics in order to fit.
Lighting
On the outside of the bumper, you have two slots for Baja Designs Squadrons or any aftermarket light that shares the same specs with the squadrons. In the center of the bumper, you get the option for essentially any 30″ LED light bar; however C4 designs most of their products around Baja specs, so just expect that going into it.
Winch
This full-width overland series bumper will fit most 8,000lb to 12,000lb rated winches with cut-outs on both sides access the on and off switches along with the drum spool. You can expect any Warn, Smittybilt, Come Up, and/or Iron Man 4X4 winch should fit this bumper.
Weight
The weight comes in at around 120-135lbs depending on the bull bar (hoop) options you select. You have the option of running no bull bars, mid-height bull bars (center only), or full hoops (pictured here) all the way around the bumper. Full hoops will obviously yield the most weight putting your front-bumper spec at the 135lb mark. These weight specs are not including any aftermarket winch or lighting options.
If you add a winch, such as the Warn VR EVO 12, for example, you can expect to see an increase of 72lbs+ depending on winch accessories. Then adding a 30″ Baja lightbar + dual squadrons will give you another 10lbs. All in you are sitting at around 200+ in added front weight.
I wanted to go into detail on weight because every pound matters when we are building out these trucks.
Needless to say, this bumper is freaking rad!
Find it online:
2016+ Tacoma (3rd Gen) Overland Front Bumper

: Check Price
Ships to the freight hub nearest the customer's residential address unless a commercial address is provided in which case the product can be sent directly to the commercial address. Please specify the business name if needed. Current lead time: 15 weeks. 
2016+ Tacoma (3rd Gen) Overland Front Bumper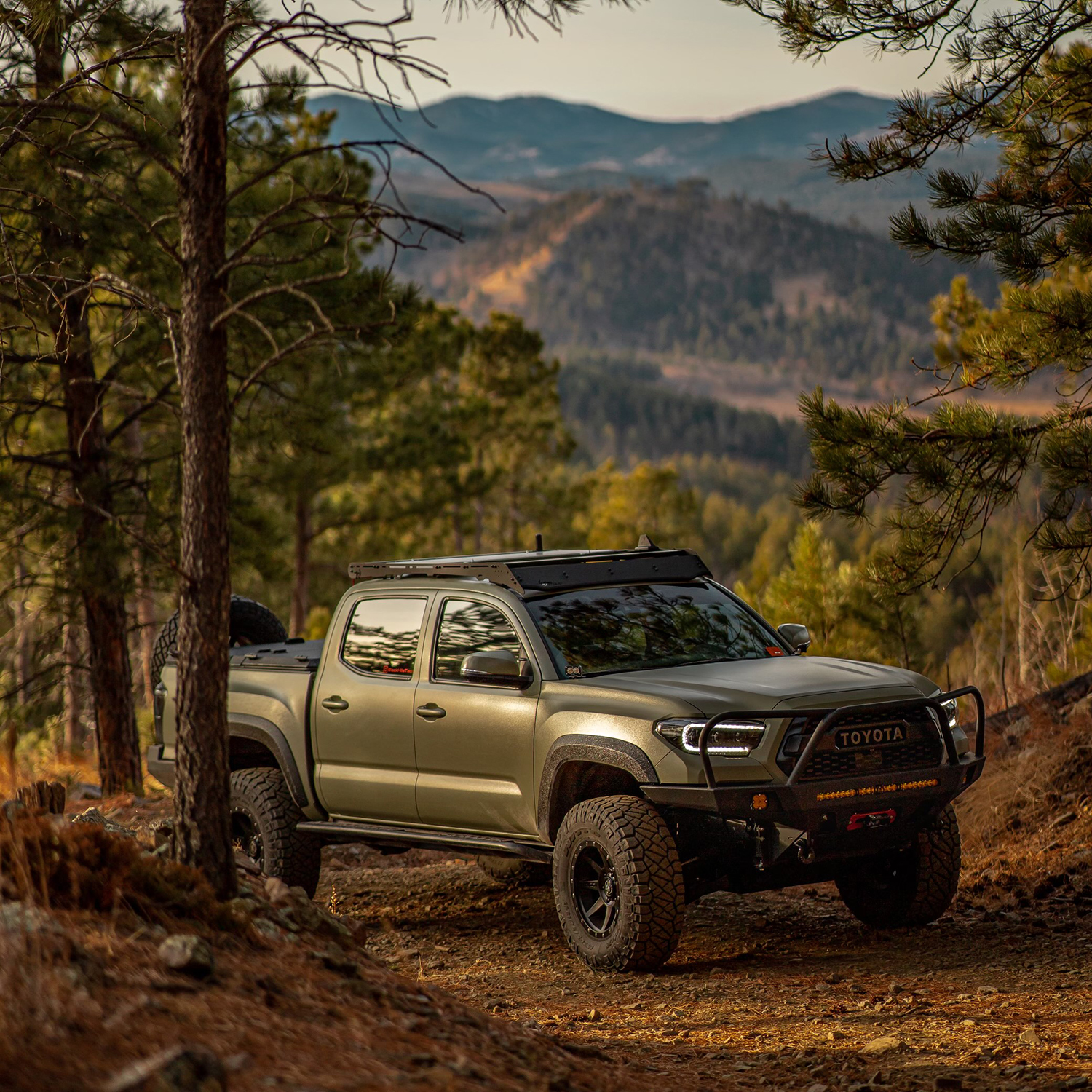 General Specs:
Below are some of the general specs you will find on the C4 Fabrication website. Most of the information below is consistent with a lot of their bumpers, especially the Overland series line.
Fits most winches 8k-12k in size. Winches with the ability to relocate the electrical control box are recommended.

ComeUp, Smittybilt X20, Warn Zeon and VR series are all common winches that fit.

Synthetic rope and a hawse style fairlead for the best fitment and functionality

Roller fairleads may be too large to fit the recessed fairlead mounting plate in the bumper.

Light Bar cutout and mounting tabs designed to work with Baja Designs S8 30″ light and Rigid SR series 30″.
Fog light pockets designed for Baja Designs Squadron lights. (Factory fog lights not supported)
3/4″ thick D-ring tabs, fully welded front and back come standard.
115lbs without bull bar, 125lbs with mid-height bull bar, 130lbs with full height bull bar, 135lbs with full height bull bar and headlight hoops.
Mid-height bull bar not compatible with Toyota Safety Sense.
SHIPS BARE STEEL, C4 does not offer powder coating services.

Bumper will need to be painted or powder coated before installation to prevent rust.
Final Thoughts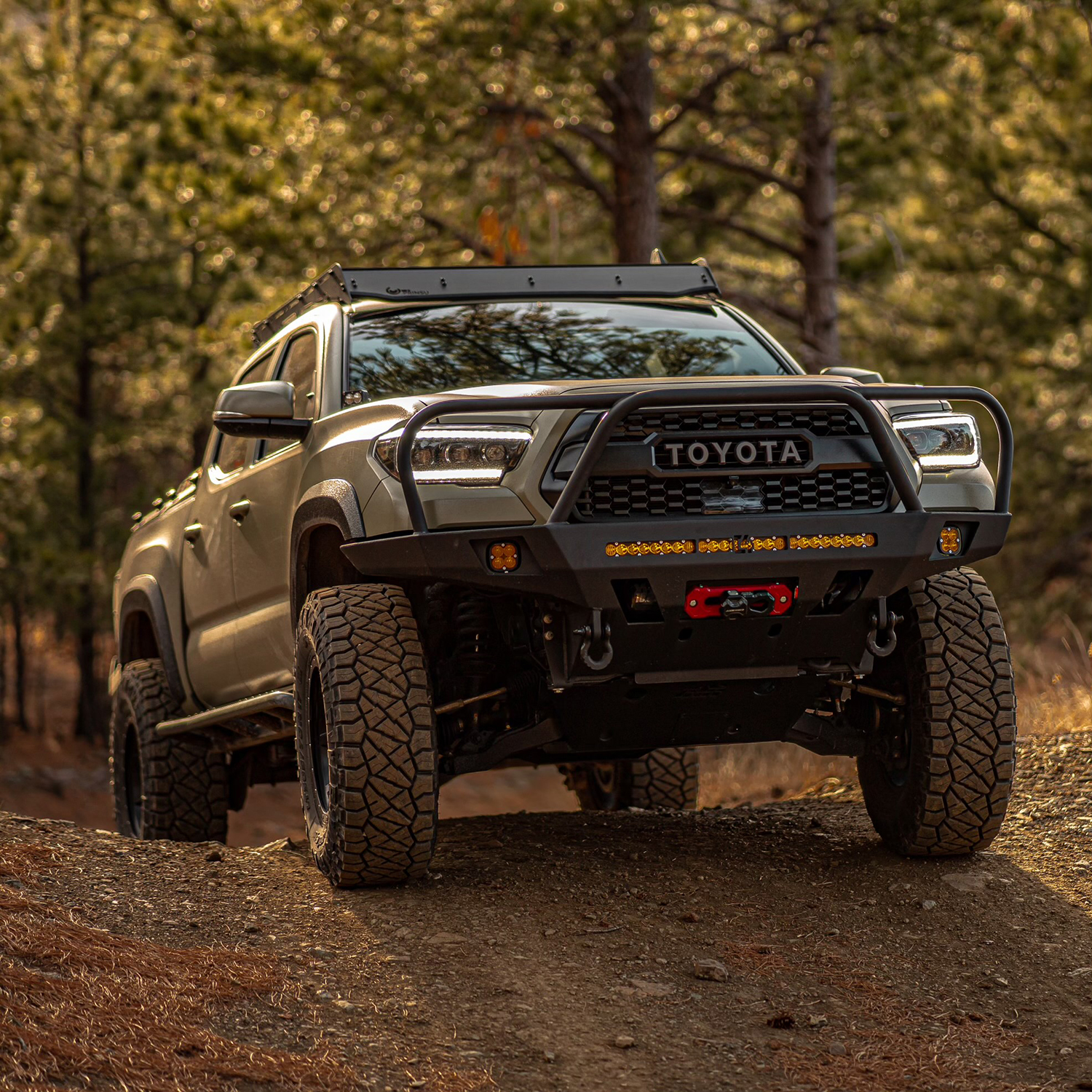 Obviously, there are plenty of highlights, features, and benefits to choose from when looking at the C4 fabrication Overland bumper. When it comes to the downsides or cons I only see one, and that's that you have to powder coat or paint the bumper once you get it. C4 Fabrication does not offer powder coating services in house. Other than that, there's a lot to look forward to with the new bumper.
At the end of the day, almost anything that C4 Fabrication produces is pretty well-respected and well trusted in the market.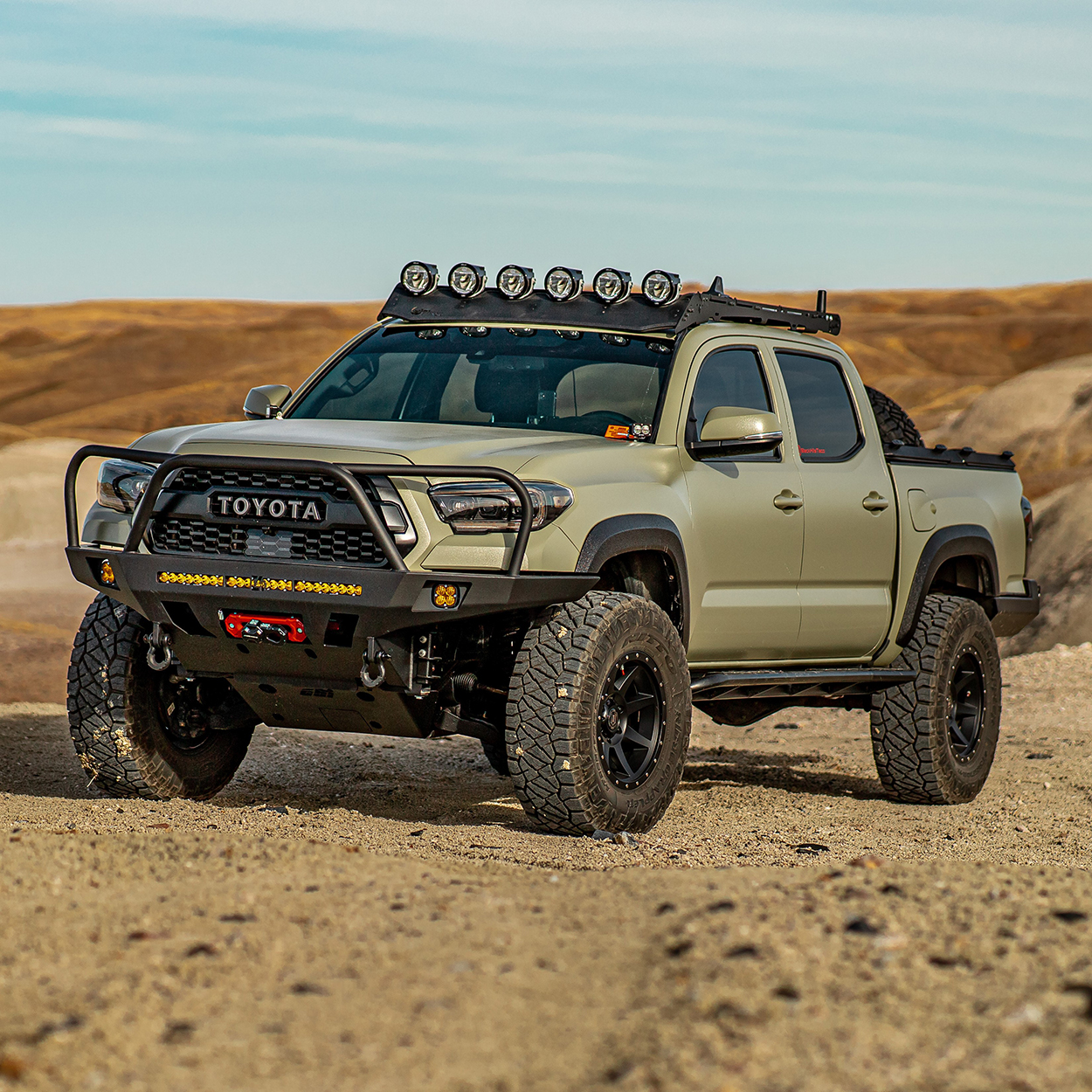 Featured on the front of the build you will see the Agency 6 Hawse Fairlead, and the Agency 6 Winch Shackle connected to a Smitty Bilt X20 10Klb winch.
Last but not least I wanted to touch on the fact that it is the Black Hills Taco build that is featured in this post. You can find him on Instagram and ask him any additional questions about this build if you have any.