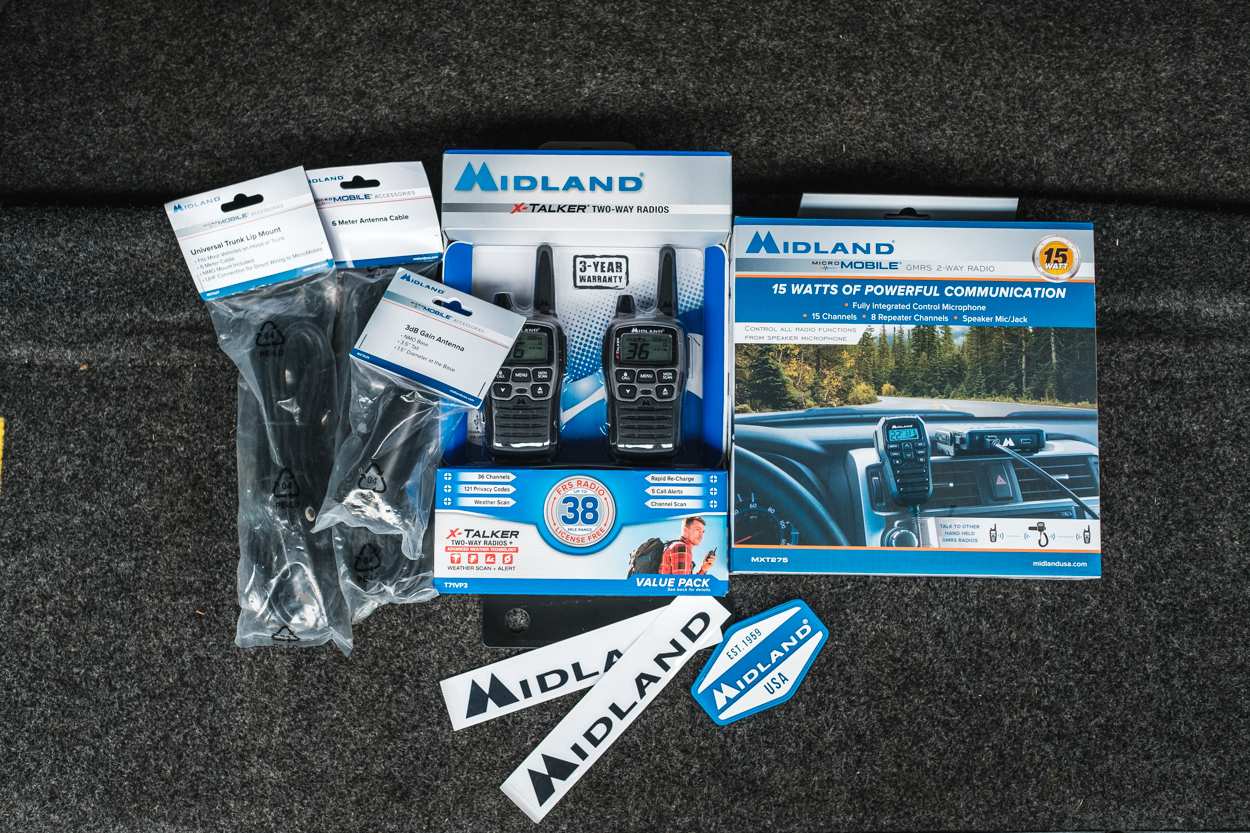 Get Your Comms Right with these Two Options from Midland USA – GMRS & FRS Radios
Two-way radios are often used in many ways when it comes to the outdoors enthusiast.
They are great for vehicle-to-vehicle communication, spotting a driver during an obstacle on the trail, or just simply keeping communication with your loved ones around camp.
When it comes to walkie-talkies, Midland should come to mind. They specialize in both GMRS and FRS radios ranging from walkie-talkies, base camp units to MicroMobile radios with an integrated handheld microphone. Midland carries several other radios, but we'll stick to these two for now.
Not sure how to choose between GMRS and FRS? I can help with that. Let's dive into the technical aspects first.
Find them online:
What is GMRS Radio?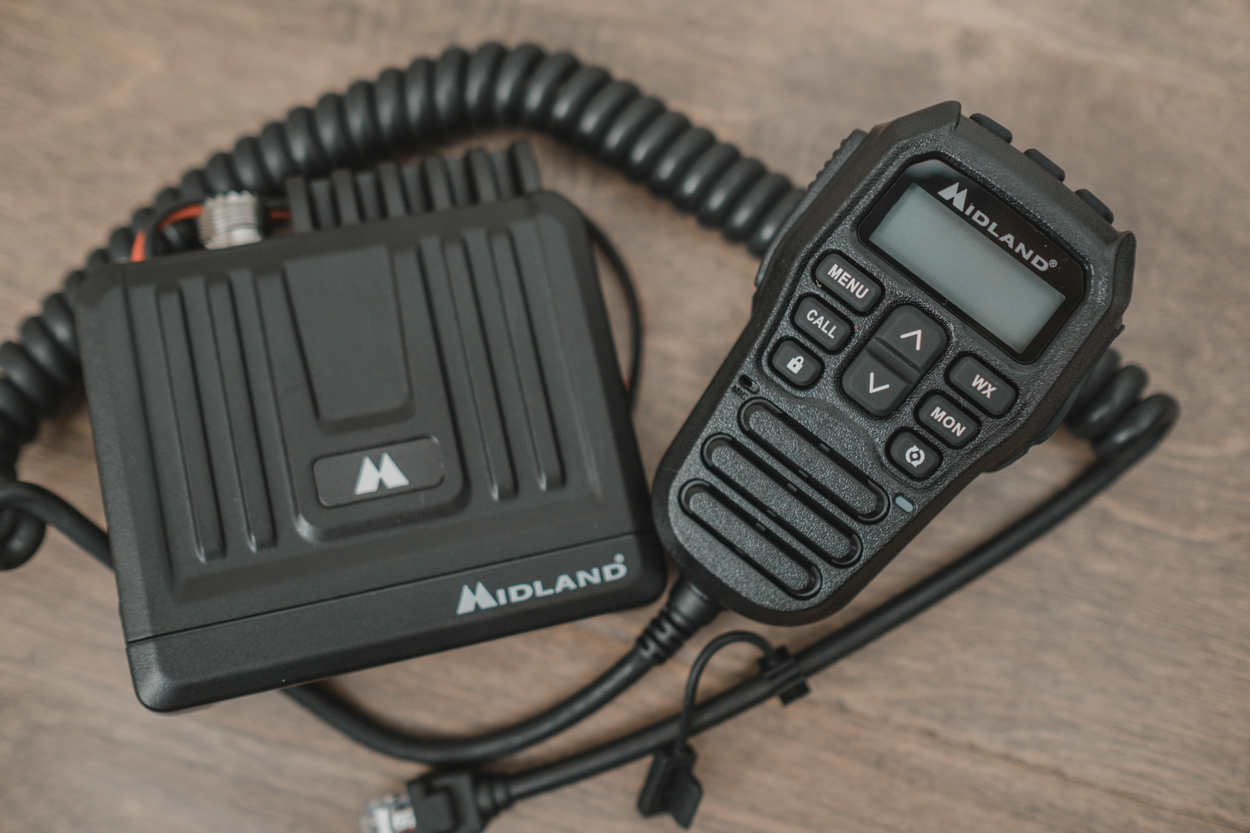 General Mobile Radio Service (GMRS) is a licensed radio service that uses channels around 462MHz and 467MHz. This type of radio is most commonly used in short distance two-way voice communications using in-unit radios like the Midland MXT275.
As per the FCC (Federal Communications Commission), any radio transmitting more than 2 watts is considered a GMRS radio. So a license will have to be obtained by applying here.
But don't worry, a test is not needed. The fee to apply will cost $70 and is good for 10 years, which covers you and your immediate family as well. So not a bad deal considering it will last for 10 years!
A GMRS radio is often an in-unit radio with an external mic. Similar to what you might know as a CB radio.
A key difference in these radios is power. GMRS has the upper-hand when compared to FRS radios. Typically, a GMRS radio is around 5 watts and FRS radios are below 2 watts. However, there are more refined GMRS models that can go as high as 50 watts.
GMRS radios will also have a much longer range. Although the distance can vary; it can be up to 5 miles. Adding a repeater can increase it to 20 miles. This is of course if you have a direct line of sight and nothing is obstructing the signal.
What is FRS Radio?
Family Radio Service (FRS) is a private, two-way, short-distance voice communication service for facilitating family and group activities. Very similar to GMRS but a license is not needed since they only transmit below 2 watts.
FRS radios are pretty much what you would call a walkie-talkie. Ranging from a basic handheld to one that's more advance like the Midland X-Talker T71VP3.
They also have a few advantages over a GMRS radio. FRS radios are easily available, you can find them in almost any electronic store near you. These radios are low-cost, often cheaper than a tank of gas. Of course, they can cost more if you are wanting something with newer features.
Midland MXT275 MicroMobile GMRS Two-Way Radio
The MXT275 is a full 15-watt GMRS radio that comes with a completely integrated handheld microphone. This means all of the controls are on the handheld microphone, itself, making it easier to change channels or even power the radio on or off. The base of the radio can also be hidden if dash space is limited.
Unlike walkie-talkies, the MXT275 is an in-unit radio that can be plugged into your DC charger via a 12V power cord. No need to worry about always charging your radio and dealing with batteries.
A detachable antenna with a magnetic mount is also included. However, if you're wanting to upgrade the signal output, Midland has a couple of antenna options that could double the signal output.
Another accessory that's included is the external speakers. These are for those of us who need something louder than the built-in output speaker.
Features
15 Watts of Power
8 Repeater Channels
15 Hi-Power Channels (GMRS Channels: 1-7 & 15-22)
Fully Integrated Control Mic
Speaker Mic Jack
142 Privacy Codes
NOAA Weather Radio
Silent Operation
Channel Scan
Compatible with All Midland GMRS Radios
Radio Dimensions with Bracket: 5" x 5.25" x 1" (D x W x H)
GMRS License Required
MicroMobile MXTA25 3dB Gain Ghost Antenna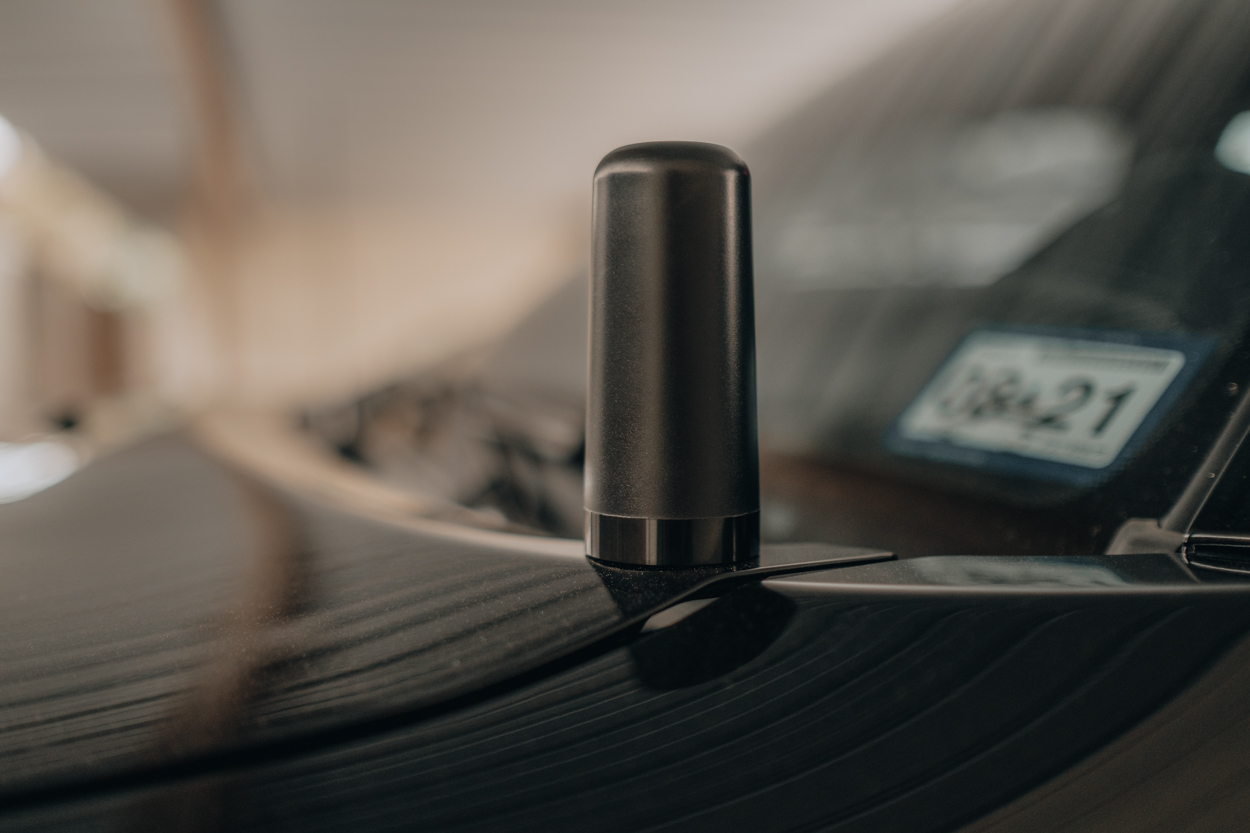 This compact design antenna stands only 3.5" tall. This gives it a low-profile design that blends in well with your rig, hence the name, ghost antenna. Although the antenna is short, it still gives reliable and clear communication when out on the trail.
The MXTA25 Ghost Antenna has a gain of 3dB that doubles the signal output – giving you that extra range where it's needed.
However, an antenna mount will not be included if you plan on purchasing the ghost antenna. But Midland has a couple of different mount types to choose from. I'll cover those next.
MicroMobile MXTA27 Universal Lip Mount
This universal lip mount attaches to most hoods without having to drill. It simply clips to the edge of the hood, while two small screws hold it in place. A simple and easy mount for those who don't want to drill or deal with any additional hardware to mount it.
Let's say you want to mount it near your ditch lights. This brings me to the next mount in the following section.
MicroMobile MXTA22 Ditch Light Extension Bracket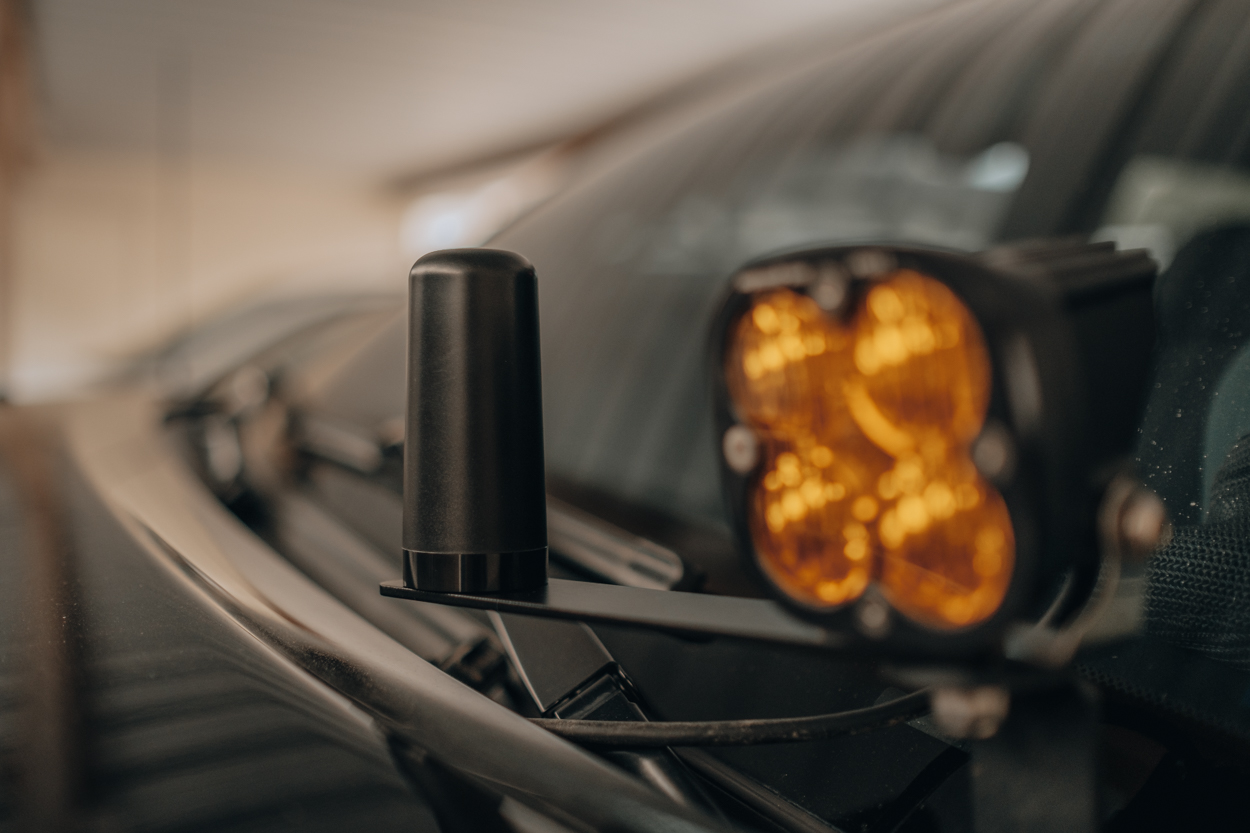 With this extension bracket, you'll be able to mount the antenna off of an existing ditch light bracket.
With it only being 7" long, you can mount it on either the driver's or passenger's side.
MicroMobile MXTA24 Low-Profile Antenna Cable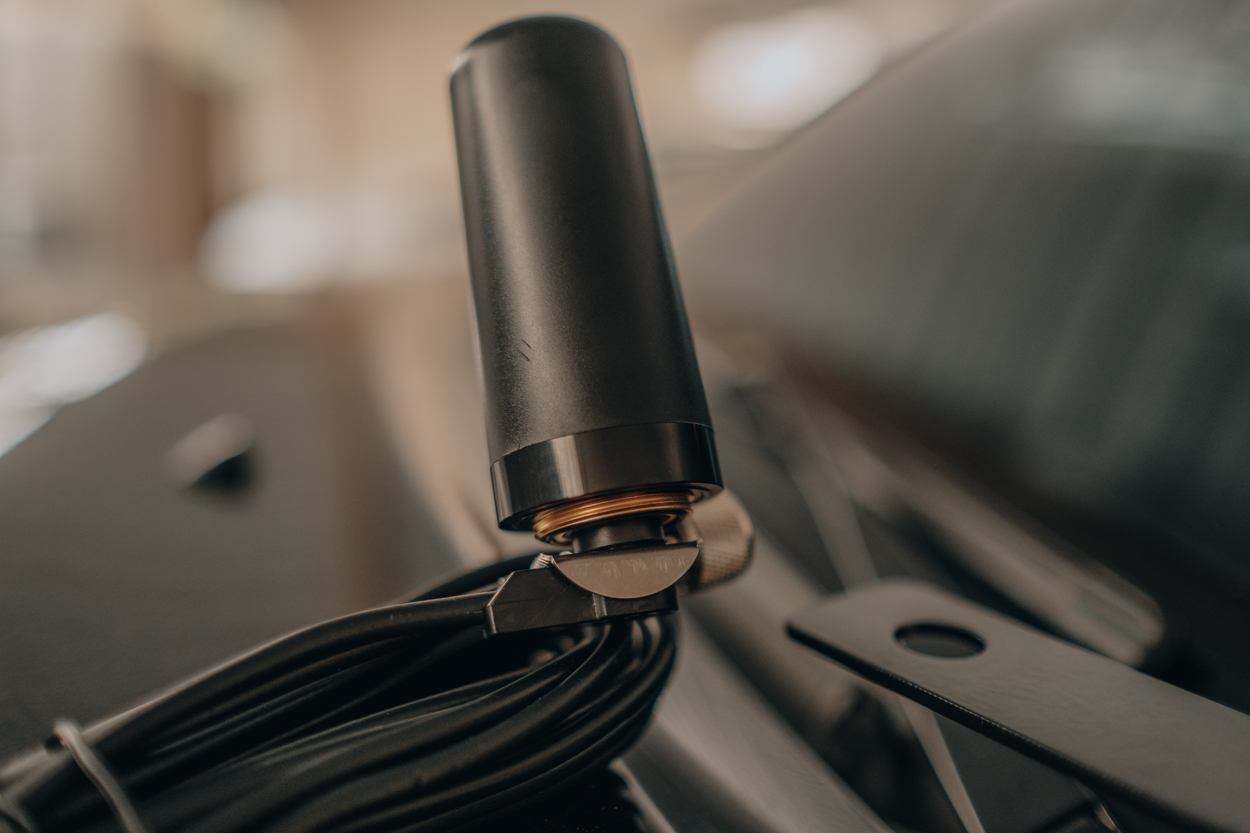 With the addition to the extension bracket, you may use the MXTA24 Low Profile Antenna Cable as well. It's a heavy-duty 6-meter long cable with a low profile connector, keeping it hidden for those cable neat freaks.
The cable also features a removable UHF connection that unscrews making wire routing through the firewall a breeze.
More of a weekend warrior and need something even simpler than this GMRS setup? Keep reading.
X-Talker T71VP3 Two-Way Radio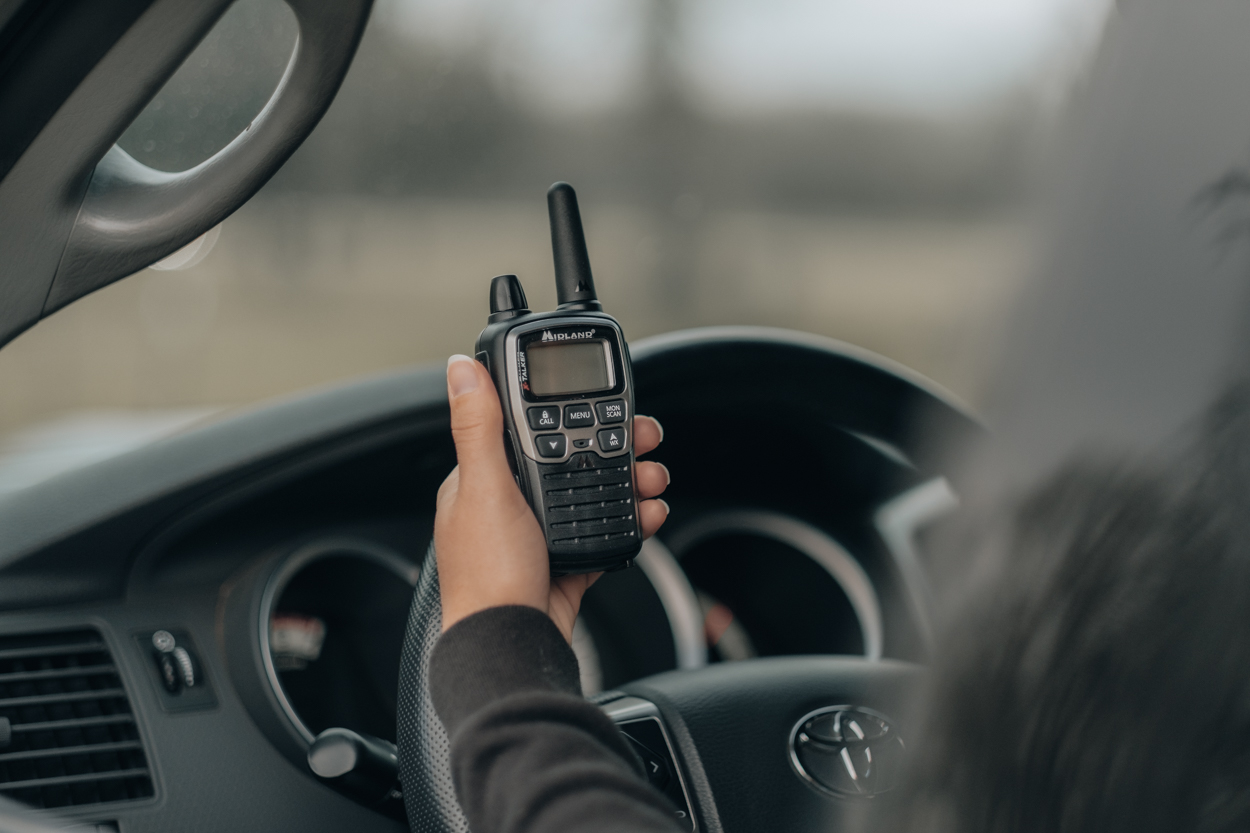 If you're looking for something simple to use and setup, these X-Talker T71VP3 Walkie Talkies are a great option. These are FRS radios, so no need for a license.
The X-Talker has an extremely long battery life of up to 15 hours. So you don't have to worry about charging your radios mid-day when you're out on the trail. These also have an extreme range of up to 38 miles!
Included with these radios is a desktop charger with a micro USB charging cable and AC wall adapter. The AC wall adapter can be removed as well, making the radios easier to charge with any USB outlet.
Features
3 Year Warranty
36 Channels
Clear, Crisp Communication with Easy Button Access
Xtreme Range
121 Privacy Codes
Weather Alert Radio with Weather Scan
GMRS Installation
The Midland MXT275 and other Midland GMRS MicroMobile radios are universal when it comes to installation. So these can be mounted pretty much anywhere that fits your needs.
The GMRS radios are a simple plug and play, that's powered via your rig's 12V power outlet. I will cover a quick basic install to show you an example of how you can mount your radio.
Step 1. Unboxing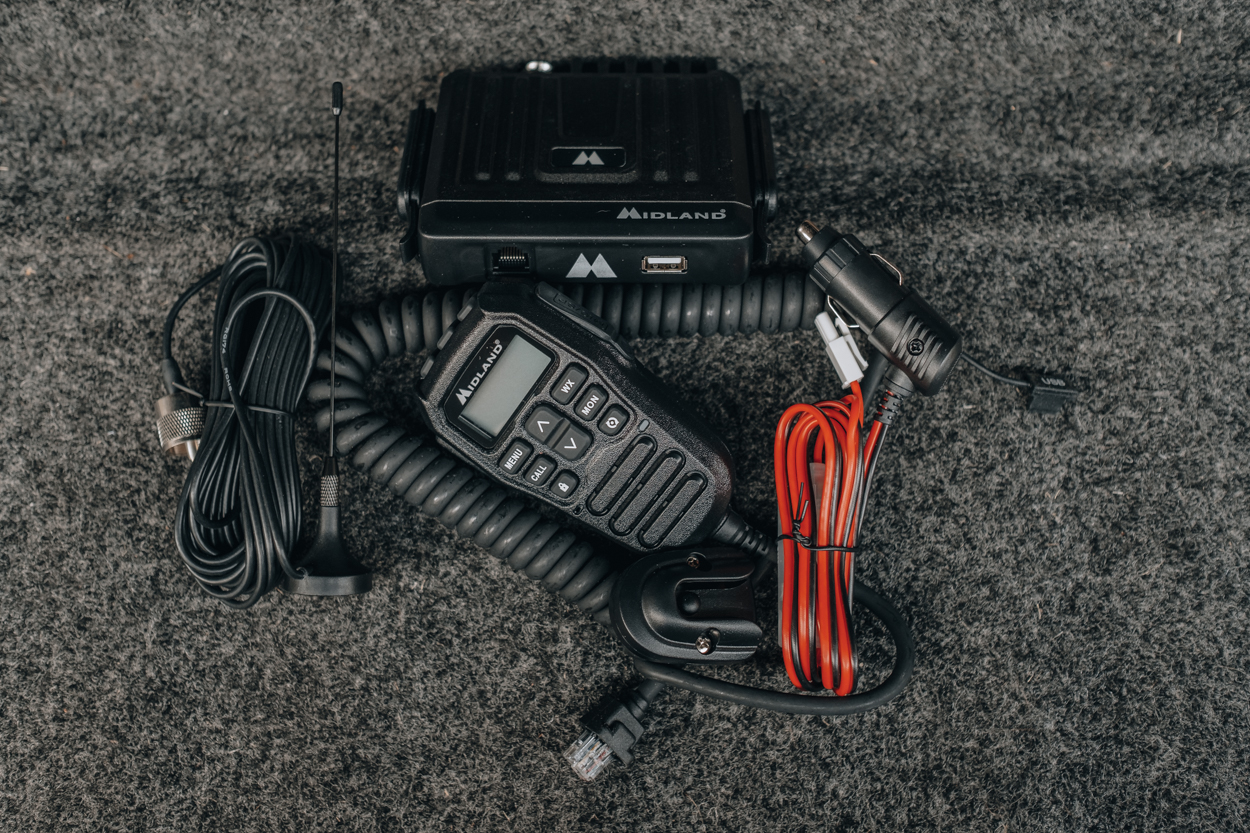 In the box, you will find the radio base (with mount), mounting hardware, hand-held microphone (with holder), magnetic antenna and 12V power cord DC adapter.
Step 2. Mount Radio Base
I chose to mount the radio base to the side of my center console area.
I decided not to drill into the console just in case I wanted to move the base in the future, so the bracket to mount was not needed.
Instead, I mounted it using Velcro with adhesive backing.
That way I can remove it easily without damaging the center console.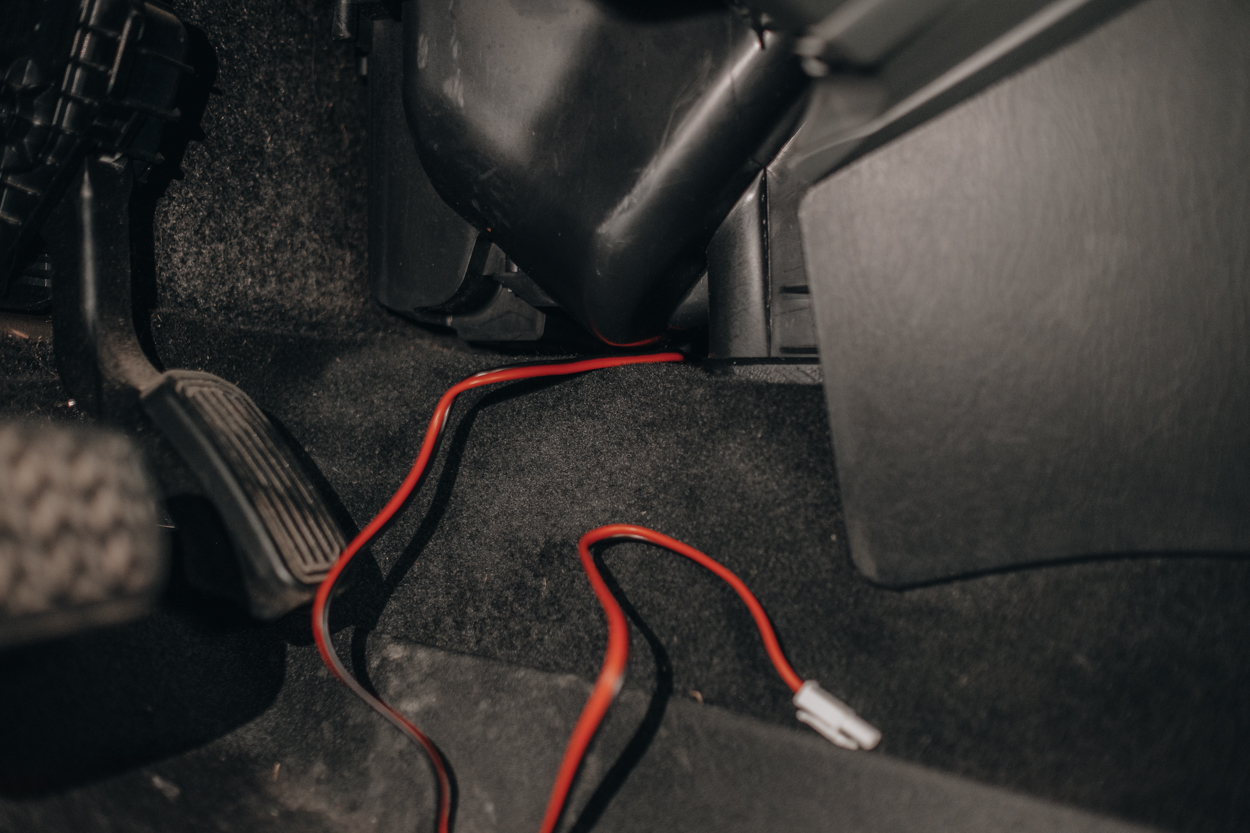 I then ran the power cable behind the console and plugged it into the 12V outlet closer to the passenger's side.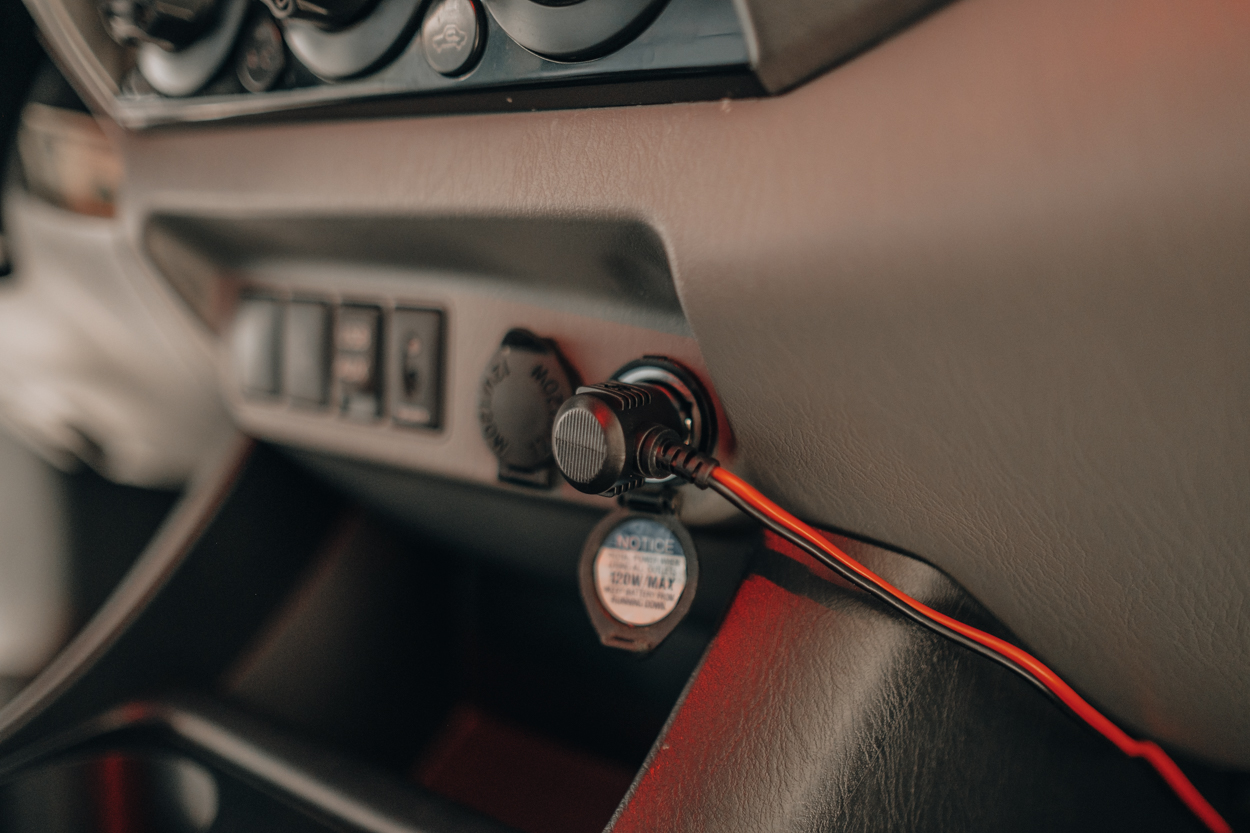 You can see how I plugged my radio in above.
Step 3. Mount Microphone Bracket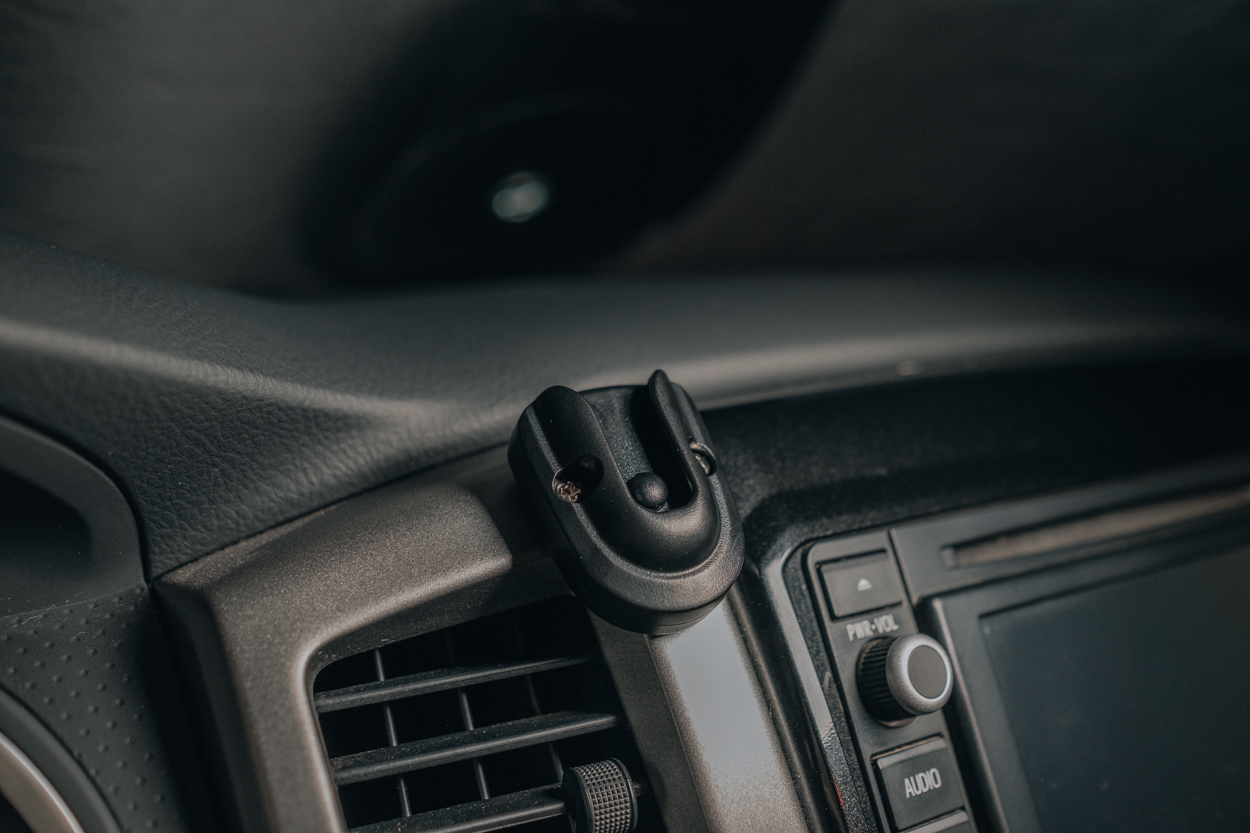 Now you can find a place to mount your hand-held microphone.
With the provided microphone holder and adhesive backing, you can stick the holder anywhere on the dash. I put mine up high near the driver's side air vent so it's easily accessible.
Step 4. Mount Antenna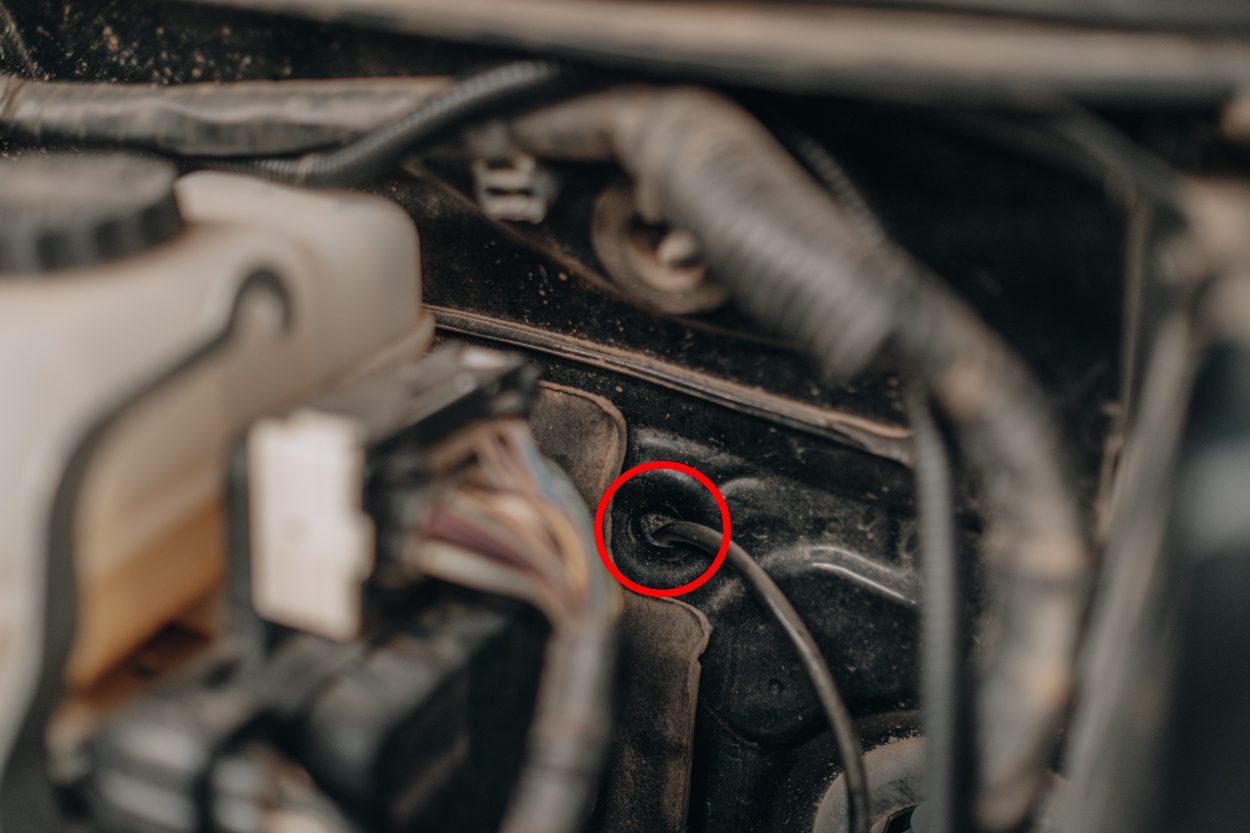 I will be mounting the ghost antenna on the ditch light bracket, so I will run the cable through an existing hole in the firewall.
The cable will then run under the dash and into the base of the radio. And that's it!
Final Thoughts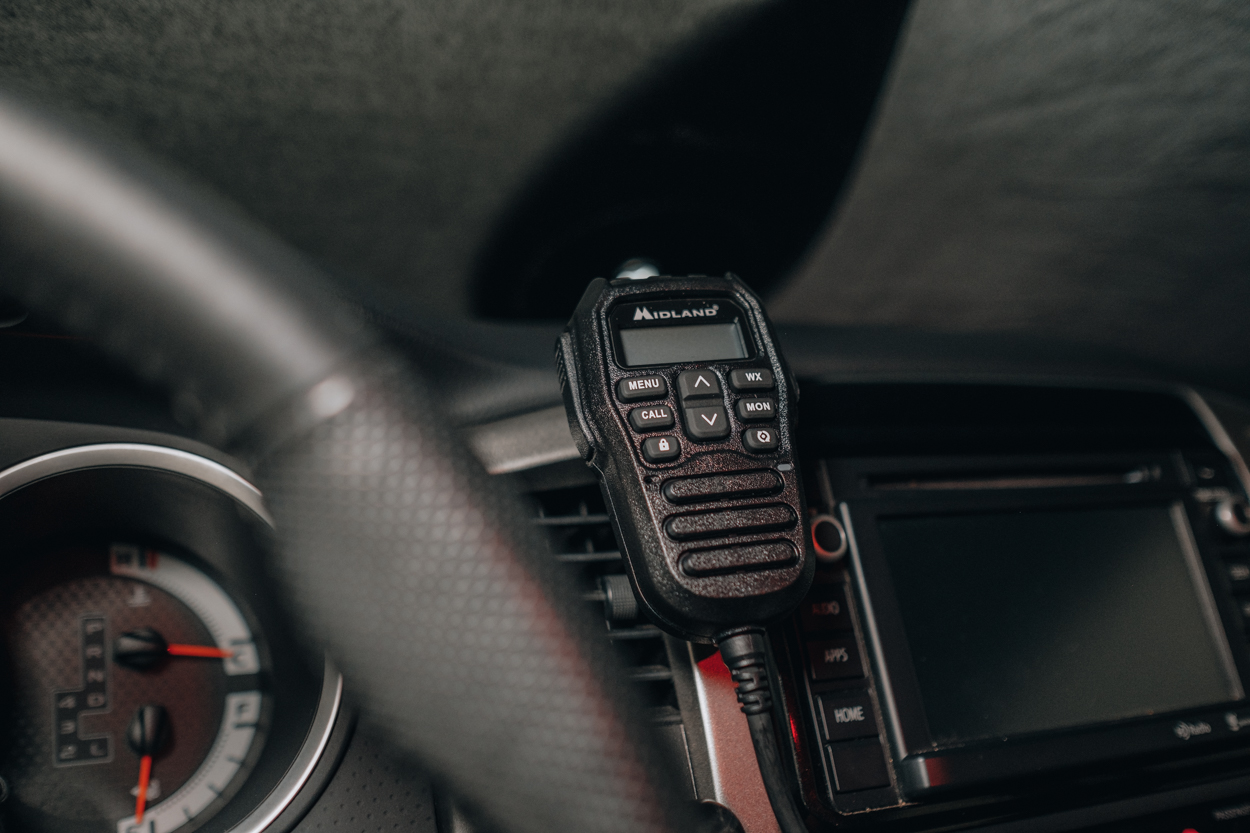 When it comes to a two-way radio that's affordable and user-friendly, Midland has you covered!
Their radios are well built and feel comfortable in the hand. You can easily access the buttons using one hand. The output is crisp and clear with no static.
My personal choice is the MXT275. Which I plan to eventually hardwire into the fuse box in the future. Hope that this article helped!