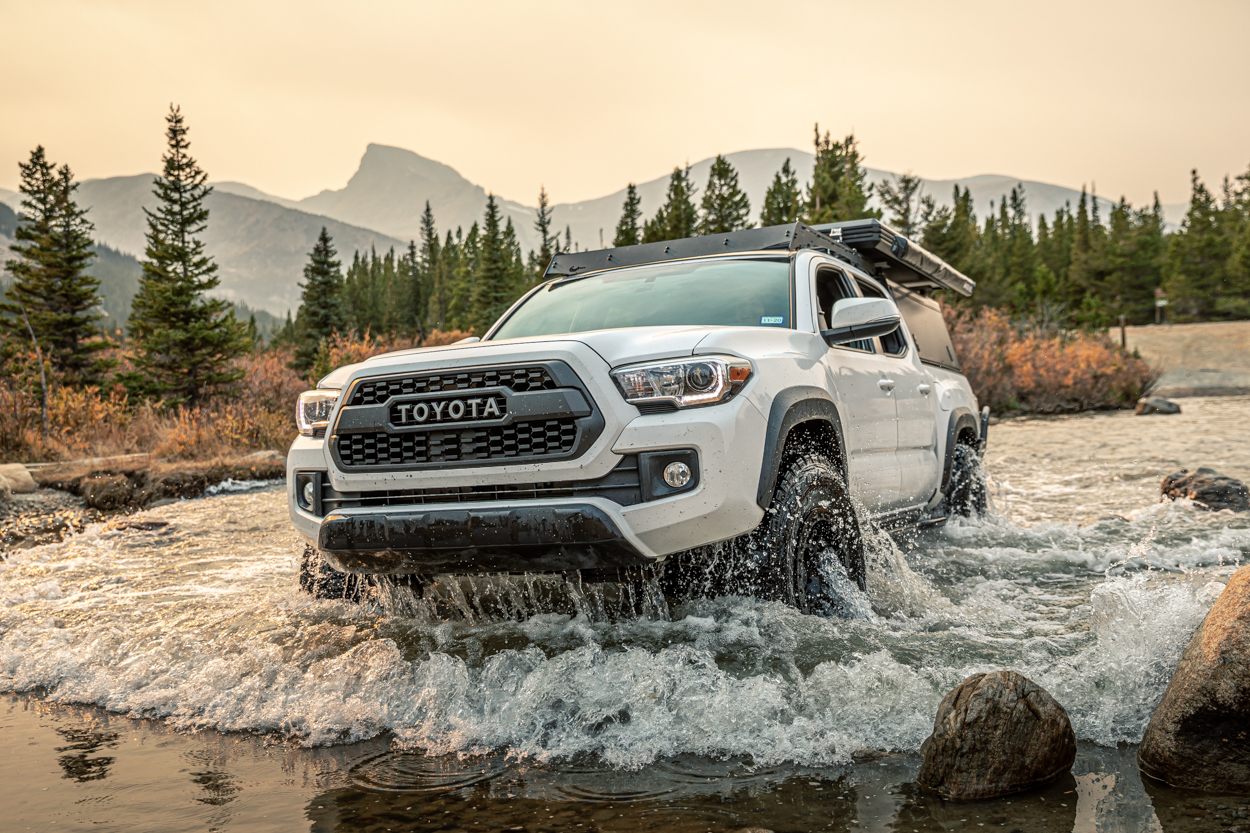 Long-Term Review of the Toyo Tires Open Country R/T Tire on the 3rd Gen Tacoma: 10,000 Miles Through Many Terrains & Conditions
As the titles indicate, at 10,000 miles driven, I've hit the point where I feel comfortable giving a long-term review of these Toyos. Toyo Tires have been around for quite a while and many in the off-road and overland space trust them on all sorts of journeys. Throughout my experience with them, I completely understand why.
In my initial review and overview, I broke down all the features, specifications and things like mounting and balancing. That article is a great place to get started if you've never heard of these tires, or you have more precise questions.
Years ago, from the moment I first saw these tires, I was interested. The distinctive and aggressive design is pretty hard to miss. At worst, these tires drastically improve the outward appearance. But these tires are certainly not just about looks. From the very first mile on the pavement to the trails, and all through the winter, I can honestly say these are some of the best tires I have run to date.
Find It Online
Treadwear
These tires have a 45,000 miles treadwear warranty. With a warranty like that, you best believe Toyo is standing behind these tires.
Having just crossed the 10,000-mile mark, you might think a good chunk of the tread was already worn down. I'm happy to report, the opposite is true. These tires have worn incredibly well and quite evenly. Even in the face of my jacked-up alignment, considering that about 8,000 miles of the 10,000 were with an excessive amount of negative camber due to not one, but two bent spindles, the tires have worn very well. Don't worry, these will soon be replaced with some new spindle with Dirt King Fabrication gussets. Lesson learned on that one.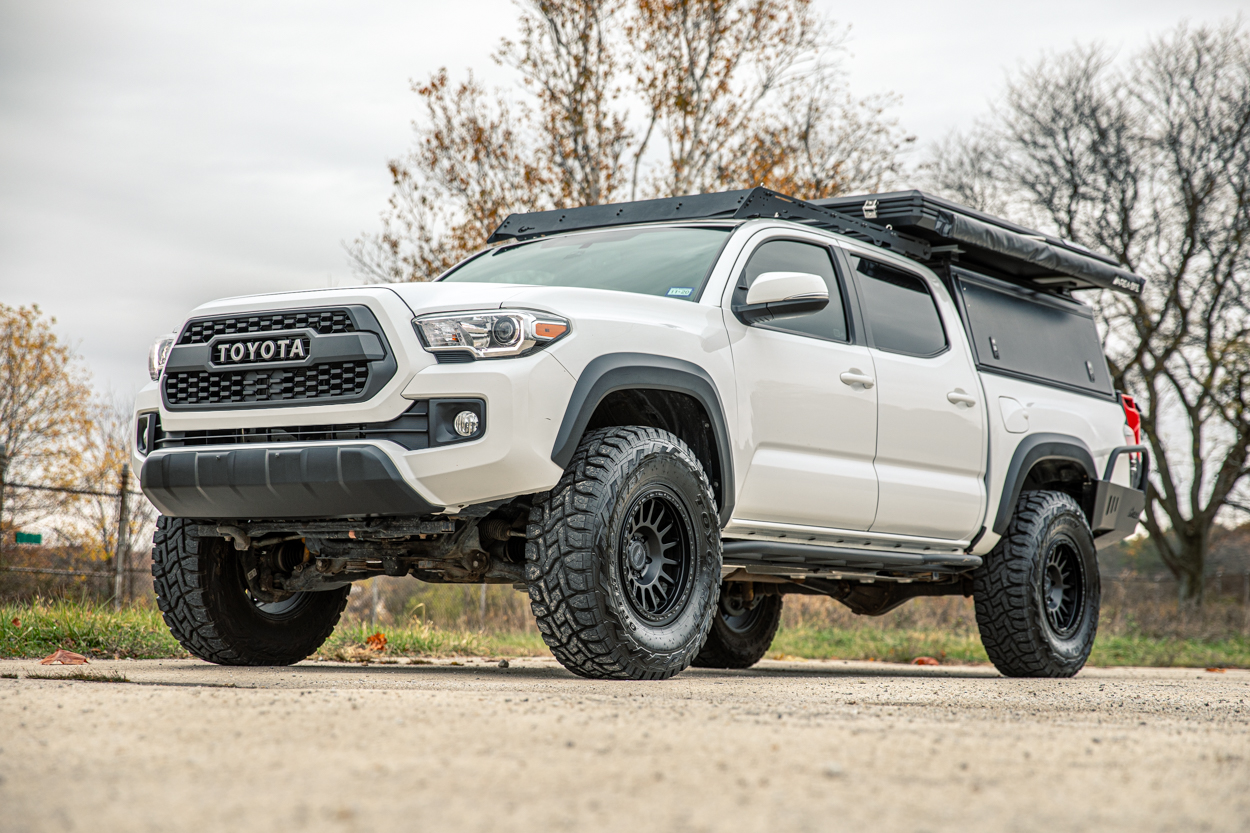 I measured my treadwear right before I wrote this article. Brand new, these tires come with 16.5/32″ amount of tread. They're now at just a hair over 14/32″. If the tread continues to wear at the same rate, I'll easily get 50,000 miles out of this set. If I was rotating in my spare tire, that would likely be closer to 60,000.
If you take a close look at the image above, you might see that the middle of the tread has slightly more wear than the outside. It's very minimal, but that is entirely my fault for overinflating them. I was running them at 40 PSI, and for an aggressive tire such as this one, throughout all the highway driving I do, it was a bit too high. 36-38 PSI would probably be best for these.
Anyway, the bottom line is that both the compound and design of the tires lend themselves to great overall wear throughout thousands of miles, with absolutely zero balancing issues.
General Performance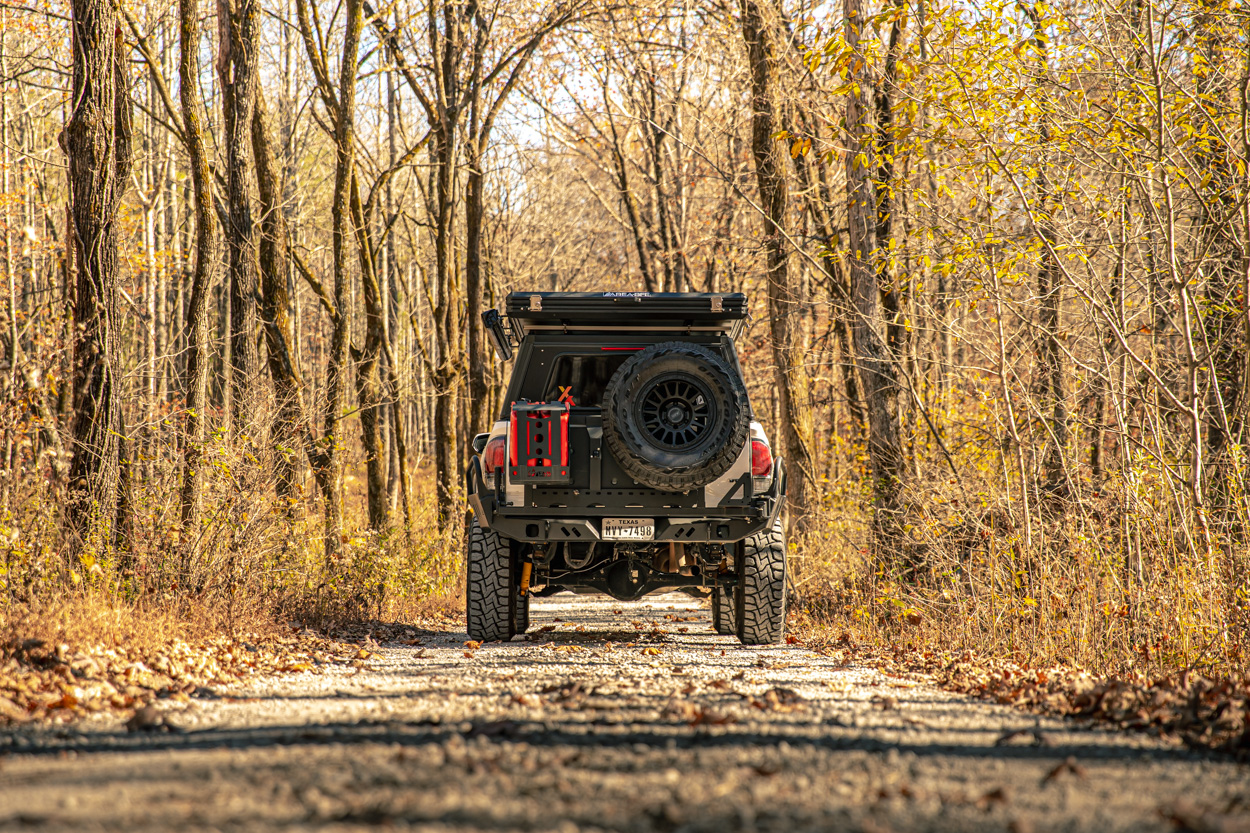 I've taken these tires through almost every terrain you could imagine. From all sorts of trails to the negative temperatures of Midwest winters, these tires have seen it all. Let's run through some common conditions and how these tires faired.
Snow & Ice
Since winter just passed, I think it's appropriate that I begin with how these tires performed in the snow and ice.
I like to mess around in the winter and see how well the truck does in different conditions. I'll intentionally bury the tires in deep banks of snow, give a little extra gas in the corners during a fresh snowstorm, drive around in 2WD to see how the car fairs – among other things. This allows me to get a better feel for the truck and the tires and it gives me a better idea of how everything will handle under potentially hazardous driving. Long story, short, these tires have surprisingly good snow and ice traction and the hybrid design is well-suited for a truck like mine that sees all four seasons and a variety of environments.
For being a hybrid tire, I would say its performance rivals that of other all-terrain tires I have run in the past in this category. That might be surprising for most readers. However, I can say with confidence that these tires will get the job done all year long. On a final note, these tires, at least the ones I'm running, are E Load Rated. This means that the sidewall is super stiff. From the guys I've spoken with, that can be detrimental in super deep snow. Something to think about if you're planning on doing a TON of deep snow wheeling.
Rain
It has rained more than a handful of times in the past few months and I'm happy to report that I haven't had a single issue; no hydroplaning of any kind and excellent traction, even under hard breaking in wet conditions.
Asphalt & Pavement
As aggressive as these tires are, they're incredibly well-mannered on the road.
Even after 10k miles, having worn through the initial softer tread, the tires are not very loud. Even at speed on the highway, the rest of my truck, like the Prinsu roof rack, makes more noise than the tires. That's not to say that these tires are quiet, but they aren't much louder than the average all-terrain. They definitely have an audible hum, but in my experience, especially over thousands of miles, you can kind of tune it out. Of course, there are some ATs, through my experience, that barely make any noise, so I'm not trying to make that comparison. But in terms of aggressive tread designs, relatively speaking, these tires could be much worse.
Overall grip is great too. I've may or may not be known to take a corner too quickly and/or test the stopping power of my brakes. With more aggressive tread designs, the on-road grip can be compromised. But that's definitely not the case with these tires. I haven't felt very much distress with emergency braking, these tires have plenty of grip.
Trail
On the trail, no matter if it's rocks, mud or loose dirt, simply put, these tires eat it all up without skipping a beat.
Especially when aired down, these tires have a ton of grip, clear mud easily and I have not had one ounce of difficulty climbing tough obstacles. Through water crossings, boulders and narrow shelf roads, these tires never skipped a beat. I could continue to talk about specific situations, but these tires are made for the trail, so you can expect them to perform really well off of the pavement.
Final Thoughts
The bigger and more aggressive a tire is, the more expensive it is. It's no secret that these tires run a bit more than some of the other options in the market. But at the end of the day, especially if you're out on technical trails and narrow shelf roads, the difference between a set of tires could affect a lot more than just traction. Safety is always a huge factor.
Not only do these tires perform, but they will help make sure that you get to your destination and back, safely. I have run several of the most popular tires on the market, and these are my favorite thus far. My truck is my daily driver, and this tire design is perfect. It performs great under all conditions without the downfalls of jumping into a dedicated mud terrain tire. I wanted to use the word compromise, but you're not necessarily compromising performance. These tires will do great on the forest service roads, but can also handle their own on a trail like the Rubicon.
Hats off to Toyo for designing an epic tire. As we test other tires, the standard has definitely been set. I'll be on the lookout to see if anyone can unseat this particular design. We'll see what happens!