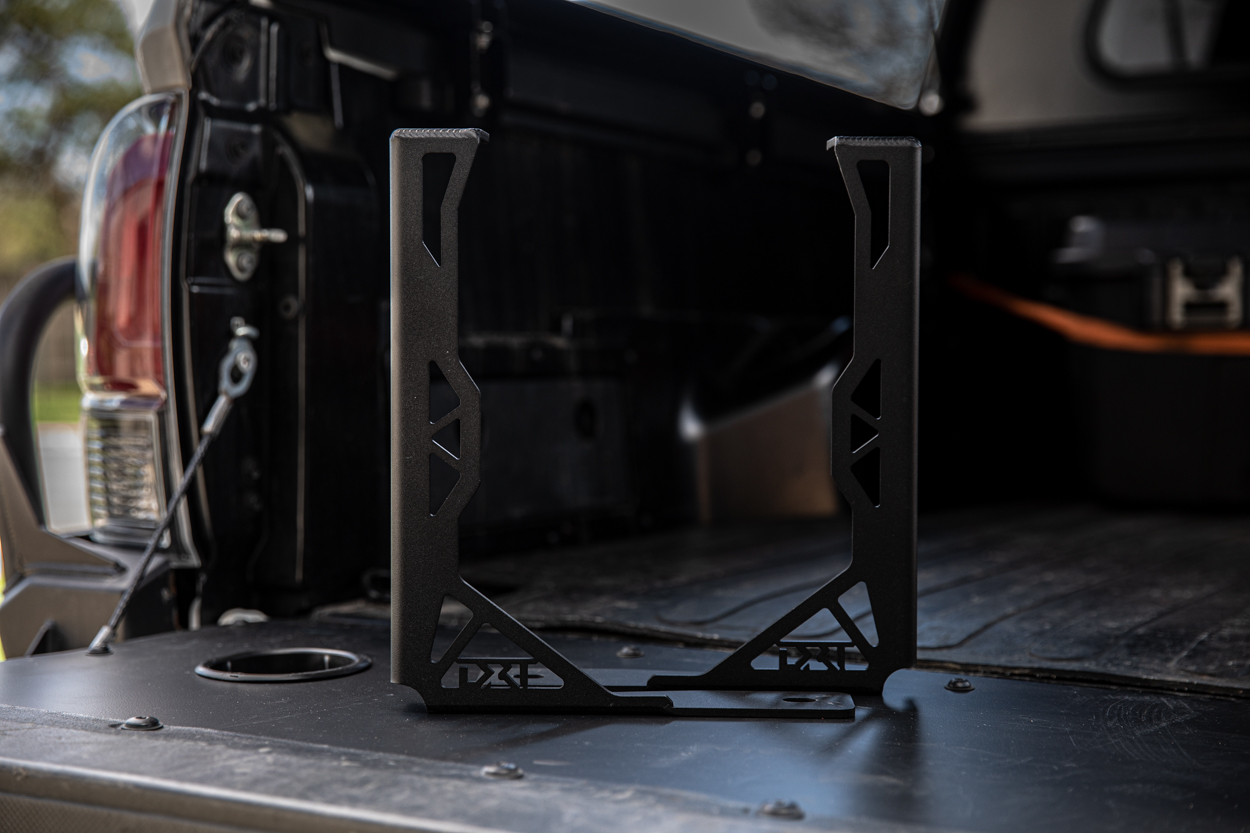 Step-By-Step Install Guide & Review – DRT Fabrication Bed Supports/Stiffeners Mounted on 3rd Gen Tacoma
Bed stiffeners. If you've done any sort of research into must-have modifications for your Tacoma, you've likely heard of bed stiffeners.
Sometimes these can be referred to as bed support brackets, but the premise and intention are exactly the same. As the names indicate, this modification helps to reinforce the bed of your Tacoma, strengthening it and preventing unnecessary breakages.
Especially under heavy payloads, and during off-roading and overlanding with bed racks, canopies and rooftop tents, Tacoma beds are known for cracking and shifting. If you want to ensure the life and service of your bed, these are a must. This even applies to those with stock trucks who frequently use their trucks for hauling.
In this post, I'll be installing these brackets on my 2017 3rd Gen Tacoma. Due to similarities between models, the products and install is essentially identical for all Tacomas from 2005 and up.
Find It Online
2nd & 3rd Gen (2005+) Toyota Tacoma Bed Support Brackets: Check Price
DRT Fabrication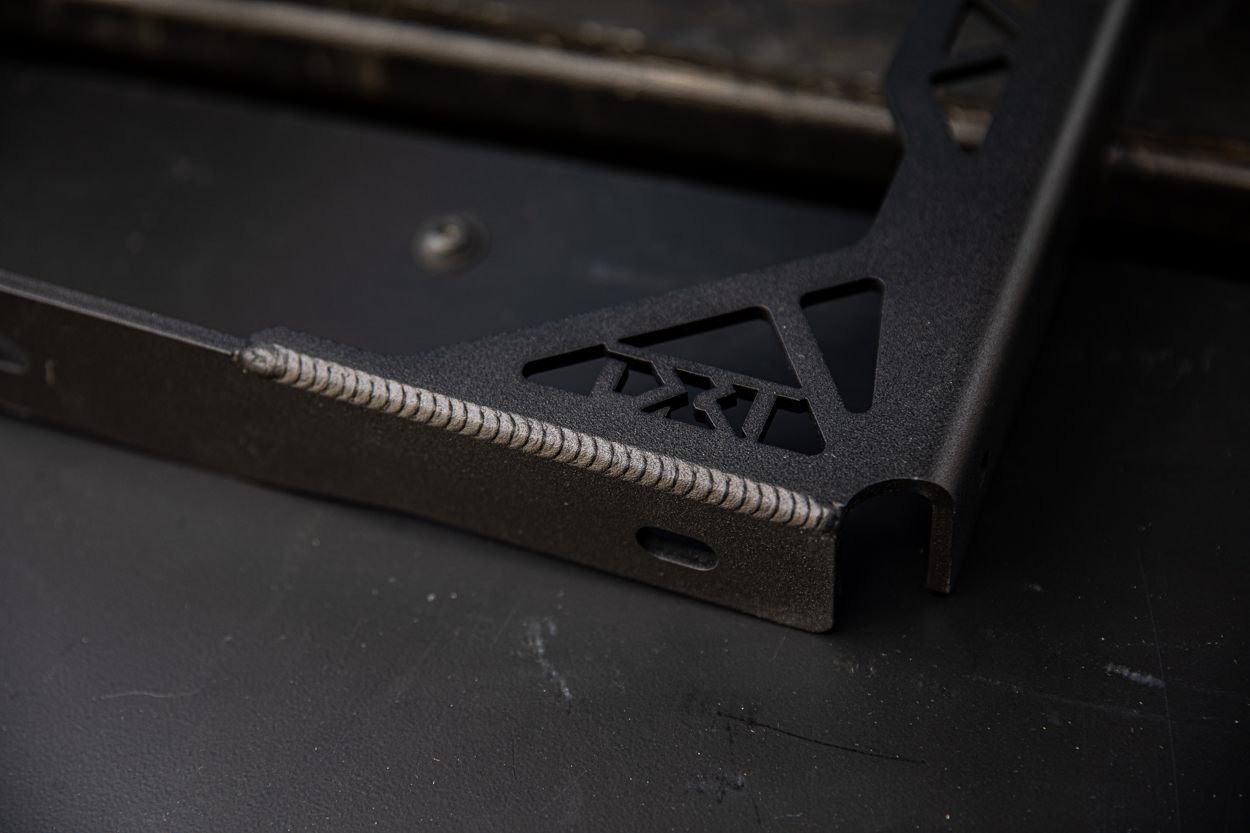 DRT Fabrication is a new company to the overland and off-road scene, but man, have they made an entrance.
DRT is focused on quality and attention to detail. There is no quota to meet, or massive corporate orders to fulfill. The name of the game is precision products. Motivated by the desire to build the cleanest, sleekest and best off-road and overland accessories on the market, DRT has delivered on its promises thus far. I mean, look at those welds!
DRT is growing fast and they have a few other notable products. One of those products is this Universal Hitch Skid. It continues the distinctive styling seen in the bed stiffeners and adds a ton of reliable protection to your rear end. DRT is also working on one of the best, safest, and aesthetically pleasing Cab Mount Relocations around. The JackRack is a pretty rad accessory too.
Having spoken to the owner, Derik, whose initials create the DRT Fabrication name, we are stoked to see what else he can come up with. I hear rock sliders and a couple of other goodies are on the list.
Check out their Instagram for more – @drtfabrication
Installation Guide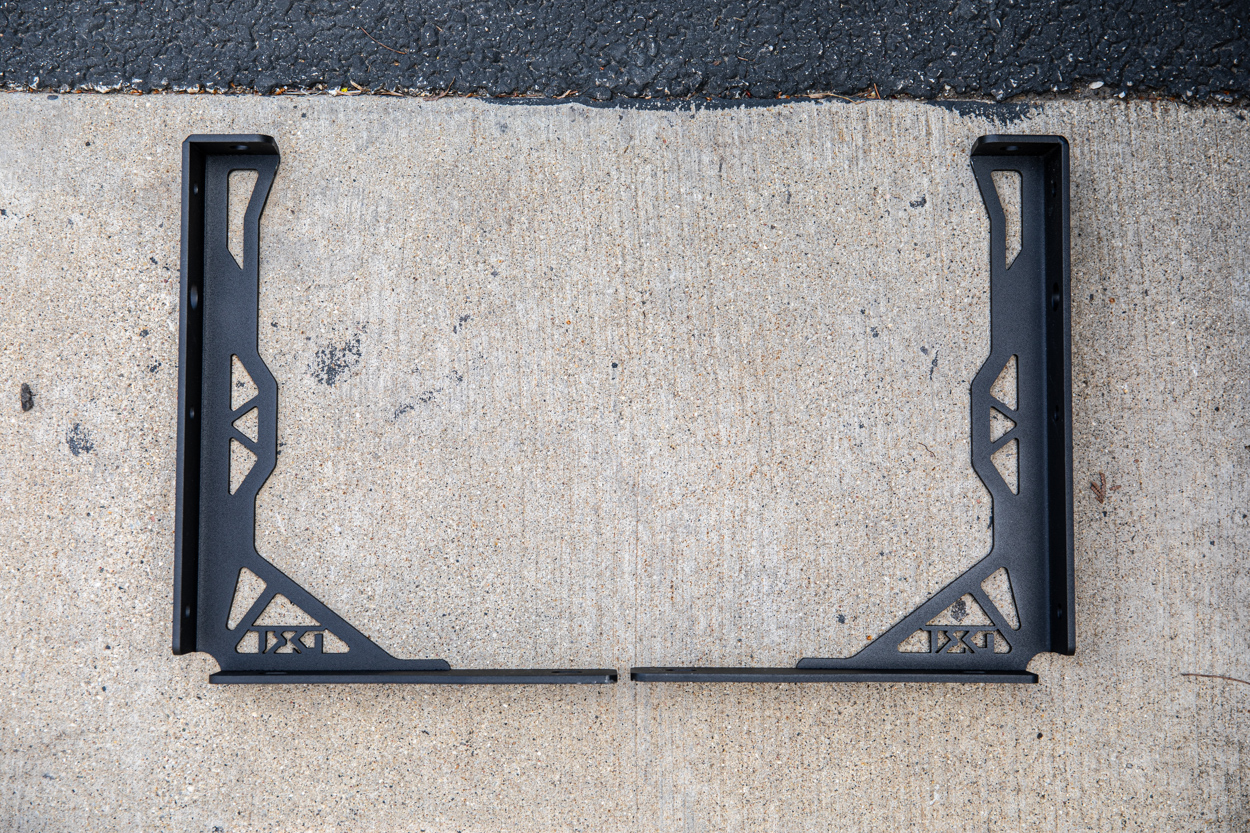 As far as installs go, this one is fairly easy.
As always, it's important that you go slowly and measure twice before drilling into your bed. You will reuse two of the bed mounting points and add three new bolts along the vertical section of the bed support brackets. There is also a hole for a grommet for routing your wiring and antenna cables. More on that later.
DRT Fabrication provides some easy-to-follow instructions, but a little visual never hurts.
Features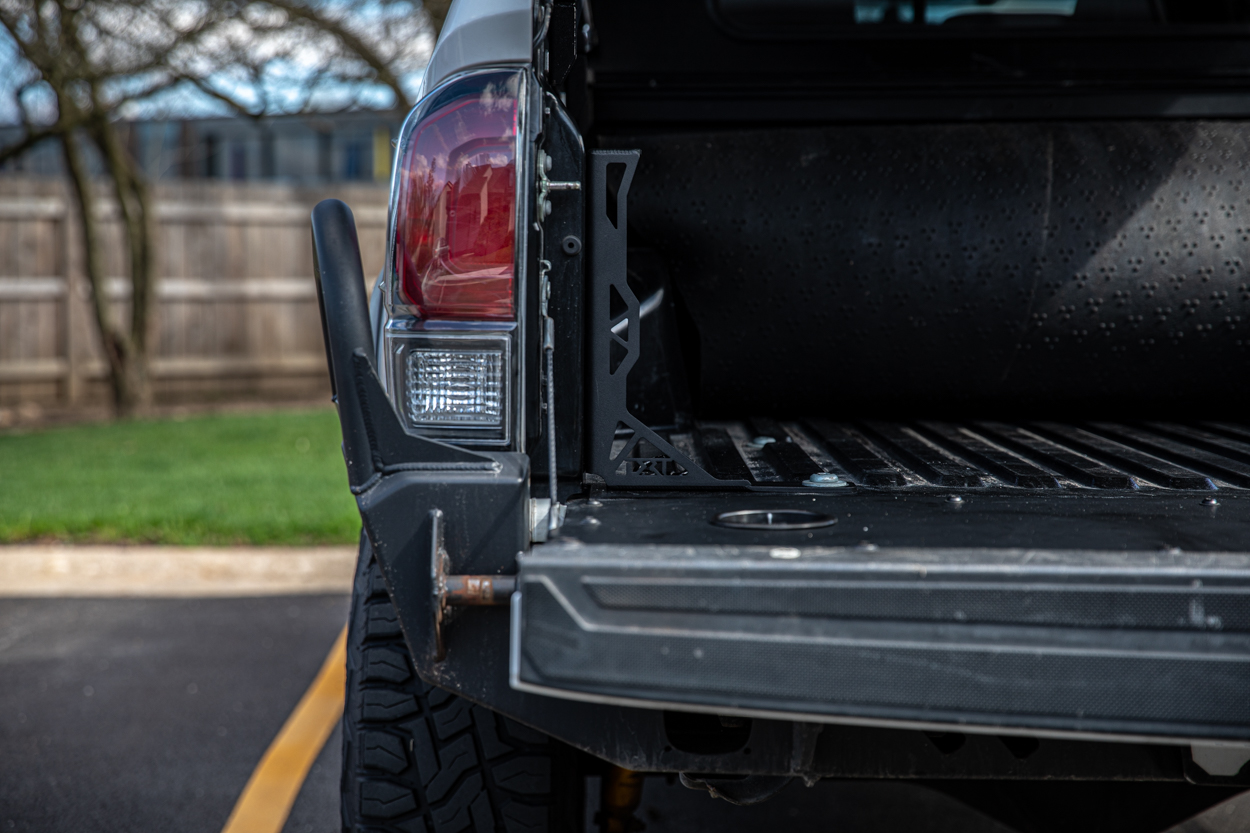 In my eyes, these are one of the best-looking bed supports you can buy. They look and feel extremely strong, and the designs for the cutouts, which act as tie-down points, have a certain appeal to them. A similar design can be found on the step plate for my Relations Race Wheels Rock Sliders. Kinda cool how they match, haha.
These bed stiffeners are made out of 3/16″ steel, so there's no compromise on strength. The textured black powder coat seems to be durable. The MIG welds, as seen a couple of images back, are dang near perfect. The level of craftsmanship is certainly there. The addition of the hole at the top of the support is perfect for mounting an antenna, an auxiliary light, a flag, or any variety of accessories.
In addition, these supports sport a rubber grommet to make running wires a breeze. The design that has been cut into the front of these gives you an additional six points that can be used at tie-down points. The stiffeners are also compatible with just about every bed solution on the market, with the potential for some interference with a drawer system. If you have a drawer system or any kind of bed-mounted platform, just do your due diligence in making sure there won't be an issue.
Summary
Quick installation
3/16″ HRPO steel construction
Textured black powder coats
MIG welded
Mounts for antenna, flag or light
Works with campers, shells, toppers, bed covers
Rubber grommet (for running wires cleanly)
(6) Additional tie-down points
Required Tools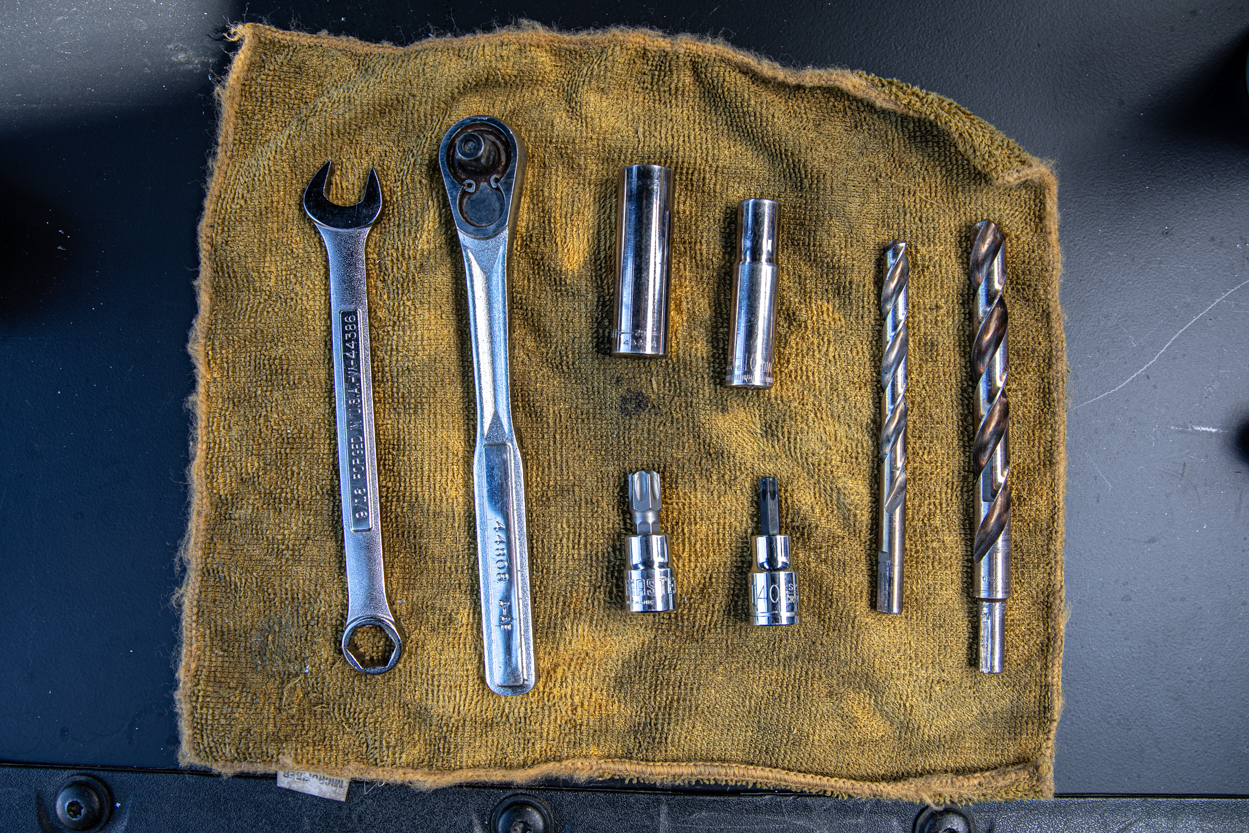 Step 1. Unbolt & Remove Taillight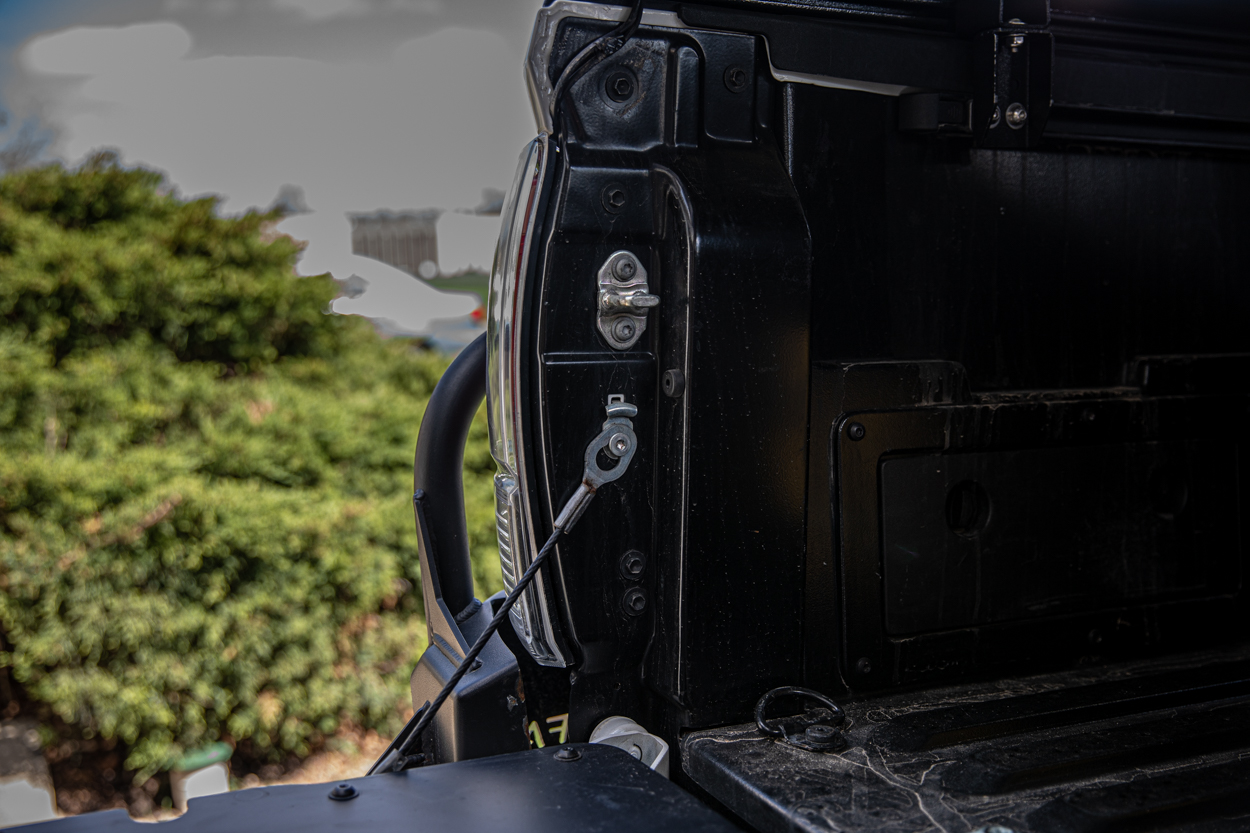 The 3rd Gen Tacoma taillight is mounted with two bolts and two pressure pins.
Remove the screw towards the top of the taillight and the one at the very bottom before trying to remove the housing.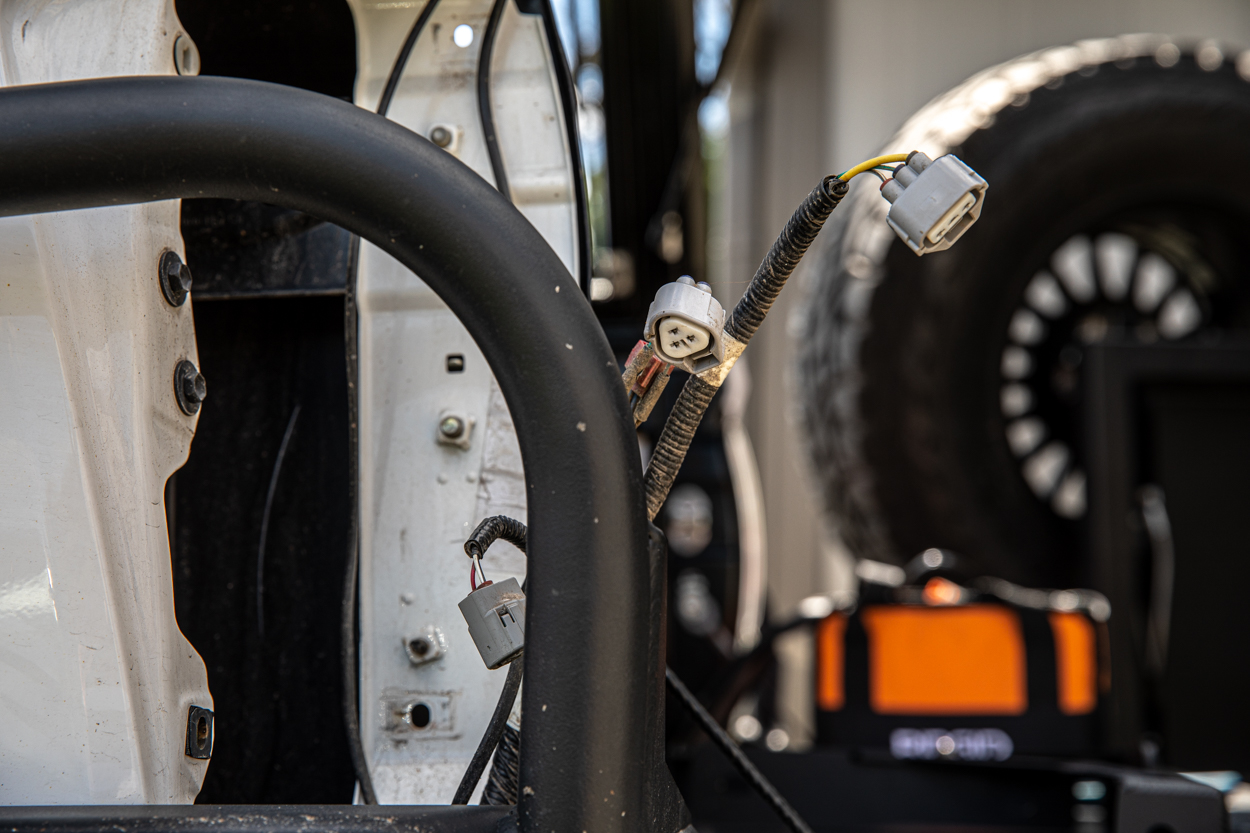 Once you have the bolts removed, lightly pry your taillight and it will come right out.
You don't need to remove it completely, but it may be less messy if you do. I decided to remove mine just for the heck of it. The taillight is attached to the electrical system with three harnesses. Unplug them and the taillight will be free.
Again, this step is not necessary but may be helpful. You can let the taillight hang by the harness, it's pretty lightweight and the harness is plenty strong for it to hang by while you knock out this install.
Step 2. Remove Two Existing Bed Bolts Near Taillight
Before we move on, remember to save both of these bolts. You will be reusing all of them.
First, remove the larger of the two bolts with a T55 Torx socket. Keep in mind that the bed bolts are exposed to the elements and might need a bit of extra torque to loosen at first.
Next, grab your T40 Torx socket and remove the bolt that holds the D-ring in place.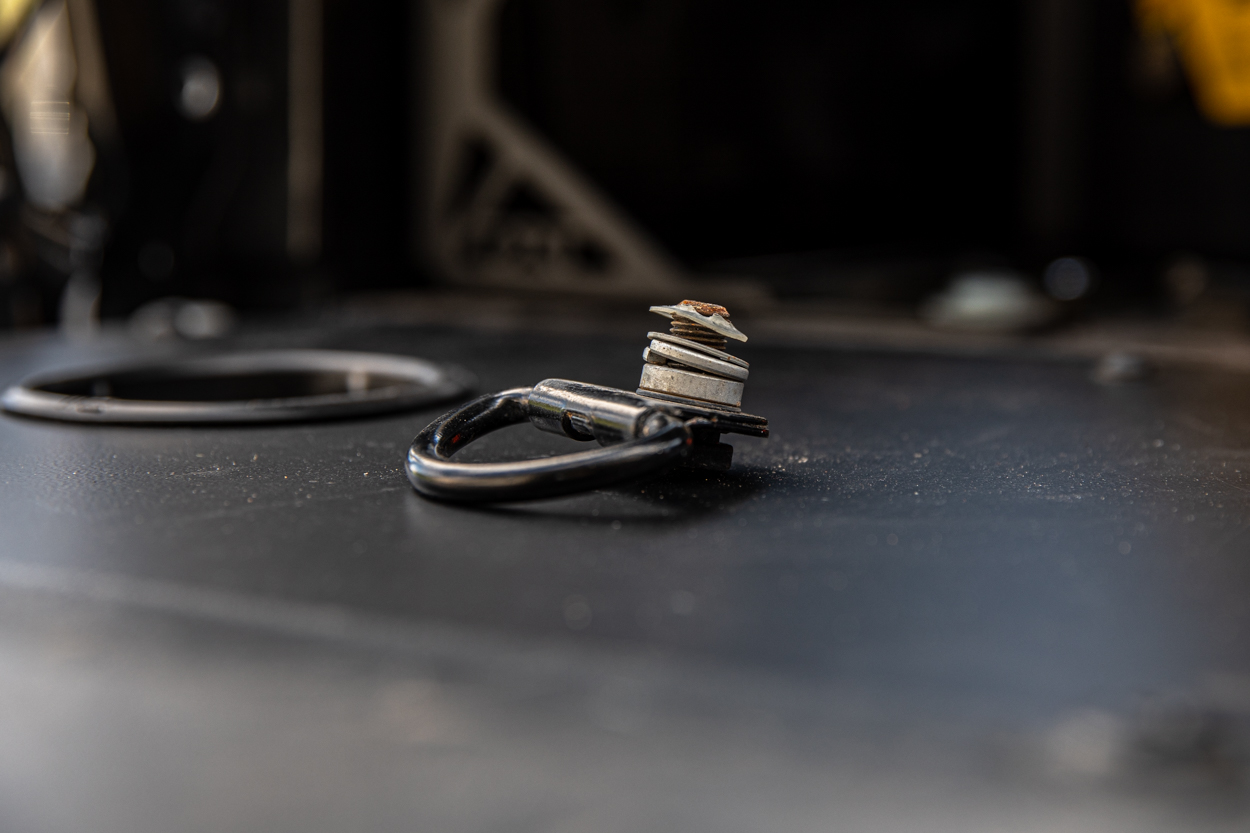 This is what the orientation of the D-ring looks like.
You'll need to take the whole thing apart in order to fit the new bed stiffeners. In order to get the bolt started, due to the extra width of the bed support, you'll need to take the plastic washer off at the end, as pictured above, at the very least. There is a chance you may need to remove another spacer as well. Just depends on whether or not you can get the bolt to bite.
Step 3. Temporarily Mount Bed Stiffener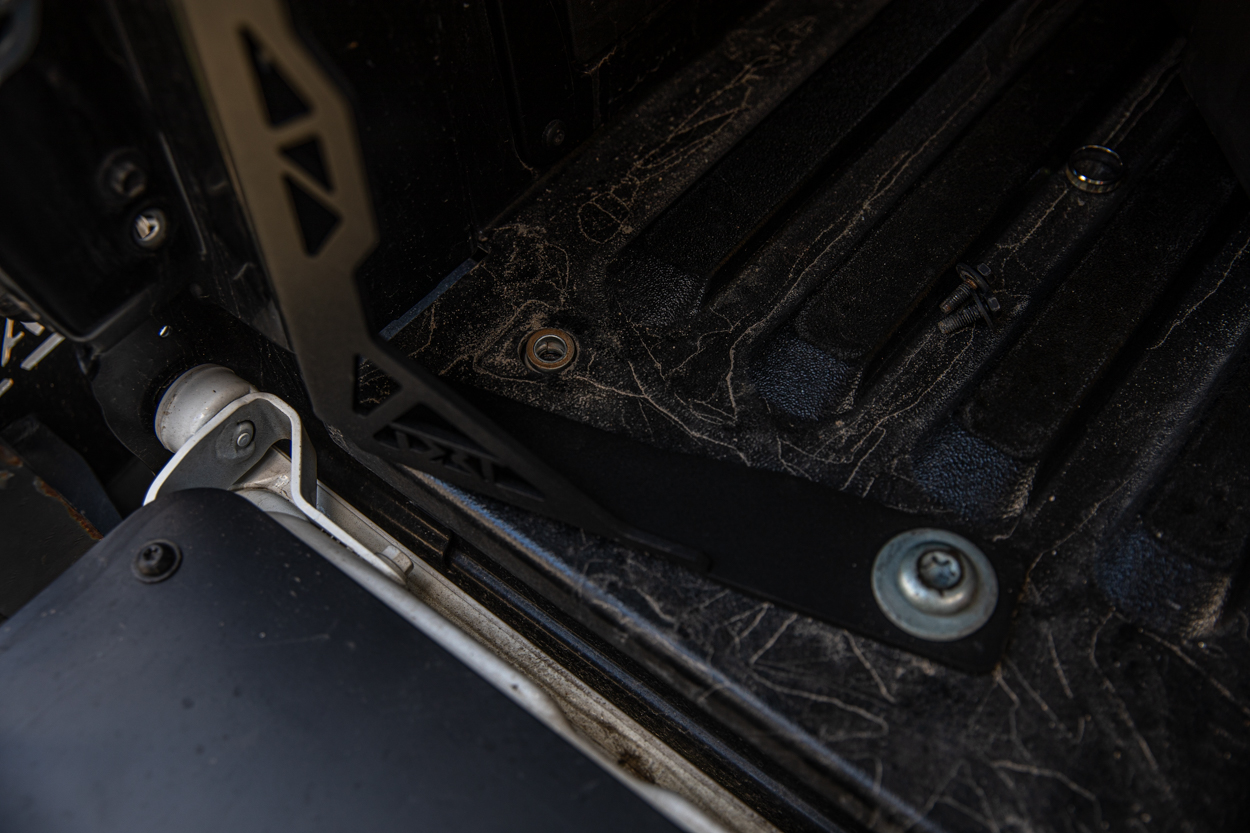 Using the two factory holes you removed the bolts from, mount the bed supports to the bed.
Make sure that you took off the plastic washer and metal washers when you try to insert the outermost bolt. As you can see above, you have to line up the metal washers from the D-ring bolts with the hole in the bed. Then, you'll carefully bolt move the bed stiffener into place, and then bolt it down so the vertical portion is flush with the wall of the bed.
Step 4. Mark Drill Holes
Grab a sharpie or a pencil. Pretty much anything will work, as long as you can see the mark on the bed. Mark your holes.
There are three holes that must be drilled out with a 3/8″ drill bit. The fourth hole could be called optional. The fourth hole needs to be drilled out with an 11/16″ drill bit and once drilled out, there's a grommet that you can pop in the hole of the bed support. That's the hole I referenced earlier that allows you to run wiring or an antenna under the truck.
Step 5. Drill Holes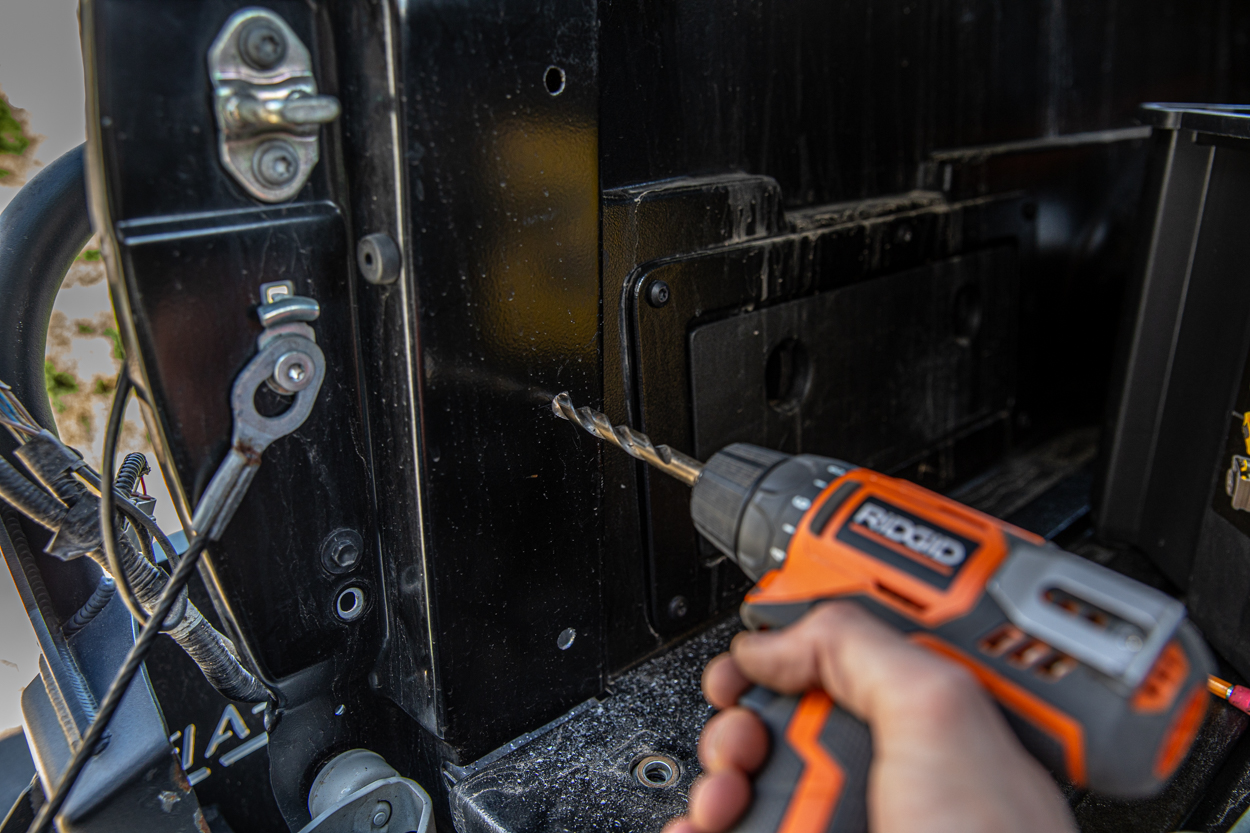 Take your drill bit (not really recommended), or a punch, and a heavy hammer, and make a pilot dent to help start your drill.
Alternatively, you could punch a dent in the metal and drill out a small pilot hole or use a step bit drill. Whatever works.
Step 6. Bolt Down Vertical Section of Bed Stiffener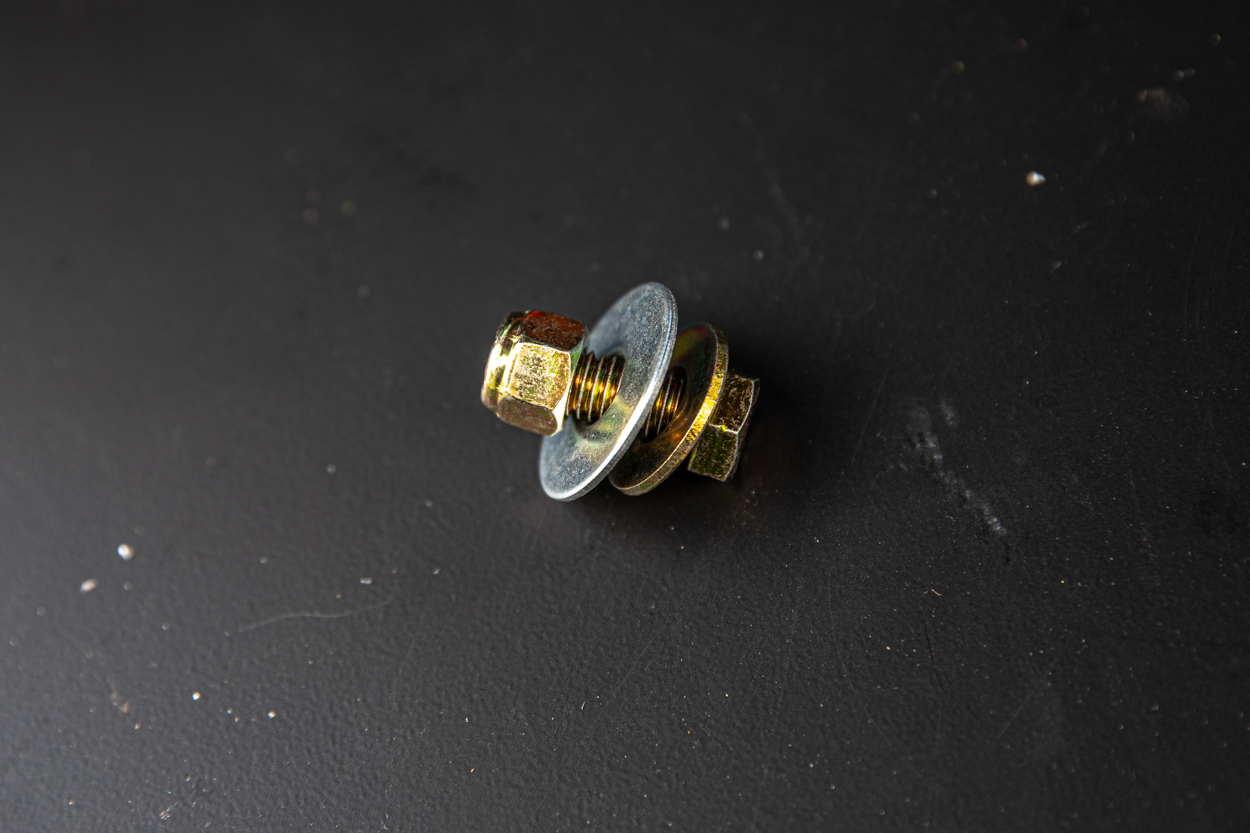 Above, you can see the proper orientation of the provided nuts, bolts and washers. The bed will be sandwiched between the two washers. Bolt your bed support bracket to the bed using the three holes you just drilled.
It's awesome that DRT provides you with zinc-plated bolts, especially for those of us who live in rust-prone areas.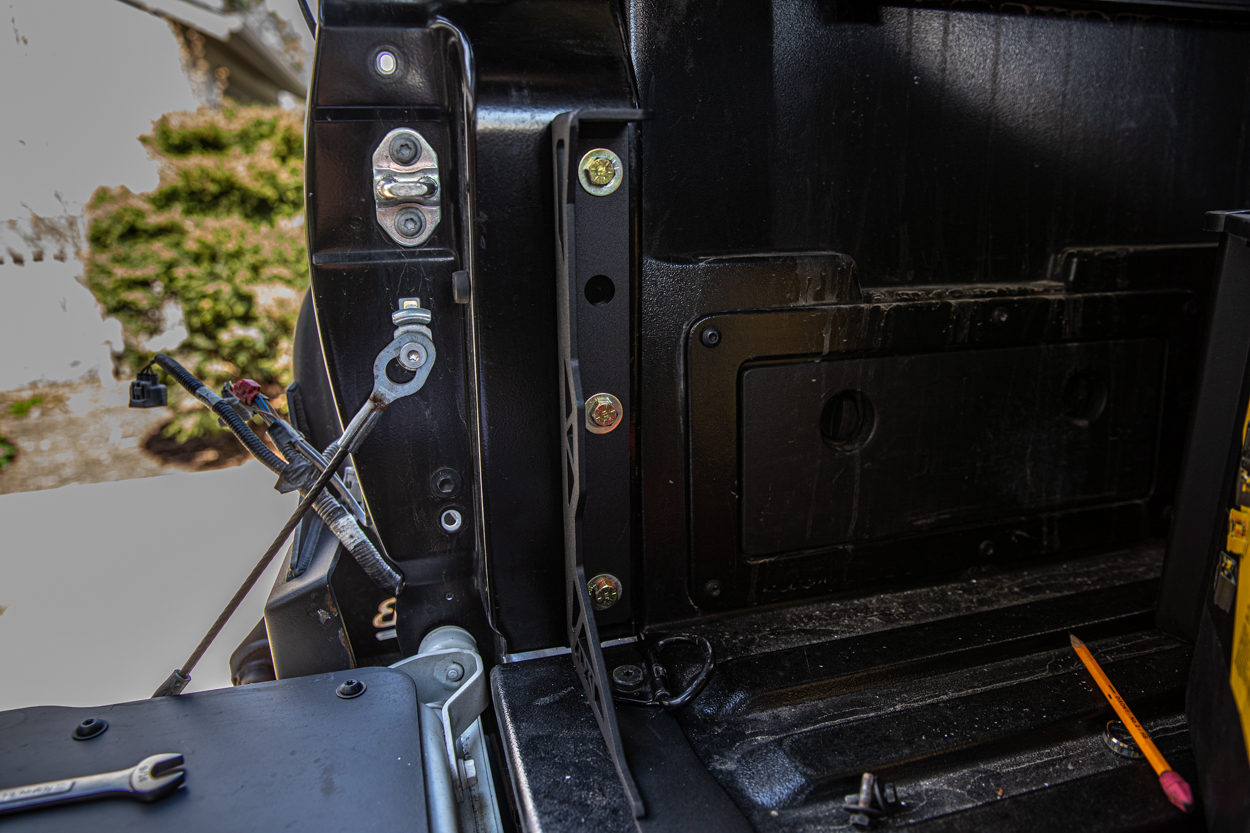 In the image above, you can see the bed stiffener fully mounted to the bed.
The empty hole is for the grommet I previously brought up. Don't forget to bolt down the factory bolts on the horizontal part of the support too.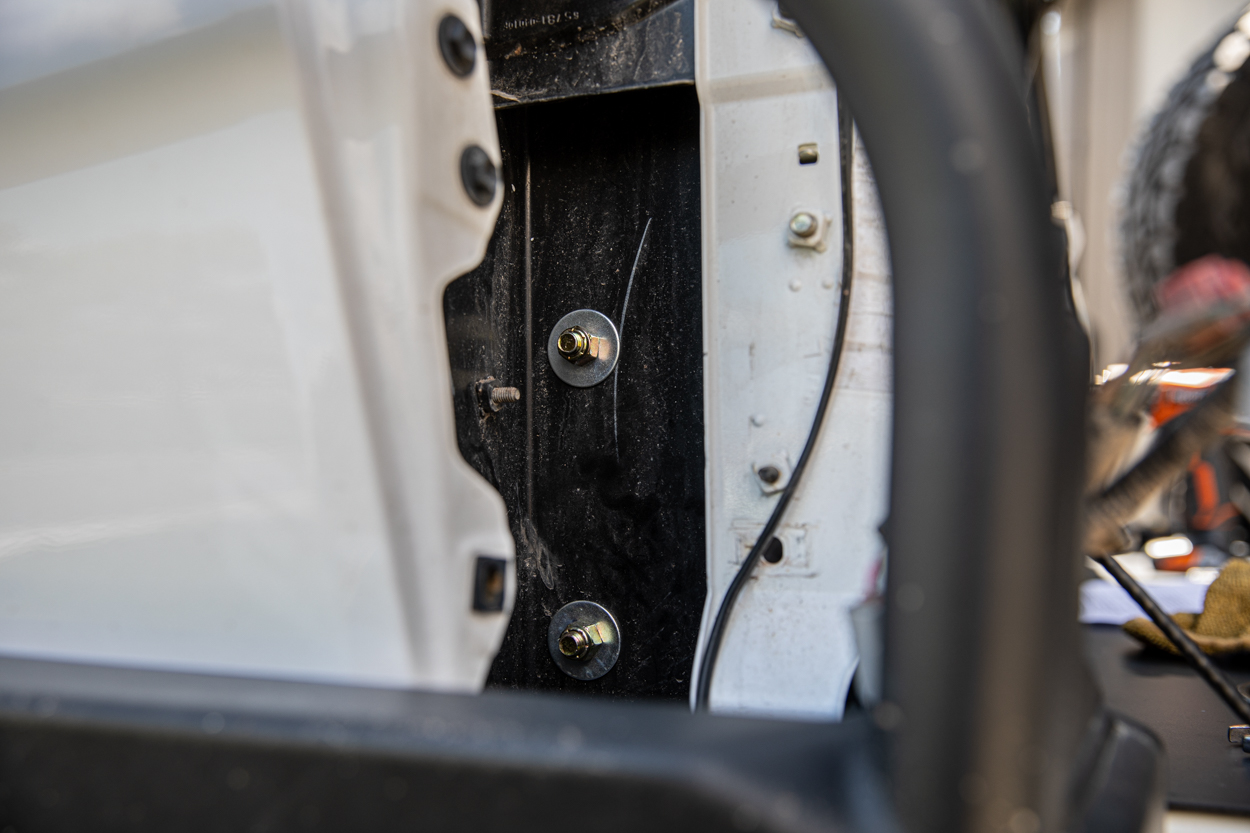 In the shot above, you can see the back of the taillight.
The third bolt is behind a bracket. This image is just for reference.
Step 7. Replace Tailight
Once you've got the bed stiffeners completely bolted in, replace your taillight.
With that, you're all done! Now, just do the same thing on the other side, and this install is completely done. Not too difficult.
Finished Product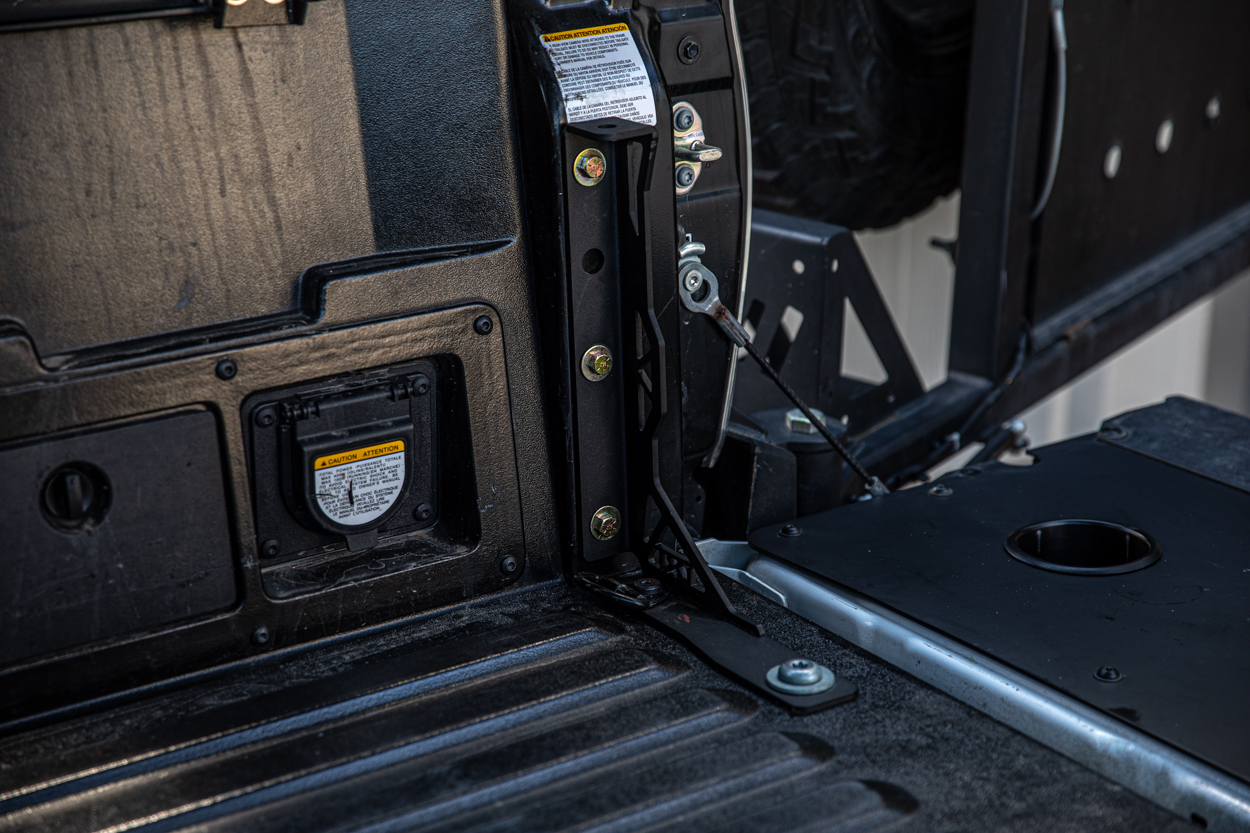 Here you can see the finished product from the back. Again, I really dig this design and those extra tie-downs are going to come in handy for sure.
Until I install a drawer system and/or a fridge slide, I'll likely strap my ARB fridge/freezer to a tie-down toward the side of the bad and attach the other end to the DRT Fabrication bed support bracket.
Final Thoughts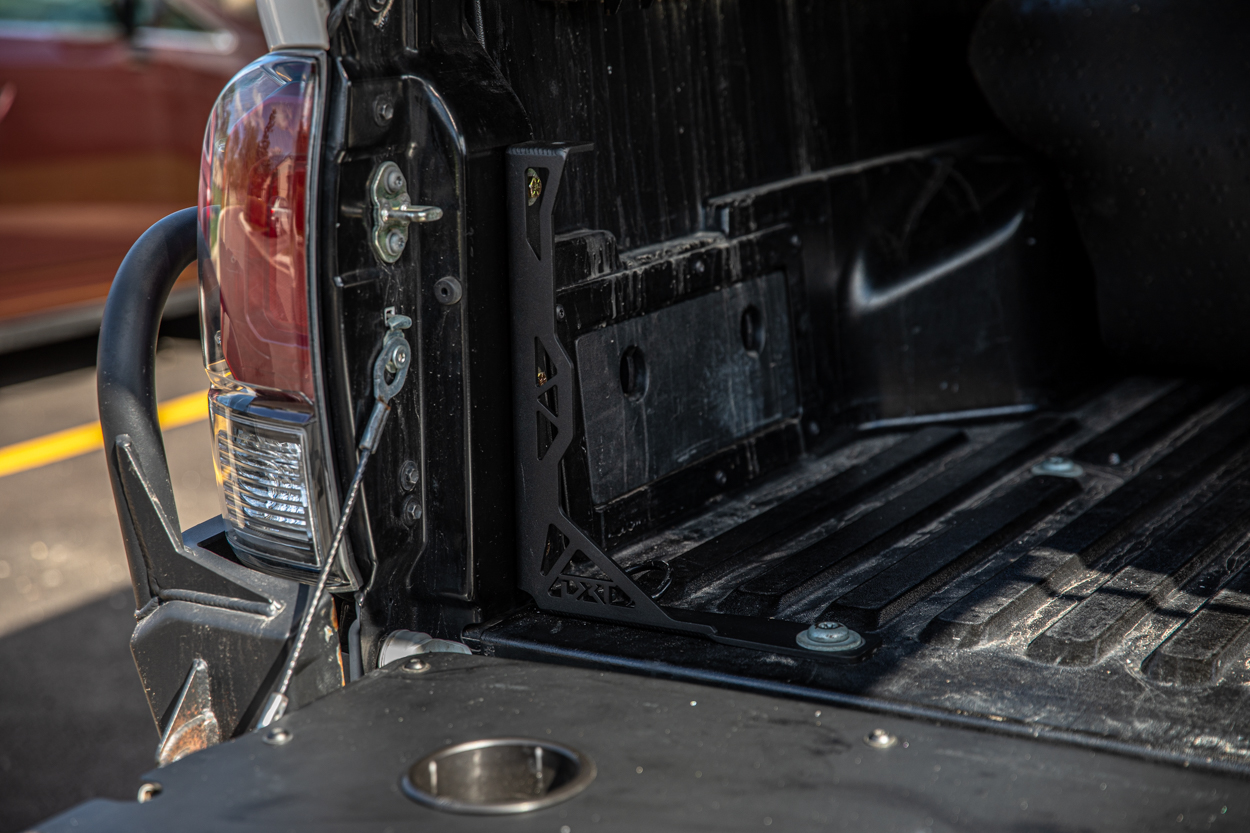 These things are too clean! Like most products, you really can't grasp what they're like until you get your hands on them.
These are no exception. They look great on camera, but even better in person. This is a modification that every new Tacoma owner should consider. Not only is this bed stiffener good-looking, but the functionality can't be beaten. This product doesn't break the bank and addresses a common issue with the Tacoma.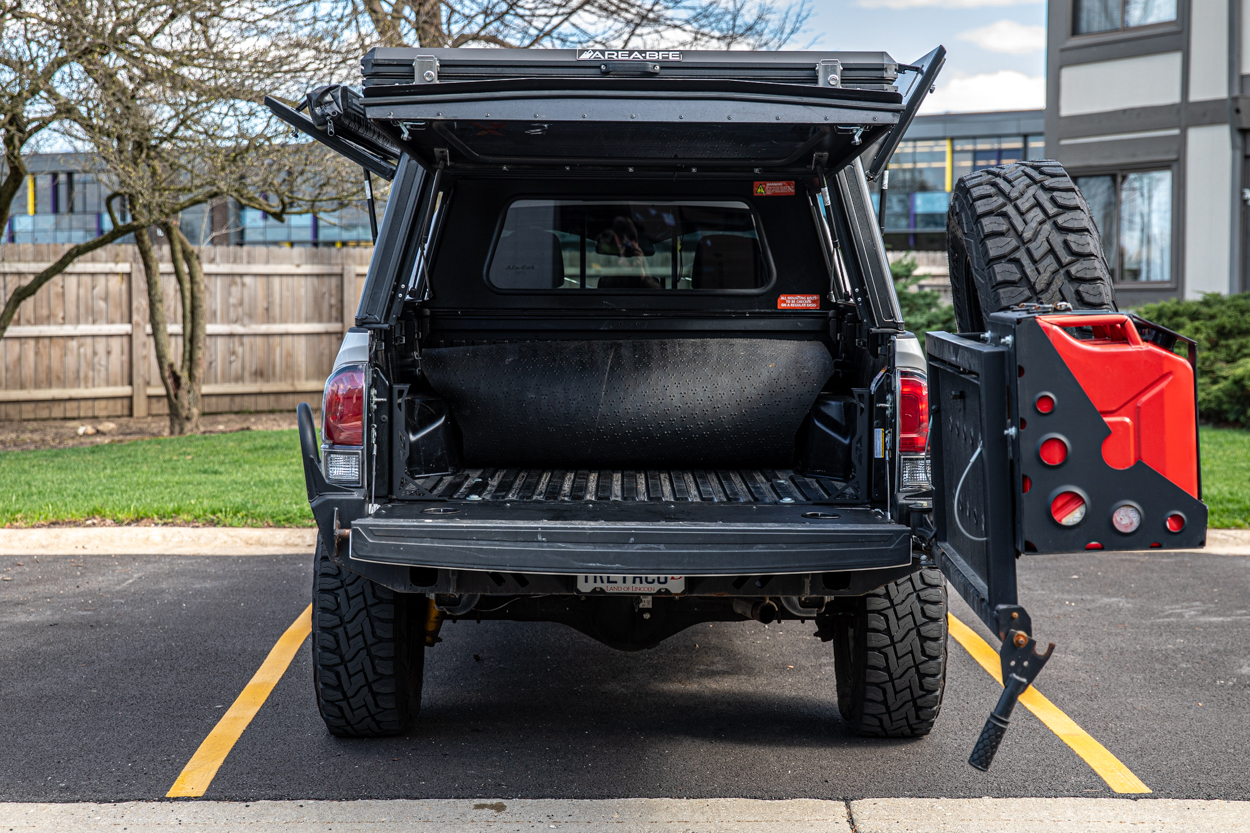 Having spoken with the owner of DRT from the very beginning and finally getting my hands on a set of these bed stiffeners, I can say with confidence that these will perform as designed and add style and function to the back of my bed.
I'm looking forward to really putting these to work on our next trip out this month to Moab. If you're considering buying a set of bed stiffeners, then support this small company that pours a ton of attention to detail and precision into every one of their products.
Additional Angle