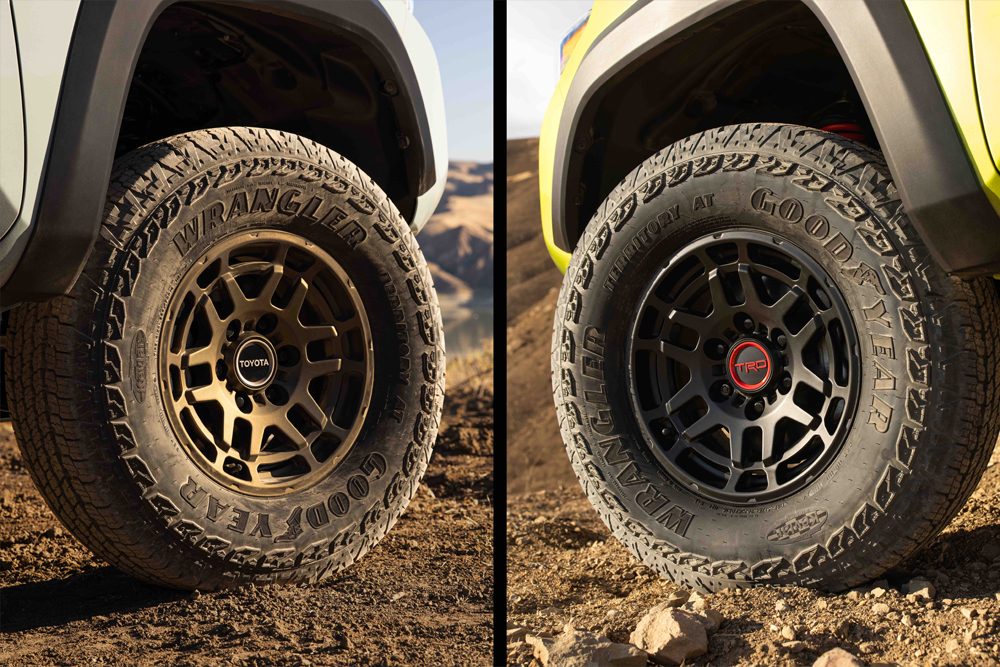 A Tale of Two Tacomas – Comes to Life! Meet the Newly Revealed 2022 TRD Pro & Trail Edition
Two "New" Tacoma Models Revealed!
On May 24, 2021, Toyota sent out a little teaser photo with the caption of…
"A Tale of Two Tacomas". Toyota told us "Two new adventure-ready trucks are on the horizon for the mid-size segment-leading Toyota Tacoma. Gear up and get ready!"
I made a video on my YouTube channel about this, trying to guess what each truck would be. I guessed with 100% confidence that the Tacoma on the right was the new TRD Pro in "Lime Rush" and that the Tacoma on the left (with those KILLER new bronze heritage-inspired wheels) was a TRD Off-Road based truck that would be a step above the TRD Pro. This was due to the fact that Toyota uses camera magic and made that truck seem taller than the TRD Pro. Well… I got it 50%-ish right.
We welcome the upgraded 2022 Toyota Tacoma TRD Pro and Tacoma Trail Edition to the Taco family.
Introducing the All-New 2022 Tacoma TRD Pro & Tacoma Trail Edition
TRD Jon's Original Thoughts
2022 Tacoma TRD Pro – Electric Lime Metallic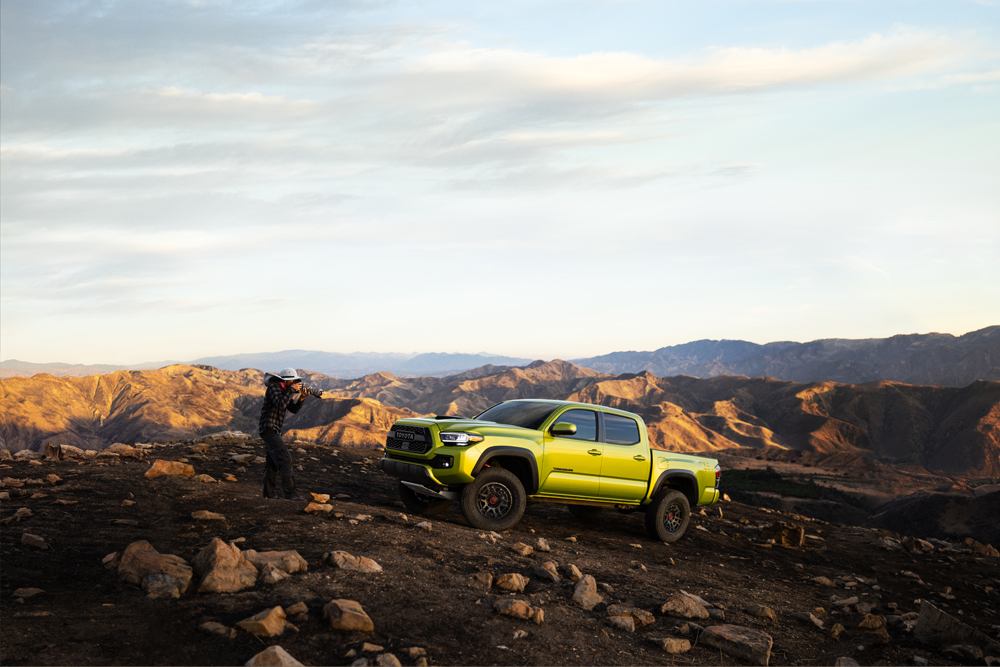 NEW Features for 2022 TRD Pro
There are a few new items that allow the new 2022 Tacoma TRD Pro to stand out over last year's model, and the first, and most noticeable, is that BOLD new color! Electric Lime Metallic is officially the special edition color for the 2022 TRD Pro lineup.
Bigger & Better TRD Pro Badging
In addition to this color, another detail about Tacoma's appearance that stands out, or maybe it's a more subtle change, is the badging.
The rather large TRD Pro badge that used to reside on the front doors has been removed and replaced on this Tacoma trim. So how do you tell everyone you have a TRD Pro, in case just the color isn't enough? Well, it's now stamped rear quarter panel and reads "TRD Pro", kinda like its big brother, the Tundra.
To round off the new TRD Pro, Toyota has refreshed the Tacomas wheels for the 3rd time, and I must say, these look AMAZING!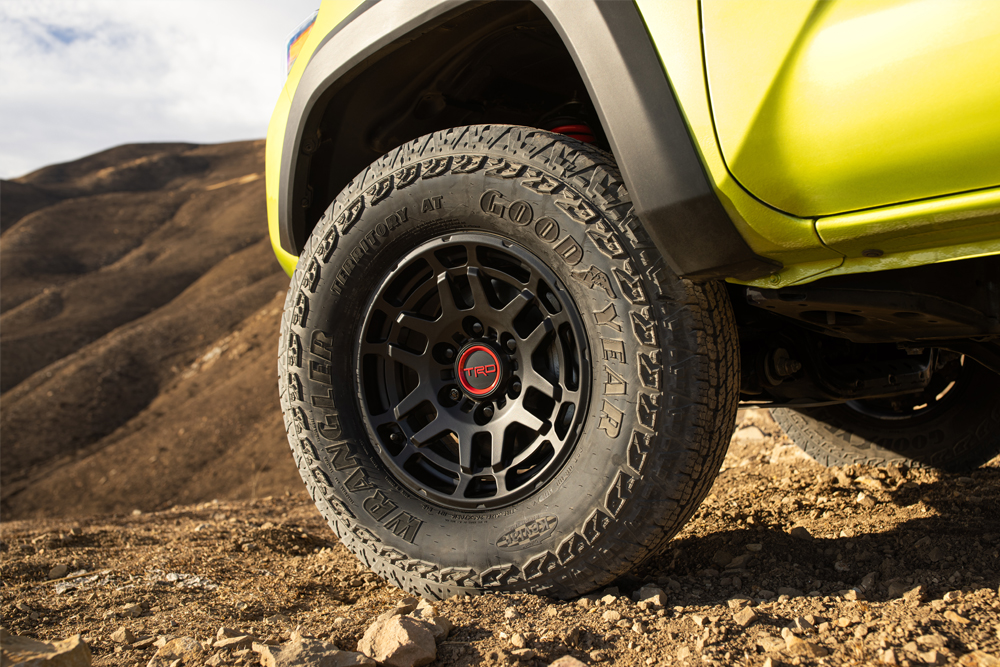 Same wheel dimensions as last year's model so they won't be any wider and they're still 16″ in diameter.
New hood graphics will also be available as an option.
TRD-Tuned Fox Internal Bypass Shocks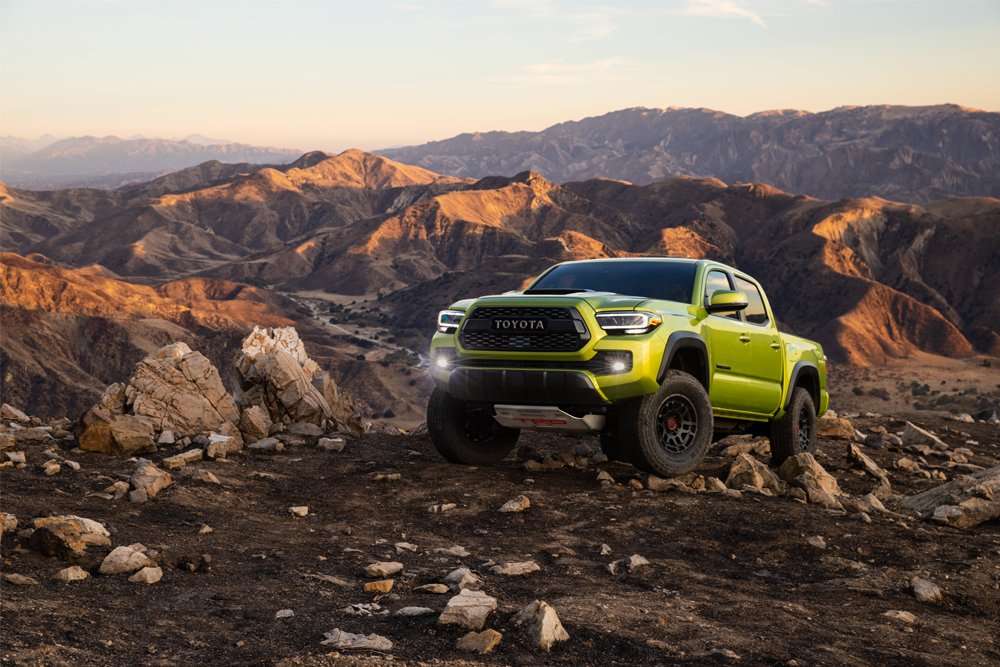 Now let's get into the new suspension upgrades!
The next-generation Tacoma TRD Pro will still have TRD-tuned FOX internal bypass shocks designed to deliver exceptional on and off-road performance, but the crucial suspension change will be a taller suspension lift. 1.5 inches up front and 0.5 inches at the rear which culminates in a 36.4-degree approach angle, 24.7-degree departure angle, and its 26.6-degree break-over angle – all of which improve upon the previous-generation TRD Pro.
TRD-Engineered Upper Control Arms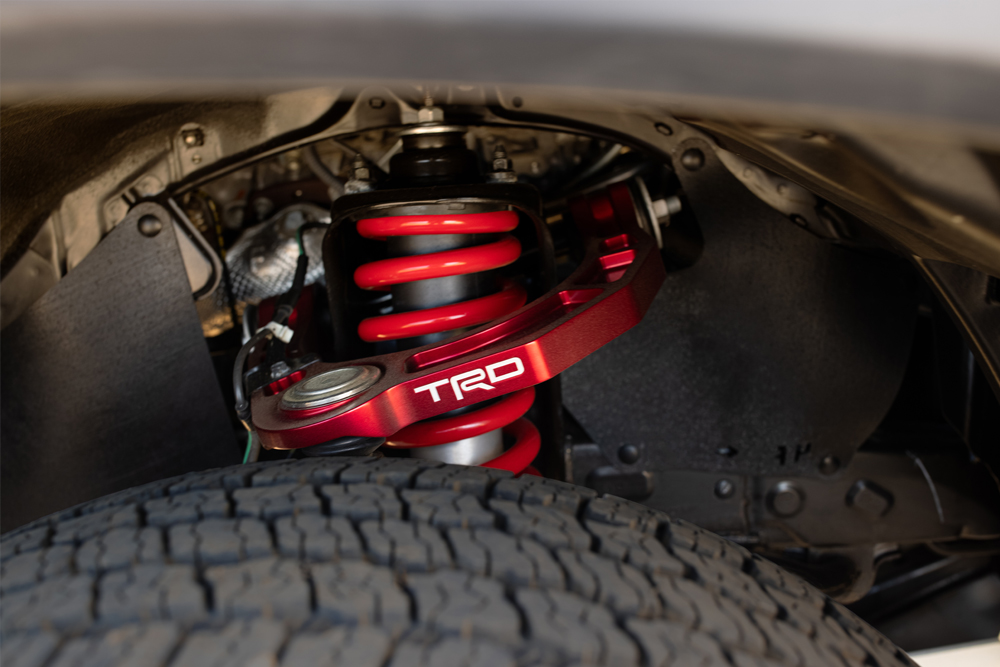 Complementing the increased front lift are the new TRD-engineered upper control arms. Featuring machine-forged aluminum construction for added strength, the new TRD upper control arms allow the FOX shocks to make use of the additional rebound stroke afforded by the lift by adjusting the angle of the ball joint.
Now that is pretty or what? For those of us who LOVE OEM Toyota products, this is game-changing. I will be interested to see if the 4Runner TRD Pro will have the same setup for 2022.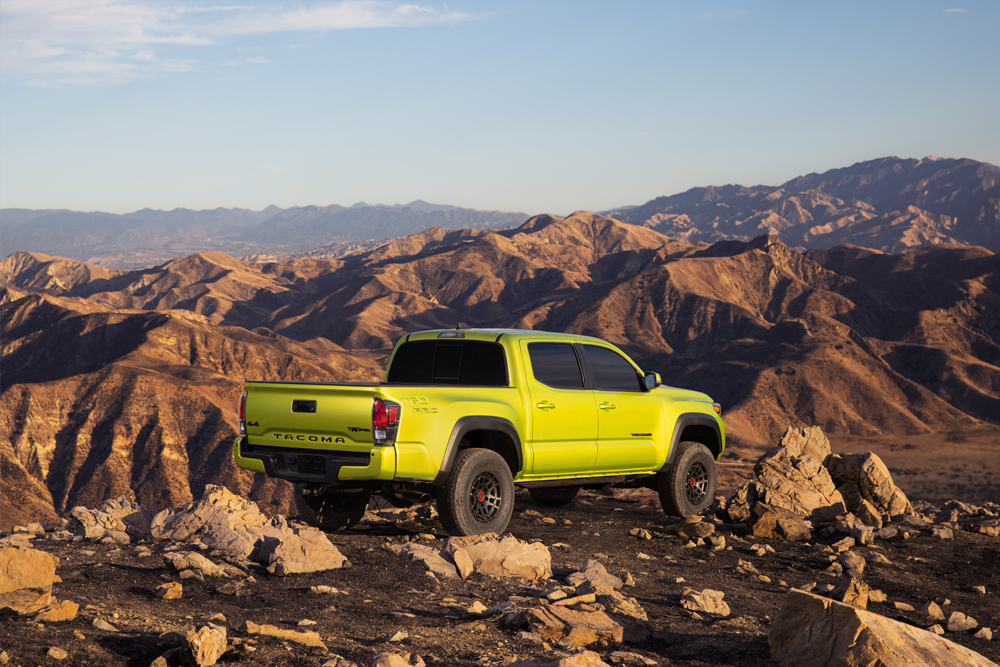 Starting MSRP is still to be determined and will be on sale in Fall 2021.
Additional colors are Magnetic Grey Metallic, Midnight Black, and Super White.
2022 Tacoma Trail Edition – Electronic Locking Rear Differential & Upgraded Suspension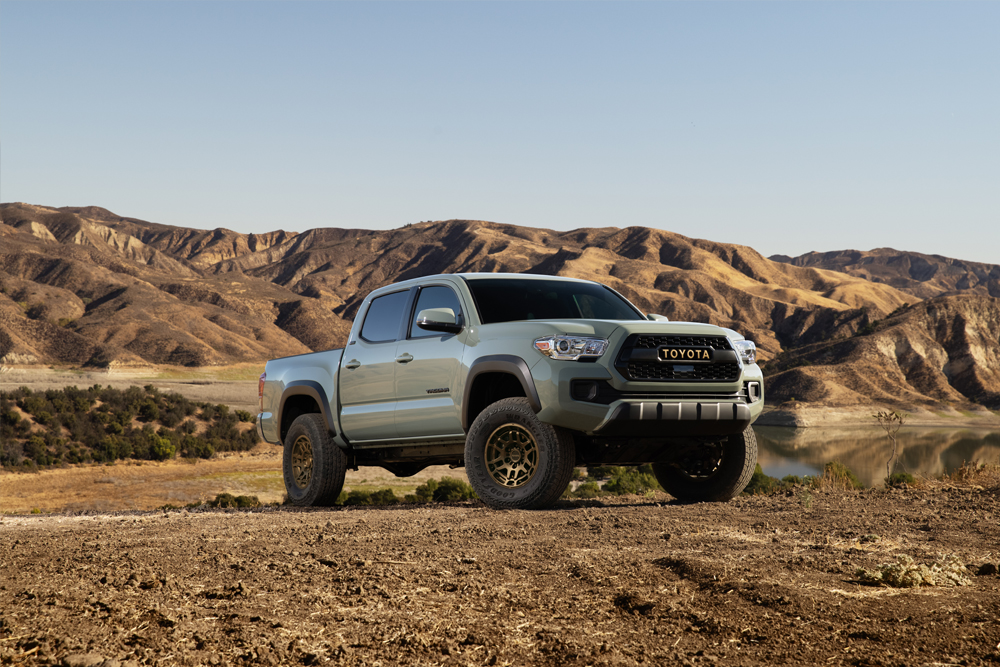 The Trail Edition We Needed Last Year
So this was that mystery truck on the left-hand side of Toyota's teaser photo, the Trail Edition! If you are like me, you're probably thinking, "Wait, didn't we have that last year"? Yes, yes we did.
However, this year Toyota actually made it worth purchasing by upgrading this SR5 based truck's capabilities with some much-appreciated upgrades.
Trail Edition's TRD Pro-Inspired Off-Road Wheels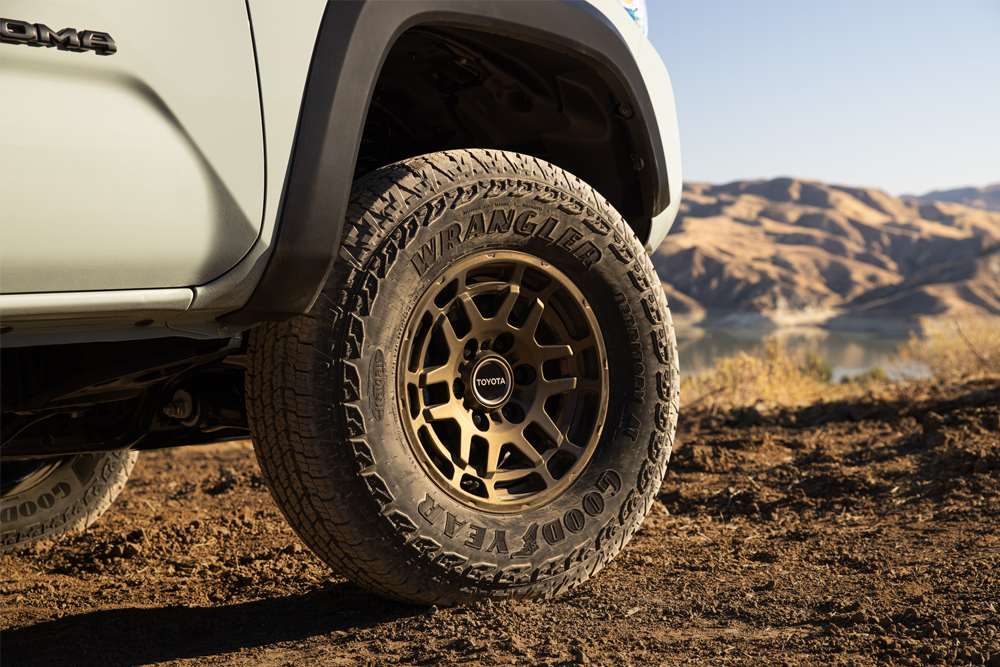 Let's start out with this STUNNING wheel package.
The new Trail Edition has TRD Pro-inspired off-road wheels and tires that come standard with "Toyota" spelled out on the center cap. These new bronze wheels are freaking epic! The center cap pairs perfectly with the new heritage-inspired design, with TOYOTA spelled out in a bronze color as well.
Improved Ground Clearance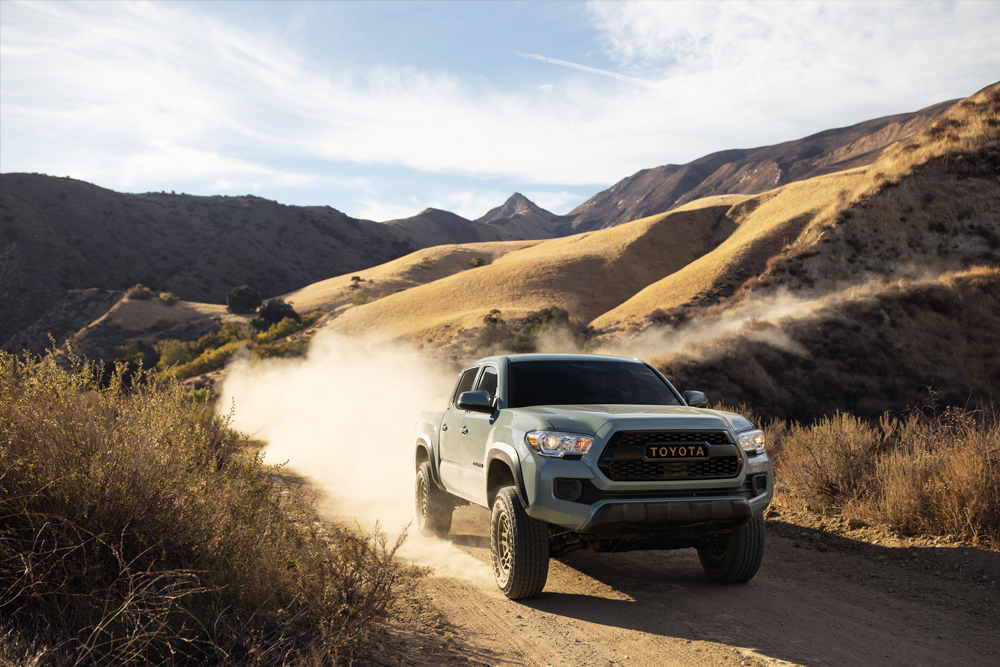 Toyota engineers lifted the front of the new Tacoma Trail 1.1 inches thanks to taller coil springs. The front air dam found on the standard SR5 is deleted to help improve ground clearance. With the air dam removal and the front suspension lift, the approach angle of the truck improves to 34 degrees.
The rear suspension receives attention too, and it is lifted 0.5 inches thanks to a spacer between the rear axle housing and leaf springs to help level the truck's profile and improve departure angle to 23.6 degrees. The break-over angle is also improved to 26.4 degrees.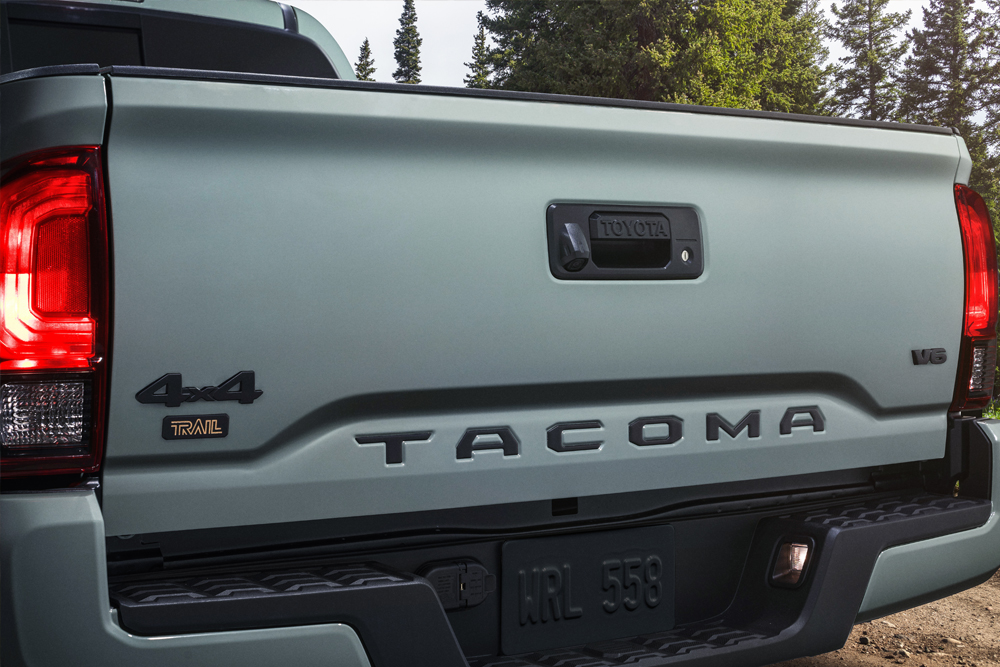 Based on 4WD SR5, the Tacoma Trail Edition gets a standard locking rear differential to offer added traction when it's needed most in slow-speed four-wheel-drive situations.
Undercarriage skid plates are borrowed from the TRD Off-Road grade to provide added protection. This is the ONLY SR5 you can get with a rear locking diff saving a potential customer some big money if they don't want the TRD Off-Road model.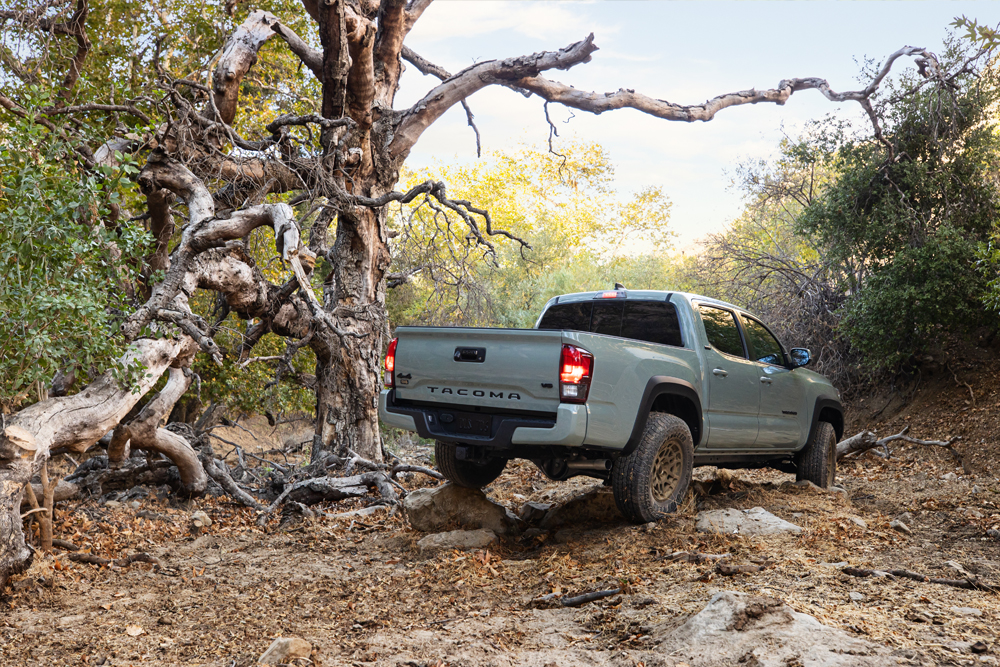 Four exterior color choices are available, headlined by the new Trail Edition option Lunar Rock, but there are also returning colors Army Green, Midnight Black Metallic, and Super White in the mix.
Regardless of paint choice, black exterior badging accents the truck, a new Trail Edition badge is on the rear tailgate, and the rear bumpers are now color match the exterior paint color. Also making a come back is the integrated bed storage and cooler.
Final Thoughts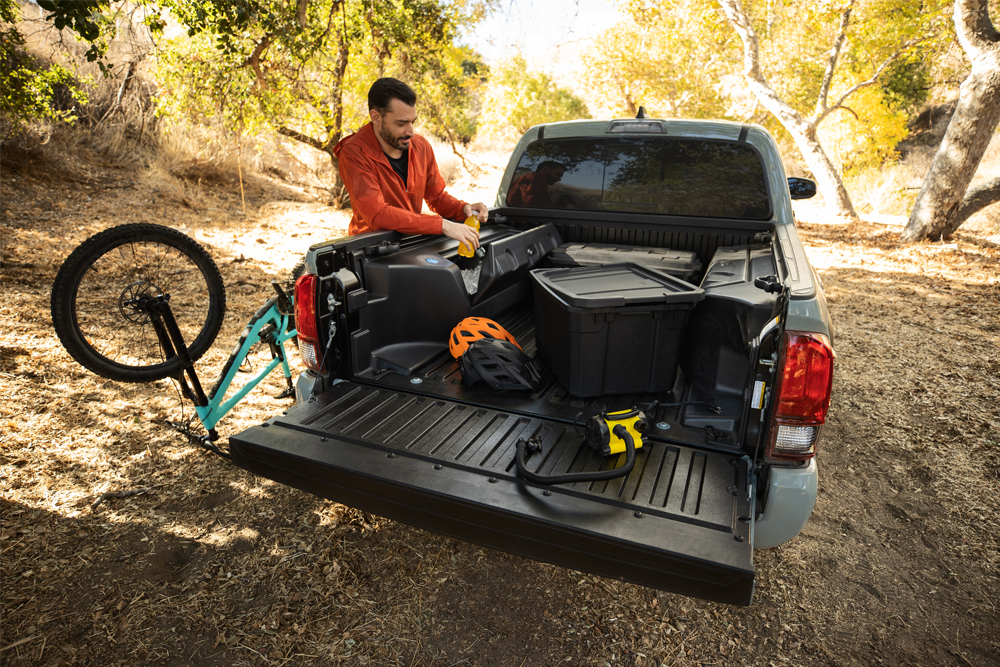 All in all, I am PUMPED for these two now Tacomas to come out in the fall of this year. I think that this new Trail Edition is honestly the best bang for your buck when it comes to an OEM off-road-ready rig that Toyota will sell for the average mild overland trip. The new TRD Pro is AWESOME! Personally, I really like the new Electric Lime color and cannot wait to see it in person. I am also excited to see how the new upgraded Fox suspension with the TRD UCA's perform out on the trail.
That's all the info I have for now. Make sure you head to my channel as I will be reviewing these trucks as soon as I can get my hands on them. Thanks!