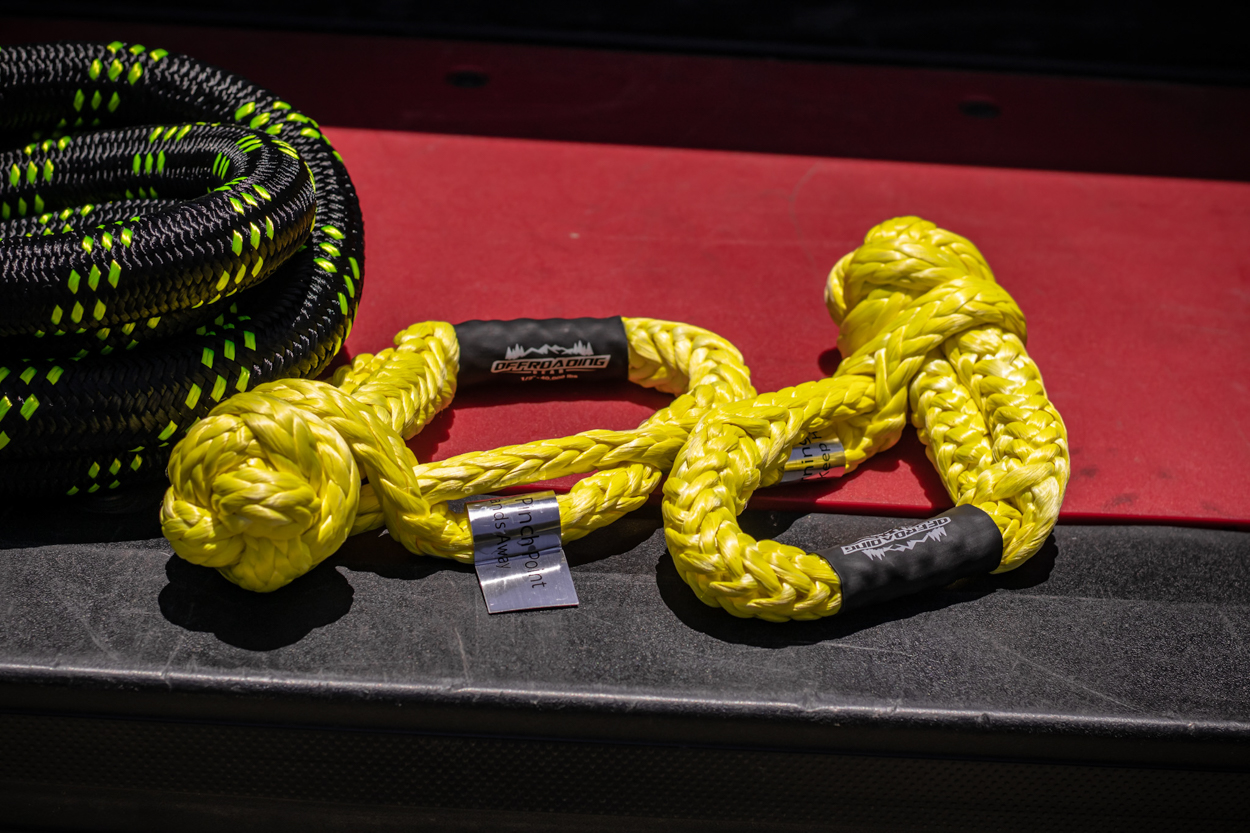 A Complete Guide, Review & Overview for the Synthetic Soft Rope Shackles from Offroading Gear
Regardless of whether you're wheeling frequently, or you're an occasional weekend warrior, you have seen numerous rigs with D-rings mounted on them. These D-rings are usually attached to anchor points on either the front or rear of a vehicle's bumper. They are used to mount tow straps, chains, winches, or ropes to assist with pulling a vehicle out that is stuck or disabled. They become invaluable in the off-road community, especially when you find yourself in a sticky recovery situation.
D-rings were, and still are, the industry-standard shackle for off-roaders. Lately, people are turning their attention to soft rope shackles. Not only for safety reasons but also for their strength and durability. In this article, I'll be covering Offroading Gear's 1/2″ Synthetic Soft Rope Shackles. I will also compare D-Rings to soft shackles and list the benefits of making the switch. Before discussing the soft shackles, I want to discuss Offroading Gear, and who they are as a company.
Find It Online
Who Is Offroading Gear?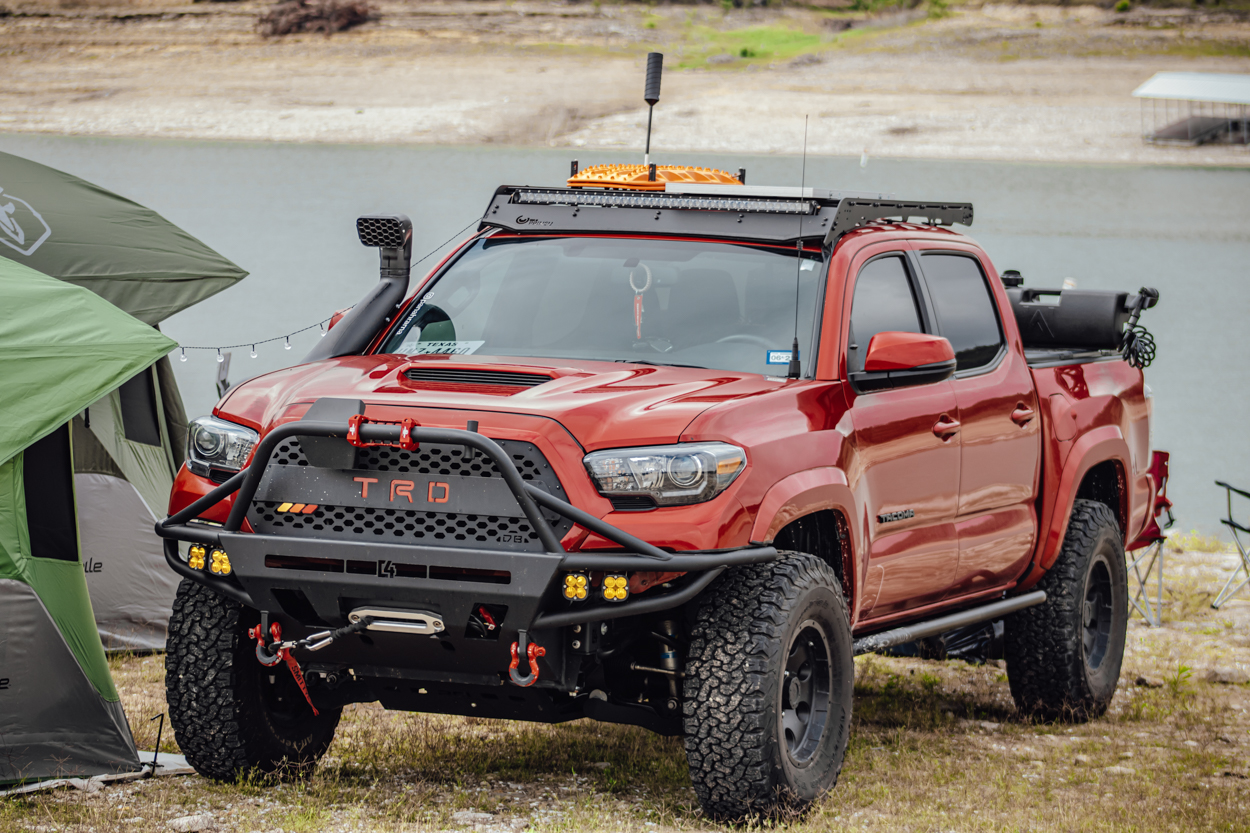 Offroading Gear is a Canadian-based company with warehouses throughout North America. They are a team of passionate and enthusiastic off-roaders, who like the rest of us, just want quality products without sacrificing an arm and a leg for them. They have tech teams that develop and test every product to ensure perfection.
These guys offer an array of off-road products.
From awnings and universal truck bed tents to recovery gear and towing, and even winch ropes and accessories. They are a one-stop-shop! What sets them apart, though, are their prices. These guys are putting out quality products that will give other name-brand companies a run for their money at a fraction of the price. As I mentioned above, I got my hands on their soft shackles and the results speak for themselves.
Soft Shackles – First Glance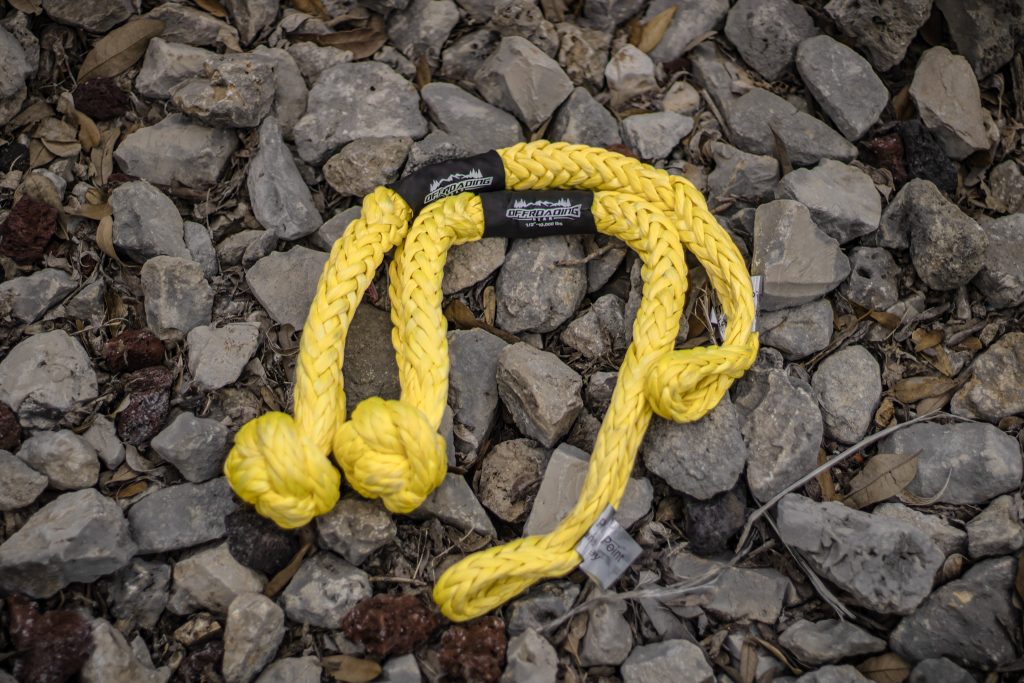 I was pleasantly surprised when I first opened up the box.
The soft shackles came in a small nylon string draw bag with two soft shackles inside. There was almost no weight to them when I pulled them out and held them in my hand. They were bright yellow which I knew would make them easy to find in a muddy situation or water.
Soft Shackle Key Features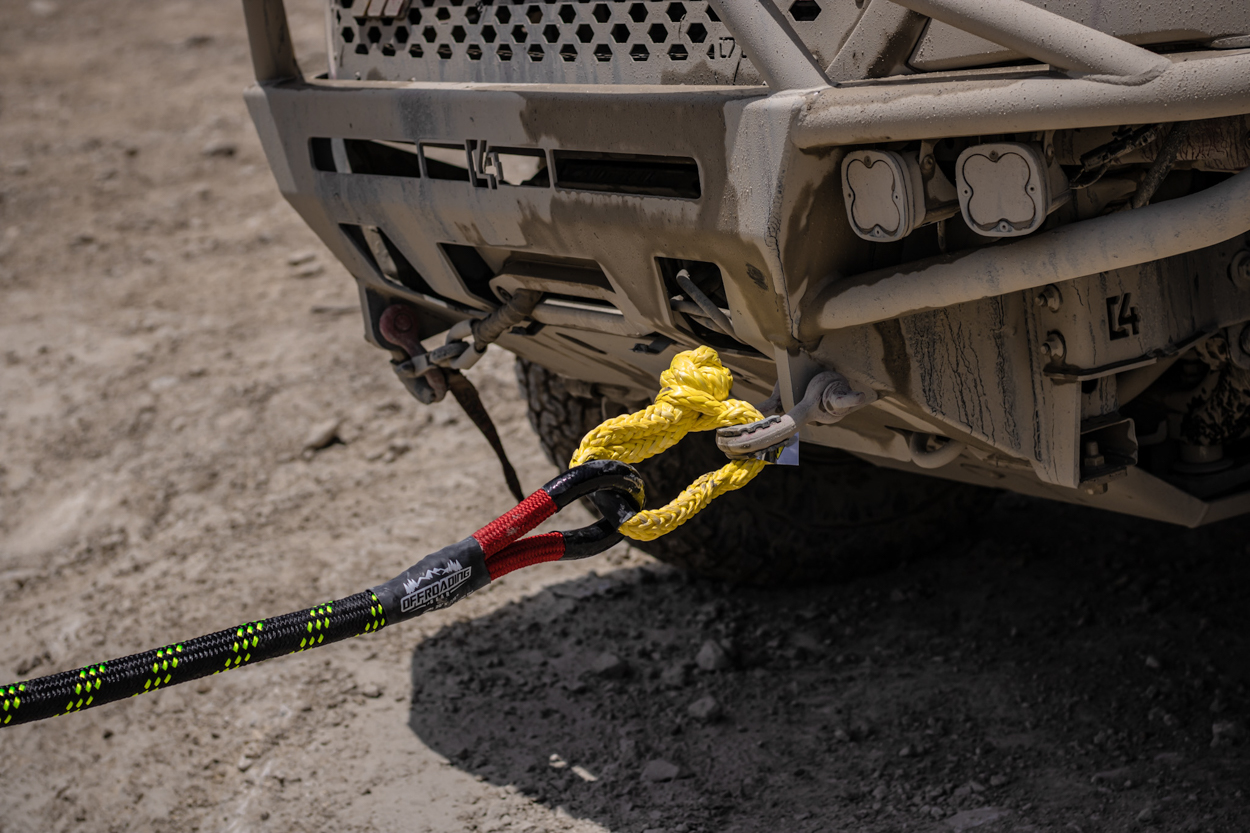 I was able to test these soft shackles out while wheeling with some buddies, and they did not disappoint. Their 4Runner ended up getting bogged down in some deep mud, and I was able to recover them using these synthetic shackles with a kinetic rope. The first thing worth mentioning is the breaking strength. Offroading Gear offers a few different sizes for its synthetic shackles. The 1/2″ has a breaking strength of 38,000 lbs, which is more than enough to recover any mid-size vehicle. It is rated for full-size vehicles.
The soft shackles are made of UHMWPE (Ultra High Molecular Weight Polyethylene). This is an extremely tough plastic with high abrasion and wear resistance. It is high-strength, lightweight, and heat-treated making the rope extremely durable. The soft shackles are designed to bear extreme pressure and tension, but allow rope stretch to help dissipate energy while in use.
Soft Shackle VS D-Ring
The standard and most popular size D-Ring shackle for the Tacoma is 3/4″ which has a breaking strength of roughly 22,000 lbs. The standard D-Ring also weighs about 4.5 lbs. The soft shackle has a much higher breaking strength at a fraction of the weight of the D-Ring.
Safety is another huge component when recovering. D-Rings are made of steel, and if they fail or break during recovery, they can cause massive damage. All the tension and force used can turn them into 4-lb high-velocity missiles. When the soft shackle fails, the tension and energy are dissipated much better—causing much less damage, if any.
Buoyancy is another great feature of the soft rope shackle. If you are ever recovering a vehicle from water or deep mud, you won't have to worry about the soft shackle sinking to the bottom. If it slips out of your hand and into the water, it will simply stay afloat. Whereas if you drop the D-ring…well, I hope you brought your scuba gear or fishing poles.
Final Thoughts
Offroading Gear put out a high-quality product at an affordable price. Although it is a little more expensive than the average D-Ring, it's much more durable and safer to use.
Storing it is also simple with the bag that they provide. I was truly happy with its performance on the recovery I used it for. Typically, with any type of mud recovery, there is a lot of jerking and forces being applied to both vehicles. These soft shackles paired with the kinetic rope dissipated the energy so well that it was extremely smooth, with very little jerking. I can see why they are becoming such a hot commodity in the off-road community. This product is definitely worth the investment.