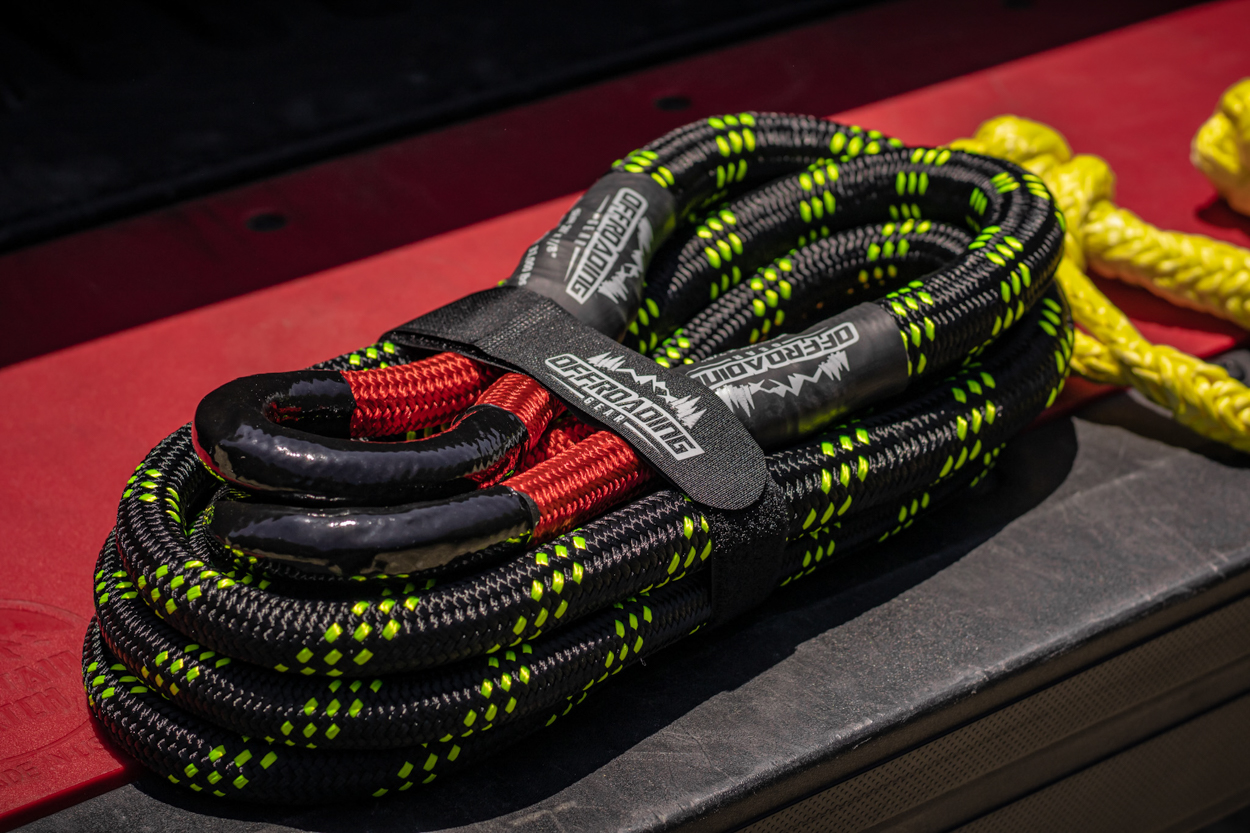 Complete Trail-Tested Review & Product Overview of Offroading Gear's Elastic Recovery Rope for 3rd Gen Tacoma
Recovery gear is by far one of the most important tools to outfit your rig with. Before going on any adventure, you should always be prepared for the worst-case scenario. To me, the worst-case scenario would be getting stuck somewhere up in the remote mountains with no one around for miles and miles and with no way to get myself out. The last thing I want is to be left stranded in the wilderness forced to leave my rig and hike back to civilization.
Recovery is always a big topic in the off-road and overland community.
What kind of recovery gear do you carry? Can you carry too much recovery gear?
Well, I'm here to tell you that you can never have too much recovery gear. I keep just about every type of recovery gear in my 3rd Gen Tacoma at all times. I currently have a winch in my bumper, recovery boards, tow straps, recovery straps, D-rings, rope, 20-ft chain, HiLift Jack, full-size spare tire, and a few other miscellaneous items. These things never leave my truck, because you never know when you might need them—especially if you find yourself drifting off the paved road and onto the beaten path frequently.
Quite frankly, a big factor in choosing what recovery gear to purchase is the price tag. Some of these companies are selling the same products for triple the price of others. Is the quality any better though, or are you paying for the brand? I wanted to add a kinetic rope to my arsenal, but I wasn't willing to drop upwards of $200-300 on competitor products. Offroading Gear is putting out the same quality products for a fraction of the price. I got my hands on Offroading Gear's Kinetic Recovery Snatch Rope and got to test it out. The results were flawless performance.
Find It Online
Elastic Recovery Rope Trail-Tested Review
What is Kinetic Rope?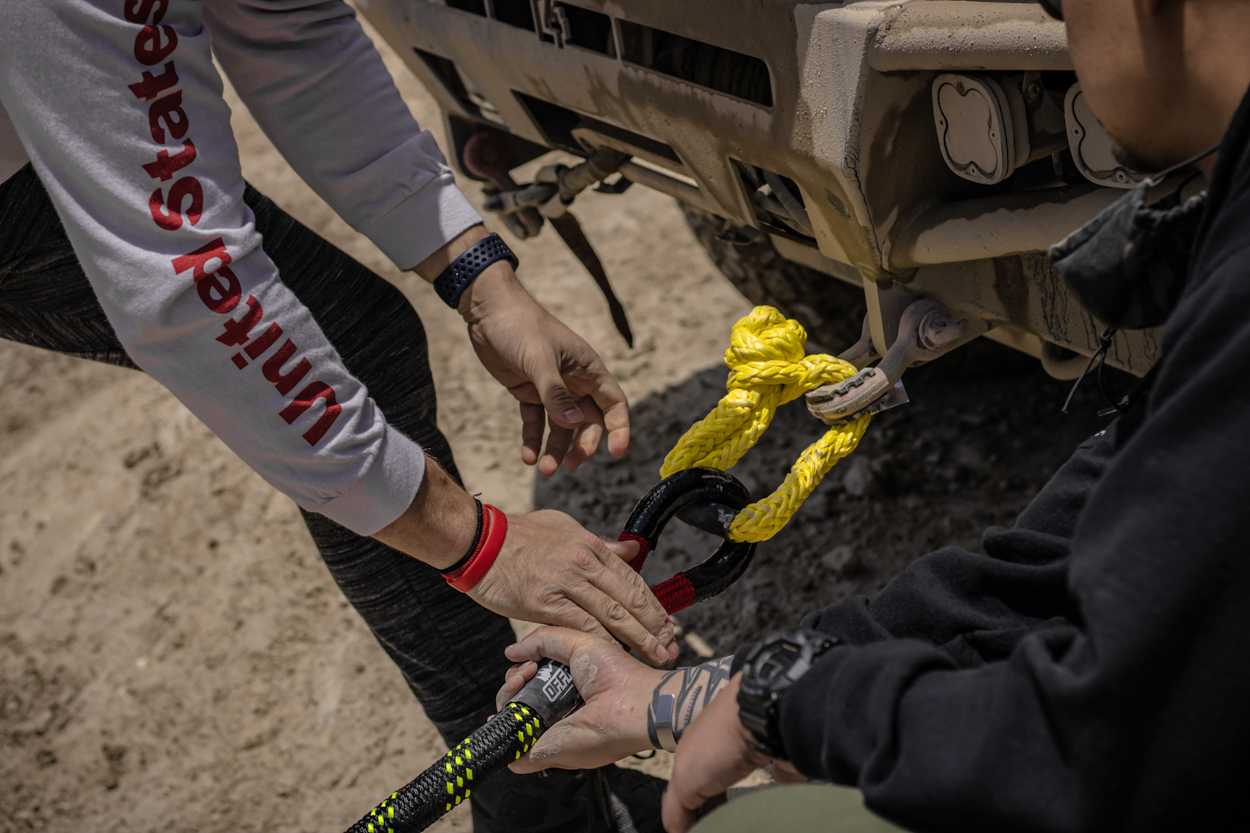 Kinetic recovery ropes are manufactured to stretch and rebound to allow a smooth transfer of energy between both vehicles utilizing the rope. The smooth transfer of energy from the vehicle that is performing the recovery to the vehicle that is stuck is why kinetic ropes have grown in popularity.
The rope is designed in this fashion to be more durable, and provide a much safer recovery by eliminating the likelihood of the rope breaking under extreme amounts of pressure. The kinetic rope has gained a lot of attention in the off-roading community due to its reliability under difficult conditions.
The basic premise of the kinetic rope makes it superior for recovery as compared to a typical recovery and tow rope. These ropes, usually bright yellow, have their place, but in terms of effective recovery, the kinetic rope, which transfers energy, as compared to a traditional rope which stores energy, it's easy to see why kinetic ropes are invaluable.
Key Features
Breaking Strength – 28,600 lbs
Heavy Duty Double Braid Nylon
Abrasion-Resistant Coated Eyelets & Stress Reducing Nylon
High Stretch Nylon (Elongates Up to 30%)
Heavy Duty Storage Bag Included
Can Be Used for Recovery or Towing
Getting Stuck…On Purpose!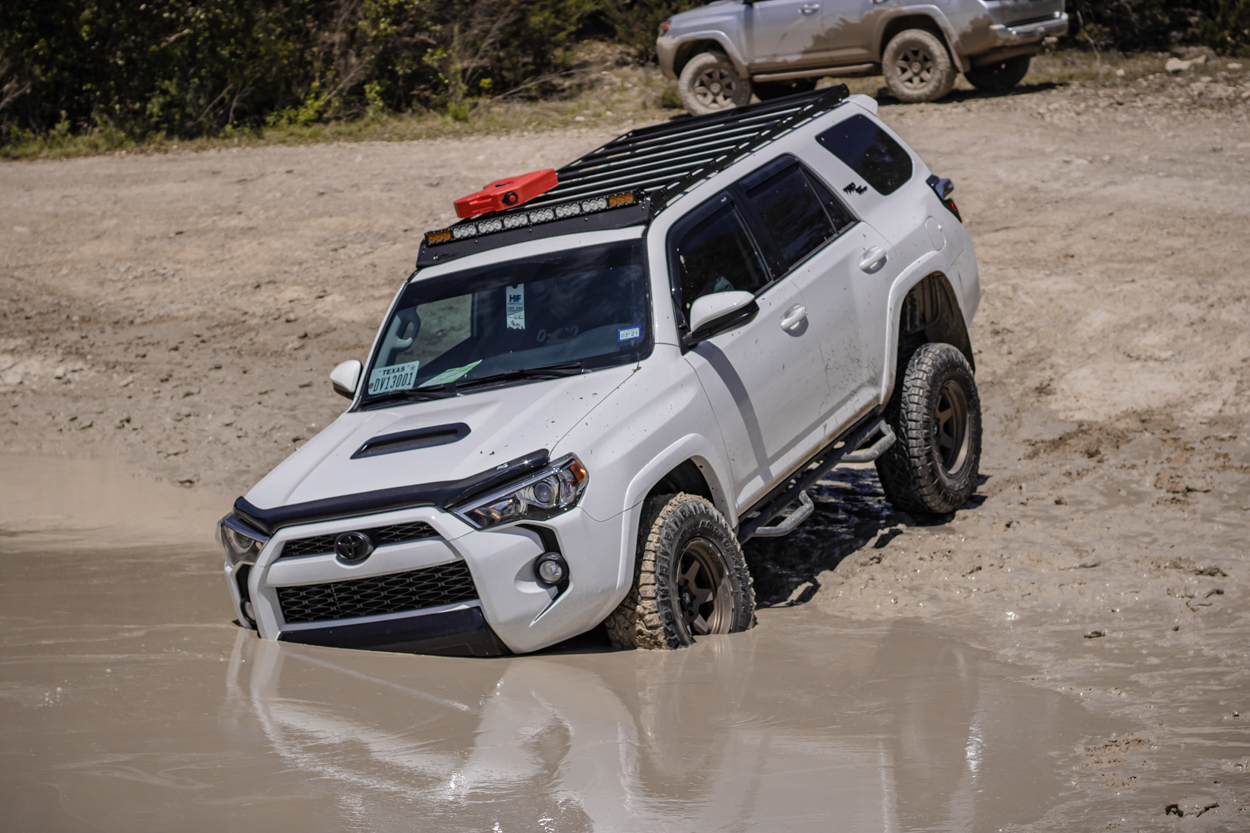 I had the kinetic rope, but the next step was hitting the trails and getting stuck…on purpose. Yes, on purpose!
I was on a mission to get my good friends stuck in their 5th Gen 4Runner. Don't worry. I wasn't going to leave them. I just needed a guinea pig to test the new recovery gear on. Normally, recovery situations aren't planned, and I wanted to test the durability of this rope to give an accurate review and do some stress testing.
So we aired down, hit the trails, and found a massive mud pit that was perfect for the experiment. My friend took her 4Runner in the mud pit, and we quickly found out how deep it was. Her front end sunk deep enough to raise her rear driver's side tire an inch off the ground. The mud was soft enough that she was unable to gain traction, even in 4-wheel drive. Mission accomplished.
Hooking Up Kinetic Rope
With my friend's 4Runner stuck, we could finally hook up the soft shackles and kinetic rope. She had a hitch-mounted shackle block that accepts a D-ring on the rear of her vehicle that I secured one of my soft shackles to. I looped the soft shackle through the D-Ring and the other end through the kinetic rope. With her vehicle tied up, I pulled mine in directly behind hers.
I attached the second soft shackle to my front bumper tow hook in the same fashion that I attached the other end. Typically, it is better to recover any vehicle in gear, because it creates less stress on the drivetrain, which makes recovery easier. Unfortunately, she was using my only hitch-mounted D-ring, so I had to pull her in reverse.
Recovering the Stuck Vehicle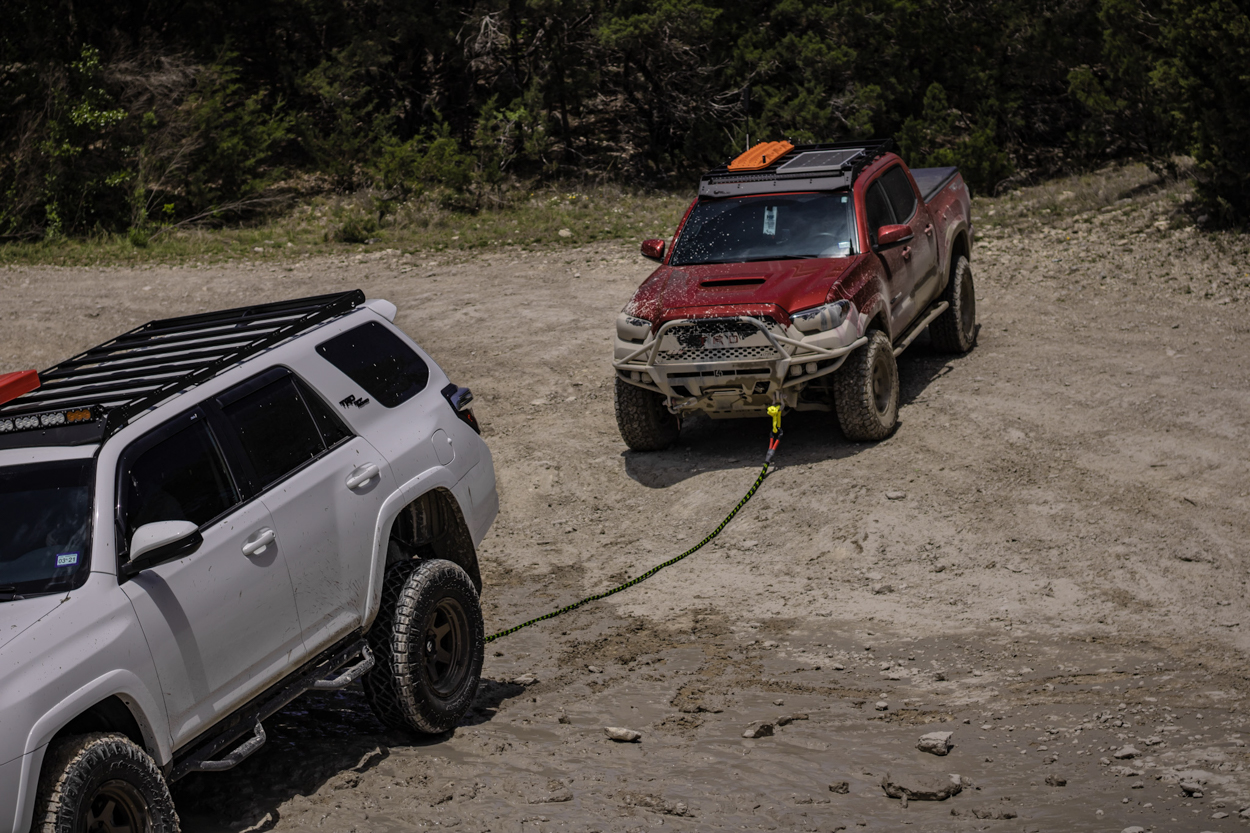 With both vehicles hooked up, it was time to yank her 4Runner back onto dry land. Typically, with any recovery utilizing tow straps or recovery straps, you want to pull most of the slack out before tugging at it.
A kinetic rope is designed to stretch and elongate to reduce stress on either vehicle. Due to its design, I left a little bit of slack in the rope to test out the strength of the rope and get the most of the elastic rebound.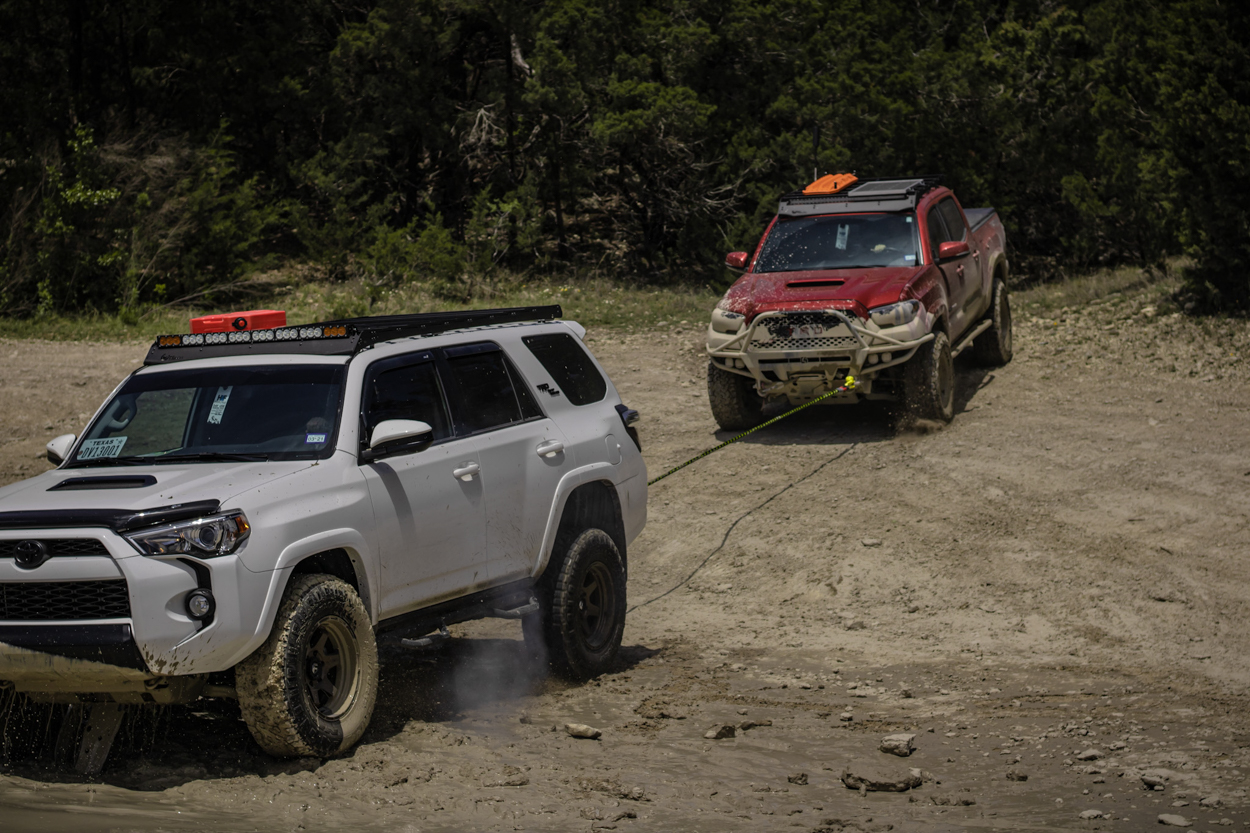 I had my friend place her vehicle in reverse, and I accelerated in reverse giving her a firm yank on the rope. The kinetic energy from the yank stretched the rope and pulled her out of the mud, grounding her rear tire.
Her front tire was still sunken pretty deep in the mud which wasn't allowing her to gain any traction. She was still spinning her tires. I again let out some slack on the kinetic rope, accelerated in reverse, and gave her another solid tug. This pulled her completely out of the mud pit and allowed her to regain traction.
Final Thoughts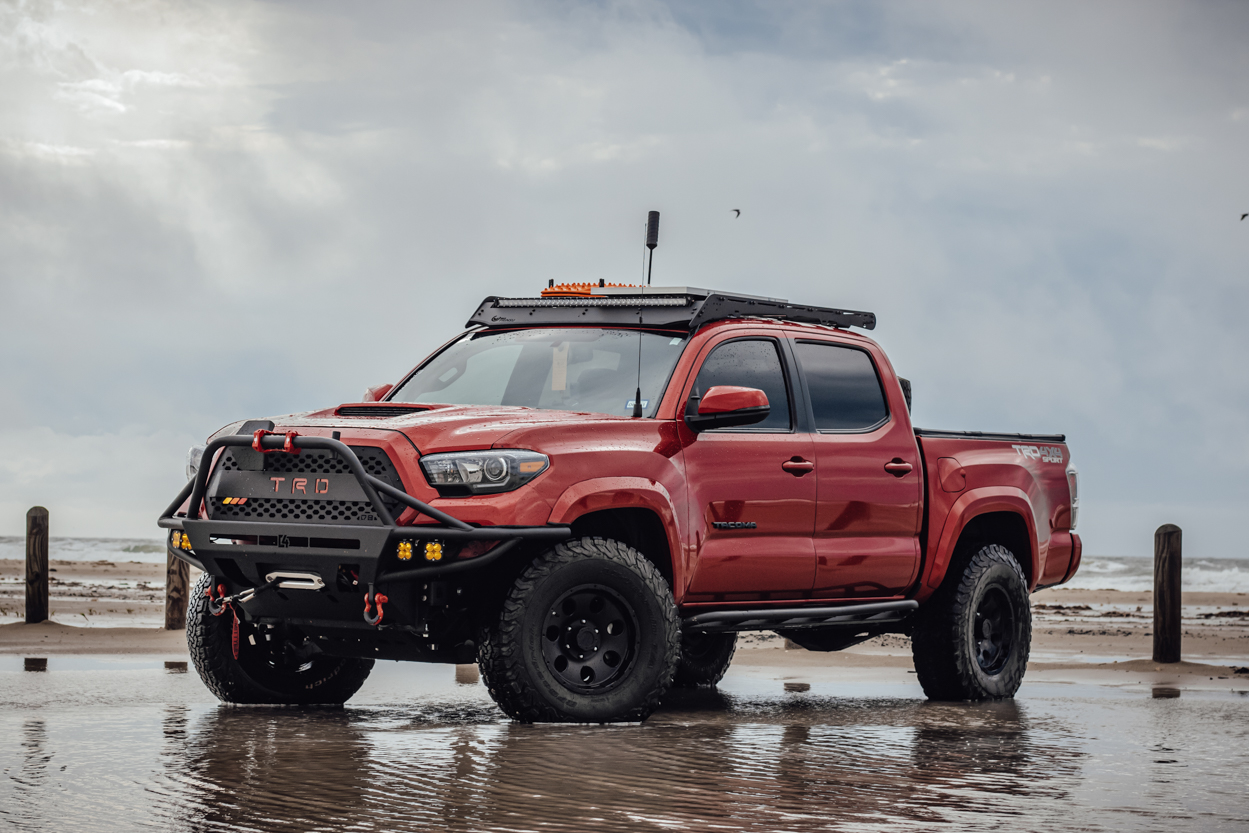 I was pleasantly surprised at how well the kinetic rope worked. It performed above any expectations that I had, especially since this was my first time using one. The recovery felt effortless. It transferred the energy so well that I hardly felt any resistance pulling the 4Runner from the mud. Hooking up and removing was fast and simple too.
Offroading Gear is putting out some solid products, and their prices really can't be beaten. You can feel the quality of the rope by just holding it. That thing is beefy! These guys are ahead of the game. If you're in the market for kinetic rope, then check out Offroading Gear. They offer high-quality products at realistic prices.