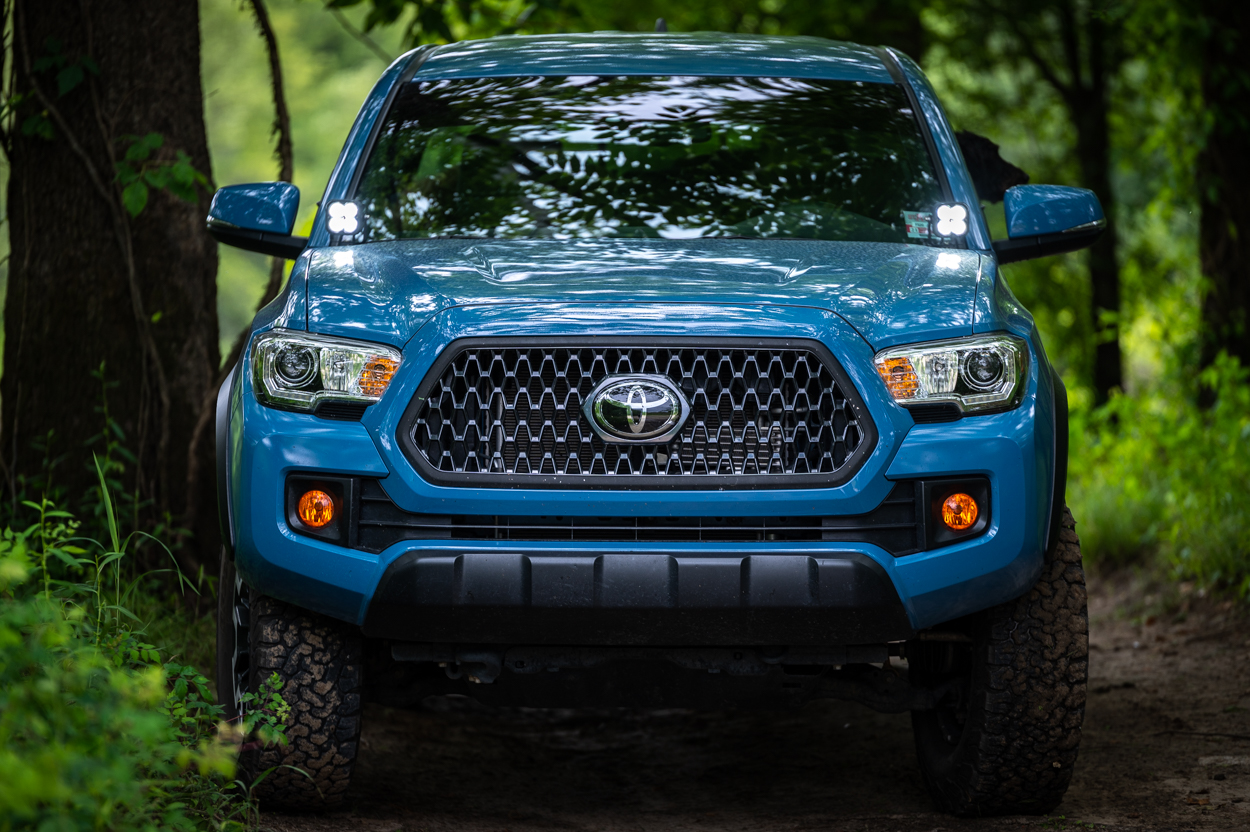 Complete Overview, Step-By-Step Install & Initial Review of the Lasfit 3″ LED Pods with Spot Lighting Pattern – Mounted as Ditch Lights
There are several manufacturers of automotive LEDs on the market right now, but that doesn't mean there isn't room for one more. It's pretty clear Lasfit feels the same way, or they wouldn't have expanded their product line to include their new 3″ LED Pods.
Pod lights, or ditch lights as they are sometimes called, are auxiliary lights that are usually mounted where the A-pillar meets the hood of the Tacoma. You could also mount them on your bumper, or even use them as reverse lights. They are meant to give you additional light output when your headlights and/or fog lights are lacking.
Sufficient light output cannot be understated. Whether you're off-roading at night or in less-than-ideal conditions, or just cruising a dark road late at night, pod lights will give your factory lighting a boost to help you make it back to camp or home safely. There are also different light patterns to choose from to help meet your individual needs.
Lasfit 3″ LED Pods Ditch Lights Install & Review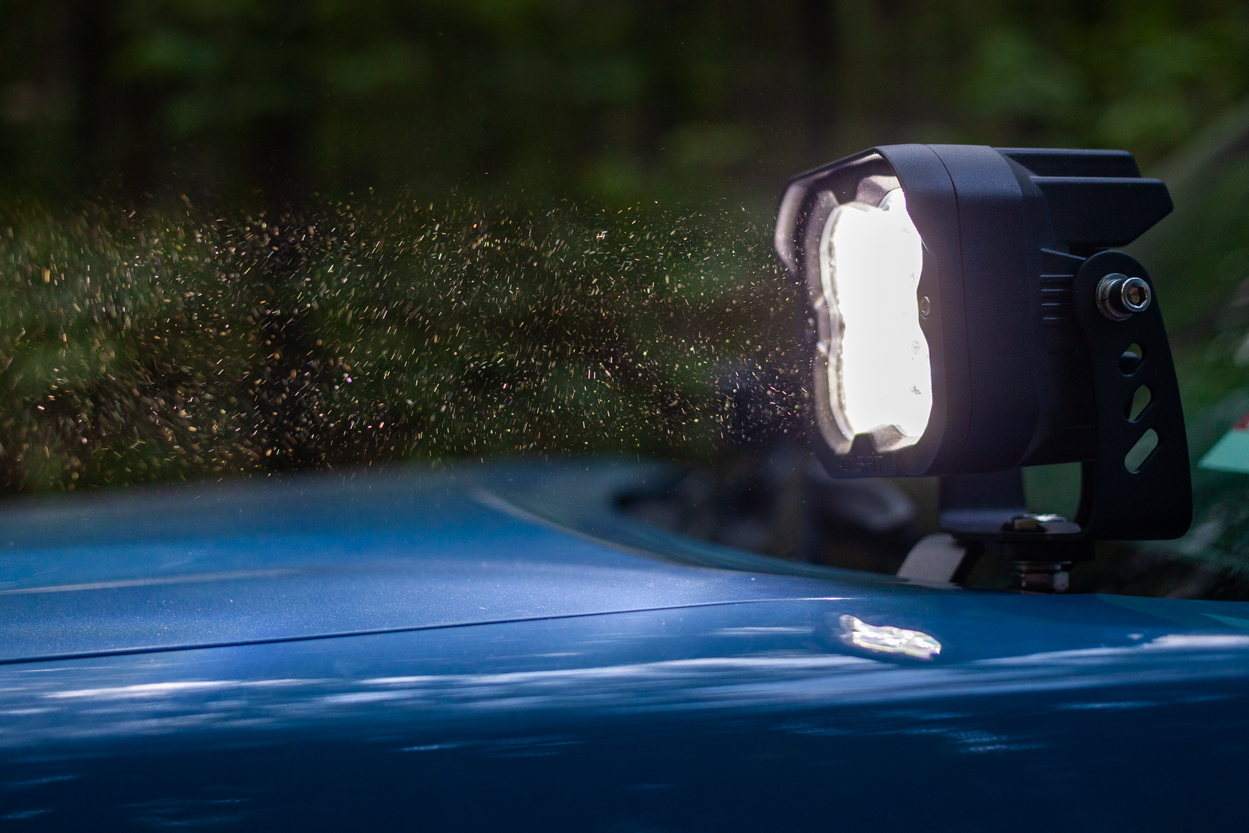 Lasfit makes their 3″ LED Pods with multiple output pattern configurations: SAE fog, SAE driving, flood, spot, driving, and fog. You also have the option for the amber color except in the SAE driving and SAE fog lights.
Find It Online
Lasfit 3″ LED Pods
Lasfit Wiring Harness
Who is Lasfit?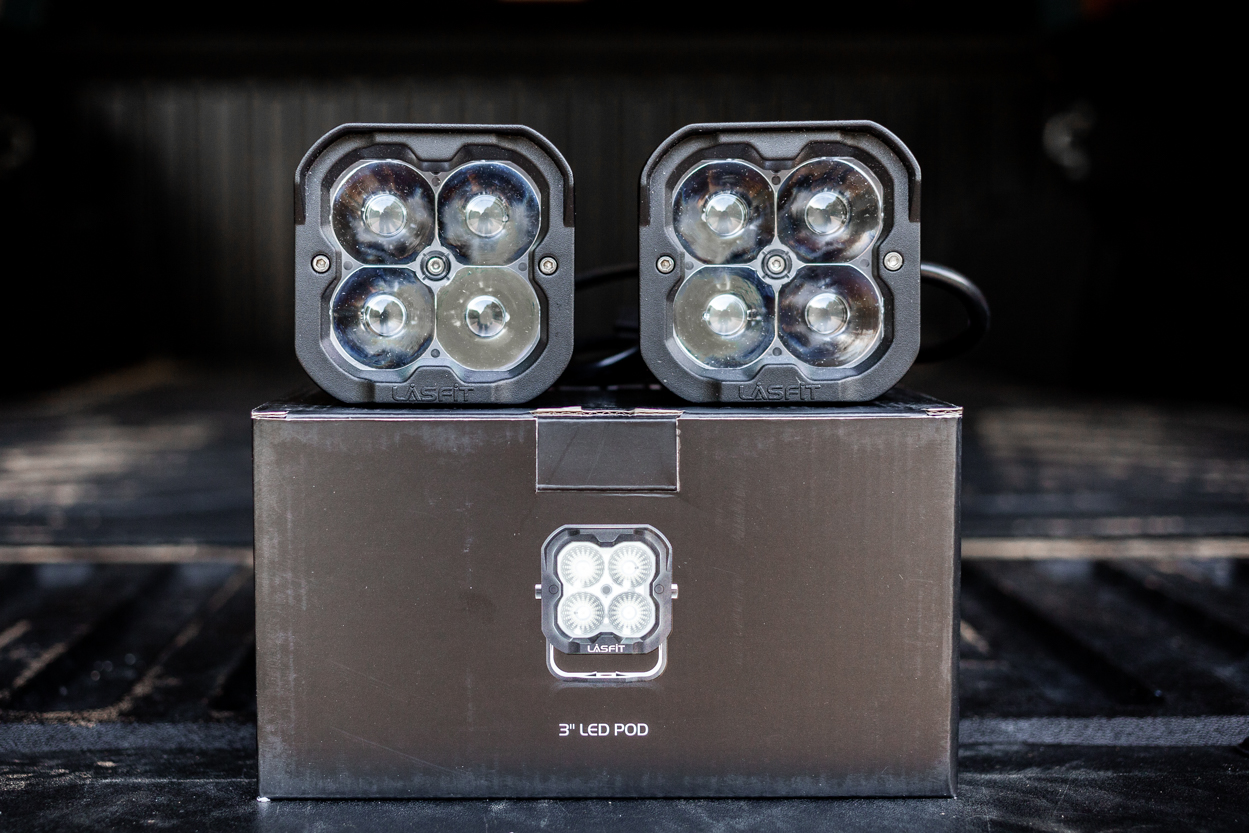 I'll be totally honest. Before I wrote this article, I had no idea who Lasfit was or what products they have on the market. So, I did a (very) little bit of digging to get some background on them. Established in 2015, Lasfit was started with a simple objective: to provide high-quality products with competitive pricing while carrying out excellent customer service and technical support for their customers.
From the Honda Civic to the Toyota Tacoma, Lasfit produces high-performance LED replacement bulbs to enhance your vehicle's lighting. Although the bulk of their product line is currently custom-fit floor liners and replacement LED bulbs, it's apparent that they are a growing company that is trying to innovate and reach a new customer base.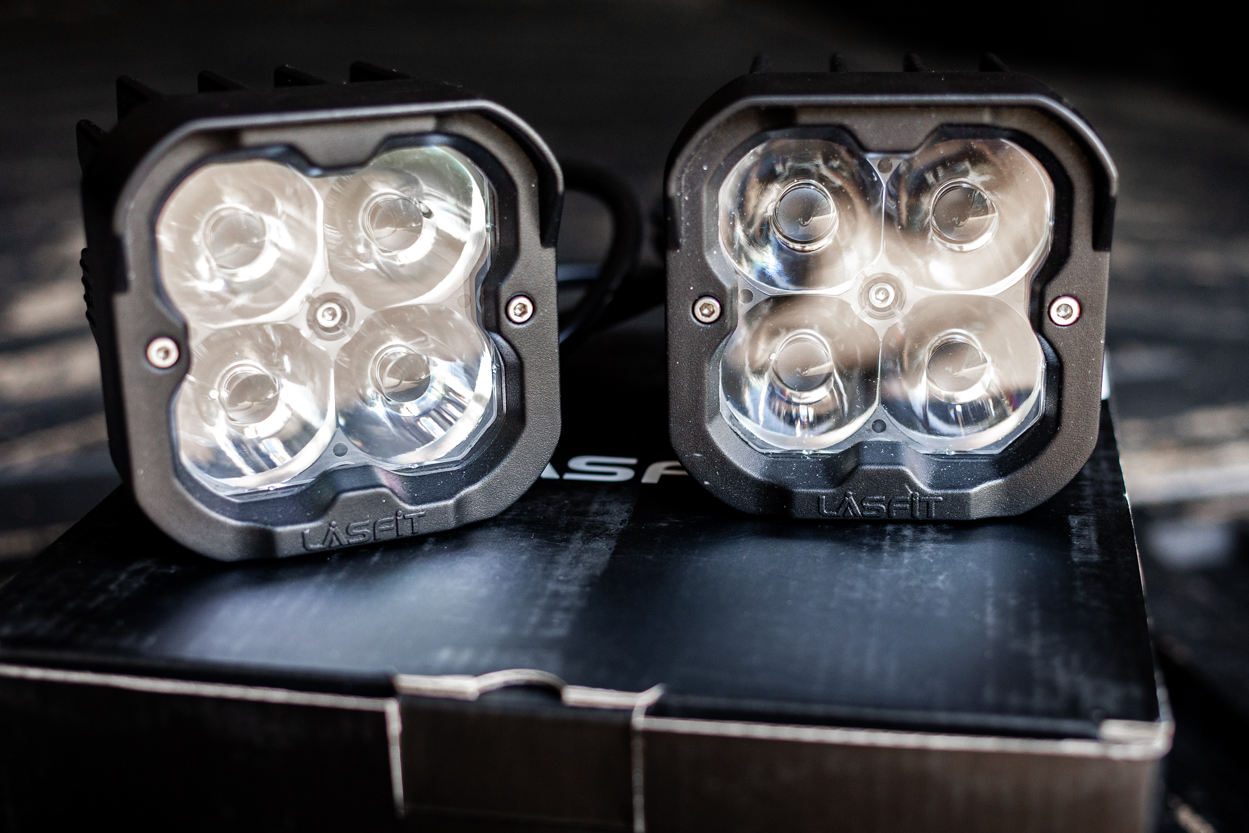 In this article, we'll be looking at the Lasfit 3″ LED pod lights (mounted as ditch lights). Like other manufacturers, they offer multiple patterns and come either white or amber in color. I am personally running the spot pattern in white, so that's what I'll be drawing my impressions from. We'll look at the install process as well as general aesthetics, build quality, and light output to try to help you determine if these lights will be a nice addition to your Toyota Tacoma.
3″ LED Pods – Spot Pattern, White Color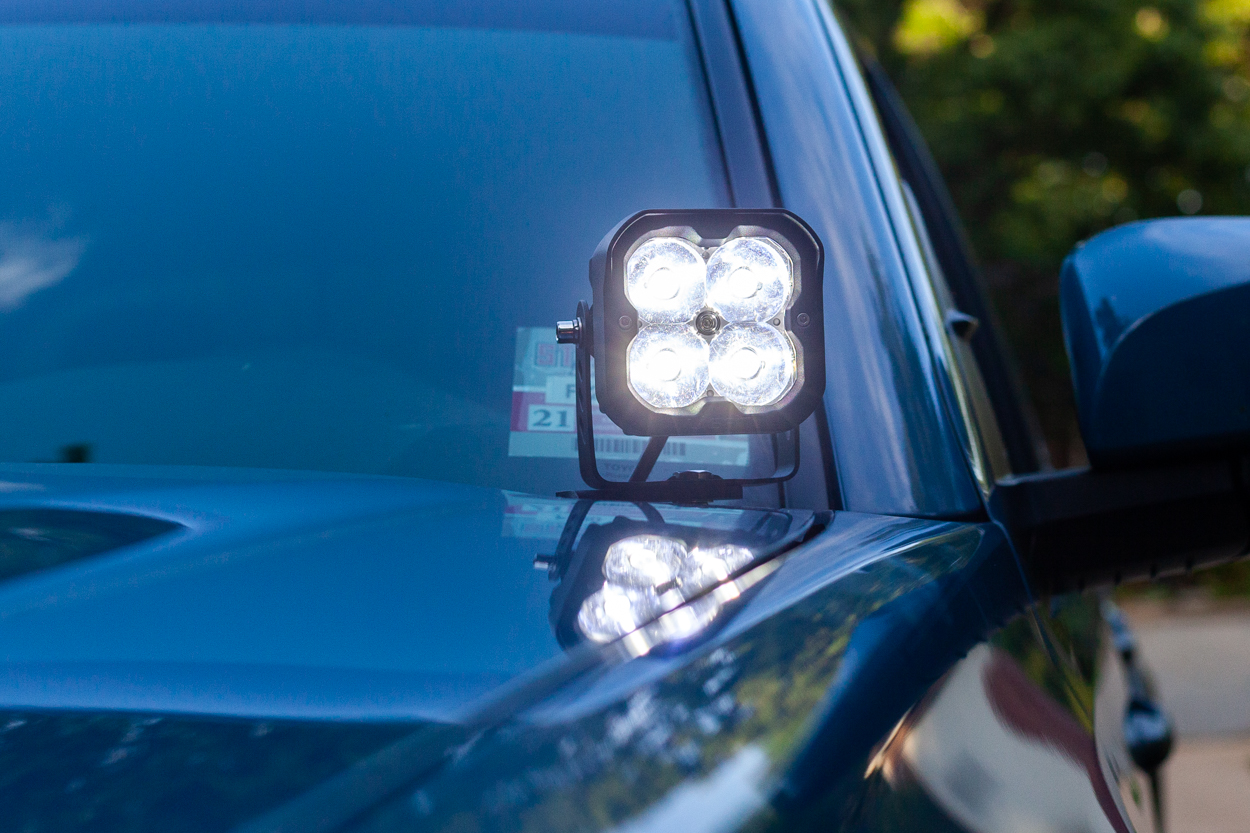 The Lasfit 3″ LED Pods have total internal reflector (TIR) optic technology. TIR uses a refractive lens inside the light's reflector. This allows for more light capture and emission than a traditional reflector. TIR also produces a sharper cutoff than a traditional reflector. High-intensity Osram LEDs inside the housing provide excellent light output. The spot pattern is "suitable for long-range vision", according to Lasfit. This means the beam will be smaller in circumference compared to a flood pattern, but is more focused and will provide lighting for a farther distance.
These LEDs have IP67 waterproof-rated housings. The IP67 (Ingress Protection) rating states that a product is dustproof and should be capable of being immersed in a meter of water for up to half an hour without a loss of function. To give a little context: the iPhone X and iPhone XR share this same rating. To aid in heat management, the LED board is mounted directly to the heat sink. The large fins on the back also help with cooling and the ventilation hole assists with preventing condensation inside the lens.
Specifications
5W-10W Osram LEDs
Lux: 8672 lx @ 150ft
Input Voltage: 9-36DVC
Input Power: Sport 18W / HP 36W
Amp Draw: 1.3/2.7 amps @ 14.2V
Operating Temp.: -40°F to 185°F
Ingress Protection (IP) Rating: IP67 Waterproof
Weight: 1.25 lbs each (without brackets)
Note: Lasfit offers an 18W Sport version and a 36W HP version. I'm covering the 18W version in this article.
Tools & Materials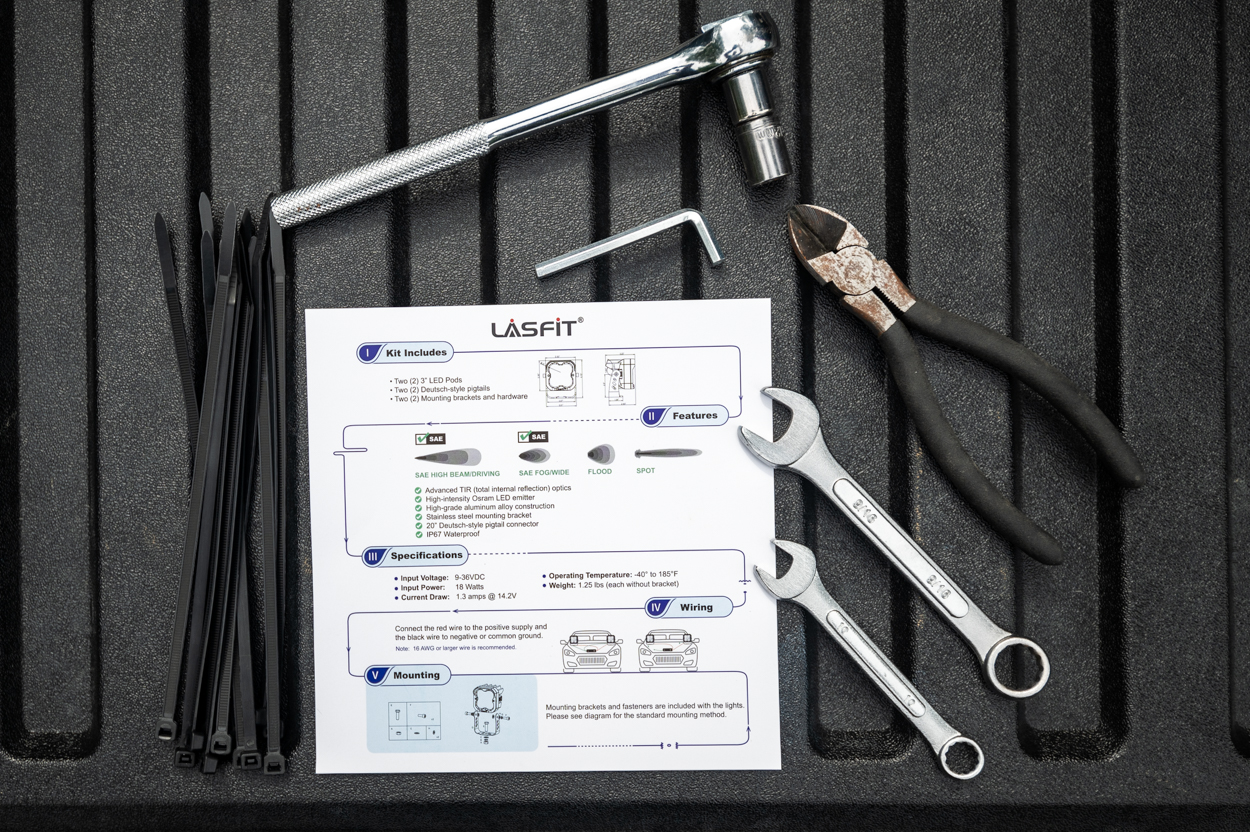 Included Items
(2) 3″ LED Pod Lights
(2) Mounting Brackets (to attach lights to ditch brackets)
(2) Deutsch-style Wire Pigtails
Hardware and Allen Wrench
This is a pretty simple install that can be done with just a few tools and doesn't require much electrical experience.
Materials
Ditch Light Brackets
Socket Wrench
12mm Socket
10mm Wrench
14mm Wrench
Cable Ties
Knife or flathead screwdriver
Allen Wrench (provided)
Cutting Pliers
Wiring Harness (optional)
Step 1. Attach Light & Ditch Lights Brackets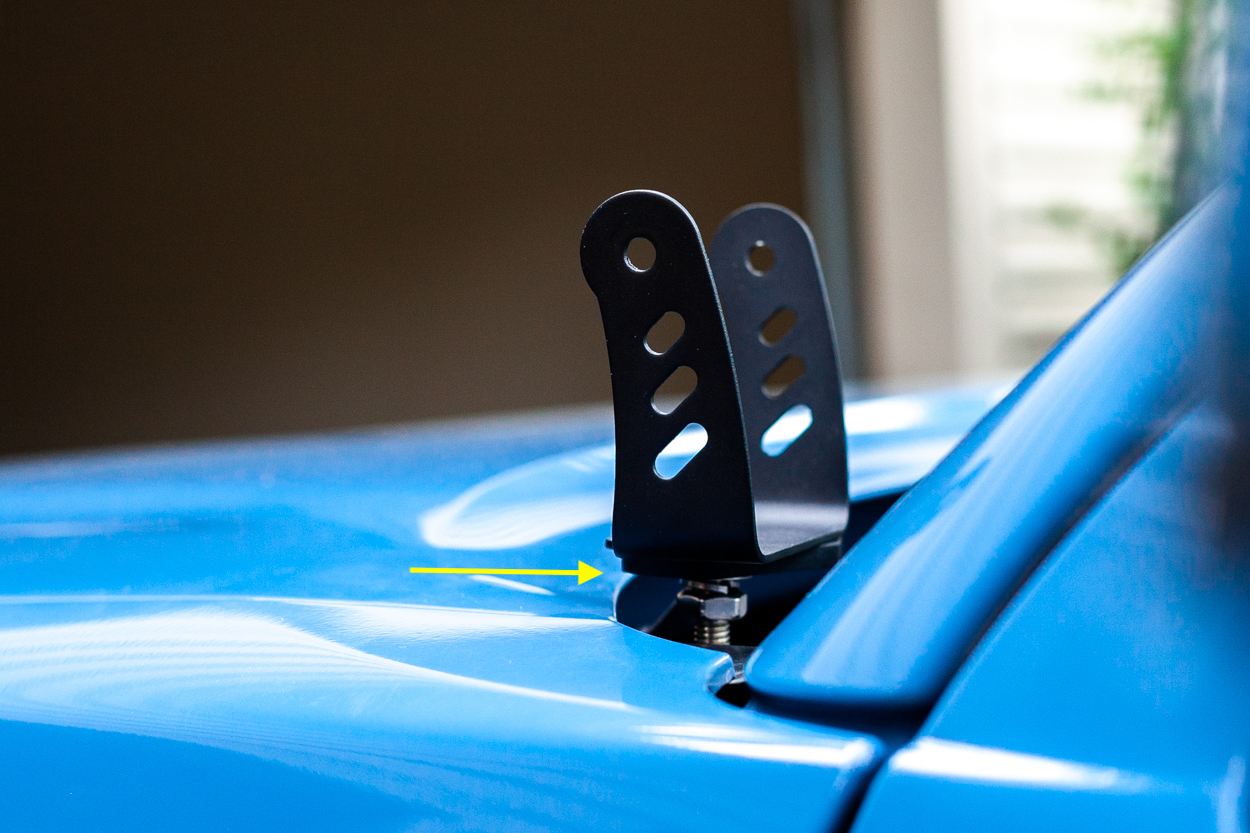 First of all, I want to say that you can't be impatient like I was with my install. I got ahead of myself because my Low Profile Cali-Raised Ditch Light Brackets showed up before my lights did. So, what did I do? I went ahead and installed them. Big mistake. It is MUCH easier to install the provided light bracket to the ditch light bracket before installing them on the truck.
The biggest reason for putting the entire assembly together beforehand is because once you have the ditch light brackets on the truck, it is extremely difficult to install the hardware that attaches the two brackets. There are multiple washers and nuts to deal with, and you will have a much easier time putting them together when off the truck than you would if you install the ditch light brackets first. That's how I would do it if I was doing it again, so maybe that will save you a headache. Another option is just to put the bolt on upside down so you can install the nut and washers without the worry of them falling and getting lost.
Use the instructions to install the pod lights to the light bracket. It shows you the order the hardware needs to be installed and this is where you'll use the provided Allen wrench and 10mm wrench. Don't tighten anything down too much just yet, as you'll want to be able to adjust the position of your lights later.
Step 2. Attach Light Assembly to Hood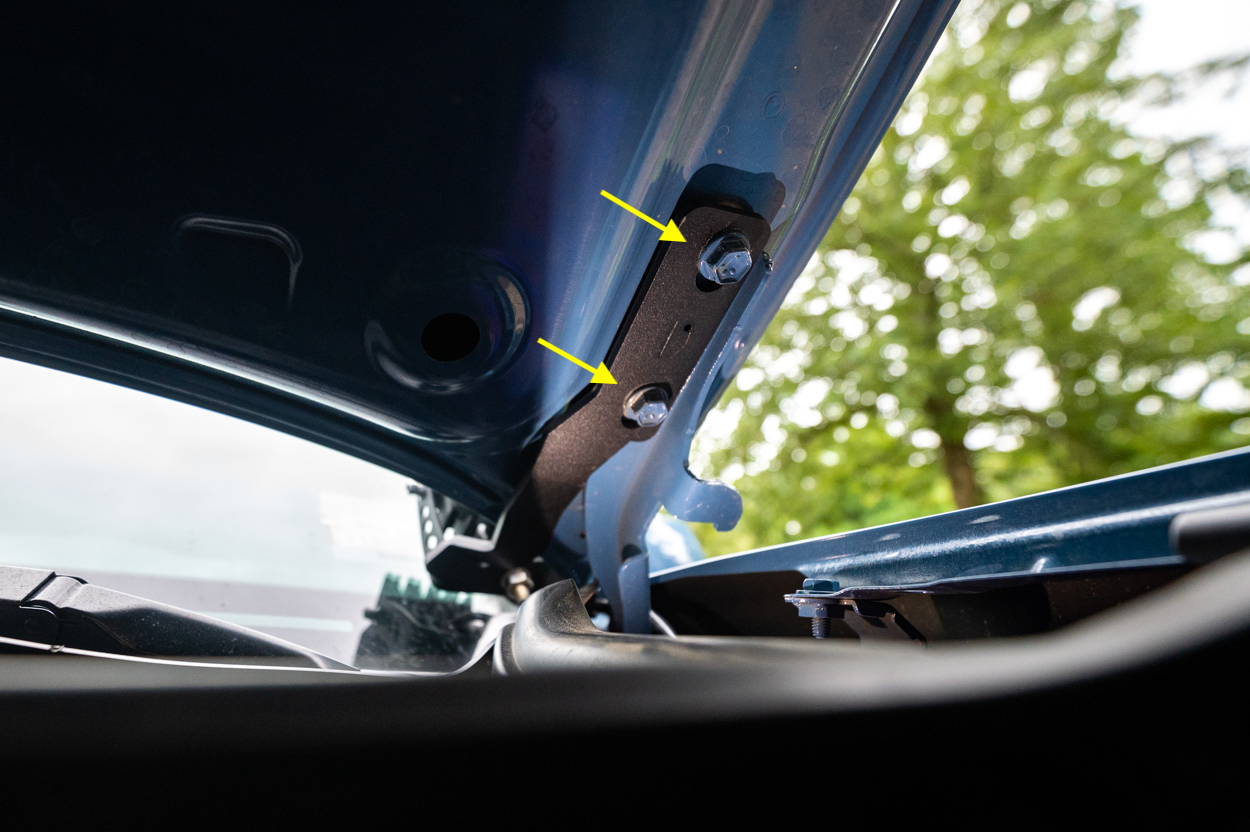 After you have the light assembly (including ditch light bracket) put together, then you're ready to install them on the truck. Pay attention to the ditch light brackets because they will have a driver or passenger designation on them. If you install them on the wrong side, you may run into clearance issues. To install the assembly, you will first need to take your 12mm socket and wrench to remove the hood hinge bolts. Once you have the bracket in place, you can re-insert the hood hinge bolts and snug it down a bit.
One thing to note here: it may be tricky to get your hood lined back up properly, so you may want another person to help you with that.
Step 3. Unplug Battery & Install Wiring Harness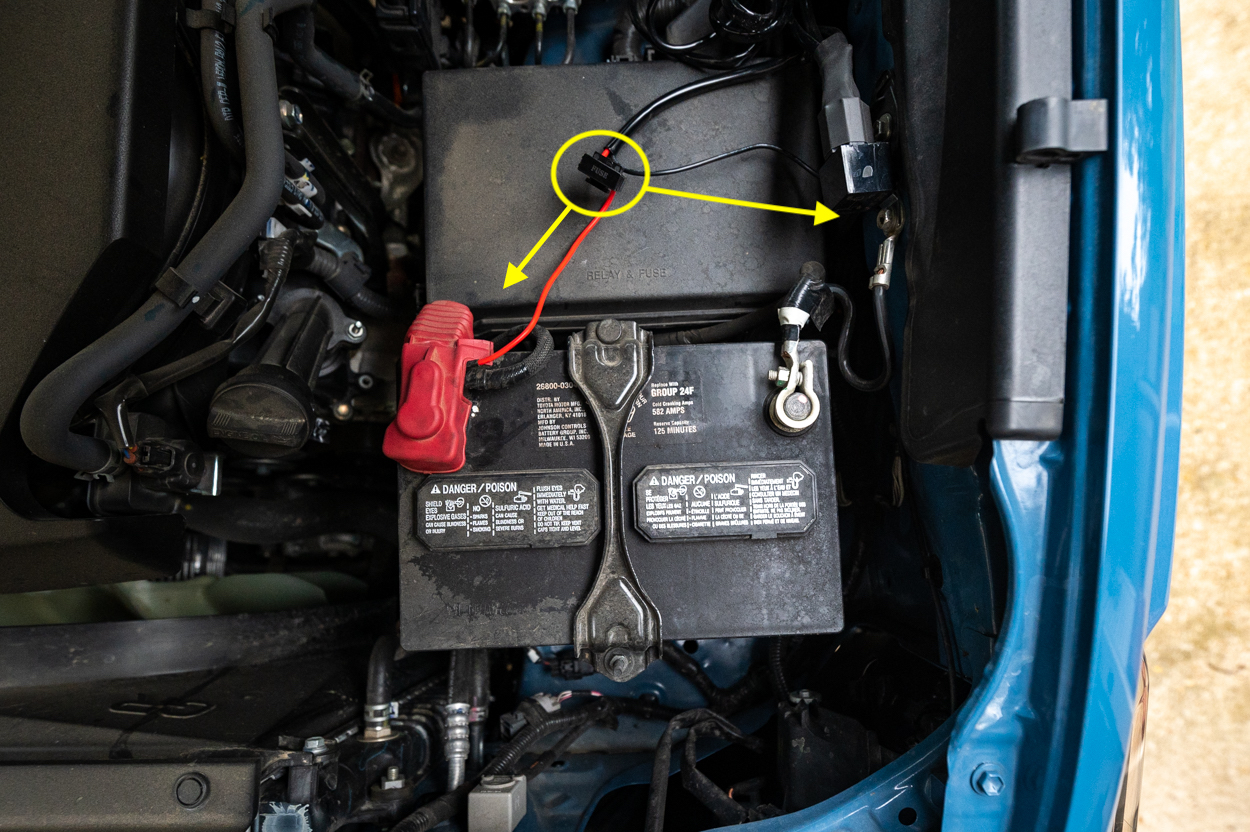 Once you've got the brackets and lights installed properly on the truck, you can get started installing the wiring harness. Go ahead and disconnect the battery at this point since you'll need to attach the positive wire to the positive terminal and the negative wire to the negative terminal or a grounding point on the body of the truck like I did. After you've got the wiring harness connected to the battery, then reinstall the battery cables and plug in the lights.
I did want to mention the only thing that I don't like about the wiring harness is the wire running to the positive terminal from the add-a-fuse is a little short. I'm not electrically inclined, so that may be an easy fix, but just thought it was worth mentioning.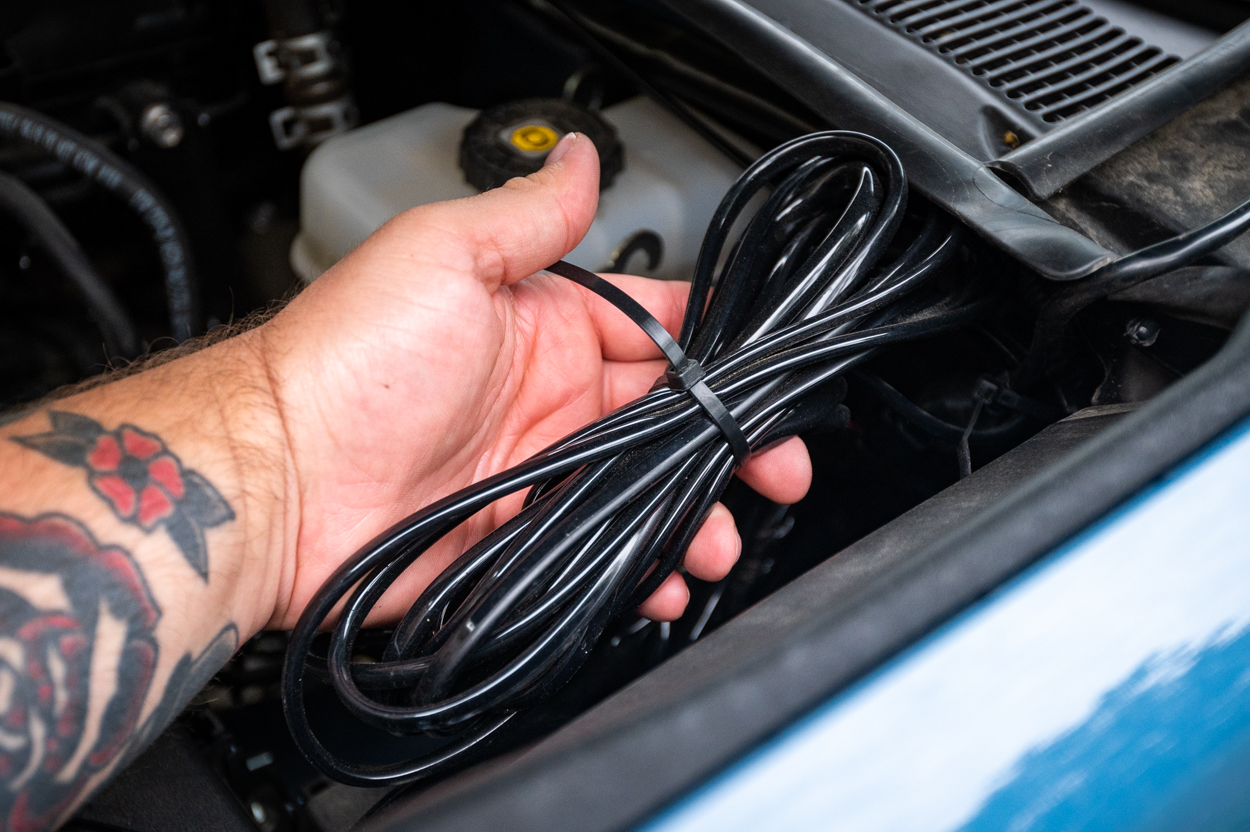 Because the wiring harness is so long, I decided to start on the passenger side. Once the passenger side light is plugged in, you can run the wires just under the plastic hood shroud along with the factory wiring that's already in place.
All you need to do here is place some cable/zip ties to keep the wires secured and to keep everything nice and tidy under the hood. You could also do this after you've got everything plugged in and situated.
Step 4. Run Wires Through Firewall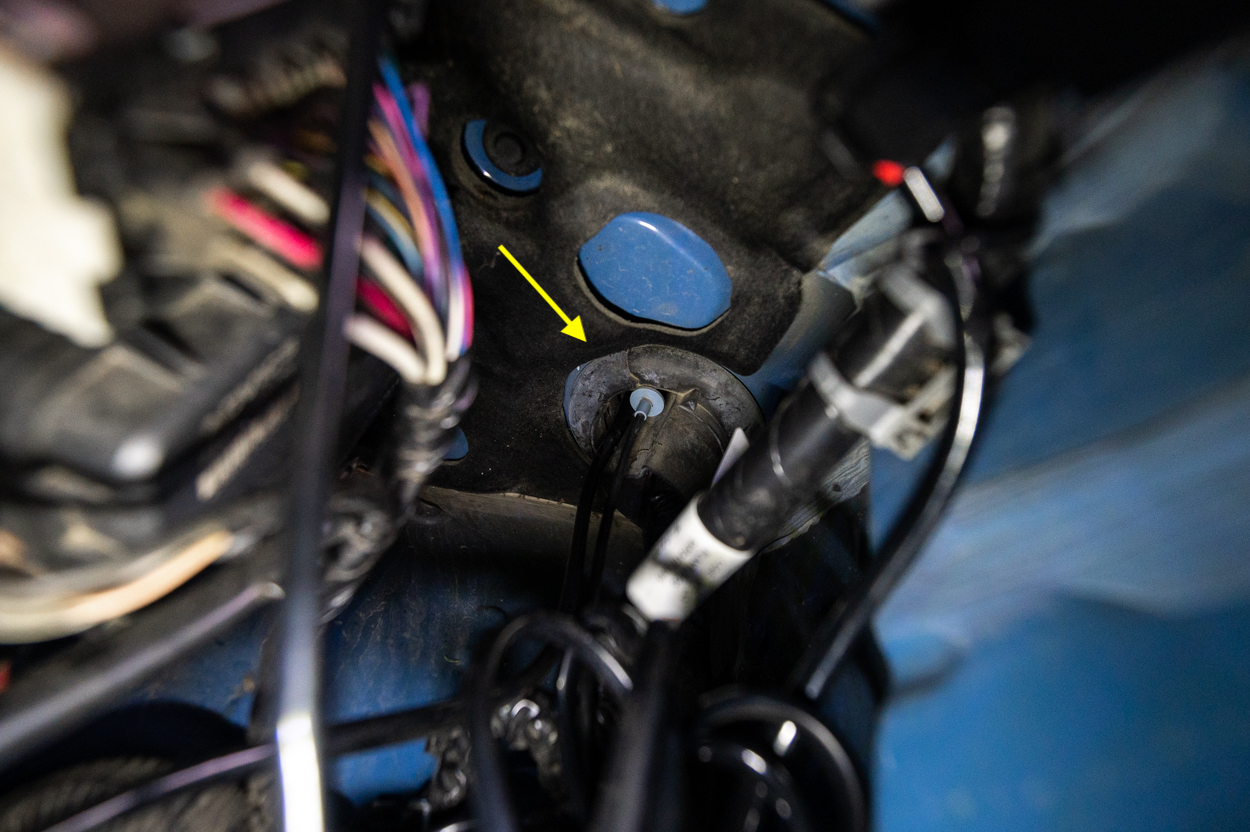 So, now that you have the lights plugged up, run the connector through the firewall so you can plug in the provided switch to turn the lights off and on. There is a rubber grommet in the firewall (where the bundle of wires is) that connects to the fuse box.
All you have to do is cut a tiny slit into the grommet and then run the wires through it. It will have to be big enough for the plug to fit through, but you probably don't want to cut it too big. You could also cut the wires and reattach them inside the cabin if you're really concerned about the size of the hole.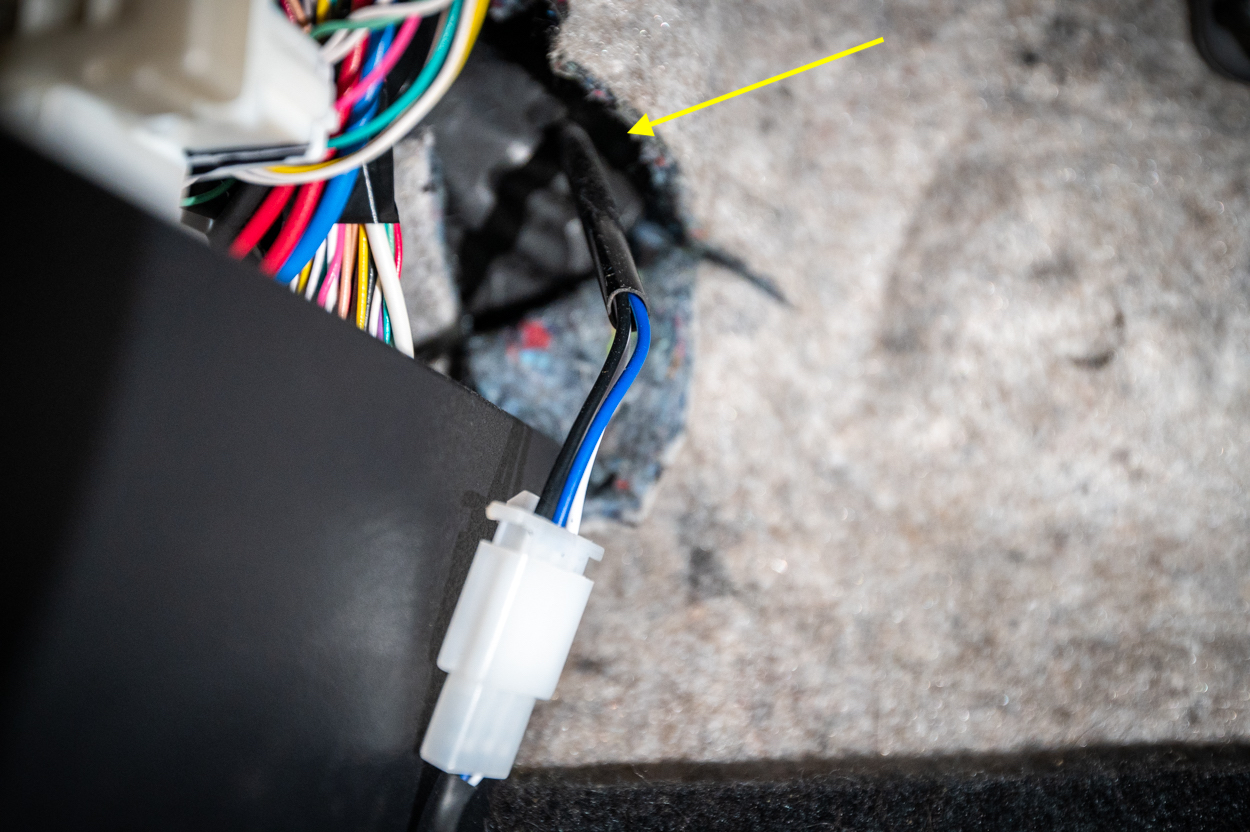 Probably the easiest way to get the plug and wires through the hole is to take something reasonably stiff (like a straightened coat hanger), tape the wires to it, and then push/pull it through.
Step 5. Test Lights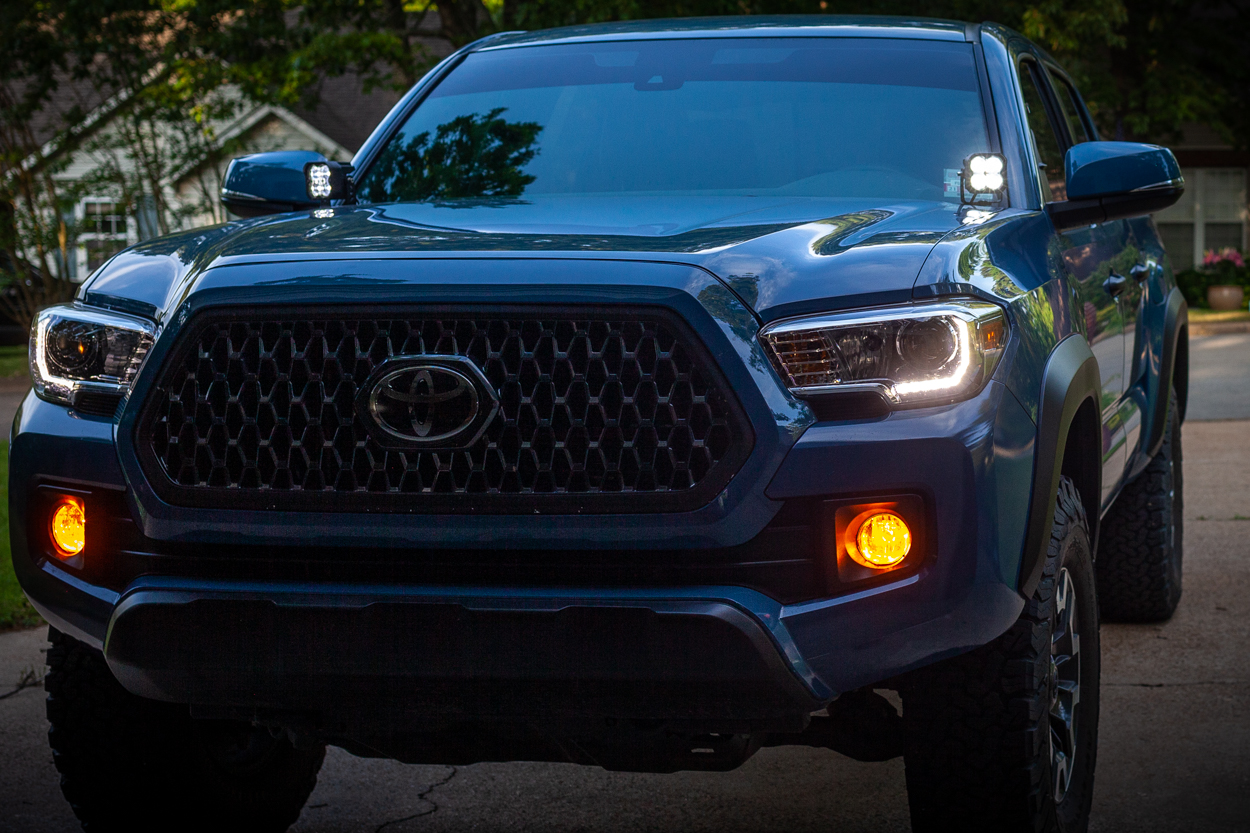 Once you're through the firewall, you can plug in the switch and test the lights to make sure they are operational.
Step 6. MountLight Switch (Optional)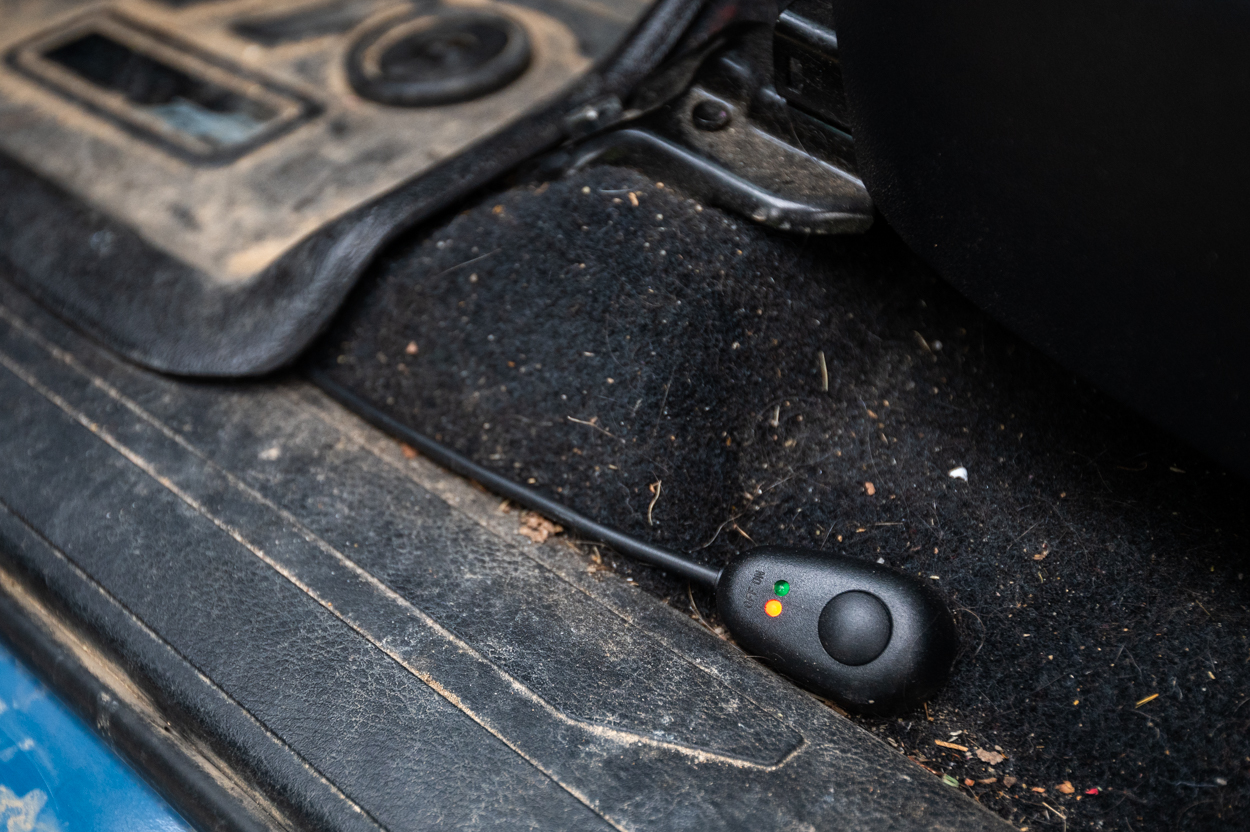 After you checked to make sure the lights are working, you have a couple of options for taking care of the switch. One option is to figure out a place to mount the light switch and continue with the installation that way. The other option (the one I chose) is to leave the switch un-mounted and run the wiring under your floor liner. The reason I did this is that I wasn't sure where I wanted to designate a switch location. So, my switch rests between my driver's seat and the door trim. It may not be the prettiest, but it works for me and I didn't have to drill/cut or use adhesive.
Once you have the switch where you want it, then you are pretty much done. All you've got to do is make sure everything is as snug as you'd like and then you can pack up your tools. It's a pretty simple install (especially with the wiring harness), but it's a nice little project.
And yes, I know my floor is absolutely filthy. It's a little embarrassing, but luckily this is not an article about detailing your interior.
Comparison & Output Shots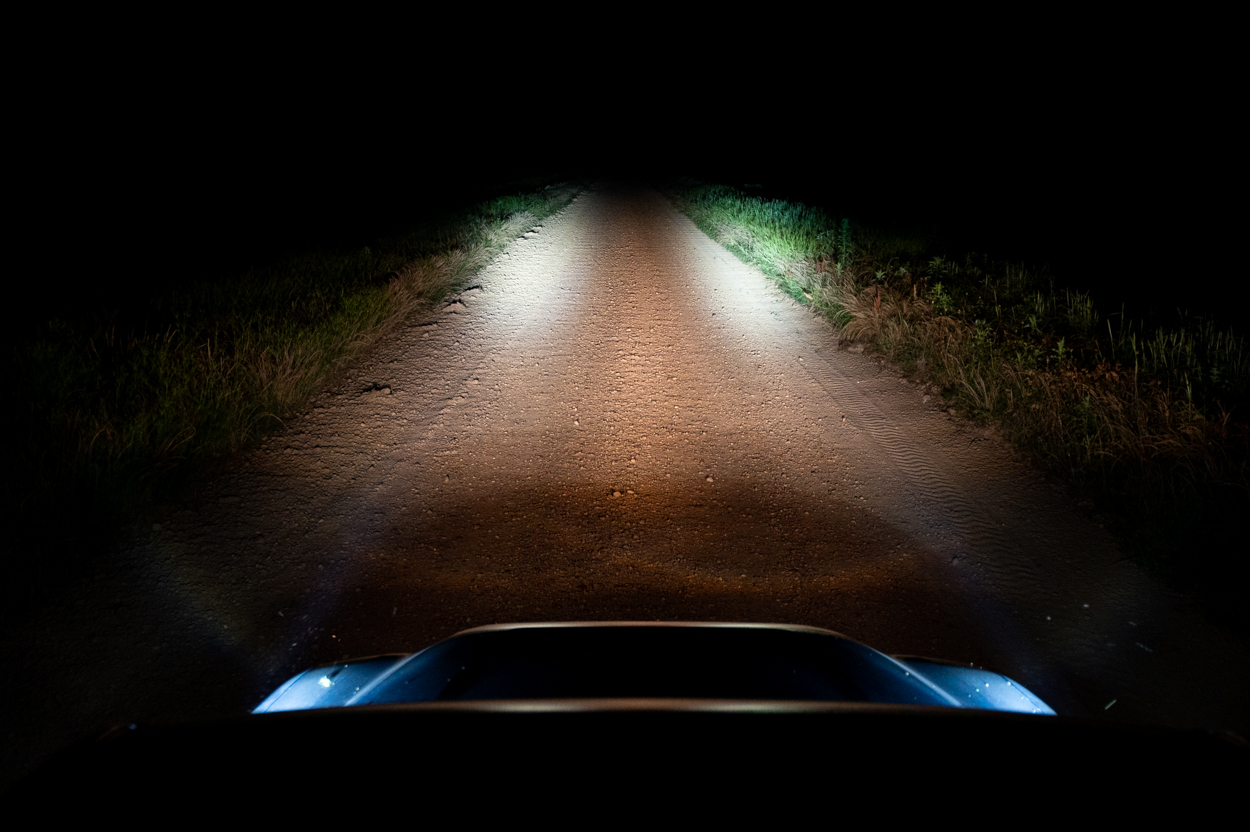 Pictured above: Lasfit 3″ LED Pods + Stock Low Beams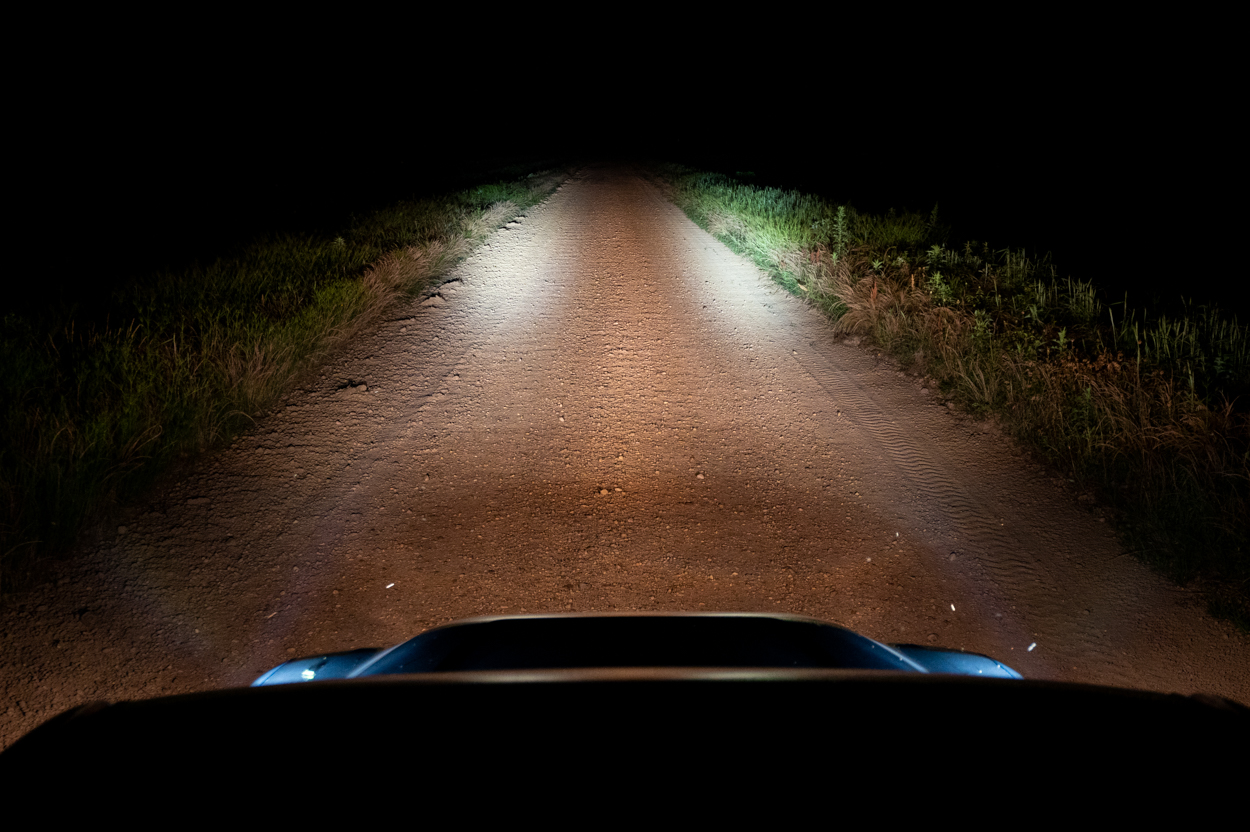 Pictured above: Lasfit 3″ LED Pods + Stock Low Beams + Stock Fog Lights (w/ Lamin-X Covers)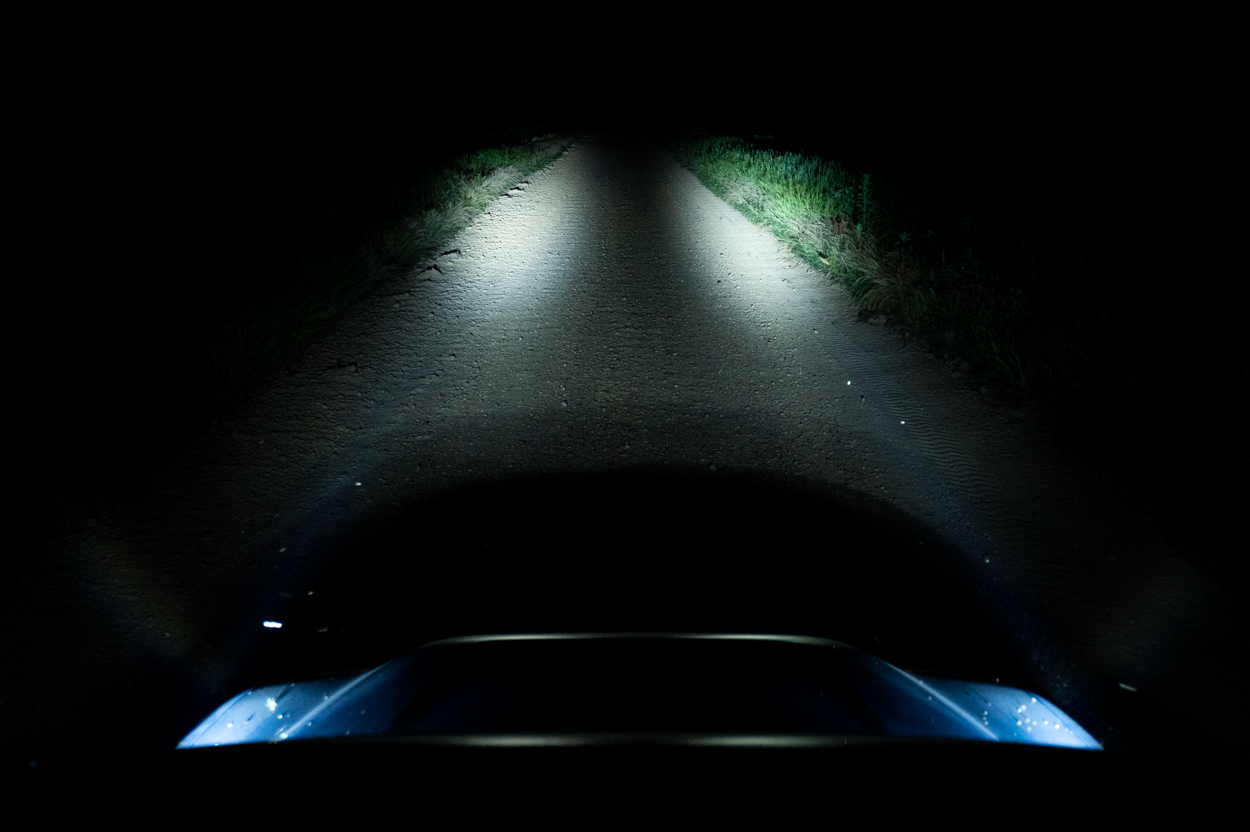 Pictured above: Lasfit 3″ LED Pods Only
Pictured above: A quick comparison on a parking garage wall for those looking for even more output comparisons.
As you can see from above, the Lasfit 3″ LEDs are quite powerful, especially when compared to the factory lighting. The additional light output is extremely beneficial. Considering how poor the stock light output is with the 3rd Gen Tacoma, it's easy to see how these will help you out in rural and off-road environments.
I shot the first series of output images from the bed of my truck, so keep that in mind. It's difficult to capture the distance they cover without being able to get high above them, like with a drone.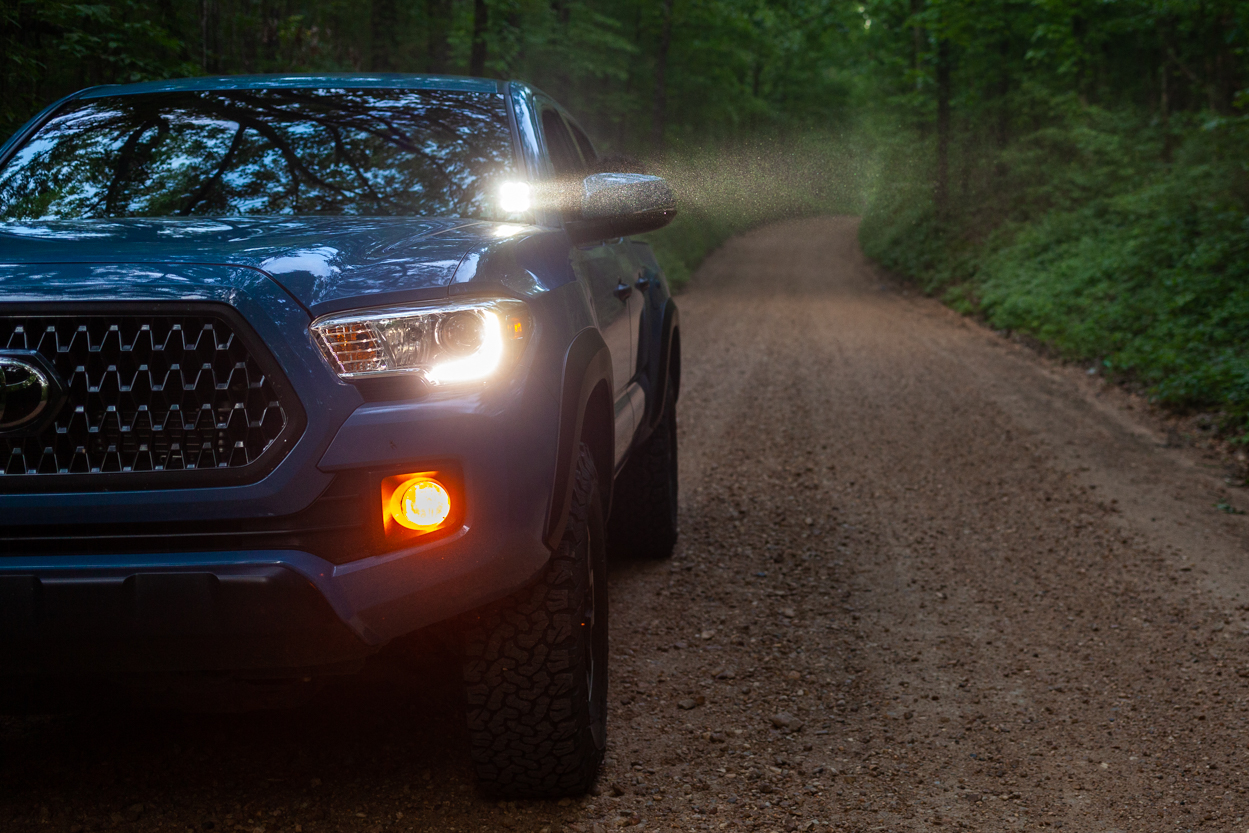 Another thing to remember is that these lights are offered in multiple patterns, and not just the spot pattern that I have. You can always aim them in a different direction than mine too, so that might change their apparent light output. Either way, hopefully, these photos help give you an idea of what to expect if you decide to go this route.
Final Thoughts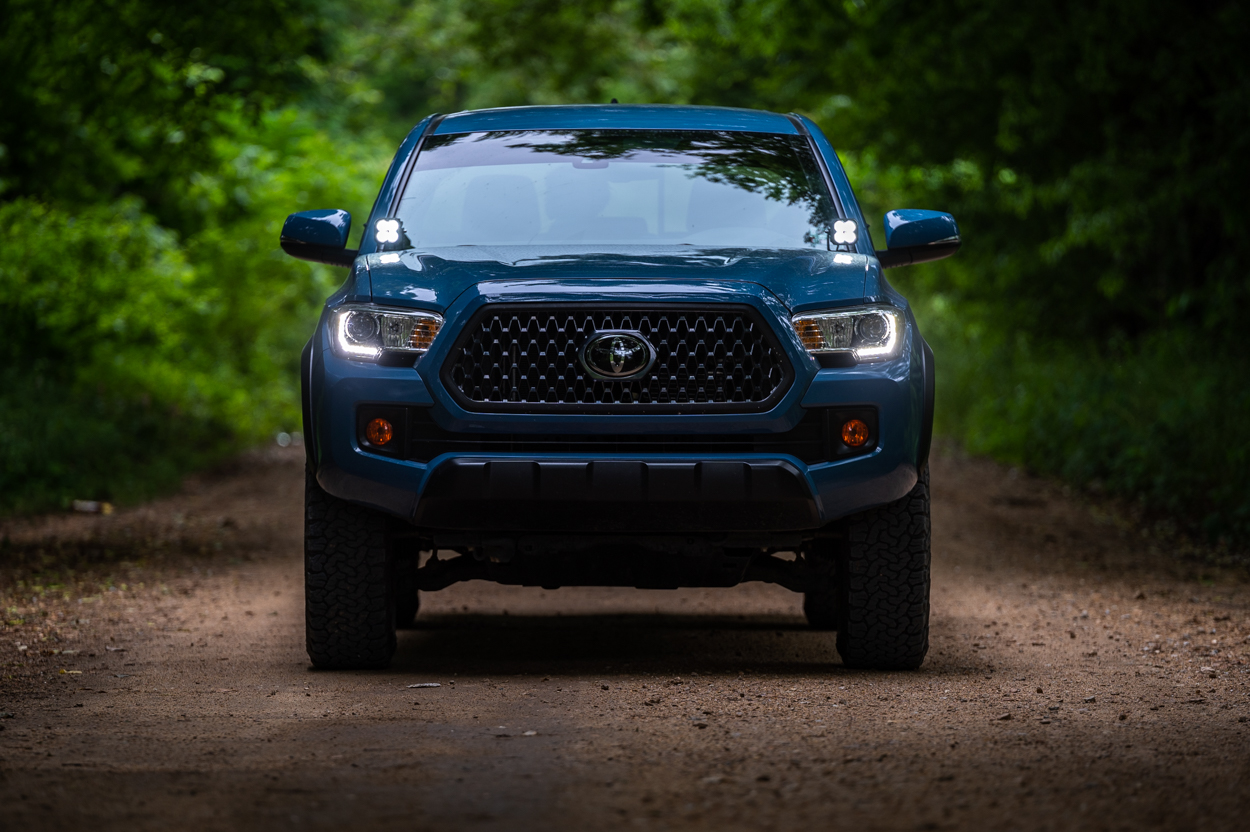 The spot beam pattern is very tight and has a very sharp cutoff, so they are definitely a distance light. The beam pattern might be the only thing I would actually change at this point. The other patterns might be too blinding on the hood though now that I think about it, so I'm not sure. Either way, make sure to order yours with the pattern that's most beneficial to you.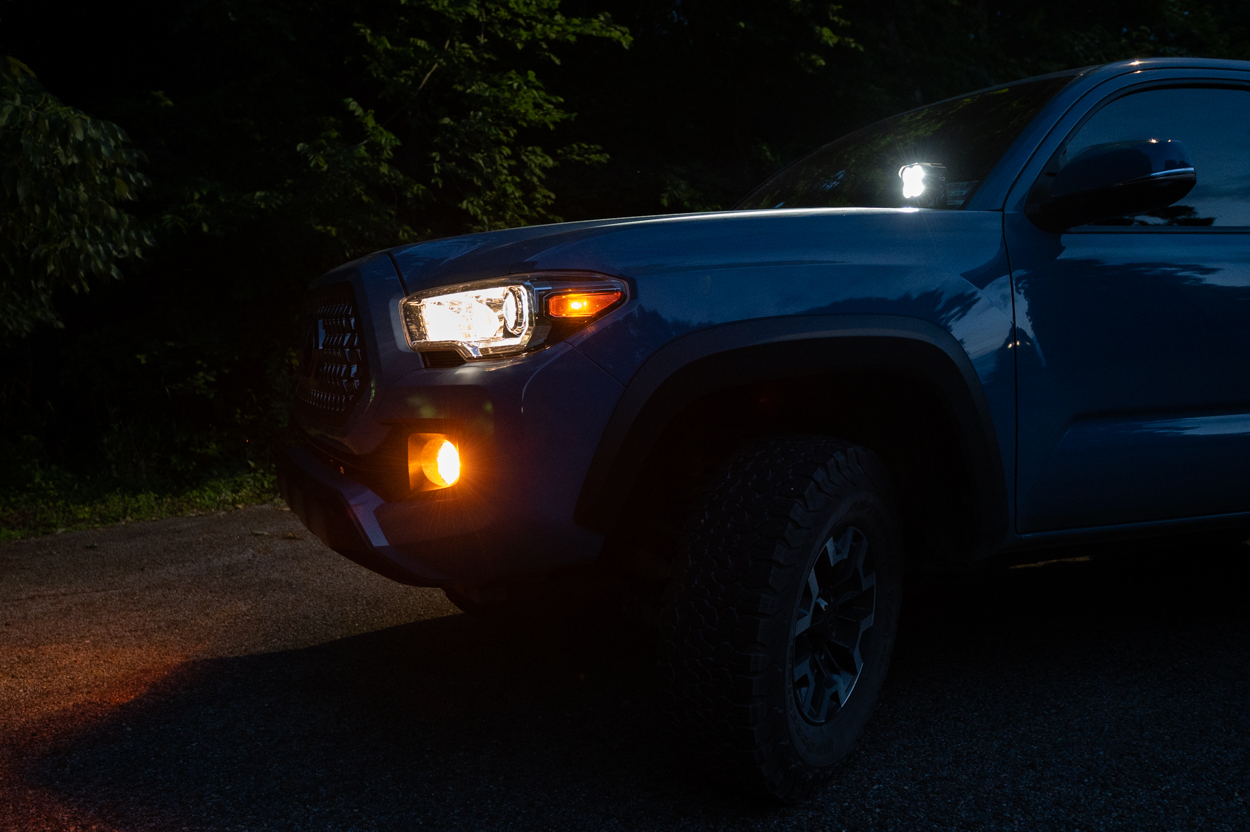 One thing I didn't mention before is how they look when they're installed. I wasn't sure if they would bother me or my line of sight, but they don't. I actually think they look pretty cool. The low-profile ditch light brackets from Cali Raised LED are absolutely low profile. You'll realize that once you get them installed, but they are built well and work great.
All in all, I would say these lights are a worthy addition. The build quality is nice and the performance is great. I can't speak to their performance against other similar lights, but I like these and they seem to perform very well. I don't see how you could go wrong with them really.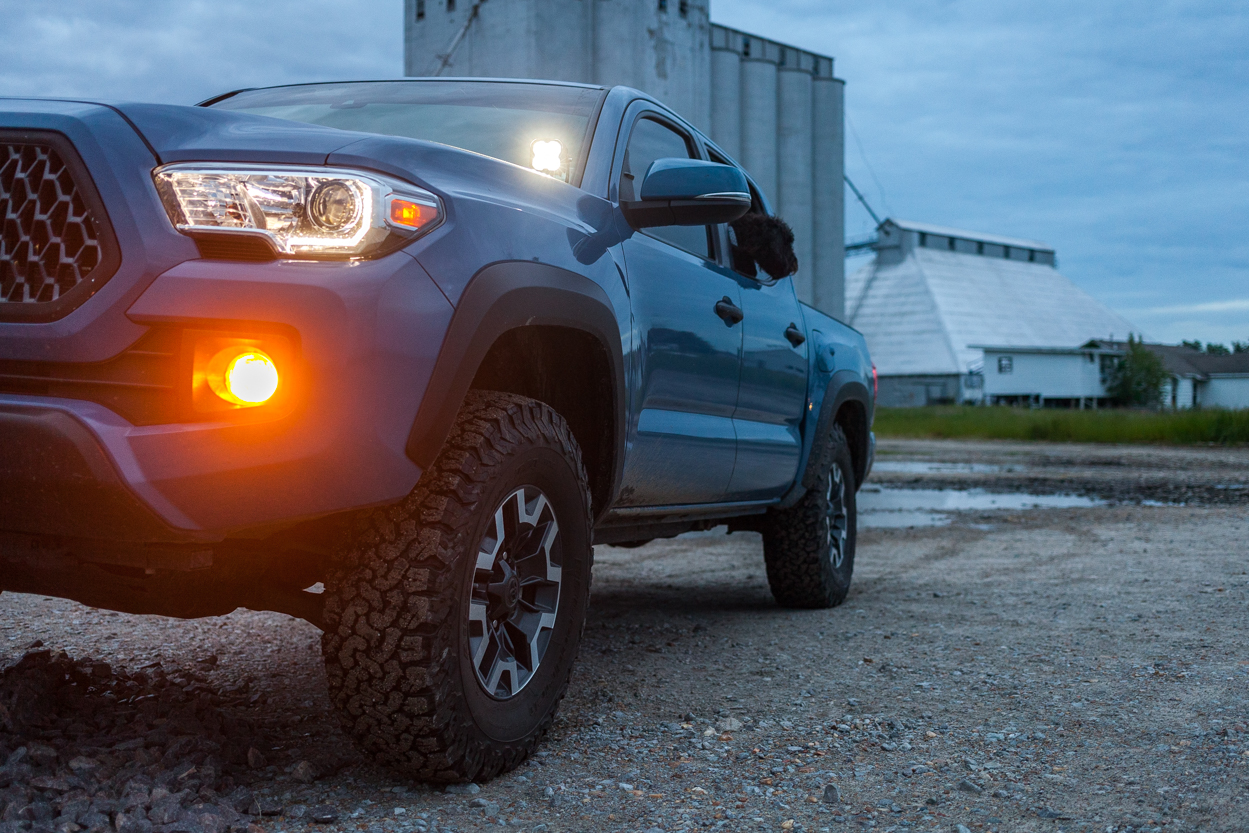 Hopefully, this helps you out if you're in the market for some new off-road lights and/or are curious about the Lasfit 3″ LEDs. As always, feel free to reach out with any questions or comments.