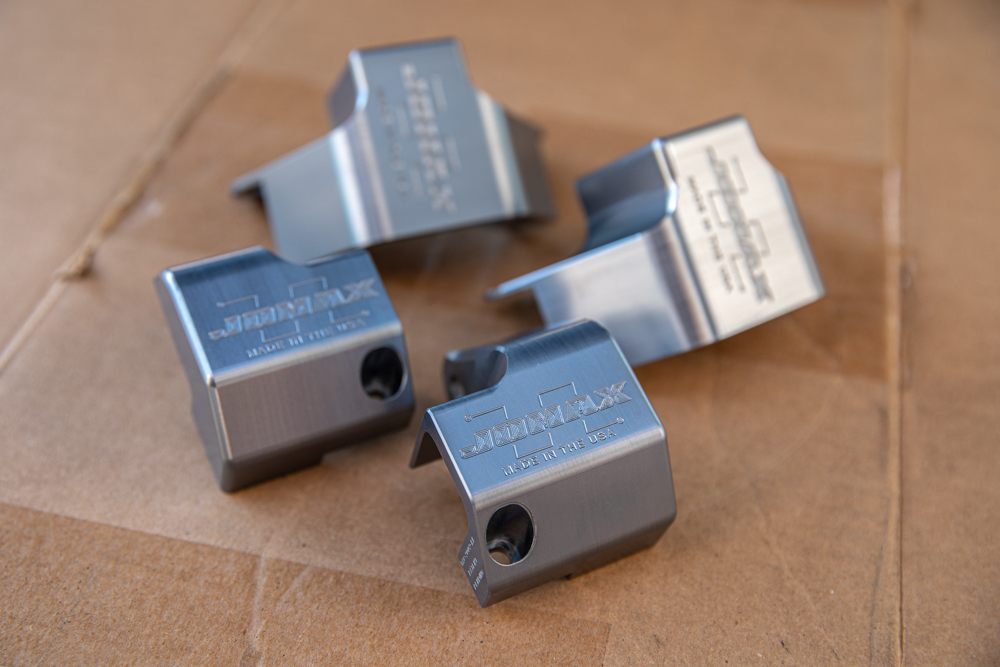 Protect Yourself from Expensive Trail Damage with these Tacoma ABS Speed Sensor Guards/Armor from Jomax Customs – Full Install, Review & Overview on 3rd Gen Toyota Tacoma
If you're into any kind of off-road or overland travel, you've likely already spent some time looking into upgrading the skid plates on your Tacoma.
If you're new to the site, we put together a super complete buyer's guide for skid plates for the 2nd & 3rd Gen Tacoma not too long ago. You can read that post here. Within that post, we touched on every skid plate you could possibly put on your rig.
One of the lesser-known, and often overlooked pieces of armor, are those that protect an important and valuable part of your traction control system – the ABS/speed sensors. These sensors are important to your vehicle's anti-lock brake system. Their main job is to monitor wheel speed and help the system to prevent locking your wheels under tough braking.
Not only are these sensors crucial, but they're also expensive to replace. When traveling off the pavement, and modifying your truck (offset wheels, lift kits, aftermarket bumpers), you expose your ABS sensors. This increases the likelihood that a branch, a rock, or some other debris can damage them.
This article will be focused around a 3rd Gen Tacoma, but the product works on the 2nd Gen as well, in the same exact manner.
Find It Online
Jomax Custom ABS Speed Sensor Armor for 2nd & 3rd Gen Tacoma: Check Price
2nd & 3rd Gen Tacoma ABS Sensor Armor
Features & Specifications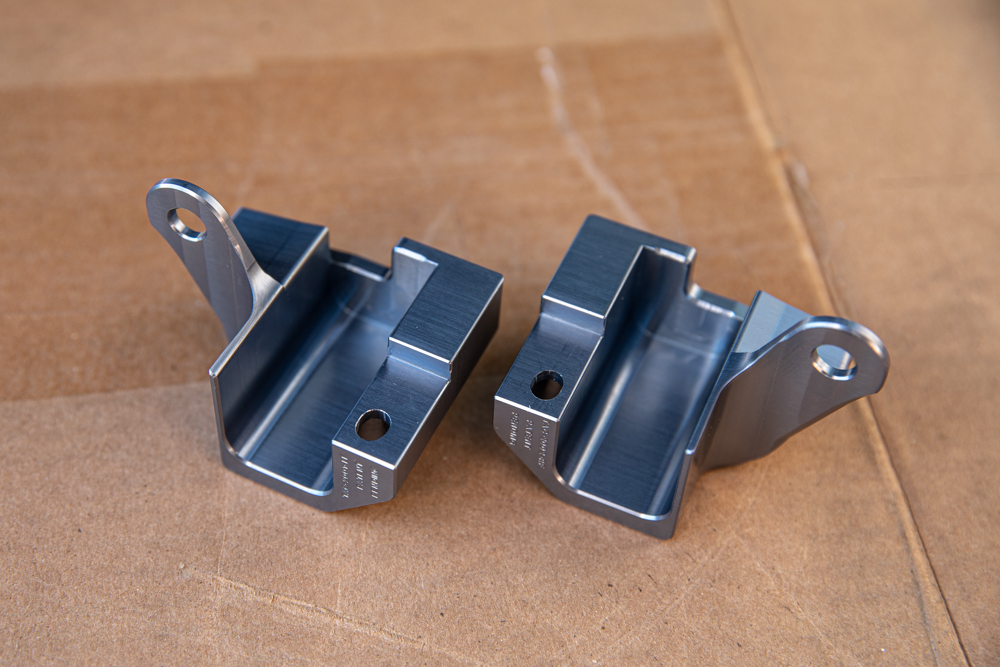 These ABS sensor guards are designed, engineered and manufactured completely in the USA. The armor has been extensively and independently tested against claims of impressive protection and failure prevention. As soon as you take them out of the box, you can tell this is a seriously dialed product.
When tested, these guards were compared alongside other similar products that are currently available on the market. Long story short, there's no comparison when it comes to independent testing. These are by far the best option around.
The armor is designed to use multiple mounting points for added strength and simultaneously solves the issue of rotational failures, where we see other products loosening over time, or simply failing due to a lack of support. Careful attention was also given to ensure that vibration would not loosen the armor over time.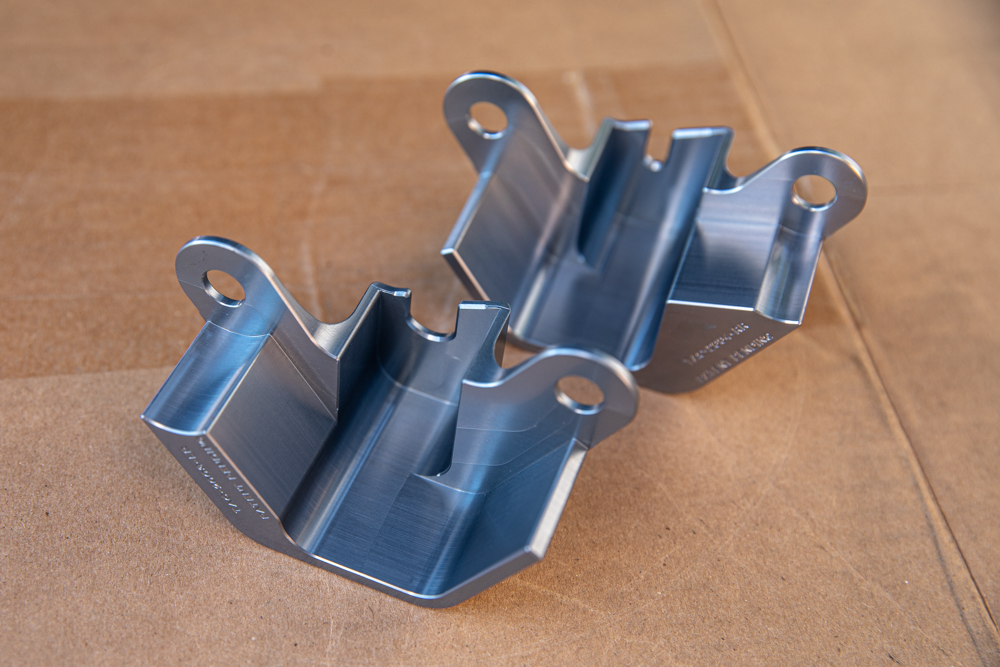 The design also accounts for sheared bolt failures and subsequent damages to the sensor itself, as well as the spindles. Most modified trucks also tend to run spacers, or higher offset wheels, which exposes the ABS sensors even more. This armor ensures adequate coverage in those cases.
The guards have a positive back drain angle and a patented sensor cushion design. In addition, there is a cable routing system integrated into the design to reduce cable impacts and avoid long-term shearing. Important to note, this ABS armor is compatible with most spindle gussets, aftermarket suspensions, wheels/tires, and works with both 2WD and 4WD models.
Jomax Customs makes these pieces via CNC, with 6061 aircraft-grade aluminum. The process is extremely precise, aerospace accuracy is utilized to make sure there is no damage during install or usage. There are currently two different color options available as well, both anodized – Gun Metal Gray and Candy Apple Red.
The product comes with installation instructions, stickers, and some hardware. All in all, you can see the immense amount of thought that went into making the best ABS speed sensor armor that can be found today.
Installation
You don't need any crazy tools or experience to install these ABS skids.
The process is simple and only requires that you remove and replace a couple of bolts and a handful of nuts.
Required Tools/Materials
Socket wrench
17mm socket
12mm socket
10mm socket
Blue Loctite (to be applied on nuts and bolts – I did not do this step, but it is recommended)
Torque wrench (if looking for perfect torque specs on nuts – I tightened by feel, likely tighter than needed, not recommended)
Step 1. Remove Rear Hub Bolts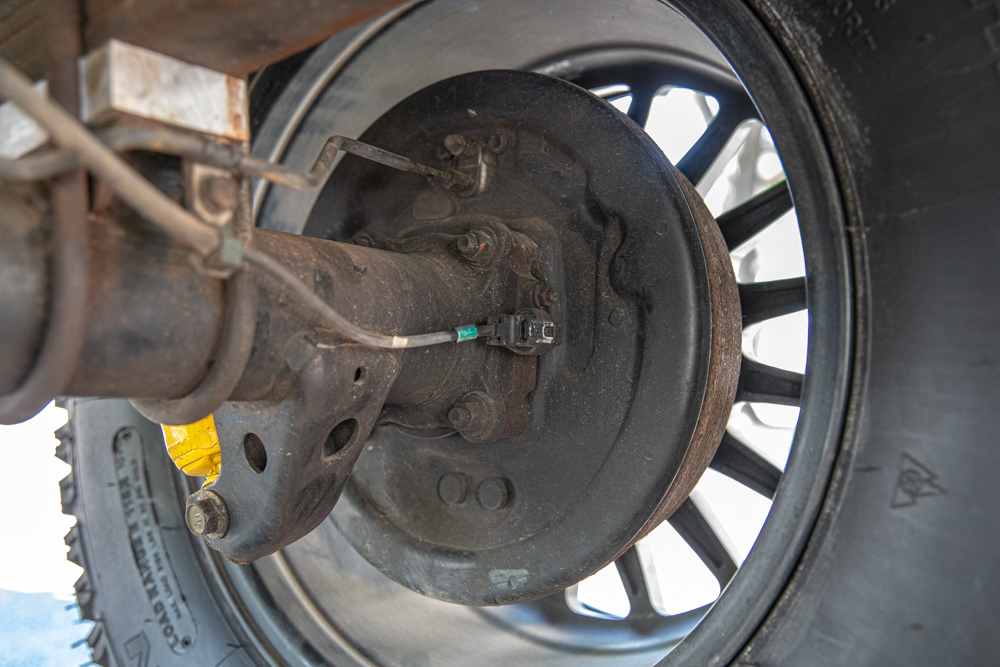 Grab your 17mm socket and wrench, and remove the two nuts just above and below the ABS sensor.
The ABS sensor can be seen between the two nuts and bolts, with the green wire at the end of the harness.
After I removed the nuts, I took a rag and cleaned up any dirt and grime to make sure the area was well prepped.
Step 2. Install Rear ABS Armor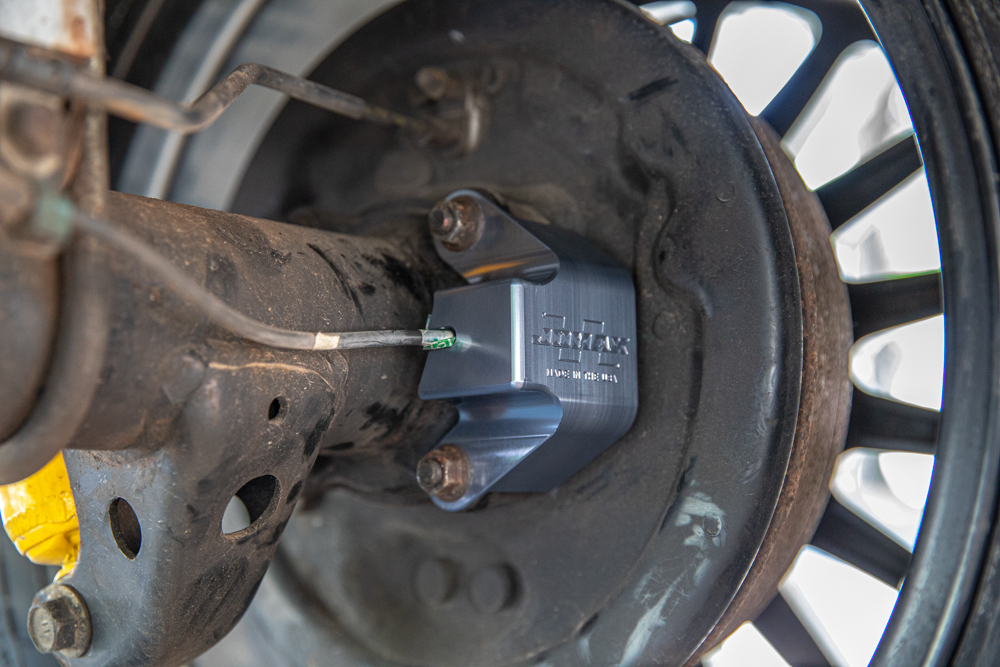 The rear ABS armor installs over the bolts where you just removed the nuts.
It easily slides into its place and has a dedicated cutout for the ABS line itself. Make sure to double-check that you are not pinching your ABS wire.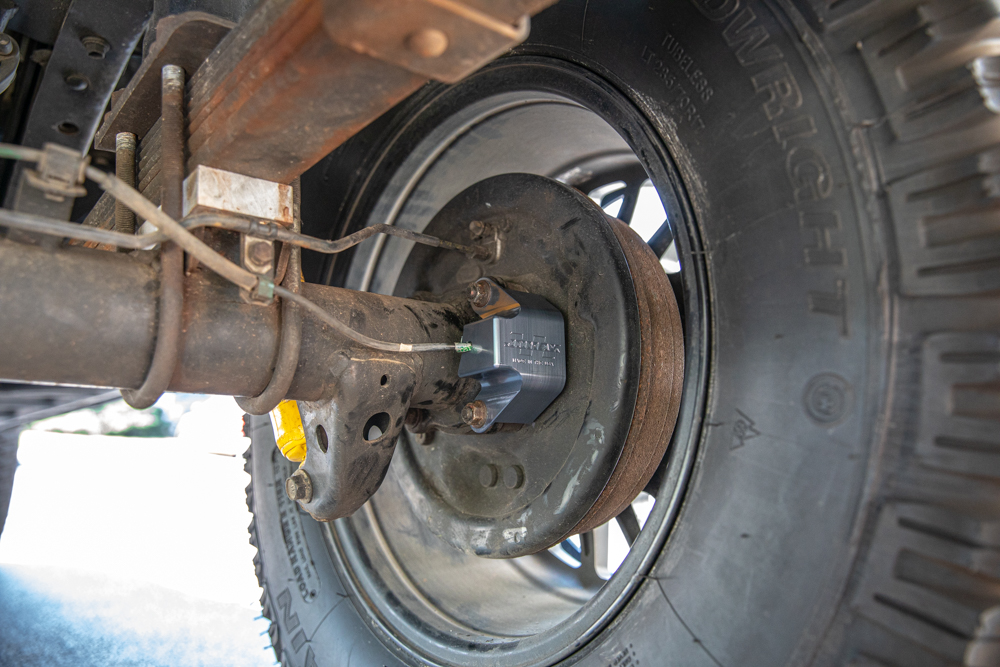 From a little further back, you can get a better idea of how it looks mounted on the truck.
On the Tacoma axle, the other ABS sensor is located on the opposite side of the axle, but this time, on the front of it, not the back like the passenger's side armor.
The installation is identical, there is nothing that is done differently on the driver's side.
Step 3. Remove ABS Sensor Bolt & Metal Wire Channel Bolt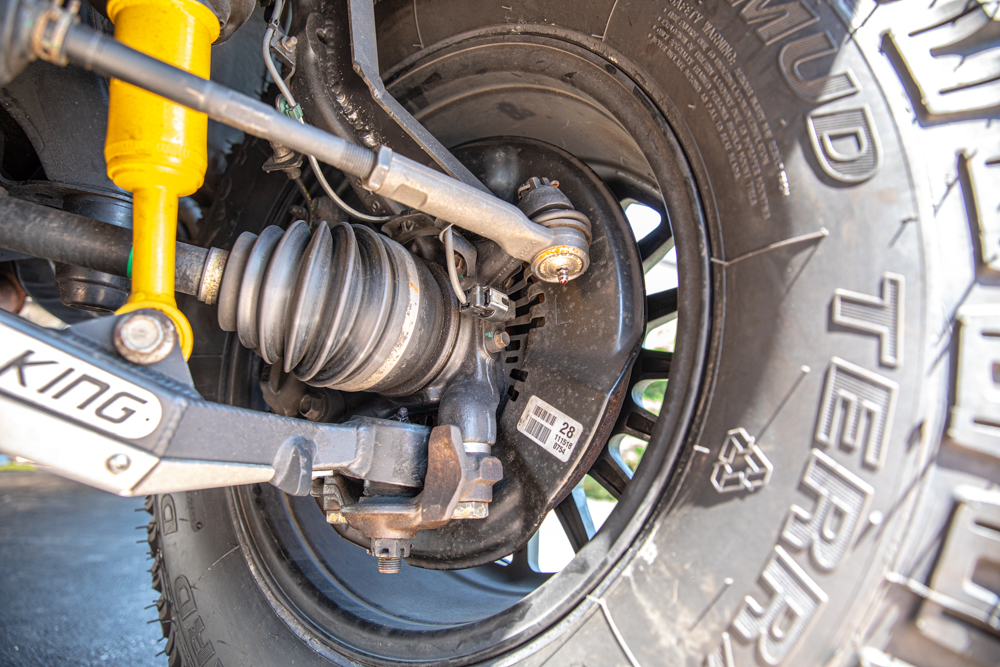 Now from the front of the truck, locate your ABS sensor. You can see it above, just under the outer tie rod end, to the right of the outer CV axle boot.
Two bolts need to be removed to install the front armor. Once again, remember to clean the area up quickly with a rag before installing the ABS skid.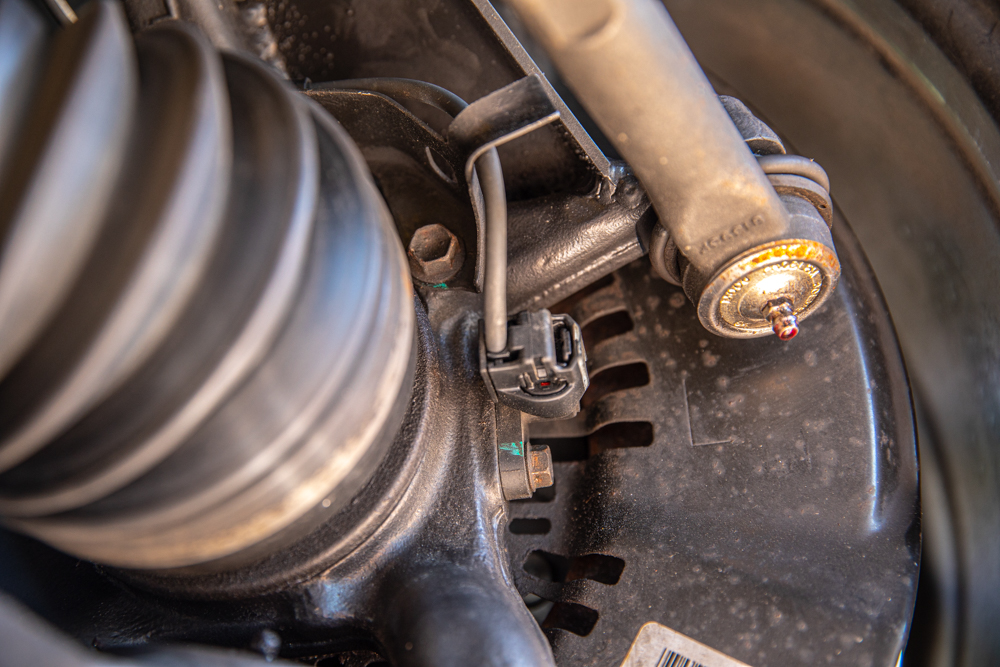 In this close-up shot, you can see the 10mm bolt which holds the ABS sensor in (you won't be reusing this one), and immediately above it to the right, the 12mm bolt that holds the metal bracket which directs the ABS sensor wire away from moving parts.
The bracket will be staying, but the Jomax Customs armor utilizes two mounting locations for the ultimate in strength and rigidity.
Step 4. Install Front ABS Armor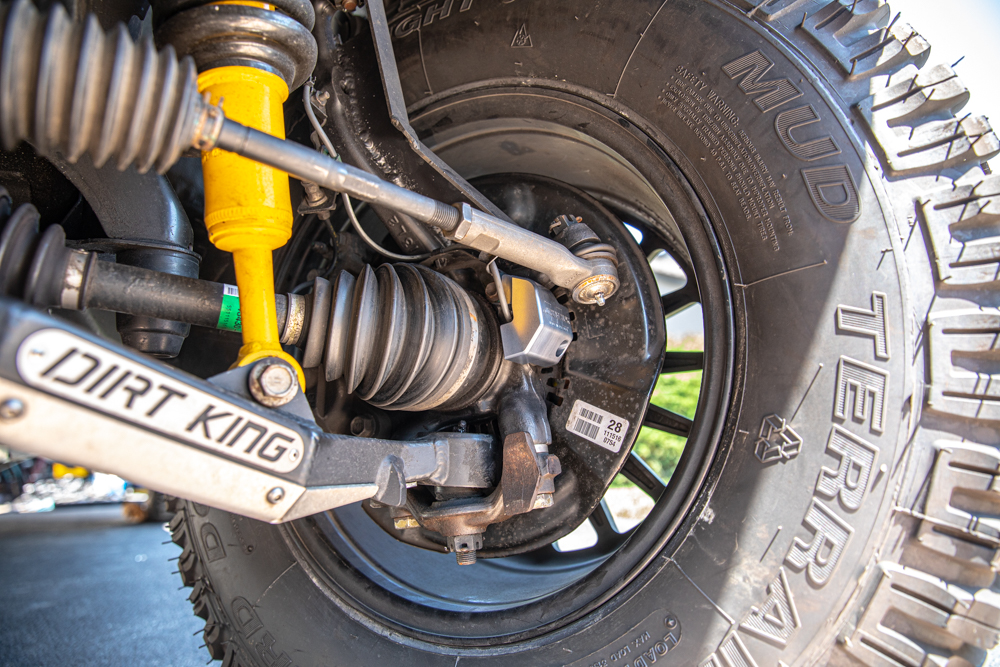 Grab your front ABS sensor armor and move it into place.
You'll need to use one of the provided Allen head bolts to secure the sensor to the original mounting point, and you'll reuse the 12mm bolt from the bracket to secure the other end of the armor.
Make sure that the ABS wire is not being pinched anywhere along the ABS skid.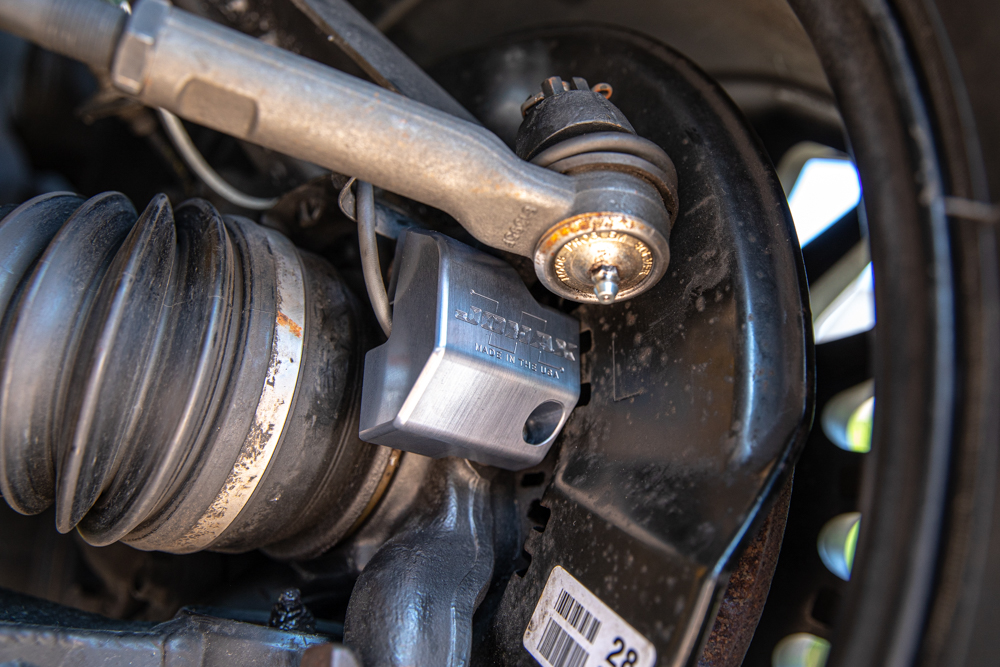 Taking a closer look, you can see how well protected the ABS sensor with this piece of armor.
With that, you're all done. A fairly simple installation that took me less than 30 minutes.
Final Thoughts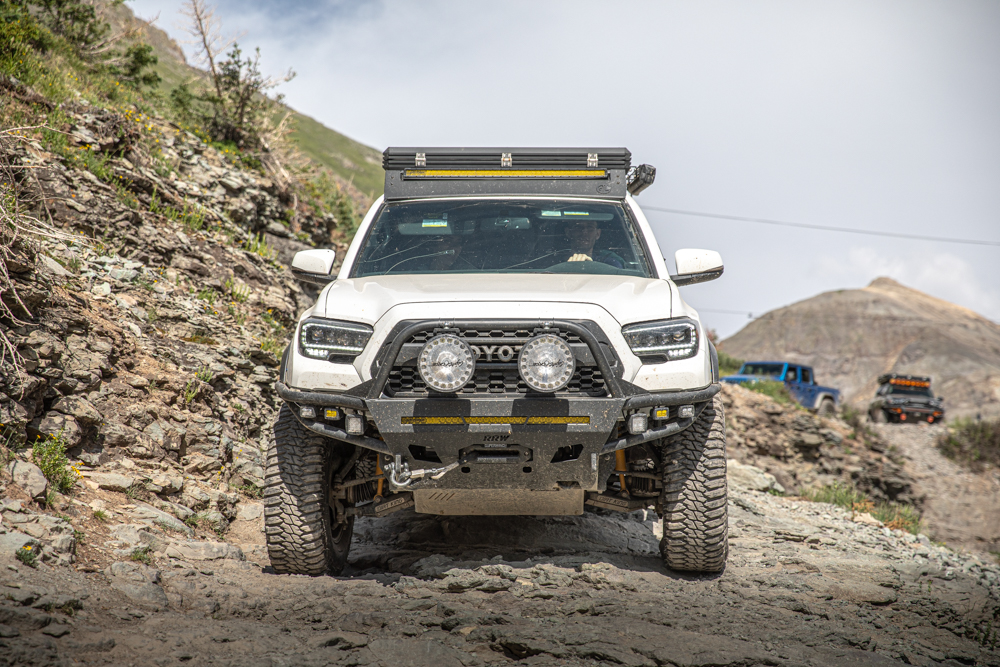 About a week after getting these on, we headed out to mob some trail in Colorado. It's also worth noting that I added 1.25″ wheel spacers right before we left (need more poke!). This made a significant impact on how much more my ABS sensors were exposed compared to normal.
I'm happy to report that the guards did their job and I drove home without any ripped wires or damaged sensors. Now, I'm not trying to say that you'll damage your ABS system every time you go out on the trail, but the peace of mind and protection from potential harm are completely worth it.
Most of us spend weeks, and maybe months, preparing for trips. If I can ensure that my truck has no issues, which ultimately means I won't cut into valuable trip time with repairs, I'm sold. Knowing that I have one less weak link is a good feeling, and preventative and protective mods are certainly a crucial part of any build, especially the harder you wheel.
In short, from the time you open the box, to finishing your installation, to hitting some gnarly trails, there is no secret that this ABS armor from Jomax Customs is the best option we've seen to date. I'm stoked to be running another excellent product that adds valuable function and keeps my truck running right!