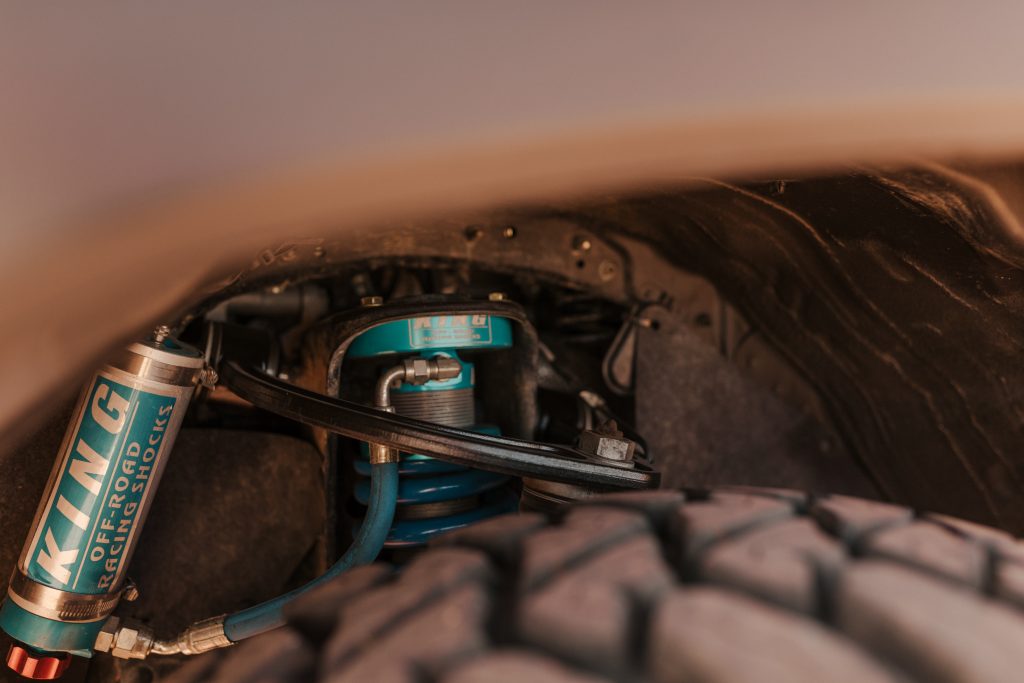 Aftermarket Adjustable Upper Control Arms (UCAs) from SPC (Specialty Products Company) – Full Review & Installation Overview on 3rd Gen Tacoma
So you're lifting your truck and looking for some adjustable upper control arms to fit your nice new beefy tires? Look no further as Specialty Products Company has built one of the best upper control arms in the game.
With improved travel, 80 degrees of ball joint articulation, and maximum clearance for your oversized tires, SPC should be a no-brainer buy! Let's jump right into it.
Find It Online
SPC UCA for Toyota Tacoma
Why Upgrade UCAs After Lifting Your Tacoma?
With lifting your truck comes a huge list of parts you'll need to order. Check out our top lift kits post to learn about all the individual components. However, outside of extremely basic suspension lifts, like a small spacer lift – you will need aftermarket UCAs to clear and support your new setup. SPC UCAs give you the aftermarket assistance you need, allowing you to run bigger tires, increase articulation, strengthen the suspension, and avoid other potentially problematic issues.
Lifting your truck affects your overall caster and camber on your truck. While most aftermarket UCAs help to obtain better caster and camber, SPC's arms have +2 degrees of caster built right into them allowing for a range of 0 degrees all the way up to over +4 degrees of caster and over +2 degrees of camber.
For me, I have specifically run SPC for years. I ran their arms on my 2nd Gen Tacoma for thousands of miles and now on my 3rd Gen for a few months. Their greaseable ball joint design allows you to be properly lubed and ready for your next adventure. No worrying about those squeaks like the uniball joints tend to develop over time. Never once have I had any complaints with these upper control arms.
Quick Install Overview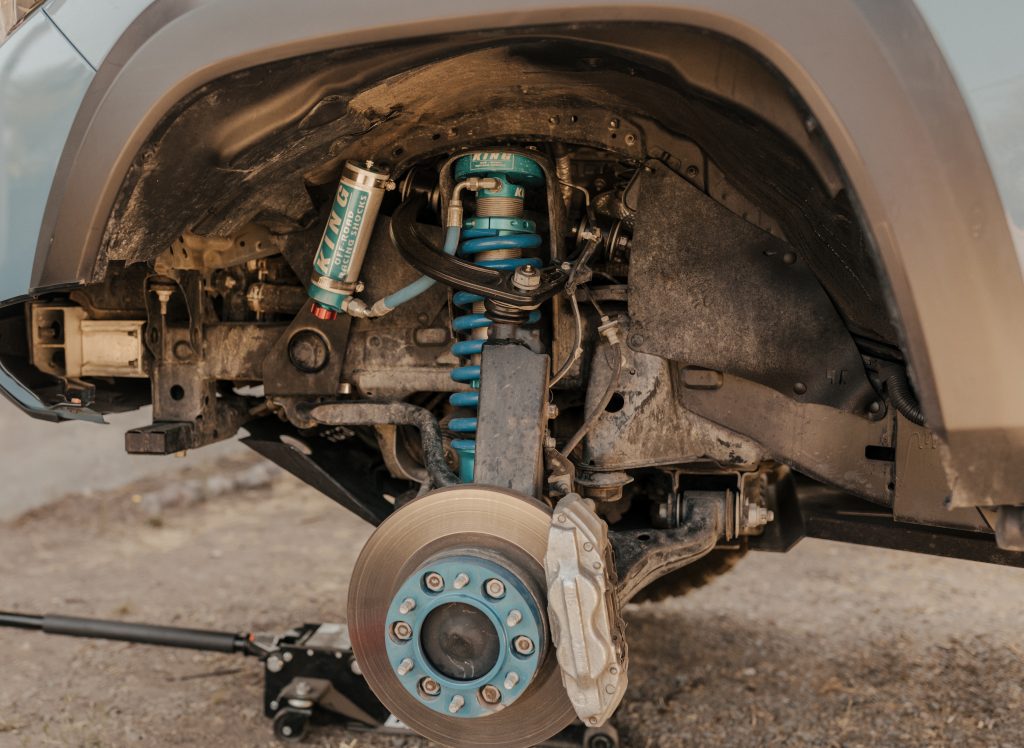 Overall, these UCAs weren't hard to install at all.
In addition to this post, I have made a full install video of the lift kit installed on my Tacoma with these SPCs highlighted in the video. I'll attach it towards the bottom of the post.
Tools & Materials
17mm wrench/socket
19mm wrench/socket
32mm socket
3/8″ or 1/2″ torque wrench
Channel locks
NLGi #2, Grade LB with 3%-5% molybdenum disulfide grease
Gloves
SPC will attach an install guide and photos to help your install be as easy as possible.
Click here to see the installation guide PDF.
Basic Install Instructions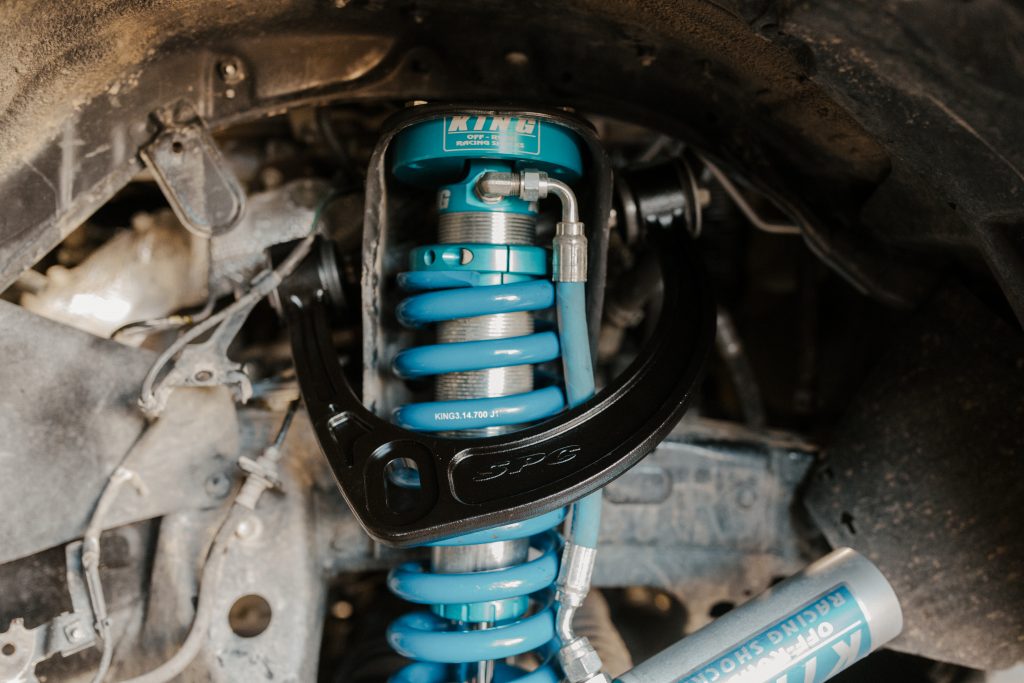 We were in a little bit of a time crunch on the install day, but I will give you the basic instructions needed to put these SPC UCAs on your freshly lifted Tacoma.
Overall, these were fairly easy to install. It's recommended to get an alignment after install to ensure you receive the exact caster and alignment you need to achieve bigger tires.
First, make sure to disconnect your sway bar from your spindle using a 17mm wrench/socket.
Then, disconnect your UCA from your spindle. You will need to use a 19mm wrench to remove the castle nut.
Next, remove your engine splash guards and grab your channel locks. You will need to move back a part of the body to clear the UCA bolt.
Once your bolt is removed, you can pull the old UCA out and slide the new one in.
Using your existing bolt, connect the new UCA into place. Note: Some guys just replace this bolt, but if it is undamaged, you can re-use it.
Do not torque this bolt until your suspension is in place and your Tacoma is back on its own weight.
Connect the ball joint to the spindle. Look at the diagram to see which way you want your ball joint to sit for alignment purposes – depending on if you want to move your caster forward or not.
Make sure to torque your ball joint nut down and mark it for alignment purposes.

Torque through bolt to 85 ft-lbs
Torque top nut to 150 ft-lbs
Pro Tip: An offroad-specific alignment shop will be able to adjust your UCAs and caster to the position you will want.
Check all of your torques 50-100 miles after installation – of course, you'll also want to check torques before and after a big offroad trip. You can always change the direction and layout of the ball joint as well for different caster adjustments depending on your specific setup, and the amount of clearance you have/want.
Initial Thoughts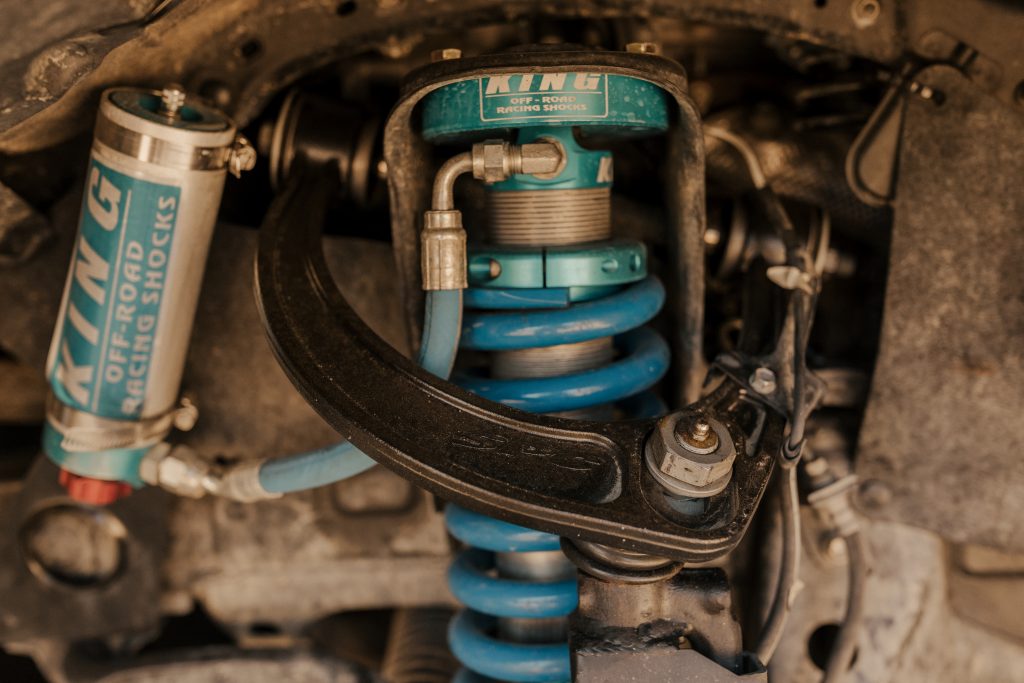 Since I ran these control arms on my 2nd Gen Tacoma, I knew that I was going to love them! Little did I know pairing some King 2.5s and some beefy tires would be the perfect match.
The overall design of these SPCs is very slick. Having a slim control arm that produces a lot of droop (down travel), as well as comfortability on and off-road in any condition is a win-win in my book!
I've got about 4,000 miles on these arms already and they have performed well above my expectations. Coming from a guy who has only run ball joint arms, preferred over uniballs, I enjoy having a greaseable joint that doesn't get squeaky (like uniballs) after every offroad trip.
So How Do The SPCs Perform?
We recently got back from a trip down to Moab and Southern Utah where we were able to really put these SPC UCAs to work, hitting sand dune whoops at 45mph, crawling through the red rock of Moab, and endless back roads with epic views.
This was followed by some rock crawling in Northern California. I can say that I never rubbed on either trip! I call that a win if I can say so myself.
SPC Upper Control Arm Specifications & Features
Now comes the million-dollar question! What is different about SPC than the rest of the crowd? I will give you a layout below.
Adjustability
No other UCA brand has an adjustable ball joint that has THIS much room for adjustment. It works with over 4 degrees of caster change. Other brands use a uniball that stays in place and requires your caster adjustment to be done from the lower control arm bolts, leaving you with limited degrees of caster. How much cutting of your wheel wells are you wanting to do? I think I know the answer.
Greaseability
Compared to other UCA brands, SPC offers a zerk fitting on their ball joint to always ensure your parts are functioning properly. SPC recommends that you grease these ball joints every oil change or in between long trips/if squeaking occurs.
Customer Service
SPC has a FAQ section on their website with everything that you would potentially need/if problems occur during install and/or in the future when running their control arms. They also offer a limited-time warranty on their products to ensure that if any part of their product is not up to par, they will replace it for you with no hassle.
Overall Dependability
Coming from my personal experience with these upper control arms over the past few years, they have never let me down. I wheel with a lot of friends that run different UCAs such as Total Chaos, JBA, etc., that had wished they went with SPC from the start.
Dealing with squeaky uniballs every offroading trip you plan and/or dealing with rubbing issues because you can't get that full caster you need seems to be the ongoing issue my buddies have had in the past before switching over.
I have never once had these control arms fail me. Even with running 33-35" tires in the past, with the specified torque settings and occasional run through to make sure everything is running smoothly, these SPCs have never let me down. You're putting these on a Toyota that's going to last a long time, make sure you buy control arms that will last you a long time as well.
*I am in no way talking badly of other UCA companies. I am strictly giving you personal information and my experience with SPC.*
Squeaky Upper Control Arms?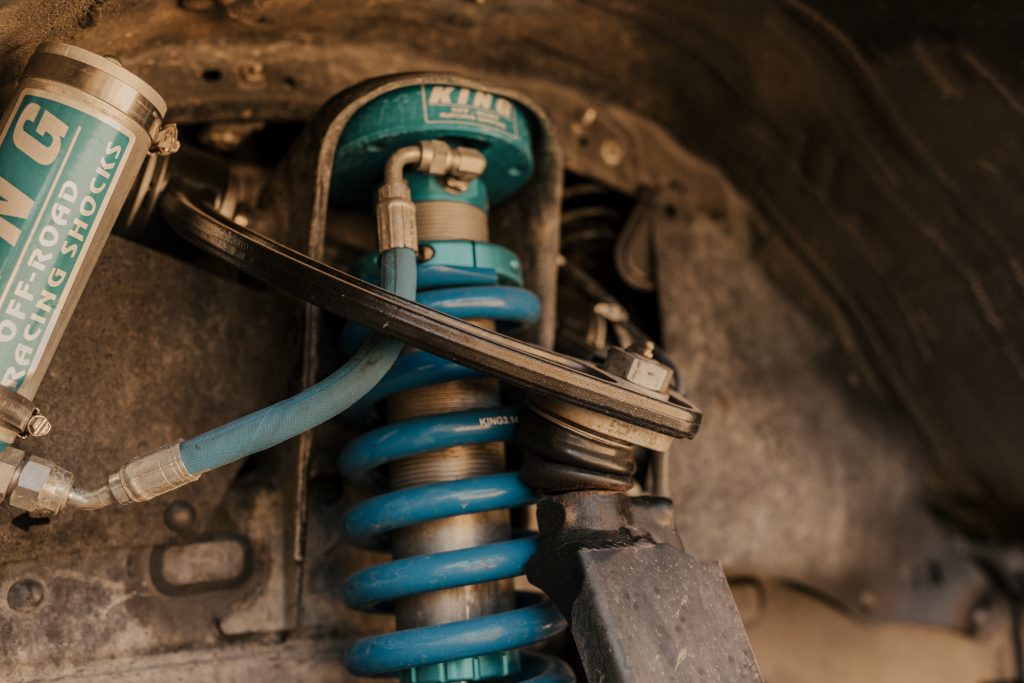 Generally speaking, if you hear squeaking while your suspension is traveling up and down, it's your bushings. Your ball joint will squeak while turning side to side if it needs replacement or more grease.
Typically speaking, a brand new control arm won't have these issues, however, SPC has a limited time warranty to get you back on the trail in no time if you were to ever discover these problems right away.
PSA: Expect your truck to make noises. You are driving an offroad rig, not a Prius.
Pro Tip: SPC recommends re-greasing your ball joints with 5-10 pumps at every oil change or after operating in wet and/or dusty situations.
Final Thoughts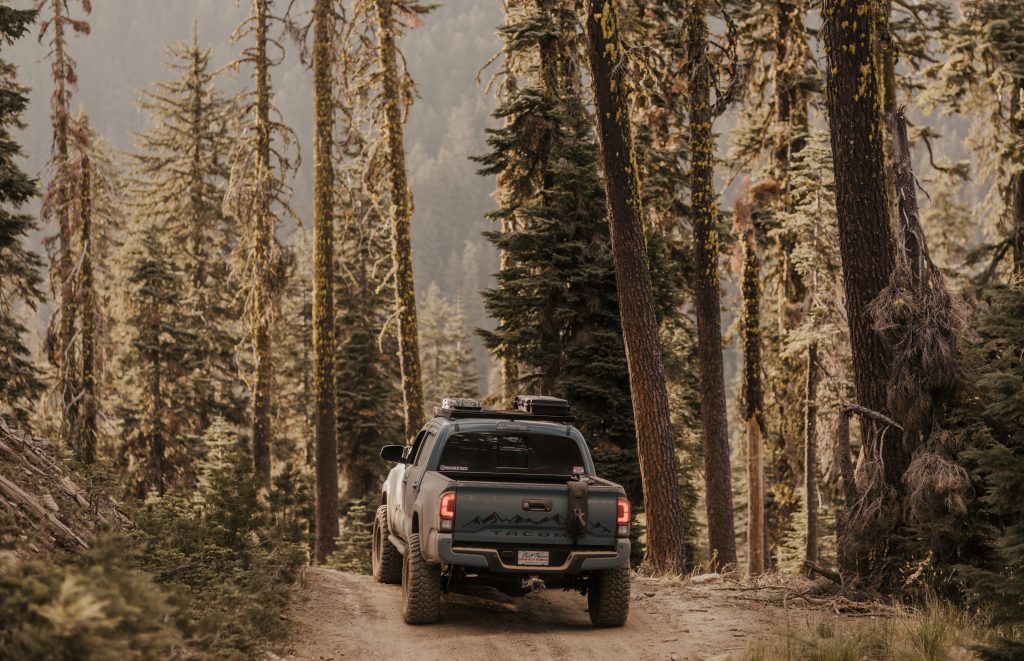 Overall, a fully forged, greaseable control arm, with added articulation capacity, is exactly what every Tacoma should have! Being a preventative maintenance guy, I love using a great quality product that will last me for years without any issues (as long as you keep up on maintenance).
If you plan on running big tires (33″+ tires) I would highly recommend getting your hands on some SPC upper control arms so that you can adjust your caster forward enough to clear your cab mount chop and/or your cab mount relocation.
Coming from a guy who has run SPC control arms for years, their product easily speaks for itself being one of the better brands for Tacoma UCAs. Instead of crying multiple times for buying UCAs, cry once and buy once – go with the right ones for your offroad rig.
YouTube Video