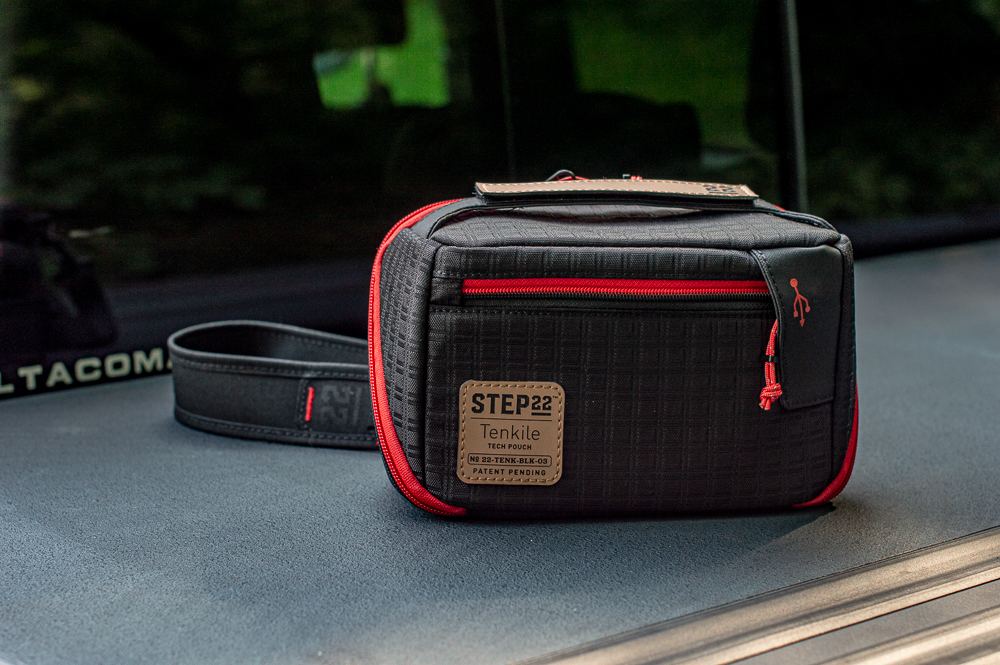 The Step22 Tenkile Tech Pouch Review & Overview – A Heavy-Duty, Adventure-Ready Travel Electronic/Technology Organizer Case
When it comes to staying organized, Step22 is one of the first companies that should come to mind. They've got a variety of different organizational products ranging from tool rolls to toiletry pouches.
One of their newer products is the Tenkile (ten-keel-y) Tech Pouch, a bag designed to help you keep any and all of your tech – ready to roll at a moment's notice. Their innovative design allows you to carry cameras, GoPros, drones, power banks, and more, with storage for memory cards, cables, and accessories. You can really tell that they thought about it all when they designed this pouch.
Find It Online
Specs + Features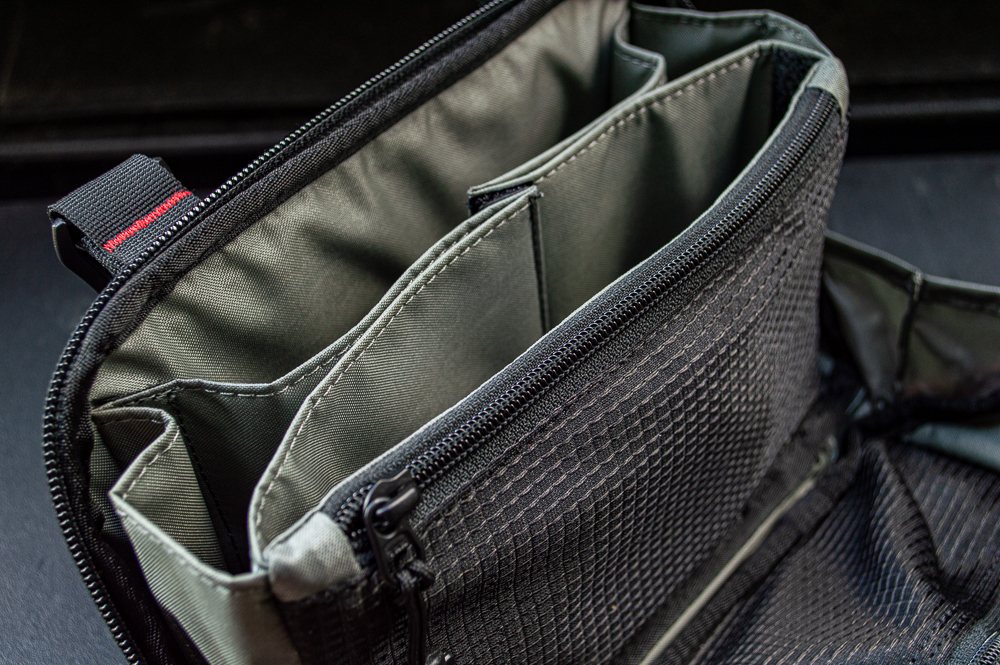 It's obvious from the first look at this pouch that Step22 has paid attention to detail. The materials and overall design are quality. They have utilized almost every square inch to maximize the efficiency of this little bag. It measures 9" wide, roughly 5" deep, and 5.5" tall.
The exterior is made of a rugged and durable nylon material that will protect what's inside while keeping the outside looking new. The diagonal zipper allows the bag to open up with a small flat surface inside that can serve as a workspace when you don't have another option. The back of the pouch is compatible with MOLLE and PALS systems and it comes with a pair of HooKit D-Ring assemblies which allow you to hook it to a shoulder strap or hang it from a headrest.
Another cool design feature is the removable and writable tag on the top. If you plan on using it for multiple load-outs, the tag can be swapped out to easily identify what is currently inside in an instant.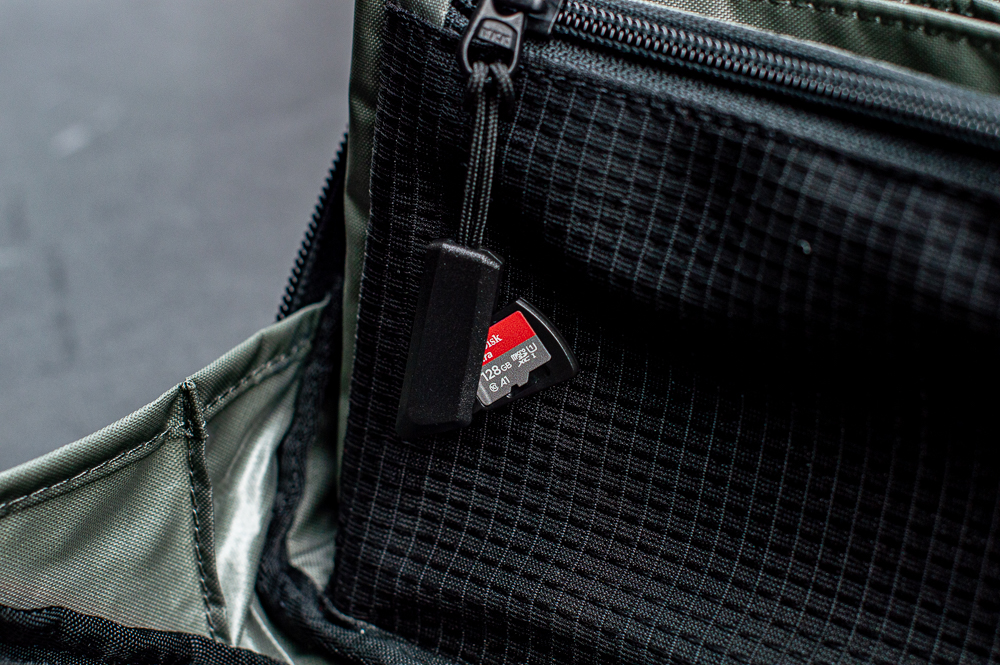 On the inside of the pouch, there is one main compartment, two zipper pockets, and an SD card storage on the zipper pull, which I think is the coolest feature.
There are also four additional pouches to place spare SD cards, all with hook and loop patches that can help keep track of which ones are full or empty.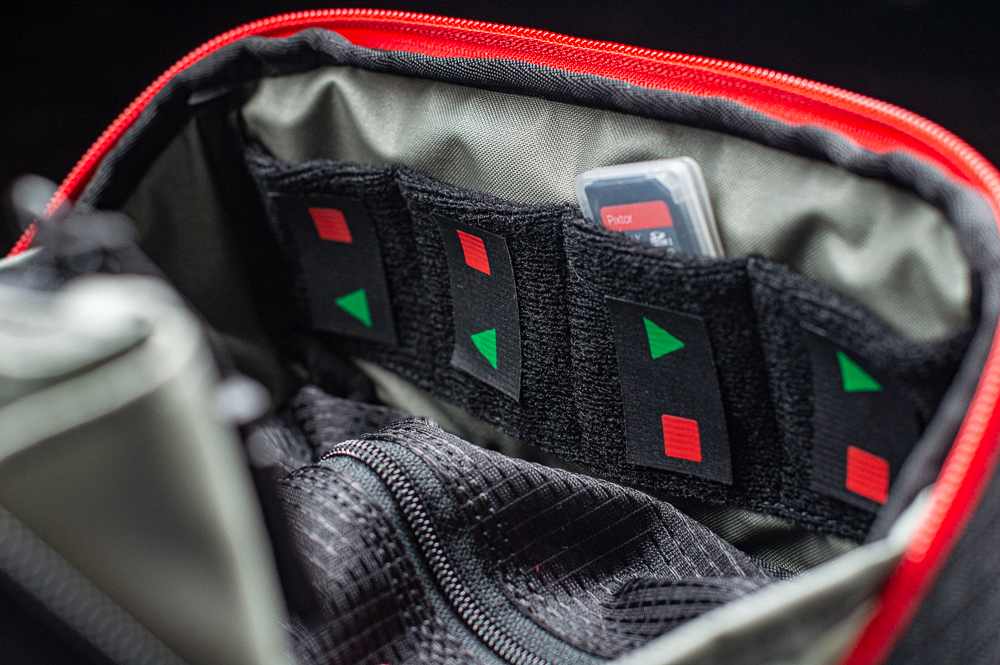 The main pouch has dividers that can be reconfigured to create anywhere from 1-4 separate compartments.
The zipper pocket on the inside of the front flap contains a pass-through zipper (seen on the front) to allow charging cables to come through. That way you can charge up your device without taking it out of the bag, keeping everything nice and tidy.
Functions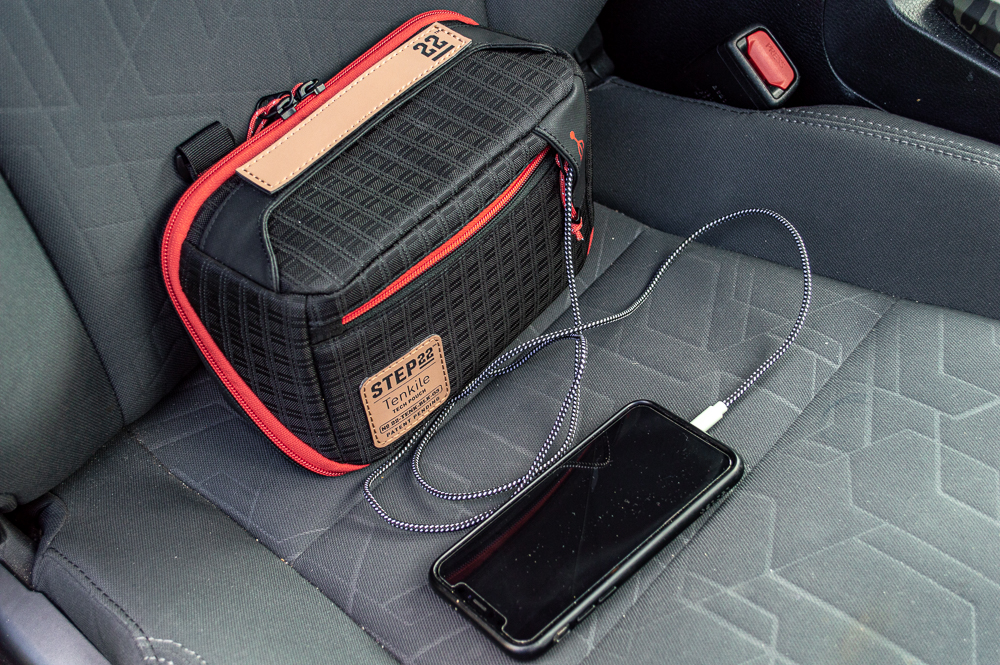 The Tenkile Tech Pouch is a great organizational tool for any adventurer. No matter what you plan to use it for, this pouch will keep your tech safe, secure, and easy to reach. The size and configuration of the pouch are compatible with a variety of set-ups, but some of the most common would be the following: phone and accessories, GoPro and accessories, simple camera setup, and small drone storage.
One huge benefit of this pouch is that you can store it on a vehicle headrest that is out of the way but accessible, and in a minute you can have it slung over your shoulder by adding the strap.
Phone & Accessories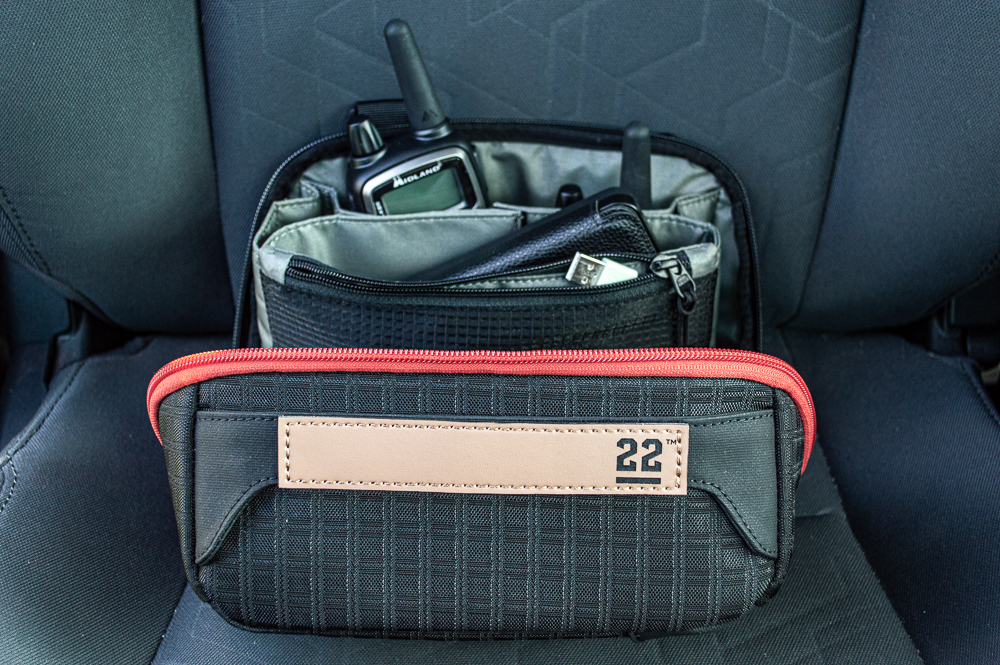 If you just plan on taking your phone, chargers, a portable power source, and maybe a grip, you can easily organize it to allow quick access to all of those items.
You can also utilize the front zipper pass-through to hook your phone up to a power bank on the inside, while still being able to use it on the outside.
GoPro & Accessories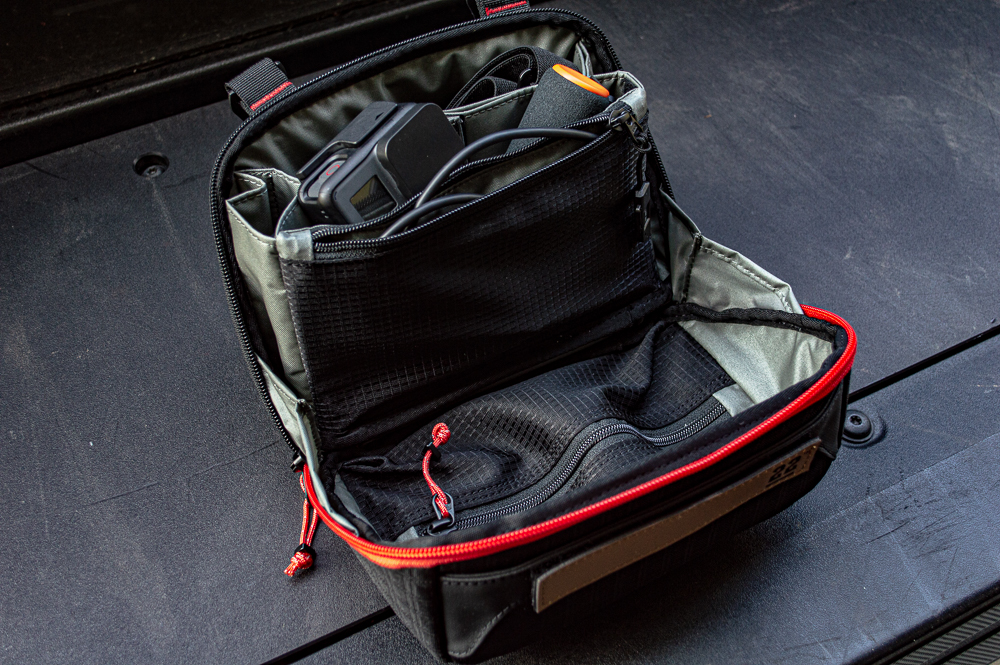 A GoPro is a great adventure camera and with tons of different mounts, you need a pouch to keep everything neat and organized.
The Tenkile Pouch will protect your investment and provide plenty of pockets to keep your GoPro, mounts, cables, and batteries easy to reach.
Camera + Lens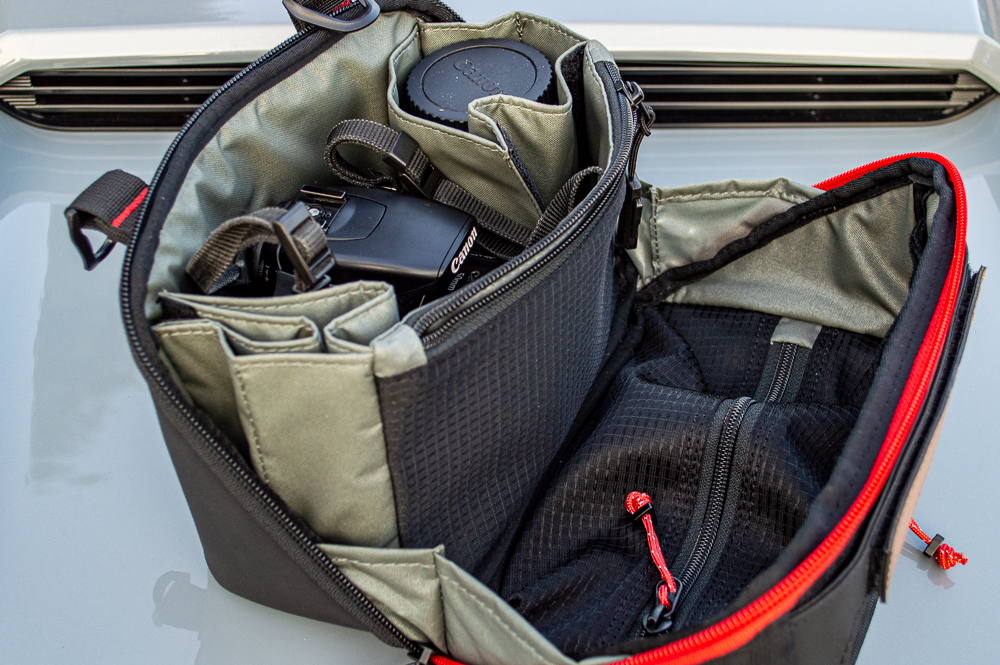 The reason I say a camera plus lens, is because the Tenkile Pouch can only accommodate a camera body and one, maybe two lenses, plus a few small accessories.
If you are someone that mainly shoots with one lens or know you can capture all your memories with one, this would be the perfect alternative to a larger camera bag.
Drone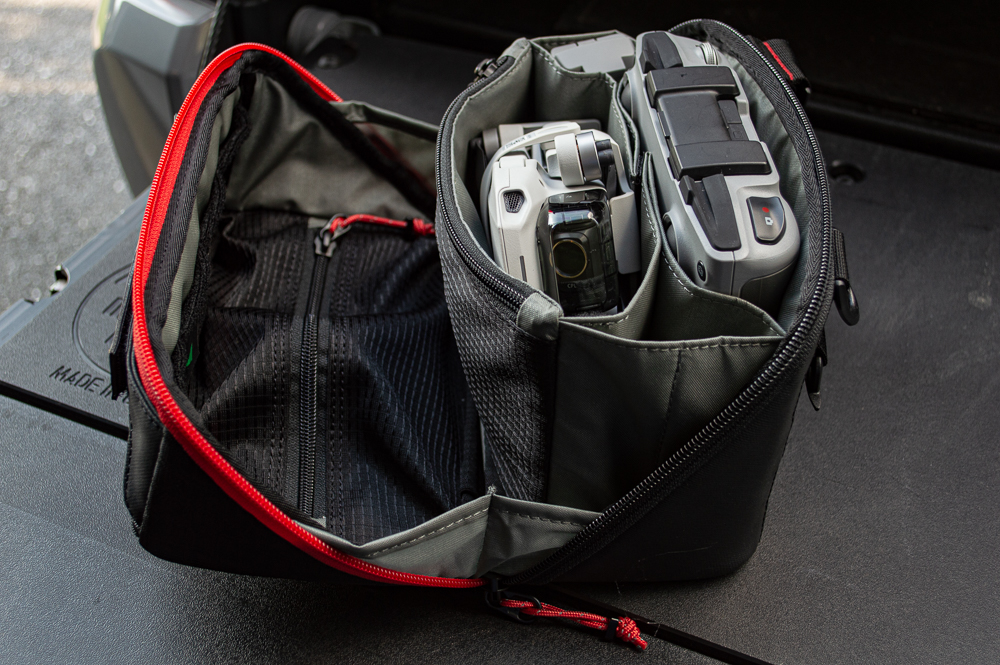 This one depends on the size of your drone. For more professional drone operators with Mavic Pro drones, it likely won't work. If you fly a Mavic Mini, Mavic Air, or equivalent size drone, it's possible to pack the drone, controller, and spare batteries.
Make sure those spare batteries are fully charged because there's only enough room to pack a charging cord and not a charging dock. Shown above is the Mavic Mini 2.
Final Thoughts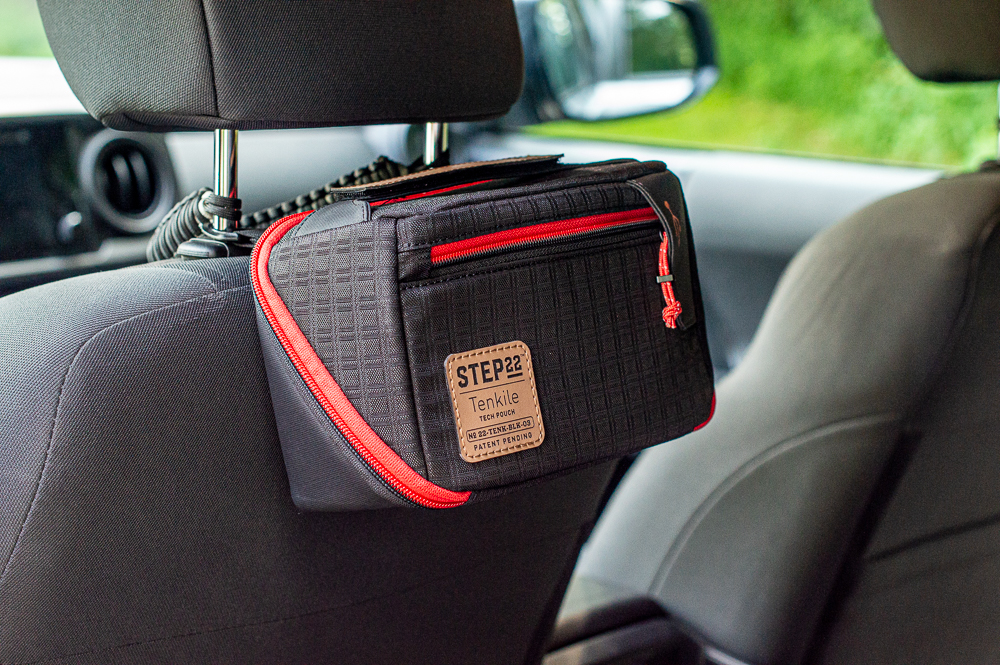 The Step22 Tenkile Tech Pouch is an outstanding product from a company that is known for high-quality and highly functional gear. Step22 goes above and beyond on the design of their bags and pouches to ensure every nook and cranny can be used to help us be better prepared and organized.
The materials used for the pouch are top-notch. It has a tough, durable yet stylish exterior, with a customizable interior to provide a variety of uses. I've been using it to store my drone and GoPro and I like that it keeps everything accessible, organized, and off the floor of my truck.
Regardless of what you use to capture your memories, you can find a use for the Tenkile Tech Pouch. I highly recommend checking it out!