C4 Fabrication 2nd Gen Tacoma (2012-2015) Rock Slider Install + How To Install Rock Sliders By Yourself
I think by now everyone has heard the name C4 Fabrication. They have been a staple in the Toyota community for the last 10 years and continue to grow incredibly fast. I don't think the company needs a long-drawn-out introduction as that has been done throughout Trail4Runner.com and TrailTacoma.com numerous times.
If you are for some reason unfamiliar with C4 fabrication, they're well known for their high-end Toyota-specific aftermarket armor. They build rock sliders, front bumpers, rear bumpers, skid plates, and so much more for the 4Runner, Tacoma, Tundra, and other Toyota platforms.
We recently added a set of their 2nd Gen Tacoma Rock Sliders on our 2015 double cab short bed. I wanted to break down a quick overview on installing sliders by yourself and what the installation looks like for late-model (facelift) 2nd Gen Tacoma.
C4 Fabrication has a step-by-step installation guide on the forum for the 2005+ Tacoma which applies to just about every Tacoma ever built. However, there are quite a few differences in the installation process on the early model 2nd Gen (2005-2011), the facelift 2nd Gen (2012-2015), and the 2016+ (3rd Gen) models.
With all that said, here is what you can expect for a 2012-2015 Tacoma C4 Fabrication Rock slider install. The install here was done on a 2015 DCSB Tacoma.
Find it online: 
2nd Gen (2012-2015) C4 Fab Rock Slider Install Guide
C4 provides the same hardware kit with their Rock Sliders on the 2nd Gen Tacoma and the 3rd Gen Tacoma. Below you will find the hardware provided along with the tools and materials you will need for the install. 
Tools and Materials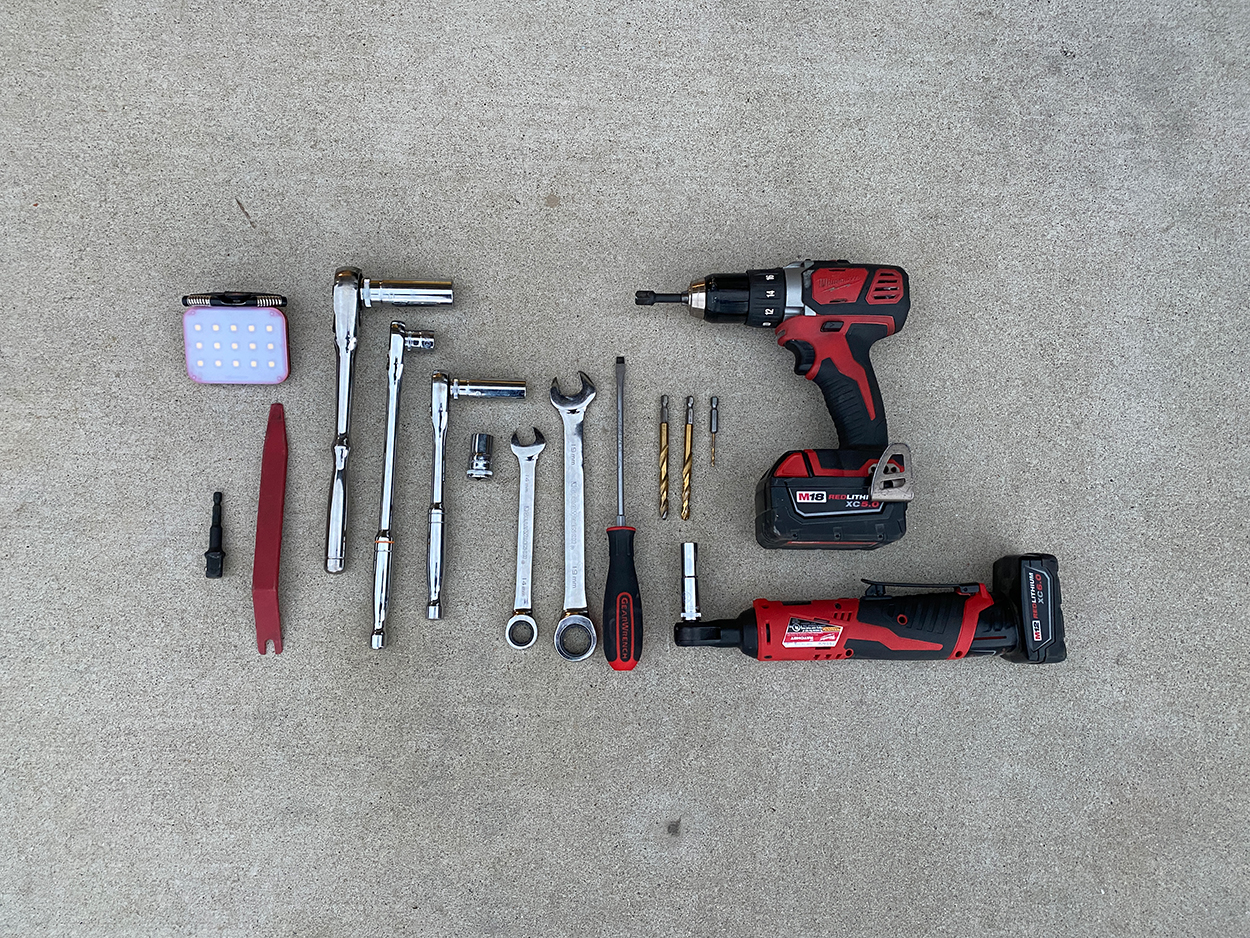 You really don't need much for this install, basic shop tools will get the job done. And even though C4 fabrication calls for a friend to help lift the sliders into place, you don't even need that. This job can be done by yourself given you have a strong enough jack, which if you're reading this blog you more than likely do.
Tools and Materials List
Hardware included:
(8) 1/2″ x 1 1/2″ Flange bolts




(4) 1/2″ Flange nuts




(1) nuts on a stick, front driver side (reaches inside boxed portion of frame rail)




(1) nuts on a stick, front passenger side (reaches inside boxed portion of frame rail)




(2) square nut plates (2″ x 2″ plate)




(2) rectangle nut plates (2″ x 1 1/2″ plate)




(4) 3/8″ x 1″ Grade 8 bolts




(4) 3/8″ Grade 8 nuts




(4) 3/8″ x 1″ thread cutting screws




(6) 3/8″ x 1″ carriage head bolts




(6) 3/8″ flange nut

(14) 3/8″ flat washers
Step 1. Lift Rock Sliders into Place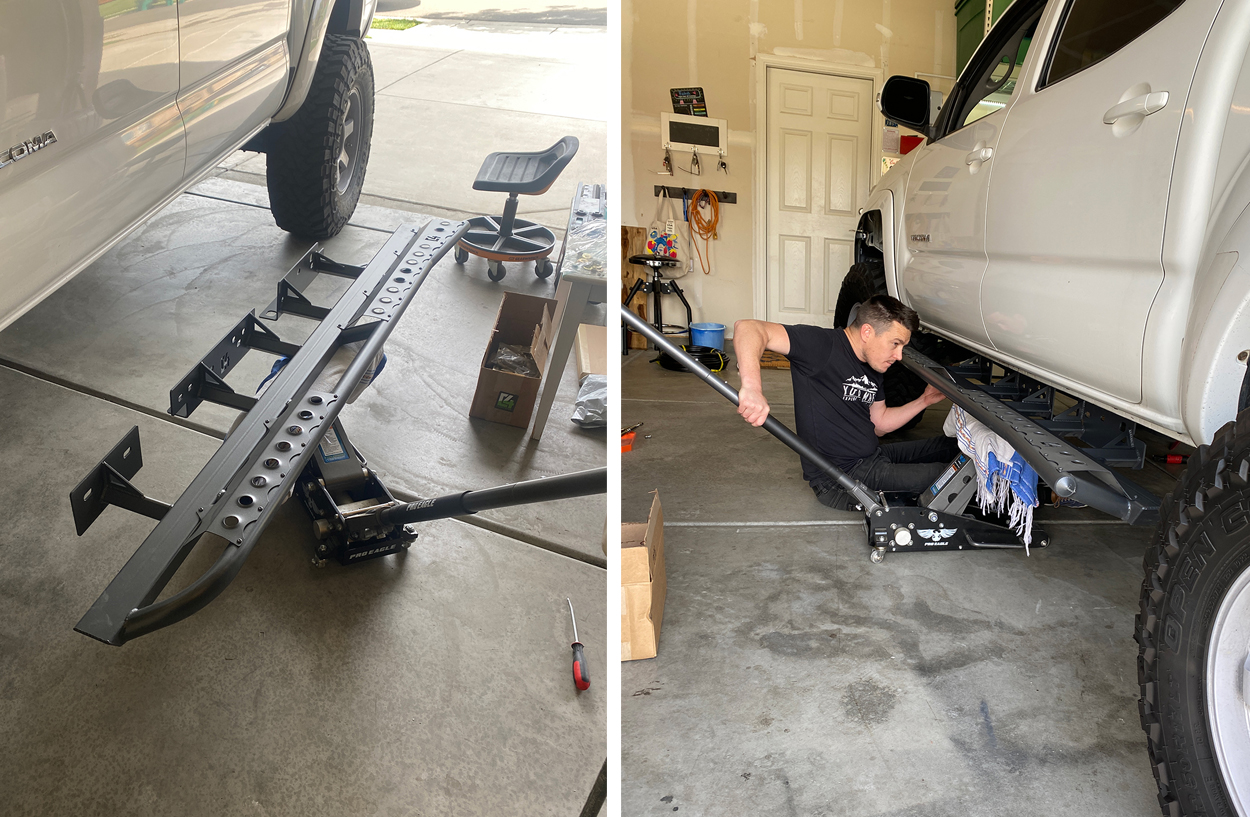 If you are attempting to install a set of rock sliders without any help, this is how you do it. It's simple. You don't need jack stands, you don't need anyone's help at all. As long as you are strong enough to lift a 75lb slider – you can install sliders on your own. We are using our 2-ton Pro Eagle Jack for this rock slider installation.
Pictured above is the rock slider sitting on top of a blanket and that blanket is wrapped around a 2-foot piece of 1×6 wood… leftover from a wood slat potting table. The 1×6 piece of wood offers more surface area and stability sitting on top of the jack. This makes it easier to center the weight of the slider. The blanket prevents the wood from scratching the sliders and depending on the material may keep it from sliding around too much. I used a heavy-duty thick Mexican blanket with a lot of texture. It did help keep the slider from sliding around.
Centering the weight of the rock slider on the jack is the most important part here. Before jacking the sliders into place, first, find the center point of your rock slider on the jack.
If this is your first time using a jack or you are a novice when it comes to working on your truck in general, I would not recommend using a jack to lift these 75lb rock sliders into place. If you've never used a jack, don't attempt this install. If you're comfortable with a jack and aware that the slider may fall off and potentially hurt you, then continue at your own risk.
If you have a friend, ask them for help first. If no friends are in sight, this is another option.
Step 2. Remove 12 mm bolt on Frame Rail Bracket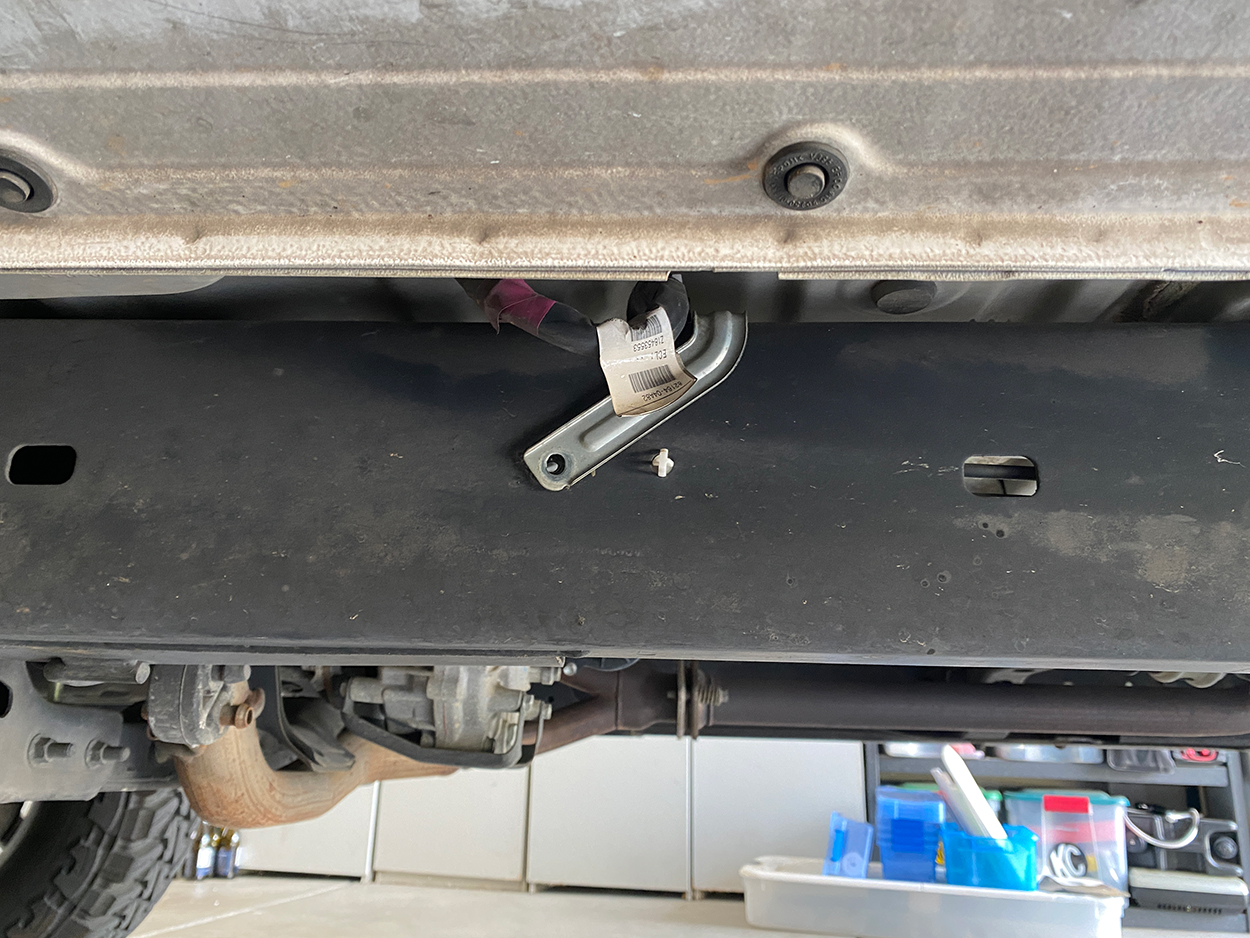 Remove this bolt and save it for reinstalling sliders.
Step 3. Unclip brake lines and relocate to the Upper bracket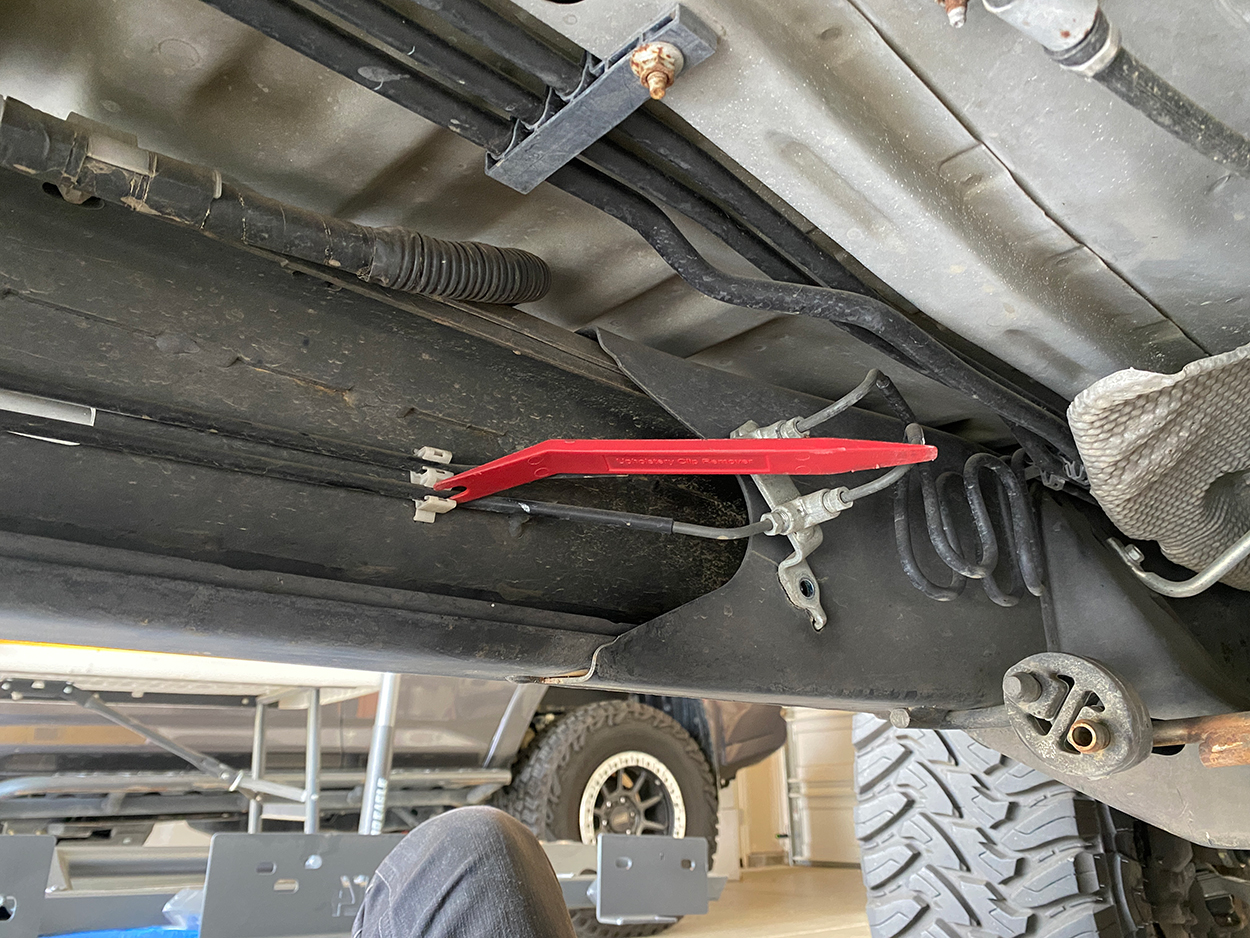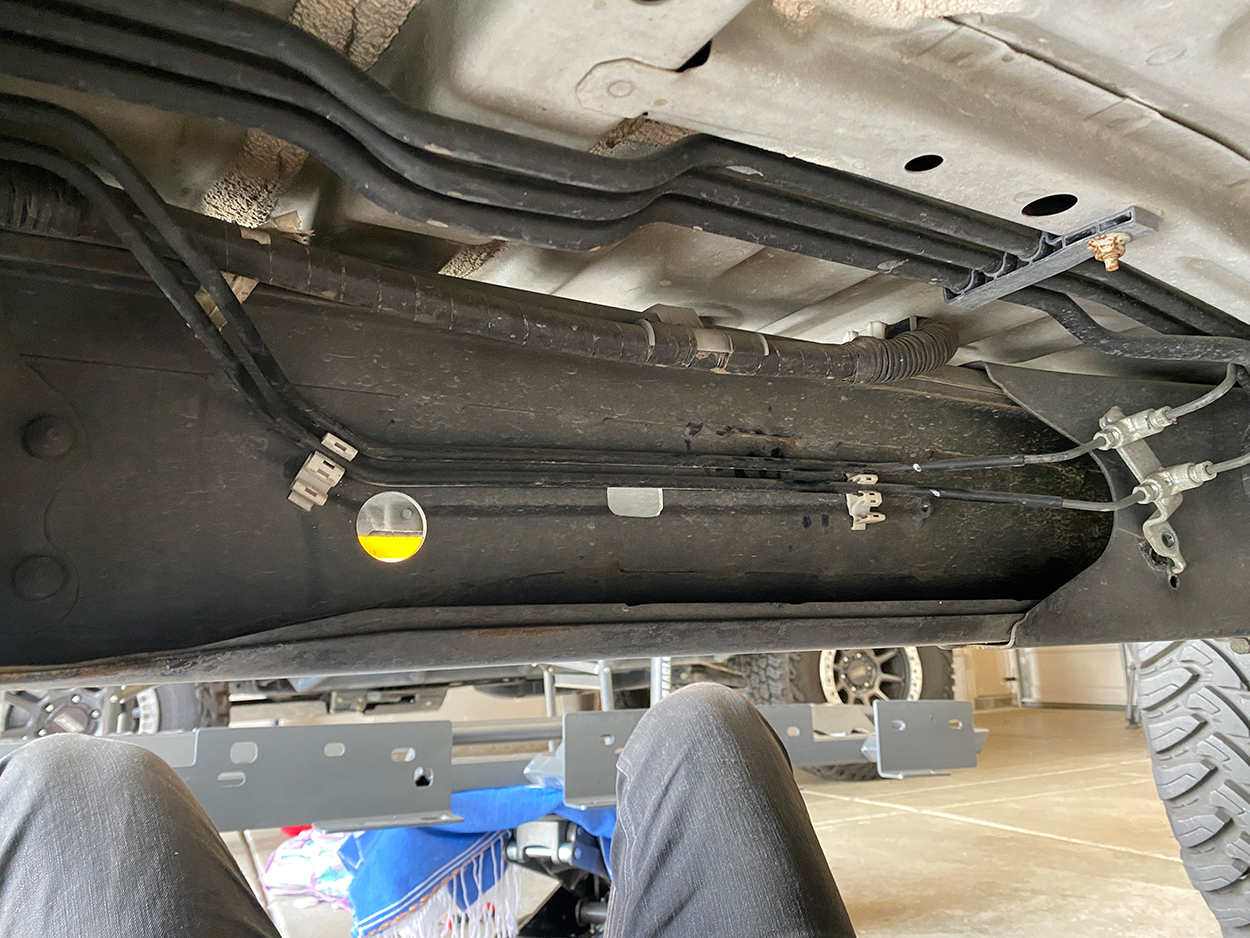 Unclip these lines and then attach the bottom line into the top bracket clip. The other line is fine sitting on top of the bracket.
Step 4. Unclip and Relocate Rear Brake Lines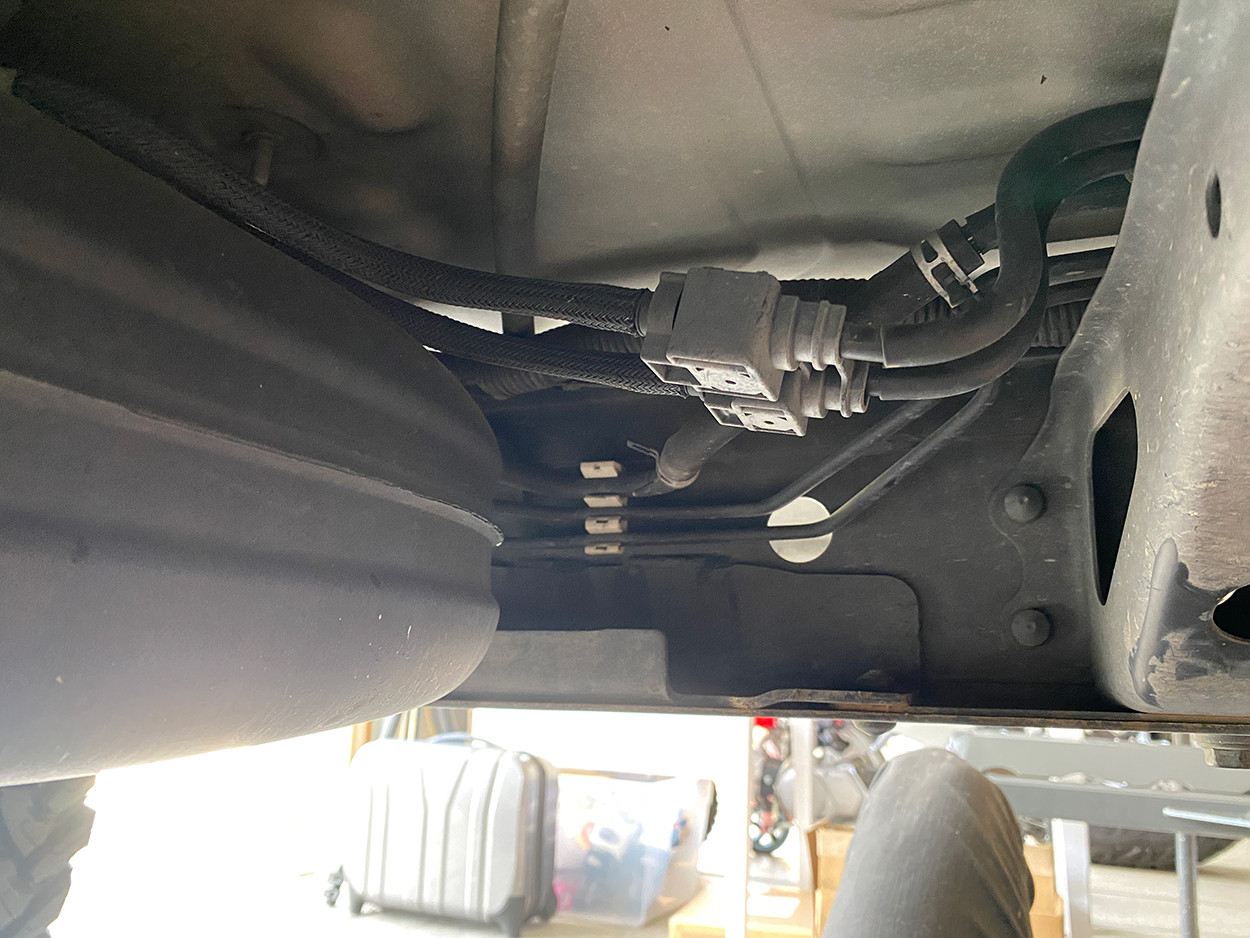 Head to the back of the frame rail and repeat that process on this section of lines, including the large line at the top as well. That line will rest on top of the bracket.
Step 5. Slide Nuts-On-Stick through Frame Rail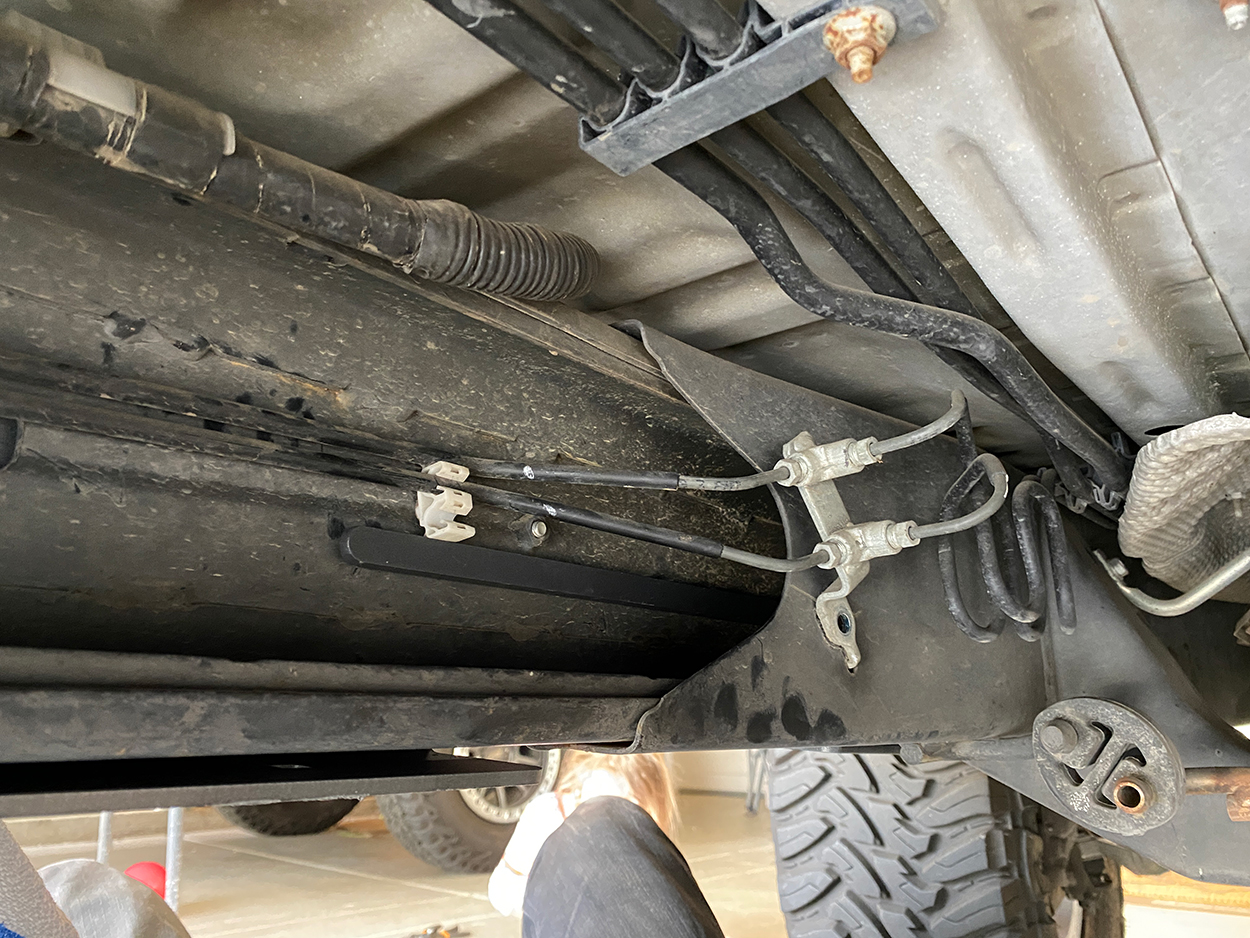 Now take the large Nuts-On-Stick provided in your kit and slide it into the frame rail.
Inside Look at Nuts-On-Stick through Frame Rail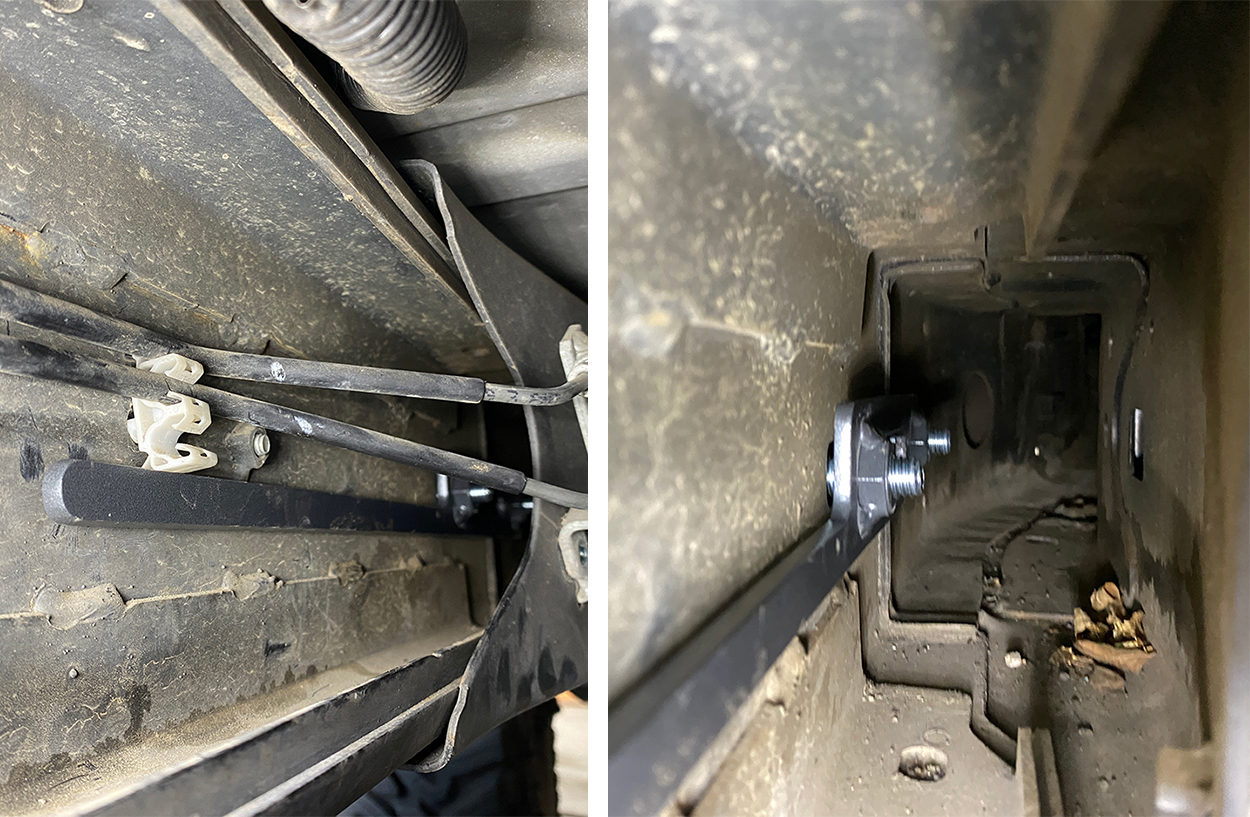 Here is a look at the Nuts-On-Stick inside the frame rail with the bolts threaded on.
Step 6. Thread Bolts into Nuts-On-Stick inside the frame rail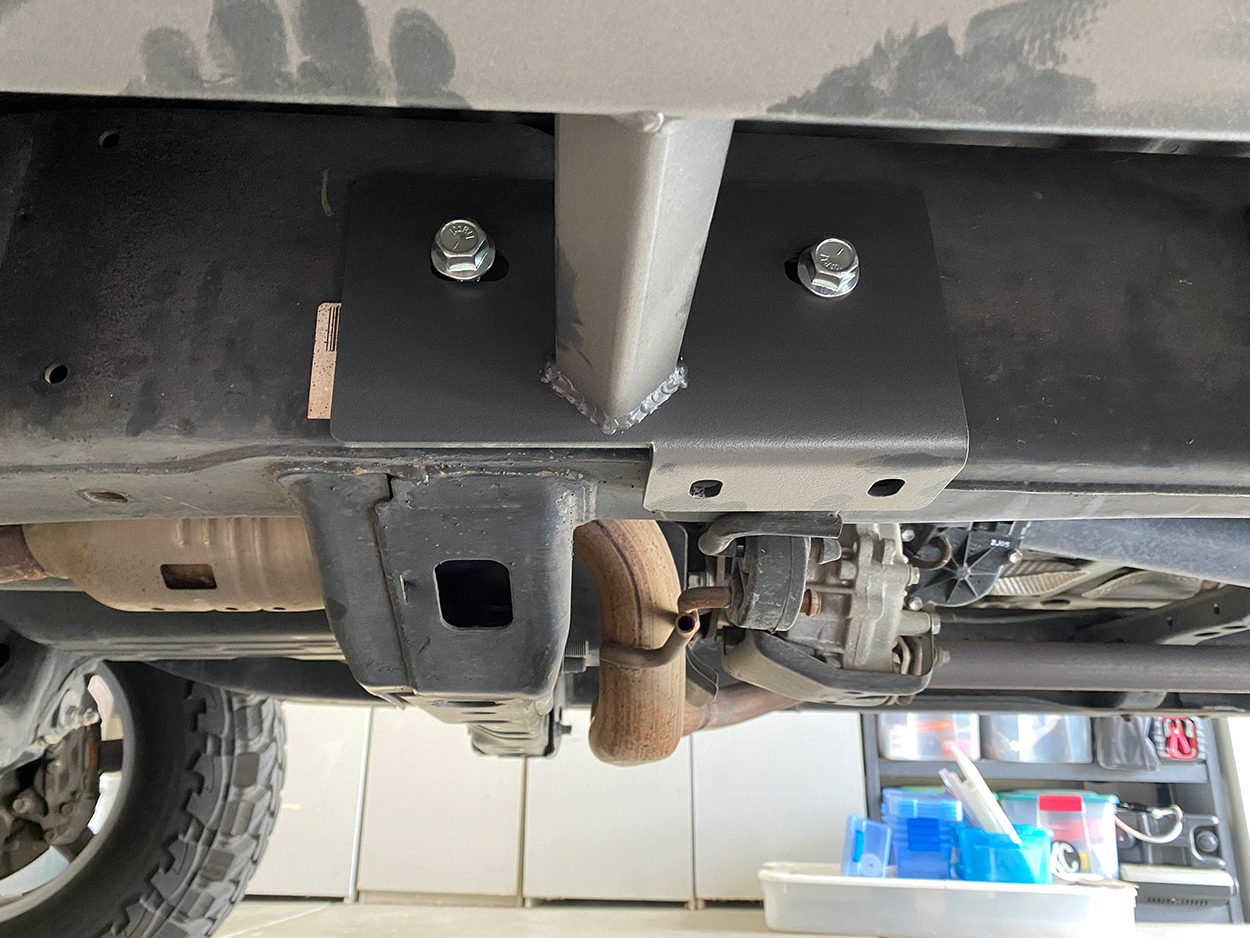 In order to get the bolts threaded on the nuts inside the frame rail, it helps to sit outside the frame rail and thread with one hand while reaching underneath the frame rail while holding the nuts-on-stick. You may need to move the nuts-on-stick around in the frame rail before you see it through the openings from the outside. Once you spot your threads from the outside, you can start threading them into place.
Note: Leave bolts snug but loosely threaded for now.
Step 7. Prepare Square and Rectangle Washers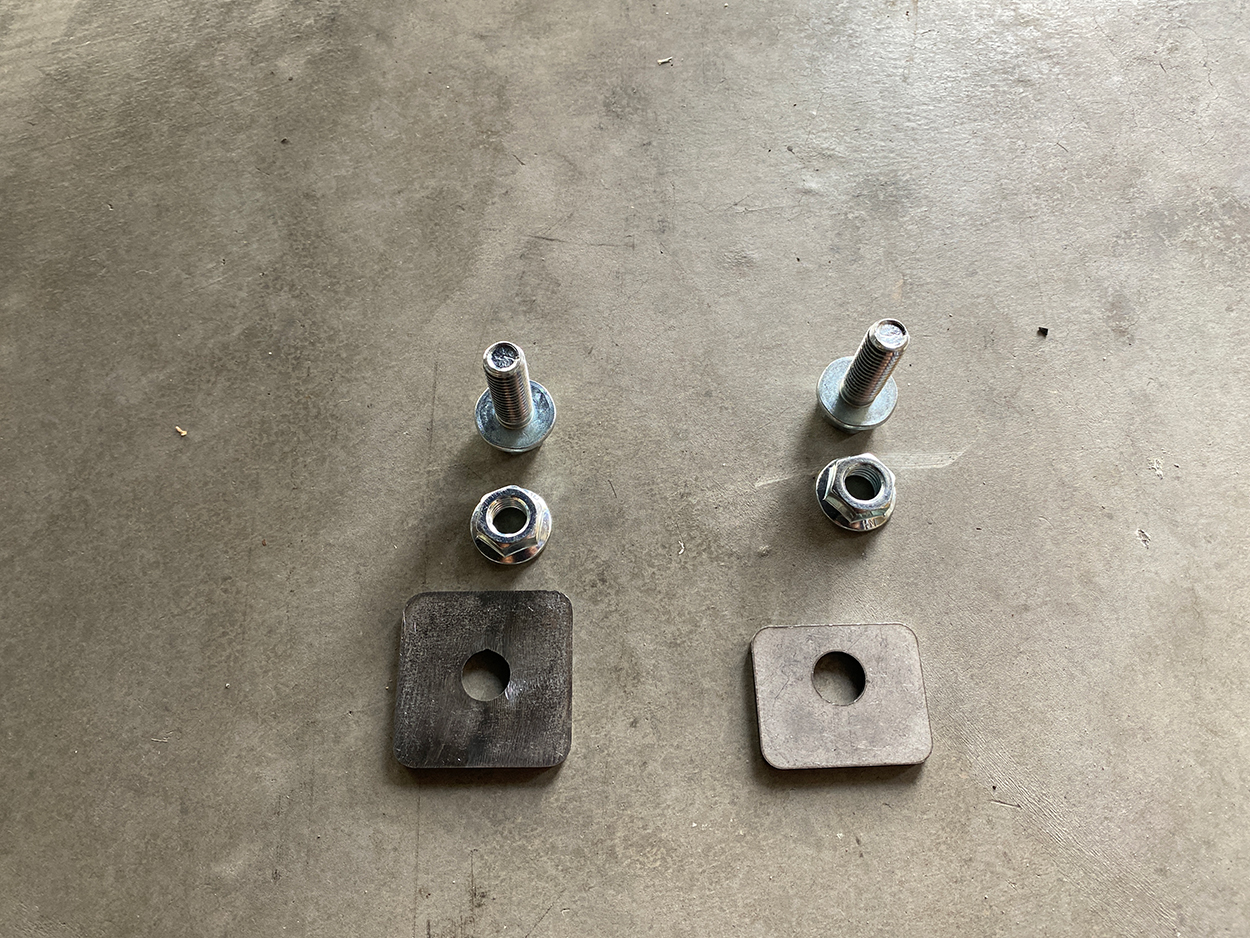 Now set out your rectangle washer and square washer out with your 1/2″ x 1 1/2″ Flange bolts provided.
Step 8. Rectangle Washer Location (In Front of Gas Tank)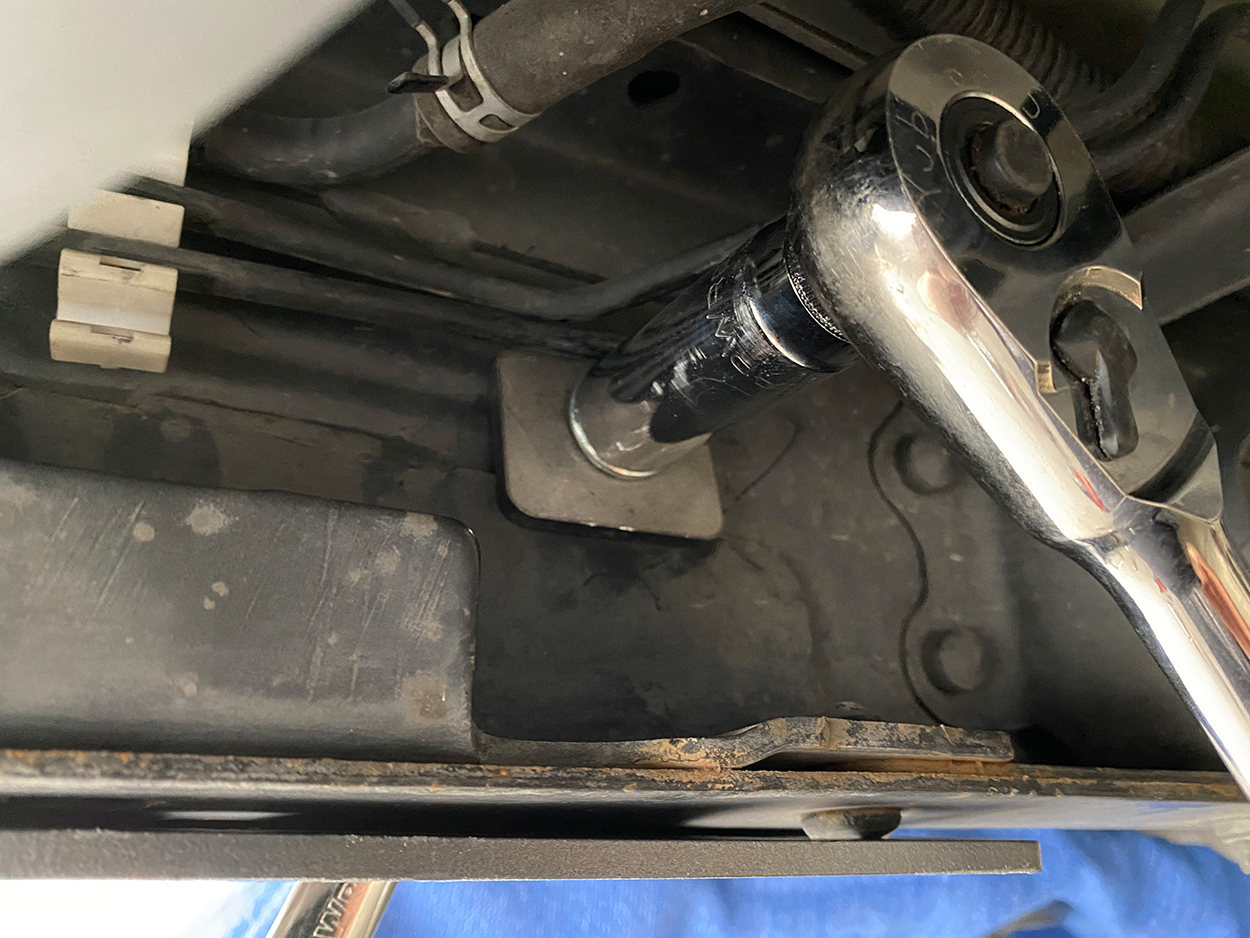 If you want to force your brake lines higher, you can rest the rectangle washer on top of the metal extrusion on the frame rail. I decided to leave my brake lines where they naturally rested in that top bracket pictured above.
Step 9. Square Washer Location (Behind Gas Tank)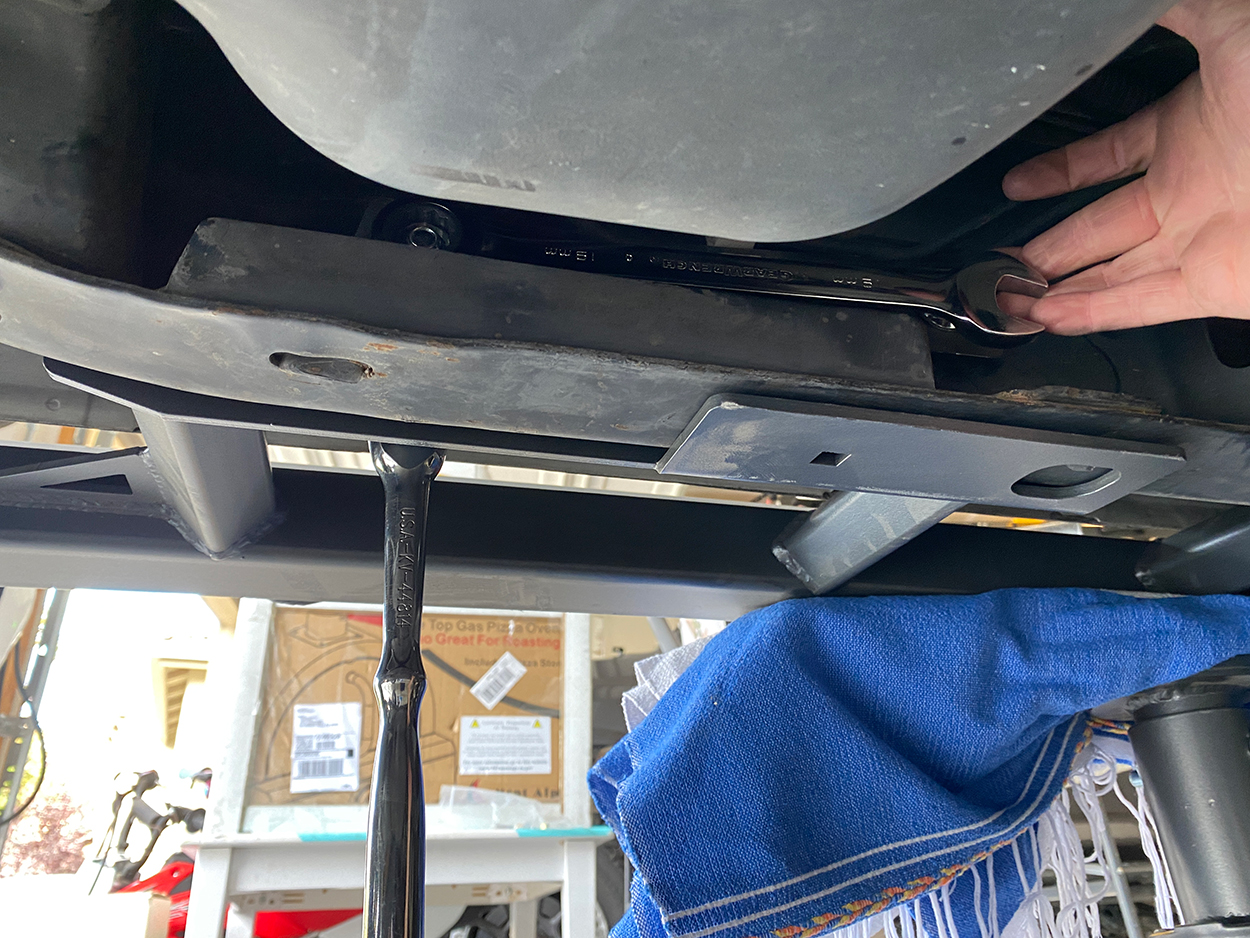 Now place your square washer back behind the gas tank and thread your bolt through.
Step 10. Grade 8 Bolt (14mm) Through Frame Rail Near C4 Logo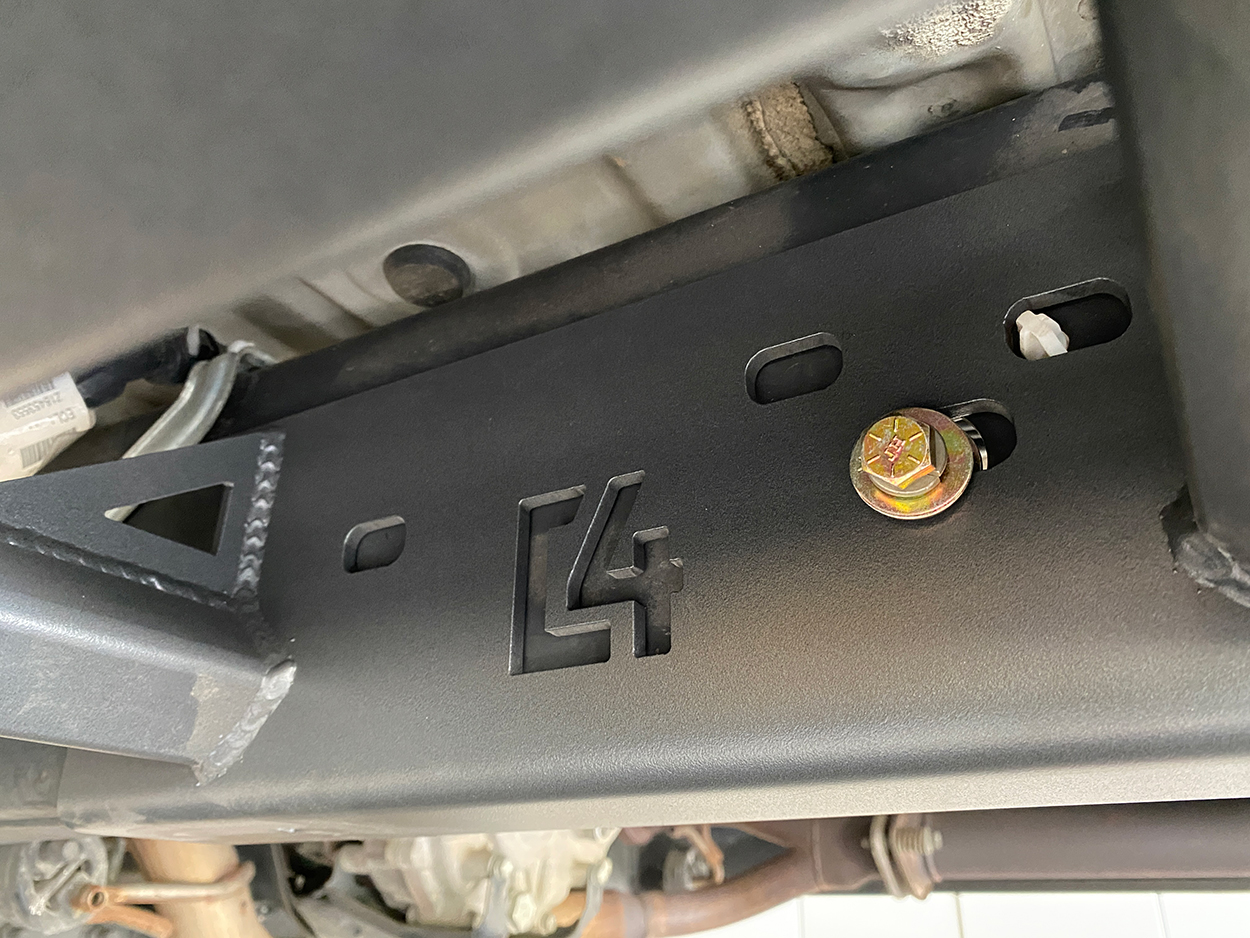 Using a 14mm open-end wrench and socket wrench, snug down this last bolt.
Step 11. Remove Jack Stands from Rock Slider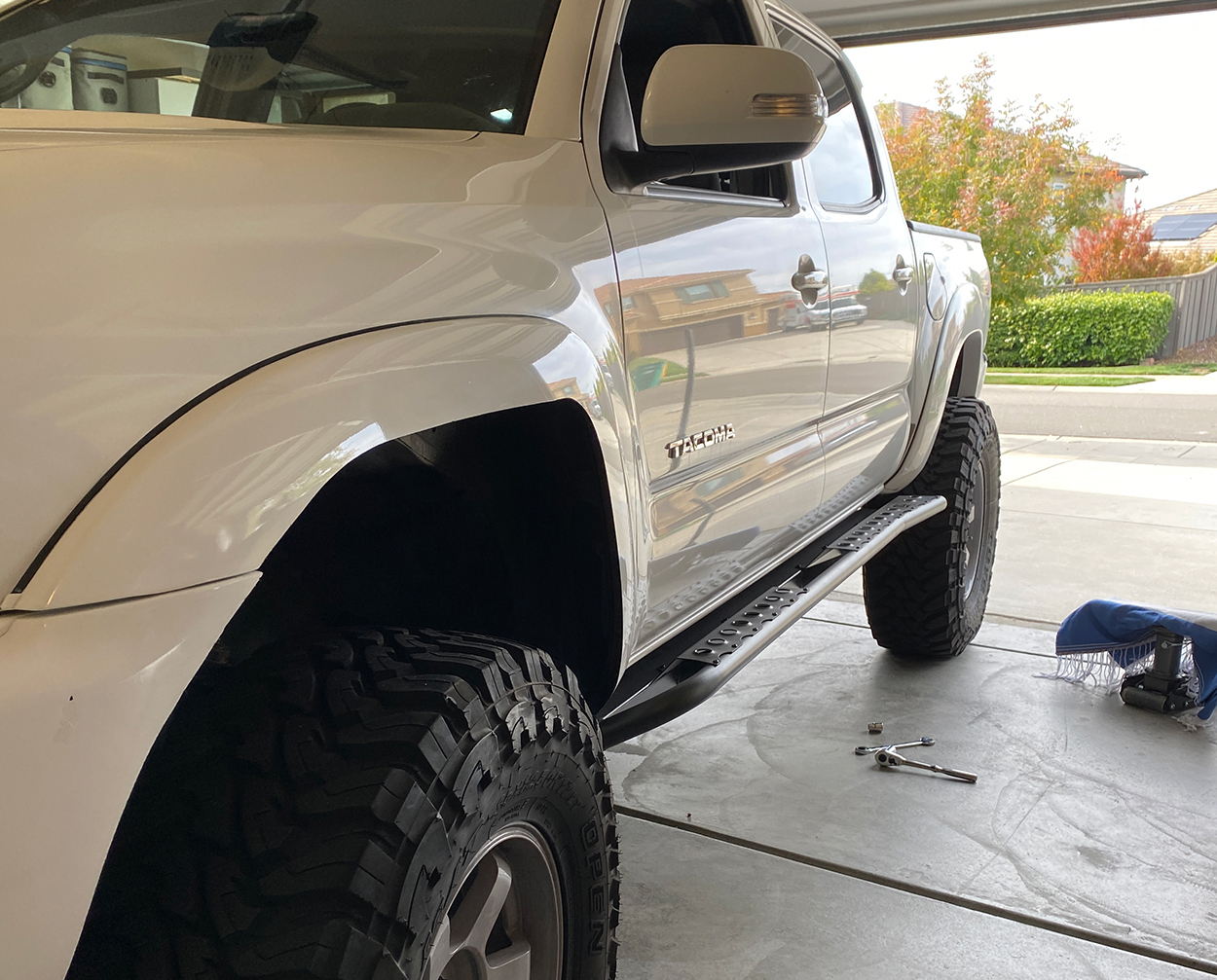 Before fully removing your jack, make sure your bolts are in their final placement. At this time, none of your bolts should be fully torqued. They can be snug but DO NOT FULLY TORQUE your bolts here. Now continue to remove your jack.
Step 12. Prepare Drilling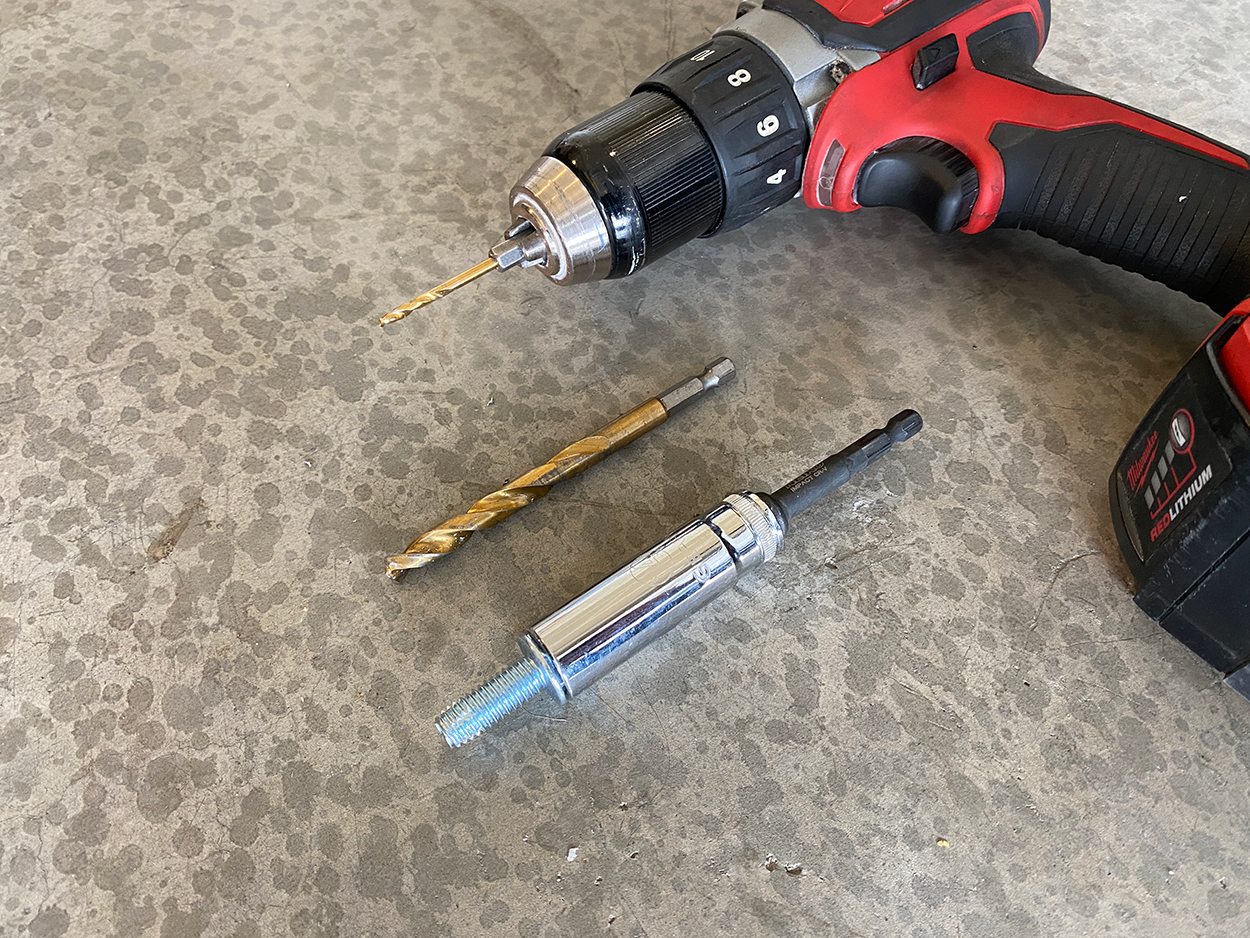 Now for the drilling. C4 says this is not mandatory, but if you wheel at all, you should fully set your sliders in place using as many bolts as possible. I like to drill a pilot hole for every hole we are going to drill.
Step 13. Drill Pilot then Drill Using
5/16″ Drill Bit (Cutting Screws)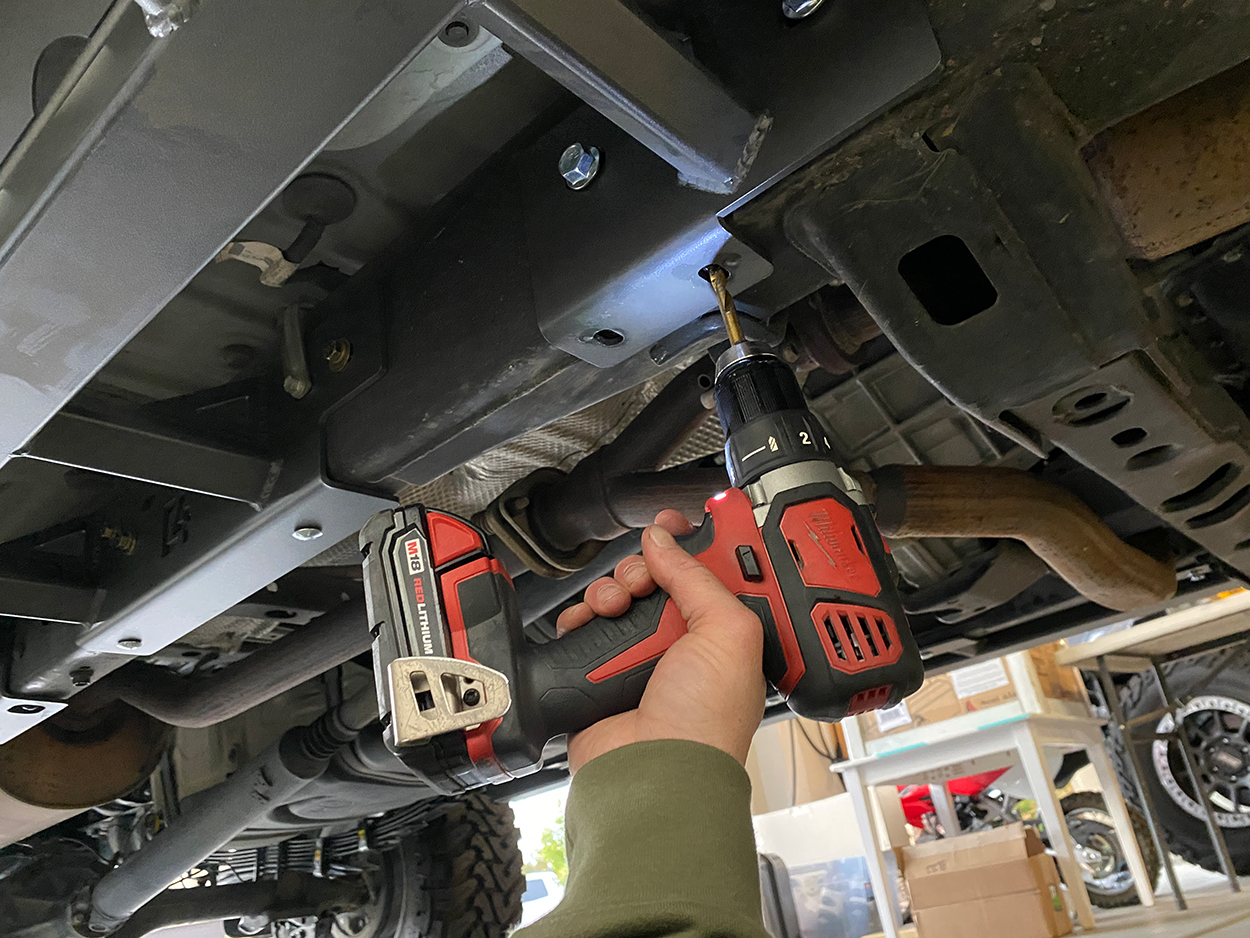 On the front driver side and passenger side, you will drill two holes for your cutting screws.
Start with the pilot bit and then drill using a 5/16″ drill bit for your cutting screws. With your 5/16″ drill bit, drill all the way through the frame rail. 
Step 14. Apply
WD-40 or Tap-Lube to the 3/8″ thread cutting screws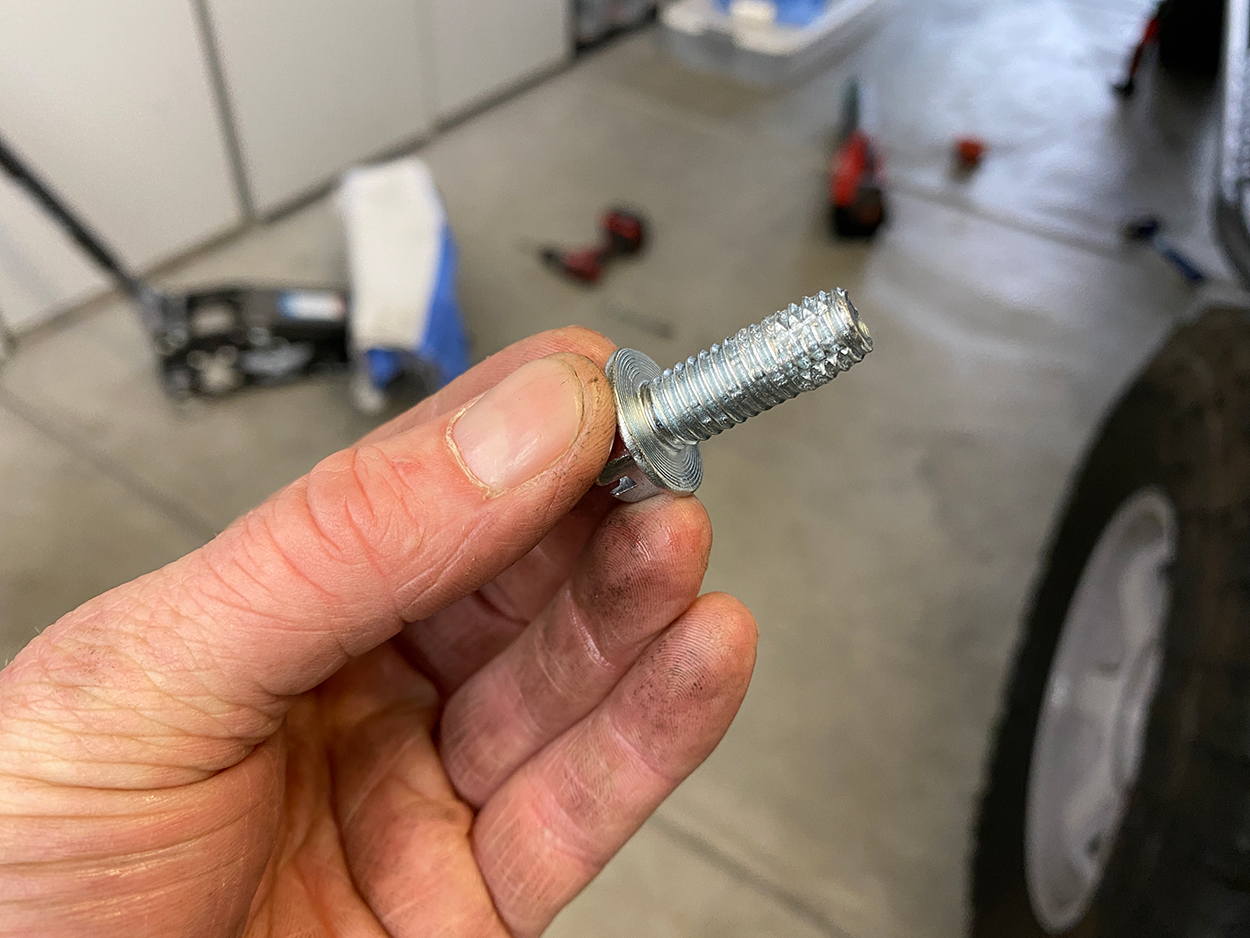 Once you have your 5/16″ holes drilled through the rail, apply some thread tap lube or WD-40 to the tip of your cutting screw bolts.
Step 15. Use Drill Driver and 9/16 Socket (Do not Use Impact Driver)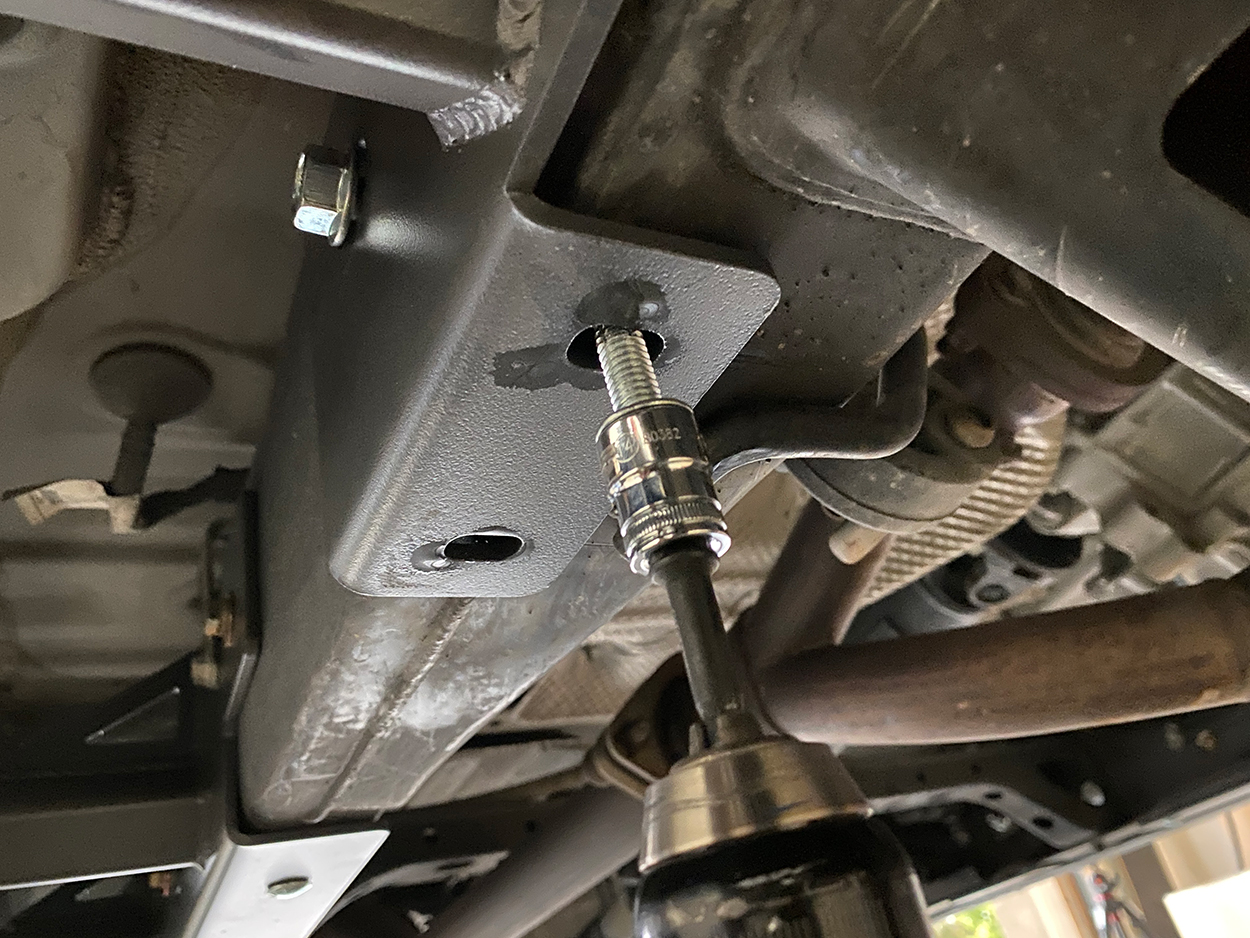 Place your cutting screws onto your 14mm socket and with a full battery in your drill, thread these cutting screws into place.
Step 16. Finish Threading with Socket Wrench
If you do not have enough power in your drill driver, you can thread these down with a socket wrench.
Step 17. Drill Pilot then Drill Using 3/8
" Drill Bit (Carriage Head Bolts)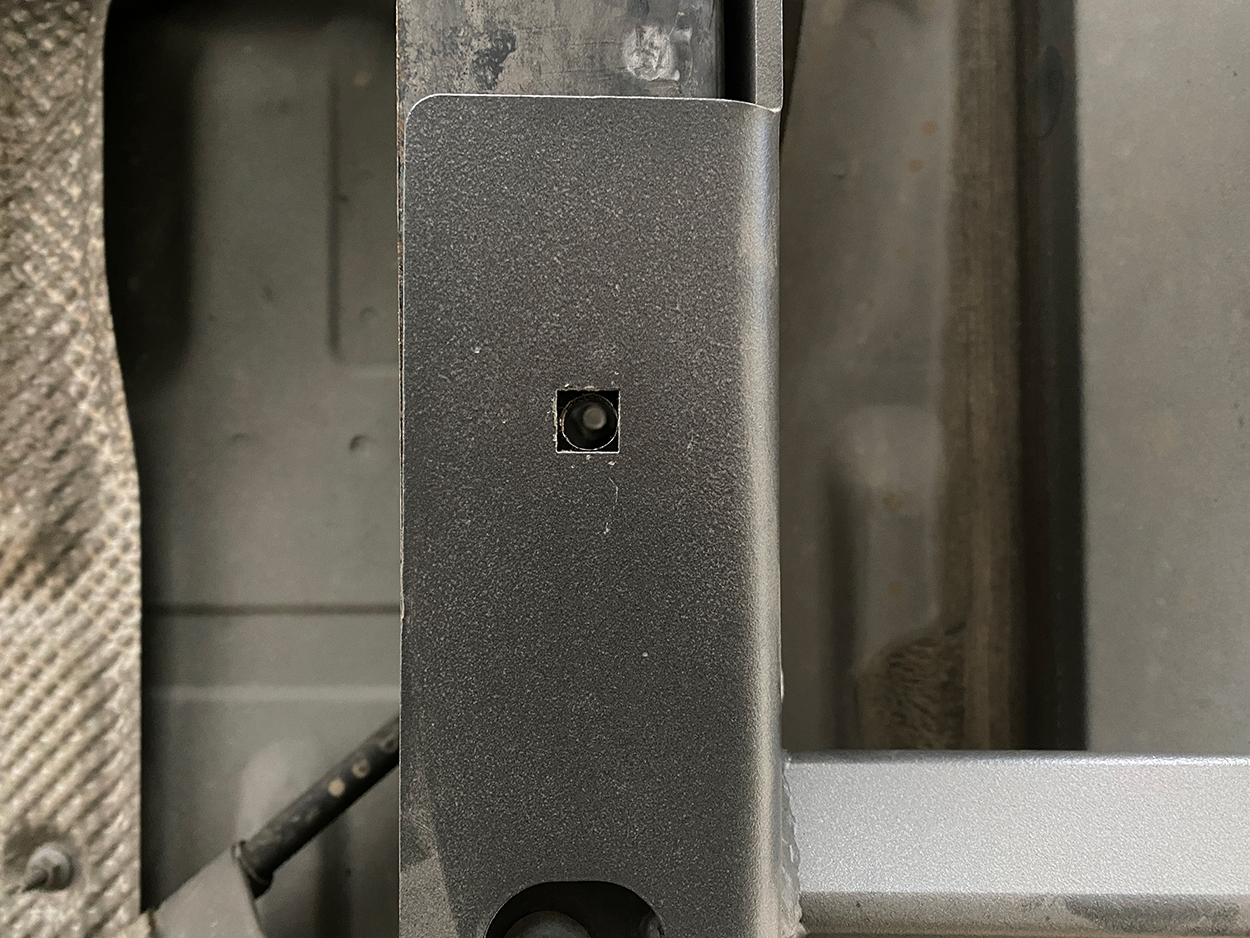 Now onto the carriage bolts.
Very Important: Start with a pilot dead center so you know you are dead center. You do not want to get off-center with these holes for the carriage bolts or else you will fight with the sliders themselves. Ask me how I know. Using a 3/8" drill bit, drill your main hole. 
Step 18. Slide Carriage Bolt Through Bottom and Thread on Top Nut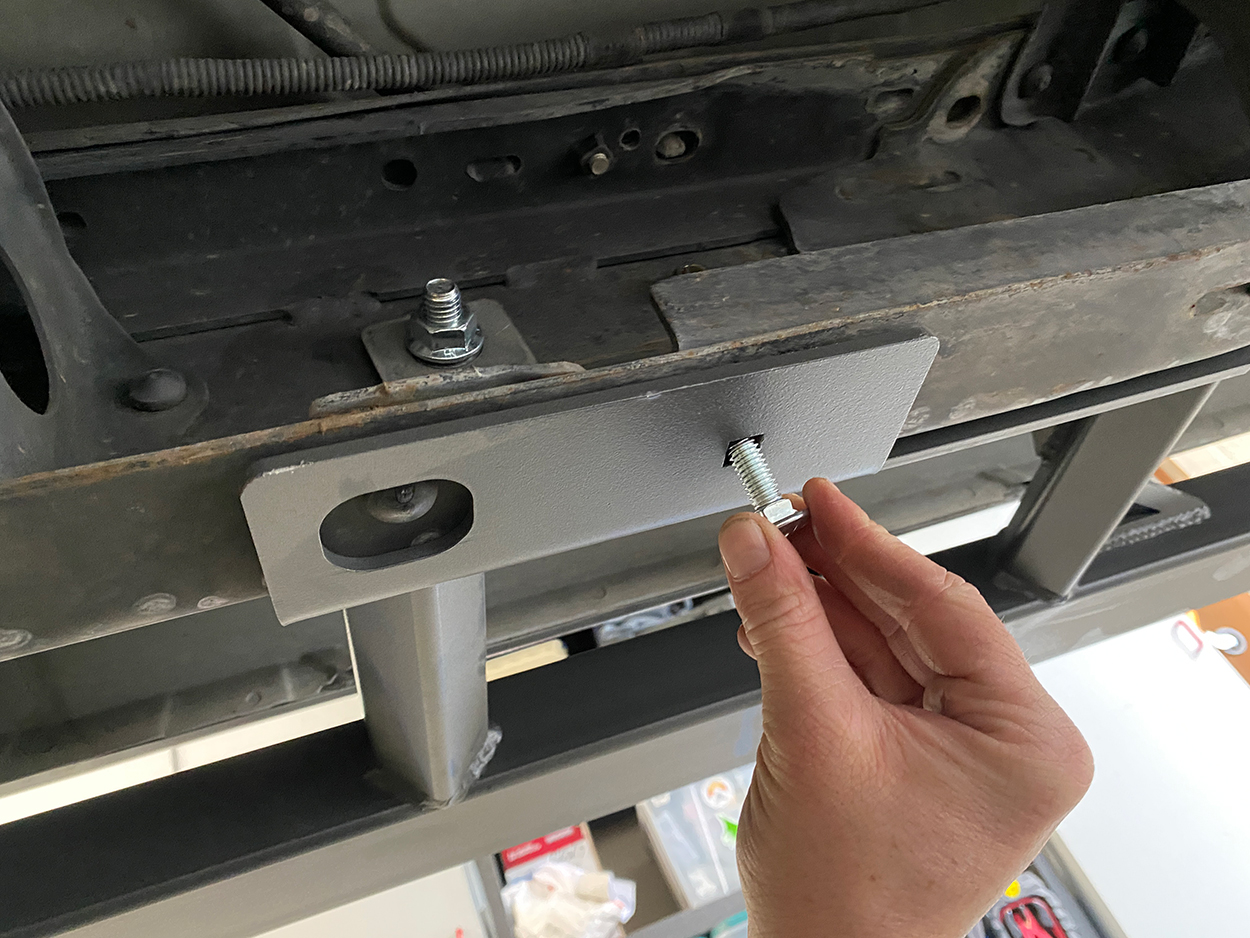 Once your 3/8" holes are drilled, continue to thread your carriage bolts in place with the top nut inside the frame rail. 
Step 19. Repeat for Remaining Carriage Bolts
Repeat that pross on the remaining carriage bolt locations.
Step 20. Continue Mounting all Remaining Grade-8 Hardware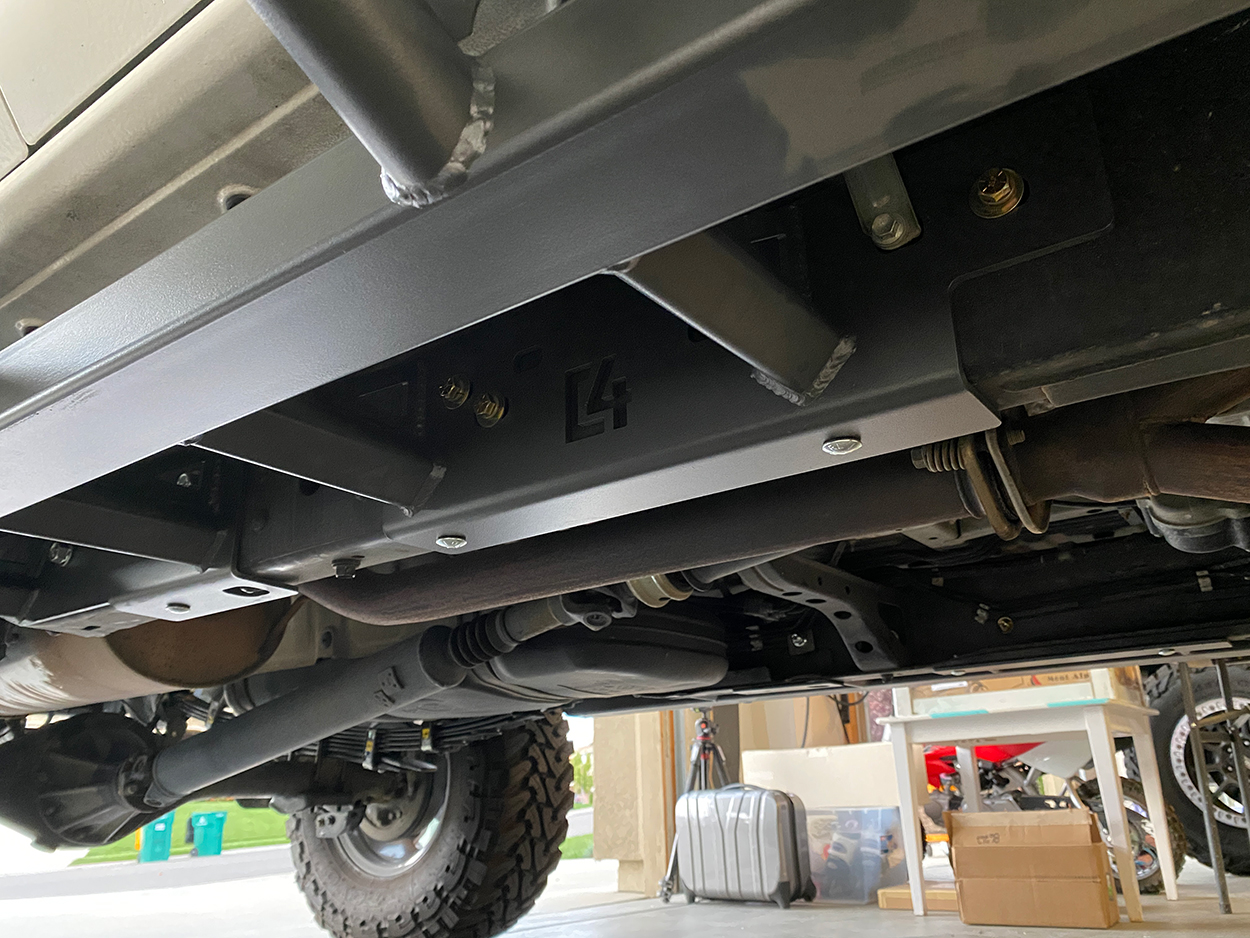 Find all the remaining holes and slide bolt your 14mm Grade-8 bolts into the frame rail.
Final Bolt Locations (Driver Side) – 11 Total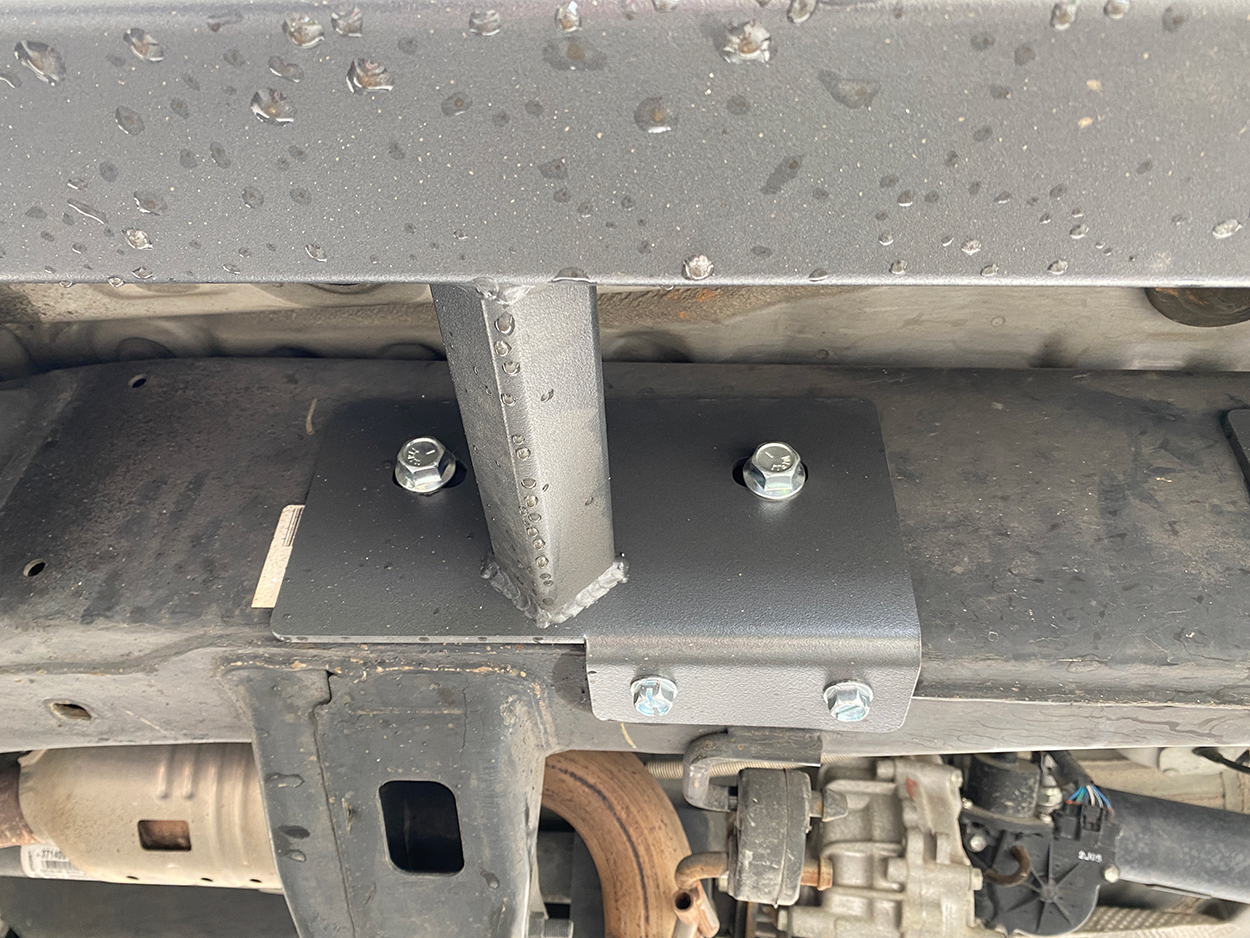 Driver Side Front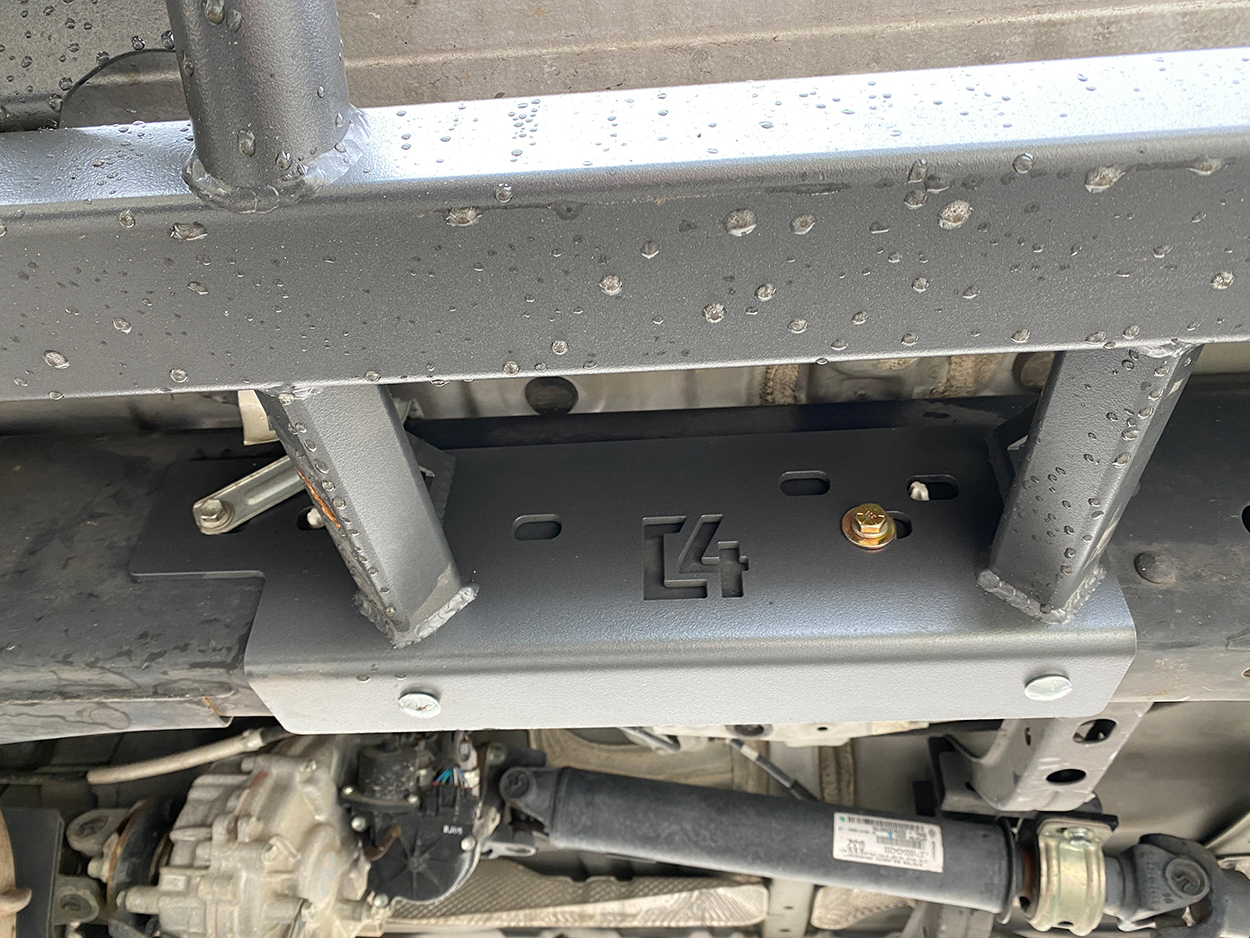 Driver Side Middle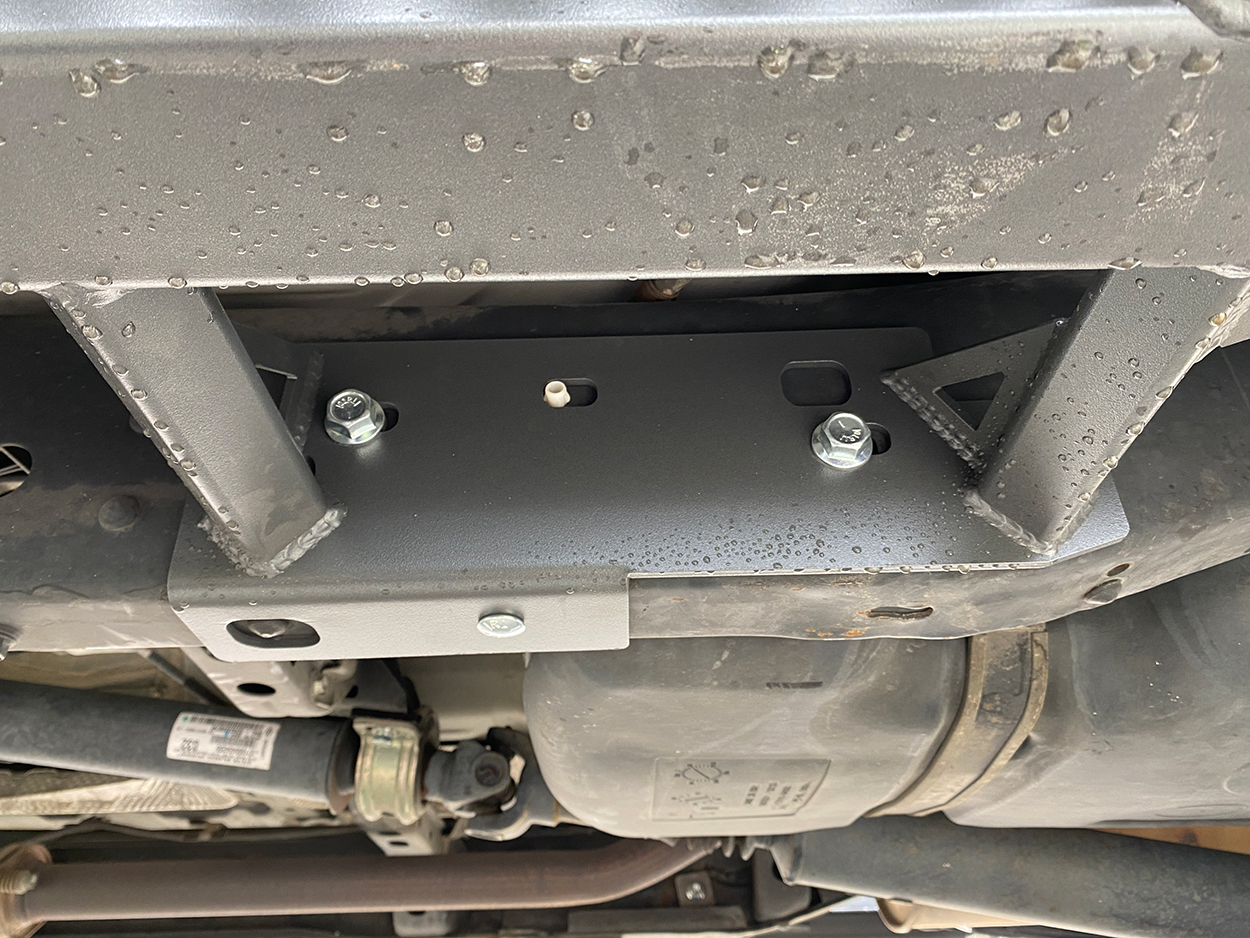 Driver Side Rear
Final Bolt Locations (Passenger Side) – 14 Total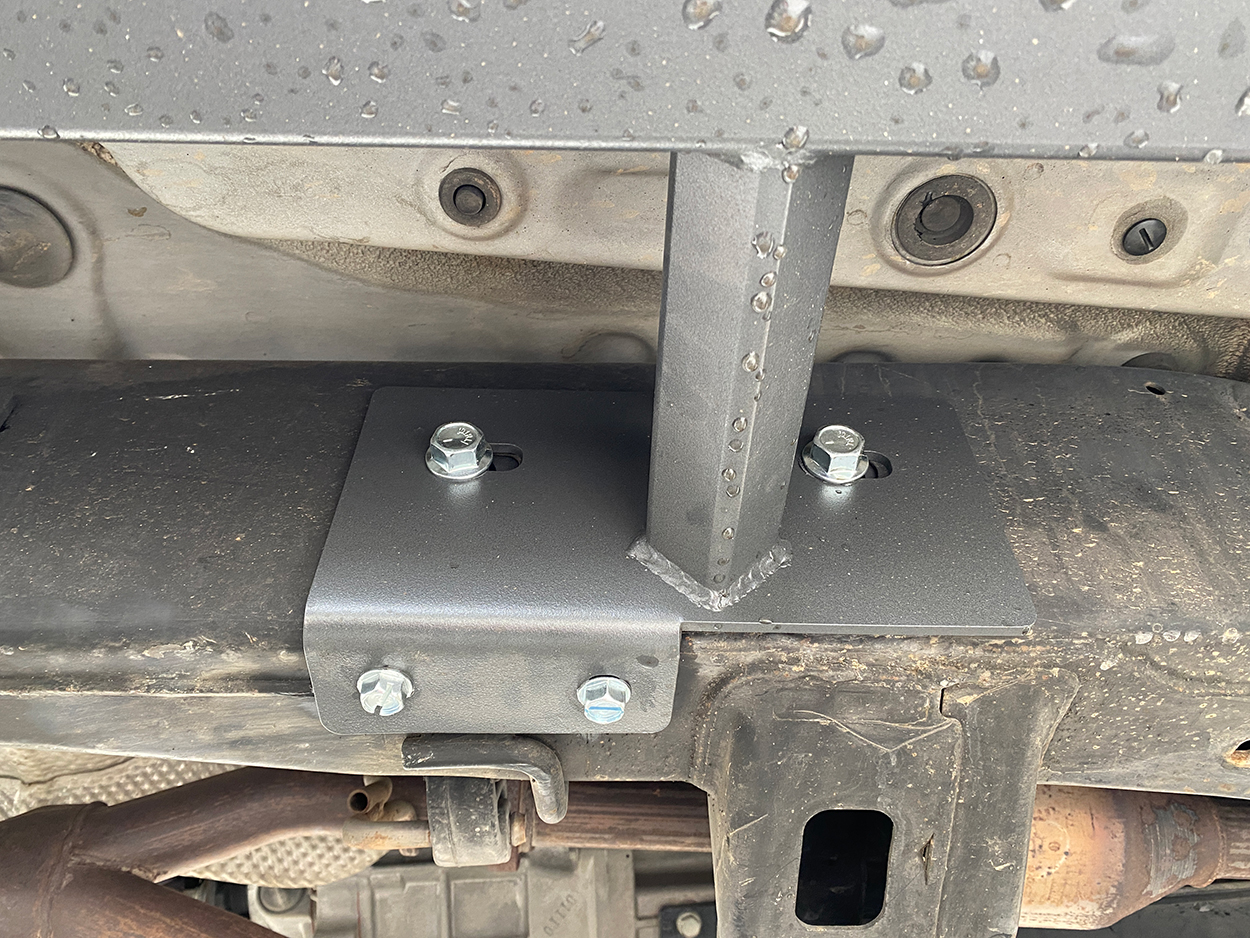 Passenger Side Front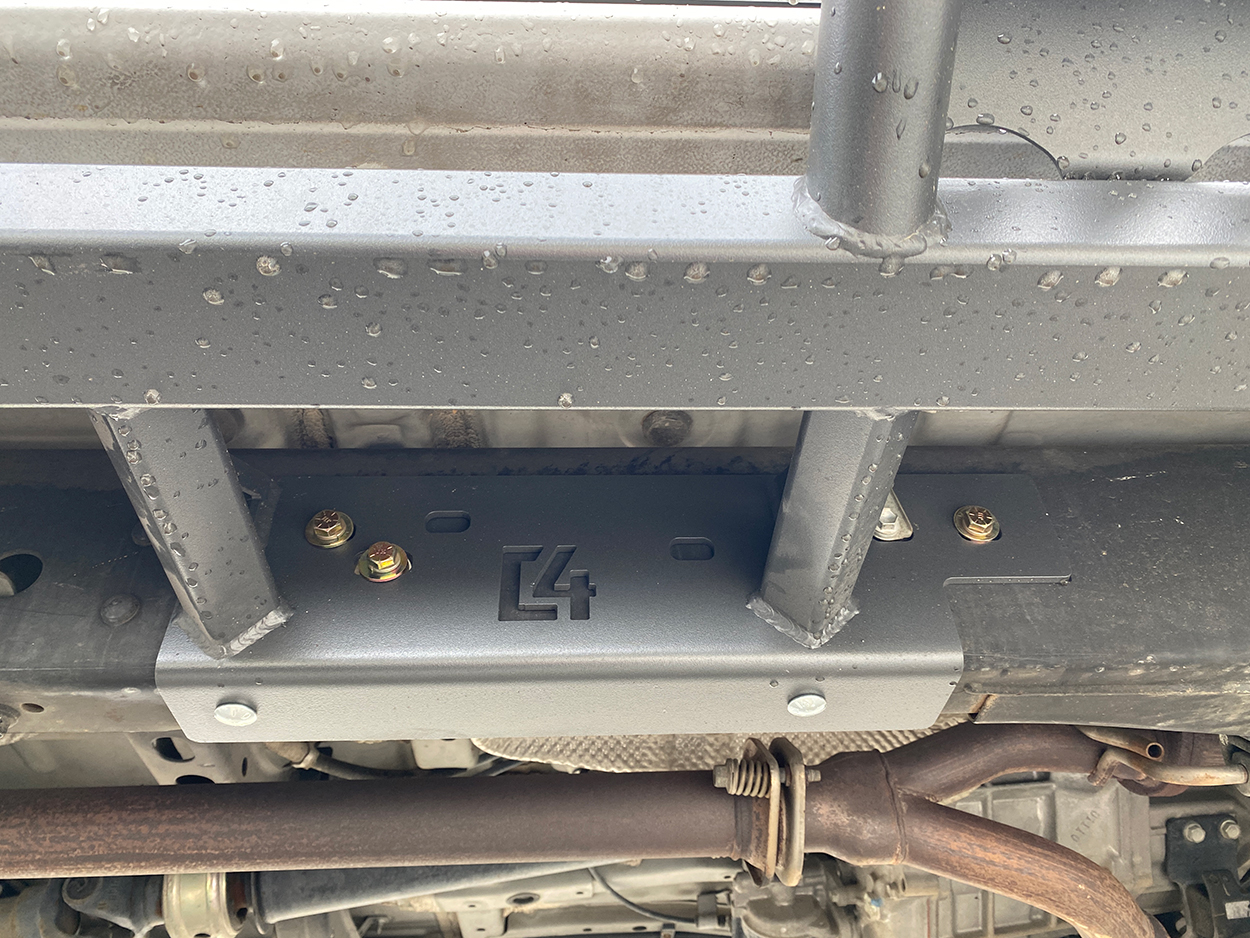 Passenger Side Middle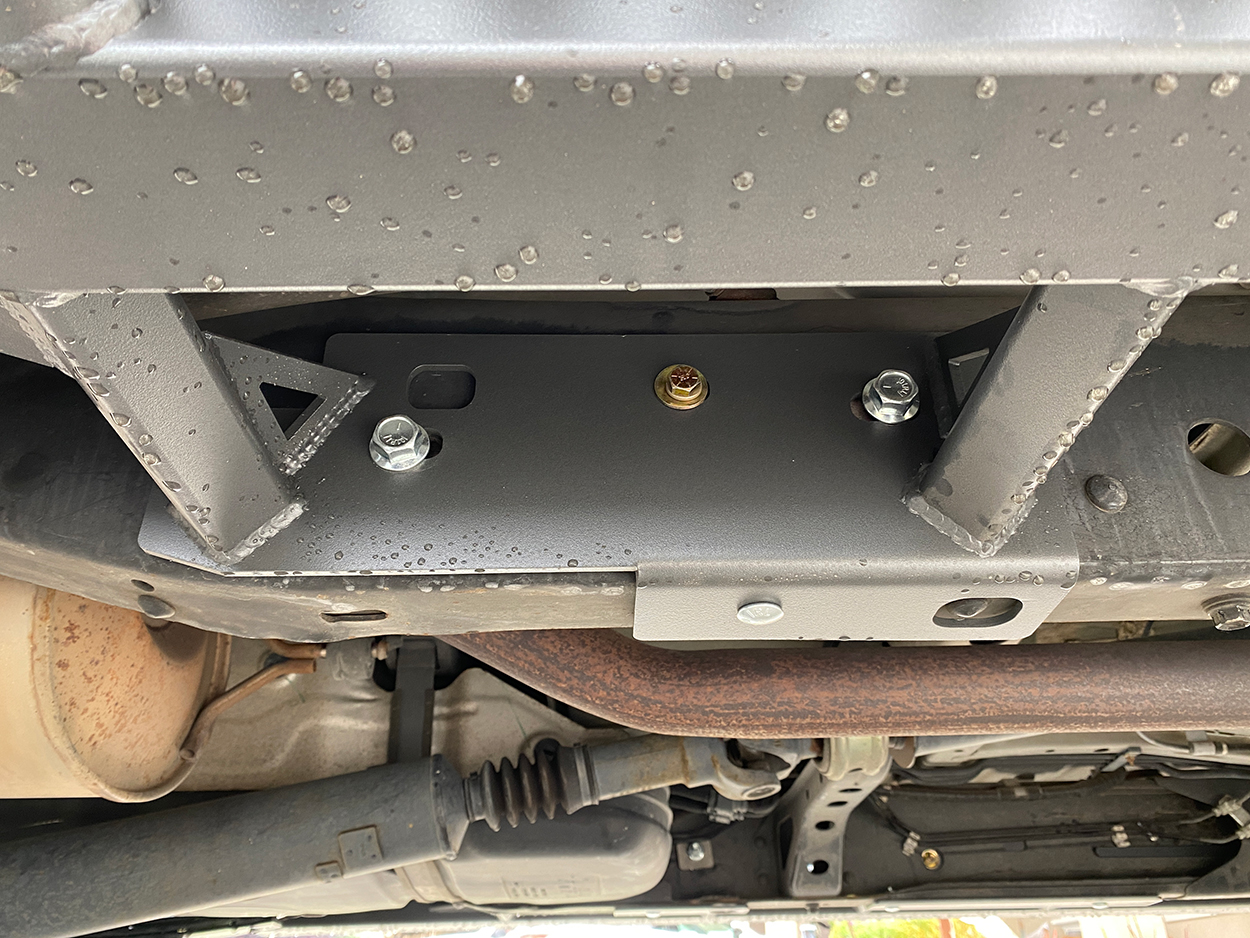 Passenger Side Rear
Final Thoughts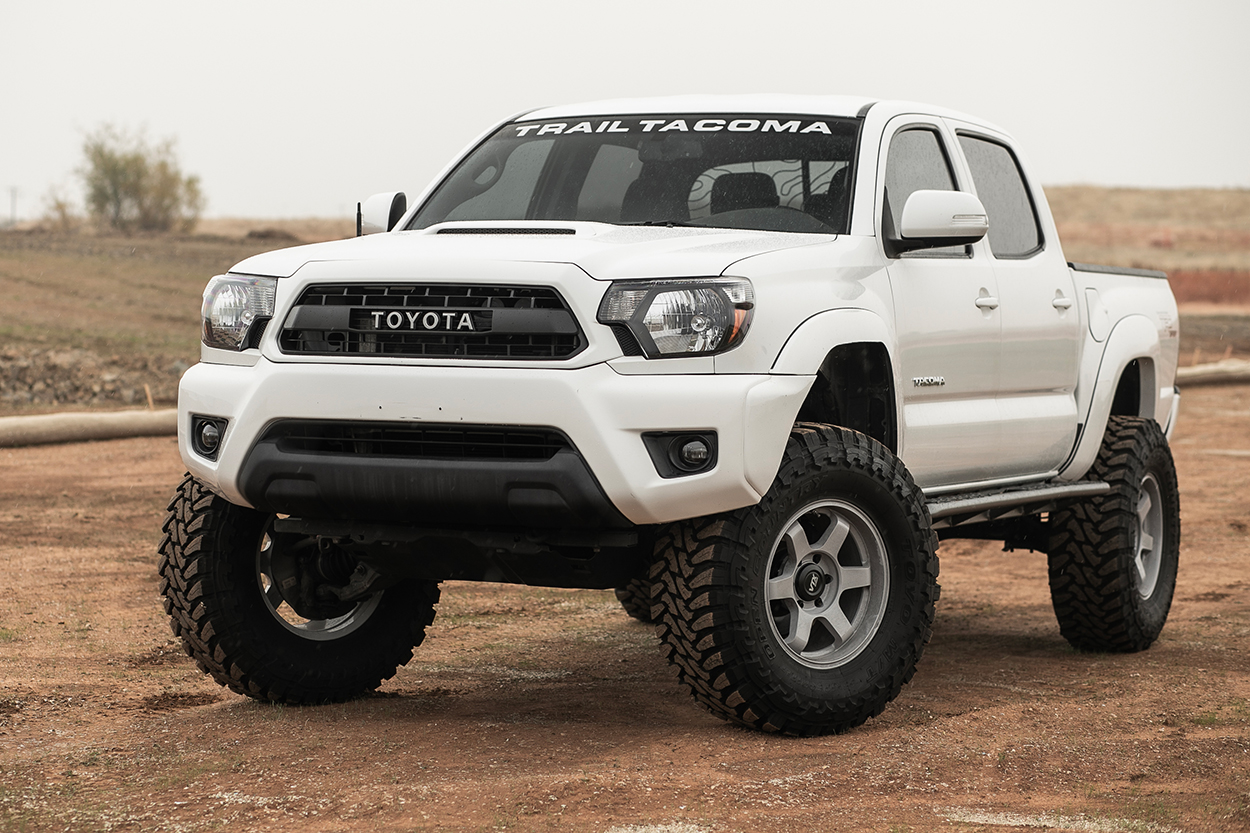 You can't go wrong with the C4 Fabrication Armor. They make versions for all Tacomas; access cabs, long beds, double cab short beds, and double cab long beds. All of their applications are 100% bolt-on for easy installation. Obviously you saw the install, no cutting or welding is required. Drilling holes for those carriage bolts in the bottom of the frame rail is recommended if you want to use a hi-lift jack on your sliders. It's also recommended to install these if you wheel hard. All of the round tube that C4 uses is made from DOM tubing and 3×2 rectangle tube for increased strength and dent resistance.
These sliders featured have removable step plates so if you decide later that you don't want the step plate, you can take them off. Or, you can powder coat/paint them different colors. Speaking of powder coat paint, these sliders ship BARE STEEL. C4 does not offer powder coating services. Your sliders will need to be painted or coated before you install them. We have a good post on how to paint rock sliders so check that out if needed.
Final Shots