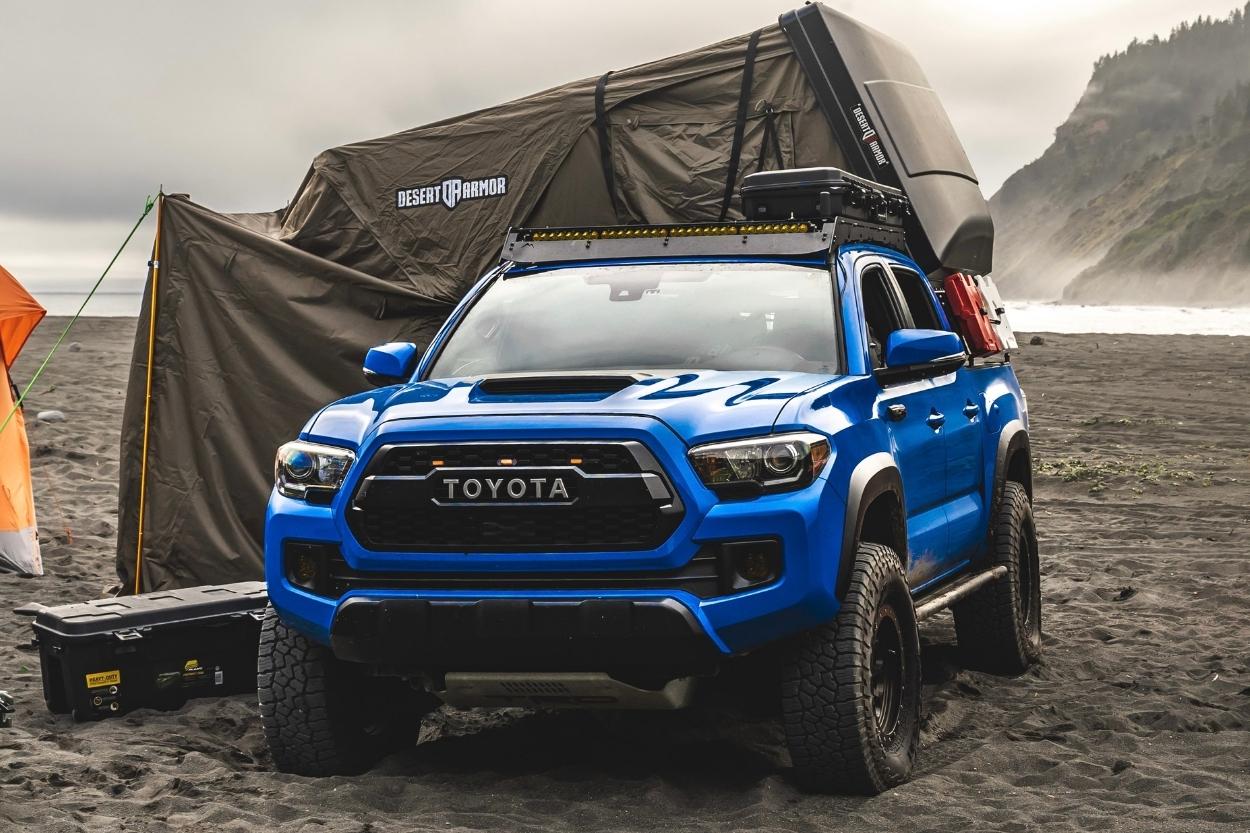 5 Epic Lifted Voodoo Blue 3rd Gen Toyota Tacoma Builds: Check Out These Rad Trucks for Inspiration for Your Off-Road & Overland Rig
This Weeks Topic: Voodoo Blue Tacomas
Welcome back to another Taco Tuesday! We have some bold blue rigs on display this week. Check out this awesome lineup of Voodoo Blue Tacomas from our amazing off-road community.
Voodoo Blue was originally introduced on the Toyota FJ Cruiser in 2007. It was then reintroduced on the Scion XB in 2011. Eight years had passed and the color was brought back in 2019 as part of TRD Pro lineup. In fact, it was the exclusive color for the TRD Pro models that year. Since then, the color has been offered on select Tacoma and Tundra models up through 2021. Voodoo Blue is a color that really pops in the sun and still makes a statement at dusk. It truly is a killer color.
As a recent owner of a Voodoo Blue Tacoma, I really enjoyed doing this for Taco Tuesday. In fact, you'll see mine below (#4). I also have a Cavalry Blue 4Runner TRD Pro. So, you can say I'm a fan of the blues! These two blue colors are polar opposites in my driveway. The Cavalry Blue is a bit tamer and even looks grey in overcast light. The Voodoo just screams "HI GUYS I'M RIGHT HERE!" – both day and night.
I'll tell you what, Toyota really knows how to make a blue. They have so many awesome blues in their current and previous lineups. Enjoy guys.
5 Unique Voodoo Blue Tacoma Builds
1.
Brandon Javier

 

(@

itzbran808

) –

2020 TRD OR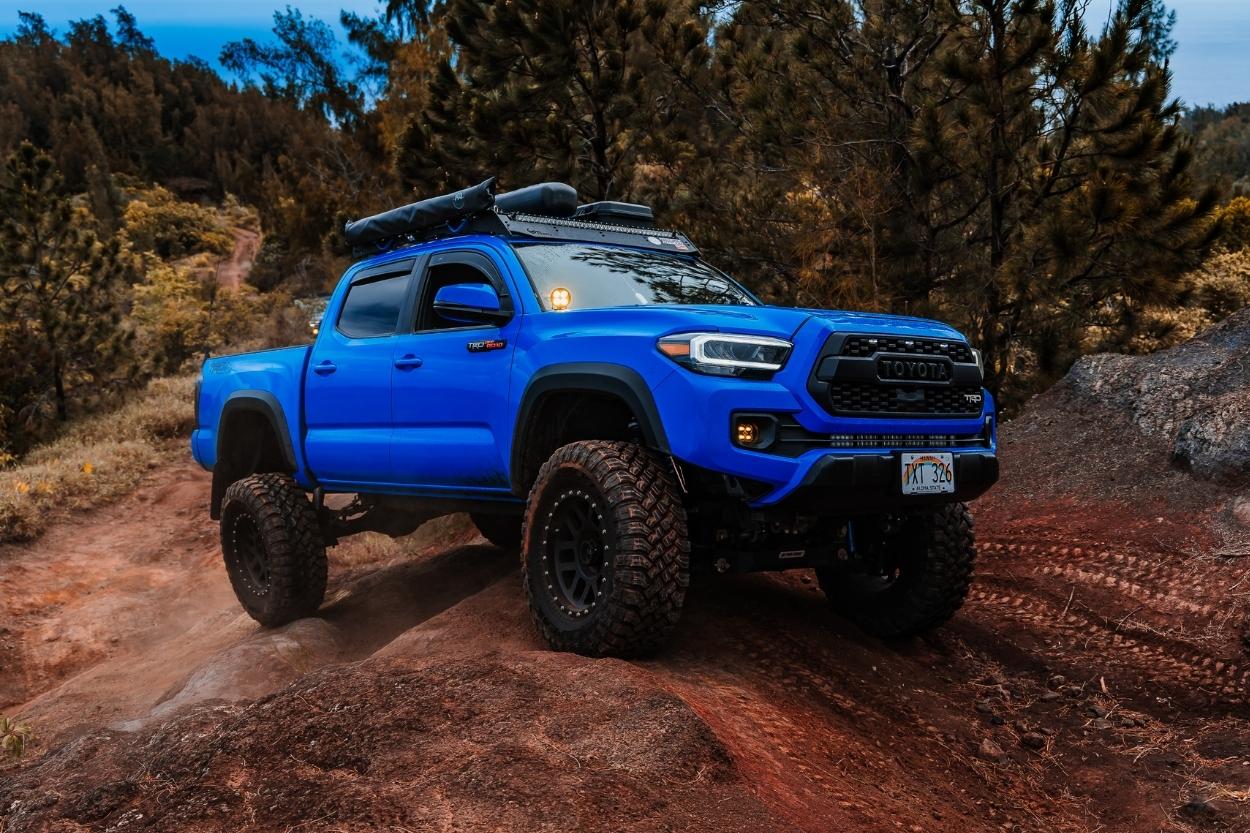 MODS LIST
Wheels/Tires/Suspension
Kings 2.5 with reservoirs
Falken Wildpeak MT 35X12.50
Methods 306 18×9-12
Lighting
MESO Customs V5 switchbacks turn signals
AlphaRex Pro Series taillights
Baja Design Squadron Sports ditch lights

 

Baja Design S2 Sport chase lights
Baja Design Squadron SAE fogs

 

40″ Cali Raised LED light bar
32″ Cali Raised hidden light bar
Armor/Roof Rack
upTOP Overland full height bed rack
Prinsu Roof Rack
Performance
Overland Gear
WaterPORT Weekender
Plano gun case 36″
Overland Vehicle System Awning 4.5
Miscellaneous
Suma Performance mirrors
Midland Radio MXT275 w/ 6db antenna
WHAT DO YOU LIKE ABOUT YOUR SETUP?
I love how the 6″ lift looks with the tire and wheel combo specs that I picked out for the truck.
I think that it's a perfect setup whenever we go camping for a night up at Peacock Flats or just a quick day trip with friends and family.
2. Daniel Alexander (@dasmurftaco) – 2019 TRD Pro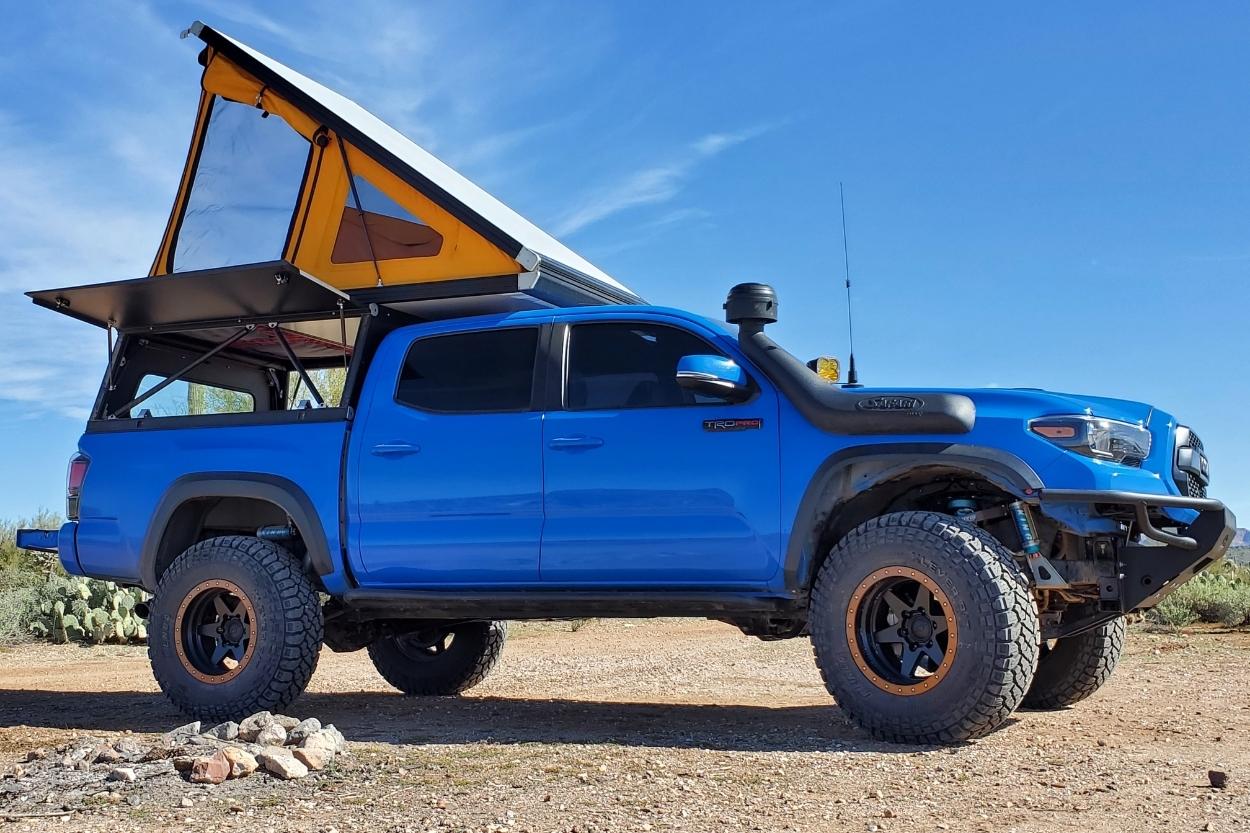 MODS LIST
Wheels/Tires/Suspension
King Suspension front and rear 2.5 with adjusters
Camburg Kinetik UCA
DuroBump Bump Stops (front and rear)
Kenda Klever RT 35×10.50R17LT
Stealth Custom Series Br6 Blaze Bronze Lip -38mm offset
Icon RXT Leaf Pack Stage III
Lighting
Baja Designs XL Sport ditch lights
Armor/Roof Rack
RCI Lower Control arm skid plates
Performance
Safari snorkel with the Snorkel Upgrade Sy-Klone Series
Overland Gear
Miscellaneous
Midland MXT400 GMRS Radio
WHAT DO YOU LIKE ABOUT YOUR SETUP?
The reliability of the vehicle is hard to not love. The truck goes everywhere I ask it to go and I could not be happier with it.
My girlfriend and our two dogs fit perfectly in the truck as well. Having the camper has been a huge game-changer too. It has made the campsite so much easier to tear down and set up. We are blessed to be able to explore as much as we do.
3.
Abrahan Perez

 

(@a

p_yotalndr

) –

2020 TRD Sport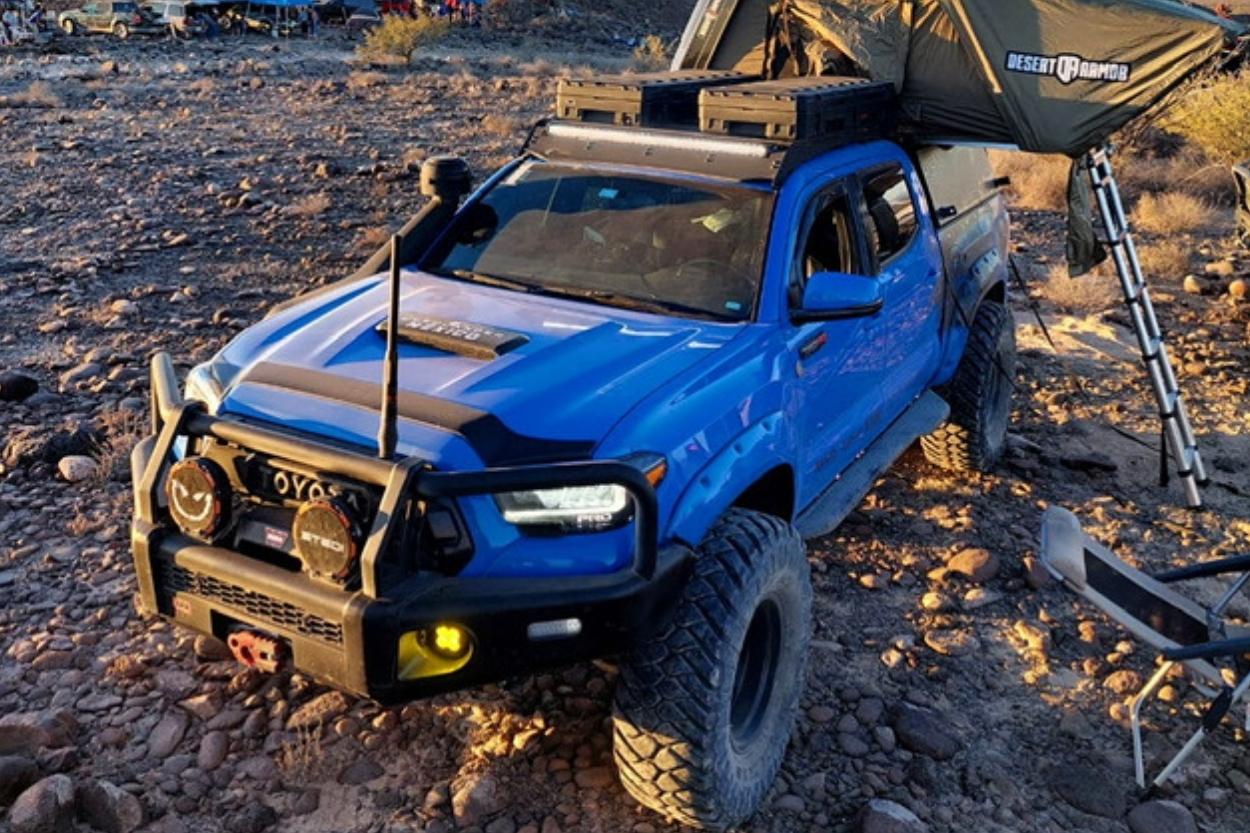 MODS LIST
Wheels/Tires/Suspension
37×13.5 Maxxis Trepadors
Bilstein 5100s front with OME 886 springs front
Pro Off-Road Expedition package leafs and Fox 2.5 DSC rear
Lighting
Armor/Roof Rack
ARB Summit front bumper
RCI rear bumper
Performance
WHAT DO YOU LIKE ABOUT YOUR SETUP?
You don't need a crazy suspension or a crazy lift to have fun! I'm on the limit with those 37s, and I know my limits!
But as it is, it's so capable sometimes it impresses me.
4.
Jon Gangloff

 

(@trd.jon) –

2021 TRD OR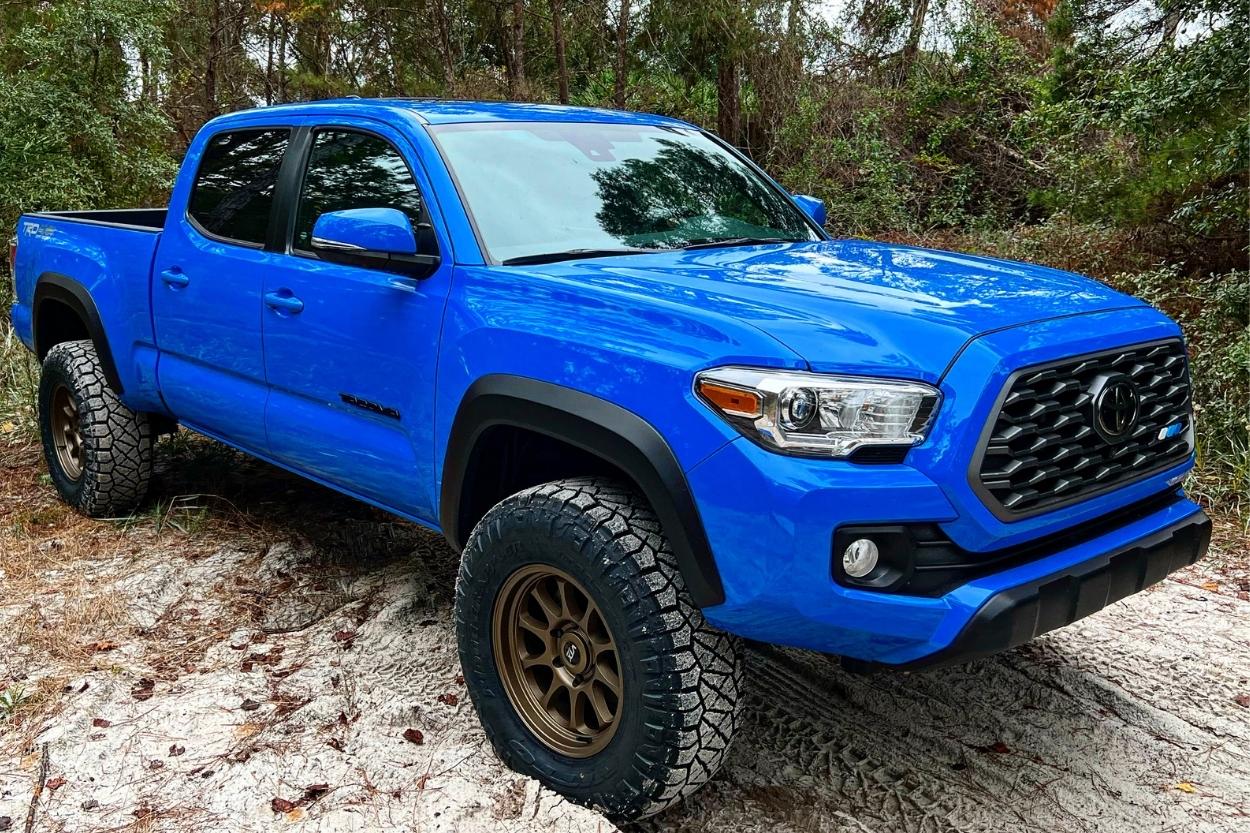 MODS LIST
Wheels/Tires/Suspension
Icon Add-a-Leaf (AAL) kit in the rear
VTX Rogue SL 17X8.5 -10 in bronze
Nitto Ridge Grapplers 285/70/R17
Lighting
LasFit LED headlights/interior LED kit
Yotaverse LED fog lights
Miscellaneous
Tufskinz interior and exterior pieces
WHAT DO YOU LIKE ABOUT YOUR SETUP?
I am still very new to the Tacoma platform, but I will say, this truck is pretty rad.
The OME BP-51 kit is so smooth; a night and day difference over the Bilstein kit that Toyota provides for the TRD Off-Road. The Nitto Ridge Grapplers are super quiet for a hybrid tire. Lastly, I love the bronze on the VTX wheels and how they pop against the Voodoo Blue paint.
5.
Richard Barron

 

(@o

mg.evox

) – 2019 TRD Pro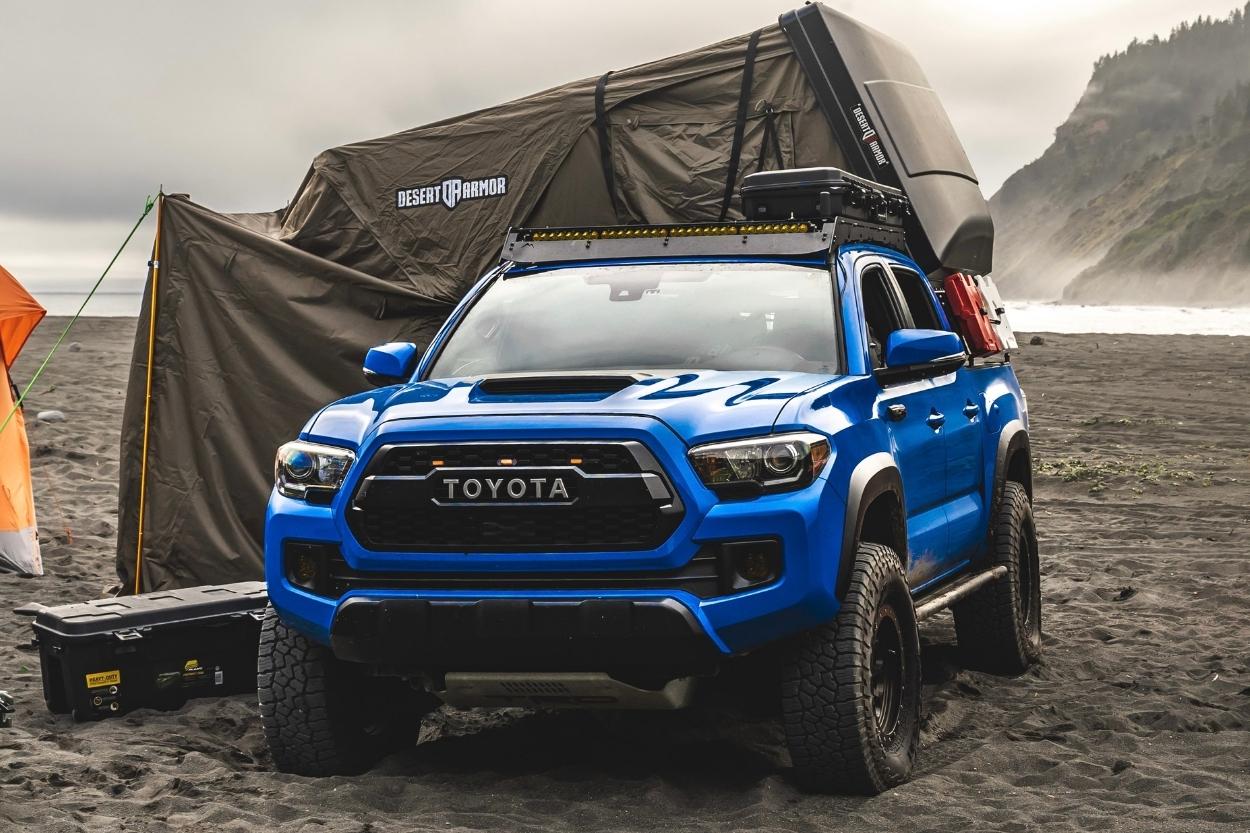 MODS LIST
Wheels/Tires/Suspension
Fox 2.5 with external reservoir and DSC (front)

Fox 2.0 external reservoir with DSC and Icon RXT rear leaf springs (rear)
285/75/16 Falken Wildpeak ATW
Stealth Custom Series Ray 10 in bronze
Overland Gear
Voodoo bed rack
Desert Armor Hardshell tent
Martin Offroad roof rack
Lighting
Baja Designs 40" S8 on the roof
WHAT DO YOU LIKE ABOUT YOUR SETUP?
The truck is ready to go overlanding or go on a trail! I like the low-profile rooftop tent.
I like the ease of overlanding on this setup. I like that I can daily this setup and it's not overdone.
Final Thoughts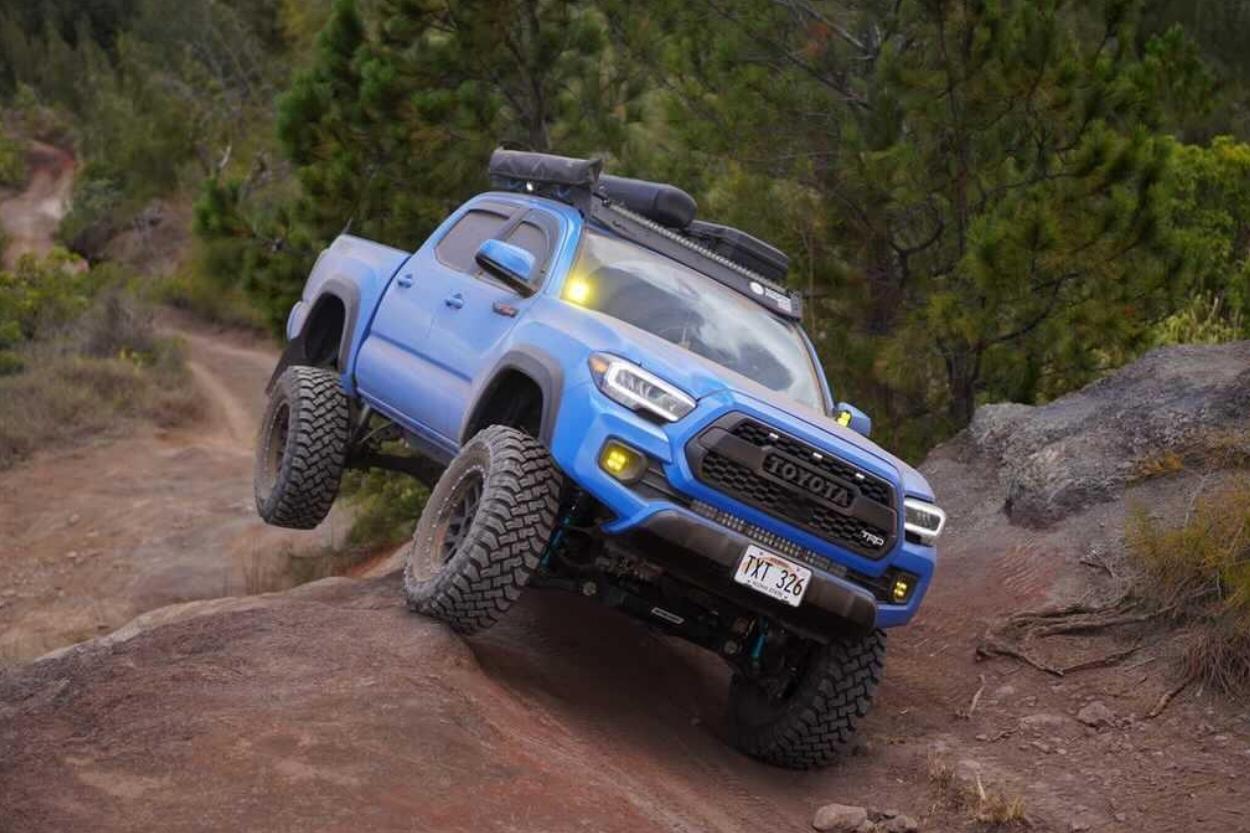 I must admit, I have truly fallen for Voodoo Blue. Personally, I think it looks best on the Tundra, but these last few months of Voodoo Tacoma ownership have been so awesome. The truck really does turn some heads! I love it.
Each week we'll be choosing a different topic. Some weeks, Taco Tuesday will be very generic and some we dive deep into items like Top 5 Tacoma Mods. Regardless, everyone with a Tacoma can submit their truck to be featured here on Trail Tacoma.
If you want to be featured for Taco Tuesday on 2/8/22, submit your build through TrailTacoma.com/Feature. Next week's Taco Tuesday will cover Rock Sliders. We're looking for awesome rigs to showcase. If this is you and you love your setup, send in your rig and details because we want to see it.
Thanks for reading guys. I'll see you next week!