Protect Your Doors & Rocker Panels with a Quality Set of Rock Sliders for Your 3rd Gen Toyota Tacoma – 6 Rock Slider Setups for Off-Roading & Overlanding
This Weeks Topic: Rock Sliders
Welcome back to Taco Tuesday! Today, we'll be showcasing six rigs with various rock sliders in an effort to help you make the best decision possible for your setup. You may even be asking yourself, "Do I even need sliders?"
To me, rock sliders are a 2-for-1 deal when it comes to most brands. Rock sliders help protect your Tacoma's rocker panels from, well, rocks. The sliders allow you to "slide" over a rock, tree limb, or any obstacle that would be in the way of hindering your Tacoma after your front tires have traversed over. Another form of protection is the "kick out" toward the end of the slider, near the rear tire. This allows the truck to get super close to trees or other obstacles that would potentially do harm. Instead, the sliders kick the Tacoma "out" of the way and save your rear panels from potential damage.
Another benefit of rock sliders is that they can act as a step to get in and out of your Tacoma. They also allow you to reach items that you may have on your roof rack. This is achieved by purchasing 0-degree sliders rather than angled sliders. These sliders usually are paired with a top plate, that allows the top of the slider to be completely flat, in turn acting as a running board.
If this post doesn't satisfy your thirst for rock sliders, check out the rock sliders buyer's guide. This guide will cover the 2nd & 3rd Gen Tacoma.
Enjoy!
Top Brands Featured
6 Rock Sliders for Toyota Tacoma
ROCK SLIDER DETAILS
Bolt-on design
Removable top plates
DOM Tubing
Price: from $1,112.00
WHAT DO YOU LIKE ABOUT YOUR SETUP?
No welding or drilling is required. They are all bolt-on which makes installation much easier.
I love the coverage and aggressive look on these bad boys!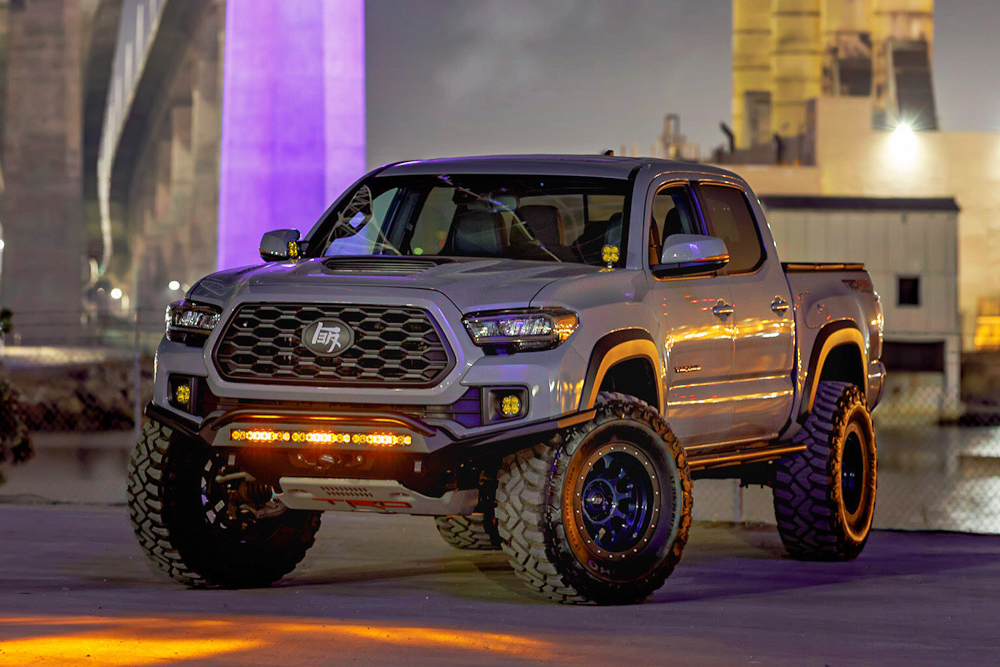 ROCK SLIDER DETAILS
Bolt-on design
Custom made to order
Price: Varies
WHAT DO YOU LIKE ABOUT YOUR SETUP?
These sliders add a great bit of protection to my Tacoma. They also act as a step, which is an added bonus.
These sliders from FabZone also just bolted right into the frame, making for an easy install. 
3.
Steven Sechler

 

(@

vudu_taco

) –

Relations Race Wheels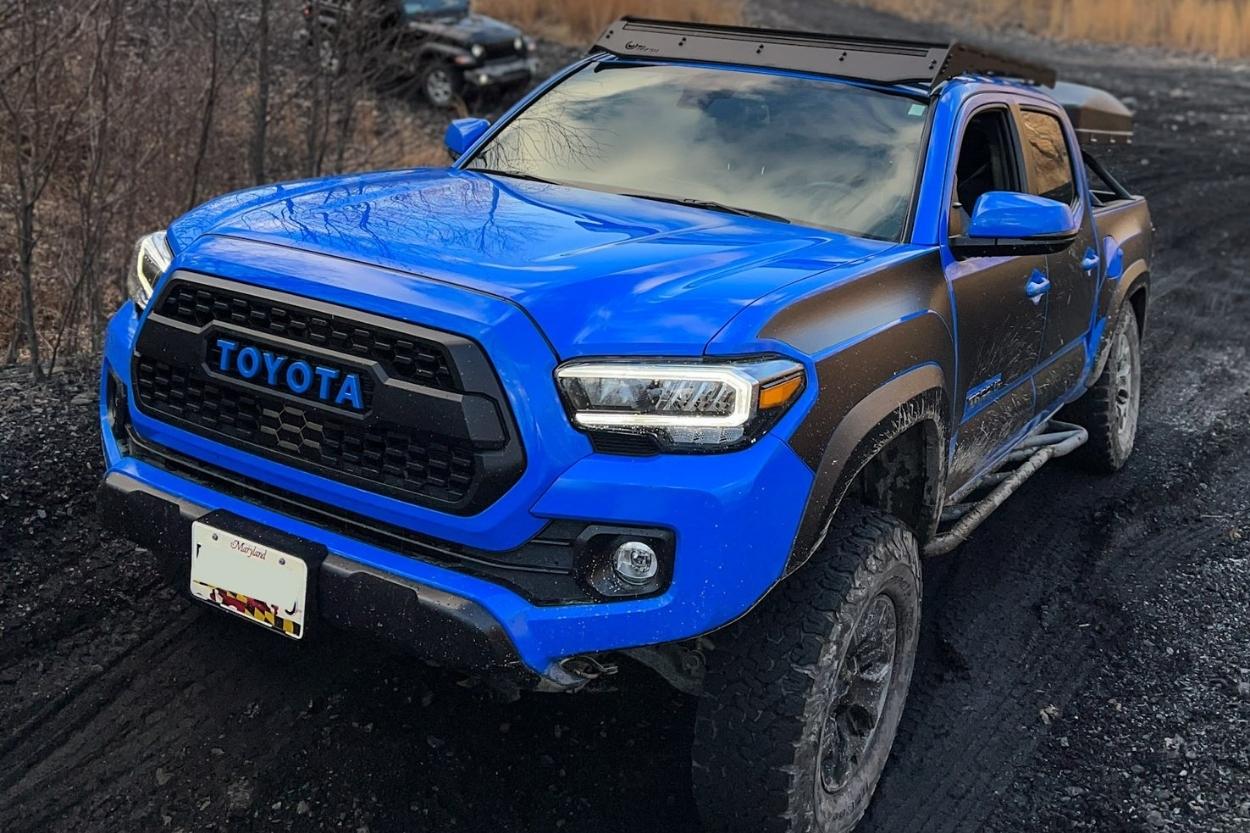 ROCK SLIDER DETAILS
Tube spacer kick out
Bolt-on design

1.75″ .120 DOM Tubing and 3/16″ frame mounting plates

Price: from $995.00
WHAT DO YOU LIKE ABOUT YOUR SETUP?
I like that these sliders are versatile and unique. I can depend on them through various conditions/obstacles.
They are small enough to drive comfortably through the city. The aftermarket for these vehicles is fantastic. Most of all, I appreciate the community that comes along with owning one.
4.
Jacob Ingolia

 

(@w

andertaco

) – Hot Metal Fabrication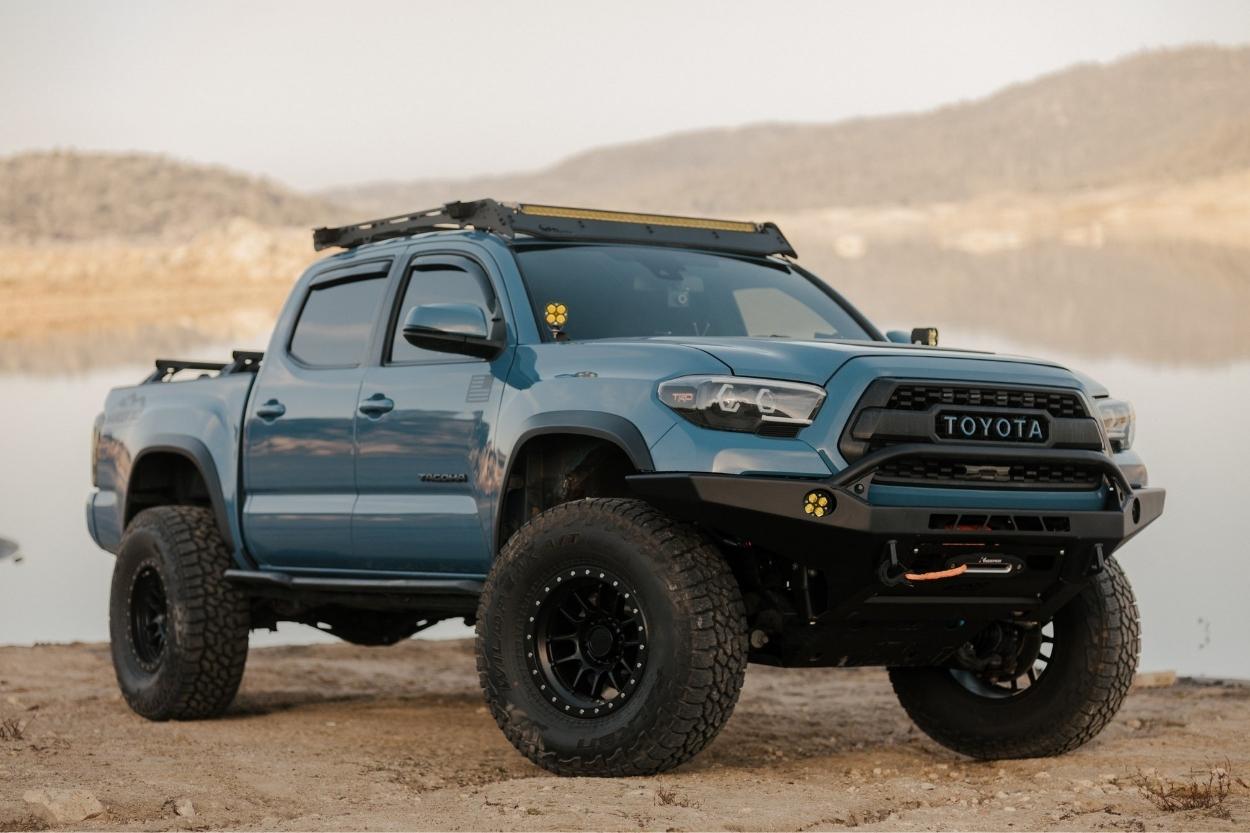 ROCK SLIDER DETAILS
23

°

angled sliders
Custom top plate
Weld-on design

1 3/4″ X .120 round DOM tubing

Price: from $1,000.00
WHAT DO YOU LIKE ABOUT YOUR SETUP?
What's nice about this setup is it's fully custom. No one else has the same slider setup as me.
The top plate has a custom mountain design with the backplate saying wander. It ties into the WanderTaco business and adds a little bit of uniqueness to the build.
5.
Daniel Calvillo

 

(@

whittier_taco

) – Cali Raised Off-Road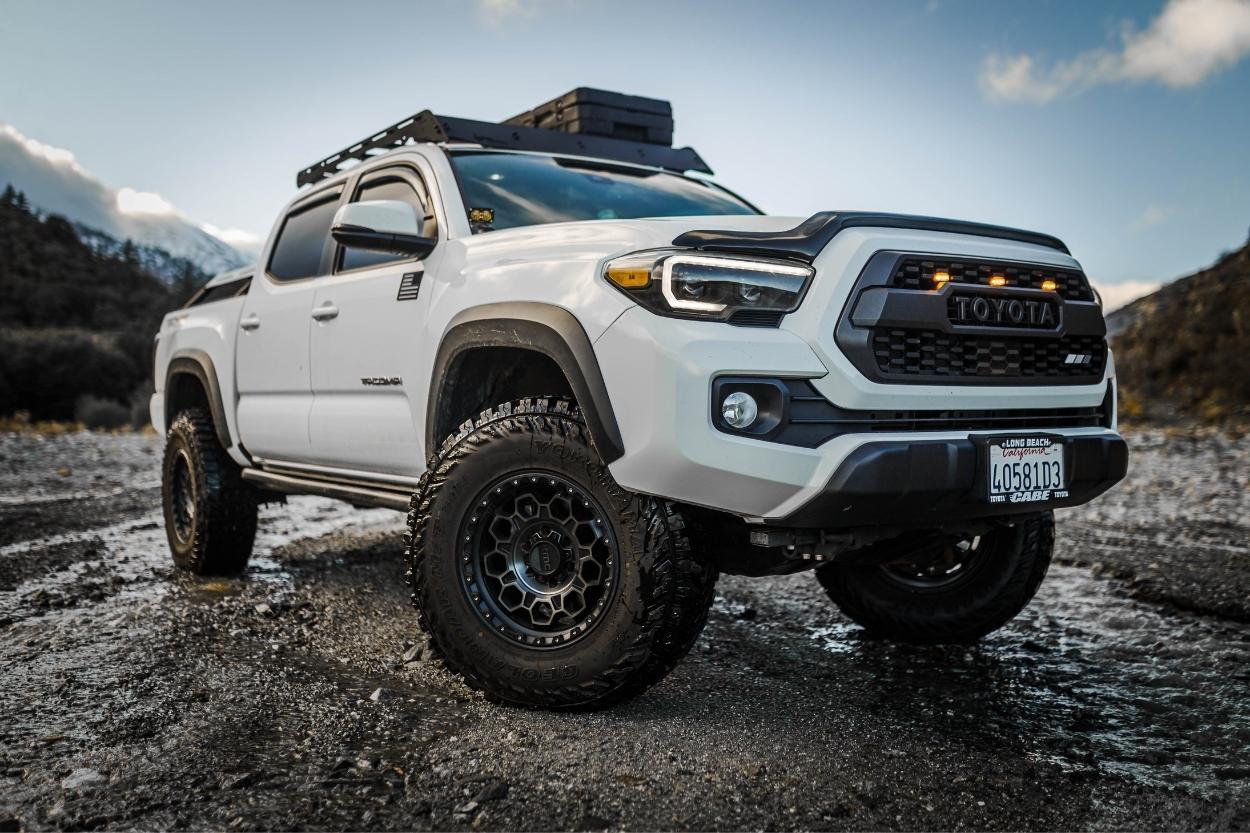 ROCK SLIDER DETAILS
25

°

with kick out

DOM 1.75″ tubing

Bolt-on or weld-on options
Price: from $749.99
WHAT DO YOU LIKE ABOUT YOUR SETUP?
When I was looking for rock sliders, I was looking for one with a kick out and that didn't stick out way too much. The Cali Raised one was also available for local pick up which was also a big part of why I picked it up.

These sliders are built solid and held up the few times I've had to use them. I only wish I had them earlier because I already dinged my rocker panel on an off-shoot I wasn't supposed to take.
6.
Miguel Acabral

 

(@

dadbod.trd.tacoma

) –

Relations Race Wheels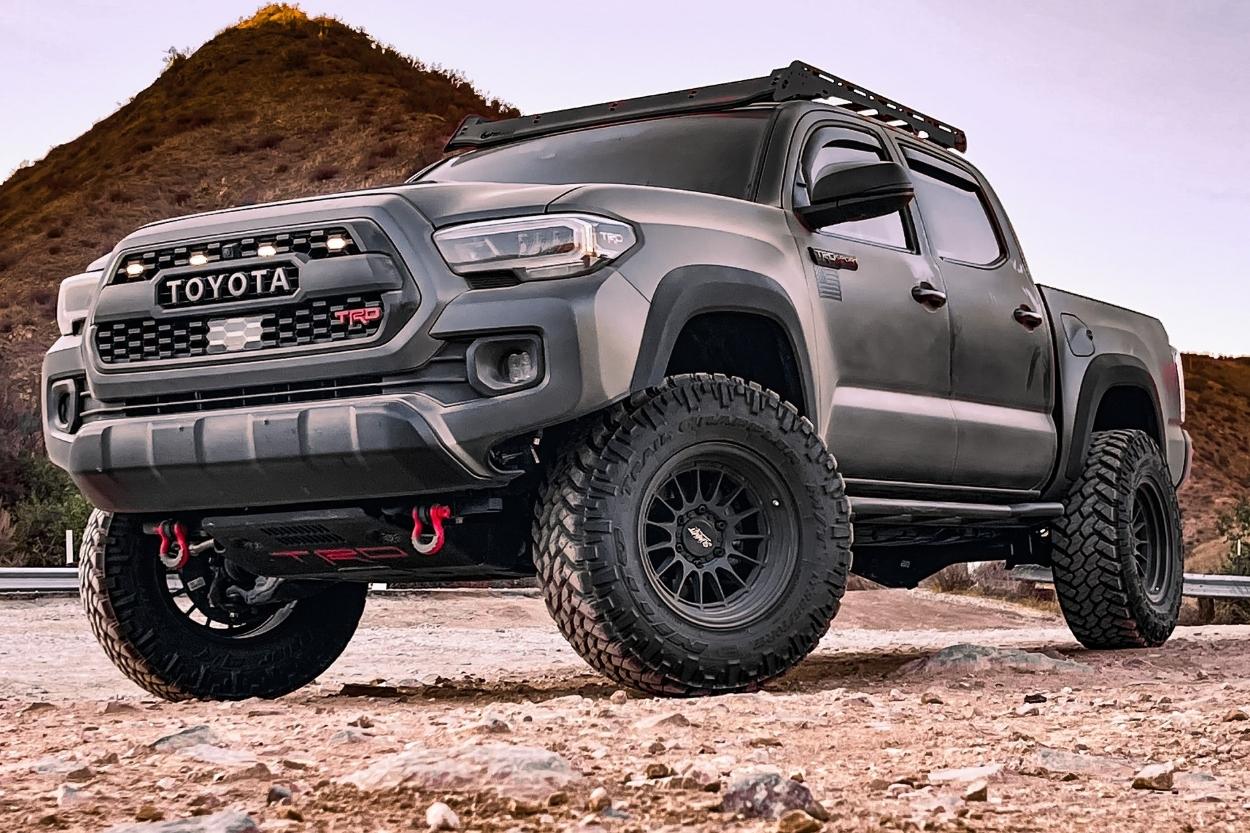 ROCK SLIDER DETAILS
Standard Bed Length (Step Plate Kickout)

Bolt-on design

Full DOM Steel

Satin Black Powder Coat

Price: from $995.00
WHAT DO YOU LIKE ABOUT YOUR SETUP?
This setup is super sleek and effective. The sliders have an 8° angle, which offers protection to the rocker panels, while still serving as a step when needed.
Having the step plate on the kick-out is a plus, especially for the peace of mind if you have kids. Most other brands only offered full plated or full tube options.
Final Thoughts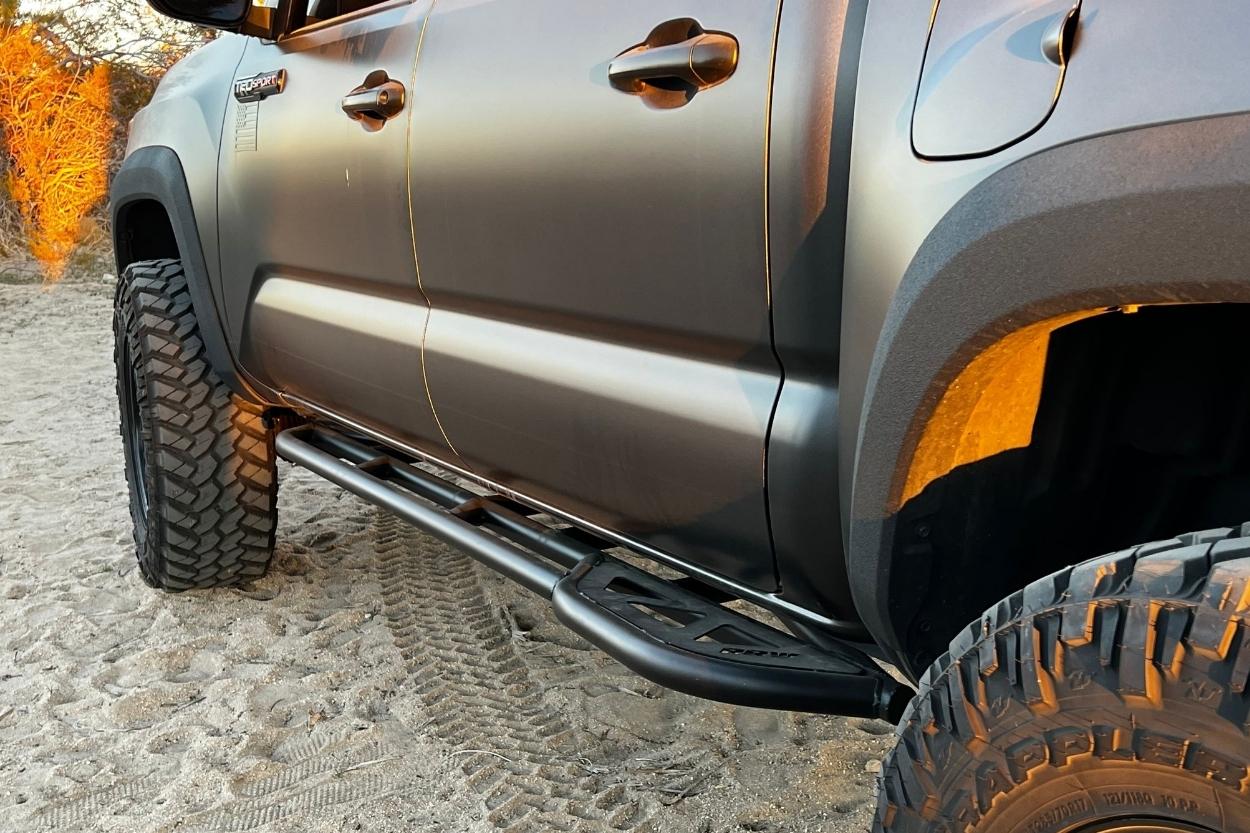 I definitely need some sliders for my Tacoma now after going through this Taco Tuesday. Who's with me?
If you want to be featured for Taco Tuesday on 2/15/22, submit your build through TrailTacoma.com/Feature. Next week's Taco Tuesday will cover Bed Racks. We're looking for awesome rigs to showcase. If this is you and you love your setup, send in your rig and details because we want to see it.
Thanks for reading guys. I'll see you next week!