Ironman 4×4 America 6.5′ Instant Universal Awning w/ Integrated LED Lighting Mounted on DIY Roof Rack on Toyota Tacoma – Installation Guide, Review & Overview
Last summer I spent a week solo adventuring around Oregon in July. I wheeled, camped and mountain biked everywhere I went and that was all I did. One of the best spots I hit up was Mt. Bachelor in Bend. As a Californian I hardly ever encounter rain or inclement weather aside from a few rare winters. So, traveling mid-summer, I had absolutely no expectation of bad weather. You can see where this is going.
A rain storm came through and left not only me, but all of my mountain bike gear nice and damp – and so began my love for awnings. If you aren't already aware, roof-mounted awnings such as the one in this post are pieces of heavy duty material attached to telescoping rods that unfold from their cover on your roof or even your bed rack. They come in a variety of sizes and provide you with key overhead coverage to provide shade or block rain and snow.
In this post I'll cover the quick install and key features of Ironman 4X4's 6.5′ awning.
Find It Online
Features
Weatherproof ripstop poly-cotton
1000D PVC waterproof travel cover
Integrated LED light strip with built in dimmer
Weight: 21 lbs
8′ extended length with 6.5′ width
Installation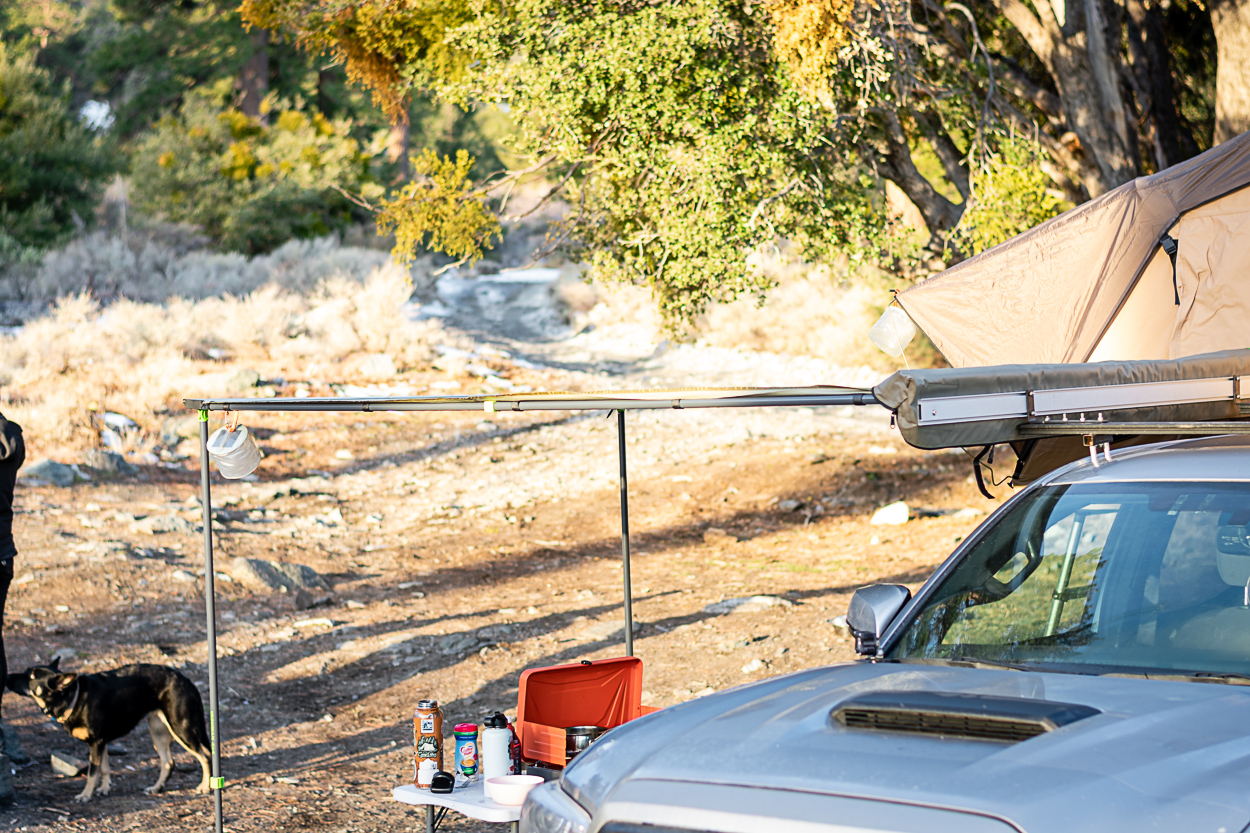 Rather than go through a step-by-step process, I'm just going to explain the setup altogether because it's pretty simple. Basically, your awning will come in its cover, with L brackets and the hardware to attach the awning to the brackets. For my setup, I mounted my awning to a homemade roof rack that I built out of aluminum extrusion. Most common roof rack systems use extrusion as the crossmembers so if you're mounting to that you can follow my lead.
Essentially, I got eight 1/4″ carriage bolts that fit into the t-slots on my roof rack and spaced them out with the holes on the awning's brackets. Then I put the bracket, washers, and nuts on top. Finally, I mounted the awning to the brackets in a similar fashion – there is a t-slot on the backside that you slide the bolts into and bolt it to the other side of the L bracket.
Setup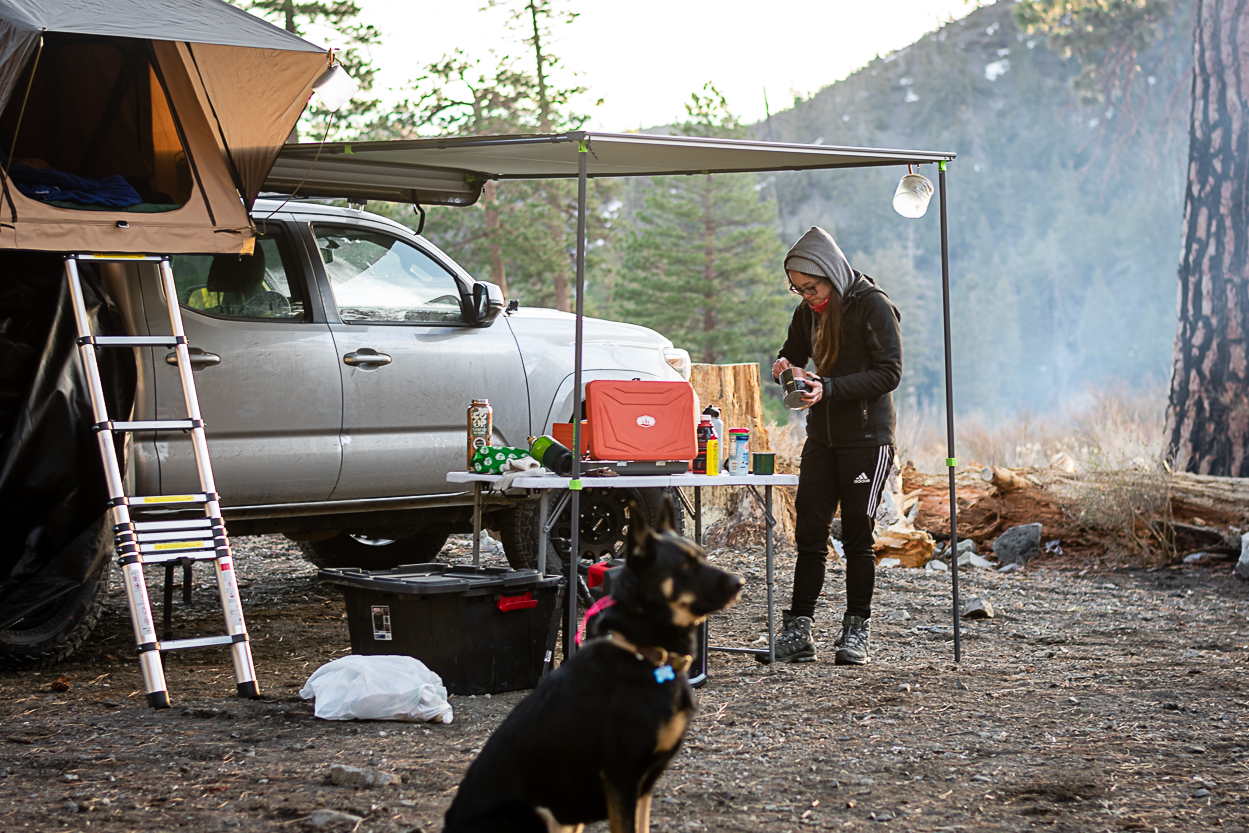 The setup for this awning is similar to most standard awnings on the market.
Unzip the cover, pop out the horizontal support bars, and unravel the awning. Then you can extend the horizontal bars to the corners of the awning and drop down the telescoping vertical bars. Finish up some adjustments to make it all tight and clean and you're done.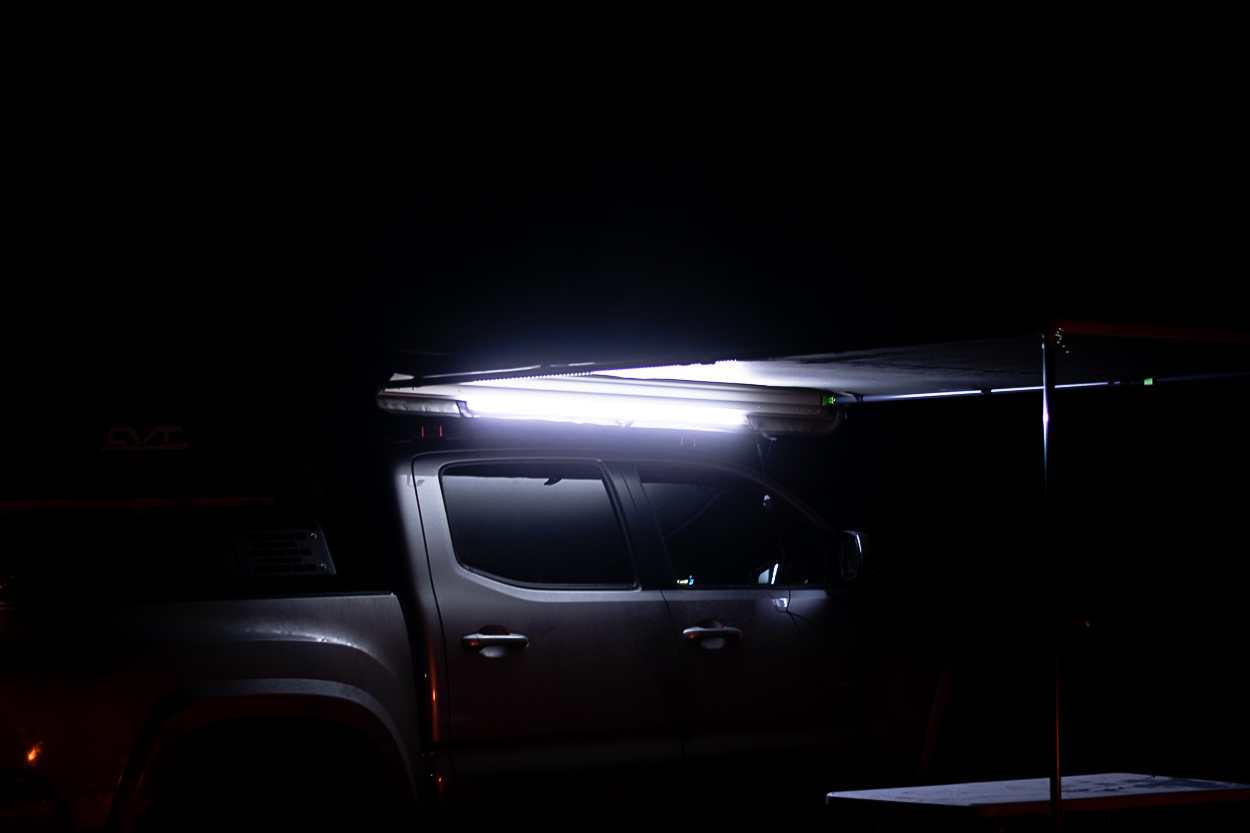 The awning also comes with an integrated light strip that is super bright.
It has a dimming control and is powered by plugging in the cable to a car cigarette lighting outlet. I would suggest getting a USB converter so that you can plug it into a normal power bank and not pull from your truck's battery.
Initial Impressions
I have taken this awning on a few trips around the SoCal area and I have been impressed. I have previously used a 4ft awning but the 6.5ft width provides a ton more coverage. Being able to fit my folding table, kitchen setup, and my entire camping gear bin underneath the awning is super convenient. I haven't used it in any heavy rain or snow yet, but I can fairly confidently say it would hold up. Plus, knowing that I have that much more coverage from inclement weather when I eventually encounter it offers immense peace of mind.
If you're looking for even more overhead cover than this awning can supply, I would highly suggest checking out Ironman's line of Delta Wing 270 awnings. However, if you're looking for a budget-friendly option to provide you with a barrier from the elements, the straight (180) awnings from Ironman are a great choice. It's ultimately going to be up to you to decide what level of coverage you need and how much you want to spend, but I will say that awnings are some of the most practical and user-friendly accessories that I have found for camping.
Setting Up at Camp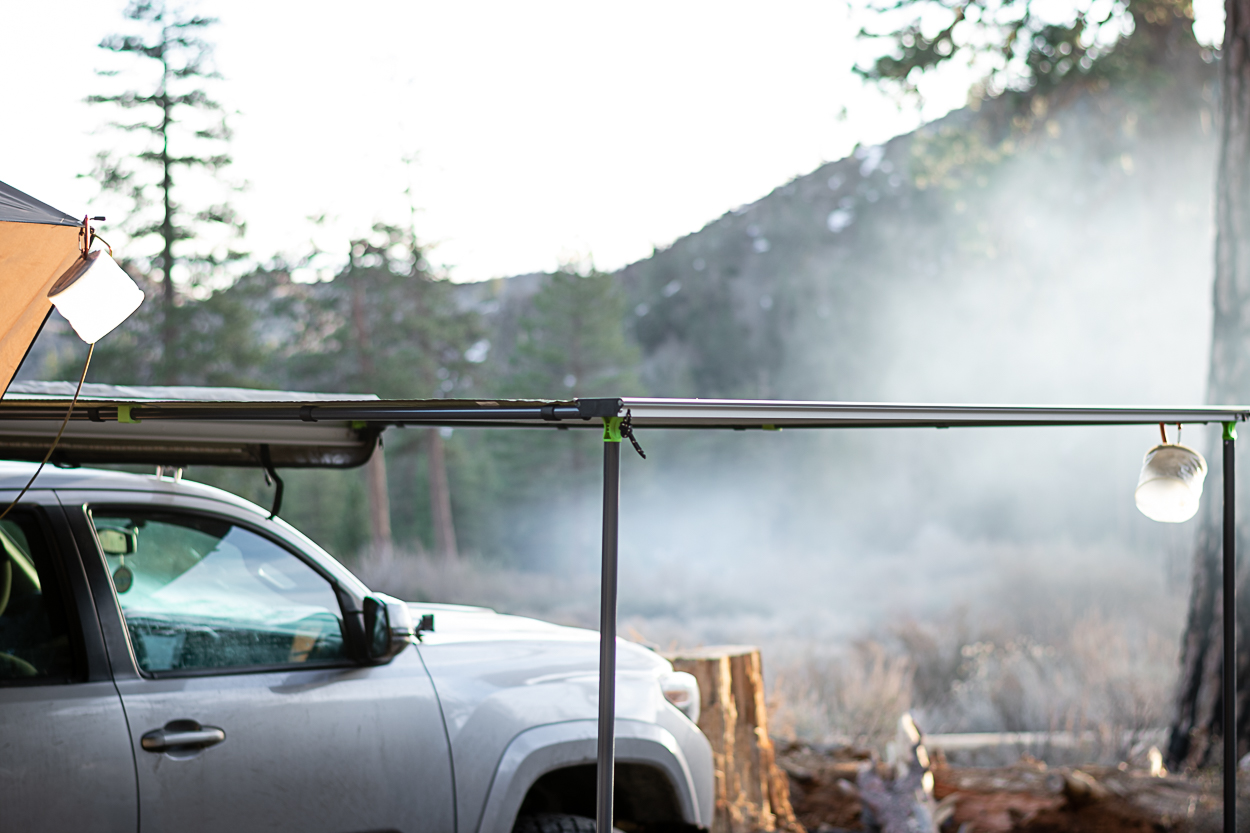 Telescoping Support Arm