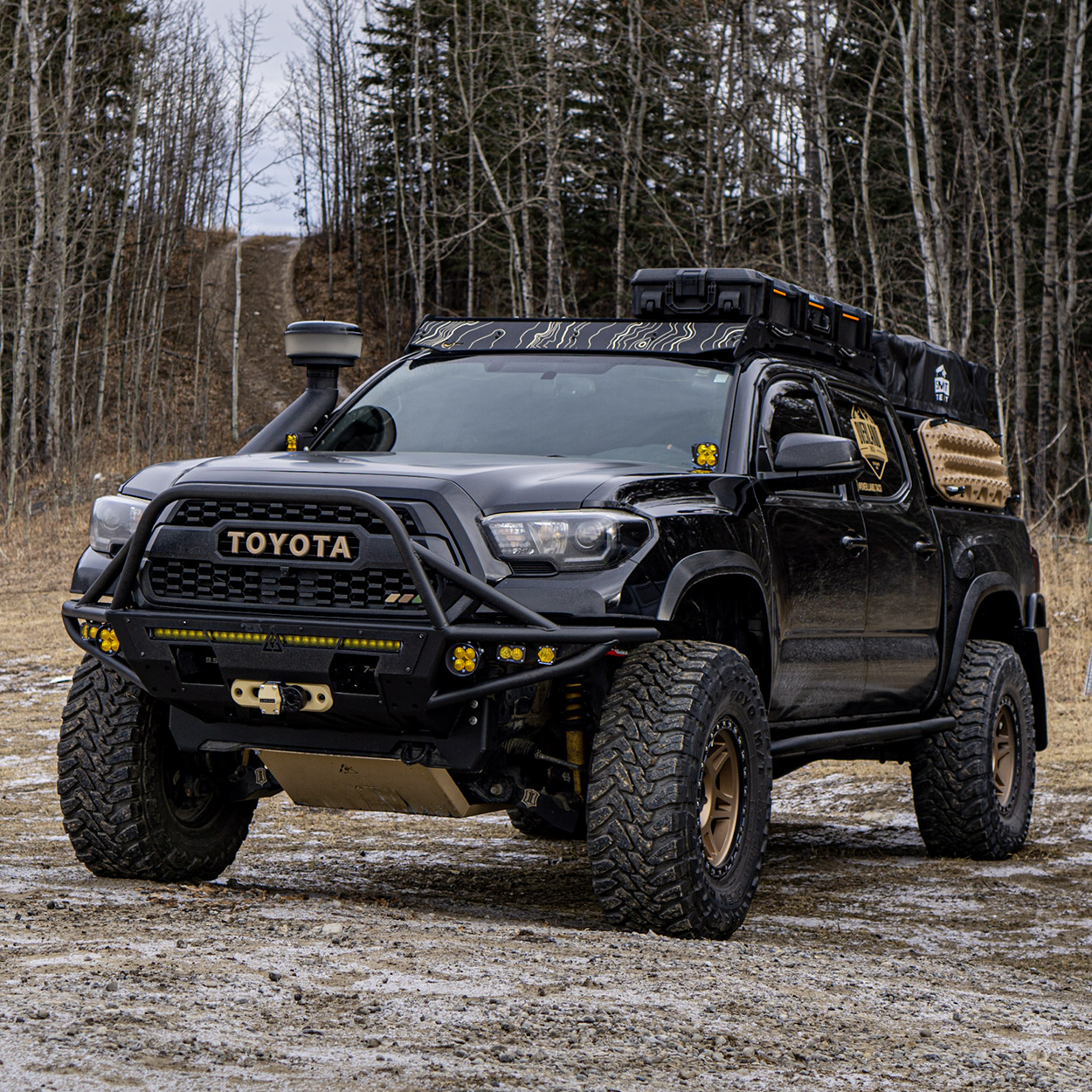 7 Midnight Black Metallic Toyota Tacoma Setups to Inspire Your Truck Build in 2022 – Modifications List & More!
This Week's Topic: Midnight Black Tacomas
Welcome back to another Taco Tuesday! This week we are taking our eyes off of a specific modification and turning our focus toward complete Tacoma builds. This Tuesday we have a compilation of 6 Midnight Black Metallic Tacomas that you can pull some build inspiration from.
Midnight Black on the Tacoma has to be one of my favorite darker colors that Toyota offers on the Tacoma platform. My other favorite is that amazing dark metallic green color they offered for the 2nd Gen – Timberland Mica (insert drool emoji). Midnight Black Metallic isn't just your typical boring single-stage gloss black color either. Midnight Black has hints of blue, purple, and green within its metallic flake. Depending on how the sun hits this paint determines what color pops through. It is truly an awesome color, and when paired with the right mods, the color really stands out.
Now at the end of the day, I would never personally own a black truck unless I truly had to, like my 1st Gen Tundra since it was the only clean, decently priced truck within 300 miles of me. But that doesn't mean that I can't appreciate how great a dope Midnight Black Tacoma build looks. The reason I wouldn't want to own another black truck is for the typical excuse that my vehicle will be dirty ALL the time. This excuse was proven 100% true when owning my Tundra for two years. But this is perfect for an off-road truck!  The rigs featured this Tuesday look incredible though, and the owners provided their full list of mods so you can get an idea of how to potentially mod your Midnight Black Metallic Tacoma build.
Enjoy guys!
6 Midnight Black Toyota Tacomas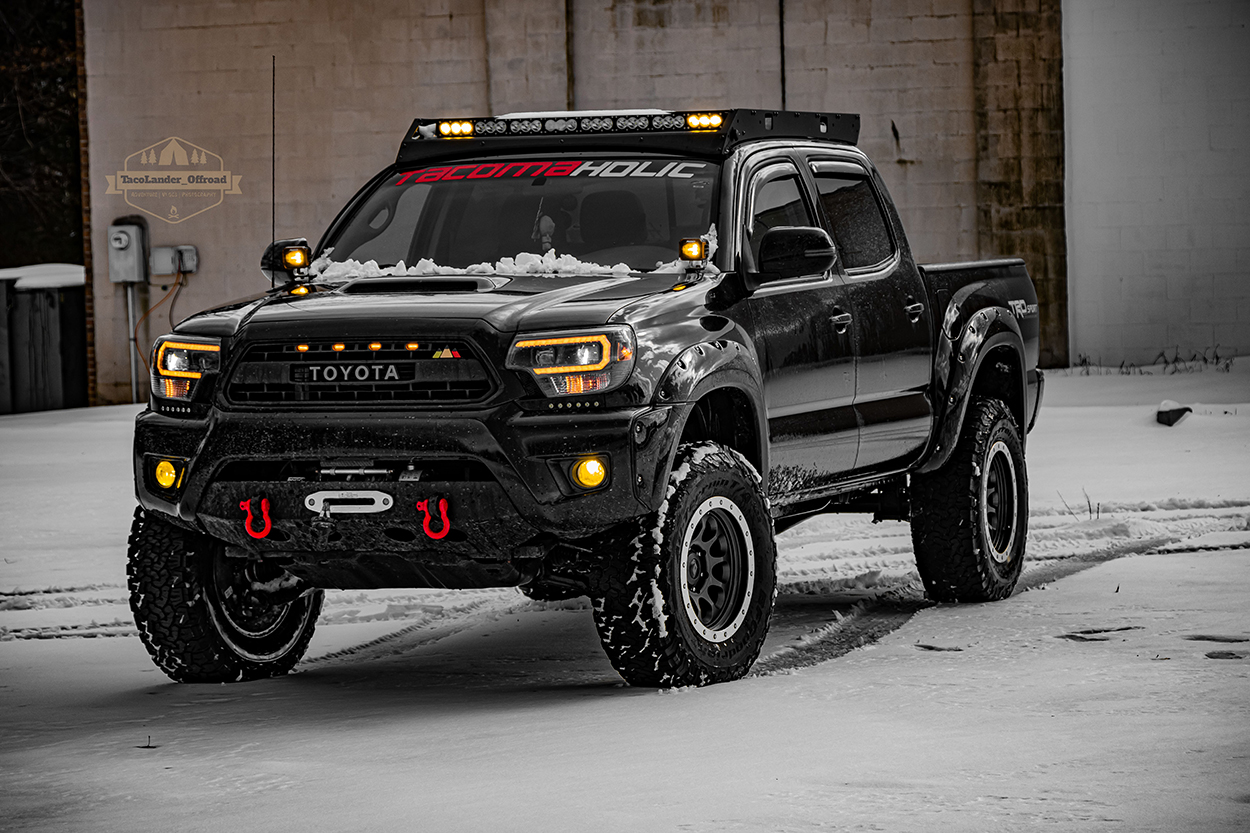 MODS LIST
Wheels/Tires/Suspension:
Stealth Custom Series Ray10 (17×9)
BFGoodrich K02 285/75/17
Icon Vehicle Dynamics 3″ Lift
SPC UCAs
Armor/Roof Rack:
Southern Style Off-Road bumper
Cali-Raised LED Premium Roof Rack w/ 43″ Dual-Color LED Light Bar
Lighting:
Morimoto XB Hybrid Headlights
Rigid Industries Pod Lights
AlphaRex Pro LED Taillights
Miscelleneous:
TRD Pro Grille
Tacomaholic Windshield Banner
WHAT DO YOU LIKE ABOUT YOUR SETUP?
I like that it looks like the way people used to build trucks. What I mean by that is when trucks used to be functional, while still looking cool.
When I started off my build, I was going for a more overland focused approach. Unfortunately, I have stopped the build for the moment because I'm trying to purchase a home and other big life items.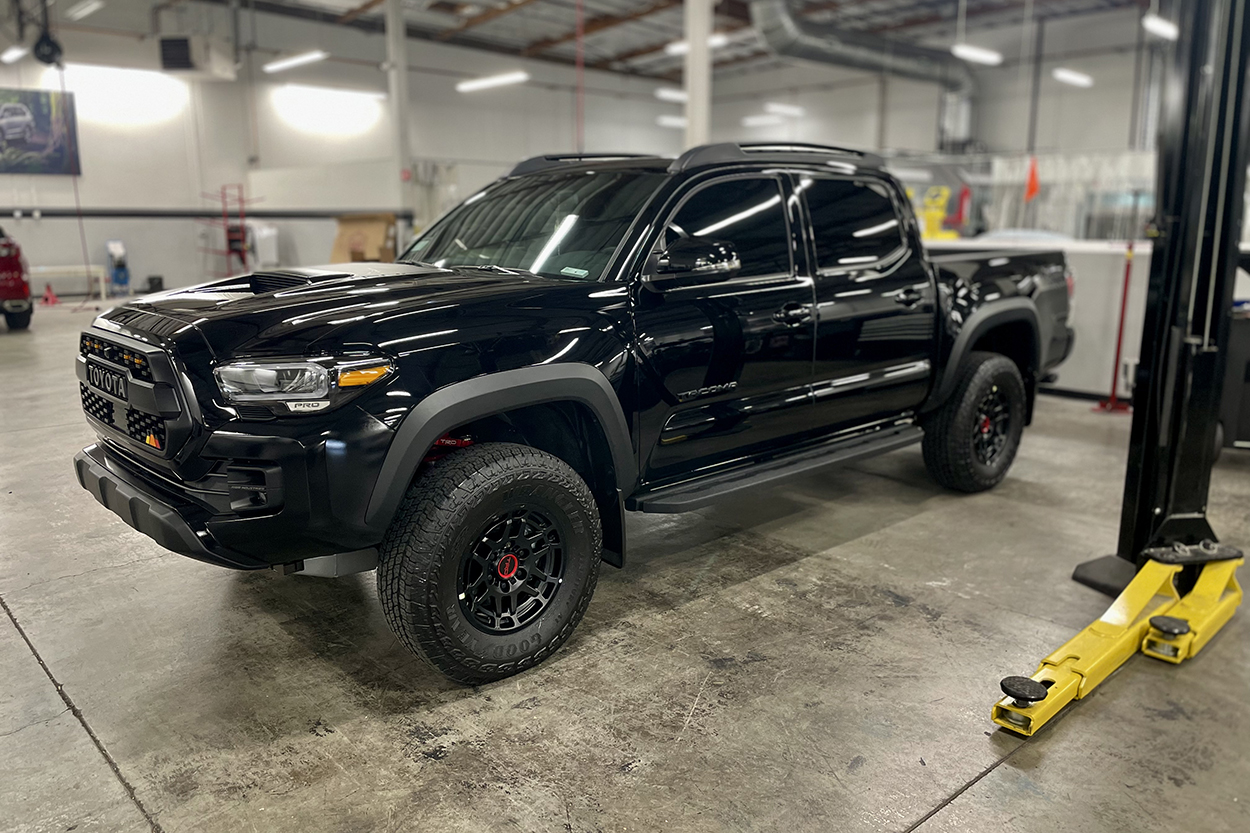 MOD LIST
Miscellaneous:
Raptor Grille Lights
Taco Vinyl Mountain Grille Badge
Window Tint
WHAT DO YOU LIKE ABOUT YOUR SETUP?
I love that this truck turns heads when I drive by people. They see the stamped TRD Pro badge on the side of the bed (which is new for 2022) and it makes me smile.
I love that I am the only one in my city with a new 2022 TRD Pro Tacoma. The 2022 TRD Pro is very rare with super low production currently, so I am really driving something special.
3. Fitz Manalansan (@1st.kind) – 2014 TRD Sport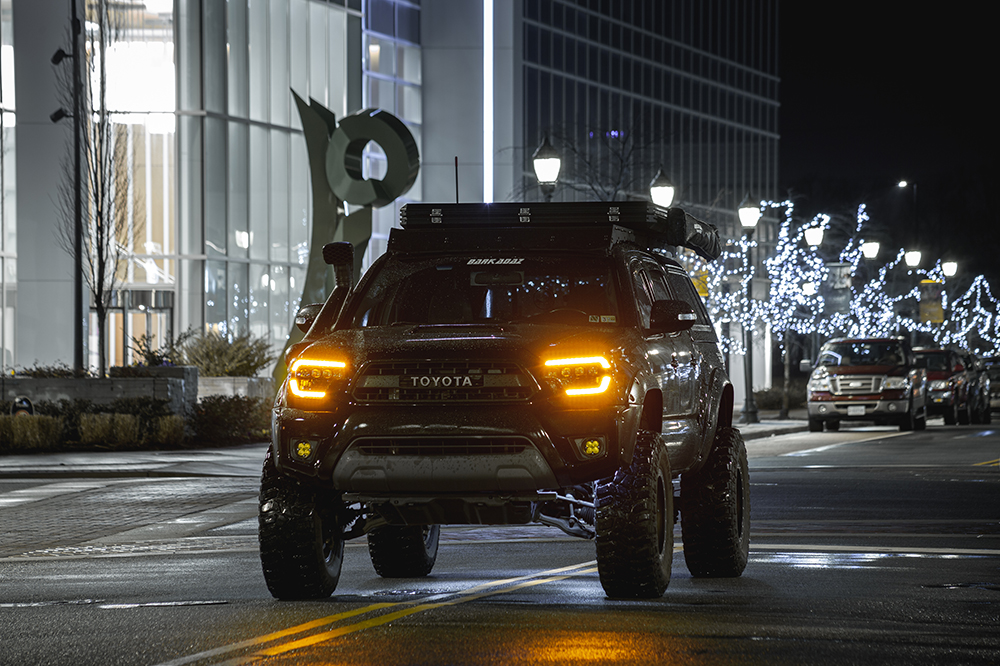 MOD LIST
Wheels/Tires/Suspension:
17×9 -38 Stealth Custom Series BR6s
315/70/17 Cooper STT Pros
Bilstein 5100's w/ 620lb Toytec springs
Total Chaos Fabrication UCAs
Toytec Boss Rear Shocks
Armor/Roof Rack:
Martin Off-Road Cab Rack
Martin Off-Road Camper Rack
Lighting:
Alpharex Nova Series Headlights
Baja Design Sport Fog Lights
Overland & Recovery Gear:
Century Truck Cap Camper Shell
Outertents Slimline tent
Miscellaneous:
Cali-Raised Off-Road Bed Stiffeners
WHAT DO YOU LIKE ABOUT YOUR SETUP?
So far my build has been serving me very well for what I do. Although I am still in the process of building it to reach its fullest potential for any type of trail situation, I enjoy every bit of what I have put into this build currently.
The slimline tent from Outertents has by far been my favorite purchase for the truck so far. To be able to sleep very comfortably in the mountains has been a huge plus for me. I also appreciate how great the performance has been of the Nova Series headlights from AlphaRex. They are really bright! Overall I love my build for what it is, even if I don't have the mods everyone else has, I'm happy about how well it serves me.
4. Blake Duncan (@the_ole_crow) – 2019 TRD Off-Road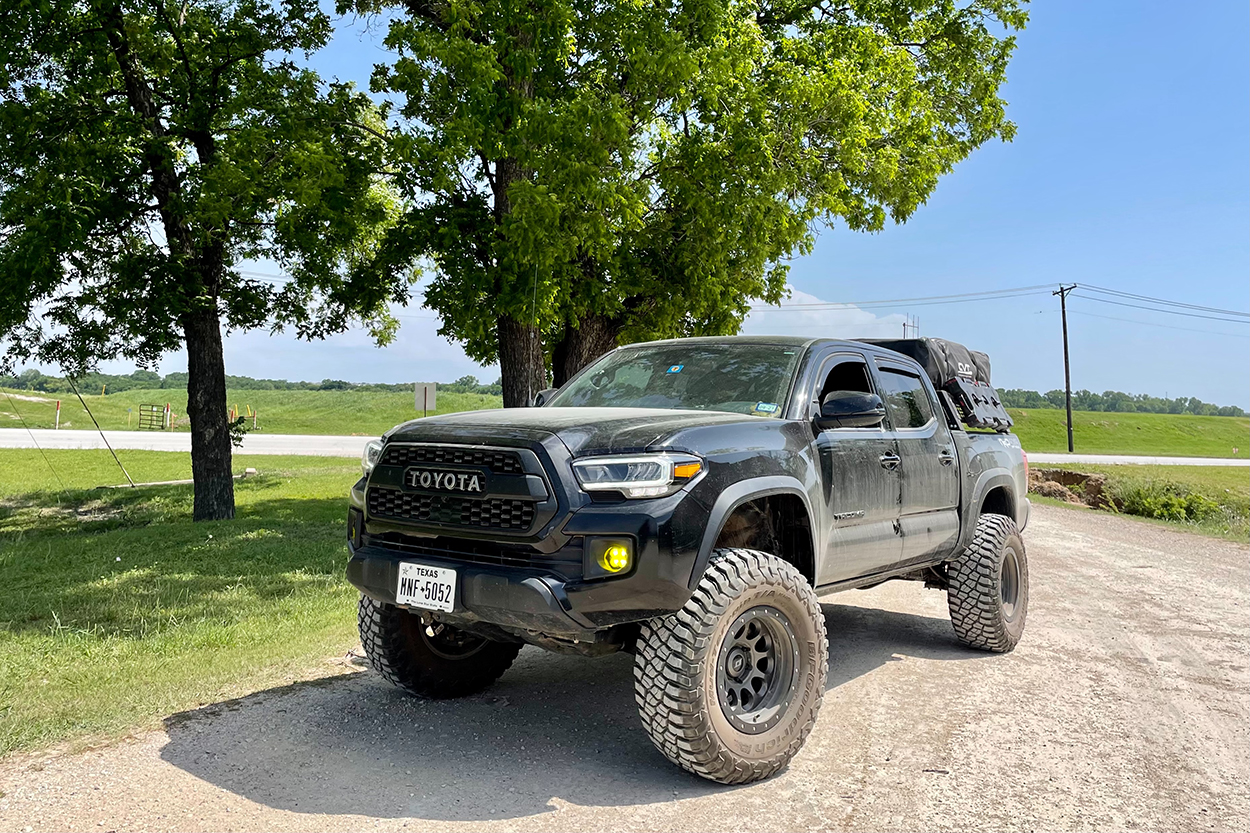 MOD LIST
Wheels/Tires/Suspension:
SCS Ray10s 17×9 -38
BFGoodrich KM3 35×12.5×17
Fox 2.5s Adjustable (all around)
SPC Adjustable UCAs
Deaver Stage 2 Leaf Springs
Lighting:
Baja Designs Squadron Sport Fog Lights
Overland & Recovery Gear:
CVT RTT
Recovery Boards

 

RotopaX
Shovel
WHAT DO YOU LIKE ABOUT YOUR SETUP?
The Fox Suspension for sure has to be one of my favorite mods, hands down. The suspension allows the Tacoma to drive like I'm on a cloud, it's so comfortable.
The shocks are incredibly robust and offer great peace of mind when wheeling off-road as well. I like how my build is super simple yet really functional for everything I do still.
MOD LIST
Wheels/Tires/Suspension:
Stealth Custom Series Ray10 17×9 -38
BFGoodrich KM3 35/12.5/17
King Suspension 2.5 w/ Reservoirs
Armor/Roof Rack:
Relentless Fabrication Rear Bumper
CBI Covert Front Bumper
CBI Steel Skid Plates
RCI Steel Gas Skid
Prinsu Roof Rack
@welds_taco Custom Bed Rack & Sliders
Lighting:
Alpharex Headlights
Baja Designs S8 30" & 40" Amber Light Bars
Baja Designs S1 & S2
Performance:
Dual E-Lockers
Revolution 5.29 Gears
@Sibi_Built Custom Tune
Overland & Recovery Gear:
@Sponsoredbywifey Air Kit
WHAT DO YOU LIKE ABOUT YOUR SETUP?
My build was made to have a street look but be capable enough to hang with most trucks off-road.
I wanted a solid stance, which is usually a wide negative offset. I was able to get this with my SCS wheels combined with the super beefy 35″ BFGs. This truck does everything that I need it to both on and off-road.
6. Josh Snider (@over.land.taco) – 2017 TRD Off-Road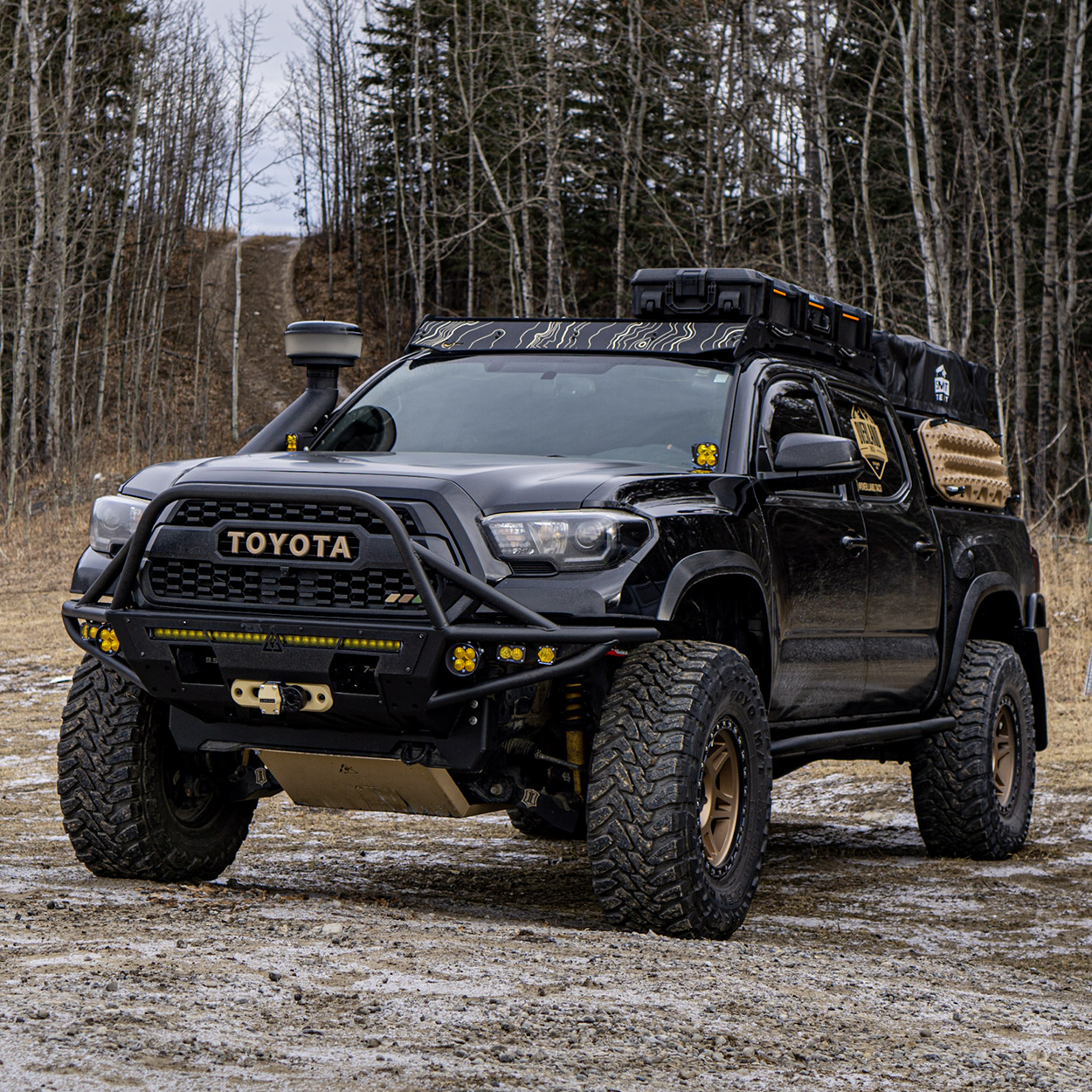 MOD LIST
Wheels/Tires/Suspension:
Method Race Wheels MR312 0mm Offset
35×12.5 R17 Toyo MTs
OME 2″ Nitrocharger Struts w/ 700lb springs
JDFab Spindle Gussets
JBA UCAs

 

DuroBumps Front Bump Stops
Deaver Stage 3 Leafs
Archive Garage Hammer Hangers & Cross Tube
Archive Garage U-bolt Flip Kit w/ Stage 3 Rear Bumps
Armor/Roof Rack:
Danger Customs Skids
Danger Customs Front Bumper
Coastal Off-Road Rear Bumper
Prinsu Roof Rack
CBI Bed Rack
Camping Gear:
Lighting:
Performance:
Yukon 5.29 gears
KDmax Pro Tune
AFE Momentum GT Intake
Safari Snorkel & Snorkel Upgrade Head
Magnaflow Axle Dump Exhaust
Overland & Recovery Gear:
Smittybilt XRC Gen 3 9.5k Synthetic Winch
Factor 55 Prolink w/ Rope Guard
Miscellaneous:
WHAT DO YOU LIKE ABOUT YOUR SETUP?
What I like most about this setup would be the fact that there are not too many places my truck can't take me.
I've been able to go to so many breathtaking and amazing places thanks to this truck's capabilities. There's never a dull moment in the wilderness with the truck adventuring.
Final Thoughts
What a freaking killer compilation of Midnight Black Tacomas.
If you enjoyed what some of the owners have done to their rigs, make sure you follow the link to their Instagram and give them a follow to show some love.
If you want to be featured for Taco Tuesday, submit your build through TrailTacoma.com/Feature. Next week's Taco Tuesday will cover various Roof Rack Options for the Toyota Tacoma. We're looking for awesome rigs to showcase! If this is you and you love your roof rack setup, send in your details because we want to see it.
Thanks for reading guys. I'll see you next week!