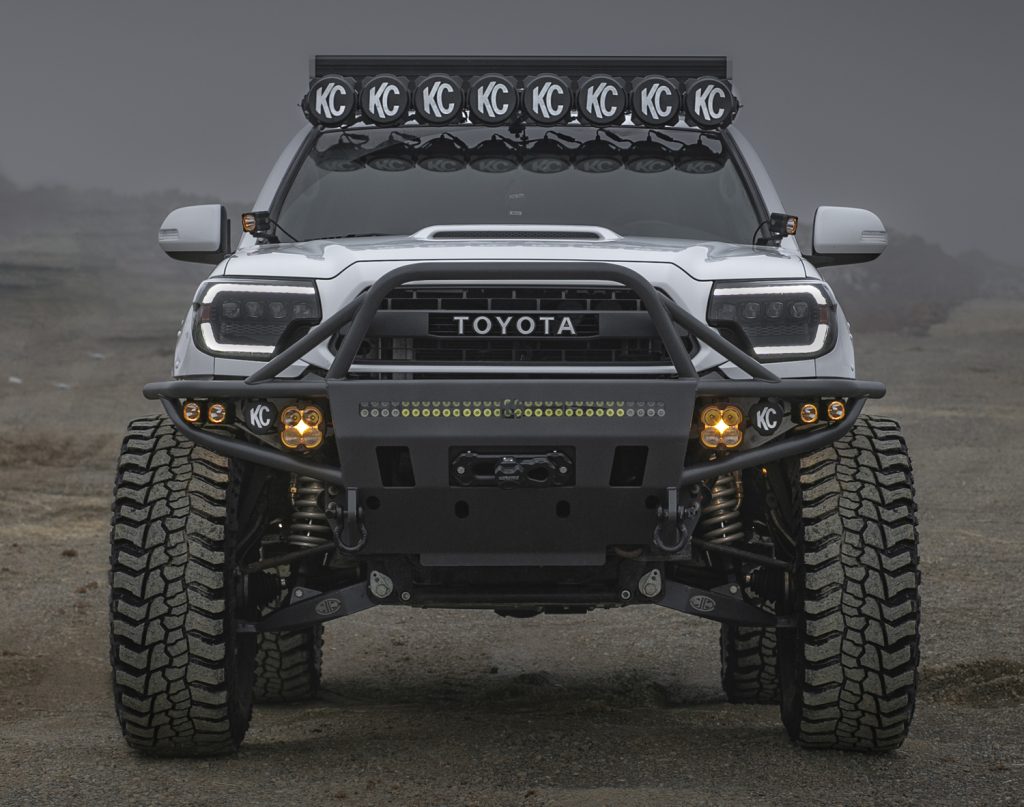 JD Fabrication +2.25″ Long Travel Kit for the 2nd Gen & 3rd Gen Tacoma – Parts Overview & Initial Thoughts
There comes a time in every man's life when stock anything just doesn't get the job done, and upgrading is needed to keep things interesting. Yes, I am still talking about the truck's suspension.
Today, we're talking about long travel for the Toyota Tacoma. It's one of those conversations that we have all had in our head, a fantasy of sorts, a dream to many, and an expensive reality to some. There are many different types of long travel, and today, we're going to cover different types of long travel set-ups and introduce a new company. That company is JD Fabrication, and you can find them exclusively on YotaMafia.com.
Parts Overview
2nd Gen Tacoma (2005-2015)
3rd Gen Tacoma (2016-Current)
JD Fab Tacoma Long Travel Kit
Who is JD Fabrication?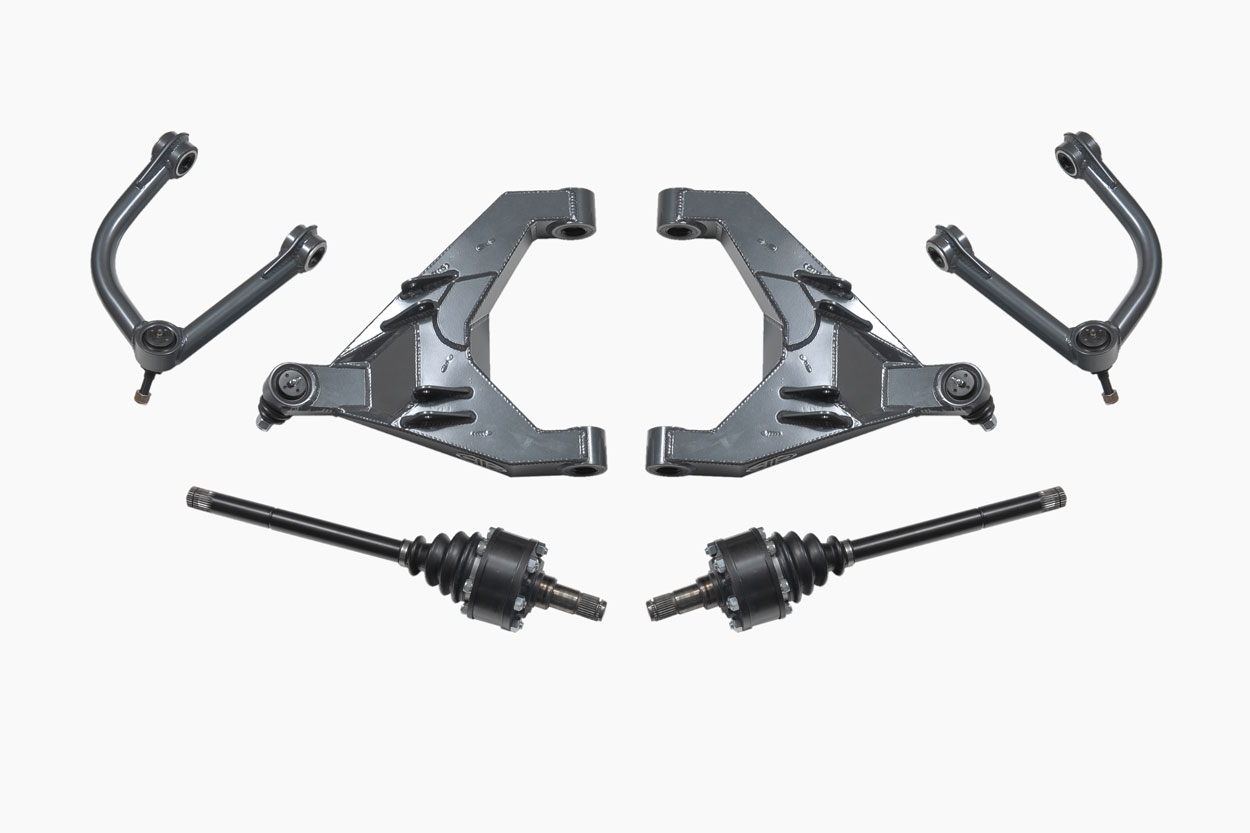 JD Fabrication is short for the two guys who run the show; Jesse Nelson and Dave Dinsmore. Combined, they bring an impressive 20+ years of off-road fabrication experience to the table. The company is located in Escondido, CA, specializing in various off-road fabrication services. They fabricate everything from complete engine cages and body cages to custom 4-Link setups to 4″ long travel systems. JD Fabrication is well-known in the off-road industry for the design, engineering, development, and installation of off-road race components and parts. Let me tell you, these race parts aren't your run-of-the-mill LT UCAs and LCAs you see on Instagram shopping.
These parts are engineered and designed around metals most of us have never heard of. They are intended for applications most of us dream about driving. JD Fab uses the highest-quality material available for the most advanced race applications currently dominating Ultra-4 Classes. We're talking about the difference between 4130 (often referred to as Chromoly) and 300M Alloy Steel or, comparatively speaking, 4340M if we're comparing directly against Chromoly. So wait, JD Fabrication uses a stronger grade of steel than Chromoly? In some instances, yes.
Some companies mass-produce UCAs, LCS, and extended-length CVs – and then you have JD Fabrication. If you're looking for the highest-quality metals, over-engineered designs, and mind-blowing attention to detail – you will find it at JD Fabrication.
Upper Control Arms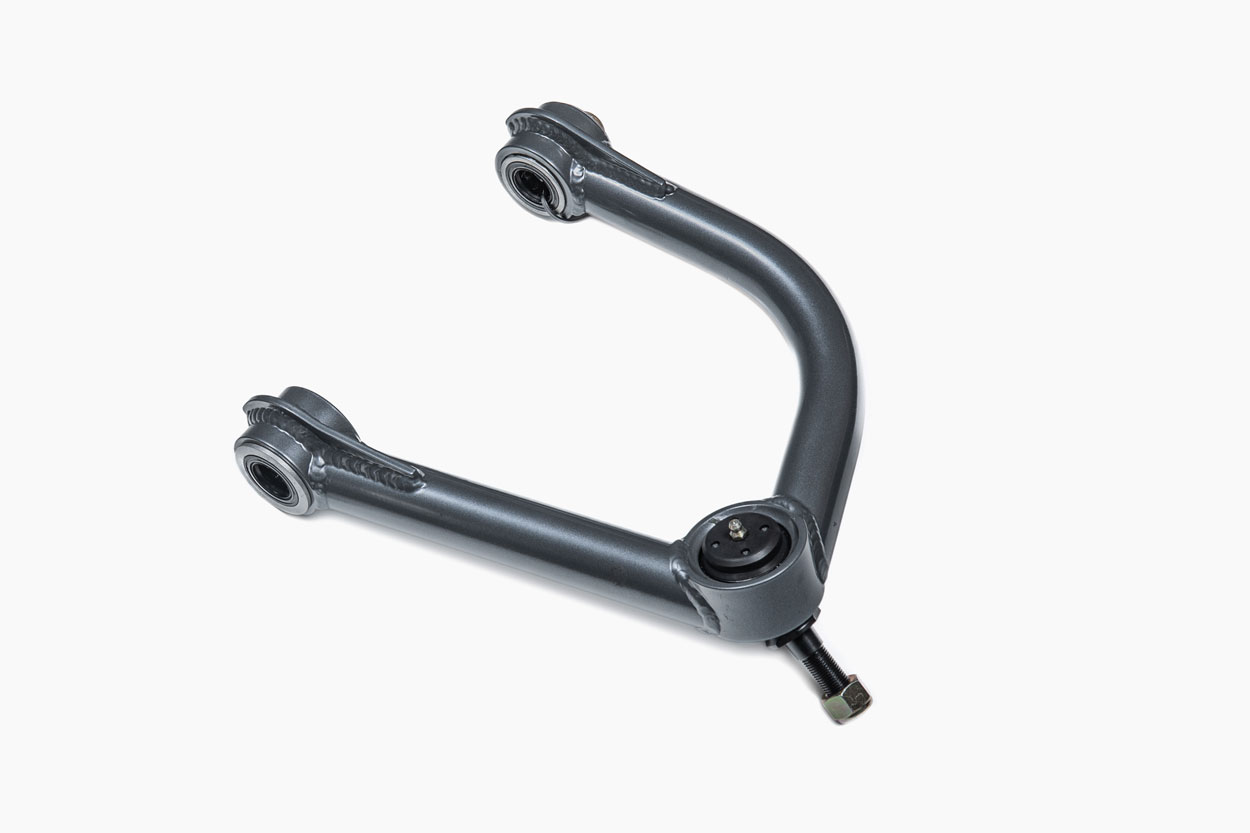 Quick Facts: 
DOM Chromoly tube; 1.5″ X .120″ wall
1" sealed rebuildable and greaseable uniballs
Multiple caster options
OEM inner bushing
Powder-coated
The JD Fab UCAs are made from DOM tube; 1.5″ X .120″ wall. They come powder coated in a light grey and use OEM bushings on the inner pivots because, as JD Fabrication says; "no one does more research and development in the durability of automotive parts than the vehicle manufacturer". OEM bushings last forever (up to 200K miles) and typically never squeak.
At the outer end, the UCAs utilize rebuildable and greaseable sealed inner pivot uniballs. The 1-inch uniball offers extreme strength along with more angularity than the stock ball joint, meaning it won't bind as the suspension cycles. Minor drilling of the spindle is required for the uniball pin.
They offer quite a few options for caster on these arms. Starting out, they offer a 0.25″ adjusted caster and go all the way up to 0.75″. However, keep in mind JD Fabrication is a custom fabrication shop, so if you need something more tailored for your build, JD can do it.
The 0.25″ is recommended if you're running their lower control arm relocation kit
The 0.75″ is recommended If you are running stock lower control arm geometry
Lower Control Arms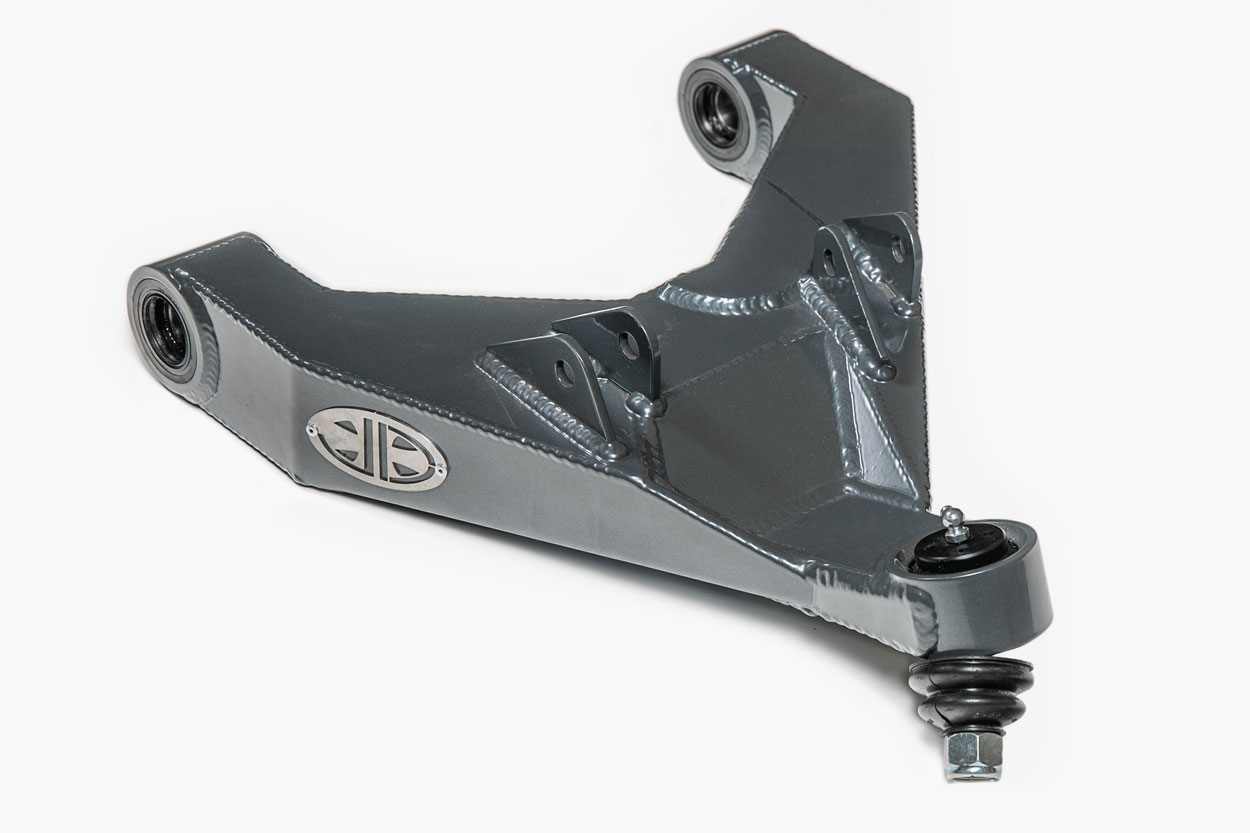 Quick Facts: 
Offered in +2.25″ or +4″
1/8″ and 3/16″ Chromoly plate
Laser-cut and bent for perfect fitment
100% welded inside and out
The pocket feature provides room for CV boot and greater droop
High clearance design (4″ over stock)
1″ sealed uniballs replace factory inner bushings
1″ sealed EMF outs uniballs
Use with 8″x 2.5″ coilover or 3.0″ 3 tube bypass shock
These lower control arms were built for everyone, from rock crawling and desert racing to moderate overlanding. Not only were they designed for the enthusiasts in all of us, but they're also great for a daily driver as well (referencing the 2.25″ long travel kit, not the 4″ long travel kit). These 2.25″ long travel lower control arms feature some pretty impressive specs where many others on the market fall short.
To start, the arms are constructed of 1/8″ and 3/16″ Chromoly plates, which have been laser-cut and bent for perfect fitment. Then they are welded inside and out and finally powder-coated, ready to bolt on.
What's really impressive is how the outer portion of the arm is designed. JD Fabrication specifically created a "pocket" for the outer CV boot to sit in, which does several things. First, it changes the entire design compared to most lower control arms on the market. This gives your Tacoma more ground clearance – almost 4″ of more ground clearance compared to stock. Second, it allows the suspension to droop much further than stock as the outer CV is given room and a better angle to spin freely.
These lower control arms replace the factory inner bushings with 1″ sealed uniballs along with 1″ sealed outer uniballs as well. Yes, the factory inner bushings will now be replaced with sealed uniballs! You never have to worry about inner bushings getting worn out from repeatedly adjusting caster and/or wheeling too hard.
Like most lowers on the market, they come with brackets for secondary shocks and strike plates for hydro bumps.
934 300M CV Axles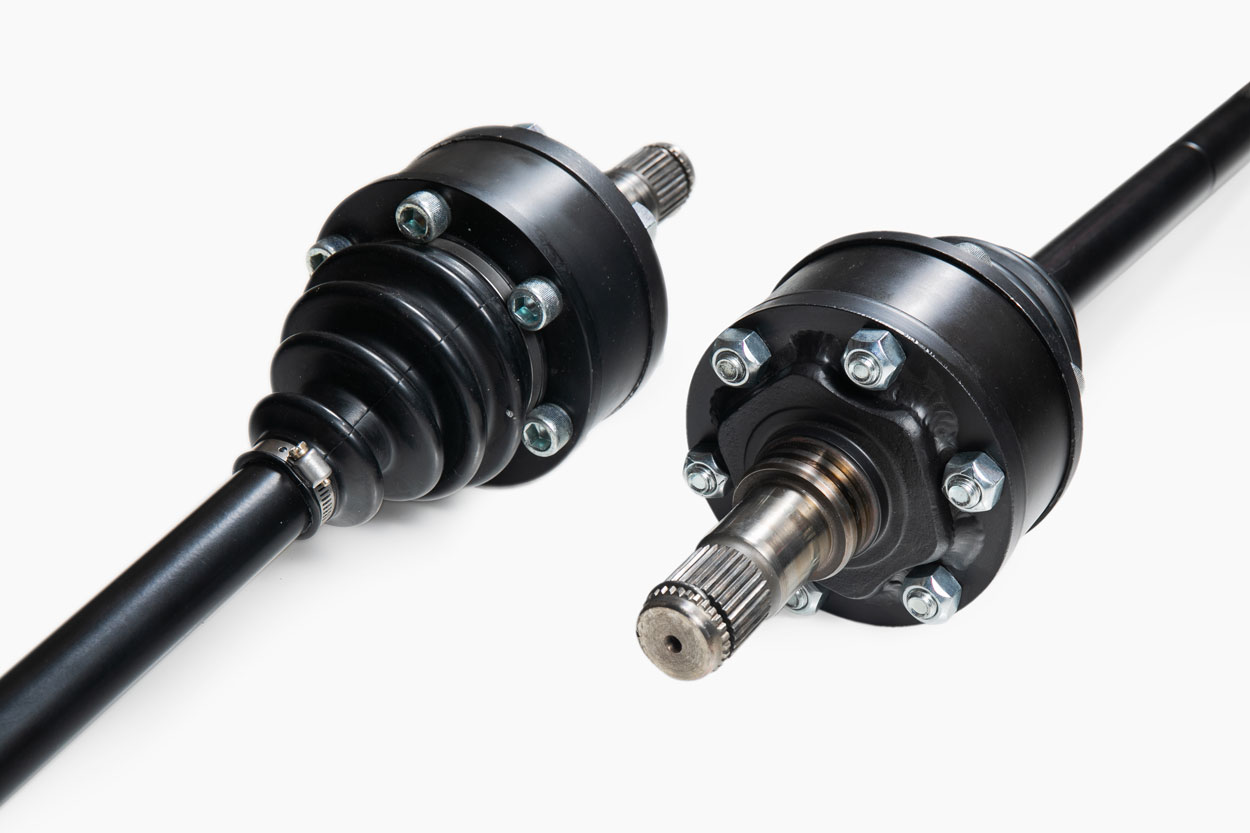 The Tacoma's factory CV (constant velocity) axles are pretty weak. These 934 Joints and 300M Axles shafts are a massive upgrade over the factory joints/shafts. The 934 inner joints are twice the size of the factory joints and are protected by a Chromoly cage held in place with Grade 8 socket head cap hardware.
JD Fabrication starts with a factory inner shaft and machines them in-house to a proprietary laser cut 934 CV flange; then TIG welds them inside and out for extreme strength. Once the flange is complete, JD machines the stub shaft again to ensure it's perfectly balanced. That flange is connected to the 934 joint and then mounts up as your new inner CV joint.
The 934 joints offer 28 degrees of movement over the factory 21 degrees found on the factory tripod joints. It is also much shorter than the factory tripod joint, allowing for a longer 300M axle length. This reduces the CV angle in all ranges, leading to less axle bind and fewer broken cv parts such as your boots and Birfield. The 934 joints are so massive they require a small notch in the frame to fit. JD does send filler plates for the notch.
Let's move on to the axle shafts. What's 300M? Well, you've heard the term Chromoly, right? It's similar so let's look at the two back to back.
4130 Chromoly Vs. 300M/4340 Steel?
4130 is an alloy steel that contains high amounts of chromium and is often referred to as Chromoly. It has good machinability, ductility, weldability, and strength characteristics. 300M, also known as 4340 or 4340M, is a nickel-chromium-molybdenum alloy steel that is very high in strength. It is sought after for its toughness and for being used as steel that can withstand high stress under pressure and heat.
The big difference is that vanadium is added plus additional silicon and finally slightly more carbon and manganese. Both are used in various industries for different applications, including the automotive, aerospace, and tooling industries, but 300M or 4340 is technically a stronger metal than 4130.
Basically, the 934 Joint paired with a 300M axle is incredibly strong. The kit does require you to use your outer Birfeild joints, so you will need to order an outer boot and clamp kit. With a new boot kit, and fresh grease on both sides, you will have a rock-solid new CV ready for the rocks or whatever nature throws at it. JD Fab will rebuild your outer joints for you, or you can rebuild the outer joints yourself as we did.
The 934 CV upgrade will give you massive confidence on the trail. This is likely the strongest aftermarket CV joint for IFS axles on the market right now.
Lower Arm Pivot Kit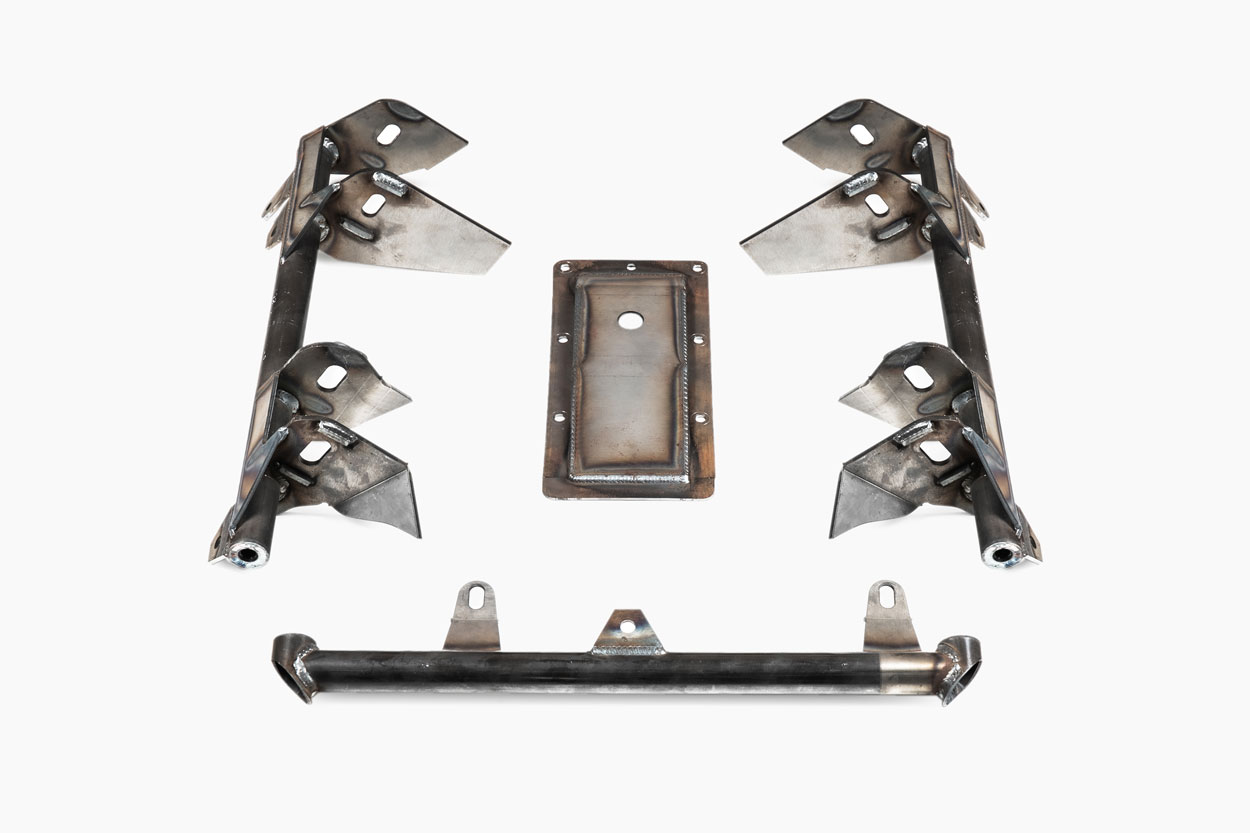 Specs: 
Wider Per Side: 0″
Tire Size Recommended: 31″-35″
Wheel Travel: Dependent on Suspension Kit
Tires Pushed Forward: 0.25″ to 1″
Parts Included:
Left and Right Lower Arm Pivots
Front Cross Bar
Skid Plate w/ Diff Sump
Cross Bar Tab Gussets
Frame Fill Plates
Custom Alignment Cams w/ Machined Grade 8 Bolts
Lower Arm Spacers
All Skid Plate Hardware
Before we jump into the WHAT, let's look at WHY…
This pivot kit should be relabeled as the CMC killer. It is all about maintaining your alignment and tire clearance after a lift. The kit pushes the limits when it comes to moving caster forward and increasing tire clearance without cutting the factory front cab mounts on the Tacoma.
This is a revolutionary mod as it solves many common tire clearance and alignment issues. Yeah, it requires quite a bit of cutting and welding, but there is nothing like it on the market at the end of the day. With this kit, you can see full tire clearance for a 33" tire through full wheel travel without cutting the body mount or firewall/pinch seam.
Tacoma Problems
After adding a lift, you lose caster. The more you lift, the more caster you lose. To semi-correct that caster, we install UCAs with a built-in corrected caster. Even after correcting the caster with new UCAs, and depending on the tire size, your tires may collide with the cab mounts.
For this tire rubbing issue, drivers cut off and relocate the cab mounts, and others simply chop off a portion of the cab mount and weld on a cover plate. For the caster issue, we aim to find a balance with forward-caster; however, if pushed too far forward, that puts side load stress on our bushings.
Another issue with the Tacoma is the weak cam tabs. They are stamped out of thin metal and are prone to bending when the truck is used off-road. This quickly and easily knocks out the alignment regularly. The solution is either a set of TC cam tabs of the Marlin Crawler LCA frame brace for the Tacoma. TC cam tabs are easy to install, but the MC LCA brace kit is time-consuming. I wrote a post on the LCA frame brace for the 4Runner; it took almost an entire day with prep and installation.
This lower arm pivot kit from JD fab tackles all these issues and provides more strength overall to your suspension components.
What's a Lower Arm Pivot Kit?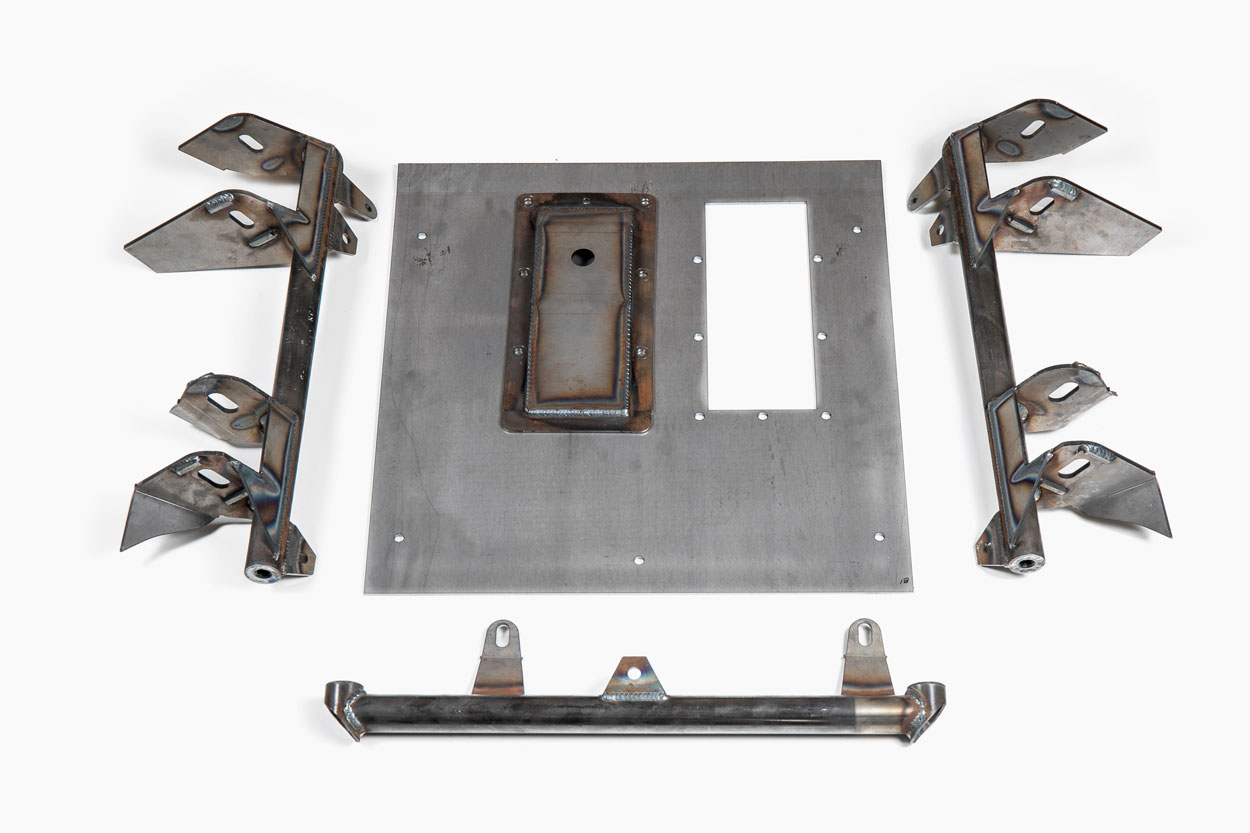 The lower arm pivot kit is a weld-on lower control arm mounting point replacement. Each side of the IFS has its own cradle. Each cradle is made from 1.5″ .188 tubing and features welded-on laser-cut 1/4" lower control arm mounting tabs and front reinforcement gussets. The cradles are welded onto the frame then bolted together with a joining front crossbar. Finally, everything is bolted together with a flat bottom 3/16" aluminum skid plate with a custom bolt-on steel diff skid plate.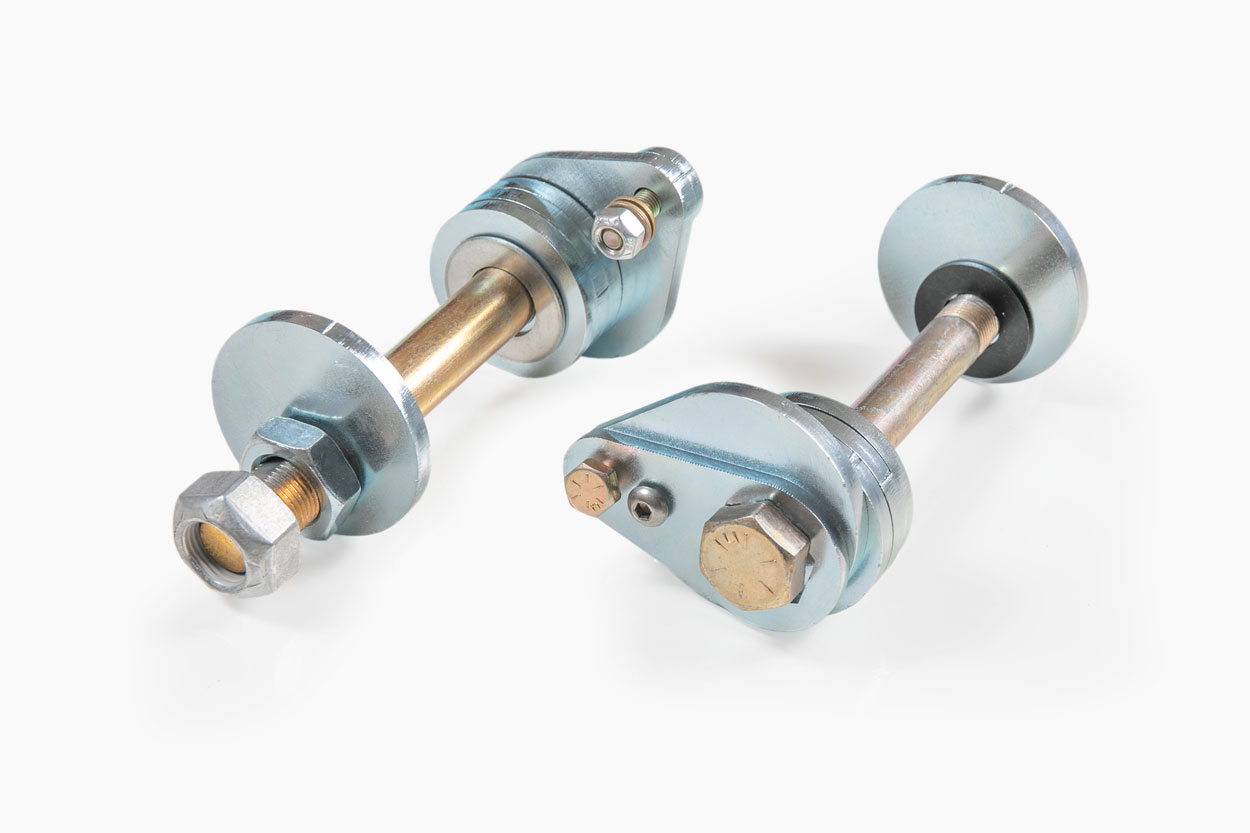 Custom Built Cam Tabs with Pucks
The lower control arm pivot mount tabs are 1″ wider than the factory and contain custom alignment cams with machined brackets and 5/8" Grade 8 bolts. The alignment spacers or "pucks" can be adjusted in 1/4" increments all the way up to 1", which is a massive increase in caster. By pushing the lower control arms forward 1″, JD could fully clear a 33″ tire without cutting off the factory mounts and firewall/pinch seam.
The upgraded lower control arm 5/8" bolts (2nd Gen Tacoma bushings must be replaced with 3rd Gen bushings) and laser-cut alignment cams make this kit stand out. The alignment cams provide top holes so that you can match drill your tabs and set your alignment in place, thus eliminating the ability to knock the truck out of alignment.
This lower arm pivot kit can be used with factory suspension geometry and JD Fabrications 2.25″ and 4.5″ long travel kits.
The JD lower arm pivot kit will work for you whether you're running Bilstein 6112s, Fox/King mid-travel, or 8″ coilovers and long travel. It was designed for use with factory geometry and can be scaled up with however you see fit. If you're looking to strengthen your suspension, increase caster the right way, maintain alignment specs, and gain more tire clearance from the firewall – this is one of the best upgrades you can buy.
Installation
You start by cutting out your factory lower control arm mounting points, and then you weld in the cradle. That's the laser-cut 1/4" lower arm tabs that are welded to 1.5" .188 tubing. The entire kit comes as essentially a plug-and-play weld-on kit. The lower arm tabs and tubing feature 4 locating tabs that match up to factory bolt points on the Tacoma frame rail. Once you bolt up these points onto the frame, you can simply weld the kit in. It really is that simple.
Once the cradles have been welded onto the frame, you can bolt in the crossbar and then bolt on the provided 3/16" aluminum skid plate paired with the steel diff skid plate.
Double Shear Steering Kit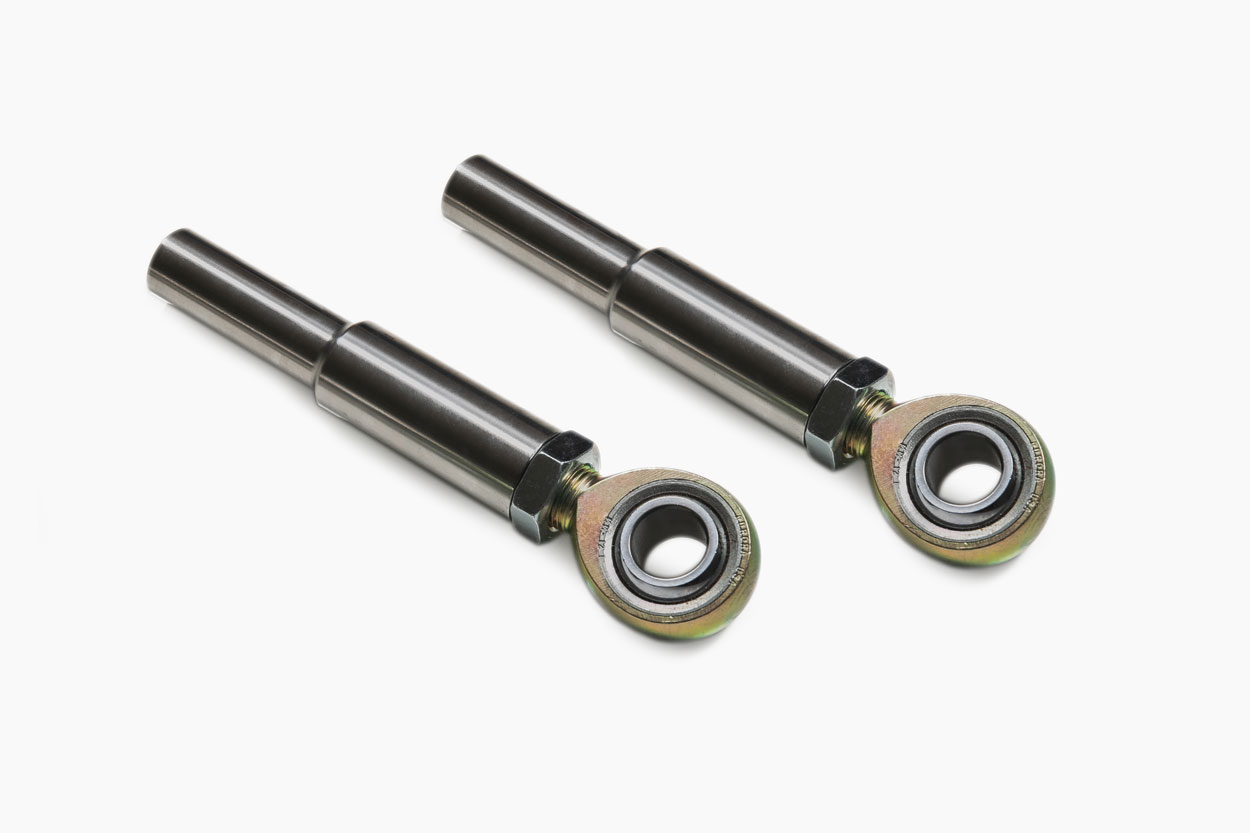 You have a few options when it comes to steering. To start, JD Fabrication offers a double shear steering kit that adds dual 3/16″ and 1/8″ plate gussets to your steering knuckles coupled with outer rod ends (pictured above). This kit allows you to eliminate the stock outer rod end and replaces it with a 3/4″ aurora Heim joint that attaches to the spindle with a 5/8″ grade 8 bolt.
The kit includes double shear plates, 3/4″ Heim joints, misalignment spacers, jam nuts, steering extensions, and necessary 5/8″ hardware. It requires welding along with reaming the stock spindle steering arm taper to 5/8″.
This kit does not include the tie rod or the inner rod end; although JD does offer a solution for this, it just needs to be ordered separately. Steering is a completely different area to tackle when it comes to suspension, and the parts required are dependent on the steering rack you plan on running.
For example, if you're running a factory steering rack with a factory tie rod, you don't need any other parts – you just thread your factory tie rod onto the 3/4″ Heim joint.
However, if you want a stronger tie rod and inner Heim rod, you need a new steering clevis kit that mounts up to your factory or an upgraded steering rack.
Again, steering is a topic worth addressing in another post. We have a full complete review coming soon on swapping in a 200 series Land Cruiser rack with an RC Fabrication clevis kit.
At the end of the day, JD fab can help you with inner and outer Heim joints plus the tie rod itself if interested.
Spindle Gussets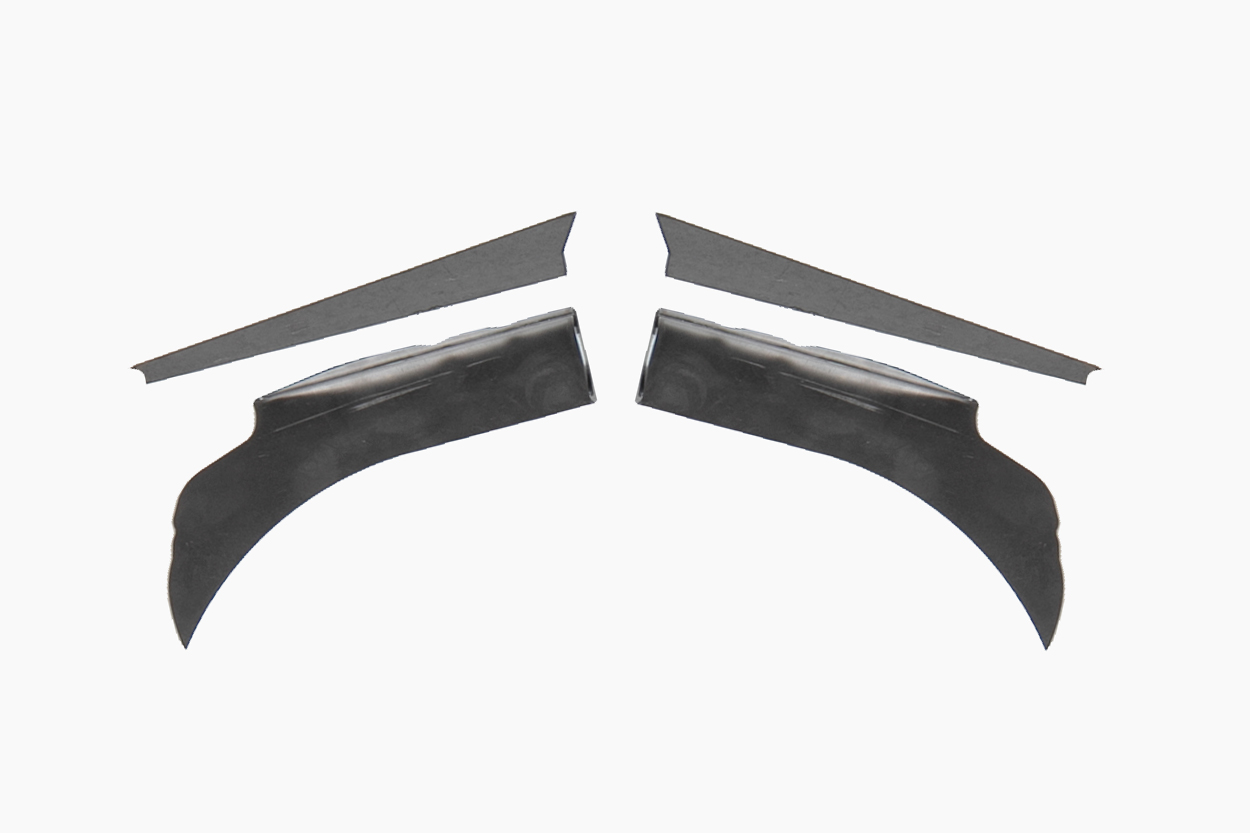 We're are familiar with how chintzy the factory spindles are on the Tacoma. The stock spindles are prone to snapping and/or bending if pushed hard enough off-road, especially when running larger tires. In addition to their LT offering, JD also provides a nice spindle gusset kit.
Like some kits on the market, this is a two-piece spindle gusset kit. It's laser cut out of a 1/8" plate and bent for a perfect fit. Once the main gusset is welded to the spindle/steering arm, an internal rib runs the entire length of the spindle and is welded on for added stiffness. Spindle gussets are pretty common, so there is not much more information on these here.
Cans & Brackets for Hydro Bumps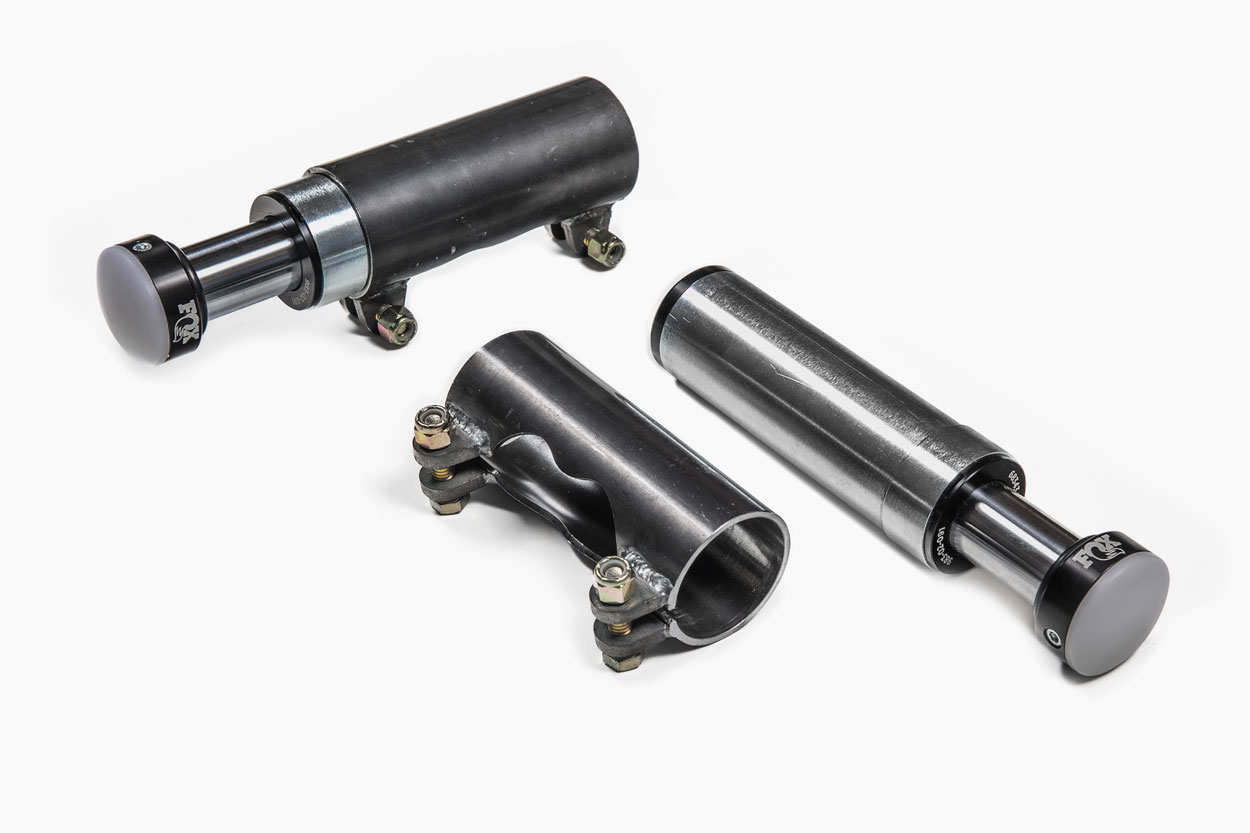 JD Fabrication offers a weld-on hydraulic bump stop kit design for 2.0 hydraulic bump stops. They design their kit around the King bump stops; however, any 2.0 hydraulic bump stop will work. We are running the Fox 2.0 hydro bumps for our setup. In the kit, you will receive both cans (the housing for the actual hydraulic bumps) and the necessary brackets for welding. This kit's installation requires cutting off the factory bump stop mounts and welding in the new brackets and cans.
The kit is designed to work with a secondary shock up to 3″ in diameter. We are running the 2.5″ Fox 8″ triple bypass secondary's with remote reservoirs, and the bump stops clear just fine.
Double Shear Upper Control Arms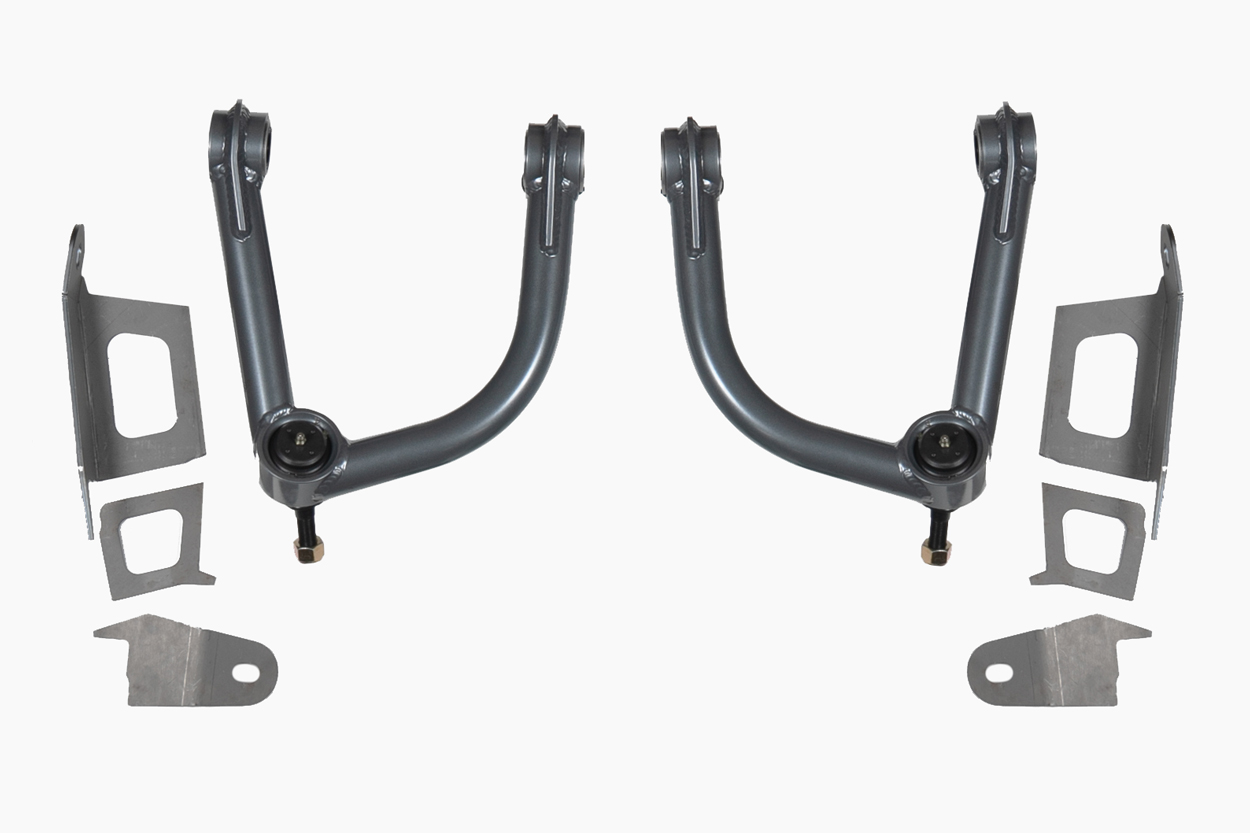 With the double shear steering kit, you get 3 plates for each side (6 total); one bracket on the front coil bucket and two on the rear portion of the bucket. JD Fabrication provides laser cut and bent 3/16″ plates, and for a universal fit, they provide oval-shaped holes for the through-bolt. If for whatever reason, your coil bucket has seen any bending over the years, this oval-shaped hole helps you dial in the exact fitment needed.
The installation is straightforward. Start by removing the UCA through-bolt, reinstalling the bolt with the double shear tabs, and finally, weld everything together.
The provided double shear acts as both a reinforcement for the through-bolt that holds the upper control arms in place and for the actual coilover bucket as well. With a larger welded surface area connecting the coil bucket to the frame rail, the strength of the coil bucket overall is increased. If you're looking to put your truck through extreme off-road abuse, reinforcing the factory coilover bucket along with the through-bolt with double shear UCA bracketry is a must.
What About Shocks?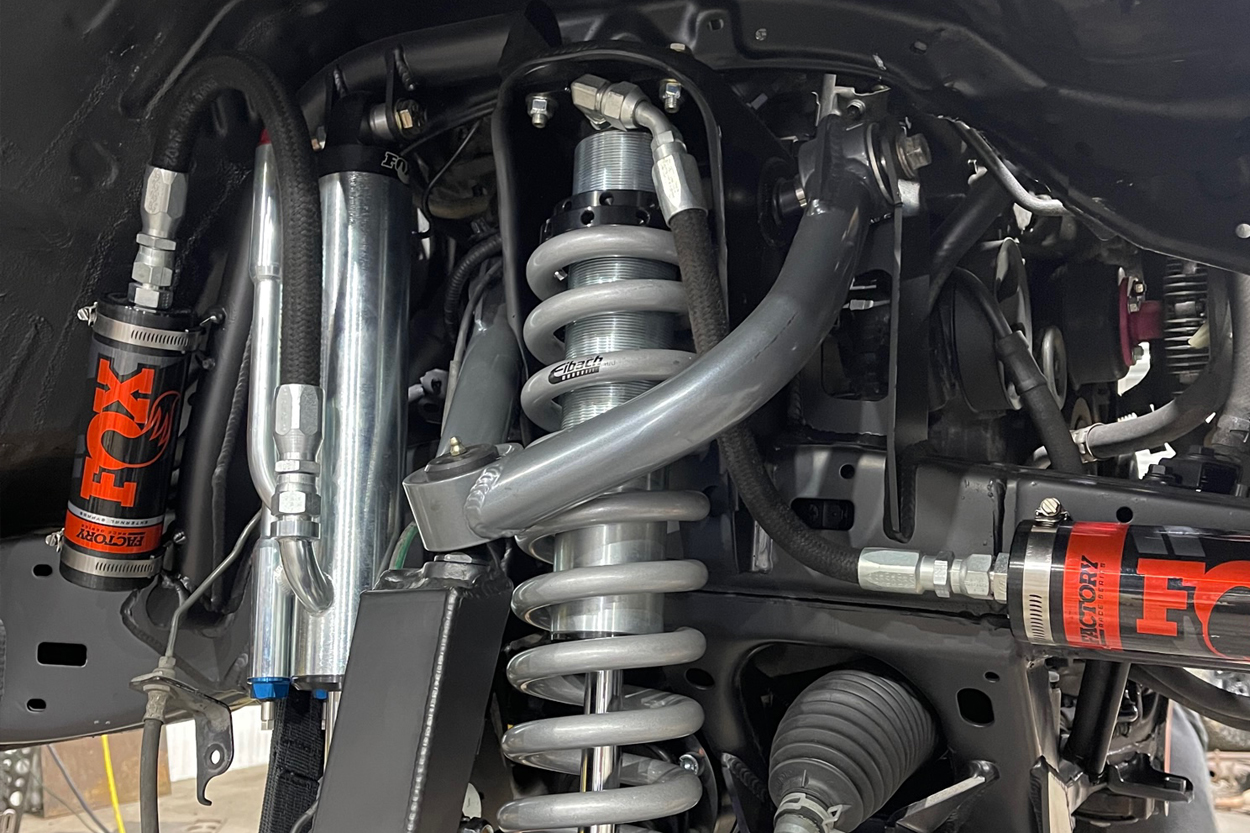 It's essential to consult with either JD Fabrication directly, YotaMafia (direct JD Fab dealer), or the shock manufacturer (King, Fox, etc.) in order to explain your exact setup. Everyone wants to run something a little different, and everyone has different requirements. It's best to consult before buying the wrong shocks preset with incorrect valving.
You have the option to coilovers alone, or coilovers + secondary shocks.
Coilovers
If you're only going to run a single coilover, you want compression/rebound adjusters and preferably remote reservoirs.
Coilovers + Secondary Shocks
When running a secondary shock in addition to the coilovers, you do not rely on the compression adjusters in the coilovers as the tuning is done through the bypass tubes on the secondary shock. With that said, you don't need compression/rebound adjusters on your primary coilovers unless otherwise specified.
Spring Weights
For this kit, JD recommends using a 650lb spring rate for most applications; however, if your truck has a steel bumper, skids, and a winch, then the 700lb rate is more ideal as less preload will be required to achieve the desired ride height.
Long-Travel Bypass Mount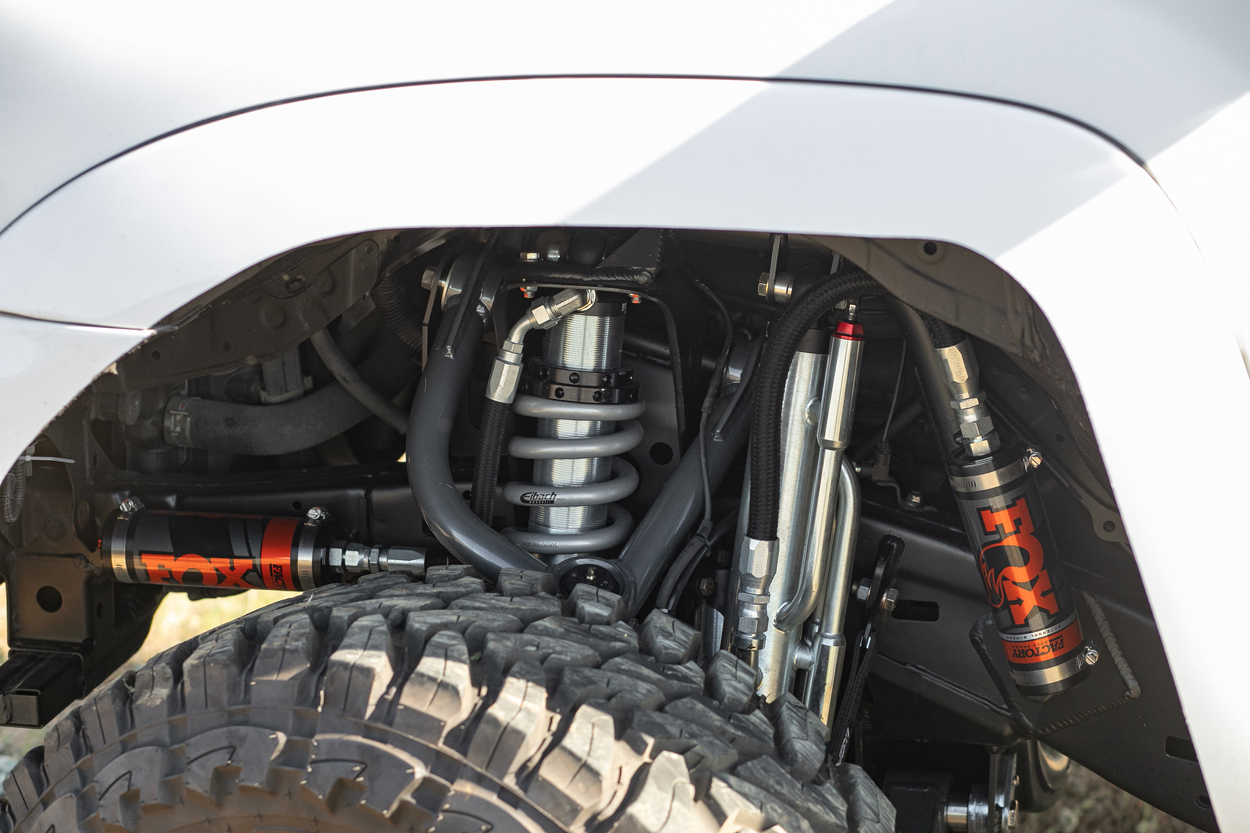 In order to run secondary shocks, you need secondary shock mounting points. For this, JD Fabrication provides a set of hoops that get bolted (or welded if you want) directly to the coil bucket and then welded to the frame rail.
Their shock hoops are constructed with a combination of 1.5″ x 0.125″ wall DOM tube and 0.125″ backing plates for frame welding and reinforcements. The kit also includes weld-on remote reservoir tabs, shock mounting hardware, and then finally shock hoop gussets for added strength.
With the top mount on the coil bucket, you can run a 2.5″ or 3.0″ coilover. They provide a 1/2″ machined aluminum spacer that allows the shock to be positioned forward or back, deepening on the shock size so that the upper control arm will clear as the suspension cycles.
Full review coming soon…
Final Shots