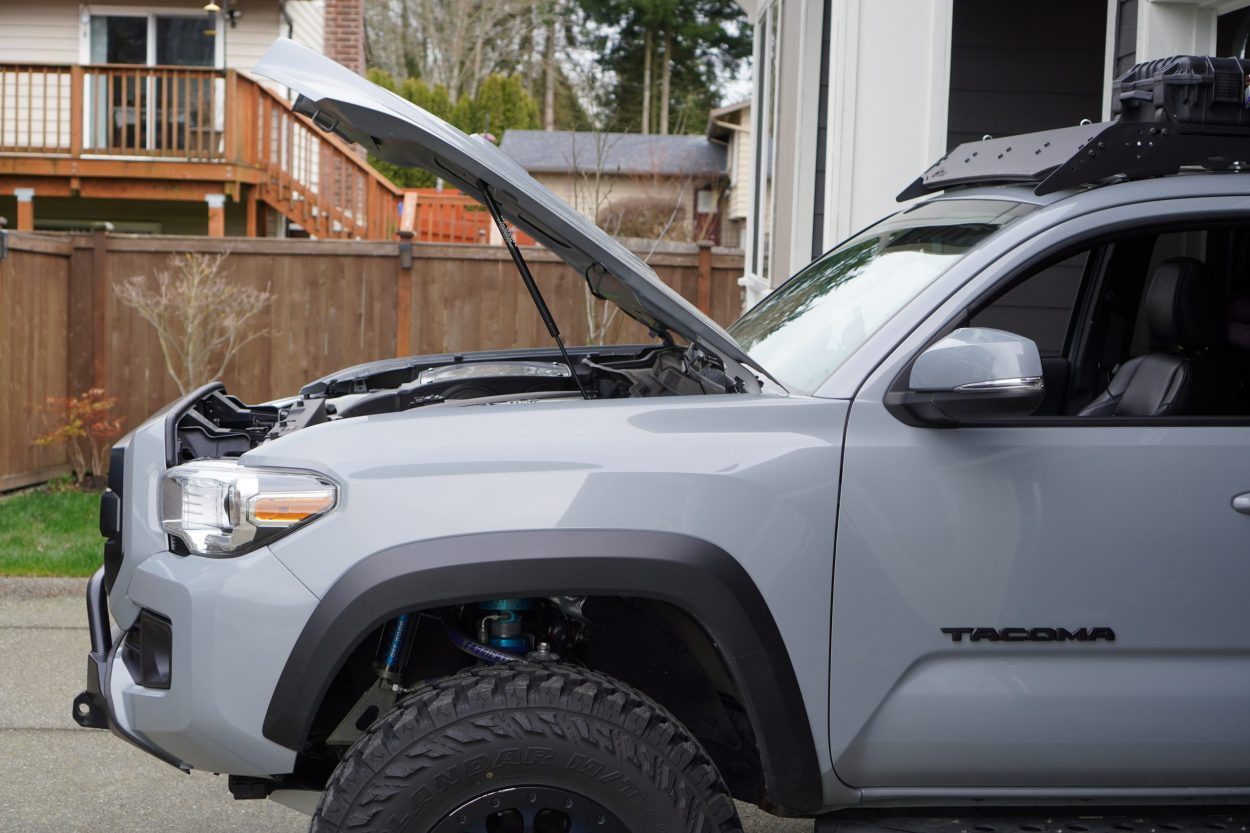 Replace Your Hood Prop Rod with a Spiker Engineering Single Hood Strut For The 3rd Gen Toyota Tacoma – Review, Overview & Thoughts
The 3rd Gen Tacoma is an amazing platform. However, one area that is seriously lacking as a modern vehicle is the lack of hood struts to help lift your hood and keep it open.
Let's be honest; these hoods can be a bit heavy and difficult to prop up. If you've got a lifted truck and/or you are vertically challenged, you might want to keep reading.
Up until now, if you had an aftermarket cold air intake, passenger side-mounted air compressor, or dual battery setup, you couldn't utilize aftermarket hood struts. This is because the area required to mount the hood strut was no longer accessible with those aftermarket parts.
Having the ability to easily open your hood with one hand assisted by a gas hood strut makes your life much easier. Frankly, it's something that should've come standard in your 3rd Gen Tacoma.
Oh yeah, and if you dread the loud slam when you go to drop your hood closed, this fixes that as well.
Spiker offers two different options for the 3rd Gen Tacoma. The single strut kit and the double strut kit.
Find It Online
Spiker Engineering Double Hood Strut Kit w/ (2) Gas Struts: Check Price
Spiker Engineering Single Hood Strut Kit w/ (1) Gas Strut: Check Price
Hood Strut Upgrade for 3rd Gen Tacoma
Why Install Hood Struts?
Most modern vehicles (including the 5th Gen 4runner and 2nd Gen Tundra) utilize gas hood struts. This helps drivers access their engine bay without the risk of your hood falling on your hand or, even worse, your head.
Hood struts allow the driver to open their hood with one hand. For example, if your hands were full of gear. They also prevent unnecessarily slamming the hood when you go to close it.
Another benefit is unobstructed access into the engine bay compared to having the hood prop in your way.
For some of you, this isn't really a big deal. However, for those who have both lifted their trucks and perhaps added larger tires, suddenly being able to lift your hood up gets more challenging.
Installing hood struts is the perfect mod for anyone with challenges lifting the hood high enough for the hood prop rod. It's also great for anyone who prefers safer access to their engine bay or not slamming your hood when closing it.
Double Vs. Single Hood Strut Kit – How To Choose?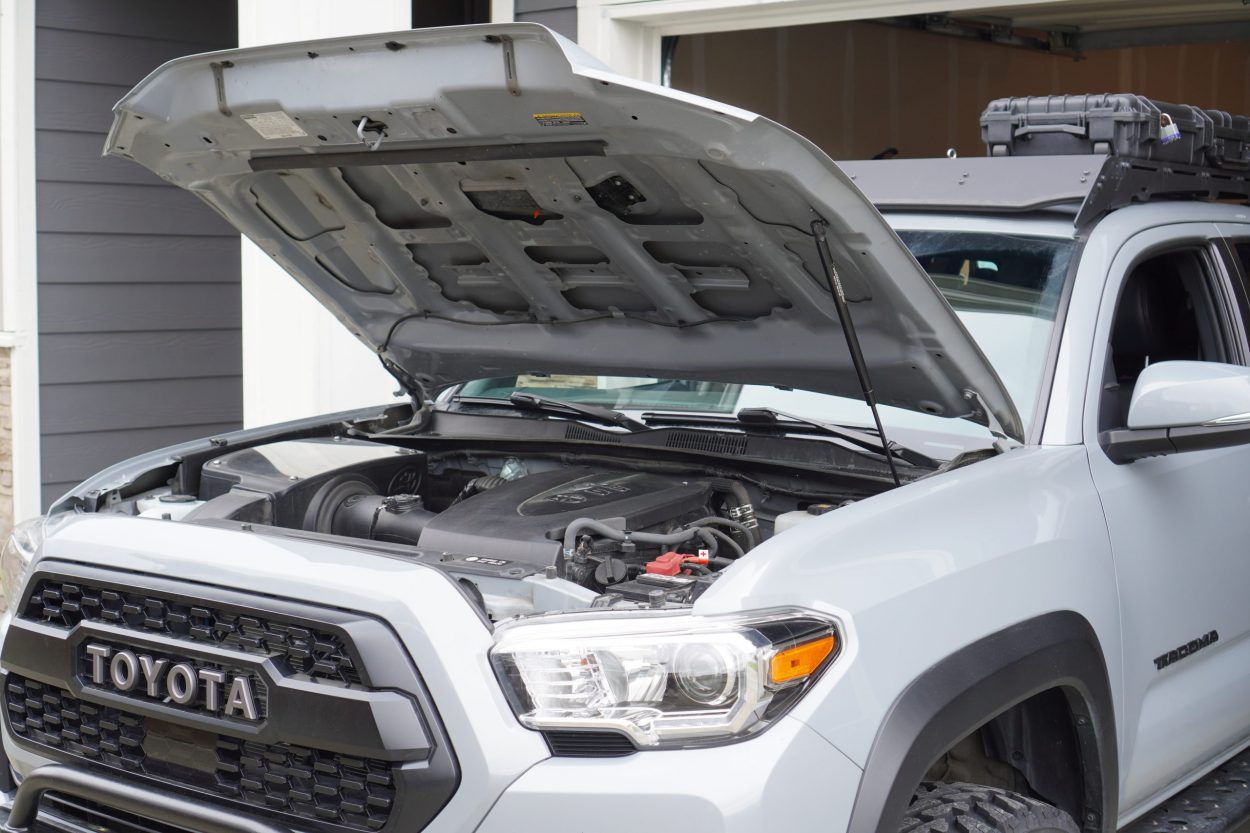 What's Included:
Gas hood strut(s)
Mounting brackets
Rivets
Drill bit guard (so you don't drill through your hood)
Today, we'll be talking about the Spiker Engineering Single Hood Strut Kit.
Now a quick background on Spiker Engineering. Spiker Engineering designs and fabricates OEM quality products for Toyota trucks. Their parts are also 100% manufactured and assembled in the USA and include a 5-year warranty!
Initially, you're probably wondering, "why would I want a single strut kit when there is a double strut kit?"  
Before Spiker released their new Single Strut kit, those of us with passenger-side mounted modifications could not run a dual strut kit. Again, this is due to the aftermarket parts blocking the necessary area required to mount the passenger side strut.
With Spiker's new Single Strut kit offering a stronger strut being mounted on the driver side, it eliminates the need for the passenger side strut altogether.
The headline here is, if you can't run double hood struts, the Spiker Engineer Single Strut is your only option on the market today. It is also still compatible with driver-side mounted accessory trays, such as a Switch Pros setup.
The Spiker hood strut also allows you to increase your open hood height an additional 6 inches above your factory prop rod! This will enable you to have more room to navigate within your engine bay. It also allows for better lighting to see and access under the hood.
Note: The desired height is set during installation, so it will not be adjustable afterward.
Installation Overview – How Hard Is It?
Tools Needed
Adjustable height rod or pole (to prop hood to your desired installation height)
Paint/primer (to seal bare metal after drilling holes for rivnuts)
Metal punch
Rivet gun
Measuring tape
Masking tape
The Spiker Engineering Single Hood Strut installation is relatively easy and took me about 1 hour. But (I'll explain below) if you know how to use a rivet gun, you could probably accomplish this in 30 minutes.
I'd also recommend if you prefer to watch an installation video, you reference this video done by Runnin4Tacos, which I'll link at the end of the post.
Note: The installation video is based on the Spiker Engineering Dual Hood Strut option. However, the steps are exactly the same, just done once and only on the driver's side.
This really is an easy install; the most challenging part was using the rivet gun to punch rivets to hold the strut in place. I'd recommend you learn from my mistakes. If you've never used a rivet gun before like me, maybe take the extra 5 minutes to watch a short YouTube video to learn how to use them. They are pretty simple, and you'll save many headaches and time.
Spiker also has a really clear and straightforward step-by-step installation guide with colored photos to assist along the way. The instructions come on high-quality paper with high-resolution pictures so that it's easy to see and understand the instructions clearly.
So even if you are not super mechanically inclined, you should absolutely not be intimidated by this mod. Rest assured that you can install it on your own.
Final Thoughts
I love this product, and I think it's a no-brainer modification if you frequently access your engine bay.
For myself, I frequently need to access my engine bay, especially when I air up my tires. I use a Viar 300p air compressor that requires that I hook it up to my battery. That means I'm constantly opening and closing my hood, and the Spiker Engineering hood strut makes it so easy. The ability to open my hood with one hand and soft-close my hood when I'm done is a game changer!
As I said, hood struts should've come from the factory, but this is the best way to add it yourself since they didn't!
Runnin4Tacos Install Video