7 Hood Mounted Ditch Light Setups For The 3rd Gen Toyota Tacoma – Improve Peripheral Visibility & Add Auxiliary Light Without Breaking The Bank
This Week's Topic: Ditch Lights
Welcome back to another Taco Tuesday! If you are new to Taco Tuesday, let me fill you in on what this actually is. Taco Tuesday is a weekly article where we feature reader-submitted rigs from the overland community, but with a twist. We focus on a different topic each week; for example, this week, hood-mounted ditch lights for the Toyota Tacoma.
Below you will find 7 ditch light options with owner testimonials on why they like the product they chose, along with some key details of that product. But first, why even purchase ditch lights? Let's talk about that.
7 Ditch Light Choices For Tacoma
Why Add Ditch Lights To Your Rig?
Ditch lights are, in my opinion, one of the best lighting upgrades you can choose to add to your Toyota Tacoma. Yes, even more useful than a light bar or pod fog lights. The reason? Well, it's rather simple – you want to be able to see in your periphery, outside the reach of your truck's headlights and fog lights. When properly aimed, ditch lights allow you to see clearly out to the sides of your rig at night. Their coverage area is far greater to the sides than that of a wide fog light because they can physically be aimed towards the sides.
The vast majority of your after-market lights are aimed straight ahead. While it's great to see miles in front of you, don't forget about the obstacles that loom to the side of your rig, just waiting to claim their next victim. Now, some people mount their ditch lights facing forward, and that's all good, but their intention is to be pointed towards the side of your rig.
Another benefit to having ditch lights in an easily accessible location is having the ability to adjust the lights if needed. You can change both their direction and angle with ease. So if you are in the middle of the desert and just need some additional amber light upfront, simply adjust them forward. If you are on some super tight technical terrain with trees or washouts on either side of you, angle them out and down to assist you in seeing your vehicle's sidelines to help navigate you through whatever obstacle with ease.
Ditch lights aren't just meant for off-road use either. They can also assist on back roads where animals love to dash out from the sides. Having a proper set of these lights will help you see any potential hazards while both on and off-road.
Now let's get into these rigs!
1. Jon Rivera (@roamwithjon) – Rigid Industries D-Series Pro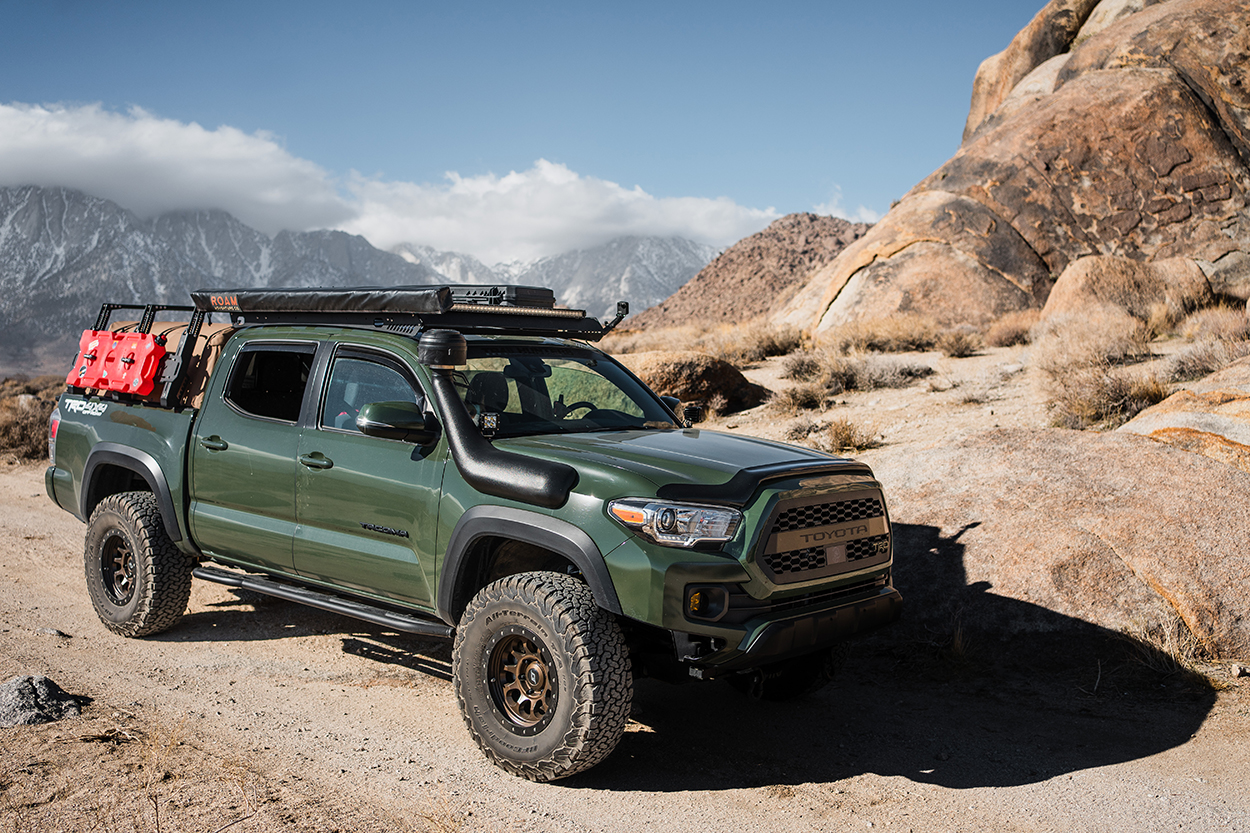 Ditch Light Details:
Rigid Industries D-Series Pro (flood pattern)
Lumens: Up to 4752 (depending on beam pattern)
Price: ~$230
Cali Raised LED Low Profile Mounts
WHAT DO YOU LIKE ABOUT YOUR SETUP?
These ditch lights were a bargain when I bought them. They throw out a ton of light and when turned on, almost all of the front of the rig is lit up. This allows me to see the ditches as well as upcoming turns and obstacles. They're super simple to install as well. The pair comes in a kit with a harness and button so you don't have to buy anything extra to get them up and running.
2. Alberto (@wild_hog_taco) – Baja Designs Squadron-R Sport
Ditch Light Details:
Baja Designs Squadron-R Sport (driving/combo pattern)
Lumens: 3,150
Amber Color
Price: ~$440
WHAT DO YOU LIKE ABOUT YOUR SETUP?
I am very happy with my ditch lights. I love the amber color on them and the light output is more than enough, without dazzling.
With the amber color, it can be used in more situations, such as fog, rain, or dust. I use the Driving/Combo pattern which is equipped with both driving (42°) and spot (9°) optics to provide a smooth blend of light for both near field applications and distance.
Baja Designs also offers a lifetime guarantee, which is important when deciding which ones to buy.
3. Josh Oats (@the_dark_yota) – Morimoto 4Banger HXB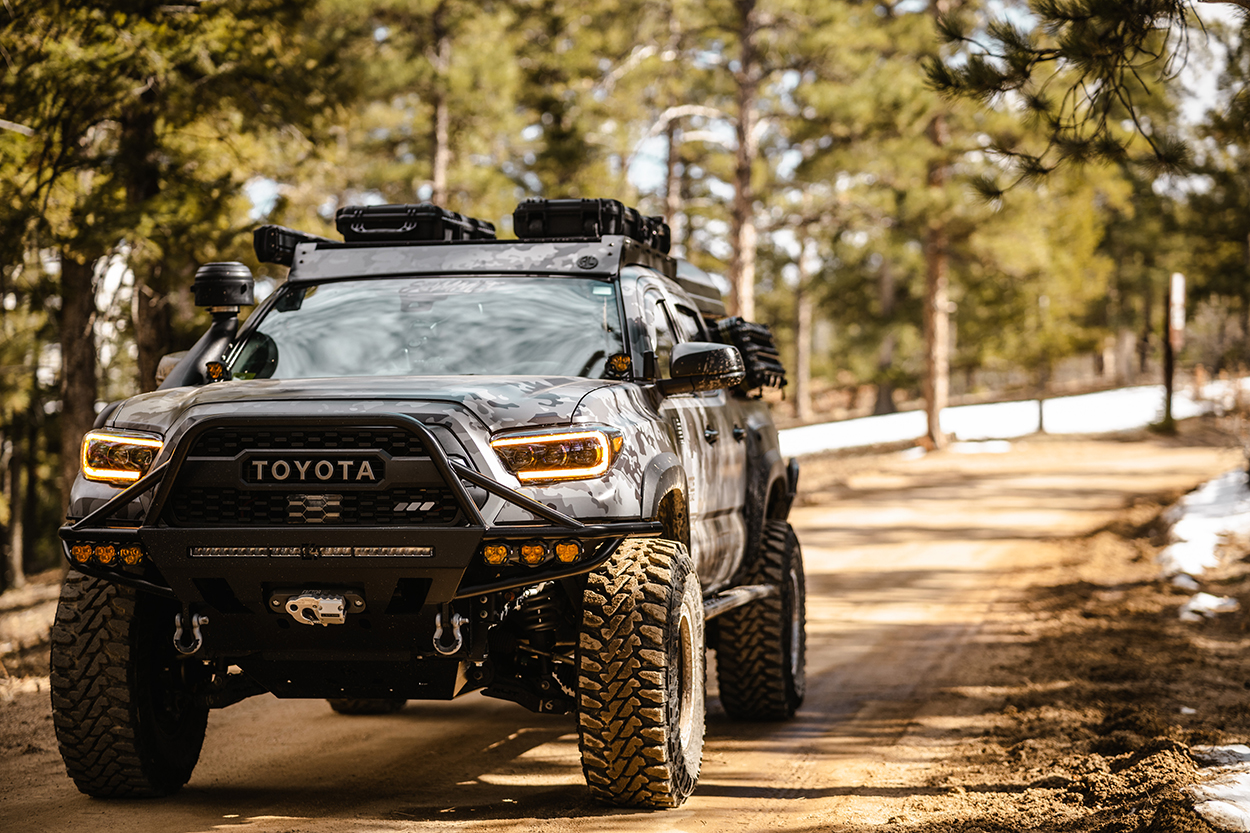 Ditch Light Details:
Morimoto 4Banger HXB (Combo Pattern)
Yellow Color
Price: ~$500.00
Cali Raised LED Ditch Light Brackets
WHAT DO YOU LIKE ABOUT YOUR SETUP?
My lights look different from every other pod out there. They're small and compact, but put out an amazing amount of light. There are only 3 LEDs for each of the pods but they're putting out similar amount of, if not more light, than Baja Designs or Diode Dynamics.
4. Samuel Garner (@rcky.mtn.yota) – Baja Designs Squadron Pros
Ditch Light Details:
Baja Designs Squadron Pros (driving/combo pattern)
Lumens: 4,600 at 40 Watts
Amber Color
Price: ~$440
SDHQ Ditch Light Brackets
WHAT DO YOU LIKE ABOUT YOUR SETUP?
My favorite feature of the Baja Designs Squadron Pros is the lens combo light output it has. The combination of the 42-degree driving pattern, as well as the 8-degree spot, makes for a very useful and functional beam. In addition to an excellent beam pattern, the clarity of the Baja Designs lights helps cut through inclement weather like dust, fog, and snow.
Whether the driving conditions are great or not as ideal, this setup will aid in guiding you to your destination. The Baja Design's new Cree LEDs married with the driving/combo lens result in great visibility when trailing through any terrain.
5. Sean Wright (@drktacoma) – VisionX CG2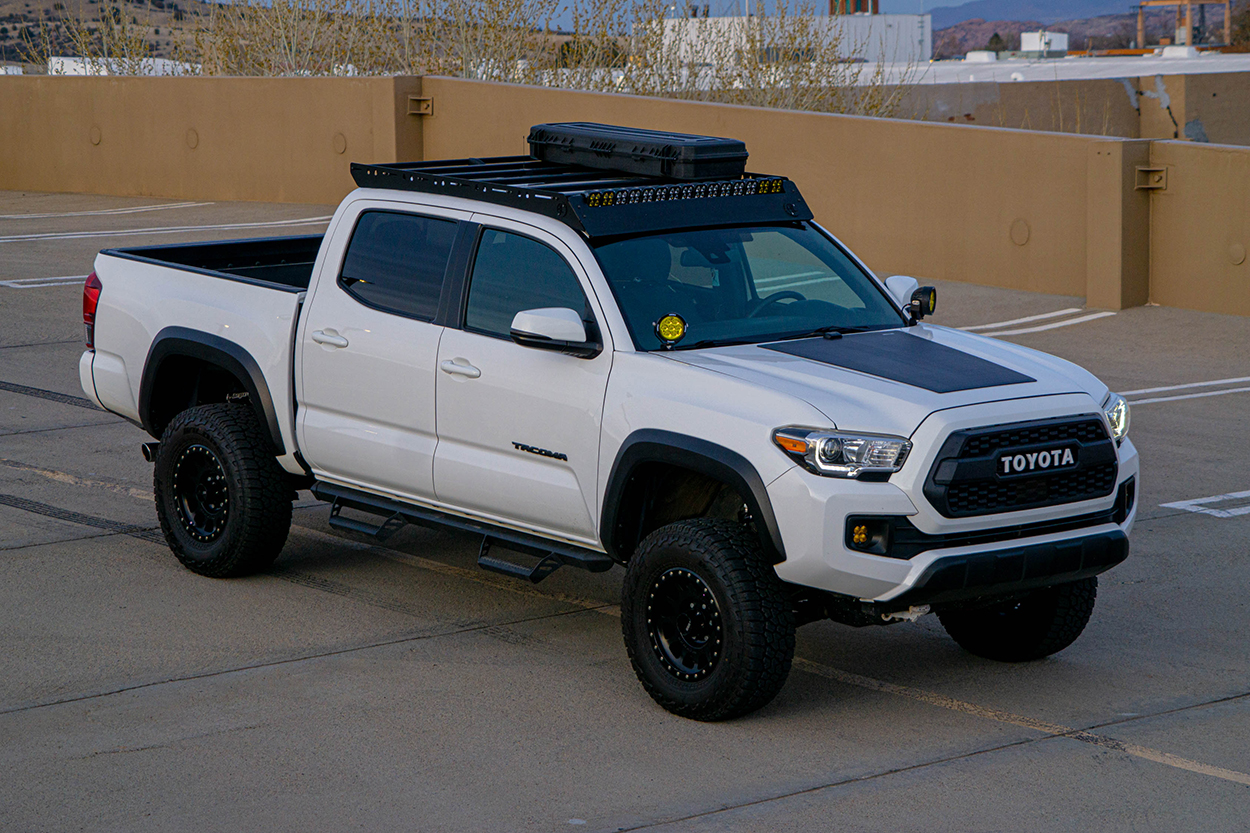 Ditch Light Details:
VisionX 4.7″ CG2 2016+ w/ Tacoma Ditch Light Kit (broad spot pattern)
Lumens: 10,500
Price: ~$715
WHAT DO YOU LIKE ABOUT YOUR SETUP?
This kit retails for around $700 and is all-inclusive with the lights, harness, and ditch light brackets. This means that you're ready to rock with no extra purchase needed! These bad boys can be optioned either in a yellow or clear lens color and come standard with a broad spot pattern, which is good for the ditch light application. Combined, these ditch lights provide a total of 10,500 lm of output and a total distance of output pushing over 900 ft.
One thing I really love is the build quality of these lights. When I first laid hands on them I was nothing short of impressed by the beefiness as well as attention to detail. The 4.7″ diameter is large for a ditch light and is something that I was skeptical about at first. However, since running them all my skepticism has gone away and I've been nothing short of happy with them.
Having a large light pod and huge amounts of output means your lights are doing what they're supposed to do.  They provide loads of forwarding lighting in the nighttime so you can see what's ahead! I've both seen and ran poor-quality auxiliary lighting prior to these. You can certainly tell the difference right out of the box which lights are cheap and won't last and which ones will. Their stellar build quality and modularity lead me to think they're some of the best ditch lights on the market.
Furthermore, the extremely easy bolt-on installation took me all of 20 minutes to get them mounted and wired up. I'm also a fan of the selective yellow lens color, as it's not the typical darker amber we see on most auxiliary lighting. Instead, it's more subtle and provides a crisper yellow output. Overall, I'm extremely happy with these VisionX ditch lights and look forward to using them more!
6. Justin Bryant (@Mile_High_Yota) – Baja Designs Squadron Sport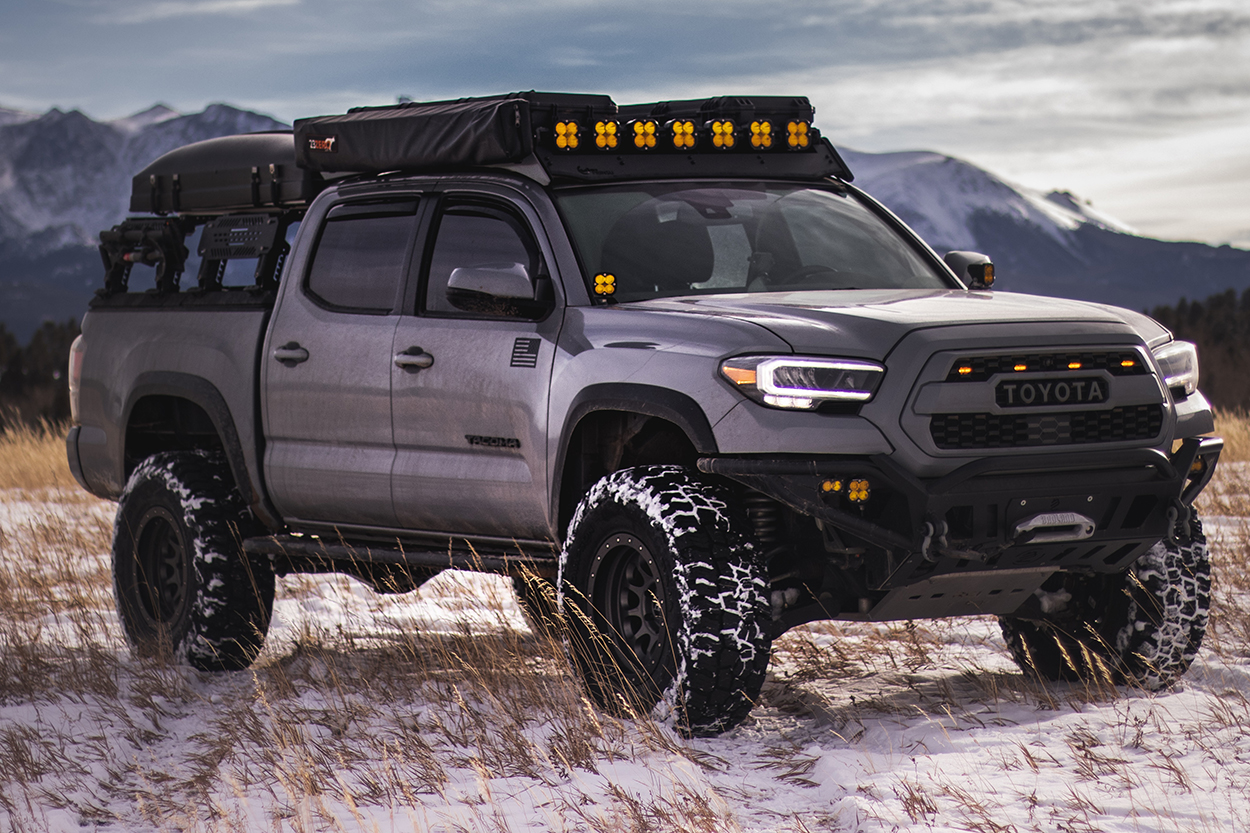 Ditch Light Details:
Baja Designs Squadron Sport
Lumens: 3,150 at 26 Watts
Amber Color
Price: ~$250
WHAT DO YOU LIKE ABOUT YOUR SETUP?
There is a very good reason ditch lights are named what they are, when you need to see on the sides of the trail at night, these will come in handy. They are your easiest lights to adjust on the fly based on what you might need more visibility on. Some extra perks? We have had them spot wildlife off the trail where we would have had no idea otherwise. Also, who doesn't like some good-looking Baja lights on your rig?
7. Connor Chow (@lost.hapa) – Heretic Studio BA-2
Ditch Light Details:
Heretic Studio BA-2 LED Light Pods (flood pattern)
Lumens: 1452
Clear Lens
Price: ~$200
Cali Raised LED Ditch Light Brackets
WHAT DO YOU LIKE ABOUT YOUR SETUP?
My favorite characteristic of this setup is how low-profile it is. The brackets don't obstruct my view in any way. The lights provide a ton of output while remaining compact and low profile. They are also adjustable so I can find the perfect angle to point them for the type of tight, wooded trails that I tend to run most. The installation process was also pretty straightforward with Heretic's wiring harness.
Final Thoughts
Having ditch lights is super beneficial for backroads/trail driving, and even late nights and early morning on the highway. I think you get that now. In all honesty, if I had to choose between and big light bar or ditch lights, I'm going to pick a quality pair of ditch lights every time. To me, there is a substantial benefit to having them over a light bar.
If you want to be featured for Taco Tuesday, submit your build through TrailTacoma.com/Feature. Next week's Taco Tuesday will cover various BRONZE WHEELS for the Toyota Tacoma. We're looking for awesome rigs to showcase! If this is you and you love your roof rack setup, send in your details because we want to see it.
Thanks for reading guys. I'll see you next week!