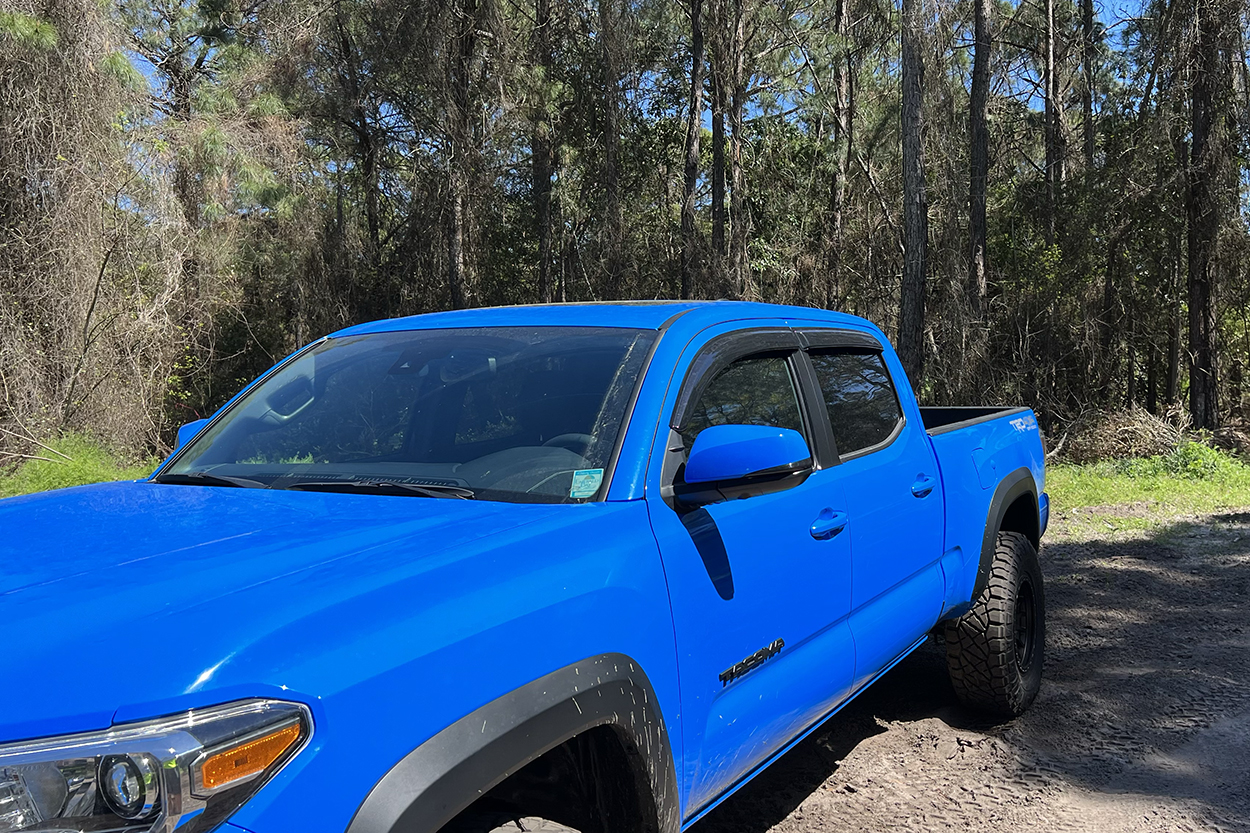 Yotaverse 3M Stick-On Wind & Rain Side Window Deflectors – Step-By-Step Installation Guide, Review & Overview For 3rd Gen (2016+) Toyota Tacoma
I've always wanted to add wind deflectors to one of my vehicles but never got around to actually pulling the trigger on a set. Until now, and man, this modification was long overdue.
Rather than calling Florida the "Sunshine State", they should have called it the "Rain State". We get 2 PM rain showers almost every single day during the summer months. Like clockwork, you'll be driving around enjoying the nice warm weather, and boom, the early afternoon rolls around, and you are stuck in the middle of a downpour.
Why the Florida weather lesson? These new deflectors by Yotaverse will allow me to still enjoy the nice summer weather with my windows cracked, even while in a downpour. They will allow fresh air into the vehicle while protecting me and my interior from both rain and sun. They can also help prevent excessive debris from flying into your cab.
My Tacoma already has a few black accents, so these wind deflectors blended in nicely. They almost have an OEM-like vibe to them.
Let's get into more details about these wind deflectors and the super simple install.
Find It Online
Window Deflectors for Tacoma
Kit Overview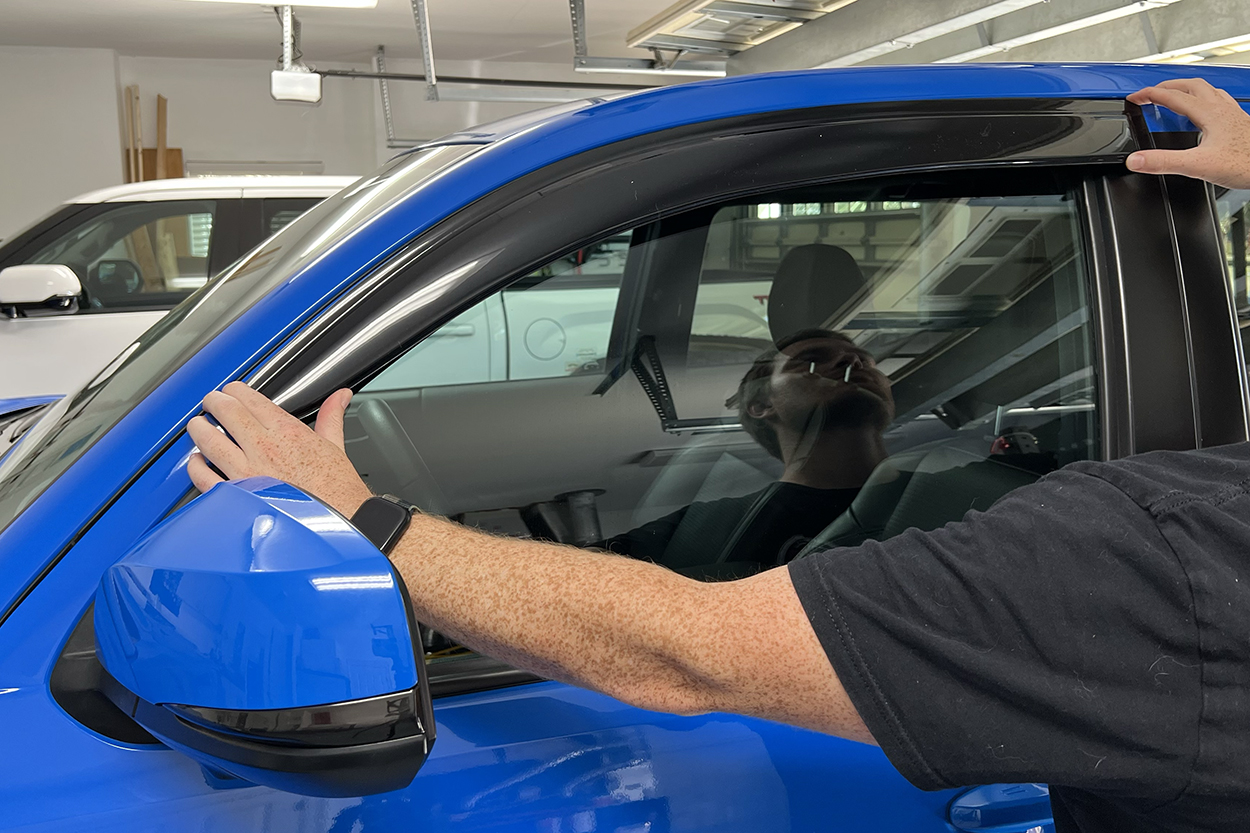 You can install these window deflectors if you know how to peel a sticker and color between the lines in a coloring book. Yotaverse sells a super simple, easy-to-install product. These deflectors have firm adhesion to your vehicle as well, leaving you with little worry that they will fly off when you are going 75+ mph on the freeway. Trust me, haha.
Speaking of high speeds, these wind deflectors work precisely as advertised. They add zero wind noise while driving and allow you always to get fresh air.
Main Features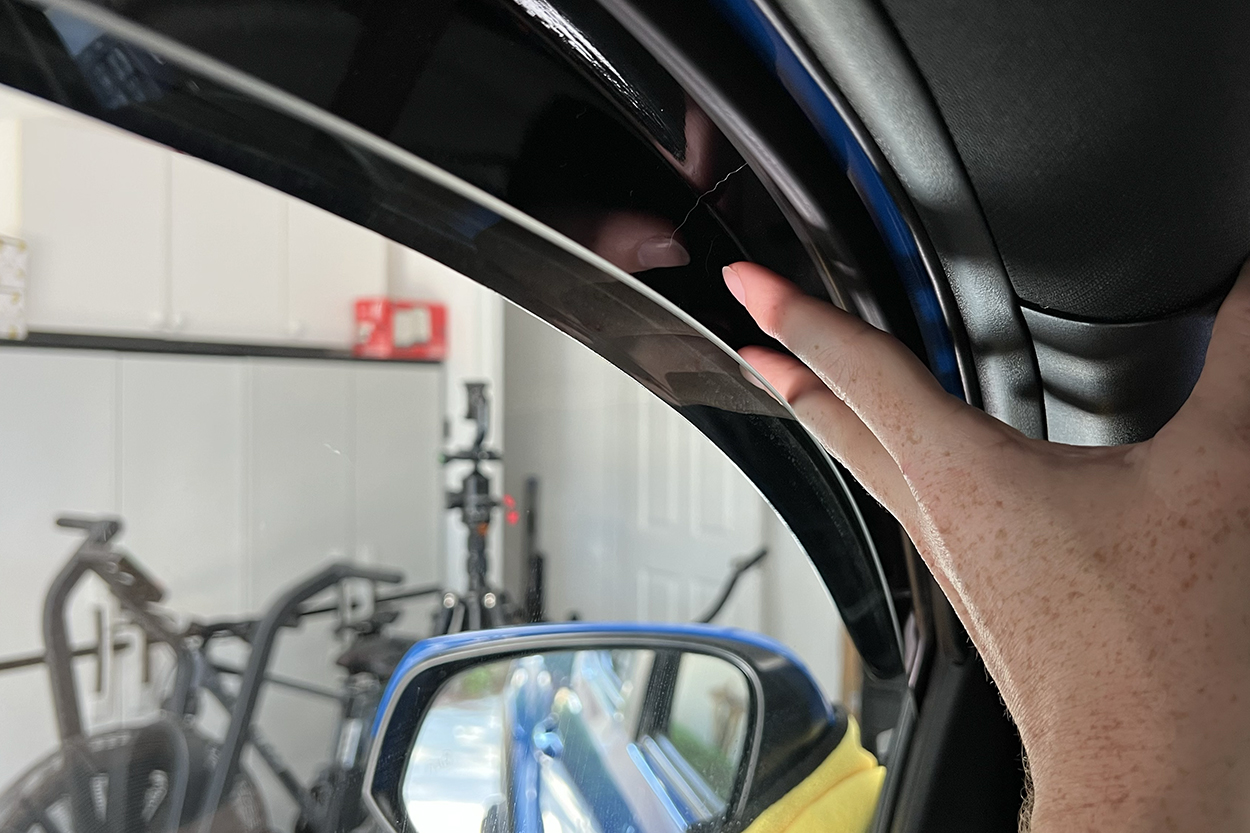 The Yotaverse Window Deflectors add an OEM+ look to your truck while allowing fresh air in the vehicle with no additional wind noise and extra protection from the rain and sun. They utilize automotive grade, 3M double-sided tape to ensure worry-free longevity.
Full Set (4 Pack)
Fits all 2016-2022 Double Cab Tacomas
Easy Installation
Installation
This install is super easy! As I mentioned, it's as easy as peeling a sticker and drawing inside the lines of a coloring book at the same time. Let's get into it.
Step 1. Prep Surface Area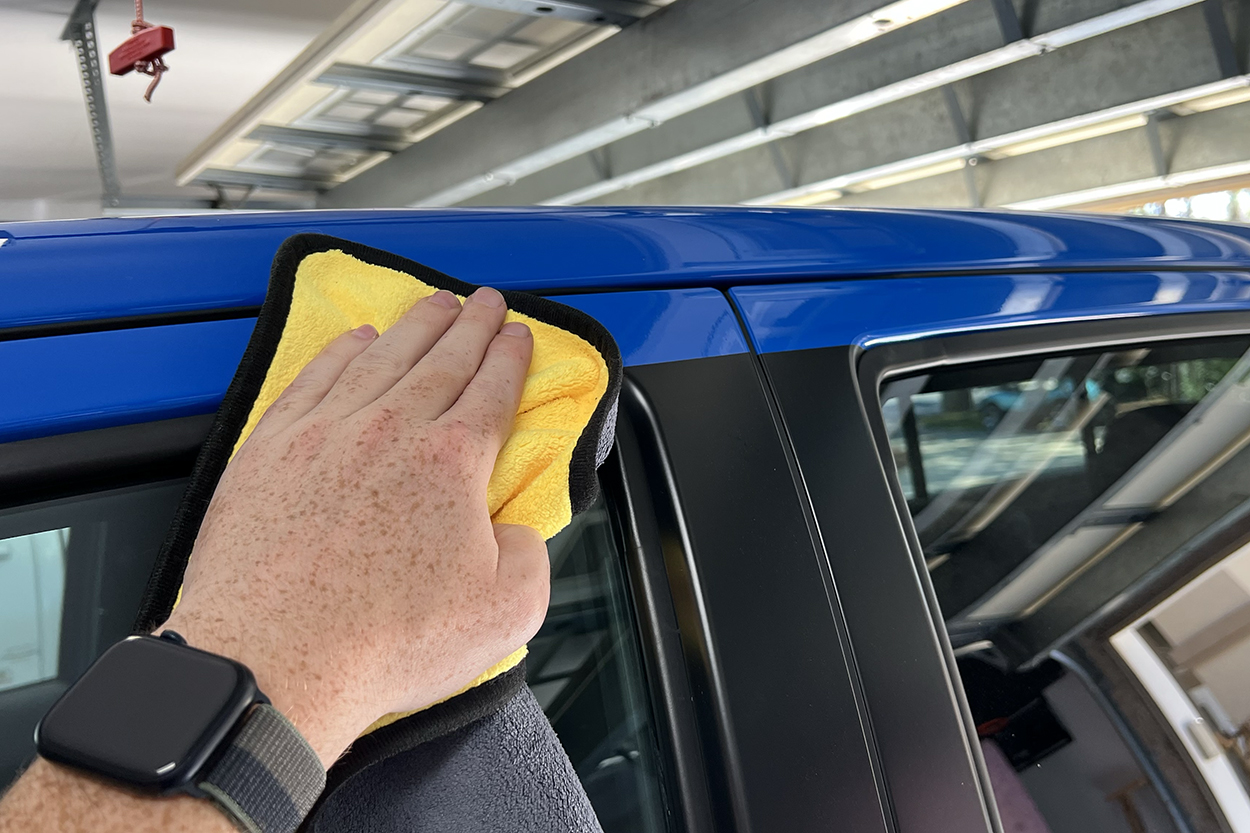 Clean the surface area of your paint where you will place the wind deflectors. Do not clean this area with a wax product. Instead, clean it with some dish soap and make sure it is super dry.
Step 2. Prep Wind Deflector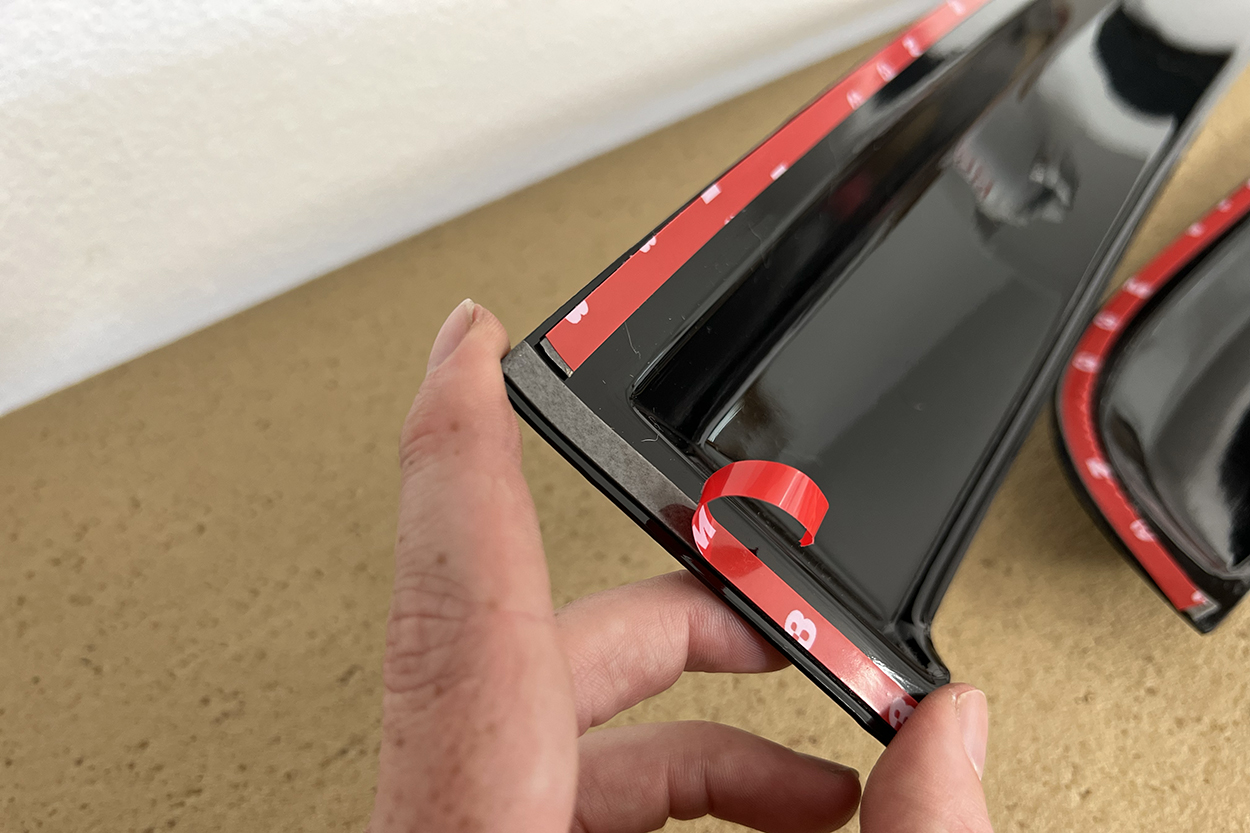 Grab whichever piece you want to start with first. I highly suggest starting with the front door piece. Peel off the 3M protective adhesive and get ready to apply it to your Tacoma.
Step 3. Install Wind Deflector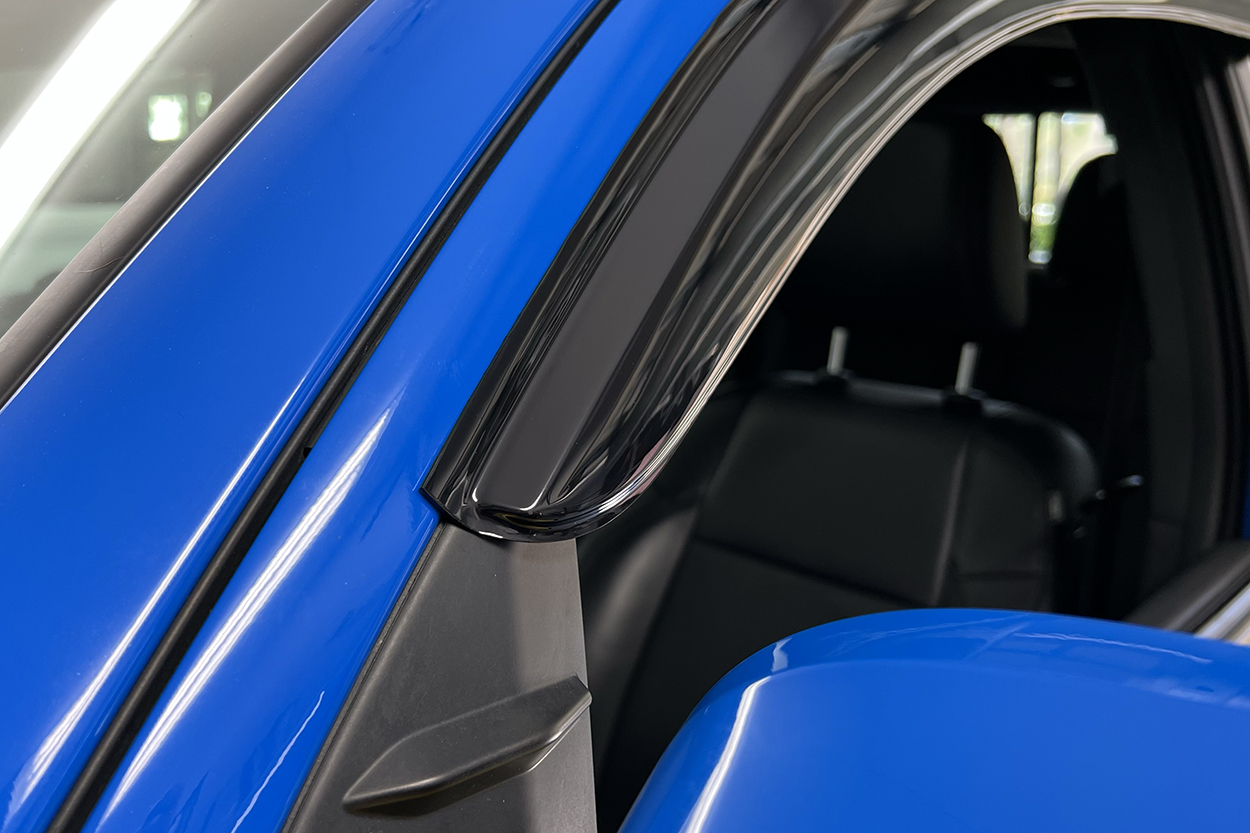 Starting by the mirror, align the wind deflector just slightly above the plastic on your truck's paint and press down firmly when the wind deflector is appropriately lined up.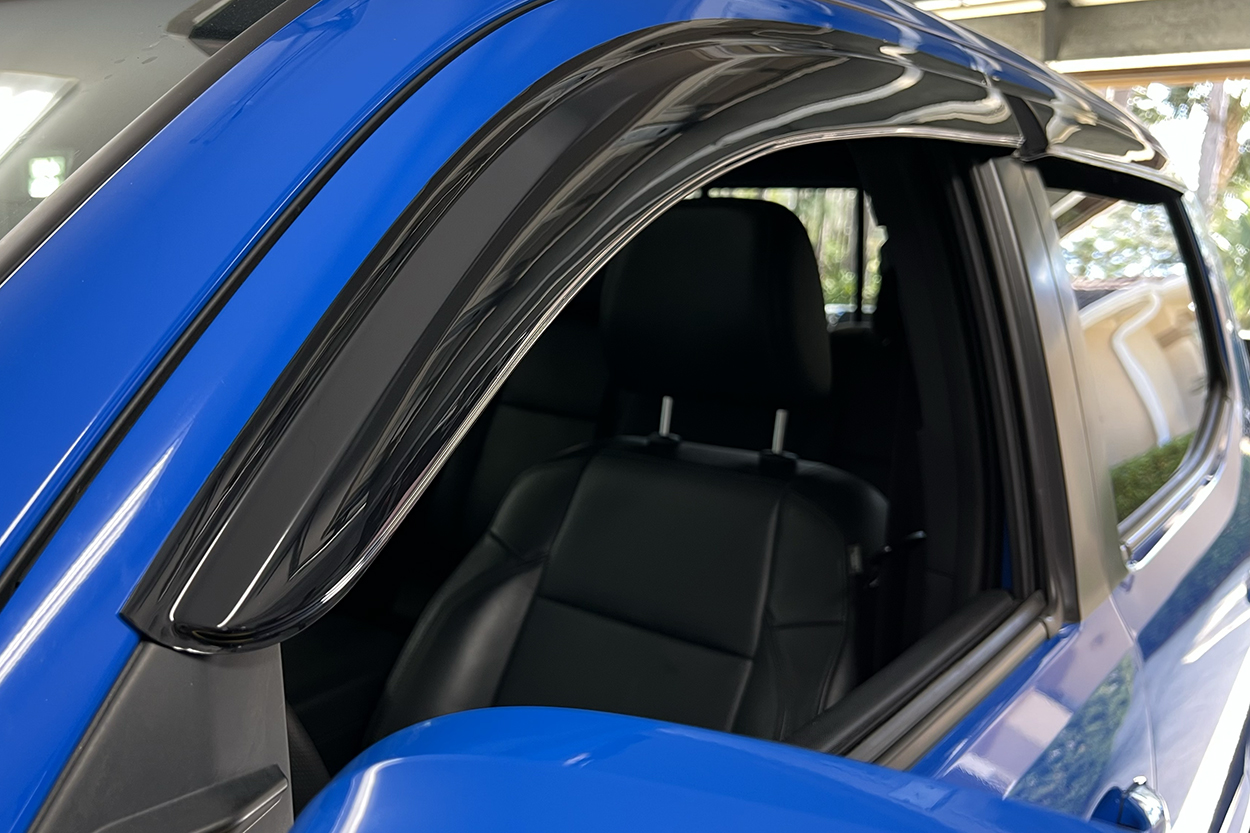 This is how your front wind deflector should look when lined up correctly.
Step 4. Repeat Steps On Other Windows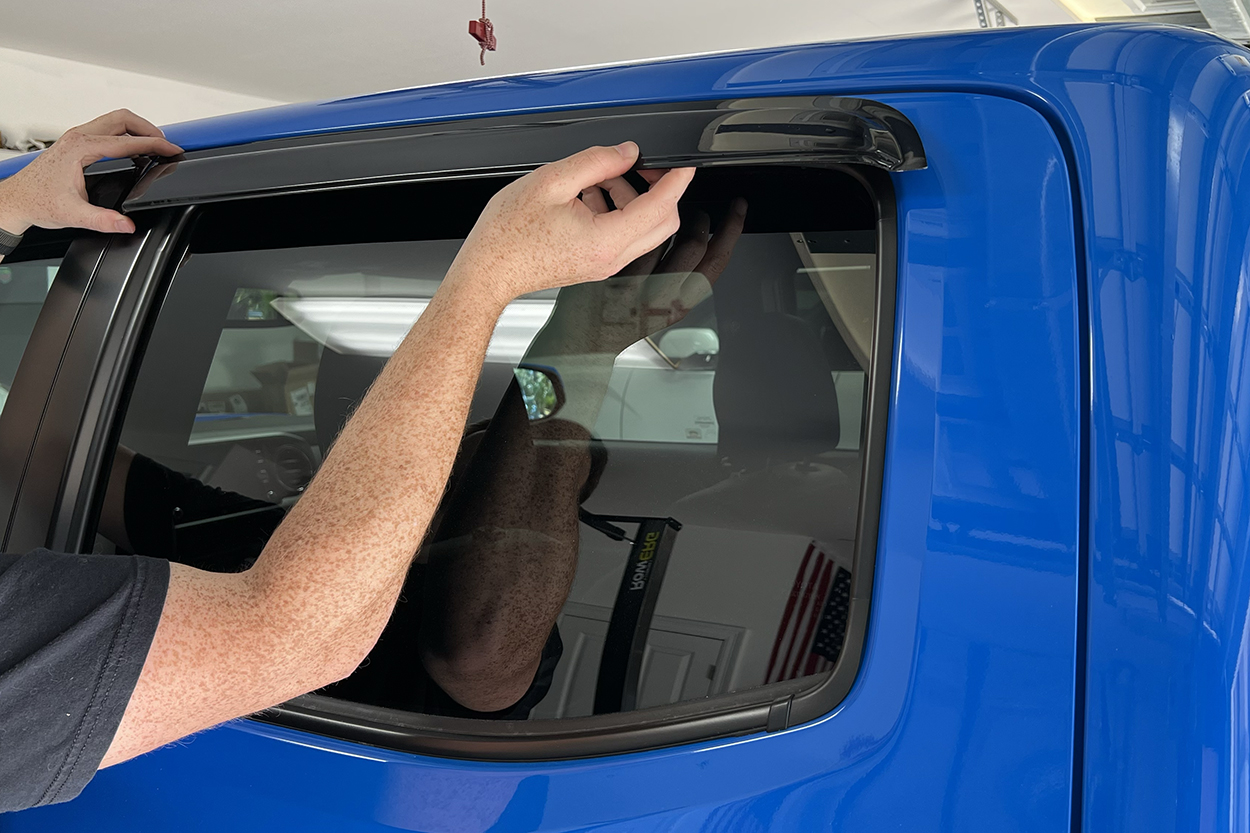 Repeat the same process for your rear door.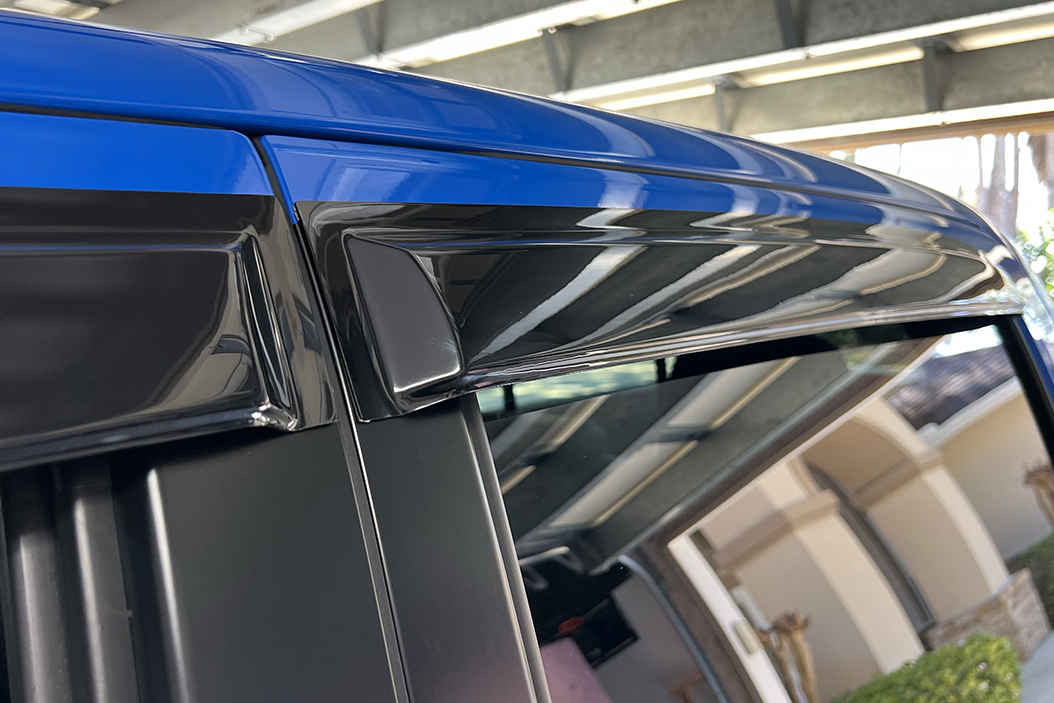 This is how your rear wind deflector should line up with your front deflector. Again, I highly recommend installing the front deflector first. It will make lining up the rear a breeze.
That's it; you're done!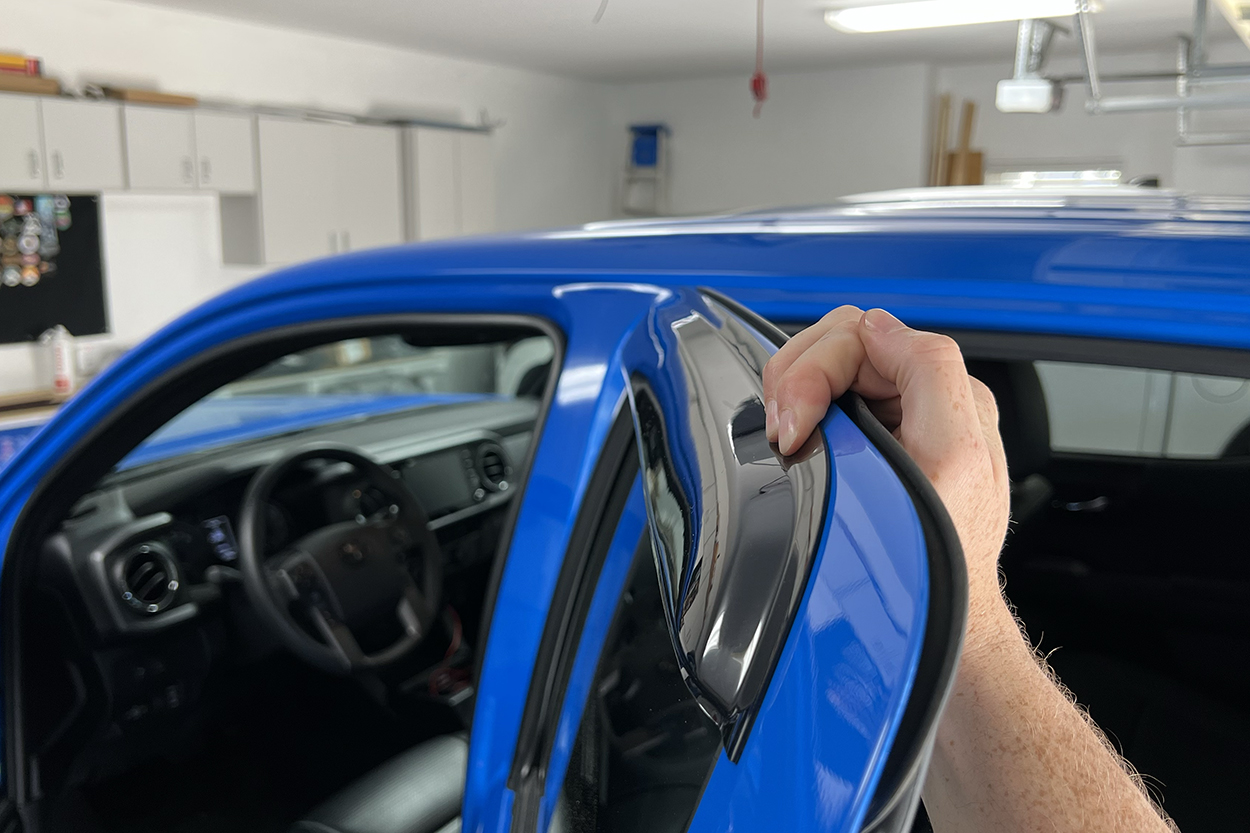 I found that opening the doors to really grip down and press the wind deflectors was the easiest way to make sure they stick. It is advised by Yotaverse to let the wind deflectors sit overnight for full adhesion before driving with them.
Rain Test
So, remember how I mentioned in my intro about Florida being the "Rain State" vs. the "Sunshine State"? Well, take a look at what we've got here! As you can see, I left the Tacoma out during a rainstorm. You can see all the rain droplets on both my front and rear windows in the photo above, except for near the Yotaverse window deflectors.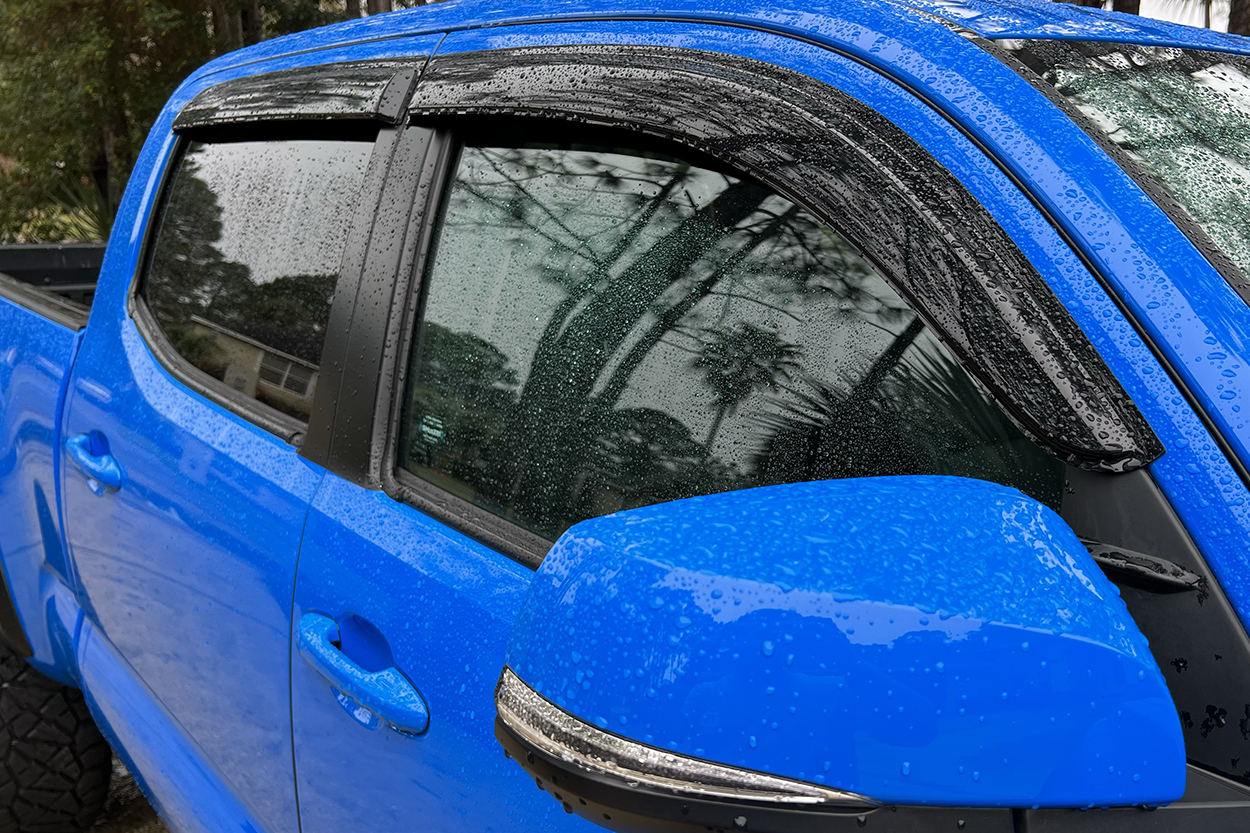 So now imagine you are driving in this rain; your cabin windows may start to fog up a little bit, as the Tacoma is notorious for doing, and adding some fresh air would be ideal for clearing up your windows. With these wind deflectors cracked about an inch or so, zero rain will enter your cab, and you'll have complete fresh air. Honestly, super freaking cool.
Final Thoughts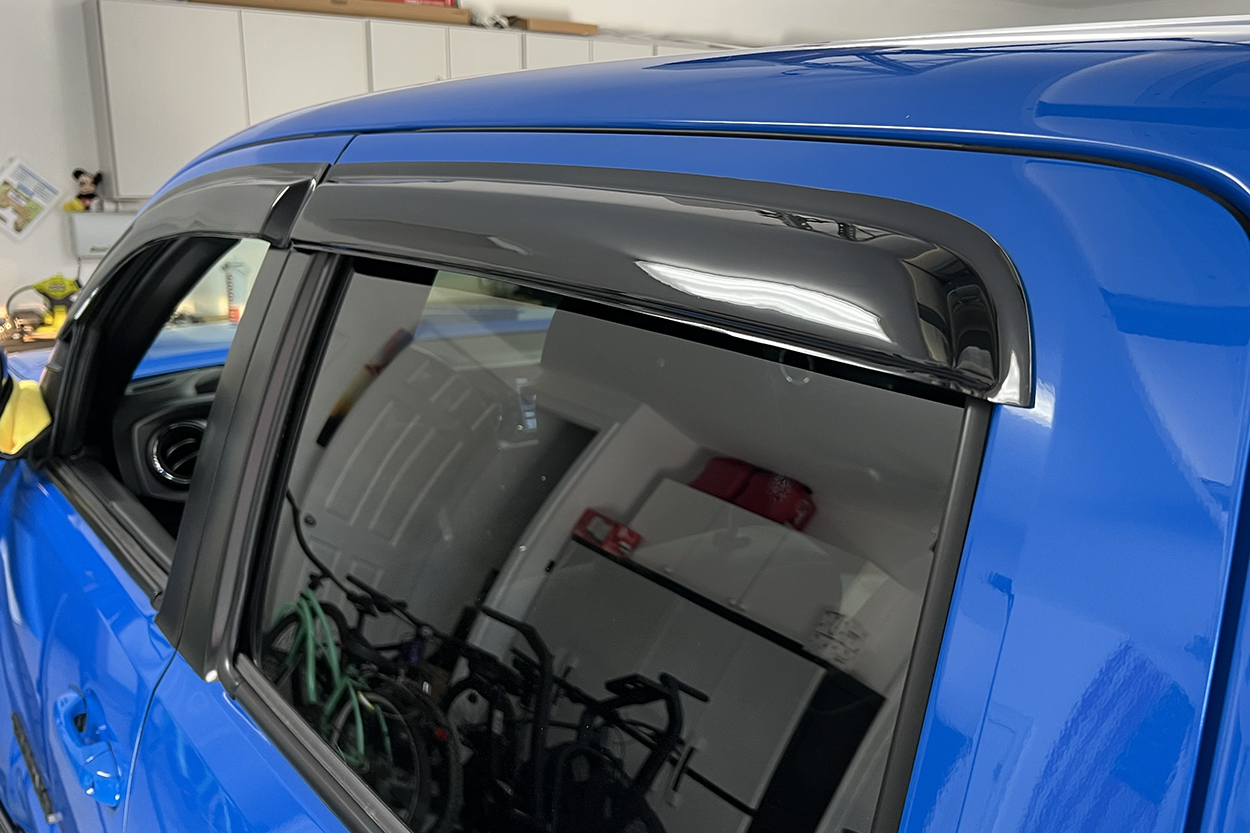 Overall, I am super happy with how this install turned out. I was skeptical at first about potentially having added wind noise while driving after installation. However, I can confirm that that is not the case. The Tacoma's cab is just as quiet as it was before installing these Yotaverse wind deflectors. Although I like an in-channel look for aesthetic reasons, I genuinely feel that these are ultimately more functional than in-channel variants based on the rain test results. Plus, you always hear that the in-channel ones can potentially damage the window or motor.
The installation was super easy as well. I won't lie; at first, it was a little challenging to figure out exactly where I needed to place the front wind deflector. I didn't exactly know how far down the a-pillar I needed to go to allow it to fit correctly. With maybe about five minutes of finagling, I accurately saw where I needed to place the deflector.
I'm super excited to use these for the coming summer months to allow fresh air into the truck while keeping the rain out.
Thanks for reading, guys!