We Asked 9 2nd & 3rd Gen Toyota Tacoma Builds What Their Top Favorite Modifications Are In 2022 – Here Is What They Said!
Hey guys, welcome back to yet another Taco Tuesday! If you missed last week's TT, we went over Aftermarket Headlight options for the 3rd Gen Tacoma.
This week, we aren't focusing on just one particular mod. Instead, we asked nine different owners what their Top 5 favorite mods are that they have done to their Tacomas. If, after reading, you feel inspired to start your truck build, then take a look this post to help you get started modding your Tacoma.
10 Tacoma Setups & Their Top 5 Mods
Which Mods Are Best?
Each individual Tacoma owner may find certain mods more beneficial than others. This helps to peer into what different guys have to say about their experiences and which mods they prioritize or appreciate above the rest. The choice ultimately comes down to what kind of build intentions you have an the goals you have for your truck.
Maybe you want a more overland-geared build, so your modification choices may fall in line with those of our featured post image rig, submitted by Porter. Or, maybe you are looking for a daily driver/weekend-warrior build and would prefer Chau's truck.
Whatever your build plans are, you will find 9 rigs listed below, all with their own owners' personal favorite modifications. 9 trucks x 5 favorite mods = 45 potentially different mods that you can do or add to your Tacoma.
Now, let's get into it!
1. Brycen Yamada (@_yamadafaka) – 2016 TRD Off-Road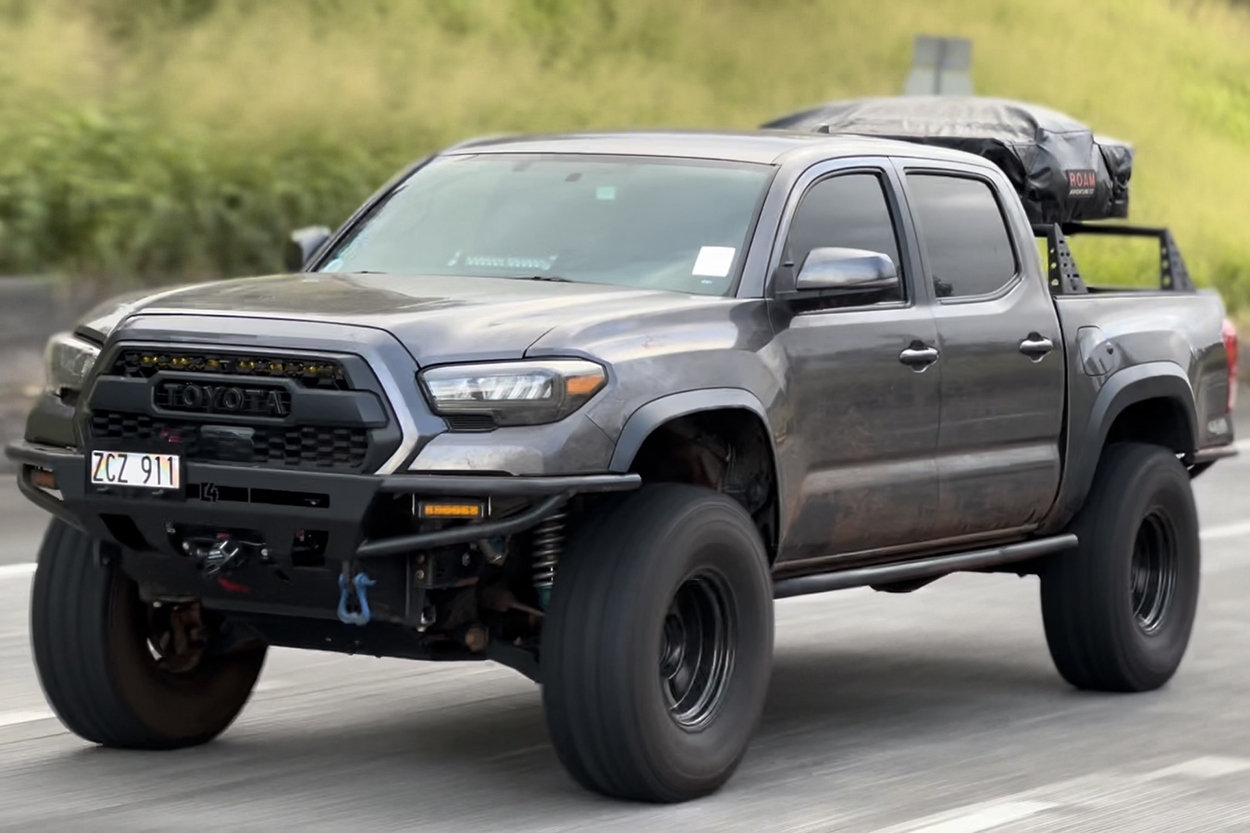 Top 5 Modifications
Upper Control Arms (UCAs)
M/T Tires 33"- 35"
URD Short Shifter for Manual Transmission
Armor (Skids, Rock Sliders, Bumpers)
Recovery Gear and Winch
What Do You Like Most About Your Setup?
After lifting your Tacoma, UCAs help get your suspension geometry back closer to the factory specs. They help to bring your caster back into spec and also help with down travel. Bigger, more aggressive tires help with traction and ground clearance while out on the trail.
For all of the manual tacos out there, I highly recommend the URD short shift kit. The stock throws are way too long and this kit helps eliminate that. Armor is a must when starting a build, especially sliders and skid plates. The last thing you want when you're out wheeling is to get stuck and unable to be recovered or self-recover. On that note, proper recovery gear is also a must, no matter what you drive off-road.
2. Scott Schaefer (@tacomamountain_ut) – 2010 TRD Off-Road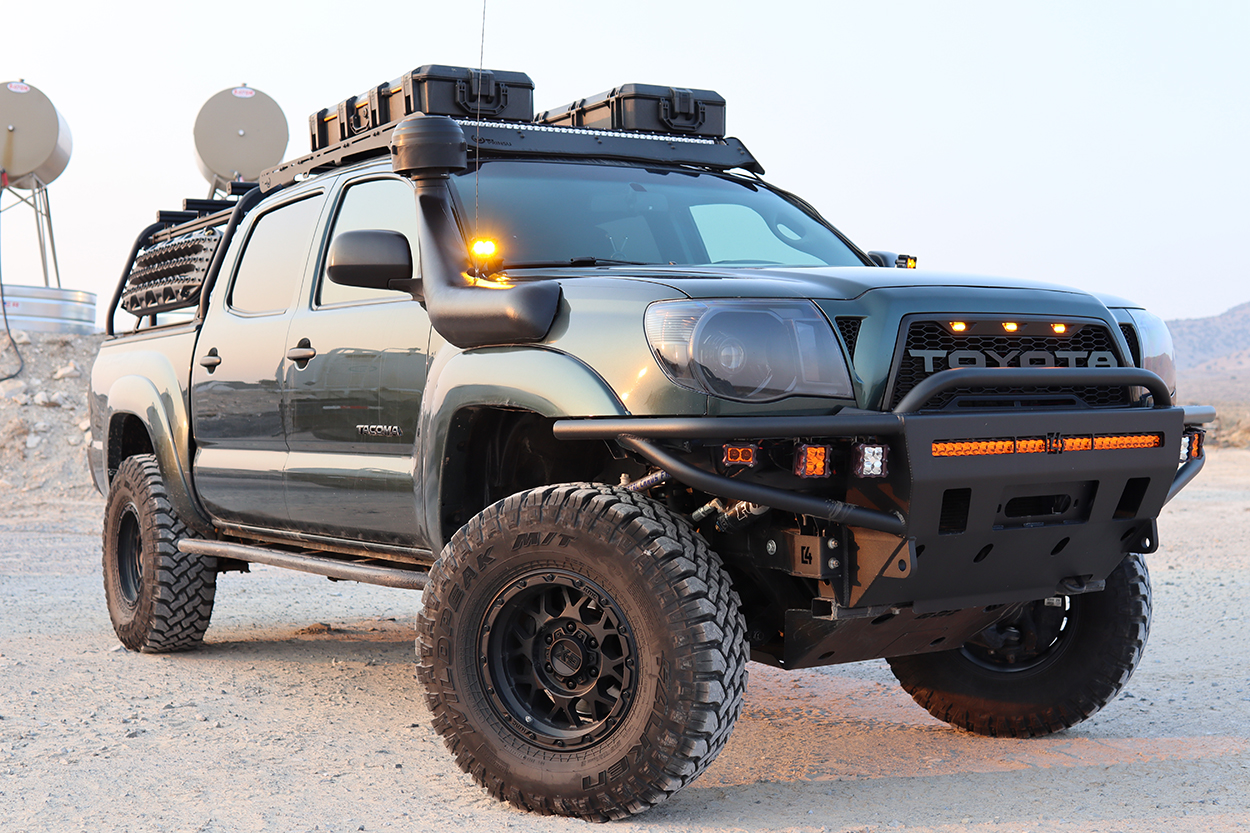 Top 5 Modifications
Long Range America 33 Gallon Replacement Gas Tank
Heretic Studio LED Lighting
Leitner Designs Bed Rack System
C4 Fabrication Front Hybrid Bumper
CVT Rooftop Tent
What Do You Like Most About Your Setup?
Getting a larger fuel tank was the perfect mod for my build as I wanted to be able to go further out on the trail. I no longer have to worry about carrying extra gas for longer trips. The Heretic LEDs are amazing and are made in America in Centerville, Utah. Amber lighting is ideal for visibility with off-road terrain and certain weather conditions like dust, fog, or snow.
I own a classic model bed rack by Leitner Designs. The rack itself weighs in at 65lbs and can be used for a variety of things. I have a storage pod to store all the gear that I need at my fingertips on one side. On the other, I store traction boards. I have a rooftop tent on top of the bed rack.
I decided to get the hybrid front bumper since it's lighter and able to carry the lights I needed. It's also good to have improved approach angles for off-road terrain. C4 is a great company and I will be adding their high clearance rear bumper in the future.
Lastly is my Mt. Hood 56" double channel tent. I definitely love this tent. I love how easy it is to set up. I have 2 sleeping bags and pillows all laid out ready to climb and sleep. Both the setup and take-down time is important while being off-road.
Top 5 Modifications
285/75/R17 Yokohama G003 M/T tires
Baja Design Foglights
CVT Rooftop Tent
4.88 Nitro Gears
2.5″ OME Suspension Lift
What Do You Like Most About Your Setup?
You can't go wrong with the Yokohama G003 (Geolandar) M/T tires. They've performed absolutely phenomenally in all conditions so far. Their traction is unmatched for an M/T tire, which is why they're so commonly found on builds. They're also fairly quiet on the road and a lot lighter than most MTs out there.
The Baja Designs Sport Squadrons have gotten me out of a couple of dicey situations at night. They're extremely bright with 3150 lumens each; which makes for a world of a difference when navigating trails at night. They'll literally let you see everything in your path.
I got my CVT rooftop tent about a year ago and it's just been so convenient sleeping comfortably and safely. It sets up in less than 2 minutes and is easily stored in less than 5. It allows you to set up camp wherever you need to and is fast and extremely convenient.
I've got to say that the best modification has been the 4.88 Nitro gears. This mod has allowed me to add more weight to my truck while keeping decent gas mileage on trips. You can feel the truck run smoother and almost completely eliminates the gear hunting that Tacomas are commonly known for. I definitely recommend this modification.
I have the Old Man Emu suspension lift on my Tacoma. I got about 2.5 inches of lift all around using the Dakar leafs and the Nitrocharger shocks. I have no complaints so far, they've held up well through different trails and road trips.
4. Alexis Bell (@tacomawild406) – 2021 TRD Off-Road
Top 5 Modifications
MBRP Exhaust
TacomaBeast Raptor Tail Lights
Cali Raised LED 52" Curved Light Bar
XD Wheels
TacomaBeast Leveling Kit
What Do You Like Most About Your Setup?
Each one of these mods brings its own unique touch to bringing the truck together! The MBRP exhaust brings an aggressive sound, while the raptor tail lights and XD wheels provide the aesthetics to match. The 52" curved light bar is always needed for those late-night trail runs! Lastly, the leveling kit provides my ideal stance and allows for more ground clearance and larger tires!
5. Chau Huynh (@chaucoma) – 2019 TRD Off-Road
Top 5 Modifications
Overland Vehicle Systems 270 Awning
WaterPort Weekender Water Tank
King 2.5 External Front & Rear Suspension
ARB Twin Compressor
Meso Customs Dome Lights
What Do You Like Most About Your Setup?
The OVS awning is by far my favorite mod on the truck. Setup and take-down time are very important to me. It is also a free-standing system, so it doesn't require support legs. The WaterPort is excellent for washing off sandy feet or muddy boots.
The King shocks, well, they paid for themselves in trips I didn't need to take to the chiropractor. They provide a very smooth and comfortable ride while also being off-road capable. The ARB twin compressor goes hand in hand with the WaterPort. You can use the compressor to pressurize the tank if you are out on the trail. The Meso lights keep the cab illuminated when I'm looking for floss picks after a nice steak. Photo shot by @another_pnwtaco.
6. Nicholas Stahl (@cement_tacoma_trd) – 2020 TRD Off-Road
Top 5 Modifications
Rear Differential Skid Plate
5.29 Nitro Gears or 4.88 Nitro Gears
Rock Sliders
Recovery Gear
Air Compressor
What Do You Like Most About Your Setup?
The rear differential skid plate has saved my differential numerous times from being scraped. The 5.29 Nitro Gears were necessary after upgrading my tires to 295/70R17 M/T tires; they brought my truck back to life! I feel that recovery gear is a must when going out to the trails. You never know what might happen yourself or who you might even save.
7. Porter Clawson (@tacomautah) – 2020 TRD Sport
Top 5 Modifications
35" Nokian Tyres Outpost A/T
C4 Fabrication Hybrid Front Bumper
Anzo USA Switchback Headlights
Decked Drawer System
Prinsu Designs Roof Rack
What Do You Like Most About Your Setup?
I love how each of these modifications has changed the overall look of my truck. The mods that I have chosen compliments each other seamlessly. These mods aren't all about appearance though, as they have a great deal of function for me while out on the trail. Honestly, without one mod, another might not be as effective.
8. Young Kim (@k1mch1_taco) – 2020 TRD Off-Road
Top 5 Modifications
Suspension Lift
Roof Rack
Amber Fogs & Ditch Lights
Wheels & Tires
Rock Sliders
What Do You Like Most About Your Setup?
I feel like these are the essential mods for any build! Whether it's an overlanding or an off-road build, every component has served a purpose for my build.
Amber lights are great for any snow conditions, showing the contours of the snow on the ground for easy navigation. Wheels and tires not only provide stance but improve performance on the trail. Having a more negative wheel offset helps for both stability and helps me push off obstacles and onto the rock sliders, preventing damage to the body of the truck. A lift helps with ground clearance and of course, great looks. Lastly, the roof rack is for carrying anything and everything; Recovery gear, tents, kayaks, house doors, fire pit rings, etc.
9. Harley Mednick (@notorious_tacoma) – 2021 TRD Off-Road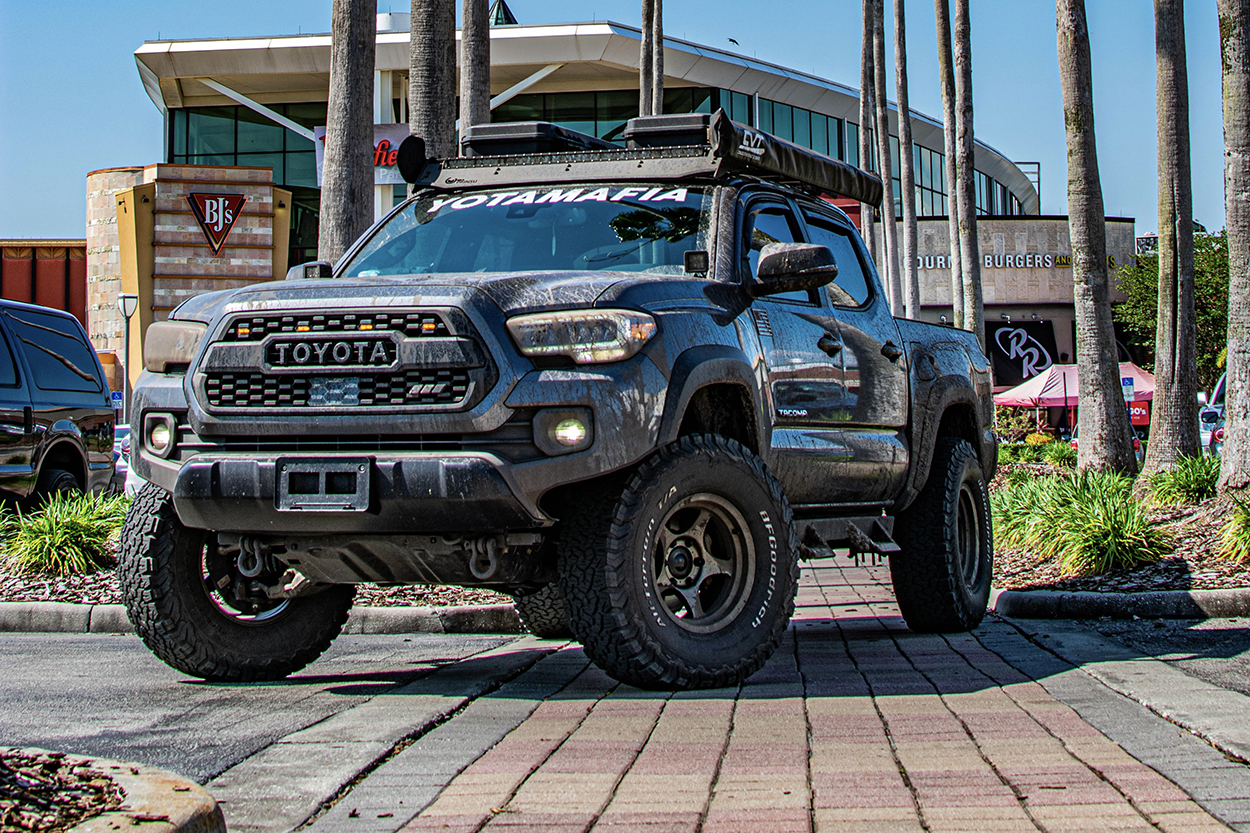 Top 5 Modifications
FN Wheels + 295/75R16 BFGoodrich KO2s
Prinsu Roof Rack
Recovery Gear
Heretic LED Light Bar and Cali Raised Ditch Lights
KD Max Tune
What Do You Like Most About Your Setup?
Stock tires can not handle any sort of off-road terrain in my experience, and I do love the look of my BFGoodrich KO2s. Having a roof rack has definitely helped with extra storage and provides limitless options for accessories. Of course, having recovery gear is a must, even if it is a couple of shackles and snatch rope. I've gotten stuck plenty of times and helped others out. You can't go wrong with having extra lights while driving down a dark road or while hitting the trails. Finally, with all of the extra parts added and heavier wheels, a tune will help you get down the road a lot smoother.
10. Brenan Greene (@Trail4R) – 2013 TRD Sport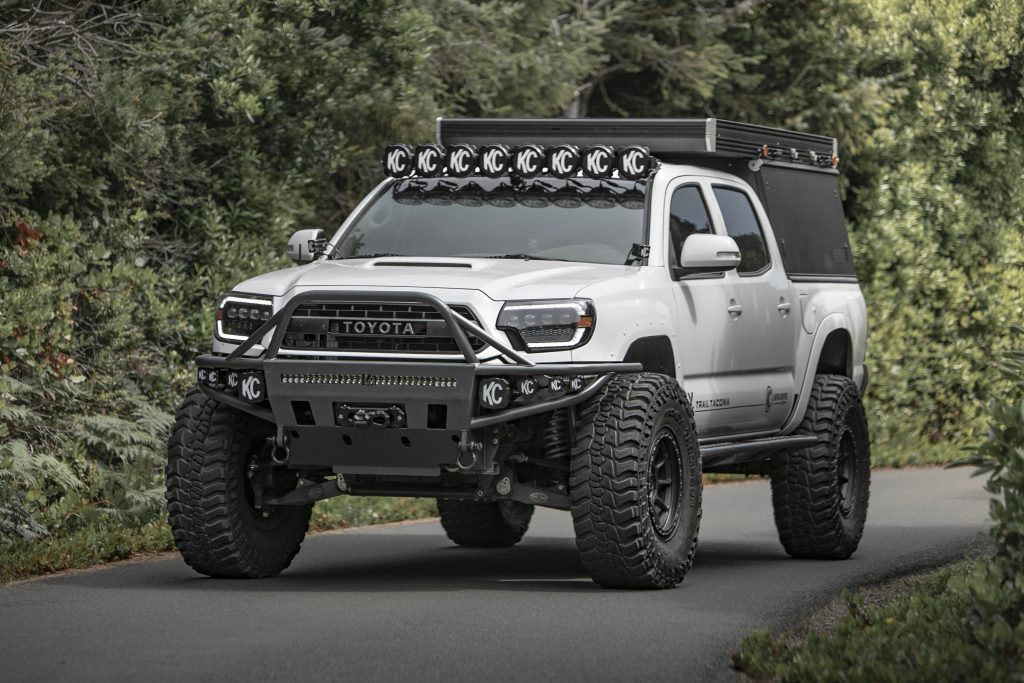 Top 5 Modifications
KC EVERYTHING
Go Fast Camper Version 02
JD Fabrication 2.25″ Long Travel (Fox Shocks, 934 Chromoly Caged CVs, 200 Series Land Cruiser Rack)
Mickey Thompson Baja Boss M/T
C4 Fabrication Armor
I love this truck. The 2.25″ long travel paired with the C4 Hybrid loaded with KC Lights and the GFC Camper make the truck a do-anything go-anywhere rig. I started out 15 years ago with a 4Runner but have grown to love the Tacoma platform.
Final Thoughts
What a great round-up of Tacomas! I hope that you got some ideas for what mods you would like next for your build! We had over 40 to choose from, so awesome!
If you want to be featured for Taco Tuesday, submit your build through TrailTacoma.com/Feature. Next week's Taco Tuesday will be asking owners what Armor they use to protect their truck while off-road. We're looking for sweet rides to showcase! If this is you and you love your setup, send in your details because we want to see it.
Thanks for reading guys. I'll see you next week!