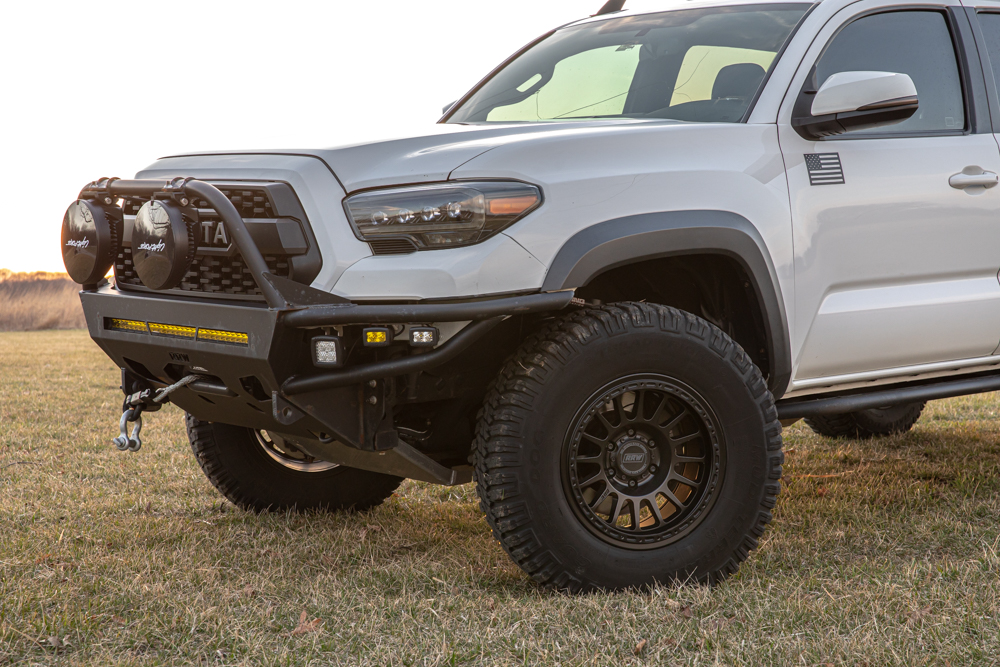 10 Unique Black Wheel Setups For 3rd Gen Tacoma – Popular Aftermarket Wheels For Off-Road & Overland Truck Builds in 2022
Hey everyone, welcome back to yet another Taco Tuesday! If you missed last week's TT, we asked Tacoma owners what off-road tires they were running and why.
This week, we are piggybacking off of that and showcasing some aftermarket black wheel options for you to consider for your Tacoma. Black wheels are a classic look, and they match pretty much every build.
If you are in the market for some new wheels and are looking for a CRAZY deal, then head on over and check out our Relations Race Wheels Group Buy – which is in its final days! You can score 25-30% off some of their most popular wheels and add-ons, insane! Above, you can see a set of black RR6-H wheels.
10 Black Wheels For Tacoma
Why Upgrade To Aftermarket Wheels?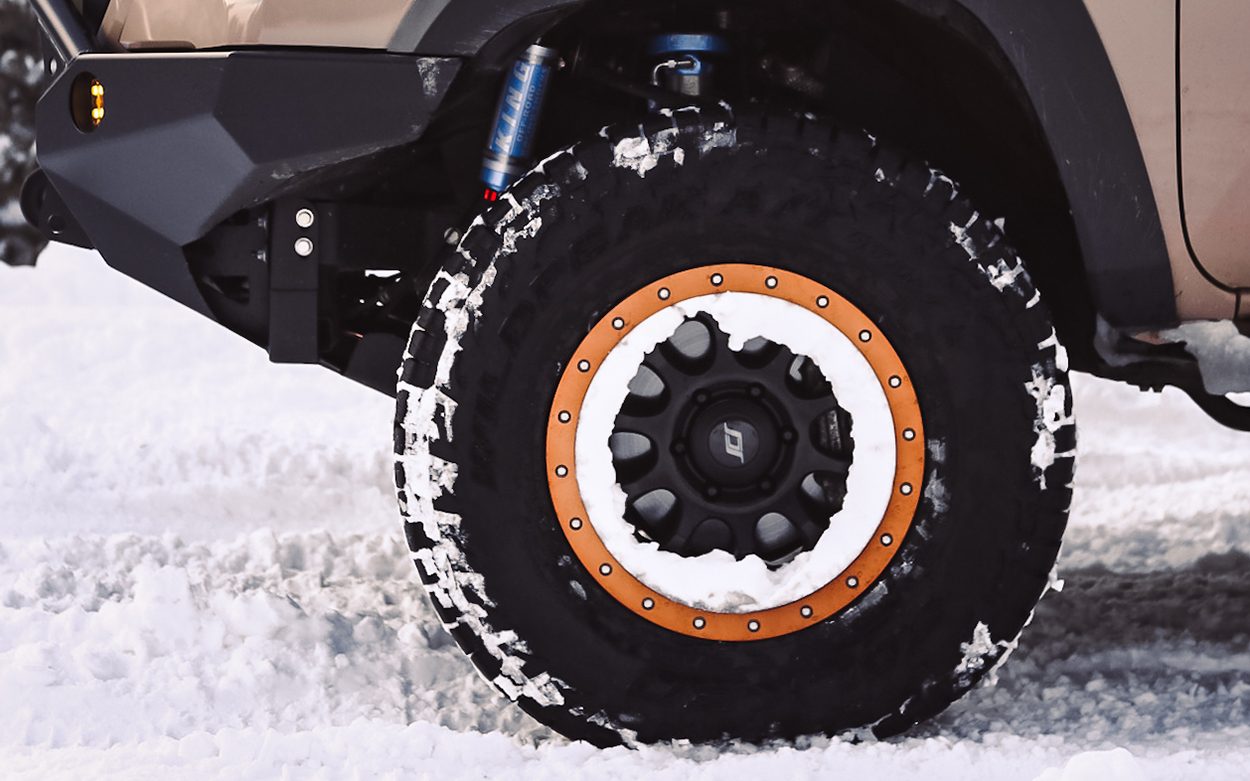 One of the main reasons why anyone upgrades their wheels is for aesthetics. Toyota only has a few OEM wheel options for the Tacoma with 90% of them being the TRD Off-Road or TRD Pro style. While these look great, I have to admit that they're a little boring and unoriginal. Especially after all these years.
Upgrading to aftermarket wheels will help differentiate your Tacoma from many others. However, upgrading your wheels isn't just about an aesthetic change, there are some hidden benefits that most people don't realize as well.
Improved Stance
One word, offset. OEM wheels come with a very conservative positive offset from Toyota. This means that the wheel is tucked inside the wheel well more, reducing Tacoma's width for stability when off-road. A most positive offset helps ensure that your wheels won't hit the fender liners or body mount while turning.
Most individuals when upgrading their wheels opt for a more negative offset. This brings your wheels and tires closer in line with, or in some cases past your fender to achieve a wider stance. Think of achieving that wheel spacer look without needing to run actual spacers.
Having a wider stance helps your truck stay a bit more stable both on and off-road. Keep in mind, that once you get into large negative offset territory, it will take some extra work to get them to fit properly (especially with larger tires) with respect to turning.
Run Larger Tires (Safely)
A lot of off-road-ready wheels are a bit wider than OEM wheels. OEM wheels are around 7″ wide whereas a lot of aftermarket wheels are 8-9″ wide. This allows aftermarket wheels to run bigger, wider tires much safer with far less of chances of a tire de-beading because it is too wide for the wheel that it is wrapped around, especially when aired down.
Check out what 9 owners had to say about their wheel set up down below!
1. James Bautista (@darknyte3g) – Stealth Custom Series
Wheel Details
Model: SCS F5
Size: 17×9 | -38mm offset
Price: ~$245/wheel
What Do You Like Most About Your Setup?
What really made me pull the trigger on the SCS F5s was the aggressive offset and the simple 5-spoke design. The -38mm is the perfect offset in my opinion for the stance of the truck as well as for achieving that deep-dish look. Don't get me wrong, it's a pain to make the -38mm offset work, especially with my 35s. However, it was well worth all the trouble to achieve this look.
2. Kali Helsel (@kalis_yota) – Method Race Wheels
Wheel Details
Model: 309 Matte Black
Size: 17×8.5 | 6×5.5 | 0mm offset | 4.75" backspacing
Price: ~$345/wheel
What Do You Like Most About Your Setup?
Method has yet to disappoint me. On and off the trails, these wheels perform at the highest standard you can get. I believe Method makes the top wheels in the industry. Besides the fact that they are among the most well-known brands in the off-road community, I like that their wheels are very durable, and look amazing while doing it. I like the Method 309 because they give the truck a unique look that sets it apart from other Tacomas out there.
3. Mike Kinkead (@thatbcyota) – Fuel Off-Road
Wheel Details
Model: Vector
Size: 16×8
Price: ~$310/wheel
What Do You Like Most About Your Setup?
I wanted a smaller wheel so that when I put 35s on them, I'd have more sidewall. In my opinion, if you're not running true beadlocks while wheeling, then having a protection ring helps protect the rim so that you don't risk damaging your bead. We call them "bro locks" because they're always looking out!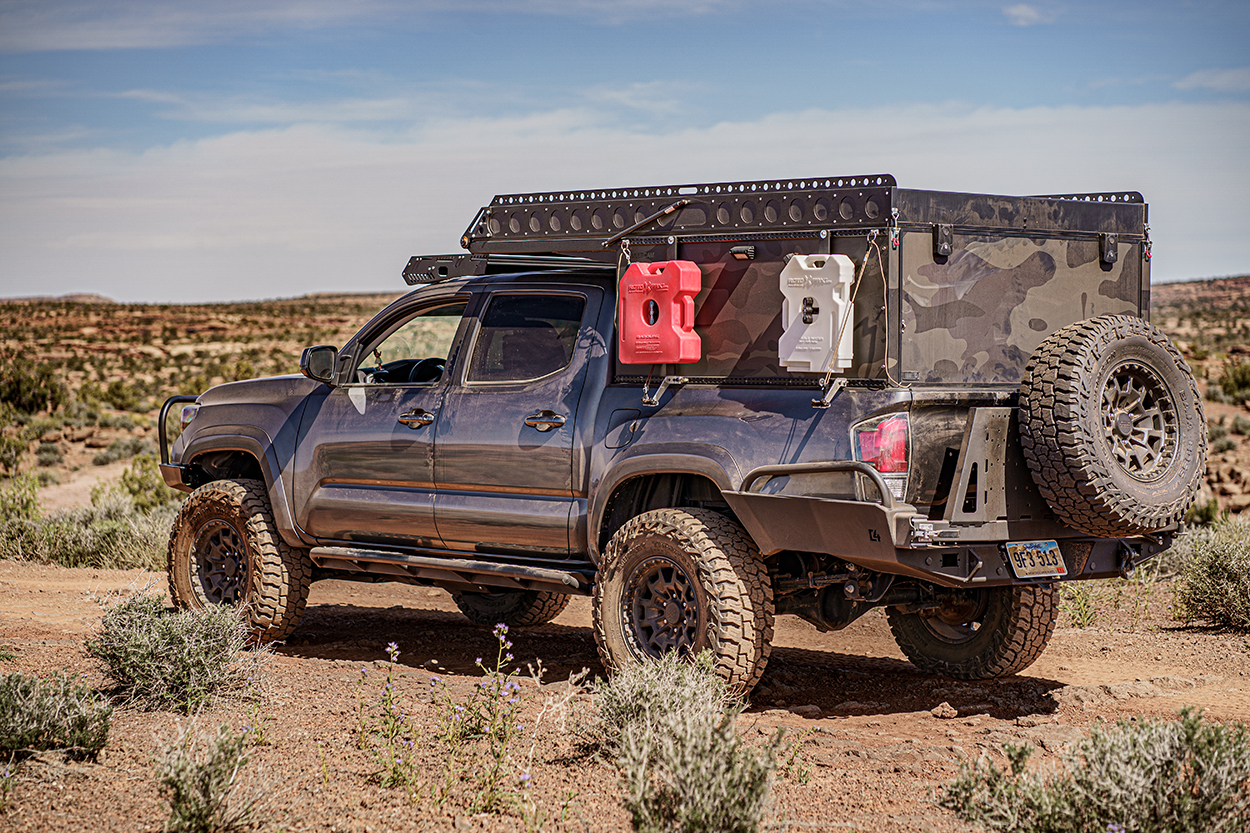 Wheel Details
Model: Summit 718
Size: 17×8.5 | 0mm offset
Price: ~$250/wheel
What Do You Like Most About Your Setup?
The KMC brand has a good reputation in the offroad industry. I like that I can trust that these wheels are going to hold up to trail abuse. I really dig that they have a bead ring style to help protect the inner wheel as well. These wheels pair really well with an aggressive tire like my Baja Boss A/Ts and make the sidewalls really pop. The gold accents also have just enough contrast to draw your eyes to the wheels.
5. Will Holder (@tn_taco) – Black Rhino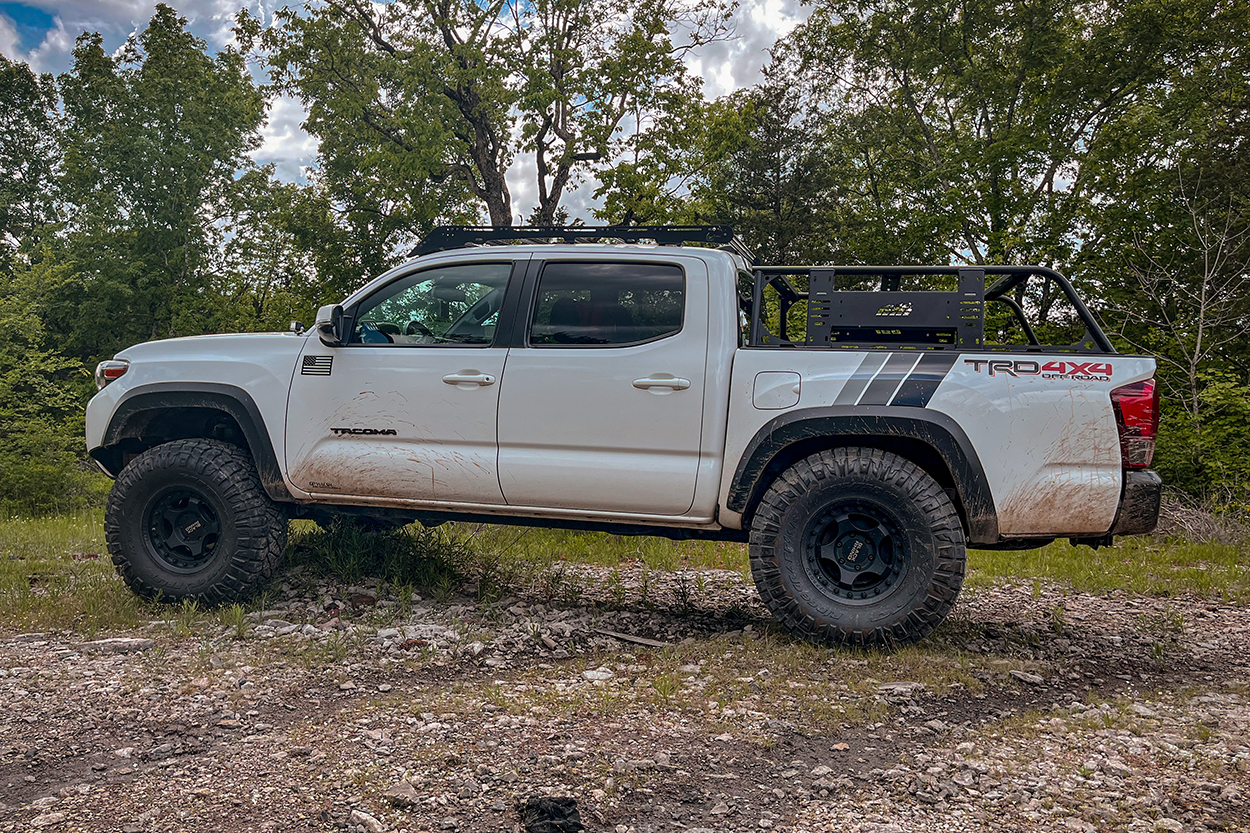 Wheel Details
Model: Bantam
Size: 16×8 | -10mm Offset
Price: ~$225/wheel
What Do You Like Most About Your Setup?
I love these wheels because of their rugged flat black design and texture. I've always admired 5 spoke wheels and Black Rhino definitely designed these perfectly. As for almost all Black Rhinos, they have that rugged military look that suits any Toyota platform perfectly. The black texture is flawless and I still haven't had any problems with rock rash or flaking while on the trails. I couldn't be happier with the Bantams and best of all, they are relatively cheap!
6. Ernest Tkach (@916tacoma) – Stealth Custom Series
Wheel Details
Model: Ray 10 Matte Jet Black w/ Blaze Bronze Lip
Size: 17×9 | -38mm Offset
Price: ~$280/wheel
What Do You Like Most About Your Setup?
My favorite thing about this wheel is the uniqueness/rarity of the color and the amazing -38mm offset. There aren't many wheel brands out there that offer this insane of an offset. The customer service that the company provides is also top-notch. Overall, these are super solid wheels for the size and they stay solid with whatever I throw at them.
7. Travis Hodges (@tuxtaco) – KMC
Wheel Details
Model: Dirty Harry
Size: 17×9 | -12mm Offset
Price: ~$270/wheel
What Do You Like Most About Your Setup?
One reason I enjoyed the KMC Dirty Harry wheels is that I never see anyone else with them on anything, much less a Tacoma. They also have a classic vibe with the big holes that look like the old buckshot-looking wheels that used to be on a lot of trucks while I was growing up. The wheels have a modern look to them and I enjoy the stance of them as well with the -12mm offset.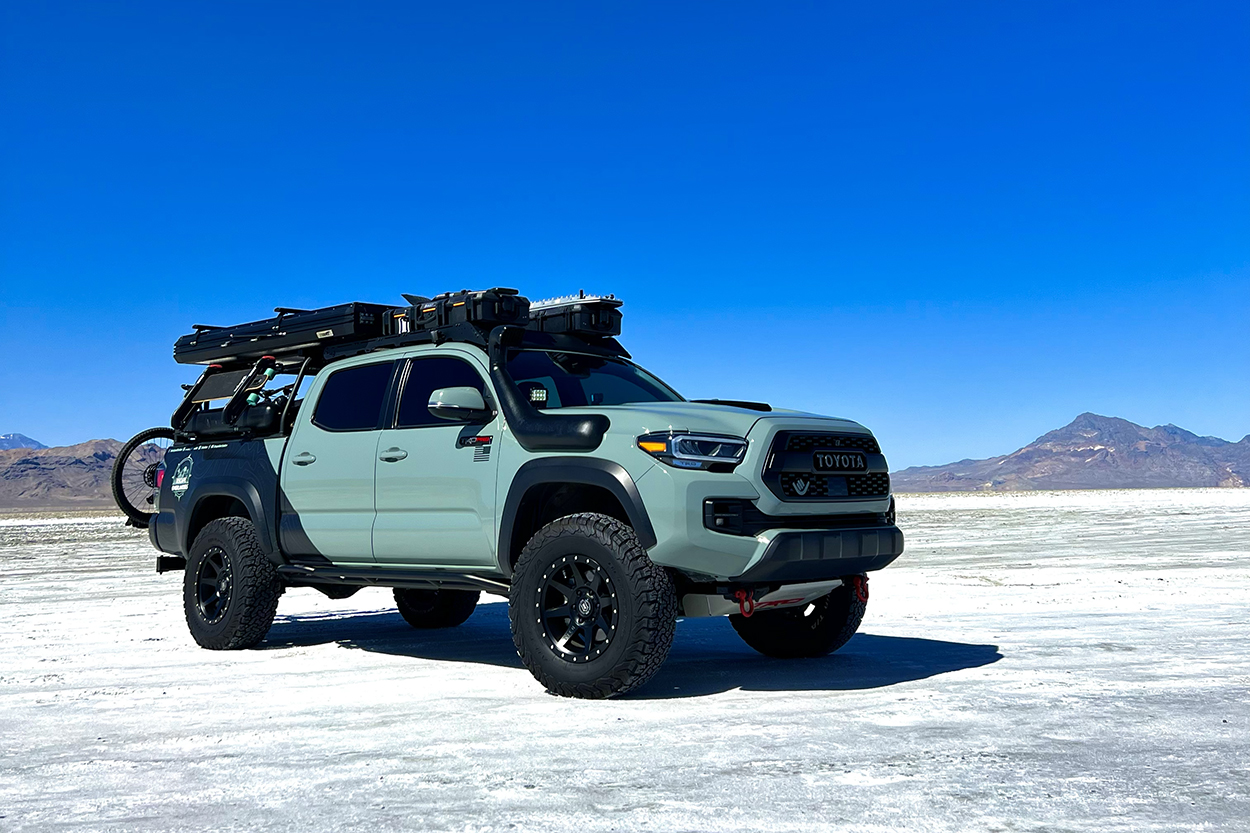 Wheel Details
Model: ICON Alloys Rebound
Size: 17×8.5
Price: ~$315/wheel
What Do You Like Most About Your Setup?
I am a fan of ICON Vehicle Dynamics. I currently have their Stage 10 ICON Suspension that makes my ride smooth like butter. With rocking their ICON Rebound Wheels, it just compliments the overall look of my Tacoma. No matter how rowdy and dirty they get on the trail, I can always count on my wheels giving me the perfect shot.
9. Ferras Atoui (@raptorb8) – Stealth Custom Series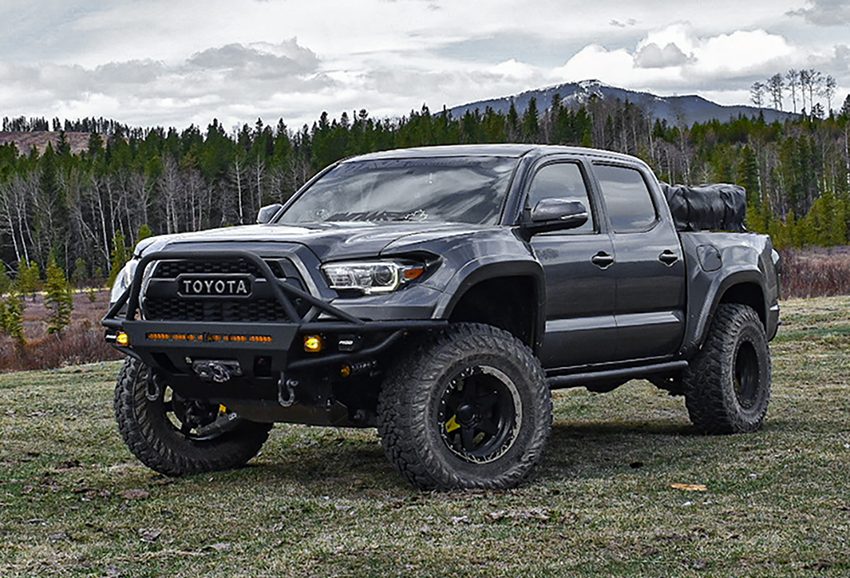 Wheel Details
Model: BR6
Size: 17×9 | -38mm Offset
Price: ~$300/wheel
What Do You Like Most About Your Setup?
Among the SCS line, this model isn't as common as the Ray 10s. I'm a big fan of the simplicity and color of these wheels. It's awesome that you can get the SCS decal in various colors to match your trim color! Also, the faux bead lock ring helps with keeping my valve stem protected.
10. Konrad Chojnowski (@trail_tacoma) – Relations Race Wheels
Wheel Details
Model: RR6-H
Size: 17×8.5 | -12mm Offset
Price: ~$295/wheel
What Do You Like Most About Your Setup?
As soon as I first laid eyes on a set of Relations Race Wheels RR6s, I knew that these were the only wheels I wanted to run on my truck. They look incredible, and the hybrid option is a huge feature. The ability to run one wheel in three different ways is great. You can run just the wheel, the wheel with a protection ring, or you can even add the true beadlock ring. The setup as you see above is a -12mm offset with an additional 1.25″ wheel spacer. Totals at almost -50mm offset, but it looks so good!
Final Thoughts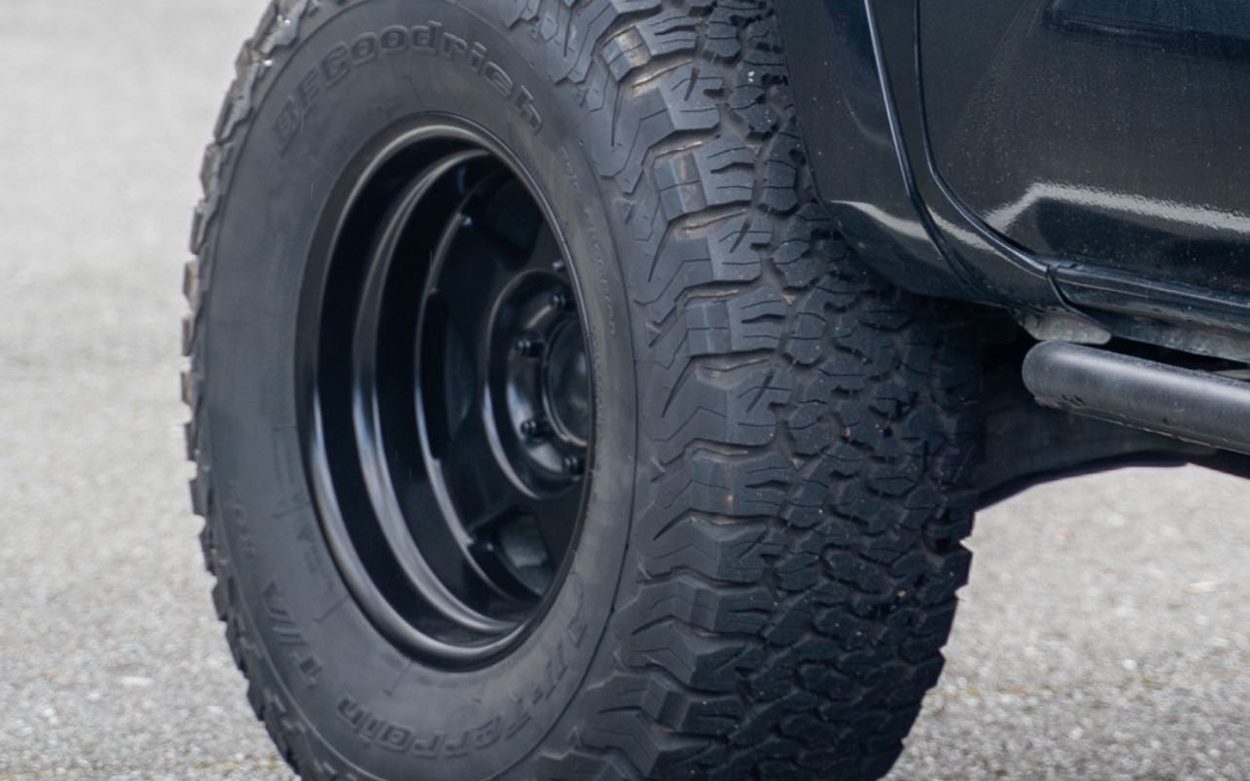 What a great group of trucks to showcase for Taco Tuesday! Aftermarket wheels definitely help separate your rig from others, all while giving you some added benefits. Plus, who doesn't love the stealthy look of black wheels? I hope you all gained some inspiration on what style of a wheel may look good on your Tacoma!
If you want to be featured for Taco Tuesday, submit your build through TrailTacoma.com/Feature. Next week's Taco Tuesday will be featuring Lo-Pro Bumpers that Tacoma owners are running and what they like about them. We're looking for sweet rides to showcase! If this is you and you love your setup, send in your details because we want to see it.
Thanks for reading guys. I'll see you next week!