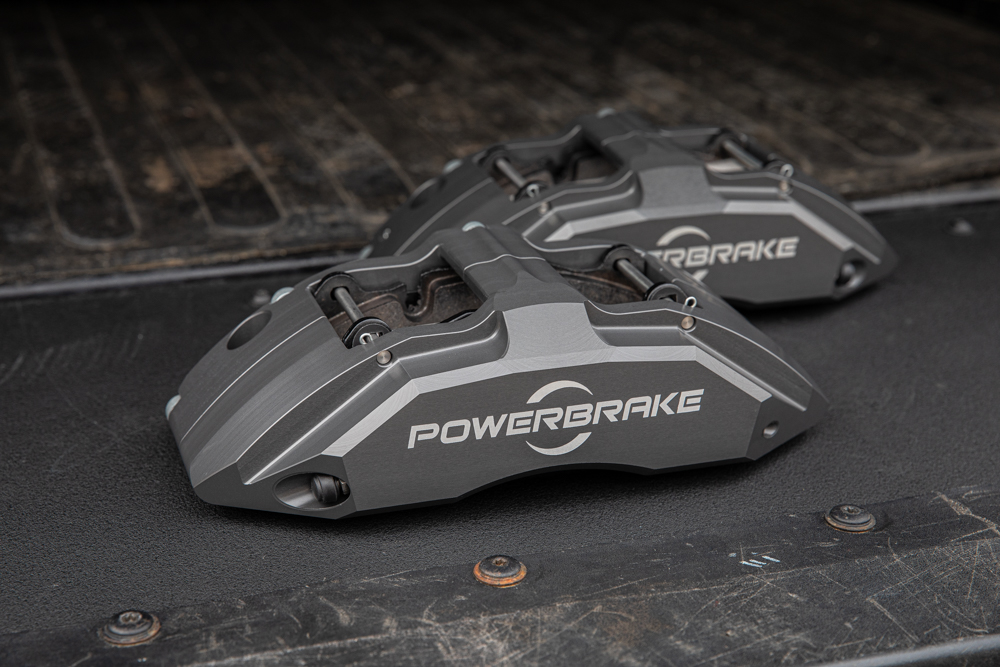 High-Performance Big Brake Kit (BBK) Upgrade for the (2005+) Toyota Tacoma – Direct Transfer Off-Road Race Technology Incorporated Into One Of The Best Aftermarket Brake Systems
BRAKES. Caps lock and bold letters emphasize how important they are when it comes to safety. Getting up to speed in your truck is essential, but arguably, it's more crucial that you can stop.
If you've come to read about this big brake kit (BBK) for the Tacoma, it's likely that you're either frustrated with the performance of the factory braking system, or you're building your truck for off-road or overlanding purposes. Or maybe you want to learn more about BBKs – either way, you're in the right place.
Find Powerbrake Online
Powerbrake Big Brake Kit for Tacoma
I Need Better Brakes – What Are My Options?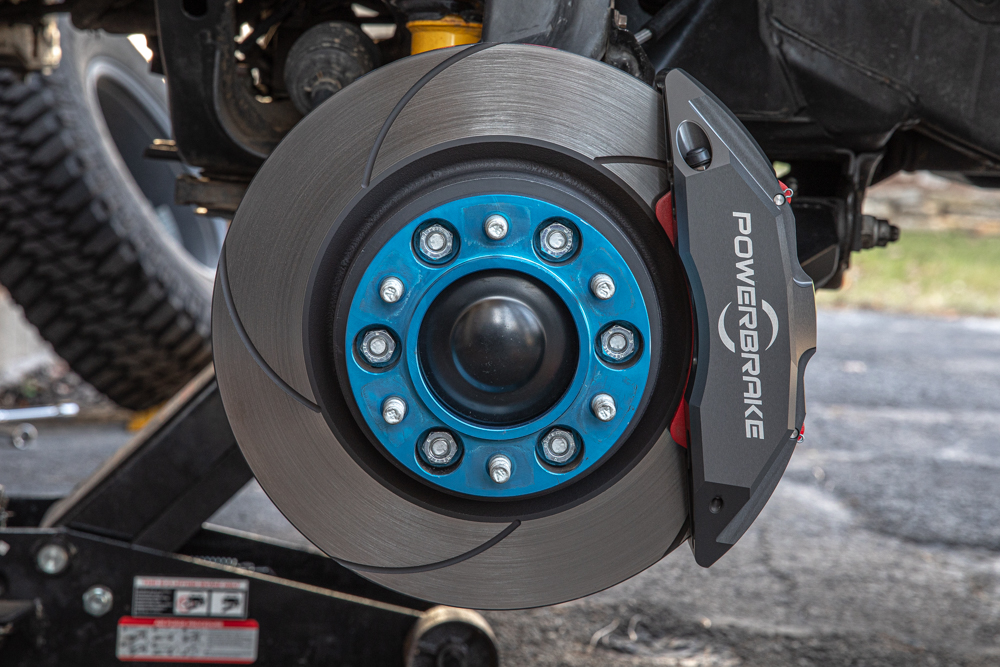 How Much Better Can Brakes Get?
While the factory Tacoma brakes aren't bad, if you're putting your truck under constant heavy loading, such as towing or hauling heavy cargo in the bed or adding lots of weight with aftermarket accessories (bumpers, rock sliders, tires, etc.) – then you know they could be better. Much better. The only question is… how much better?
Pad & Rotor Upgrades?
Sure, you can upgrade your pads and rotors. There are plenty of great options out there. And while those do offer some sort of brake performance upgrade, these aftermarket factory-compatible systems (pads and rotors) are limited by the factory caliper and tight tolerances. You can't do anything about the caliper in this case, and you can only try and improve upon the OEM pads and rotors so much. On a side note, Toyota OEM brakes on their trucks and SUVs are tough to beat. Few aftermarket companies can even come close when it comes to longevity and out-of-the-box performance. But I digress.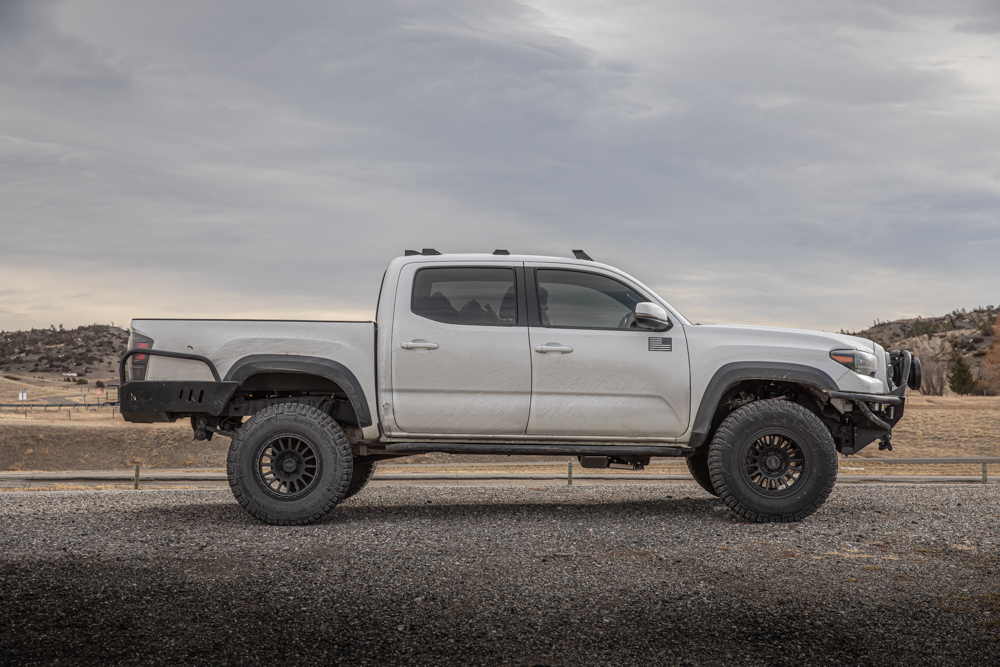 Are BBKs The Answer?
So what can you do? Well, the answer is pretty simple. Upgrade a big part of your Tacoma's braking system. With a big brake kit, you replace the factory setup with new calipers, pads, rotors, and brake lines. All of which are significantly more built for abuse and increased loading. Each and every component is beefed up to support growing loads and take much more abuse.
In this post, I'm highlighting what may just be the new standard for BBKs, at least as far as the Toyota aftermarket options are concerned. Are there others? Of course. And we would need to do a lot of heavy, detailed testing to compare them all. But in a simple side-by-side comparison, and especially when you dive deeper into the Powerbrake story, it's pretty easy to say why I want to say these guys are close to, if not the best. An industry leader at worst.
Who Is Powerbrake?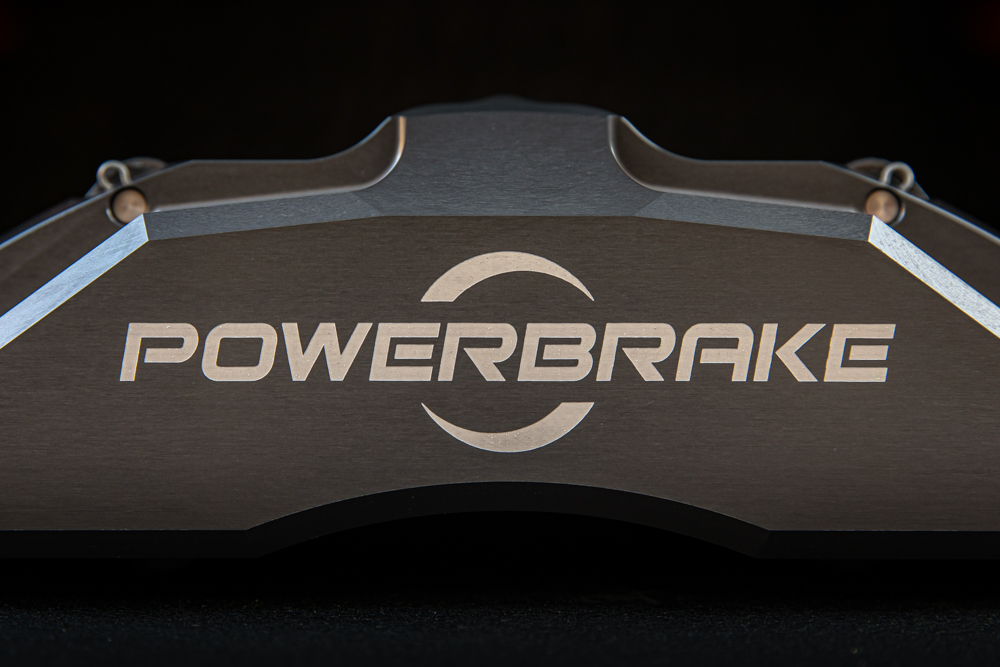 Powerbrake manufactures high-performance race brake systems with a super-strong niche focus on the 4X4 market. Their head office is in South Africa, where the company was founded, with an office in the United States as well. The founders started out in the 1990s working for and with the family brake company. Much has changed since then, as you'll see in the next section covering more of Powerbrake's history and background.
Powerbrake History & Background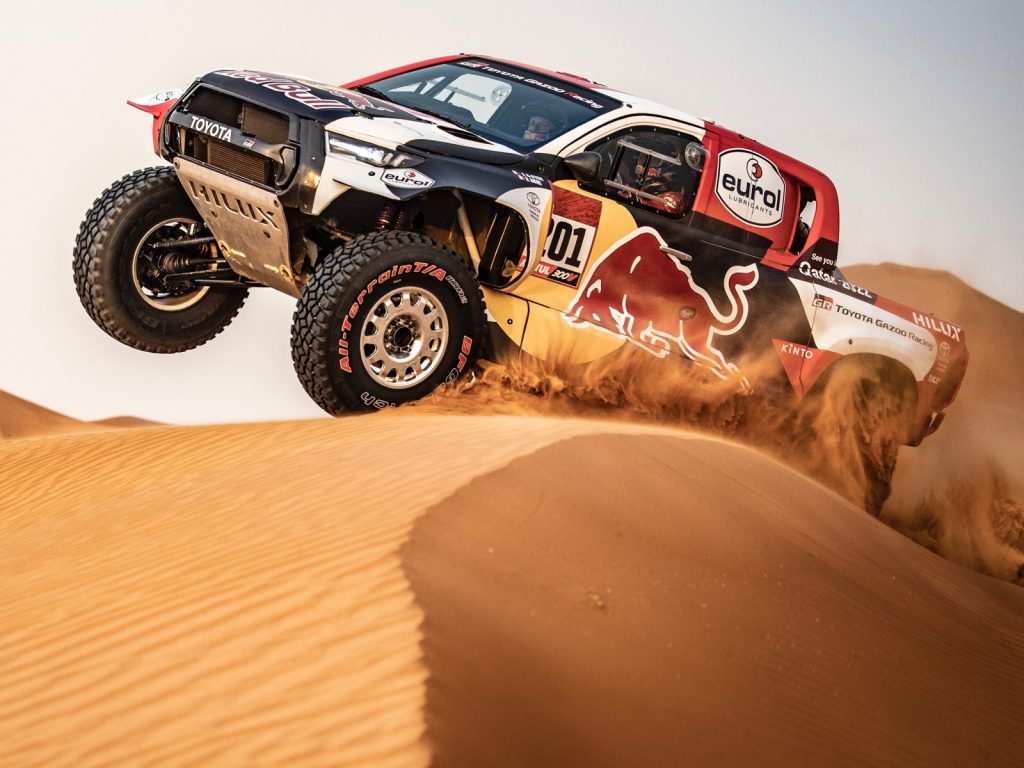 Powerbrake has a long and exciting story. After a currency crash in South Africa in the early 2000s, they shifted focus and started by identifying a complete lack of testing within the braking space. They went down the rabbit hole for years focusing on material and product testing. Leading names weren't even doing this level of research at the time. After significant amounts of testing, it became clear that there was an opportunity in the market.
We know that Powerbrake first got its feet wet in the field of performance big brake kits by designing kits for race cars. After loads of testing and being from an area rich in off-road and overland enthusiasts, when finding high-performance brake kits for 4X4 applications was tough, Powerbrake once again knew they were onto something. It was time to develop a kit that would be specifically suited for the harsh conditions on the trails.
In 2009, Powerbrake was approached by Nissan Motorsport, after running the Powerbrake kits on their production car circuit 350Zs, to create a new 6-piston off-road racing caliper for a competition – the Dakar Rally. If you haven't heard of it, the rally is one of the most demanding race routes in the world. This year it was held in Saudi Arabia and consisted of a grueling 5,200+ mile circuit broken up into 12 stages. Pretty intense, but back to Powerbrake.
When Powerbrake was asked to build a new braking system for Nissan Motorsports, at the time, they did not have a dedicated off-road caliper. Compared to street/car braking systems, the off-road application meant that the design had to be significantly different. Better and more resilient in many ways since the level of abuse was very high and had its own set of unique challenges.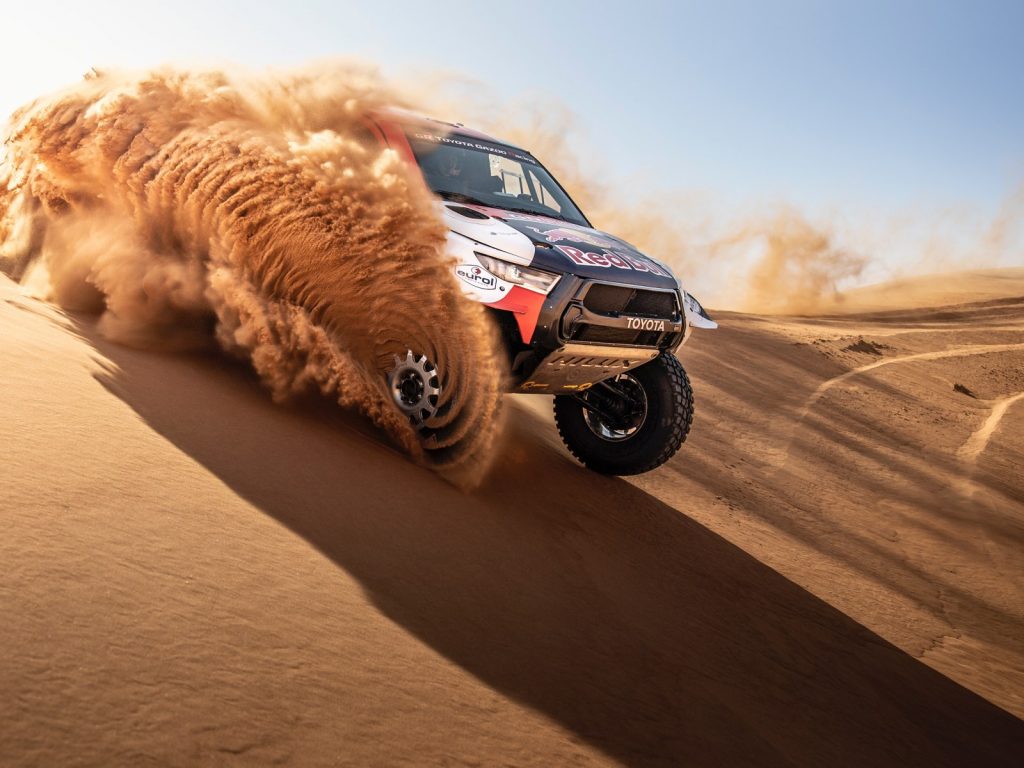 The results spoke for themselves from the very beginning, and the feedback was great. In 2012, the kit was added to the Toyota Motorsport SA (known today as Toyota Gazoo Racing) team truck in the front and rear. In the years that followed, the Toyota added several hundred calipers to many builds. As did many other off-road builders.
Moving to 2014, Toyota Motorsport asked Powerbrake to create a water-cooled version of the off-road calipers. Trucks were getting faster, and a new braking system was essential. Powerbrake soon developed the first new calipers, and after testing, the performance spoke for itself. From 2014 to 2019, Powerbrake outfitted and supplied many race leaders in the space with the 1st generation liquid-cooled off-road racing calipers.
Several winning championships later and several podium finishes during the Dakar Rally, Powerbrake was one of the most successful companies designing calipers on the global stage. In 2019, the 2nd generation of calipers was released, and they continued to play a large role in racing. Several close finishes were tallied, and even an overall Dakar Rally victory.
Around this time, customers began to approach Powerbrake for a BBK for consumer applications. There were some hurdles to get over in the civilian market. Still, Powerbrake dove into redesigning a system that would have similar race technology but also work well for the street. Long story short, the new kits worked great and quickly sold out. Most recently, in 2020, Powerbrake released the latest in the X-Line 4X4 calipers, and there's absolutely no doubt they are leaders in the space.
Why Upgrade To A Big Brake Kit?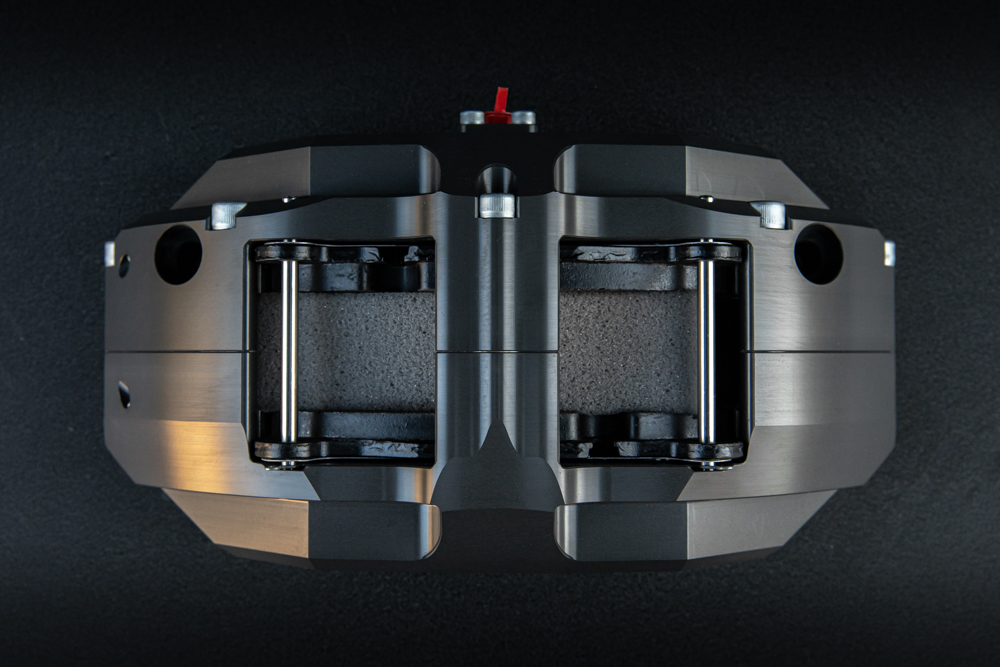 There are several reasons why you might want to upgrade your brakes to this extent.
The first, and one I slightly touched on already, is load. And brake load is ultimately influenced by weight. Whether that weight is from throwing 800+ pounds of gravel or concrete for a weekend project, hauling a 5,000+ pound boat, or from 1,000+ pounds of protective armor and accessories, the more weight we add, the harder the whole truck has to work. That can especially be said for the brakes.
If you've ever done the above, or any similar variation or activity, you've felt that the braking could probably be better. A whole lot better. While it's apparent that you need to drive more carefully with a built and/or loaded down truck, emergency stops do happen, as do steep grades, and having the peace of mind that you are more prepared for all these moments is a wonderful thing. This is a modification that can be quite literally life-saving.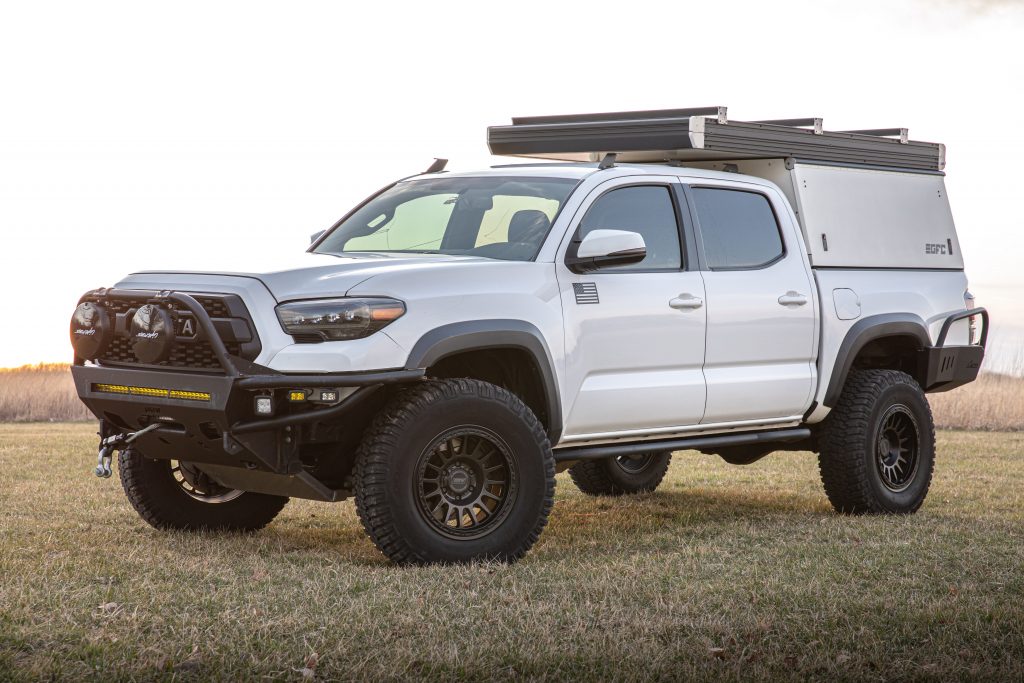 Above you can see my truck. Looks great, but it's heavy as… well, you know the rest. I added the photo simply for reference.
Having added a lot of weight to a platform like the Tacoma and having built a few vehicles in the past, I know the feeling of being overloaded. Most of my builds were heavy pigs. Still kind of are, and I'm slowly working on my addiction to adding more weight than necessary. I might never get there (lol). But back to the topic at hand.
Built Truck? OEM Brakes Don't Cut It
I don't want to overemphasize this next point, but driving an overloaded truck is not enjoyable. Sure, it looks great, but primarily because I daily drive mine and put on serious miles (at least 20k a year), it was just not a pleasant experience. Especially when coming to a stop. I've lost count of the number of times I was sweating under a hard or emergency stop.
Even outside of an emergency, even more true if you drive a bit more aggressively, you don't always want to be planning additional time to stop or really pushing the brakes since the truck has to deal with all that extra weight. It is also worth considering how hard a heavy truck works on steep grades and in extreme environments. Factory brakes? They just don't cut it. I also know that from experience since I've cooked a set of OEM brakes before on a relatively mild forest road.
Prioritizing Mods That Improved Function
That being said, considering how focused many people are on appearances, not performance (sorry guys, but we all know its true, myself included), I genuinely believe that BBKs are one of the most underrated and underutilized mods when it comes to off-roading, overlanding, or even using the vehicle as a work truck. If you're even considering spending anything above $1,000 on a suspension, and maybe regardless if you plan on putting an additional load on your truck – a big brake kit SHOULD be a top priority. It makes that big of a difference. But we'll save a more detailed review for the next post. I've done roughly 10,000 miles on this kit. For now, simply put, this upgrade is the definition of a night and day positive difference.
But the bottom line? Building your truck? Using it hard? You're overloading your braking system consistently. For safety and performance reasons – at this point, upgrading your brakes should be a no-brainer.
So Why Buy The Powerbrake Big Brake Kit?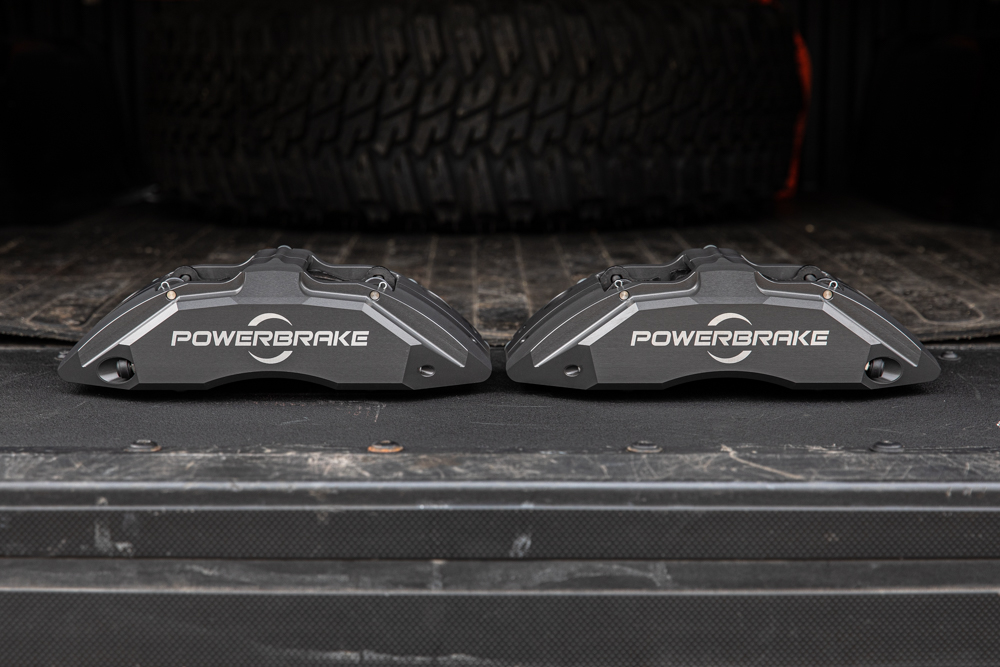 I already touched on this in the history portion, but come on! These are the guys that work on race trucks, not even just any race trucks; they work hand in hand with Toyota Motorsport SA. Specifically in off-road. Specifically in the most challenging scenarios imaginable. This is not your run-of-the-mill big brake kit, and there's no question that they are not a run-of-the-mill company. I seldom say this… but these guys?
They might just be the best.
If you're anything like me and love technical information, you NEED to listen to this podcast.
I highly recommend you listen, but if you don't, the Powerbrake team is loaded with experience. The amount of research and development that goes into the company is staggering and impressive. The podcast is really excellent and helps to firmly establish the WHY behind why you should buy Powerbrake.
I can keep going, but the following sections will outline the features that make these brakes amazing and the reason why they are perfect and necessary for the off-road and overland enthusiast.
BBK Features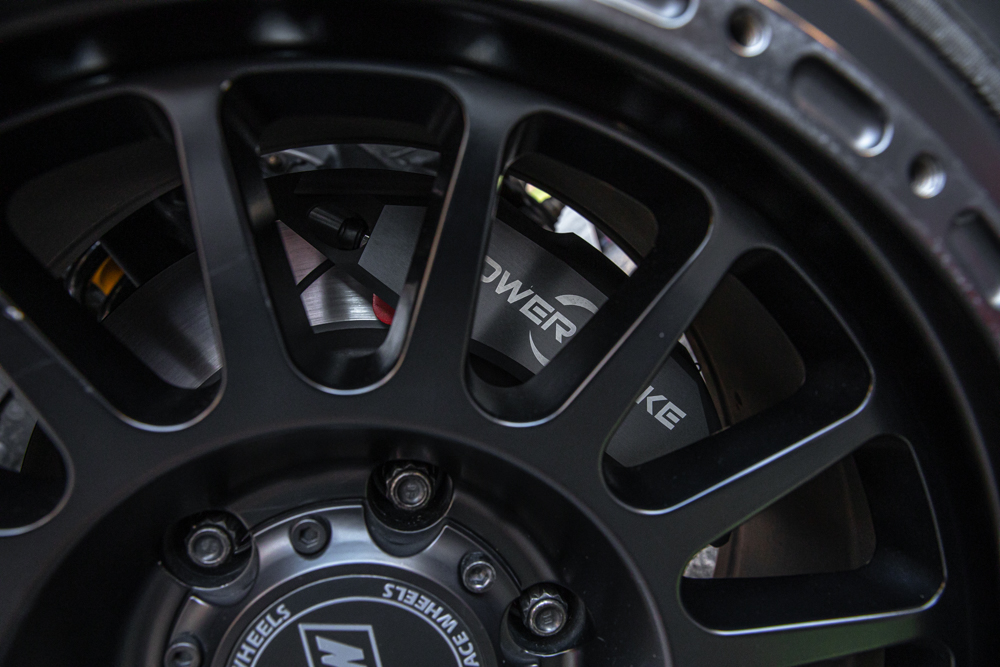 Now it's time to get into all the features that really make these brake systems shine. Let's break down everything from calipers to pad materials, design, and more. These next sections will give you a clear understanding of why Powerbrake should be a top contender when upgrading your brakes.
Powerbrake BBK – Stage 1 VS. Stage 2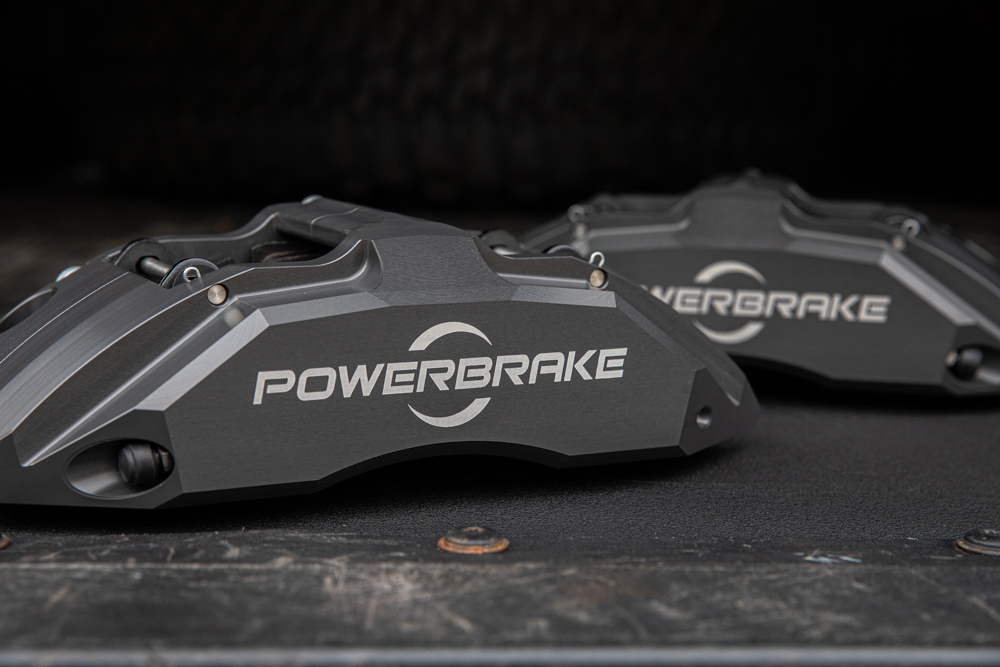 Something that I have only seen with Powerbrake is the ability to choose different stages based on your specific needs. The system uses the same caliper in both cases, with the actual differences being in the rotors.
The two kits have almost identical features, with the only major difference being the rotors.
Rotors (Stage 1): 350mm x 34mm (13.78″ x 1.34″) – 1-Piece 48 vane discs
Rotors (Stage 2): 345-395mm x 34mm ( 13.58-15.55″ x 1.34″) – 2-Piece 72 vane discs

Semi-float disc drain system (for radial disc expansion and contraction – complex stuff!)
As far as I understand and have been told, Stage 1 is more than sufficient for the VAST majority of builds. The Powerbrake team once said to me that I would not find the limit of my Stage 1 system. That speaks volumes, haha.
Machined Billet Aluminum Calipers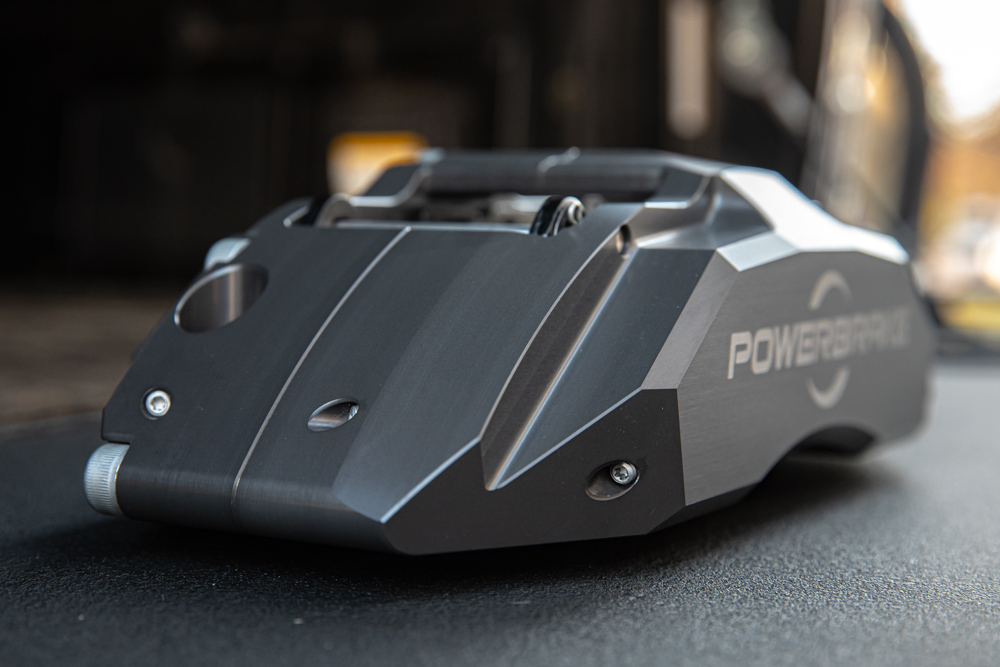 Right off the bat, and even more so when you see them in person, these calipers look and feel incredible. I would even go as far as to say that these calipers are a work of art! The design is certainly impressive.
In terms of specifications and features, let's start with construction. These calipers are made from a solid piece of billet aluminum. The race calipers are constructed out of high-quality aerospace quality metal, so it was only natural that the consumer version should be as well. This material choice further contributes to overall strength and rigidity.
Powerbrake now owns its own state-of-the-art CNC machines, which help build new braking systems with high levels of efficiency. They are relatively lightweight and just about as low profile as a caliper of this class can be. The slimmer calipers help to lower un-sprung weight as well. It's pretty wild to hold this big caliper in one hand and compare it to the smaller but much heavier OEM counterpart.
Caliper Finish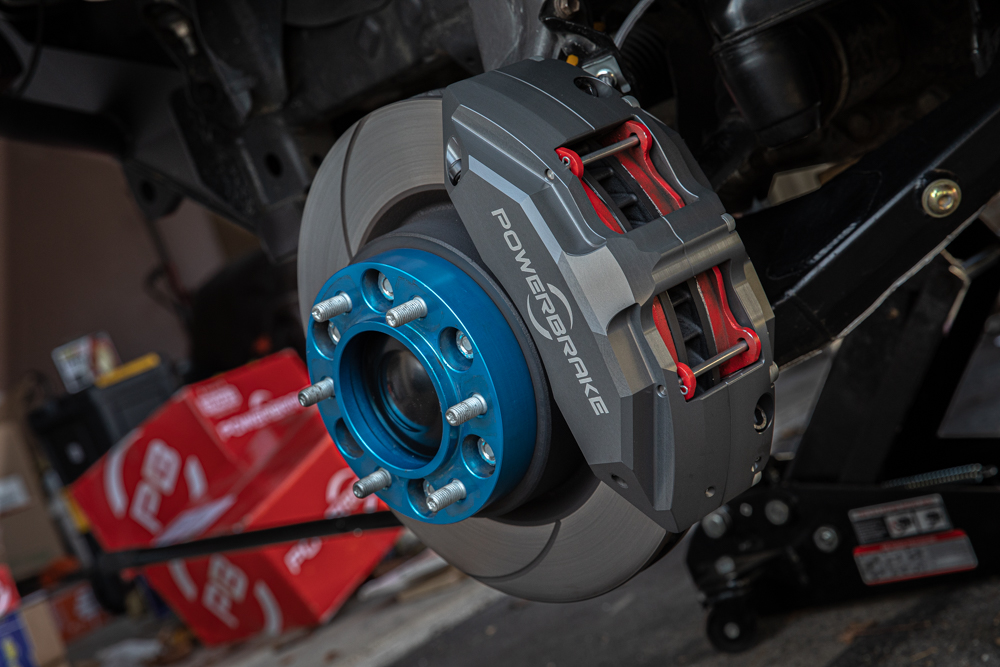 When it comes to finishes, you have two options. One, the Dark Grey hard anodizing, as seen throughout this post, and two, the Red anodizing. The Red color is super UV and temperature resistant to make sure it does not fade, and the Dark Grey is an extremely tough coating used on all R-Line (off-road race) calipers. The logos are etched with high-performing lasers, making the caliper pop.
I have seen both colors, and they are super impressive.
Stainless Pistons & Components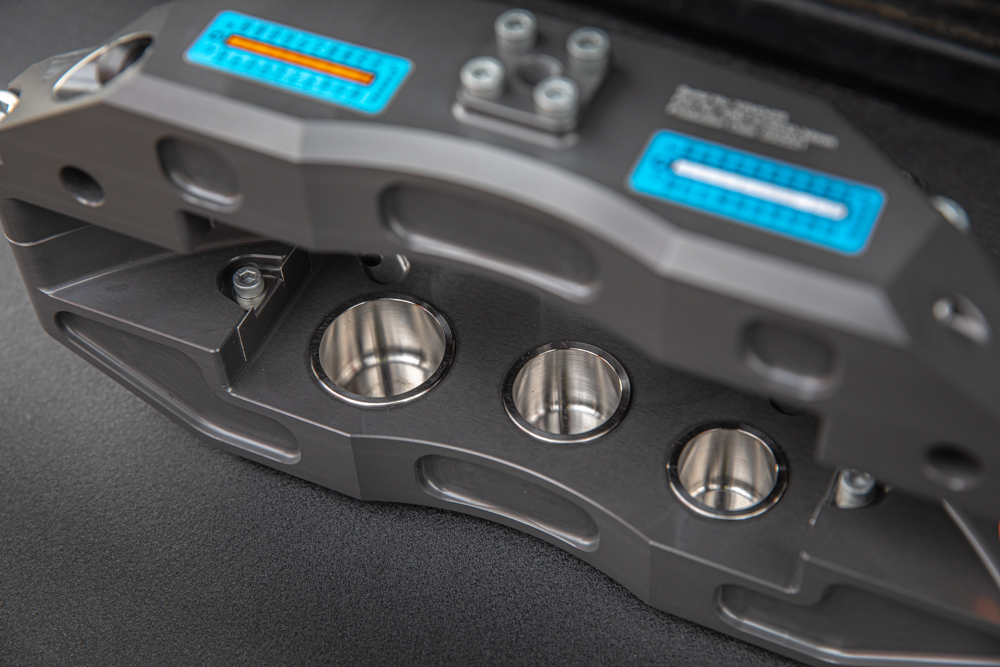 The calipers have stainless steel pistons standard. While more expensive than its aluminum alternative, stainless steel conducts and transfers heat much slower. Less heat transferred from the brake pads means less stress on caliper seals and brake fluid – which lowers the possibility of overheating the brake fluid and helps to ensure longer seal life. This is especially important the harder you work your truck.
Powerbrake chooses a very high grade of stainless steel; it's extremely strong and has great corrosion resistance. Outside of a few bolts and caliper pins, many of the remaining parts are made from stainless steel to, once again, protect against corrosion. Several other components (pad retaining pins, bleed screws, etc.) are also made from stainless steel to ensure maximum lifespan and durability in harsh terrains.
I live in the Midwest, so I can really appreciate the attention to detail when it comes to the durability of key components. I have actually had several calipers seize in the past due to rust. It was a bigger problem with my old 4Runner, but still, it happens.
Recessed Components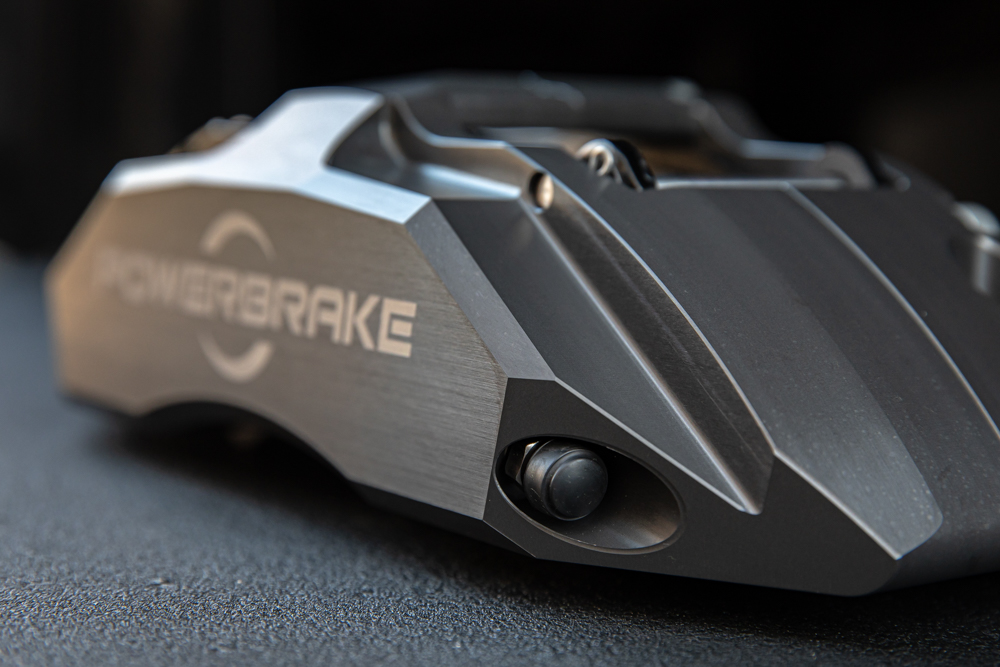 With off-road adventures in mind, the Powerbrake calipers have recessed hardware wherever possible. That includes recessed bleeder valves (this caliper has two, one on each side). This helps to protect against catastrophic damage from rocks in harsh terrains.
Freak accidents happen on the trail. I have seen and experienced a bunch of them. Recessed components are just one more improvement on the factory calipers and provide extra peace of mind when traveling in remote areas and pushing your truck hard.
Maximum Temperature Recording (MTR) System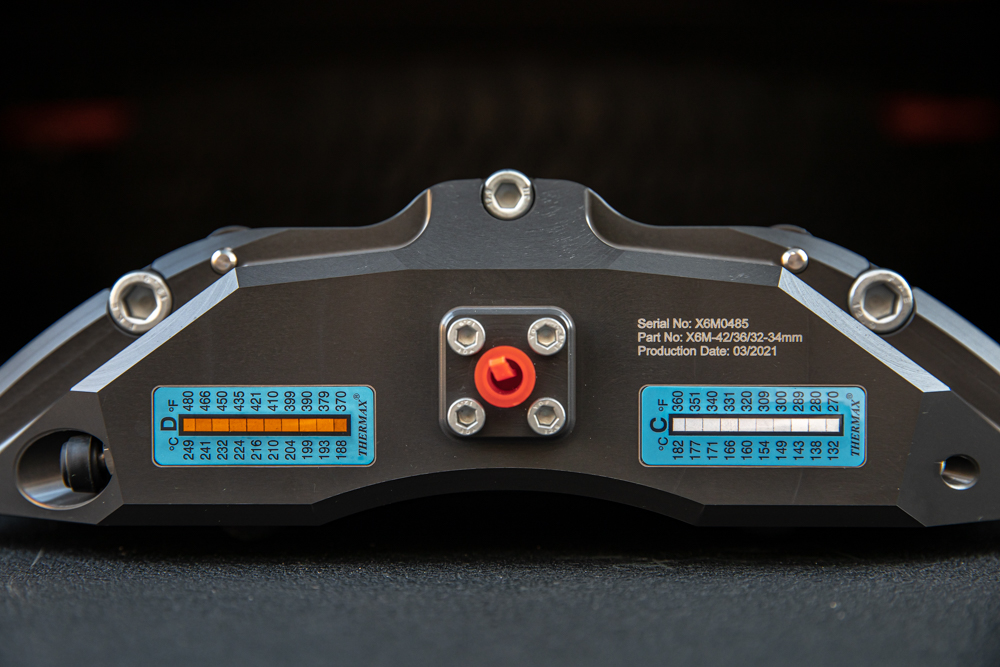 The X-Line features a standard MTR temperature system. The calipers permanently determine how much heat your brakes experience (gauges carry a permanent record of the highest temp recorded). This feature is also directly from the race calipers and allows better decision-making when choosing things like brake fluid.
This feature is entirely unique to Powerbrake. Add it to the list!
Banjo Fittings + Stainless Steel Brake Lines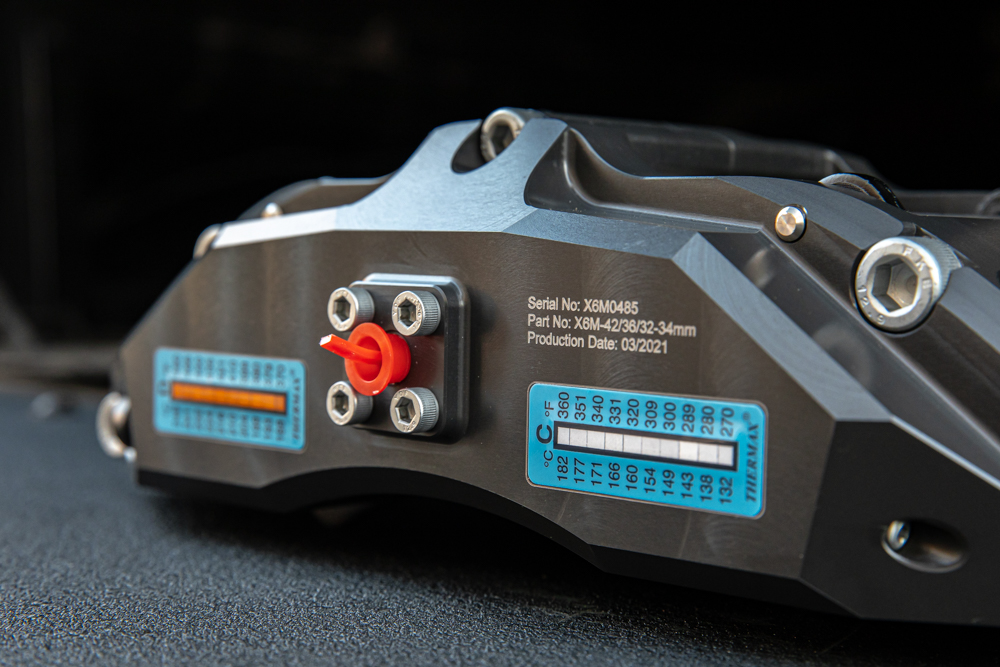 To further strengthen and reduce the chance of damage, the Powerbrake calipers have banjo fittings for the brake hoses. These guys do not skip a single detail. In addition to that, the kit comes with new extended stainless steel brake lines.
The brake lines are super tough and are suited to resist degrading contact with brake fluid. The lines are covered in Teflon and braided in stainless steel. A final layer over the steel ensures that there is a much smaller chance for failure. Even the ends of the lines are stainless, something more rarely seen in BBKs.
Rotors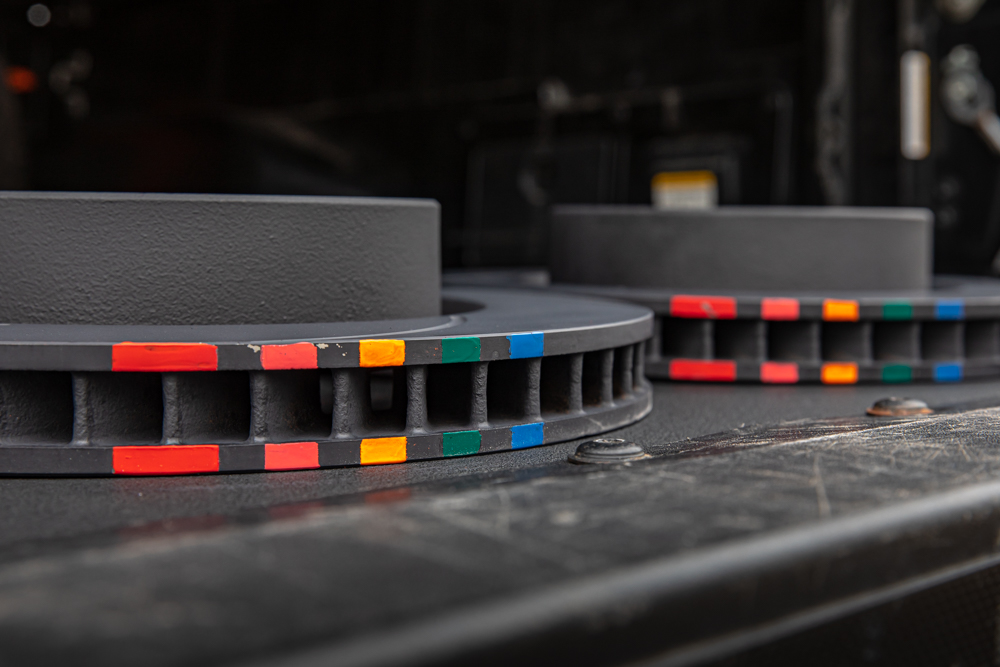 The most common rotor used in the Powerbrake system is the 1-piece in the Stage 1. These rotors are very durable and stable during heavy loading, built from an exclusive compound and featuring significant cooling capacity upgrades.
The details continue with the slot pattern, specifically geared towards top performance in sandy, muddy and wet environments. These rotors are meant to have low levels of noise, vibration, and a lack of harsh feel when braking. Every single rotor is closely inspected to ensure optimal performance at a level well above the typical industry standards.
The rotor coating is also unique to Powerbrake and is designed not to fail under extreme loads. This is especially good news for those of us who daily our trucks and live in an area with lots of salt and road grime. The rotors also feature an MTR system, like the calipers. Thermal paint applied in four different levels helps to further dial in your setup and get a closer look at brake performance.
Pads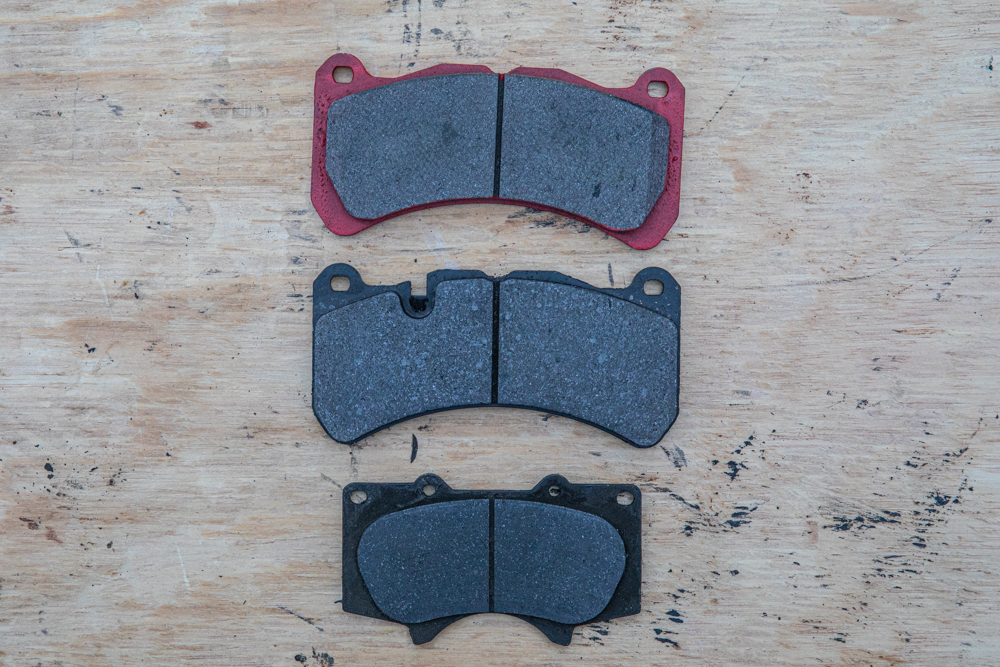 Powerbrake offers two different pads for their system. The standard PB01 and the upgraded PB05. The ability to choose pads gives you the option to yet again take your personal needs when upgrading your brakes. While both pads provide excellent performance, the PB05 is better in a few regards.
PB01 Pads
comes standard
high-friction, low metallic material
high friction coefficient, good fade resistance
good wear life, relatively smooth and quiet
decreased bed-in time
PB05 Pads
optional upgrade
touted as very best pad compound for off-road
super high performance
longer wear life
better in performance and fade resistance than the standard option
epic stopping power, pedal feel, and modulation
Final Thoughts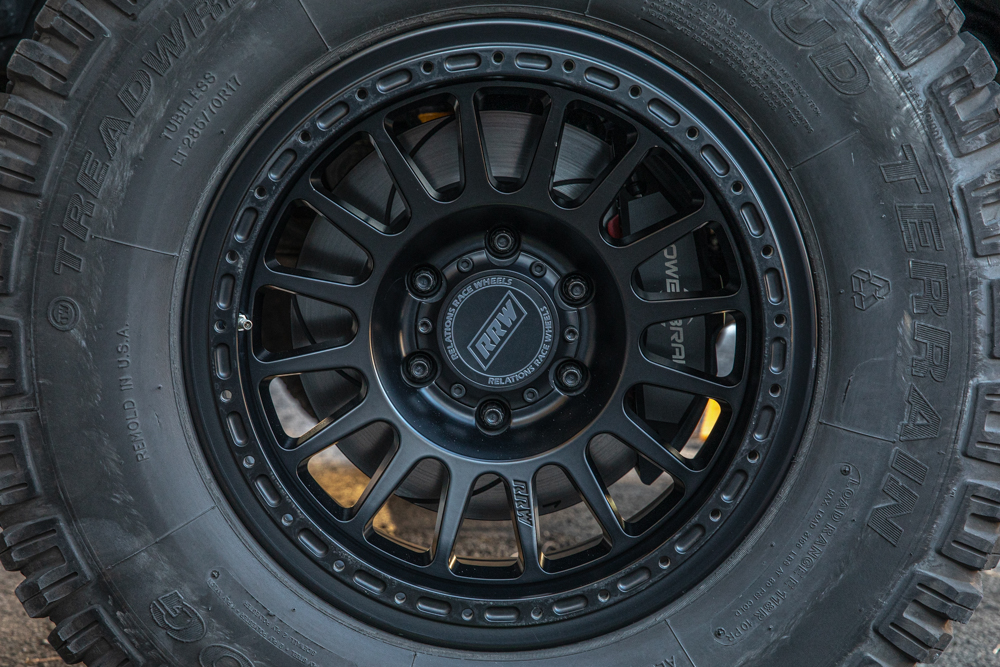 Alright, that was pretty heavy. But when you're dealing with a company like Powerbrake, you can't do them justice in just a few paragraphs. And there's a rad story to back them up.
Few products achieve super high status for quality and execution. While this is technically my opinion, it's a very strong one. Powerbrake is one of those companies. I am beyond impressed with the product and looking forward to adding Powerbrake braking systems to all my future off-road vehicles moving forward.
I'm wrapping up a detailed step-by-step installation soon and a detailed 10,000+ mile review if you're looking for even more. Post coming shortly!